We love to color our hair, so why not choose a bright color this time? We've some great red hair color ideas that will make you go. Woah! Women mostly go for either dark shade colors, blonde, or a mix of them but hesitate to go for brighter or unique shades.
Only a few of them are willing to experiment with these colors, but after seeing our ideas we are sure you all will be going to go red. Highlights, ombre, or global, all coloring techniques go flawless with the color. Just choose the right one for you from the list and go for it.
List of 25 Charming Red Hair Color Styles
The red color comes in many shades, so let's see different shades of red for different hair textures.
Long Loose Curls
Have you run out of ways to style your long hair? Then, give bright red curly hair a shot. You can color all of your hair from roots to ends in bright red color. If you have naturally curly hair, then great. Otherwise, you can curl your hair to get this look.
Wavy Crimson Red Hair
There's no problem with having thin hair, but if you want to create an impression of thick volume, you can do so by making your hair wavy. You can opt for crimson red color here as it matches on thin volumes and makes your hair appear fuller. Leave your hair loose.
Short Ginger Curls
Short hair girls, this one's for you. Now you'll never run out of red hair color ideas, thanks to us. You can curl your short hair (it takes no more than 10 minutes) and color in cherry red color. It's a great way to style your hair for any occasion.
Center Parted Long Hair
There are many beautiful shades of red color. If you want something subtle, then dark ginger red color would be perfect for you. You can keep your long hair center-parted. You can straighten your hair a little bit from the roots and curl them a little in the ends. It's a great style for any party.
Beach Waves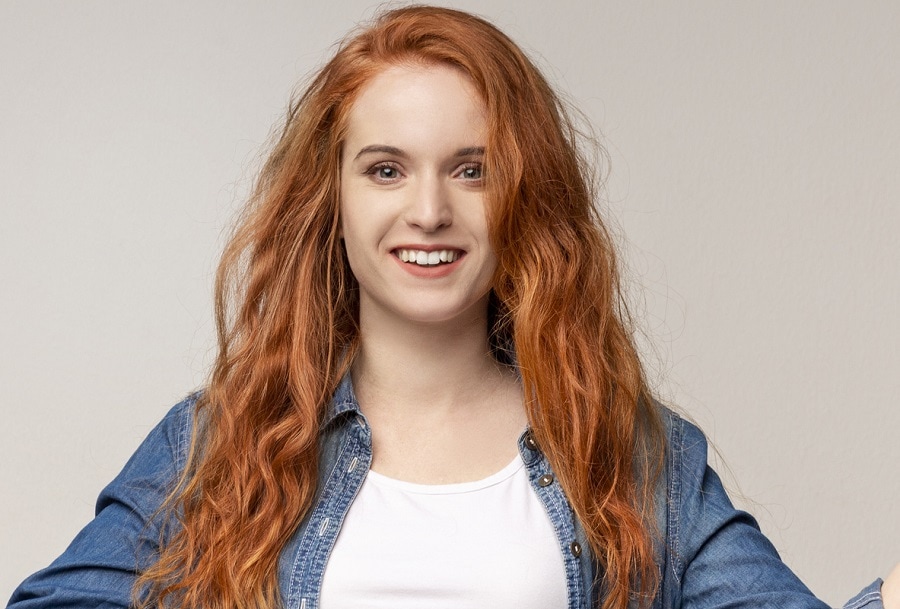 Beach waves look beautiful, especially on long hair. And when you color your hair in ginger red color, there's no going back. It perfectly suits beach waves and makes it look like your natural hair. You can use this style for any casual outing, like hanging out with friends.
Bright Red
Celebrities never fail to give us bold fashion statements. Take this style as an example. The bright red color goes well with her sparkling black dress.
We can definitely say it takes courage to get your hair colored in such bright color. You can wear any dark-colored dress to suit your hairstyle.
Bob With Thick Bangs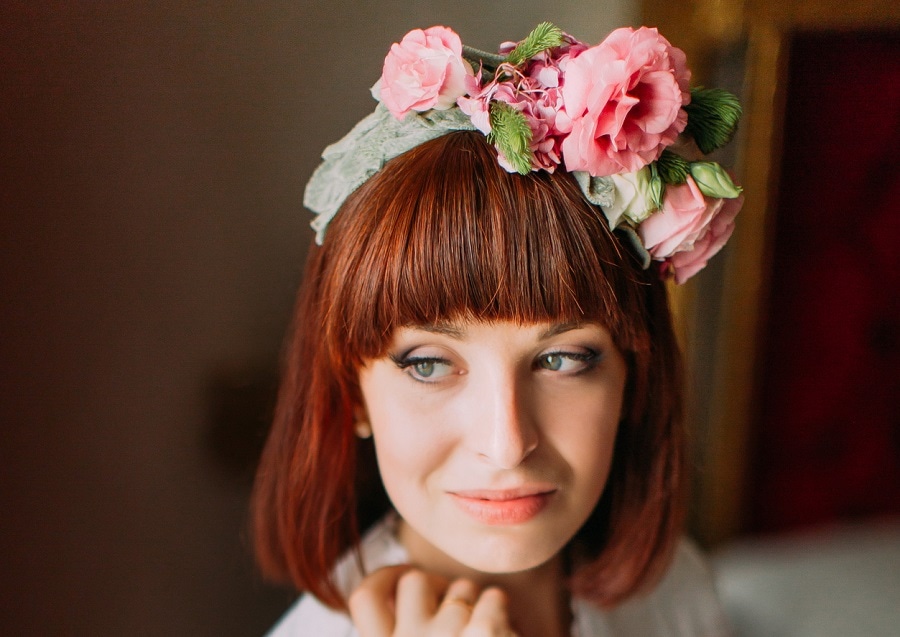 When you can't stick to any particular hairstyle, you should look at a bob haircut with thick bangs. It's a classic style with a little twist. You can color your hair in auburn red color. A hair accessory like a bandana or tiara would look great.
Golden-Reddish Retro Bun
Remember how 90s actresses style their long hair in a beautiful bun. You can style your hair the same way in a retro bun.
The light ginger red color will be a plus point here. Feel like an actress by using 1-2 big red flowers and attaching them to your bun from the side.
Pulled Back Half Up Hairstyle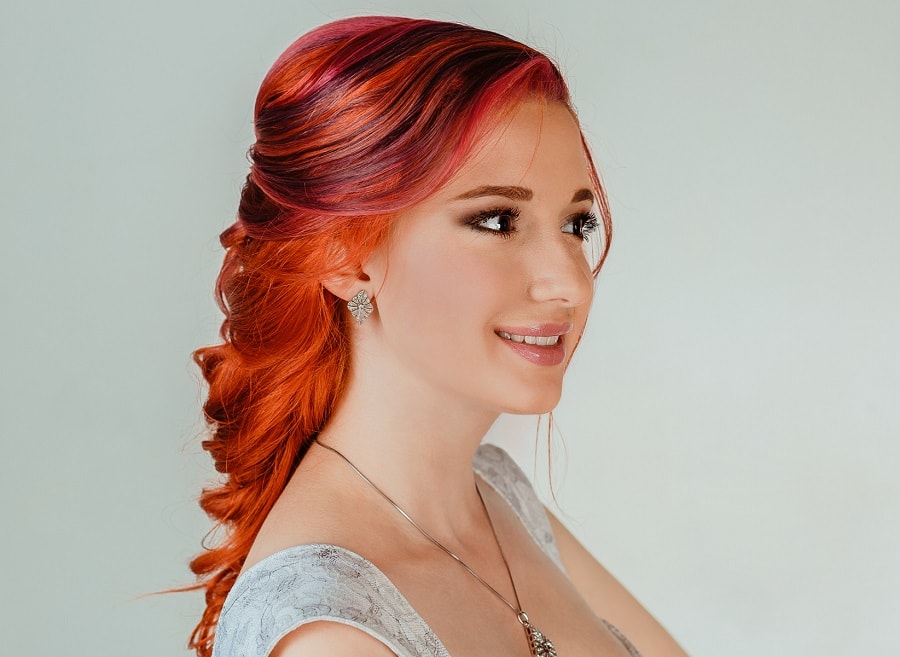 If you ever feel like these styles are getting too complicated for you, then try this easy hairstyle. All you have to do is pull back your hair and hold it with some hairpins. Red highlights on ginger red hair look good, especially in this style.
Straight Edgy Bob
Straight bobs should be tried by girls who have chubby cheeks. It covers their whole face and makes them look even cuter. Raspberry red hair color, a bright floral dress, and bold makeup are all you need for your date look. Keep your hair on any side by using your fingers.
Curly Pigtails
Pigtails were originally made for kids, but now a girl of every age tries it and looks amazingly gorgeous. Auburn red hair would look great if you have a fair skin tone that brightens your skin tone. Also, don't make full pigtails; only half-pigtails would be perfect.
Blunt Lively Bangs
It's time to get blunt bangs for your middle-length thin hair. Bangs shift all the attention to themselves, and no one really notices you have thin hair. Plus, if you use a brick red color on your hair, it would definitely be a game-changer. Wear dark color clothes like black or blue.
Side Parted Hairstyle
One great thing about long hair is that you can keep them on any side you want. If you have thin hair, the side partition makes them look thick, and if you have thick hair, it makes them appear thicker. Copper red hair color and light-colored clothes, this is the combo you need.
Layered Warm Red Hair
A layered haircut is the best decision you can make for your thin long hair. Layers make your hair look like it has volume if it has not. You don't even have to use a comb to settle your hair. Just run your fingers through your hair and let them decide which side they want your hair to be.
Orangish Red Straight Lob
Bob and lob are two very different and beautiful hairstyles. A combination of red hair and a straight lob is what you need for a bright day ahead.
You can even wear a light colored dress or any other bright-colored dress to match the style. A bright smile on your face will do you no harm.
Short Burgundy Hair
Welcome some game-changing red hair color ideas for women. Burgundy is the hair color that you should definitely try on short hair.
It is bold, unique, and magical. It's perfect for a night at the club or lounge to chill and enjoy. Makeup or no makeup both will go with this color.
Cute Space Buns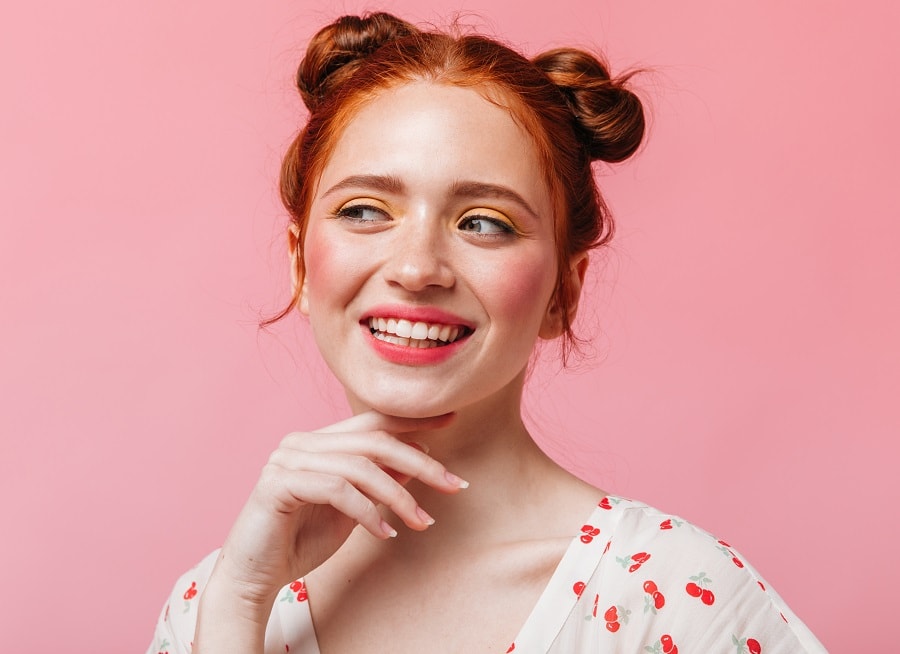 Space buns are one of the hairstyles that can be made easily both on long and short hair. Tie your hair in a bun on each side. A messy look would be beautiful for a fun day out with your friends or partner. Wear light-colored clothes and have a joyful day.
Straight Layered Ruby Red Hair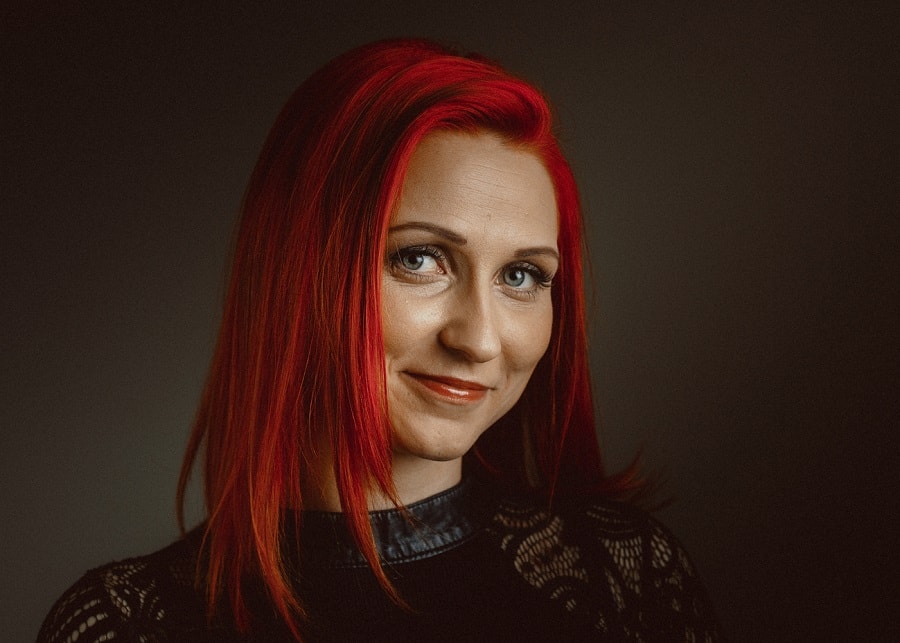 How can we leave ruby color while talking about red hair color ideas for women? Straight hair would always be the topmost choice of every girl styling her hair. Straight hair is common but now when you color it in ruby red color. Side part your hair for a beautiful look.
Thick Curly Hair
Curly hair looks beautiful when you have thick volume and long hair. And when you add ginger red color to your beautiful thick curls, it's a pleasure to the eyes. However, this style has more of a casual vibe connected with it, so light-colored clothes would look better here.
Shoulder-Length Lob
This hairstyle doesn't require you to change your hair texture. Just get a short lob and reddish-brown hair color. This keeps the overall look simple, fun, and professional too. You can flaunt your new hairstyle in your office and leave everyone amazed.
Red Balayage
Get ready for some boldness with red balayage on long hair. If you want to look intimidating to your juniors, then this is the hairstyle you should go. Limit your makeup to eye shadow and bold lipstick. You can also wear bold colored clothes to go with the look.
Braidband with Ponytail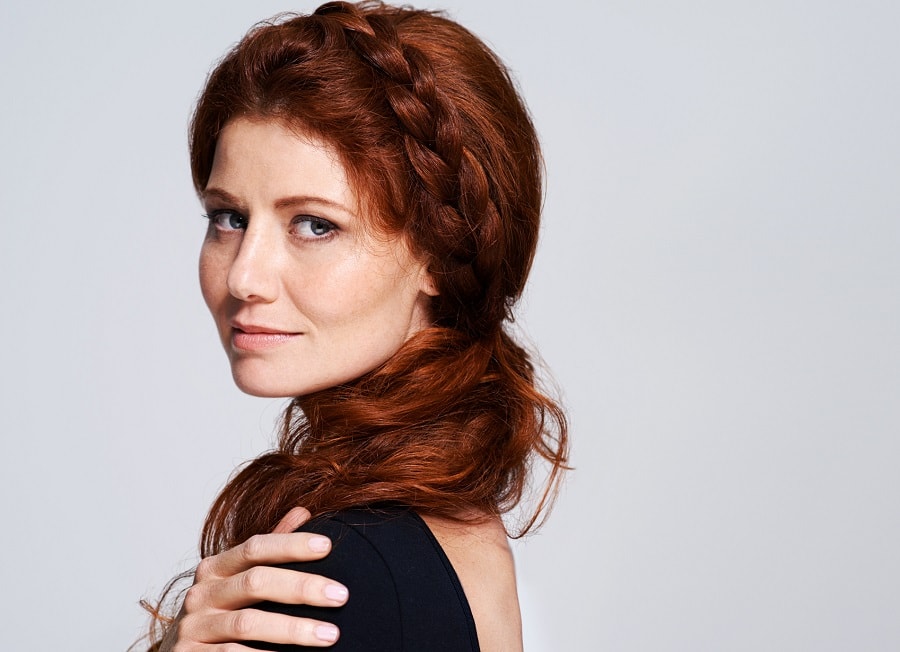 Not broadband; we're talking about braid band. A braid band is a hairstyle where you use a braid like a hairband. For this, you need to have a thick volume of hair.
Make a braid on either side, wrap it like a hairband, and tie the remaining hair in a side ponytail. Keep the color of hair dark mahogany red.
Brick-Red Pixie
How fun would it be if you tried this hairstyle on your hair? Pixies look beautiful on women of any age, and when you color it red, that's some bold move you're making, girl!
A red pixie makes you look like you came from a fantasy or movie, and you're here to spread some magic.
Vintage Hair
Get into the vintage vibe by making this vintage hairstyle. Color your hair in dark auburn red to add a modern touch to the vintage style—bold makeup and a bright-colored gown that's what you need to complete your look. You can use this look for a vintage theme party.
Wedding Updo
This hairstyle is one of the most sophisticated red hair color ideas for women. Dark red hair suit so beautifully on a white wedding gown. And when you wear a silver crown, ohh girl, you will look so gorgeous. Keep your hair in a bun, and don't forget to get tons of pics clicked.
Now that you have a full-fledged list of red hair color ideas for women, you'll never get bored of styling your hair. It's time to take out the fashion beauty hidden inside you and show people what amazing styling sense you have.
When you style your hair in such a beautiful way, you can expect tons of compliments showering on you. We've told you in advance, so be prepared to be the center of attraction.