When you are in a dilemma about what hair color to choose for yourself, you can always choose red. This is because, apart from brown, only red is that hair color with the widest array of variations to be tried.
How to do Red Hair Color
To begin, you need to mix up the Red Hair Color dye in a bowl.
Brush out the tangles from your hair to avoid the color from becoming patchy.
Separate your hair into sections and start applying the color to each section. Leave on the dye for the required time.
Rinse it clean with clean water first and then shampoo and conditioner.
How to Take Care the Red Hair
Red hair color can fade out early if you step out frequently into the harshest Sun. So, covering your hair with a scarf during the sultry summers is a good idea. You must use only color-protecting shampoo and conditioner.
Beautiful Red Hair Colors
Cinnamon Red
One of the most widely seen and loved shades of red hair is the cinnamon color. This color looks effortlessly stylish and is flattering on all skin tones right from fair to tan. Hair with brown undertones and the touch of auburn mostly on the top gives you that beautiful cinnamon shade.
Here, you can see the red hair is given waves to make it look highly attractive. You can leave your hair naturally straight as well.
Scarlet Red
The thing about scarlet red hair color is that you can go as bold as you want to but still manage to look natural. It looks striking when done with the fairer skin tones and elegant on the darker skin tones.
Make sure you check on the amount of color that you are using as putting in excess of the dye would make the hair look purplish instead of giving you the natural brightness in the strands.
Intense Ombre
There are few other hair colors that can look as stunning as this intense red ombre. This one is a fun play with the color red. It begins with deep cinnamon near the roots.
That color graduates into a dark auburn with streaks of flaming red and orange strands in between. The ends of the hair are dyed in a strawberry blonde shade. When you go for a color like this, the hair becomes a style statement by itself.
Sandy Red
Getting sandy red is a wonderful way to intensify your natural strawberry blonde hair, though you can go for this color by bleaching your naturally dark hair as well.
This one is more of an earthy shade of red and it inclines towards the blonde-orangey shade. The color is subtle enough to be safe for work. If you want a nice redhead that does not look too stark, go for this shade of red.
Blood Orange
It is one of the daring shades from the red family. Get ready to be the center of all attention with your blood-orange hair color. This intense hue looks mind-blowing on fair skin tones.
It is best for the people who want to add a dramatic effect to their regular hair or give that extra burst of brilliance to the copper hair. Go all the way with this color and do not keep the roots exposed.
Warm Brick Red
The shade warm brick falls midway between the two very popular hues, namely, auburn and natural red. It is a highly wearable shade thanks to its glorious warmth. Select this shade if you feel confused between a flaming natural red and a subdued auburn.
The color looks fabulous but does not feel like it is being in your face. It is one of those colors that is completely suited to both your office environment and rocking parties.
Brightening Red
Though both blondes and brunettes can try out this color, it is best suited for women who are lucky to have natural ginger hair. The secret to this amazing hair color is going for a shade of red that has a high resemblance to the strawberry blonde shade.
The color looks especially bright on fair skin tones or on women who have cooler undertones to their skin. Both curly and straight textures look great with this color.
Peachy Undertones
Breathe life into your natural hair color by going for peachy undertones. This one is a great shade that takes any reddish-orange hair color to new heights of style.
You can think of this color as something between an auburn and a deep pink. It is the recommended shade of red for girls with fair to medium skin tone. This one is such a dreamy shade that you are sure to fall in love with it.
Crimson Curls Red Hair
There is no denying the fact that curls have a charm of their own. The girl who has it naturally are proud of it and those who do not have it mostly want to get it.
Curls look great in every hair color but they look especially fab when you dye them in the beautiful shade of cinnamon. There is something highly attention-grabbing about a head full of red hair like you see in the picture.
Warm Red
When it comes to red hair, there exists a very clear distinction between warm reds and cool reds. The ones that lean more towards the orangey side are known as a warm red. That is exactly the type of color you get to see here.
The hair is a deep orangey-red from the root to the tips. There has been the addition of some orange strands in between to make the color more eye-catching than ever.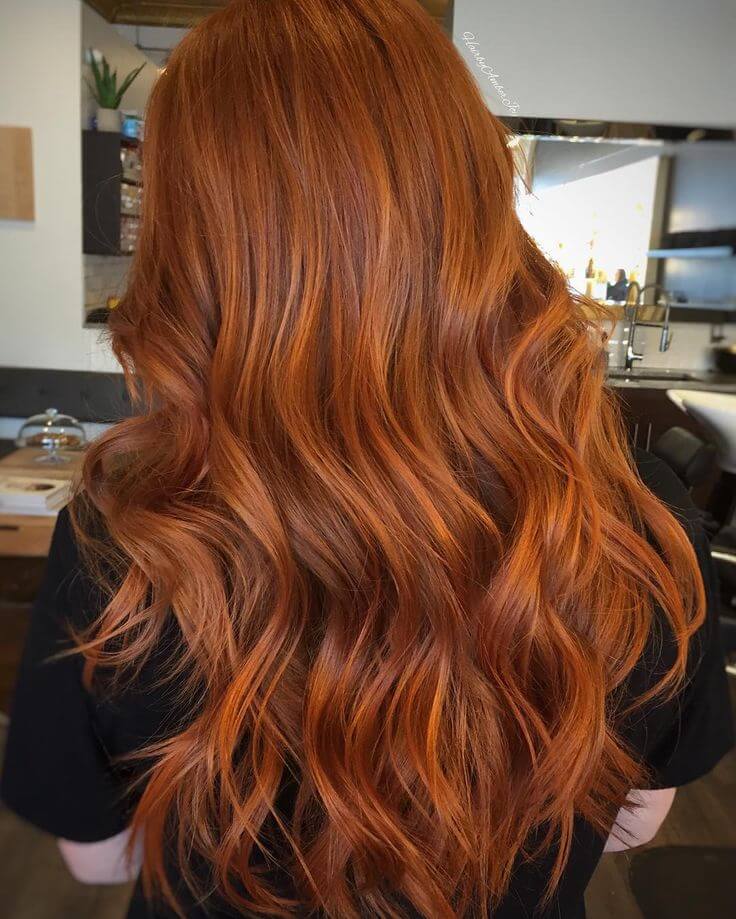 Muted Crimson Red
If you thought that you cannot make a showstopper kind of hair color with a muted shade, think again. The crimson red that you see here is subdued by the jet-black hair on the top.
This is an interesting take on the usual ombre hair coloring technique that you see. Here, the color goes straight from a striking black to a deep crimson instead of gently graduating to a similar shade like the top.
Warm Ginger
Hairstylists love incorporating gold tones on the hair of fair-skinned women. It enhances the color of the eyes and gives more depth to the entire look in general. Warm ginger shade offers more liveliness to pale complexions.
You will look lit from inside with this bright hue. The Hollywood bombshells have loved this color for years and now it is your turn to embrace it as your own. This is the best way to glam up your hair color.
Light Auburn
This one should be your choice of color if you have a medium complexion. Also, when you want to gently ease yourself into the red hair trend, this color can be a good place to start.
It works for women with olive complexions as it has shades of gold throughout the hair that act as a nice contrast to that skin tone. You can also see some blonde low lights at the ends of the hair.
Bold Copper
Many women are just too scared to go for red as they fear that it is just not the color for them. Now, the women can take baby steps into the world of red hair hues with this bold copper color.
By bold, it is just meant that it is a deeper shade of copper than what you normally see. The dark and rich shade looks absolutely gorgeous and you can move on to more daring shades later on.
Rich Ginger
You can choose this hair color if you have natural light ginger hair or had colored your hair in that shade. This one is a good way to further intensify those previous ginger shades that your hair has.
You will amp up your already wonderful hair color into something that is as eye-catching as ever. Besides, if you already have ginger hair, getting this color to catch on will need the least effort on your part.
Dark Chestnut
It is the hair color option that feels like it is custom made for women with naturally brunette hair. You need to lighten your hair color, to begin with, and then add the dark chestnut color.
This color looks like a perfect combination of red and golden hues. It creams a creaminess to the skin tone and draws out the pink tones of the cheeks making your face look more glowing than it has ever looked.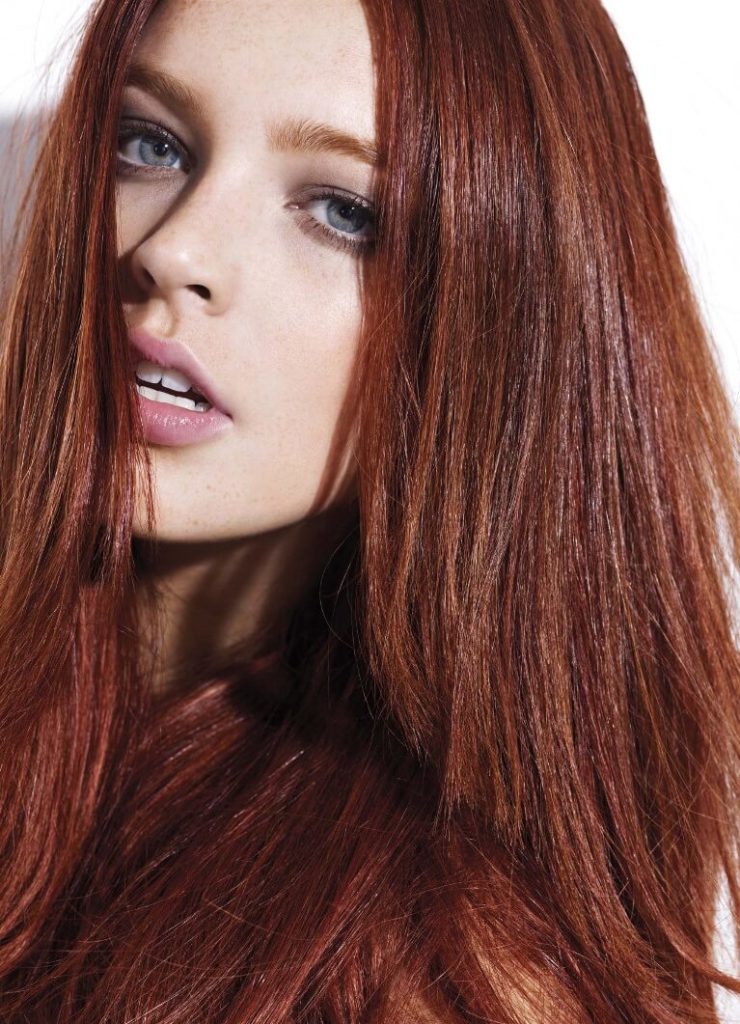 Metallic Red
The regular red hair color is prevented from falling flat and looking dab by giving it a metallic spin. The metallic red hair shade is nothing but simple red hair that has been given some high shine by the application of hair gloss.
The extra shine serum can be mixed to your hair color before going ahead with coloring and that will bring you this highly desired effect. The shiny color instantly brightens up the complexion.
Soft Bronze
You need not have bright red hair to make a fashion statement. You can create as much of a statement with this soft bronze shade. This is the hair color solution for the girls who are naturally light brunettes.
The hair has a darker shade of bronze on top from the front to the crown. The rest of the hair gets a softer and more subtle shade of bronze. The roots have also been given the same color.
Glossy Garnet
For those of you who wish to stand out from the crowd, an awesome shade like this one is the right way to go. It is such a rich shade of color that it looks impeccable on every woman.
When you step flaunting your locks with this superb color, you need to be prepared to garner loads of compliments and queries about your hair color. Your search for classy red ends here with this one.
Apricot Undertones
This one is as natural as it can possibly get. It is the way to choose if you have cool undertones and want to add some warmth to your face. The apricot shades lie somewhere in between light orange and strawberry blonde.
It is anyways a subtle shade and that makes it a great choice as an undertone to hair color. The natural dark hair color is retained from the top to the middle of the hair length.
The twenty Red Hair Color ideas are given here cover all the traditional and trendy hues that you can try out. So, go ahead and dye it red to step out in your unique style.