Sporting daring short dreadlocks hairstyles can range from appearing bold and classical to loud and rebellious to outright extravagant and plush! But one needs to figure out their own unique look and how exactly they are willing to wear it.
Not everyone sporting locks might prefer dying them outrageous red or chopping off their long tresses to short twists. Which is perfectly fine. Because no matter what texture, type, and length of one's hair, it can still be styled in amazing dreadlocks that perfectly suit one's own persona without needing to go overboard or over-styled.
However, one style their dreadlocks, these are unarguably a maker of great style statements. Known for their longevity, once the style is picked and put in place, one gets to enjoy the look for a really long time without the need to frequently touch up. The only real requirement is to carefully choose a dreadlock hairstyle that goes with one's specific personality, liking, lifestyle and needs.
Dreadlocks are not like regular hair and require different care routines and ordinary shampoos will not work, It is important to have a dread shampoo that doesn't leave a residue.
Best Short Dreadlocks Hairstyles
Here are some of the coolest and yet hottest short dreadlock hairstyles that offer a huge range of variety, allowing one to choose one that goes with their unique persona.
Side Swept Brown Hair
Short dreadlocks are easy to wear and easily achieved with no pinning or braiding requirement. In this style, the black locks are transformed into ombre or dark brown color.
Then the short brown dreadlocks are swept and pinned to just one side of the head. The final look is simply hot with the feel of the perfect cool cucumber.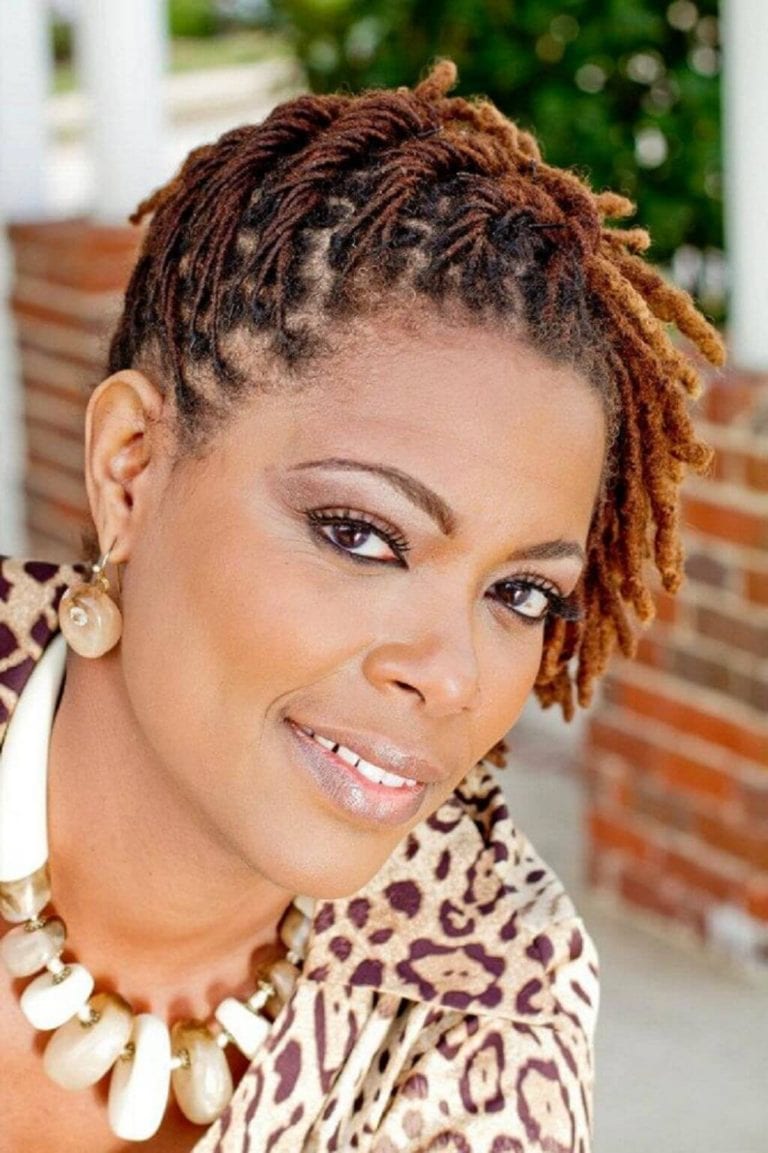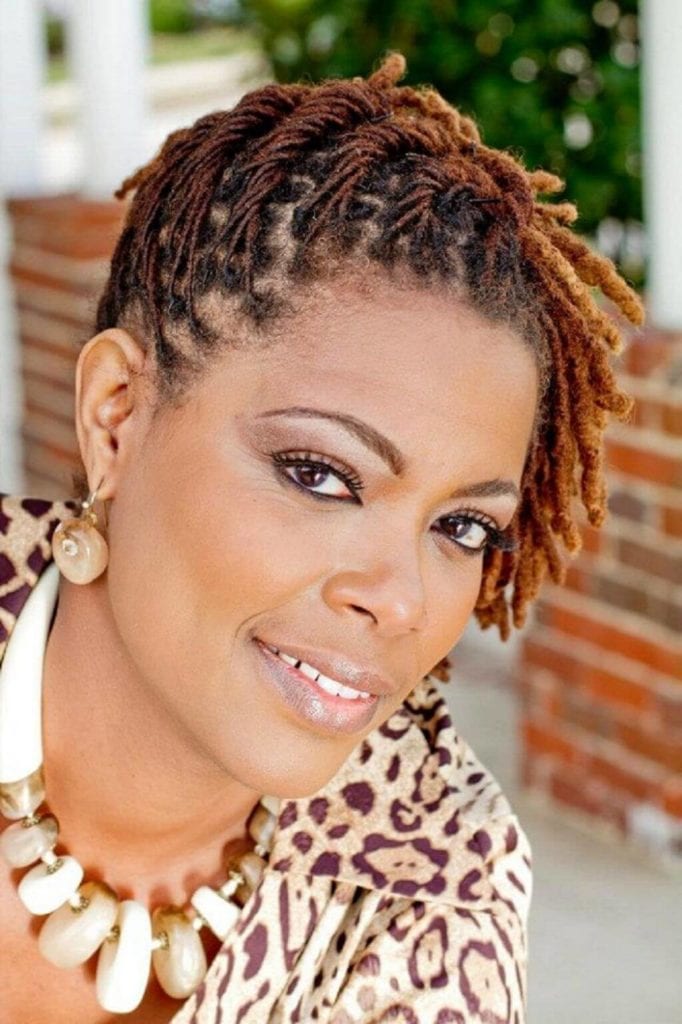 Natural Black with Dip Dyed
In this classic dip-dye look, the dreadlocks are rendered a dual-tone, using a two-tone coloring process. This leaves the dreads appearing natural black dark at roots with light golden or dark brown at the ends.
Here the dreadlocks are rendered a twisted cornrows style on top while giving it a dip-dyed treatment at the bottom. This achieves a perfectly mixed style that is both hot and a head-turner.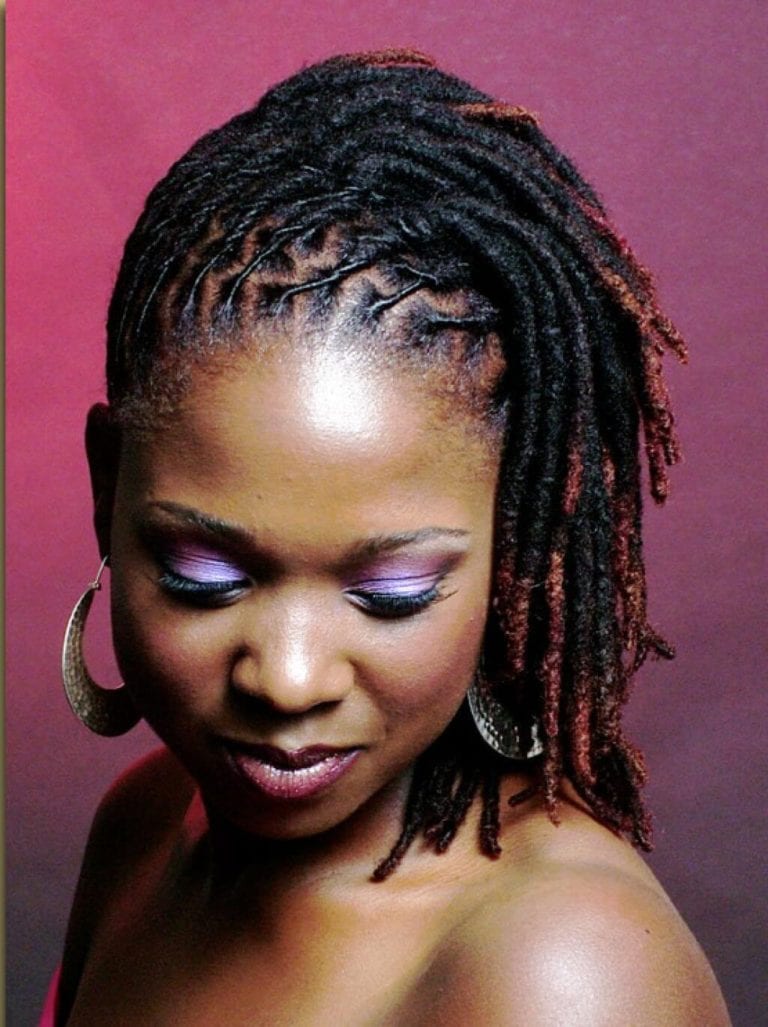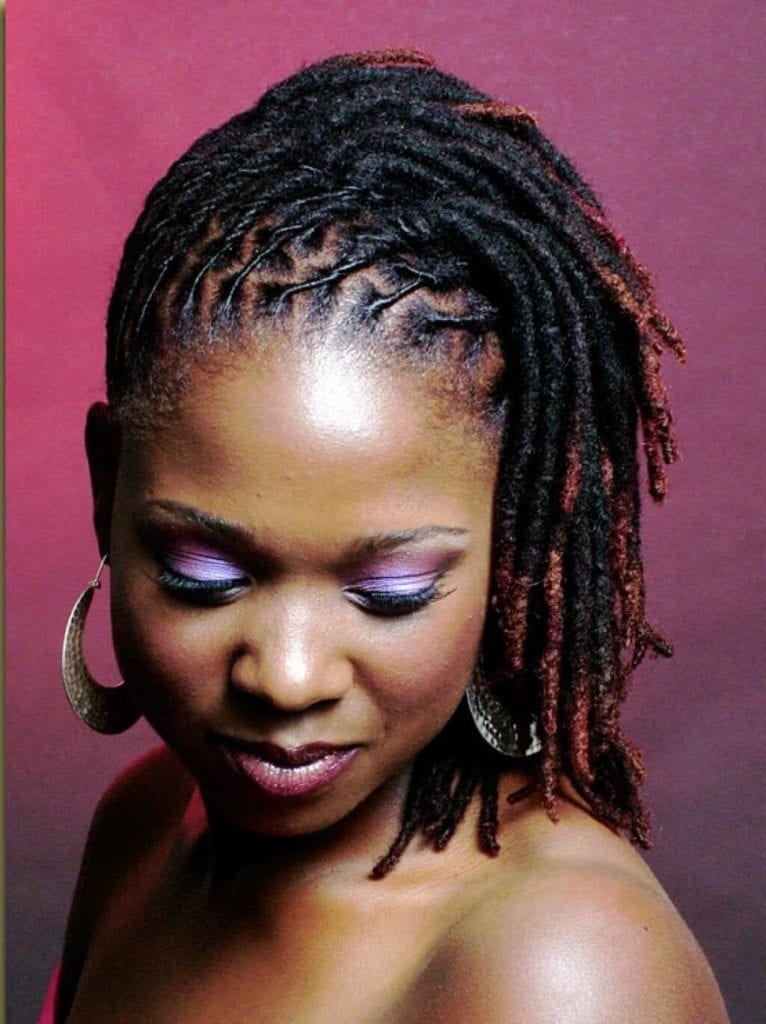 Dark Black Dreadlock
Medium to long dreadlocks look gorgeous, more so when in their natural dark black color.
Here medium-length jet black locks have been swept by on top of the head, using half of the bunch to braid a plait across, while dropping the remaining locks to hang loosely at the back from a high pony angle.
This look offers a formal and stylish look, perfect to go with evening gowns and special occasions.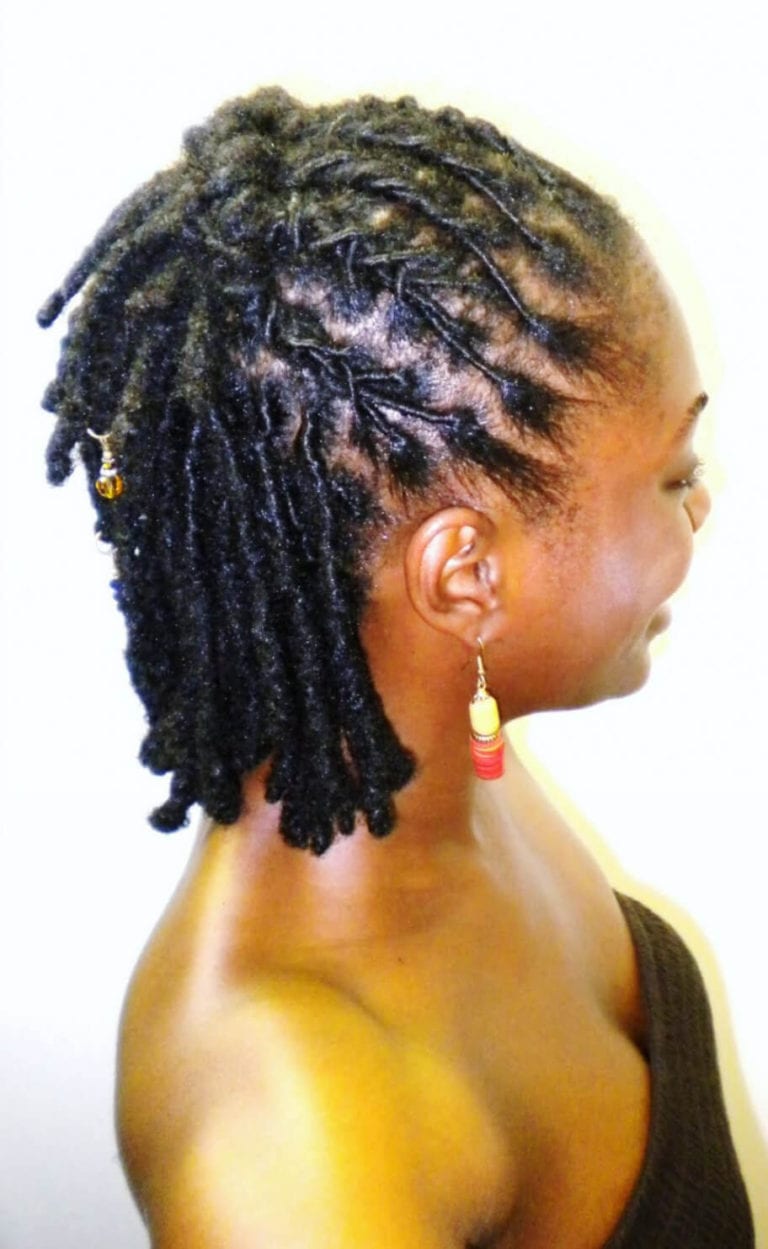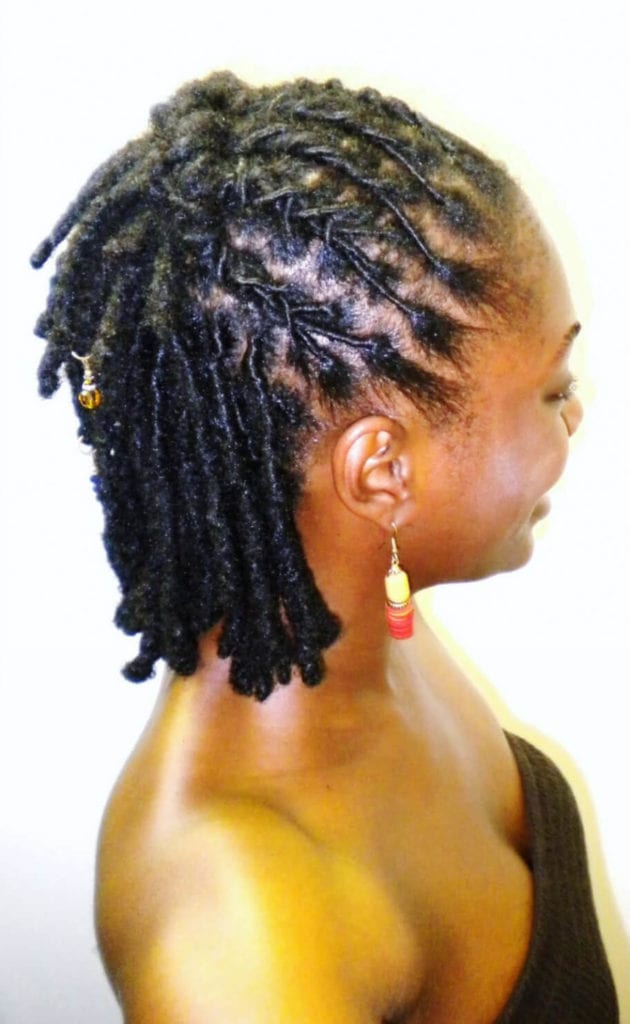 Dreadlock Blonde Hair
In this short dreadlocks are pulled back in a ponytail. The locks are dyed blonde from the middle half, giving it a dip-dye look.
This look is more formal and suited for everyday office or special occasions such as weddings. Blonde locks look extremely classy and offers a perfect blend of formal and party-style statements.
Baby Locks
Anyone beginning to grow dreadlocks has to go through the tough phase of baby locks or starter locks. But one can style baby locks too, with ease and finesse.
Here we see a starter locks-friendly style that will need very little maintenance and manipulation.
Dreadlocks can't get shorter and simpler than this. This is a style for very short, above shoulder length starter dreadlocks styled in a free-to-be manner.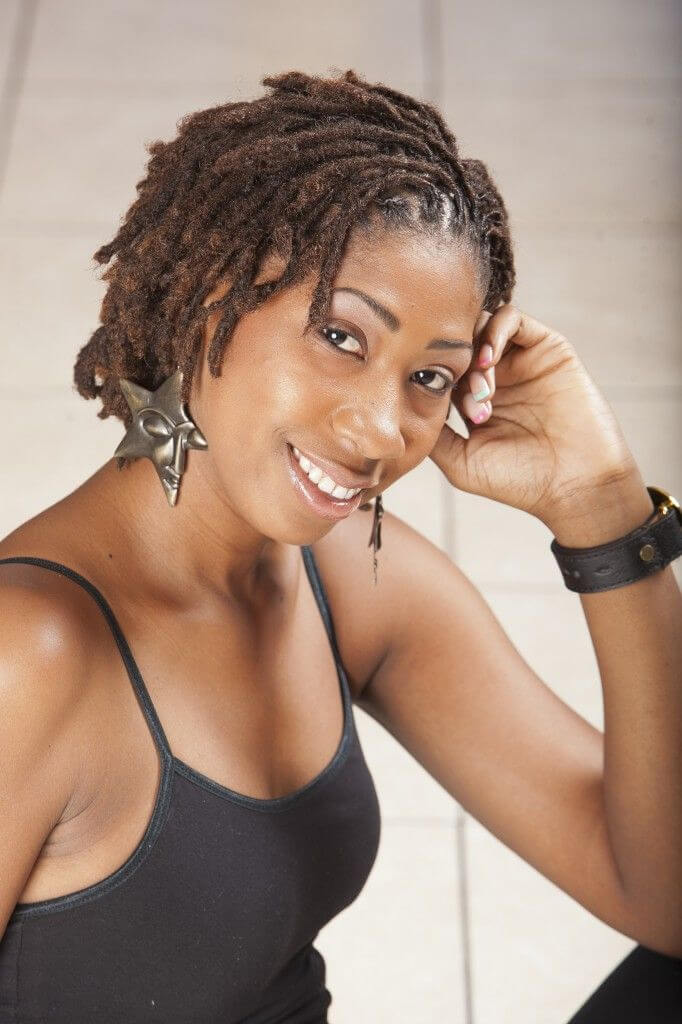 Dreadlocks for Black Women
If simple and straight dreadlocks feel not so appealing, going for curly dreadlocks can be fun. This can be achieved by tightening up your hair more than usual and getting tighter and curled locks to start with.
This style is used in case of just below the shoulder-length locks, or medium-length ones. Here the curled locks are pulled back from front to be bunched into a thick ponytail look at the back of the head.
The locks have a thick, lustrous black color, giving it a natural curly dark black dreadlock look.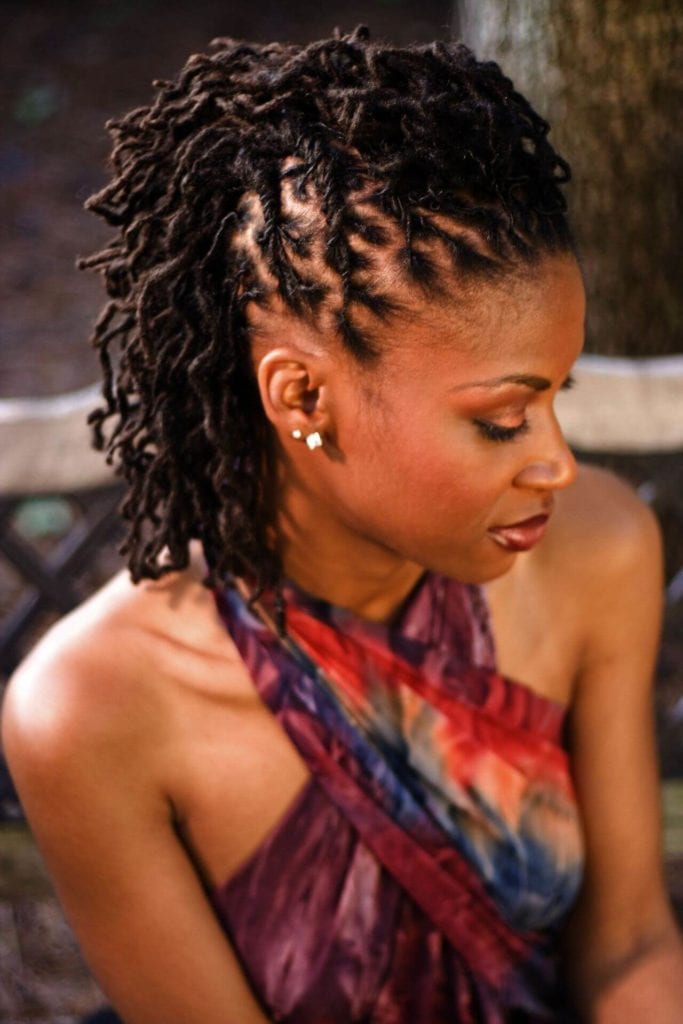 Faux Locks Bob
Faux locks bob is both a trendy and an amazing protective style, that can serve as a transition phase to growing out one's current hairstyle. This contemporary look and technique easily protect one's tresses.
Unlike real dreadlocks, faux locks use extensions and can be easily worn by anyone with any type of hair. In this style, the locks are left open to sport a casual and trendy style.
Finger Waves
Finger Waving is the art of molding the tresses, while they are still wet, into waves or undulations with the fingers. When the molded waves dry they naturally take the shape of deep waves.
Here in this style, the short, shoulder-length locks are given a Finger waves look. This style is usually a formal hairstyle. This hair-do here renders it a slightly more informal and trendy feel due to freely bunching the hair at the end in almost a mohawk style.
Mohawk Style
The Mohawk with braided dreadlocks uses locks to bunch up into twists at the top middle part of the head to give it a bold and cool style statement.
In this style, the short to medium-length dreadlocks are given a Mohawk look. This look here is mohawk in a subtle and smooth way.
Created by pulling back the dreadlocks from the sides, to give it a Mohawk side under shaven look, the locks are crisscrossed and braided in the back of the head in a Mohawk weave look.
This style is super classy, and a perfect blend of formal and casual party styles.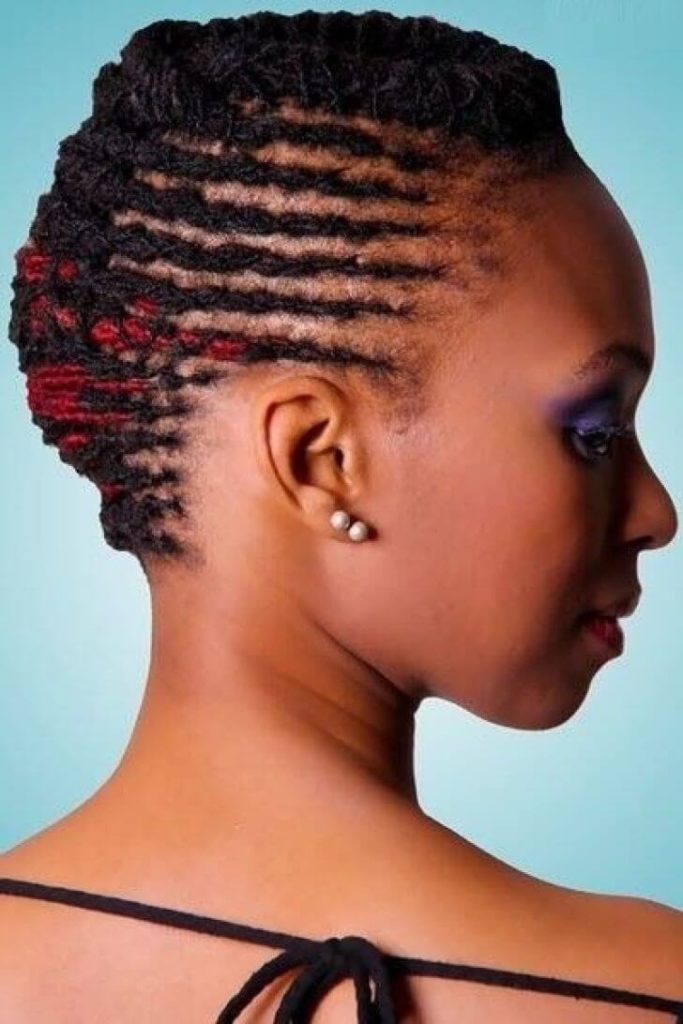 Top Knot
If one has medium-length to long, and especially thin and neat dreadlocks, then a classical high or top bun looks quite stunning to go with. This style can also be achieved with voluminous locks and the top bun can be put up way high.
In this style, just as with normal tresses here the locks are pulled up in a top bun look. Usually, a top bun locks look can be achieved by turning the loose ends into a bun.
Here however, the locks have been pulled into a high top of the head bun, but the ends slightly left loose, giving a look of a perfect blend between a bun and a high pony.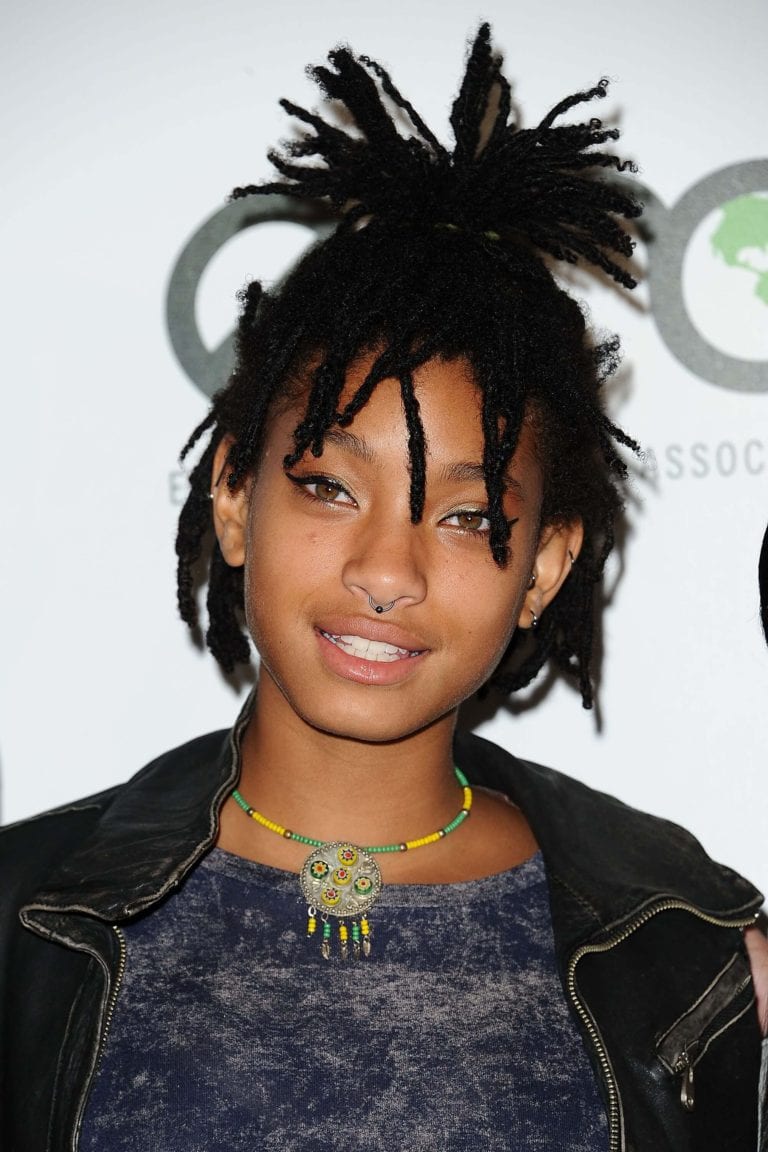 Side Swept
In this style, short loose dreadlocks are easily achieved with no extra braiding or pinning. This relatively simple deadlock hairstyle is fit for short to medium length dreads.
This look is achieved easily by sweeping the bigger chunk of the locks to one side while sporting the rest on the other side of the side parting.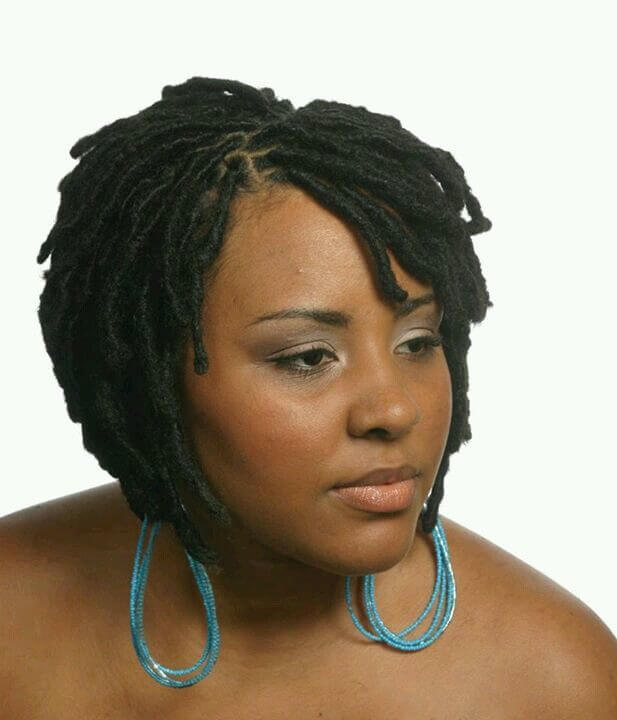 Side Bangs
Perfect for when one is craving a style or color change with dreadlocks, this style sports an asymmetrically colored side swept style.
Dreadlocks can be worn asymmetrical, sweeping major portions of it to one side of the face, using a side parting.
Further, this look here uses a brownish red shade applied in the asymmetrical manner, rendering it a casual and trendy look.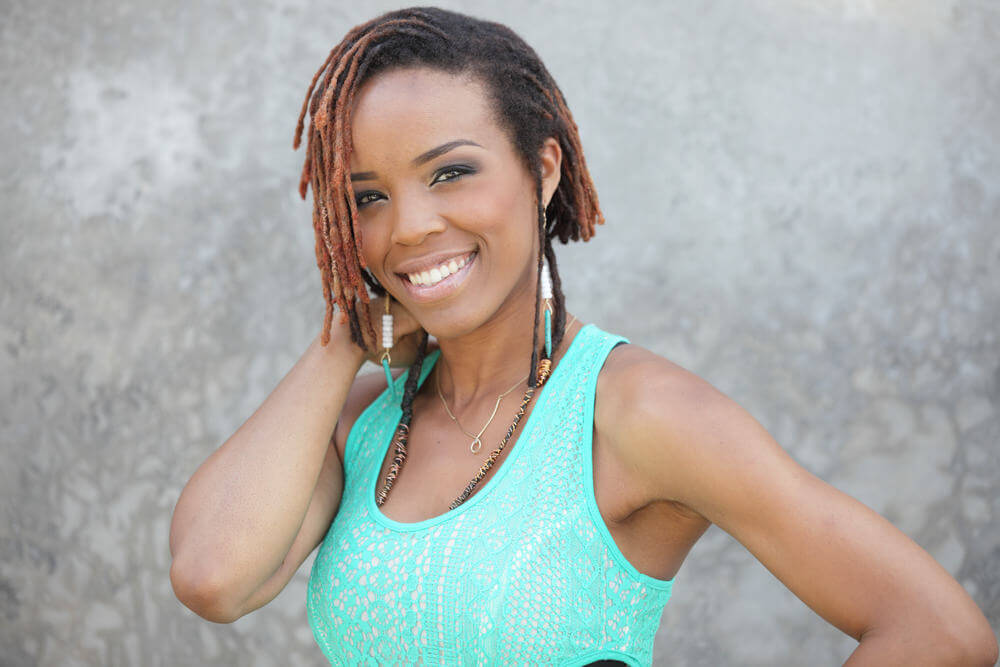 Dreadlock with Curly Hair
Curly very short or medium length tresses arranged in dreadlocks too can be neat and classy looking. One of the quick summer shortlocksstyle is seen here. This is achieved with curly short ormedium length dreadlocks pinned up on the top and front side of the head to that the curls fall loosely on top.
This can also be called an inverted ponytail as the major portion of the dreads and pushed inversely from bottom to top to give it a high inverted pony look. This hairstyle is achievable with any type and texture of dreads but looks better with medium thickness of the locks.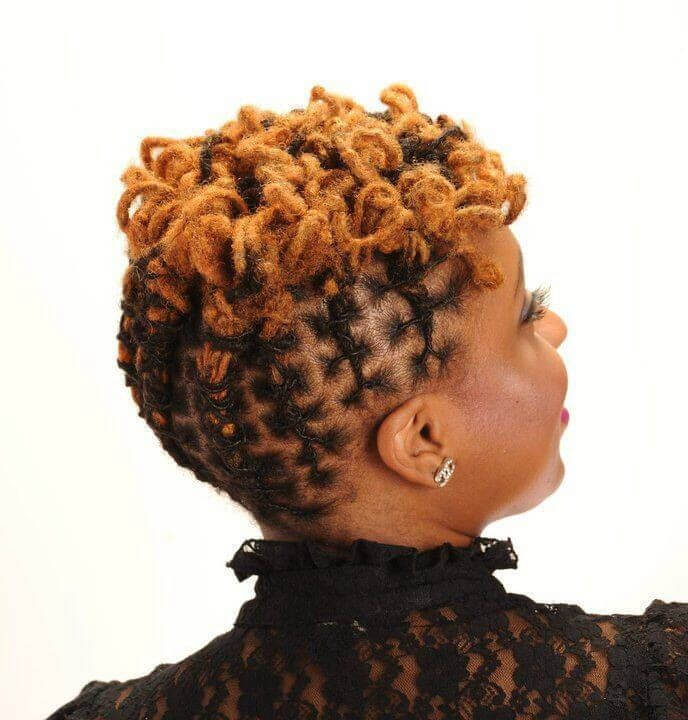 Dreadlock Bob
Dreadlocks need not necessarily be complicated a look. A simple dreadlocks style can be achieved while still looking impressive.
In this style, the thin locks are arranged in a classical dreadlock look and left loosely falling around the face, like a bob look.
This style is not only easy to achieve and maintain, but also frames one's face perfectly, just as a classical bob cut.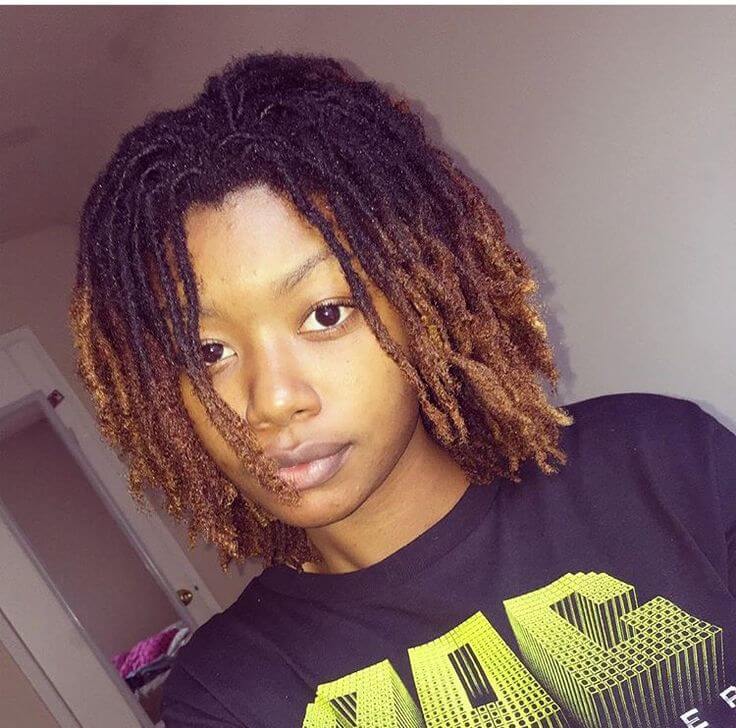 Updo Dreadlocks
Curly updos with dreads are stunning styles, suited for more formal occasions and weddings. While short to medium-length locks can be simply left loose, these can also be made into varied buns and updos.
This is a bold, sassy and curly deadlock updo that befits medium-length locks. Easy to style, here the curled locks are put up behind the head with a loosely scattered look. This look achieves the perfect blend of formal updo and informal loose locks look.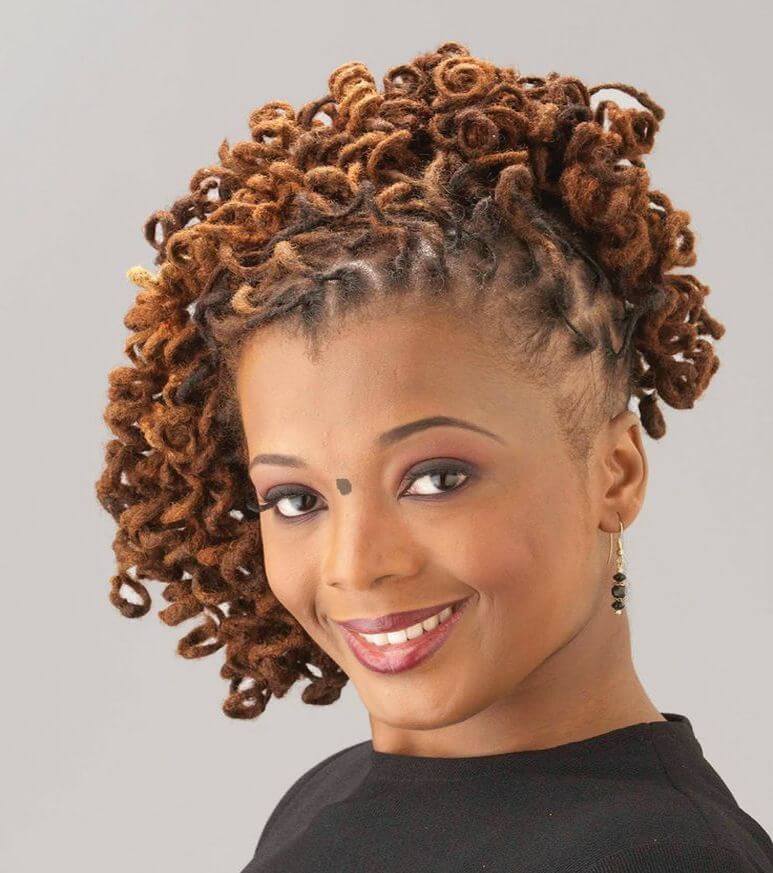 Layered Dreadlocks
Good news is even dreadlocks can be styled in layers! Not only layered hair can be woven without much problem into dreads but even locks can be layered up depending on the length of the same.
In this style, thin, neat locks are arranged in layers, the overall look and length determined by the shortest layer in the dreadlocks.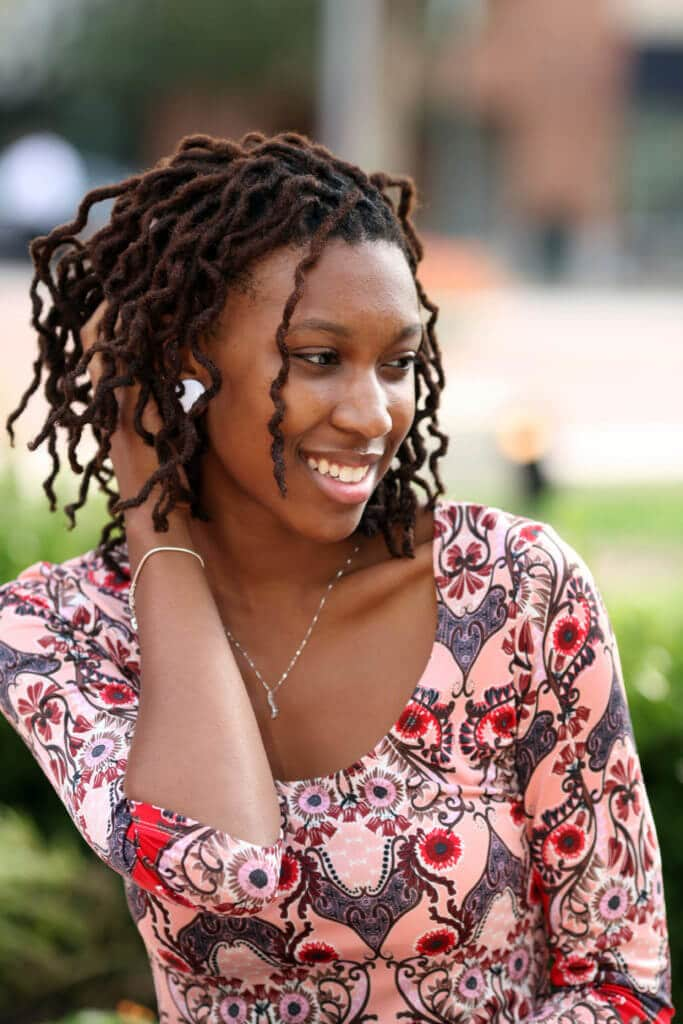 Pixie Dreadlocks
Natural curly and very short hair too can be styled into dreadlock looks. Here the extremely short twisted springs have been arranged in a neat and classical pixie look, rendering it both a formal and a casual style.
The short curly brown hair twisted into dreadlocks appear as short spiral curls spread evenly all over the head.
Inverted Bob
Bobs will always be in vogue, as they are classic, chic and cool. And an asymmetrically cut bob with dreadlock is simply sophisticated and plush. "Chin to Collarbone Bob", but the idea is still very Salt n Pepa-esque.
This look here is dreadlocks rendered a salt and pepper inverted asymmetrical style. Either naturally gray hair or even dyed gray locks can achieve this look. It's perfect for shorter hair of any type and texture.
With this cut, the medium-length asymmetrical dreads are swept in the opposite direction to get this inverted hairstyle sporting a deep side part. Needless to say, it's one of the unique hairstyles.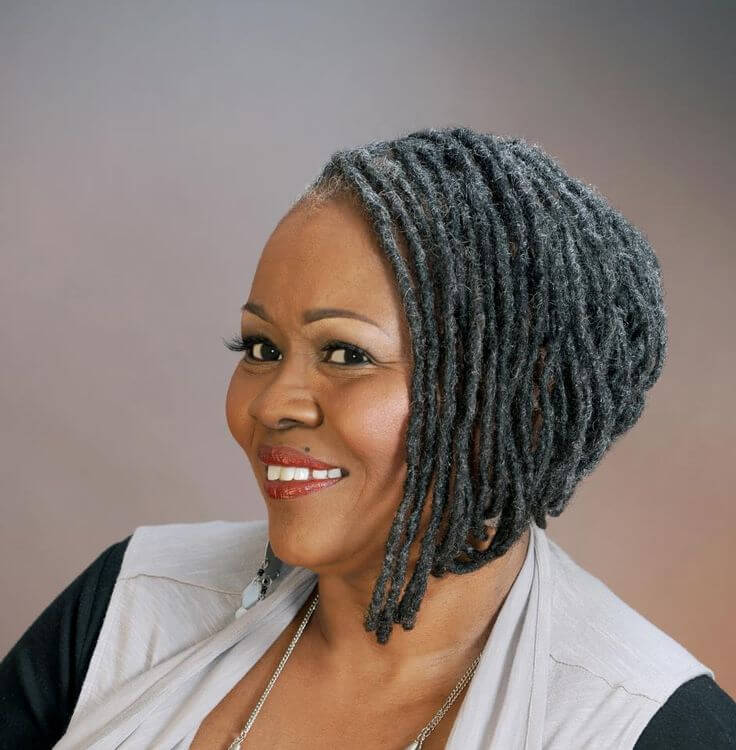 Red Dreadlocks
Dreadlocks look out of the box and rebellious in itself. In addition, whether short, medium or long dreads, these can be always dyed to achieve an even more stunning and rebellious look.
Twists, curly locks or even classical dreads, all these can be accentuated by it dyeing it red. Such outrageous colors bring in a great statement to say the least.
Here very short locks are dyed walnut red. But one can pick even more dangerous colors such as bright red, pink, green or blue.
Side Swept Messy
this chic hairstyle preferred by many teens nowadays is in vogue because of the ease and simplicity of the look. Here dreadlocks, or even twisted braids of medium length are arranged in a cheek length style by pushing the main bunch at one side.
The rest of the hair is casually pushed at the back to give it a casual and messy look. This is a perfect blend of casual and semi-formal style and is perfect for medium-length natural locks.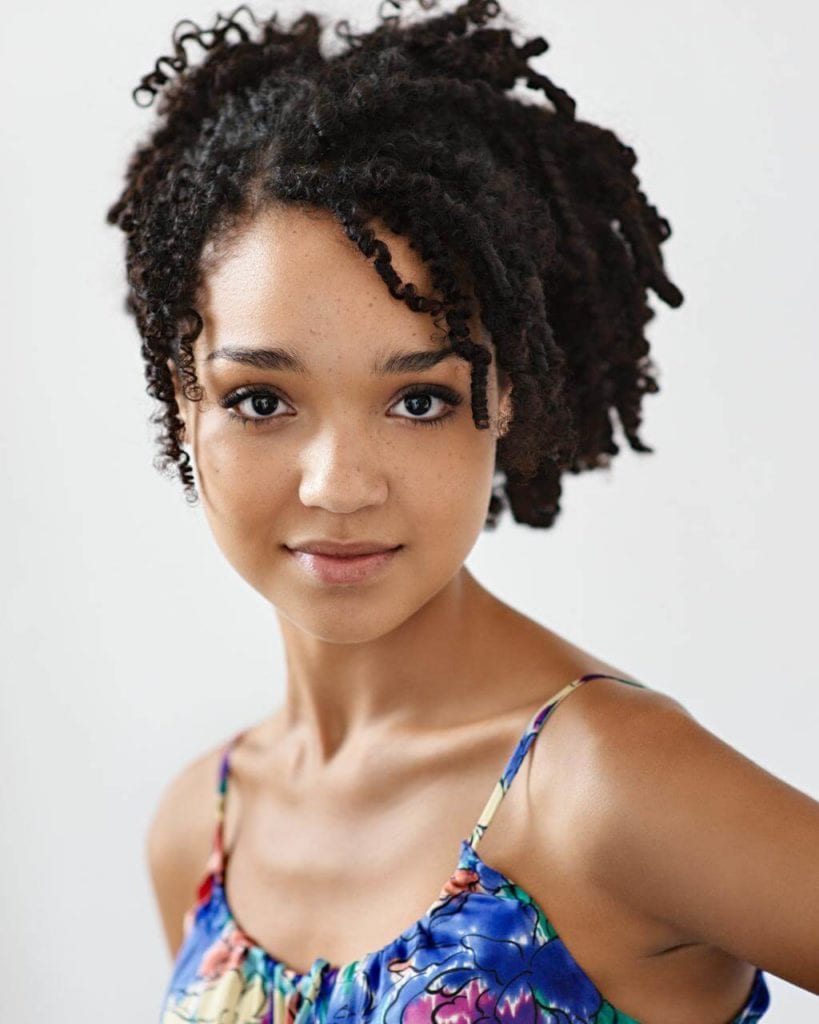 FAQs
What Is the Minimum Length for Short Dreadlocks?
The average minimum length to start short dreadlocks is 3 inches or 7 cm. However, some short dreadlocks can be created between 1 to 8 inches or 2.5 cm to 20 cm, depending on the hair type. The shorter the start, the more upkeep it will take to grow healthy dreadlocks.
How Long Can Hair Be To Get Short Dreads?
Hair can be as short as 1 inch for some hair types. Hair types and textures will determine the appropriate hair length for the perfect start of short dreadlocks.
Coarse Hair: As short as 1".

Loose Curls: Between 3" to 6".

Straight Hair: As short as 4".

Thin Hair: Recommended 8".
Why Are My Dreads Getting Shorter?
Dreads will get shorter during the starting phase and again during the maturing phase. Straight or thin hair will tend to stay shorter for an extended period since it takes longer for those hair textures to mature.
How Long Does it Take for Short Dreads To Grow?
When starting dreadlocks, the hair will look much shorter as it twists. The hair will grow, but not always visibly for the first few months. It can take months for short dreadlocks to mature.
Adding extensions for the starting process of short dreads can ease the wait time for growing and maturing to the desired length.
Why Is Dreadlocks a Negative Connotation?
Historically, dreadlocks have had a negative connotation based on racist stigmas toward Rastafarian culture. Dreadlocks further gained negative connotations for their appearance to some as dirty or unkempt.
Even the word 'dreadlocks' itself has developed negative connotations, prompting many people to opt for the word 'locs' instead. 'Locs' is the preferred, more politically correct term as people feel the word 'dreadlocks' has been corrupted due to the condescension of the people who historically wore them.
Dreadlocks can be quite stunning to sport. Be it short, medium or long locks, dreads will always remain in style. While longer locks have their unique style statements, short dreadlocks hairstyles too are in much demand and can give the wearer a perfect blend of cool and sassy, formal and casual in vogue style statements.
Ideal for managing baby locks, curly short hair, or even thick bushy braids, there are endless unique short locks styles to choose from. Further, such hairstyles can be blended with a variety of dyed looks, dip-dyed treatment, Mohawk look, under-shaven looks and much more.