Are you looking for a new way to style your short hair? The finger wave haircut is one edgy and fabulous option that you may want to consider.
This hairstyle is defined by the S-shaped waves that are flat against your head. It was a big hit during the 1920's and is the most popular option for short hair women. And now, it's back again with a bang!
You may have seen it on the runways of various famous designers, so we can finally say that this retro hairstyle is officially back in business! But instead of the simple finger waves, you can expect to see more futuristic, contemporary, or feminine versions of this hairstyle.
To know more about the modern finger wave short hairstyles, continue reading this article!
Simple Tips to Create Finger Waves Like a Pro
To be honest, it will be challenging to create finger waves on your own. But the good news is, it's not impossible. With the right tips, you can surely master the art of making finger waves. Here are some steps on how to do that:
Keep it wet
The biggest problem in styling finger waves is making sure that the style will stay. The best solution is to keep your hair wet during the styling process to ensure hold, pliability, and moldability. You can do this by applying water and a hair mousse.
Use combs
Before, finger waves are created using a comb and your fingers (hence the name). But if you really want to make the S waves look as distinct and symmetrical as possible, we recommend using 2 combs.
Promote stronger hold using a flat iron
If you have thick or straight hair, you need additional measures to ensure that your hair can hold the S-shaped waves. To do this, you can use a flat iron to create and exaggerate the ridge of your finger waves.
Dry your hair thoroughly
To properly set the finger waves, you need to ensure that your hair is 100% dry. The best and most efficient way to achieve this is by using a hooded dryer.
Best Finger Wave Short Hairstyles to Try Today
Now, without further ado, here are the best finger wave short hairstyles that you may want to check out:
Pixie Short Haircut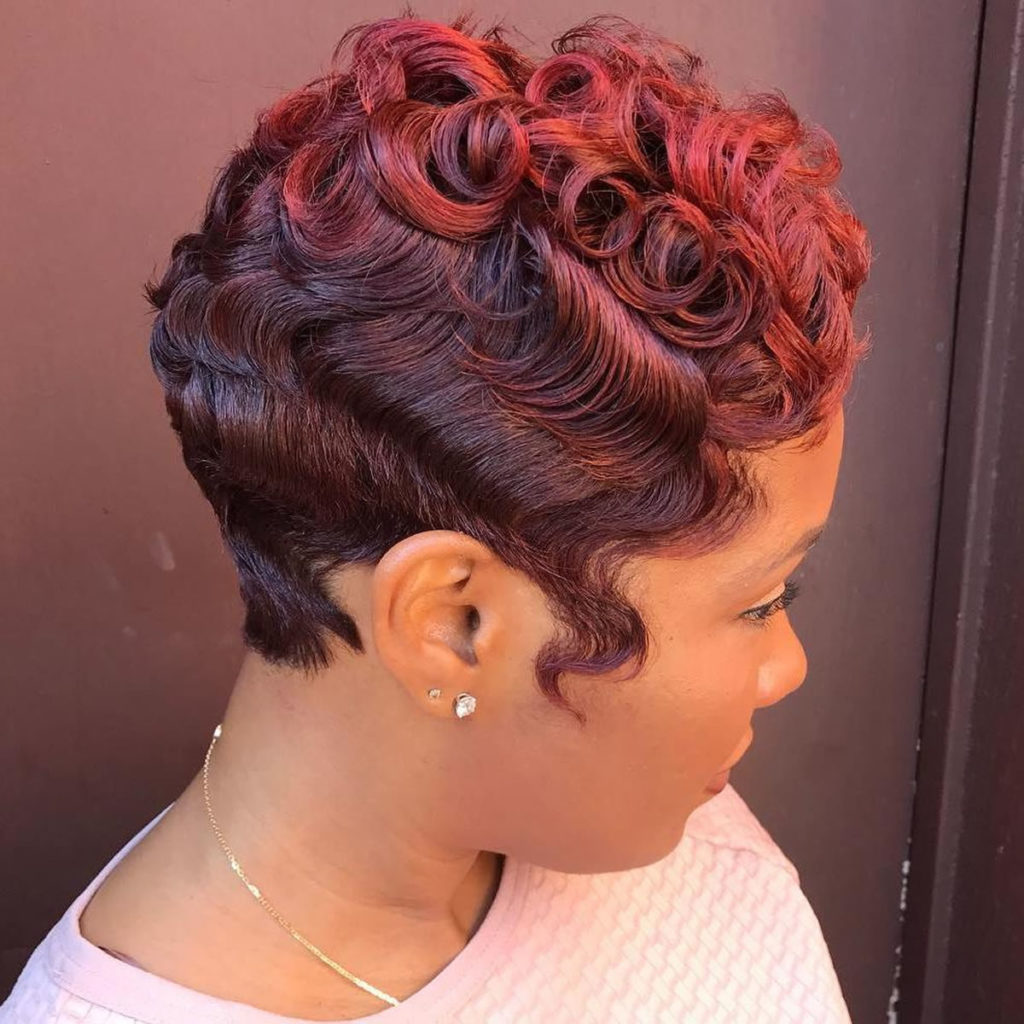 When it comes to choose the right kind of hairstyle for your short hair, then pixie cut can be a smart choice. The middle section of the hair needs to kept little curly and highlighted with a dark reddish color and both sides of the hair is blonde black.
Give some curly twist in the front section of your hair, to create this particular hairstyle. The entire hairstyle is absolutely funky and gives a bold and smart look on your personality. You can sport this look with western dress and it suits every face shape as well.
Finger Wave Bob Hairstyle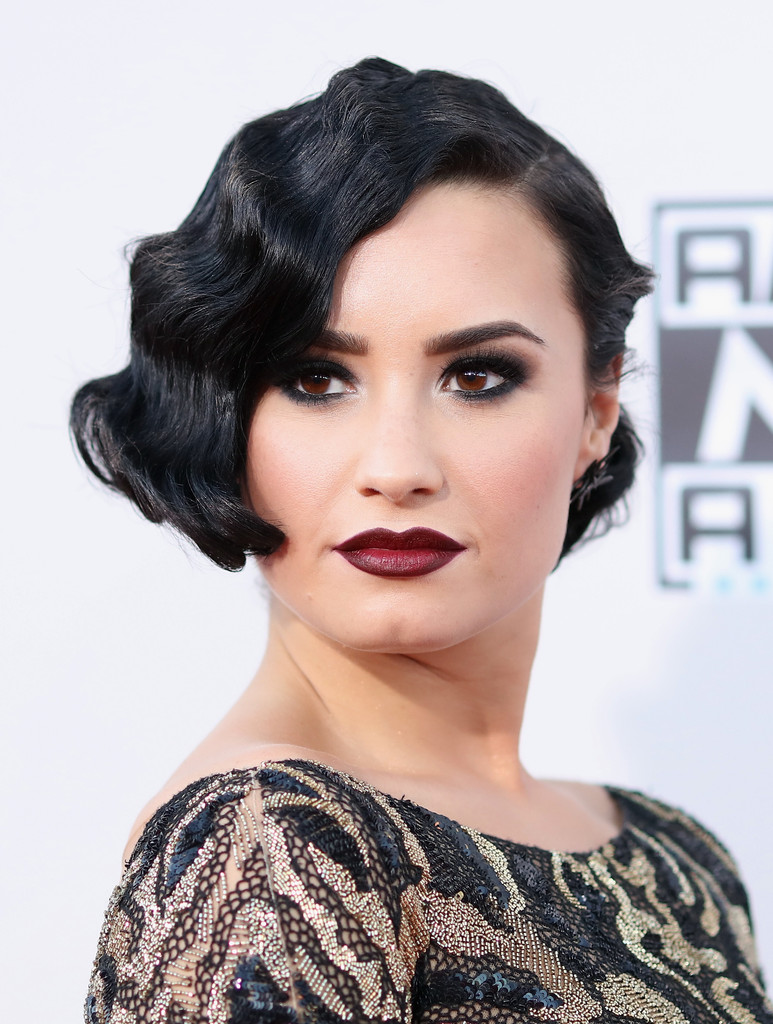 This is a Finger Wave Bob Hairstyle, which has been made your appearance absolutely trendy. Begin with making curls at the ends of your hair. Then, make a parting and keep it as much to one side as possible.
Now try to brush the majority of the hair to one side of your face and your look of the day is complete. The entire style is absolutely amazing and gives a beautiful and ravishing look. It suits them who have a round face.
Natural Finger Wave Short Hairstyle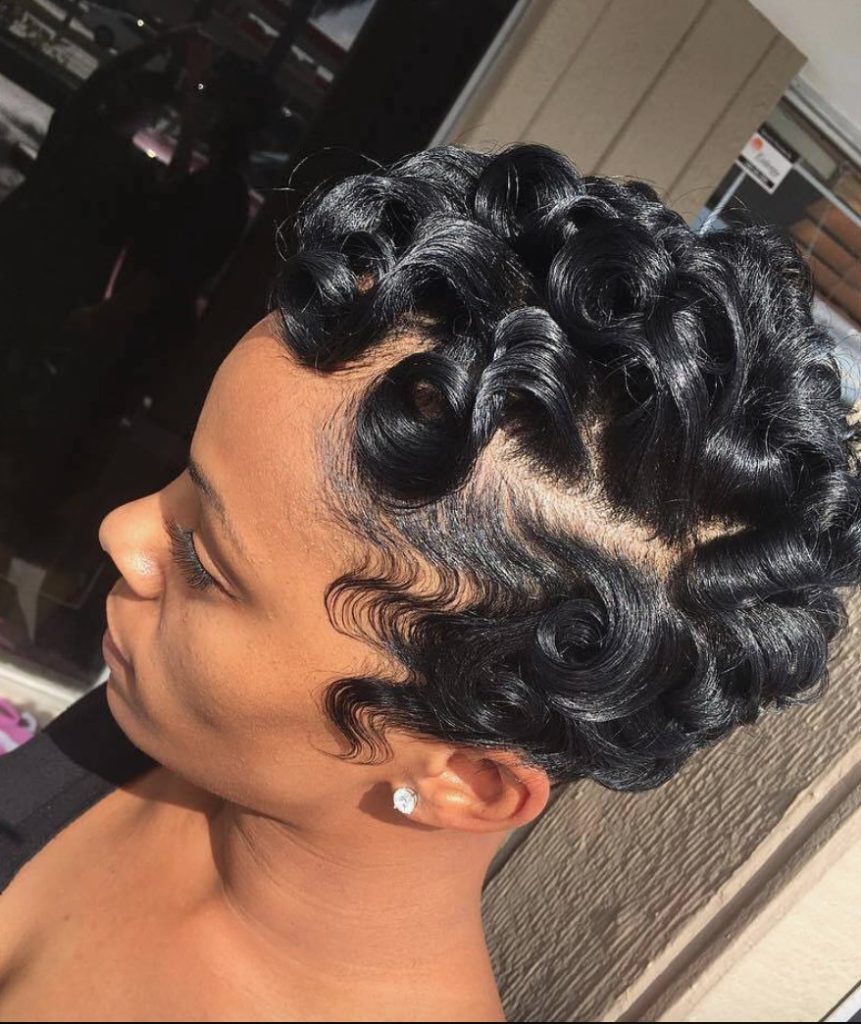 The bob looks really feminine and charming in this one. The specific hairstyle has an old-world charm to this that is hard to ignore. Make a thin side parting and then pick up your hair curler and make thick waves along the length of your hair.
The entire hair looks like a curly bunch overall. It looks so pretty with your summer or evening dresses. The Natural Finger Wave Short Hairstyle is absolutely ravishing and stunning as well. You can easily sport this look at any event or occasion.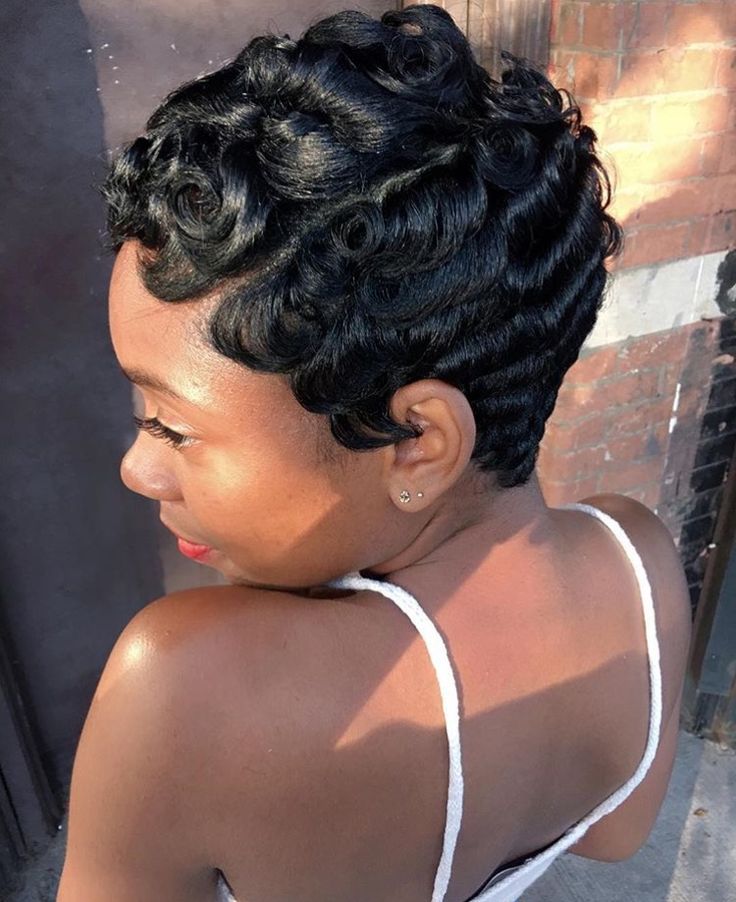 Neck Length Finger Wave Hairstyle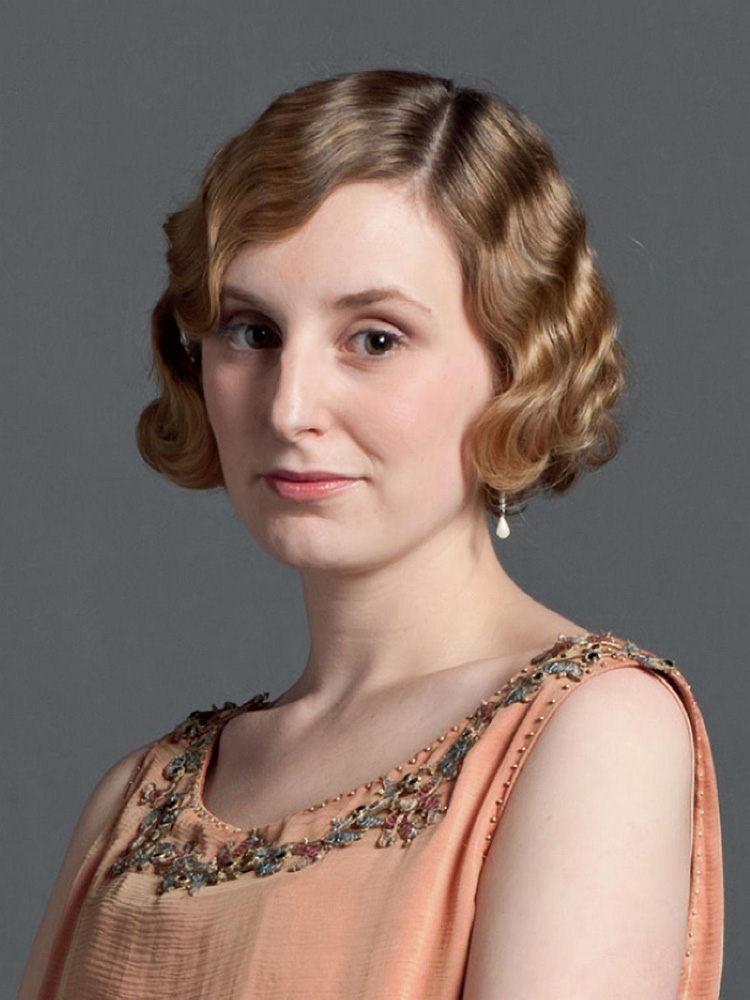 If you have a short and wavy hairstyle, you can easily choose the Neck Length Finger Wave Hairstyle, which is absolutely amazing. The waves of hair get more accentuated in this particular lob as compared to the preceding hairstyle.
Try to create a deep side parting and then use your flat iron to make a number of bumps in your straight hair. You can also go for the ombre hair color as this has been shown in here where the color goes from brunette to honey blonde.
African American Finger Wave Short Hairstyle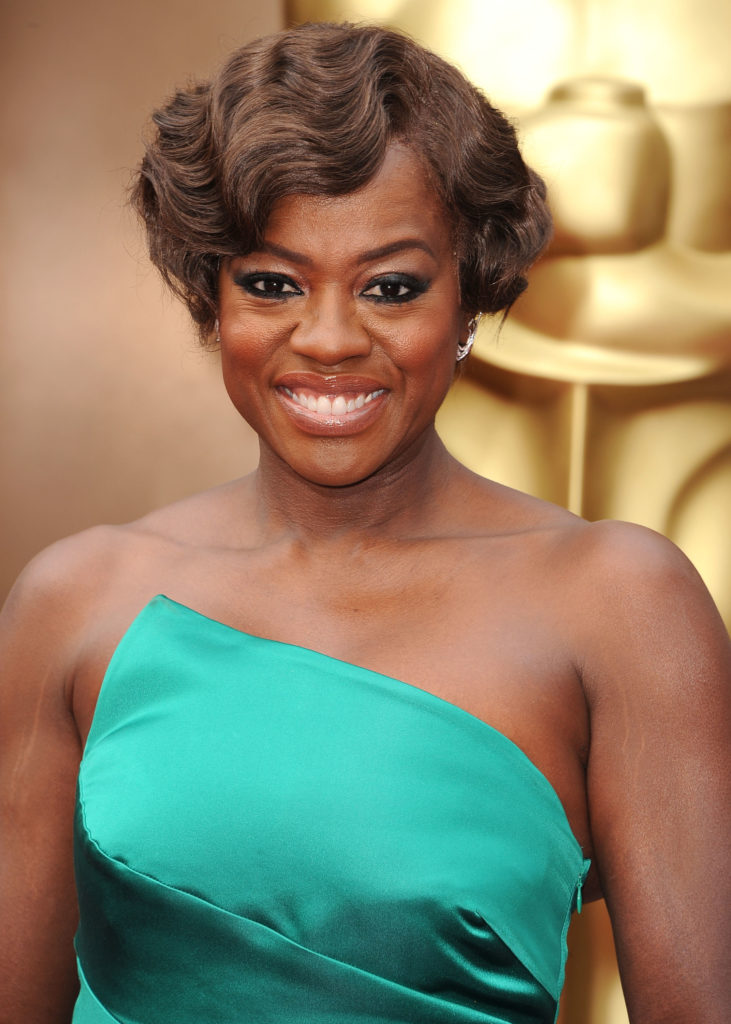 Just three simple steps can give you this wonderful and magnificent hairstyle. Firstly, put some hair styling and also heat protection products in your hair. Secondly, make side parting on the left side so that majority of the hair is swept to the right.
Now just leave a bit of the hair besides the parting and put hair rollers. Open the rollers and your hairstyle is ready to be flaunted. Trying the African American Finger Wave Short Hairstyle will look absolutely amazing on you and gives a bold and beautiful personality as well.
Center Part Finger Wave Short Hairstyle
Want to try a style, which is absolutely innovative, unique and absolutely fresh? Go for the Center Part Finger Wave Short Hairstyle. In this particular hairstyle, one side of your hair will be slight longer rather than the other and this is what gives you a chic and beautiful look.
A wavy bob actually enhances your features and gives you an appealing look. This particular hairstyle helps you to look bold and stunning. Make a side part in the dark brown blonde hair and keep the rest of the hair as it is.
1950s Finger Wave Short Hairstyle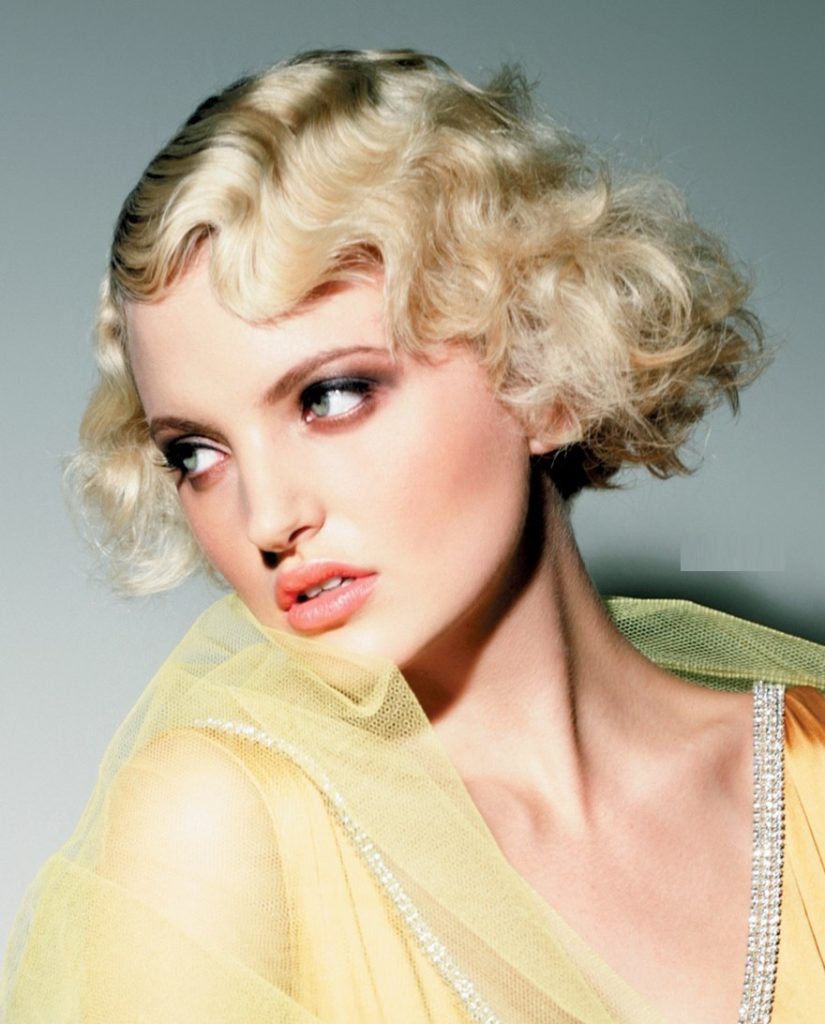 Nowadays, girls always opt for the unique and fresh look. So, if you have a blonde short hair, you can easily go for the way hairstyle. Waves are one style that is sought after by every woman. However, this is a common misconception that people sporting a bob cannot have wavy hair.
The1950s Finger Wave Short Hairstyle bob provides you a look of authenticity and charm. Sport this look with confidence and rock this style. This will add a smart and absolute charming look to your personality.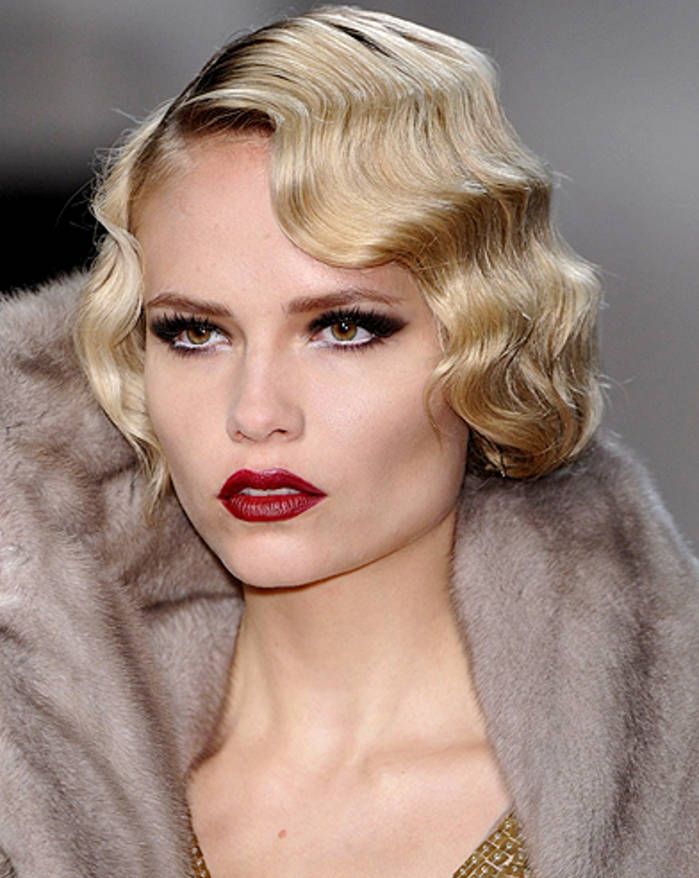 Side Swept Finger Wave Short Hairstyle
The darker blonde bobs have turn out to be extremely common along with the majority of women sporting this look. Though, if you are a blonde or have colored your hair blonde, sporting the Side Swept Finger Wave Short Hairstyle gives you a look of beauty and grace.
Go for this look if blonde is your color. If you want to try any kind of innovative and unique look, you can easily sport this particular look. It suits every kind of face shape and suitable for any occasion or event.
Pixie Cut Finger Wave Short Hairstyle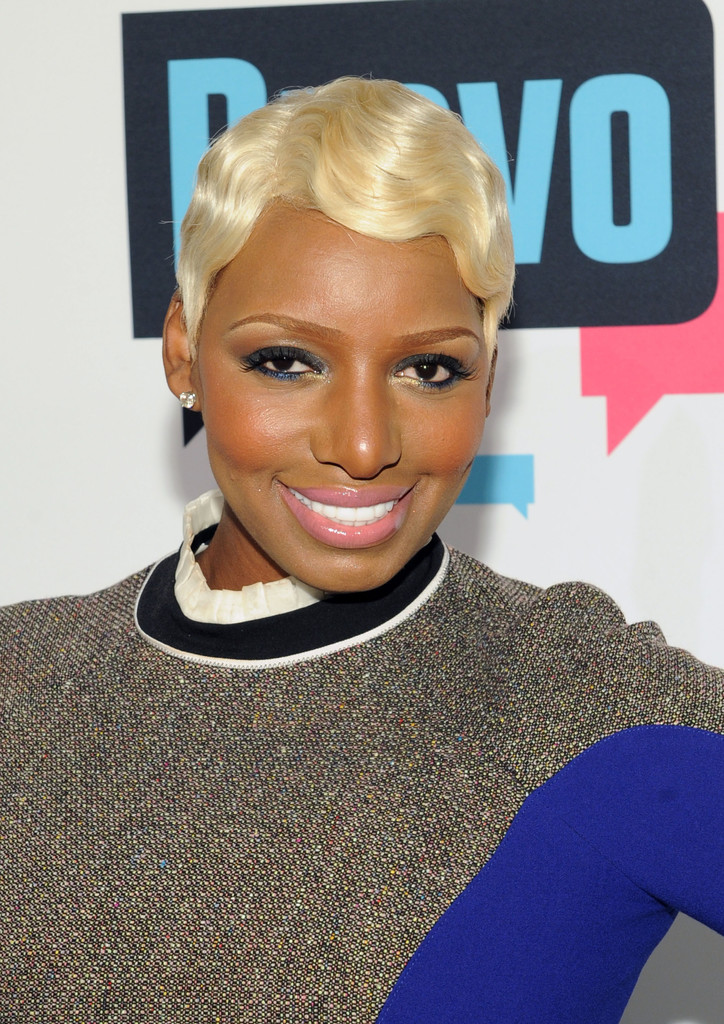 This is an absolute casual look. If you are just going to hang out along with friends and family, then go for this hassle free style. Fringes will provide you the fun and playful look and loose waves gives you the charm and beauty required to rock this look.
This Pixie Cut Finger Wave Short Hairstyle goes well along with the pair of shorts and a cute top. If you have a short and blonde hair, you have to make sure that you choose the right kind of hairstyle like this. It provides an absolute charming look.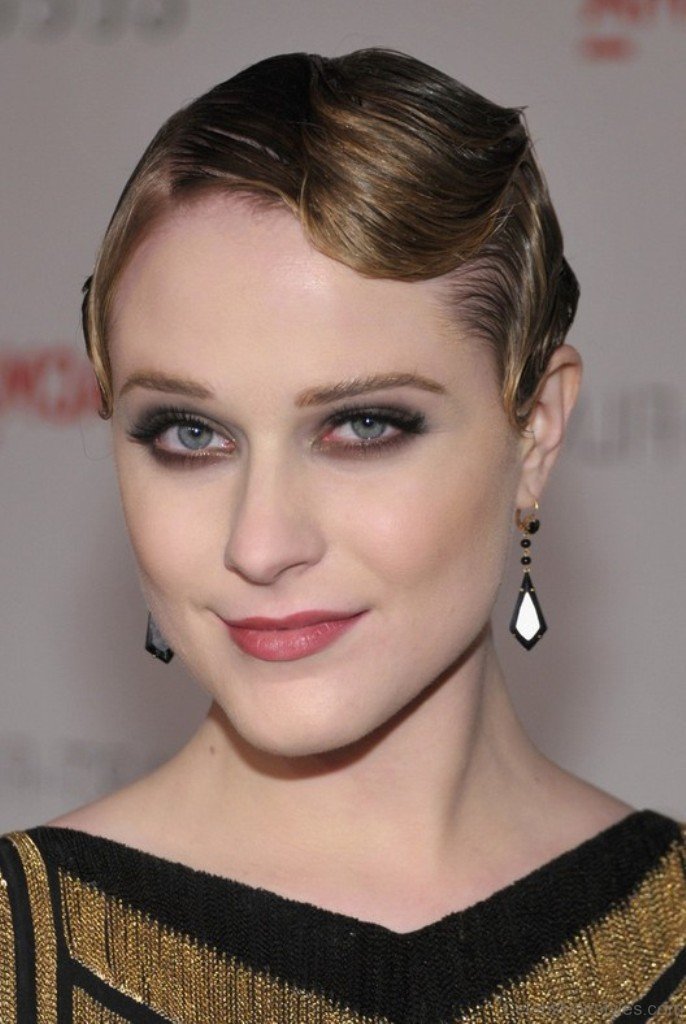 Finger Wave Bob Cut Hairstyle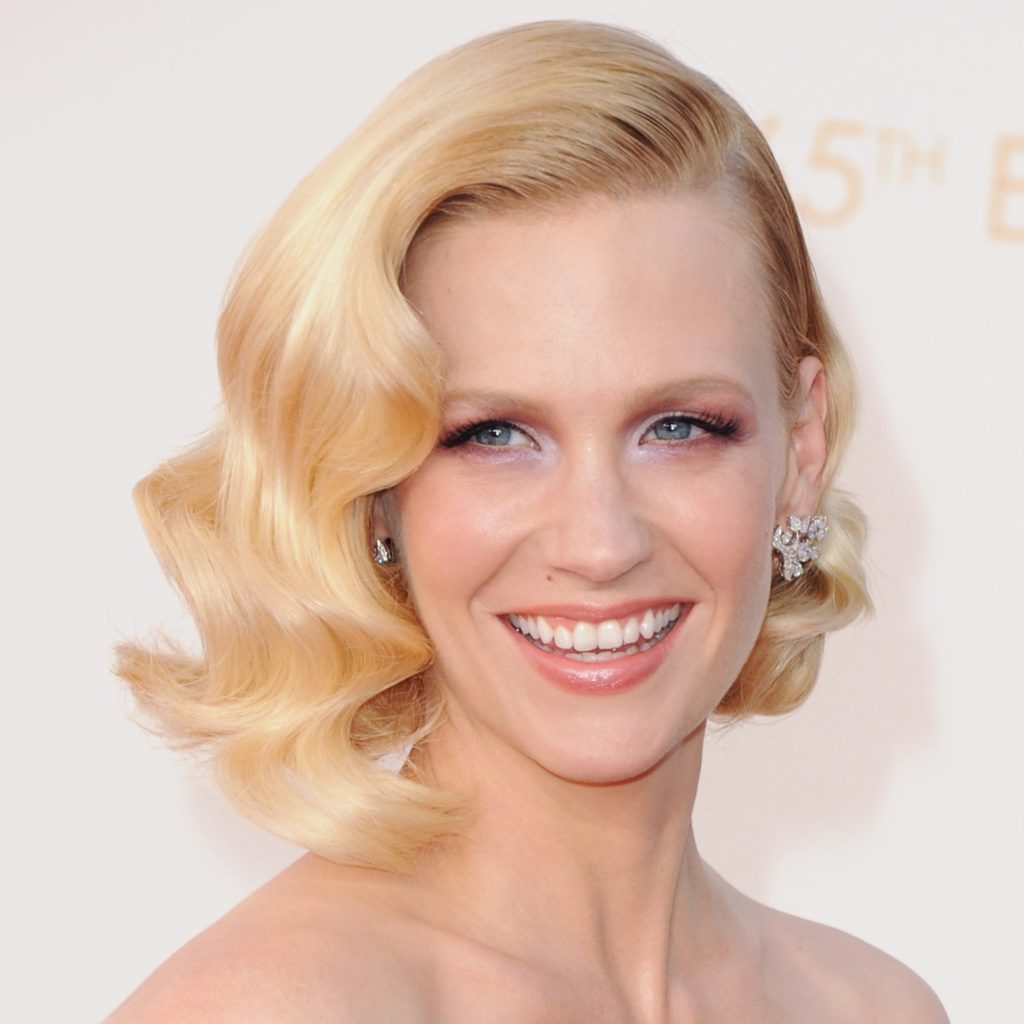 If you want a look, which is universally adored then go for the Finger Wave Bob Cut Hairstyle. Perfecting this particular look can be a little difficult and can seem like a daunting task, though, if you get the look right, you will definitely be the center of attraction in a crowd.
Sport this exciting look and you will definitely get a few jealous looks from other women. Well, if you love to have such unique cut, this is great option for you. Make a side parting to get the hairstyle.
Blonde Finger Wave Short Hairstyle
Fringes or bangs will always be in fashion and this is extremely well-liked among the younger generation. Having a Blonde Finger Wave Short Hairstyle in itself amplifies your look, sporting fringes along with it will give a look that is mesmerizing and jaw dropping.
Go for this look, if you love being the center of attention. Try to make a side parting in your hair and you can also add some hair gel to get a polished and smooth look as well.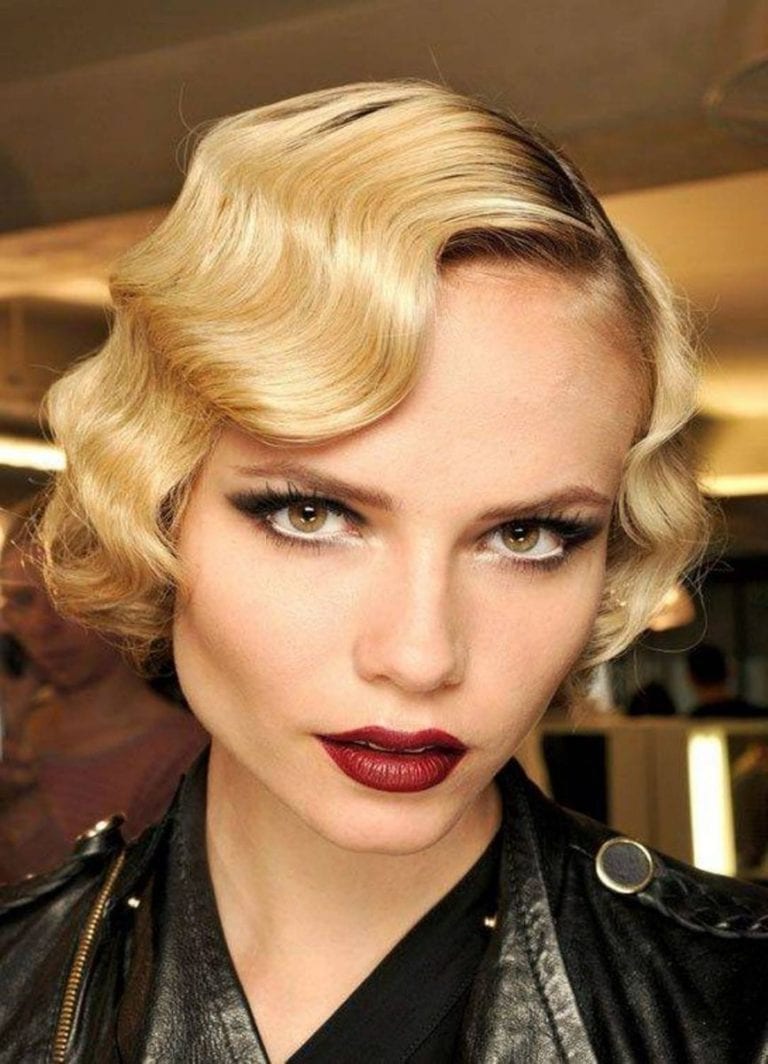 Hard Sleek Pixie Cut Finger Wave Hairstyle
Visit the golden ages with the Hard Sleek Pixie Cut Finger Wave Hairstyle. This style provides you a look of class and at the same time also is graceful and beautiful.
Though, make sure you carry this particular style along with great confidence. This is an amazing look that needs no extra accessories to sparkle. Make a side parting and comb the hair tightly to get a smooth and prominent texture.
Side Part Finger Wave Short Hairstyle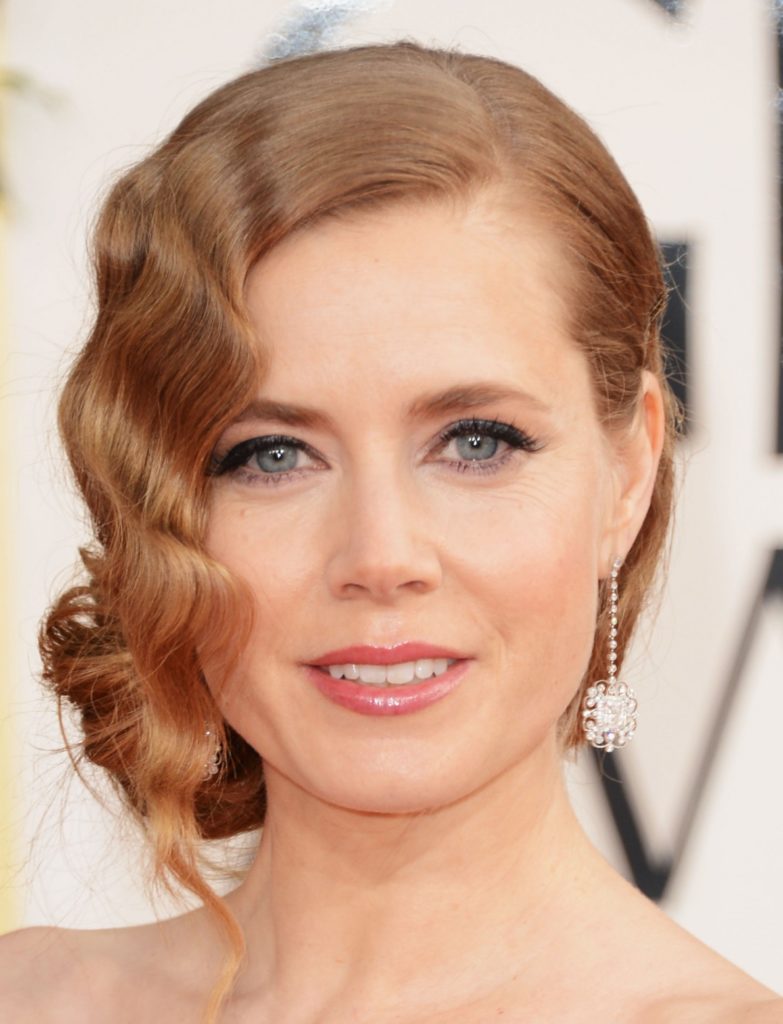 The layers are the highlight of the hairstyle that actually looks as pretty on a brunette as it does on a blonde. This is the hairstyle solution to try out if you have thin hair and want to make it look thicker.
The Side Part Finger Wave Short Hairstyle layers add the much-needed texture to this particular hair. Create a parting to the left and sweep the hair to the right of the parting. It suits all of the face types and good for every occasion.
Shoulder Length Finger Waves Hairstyle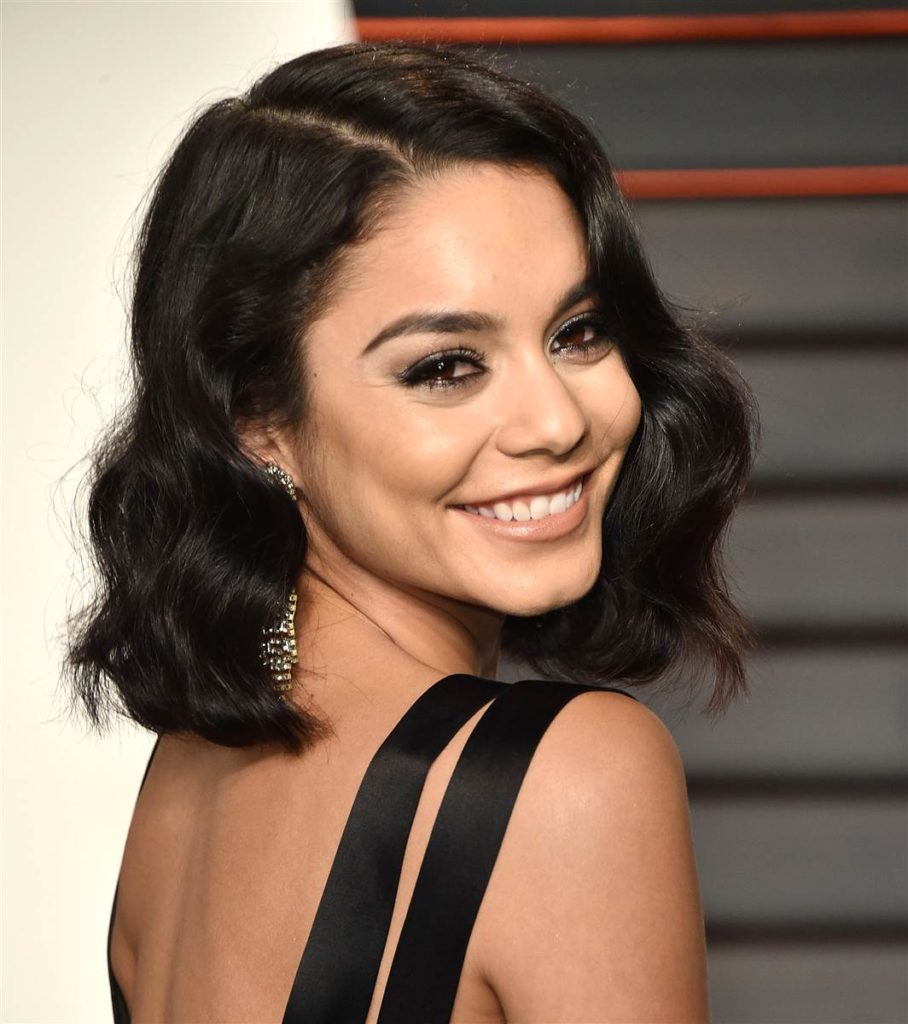 The Shoulder Length Finger Waves Hairstyle reaches a bit below your shoulders to create this lob hairstyle. The front of the hair on a one side is kept the bit longer than the rest.
The hair basically to look all sleek and shiny for this one so it will help if you can add some hair styling products besides your natural shine. Take the flat iron and make the hair wavy. Create a side parting and add little waves at the end.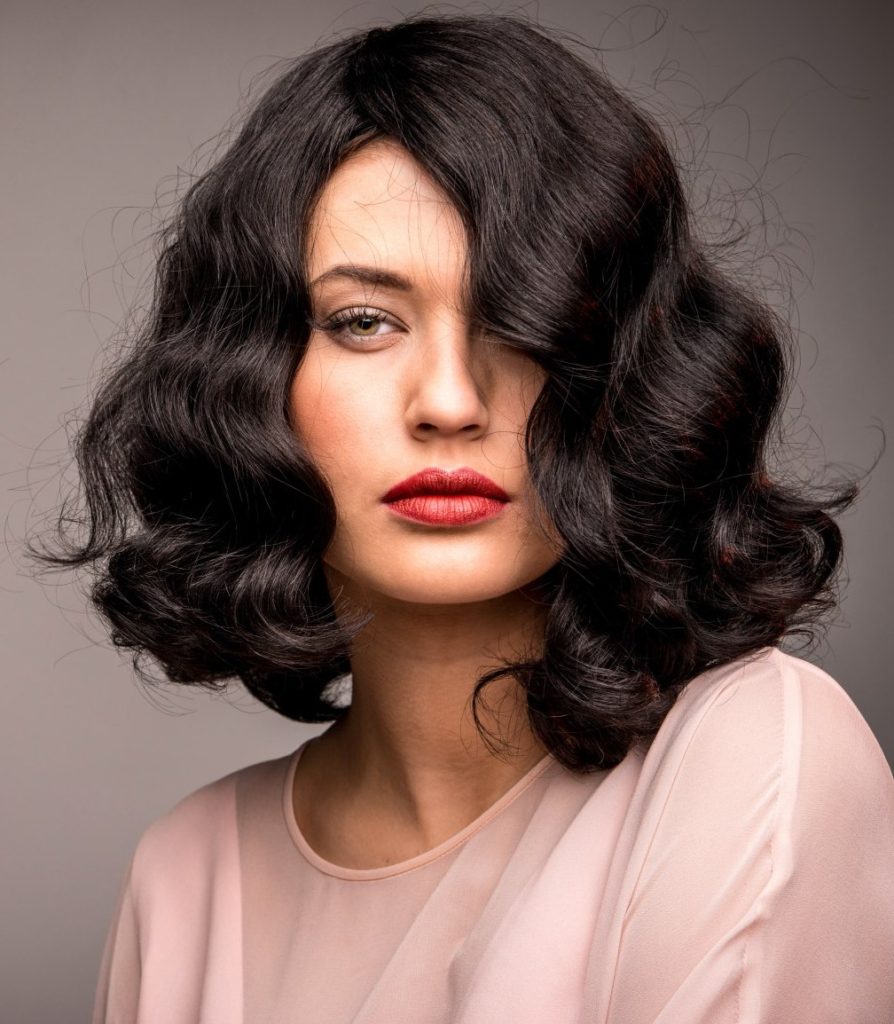 Finger Wave Short Hairstyle for Thin Hair
This is one of the easiest hairstyles to sport at every occasion. It literally takes 5 minutes to get into this style.
So if you are looking for the amazing and absolutely hassle free, less time consuming hairstyle, then go for Finger Wave Short Hairstyle for Thin Hair. This look is classified as being extremely suitable for a workplace and delivers a fabulous look.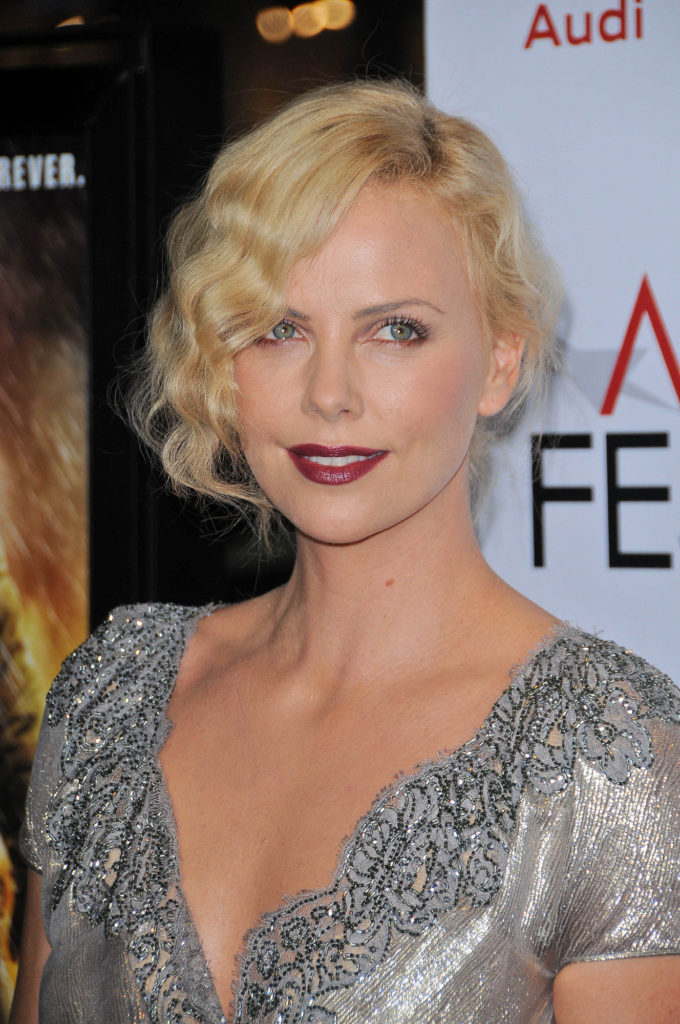 Golden Chin Length Side Curls
This hairstyle has the hair all combed to one side into some elegant finger waves that fall to the chin.
Fully blonde finger wave short hairstyles sometimes appear washed out due to the plain color, but this one has darker roots that make the look more vibrant.
Finger Wave Bangs
Here the hair is mostly tied back, so the waves aren't noticeable. However, the front of the hair is made interesting by the finger waved bangs that are slick to the forehead and move in one elegant sweep.
Dark Loose Waves
This is a looser finger wave style where the hair falls to the chin in large, open waves. There's some slight messiness to the style that makes it look very natural, but it's still stunning and elegant.
Elegantly Knotted Waves
Some finger wave short hairstyles look regal, and this is one of them. The waves look simple from the front, but large waved sections are pulled back into a majestic knot at the back of the head.
Retro Style Waves
If you want to look like a bombshell right out of the 1940s or 50s, then this is a look you should consider.
The hair is curled towards the neck at the ends in a beautiful blonde bob, and it's full of finger style waves that add texture and interest. A little red lipstick will make you look retro-chic.
Extremely Short Hair with Long Bangs
If you want your hair to be as short as possible, then here's a style that can work perfectly for you. Most of the hair is short and gelled down. The finger curls are in the long bangs.
Wavy Bangs with Updo
Here the back of the hair is pulled into an elegant bun, and the bangs have gentle finger waving and are dotted withpearls. It's a princess-esque look for formal occasions, and you'll stand out a ton.
1920s Style Finger Waves
This look appears to be straight out of the 1920s. The hair is short and chin-length in perfectly styled curls with no single hair out of place. The hair is dark and shiny and perfectly laid against the head.
Pixie Cut Finger Waves
Do you love a cute pixie cut? You can still have finger waves while rocking this short and cute style. The waves are loose and somewhat messy, but the waves in the bangs are neater. The hair is a very pale blonde that makes you stand out.
Voluminous Old Fashioned Style
This glamorous look seems to come from decades past and the finger waves are hidden in the voluminous hair. You can mostly see the waves on the sides of the look. It's a varied and textured look that'll attract interest.
Side Bangs Finger Waves
The waves in this style are only on the side of the head. The pale blonde waves are large and in charge and reach the jawline, and the rest of the hair is pulled back into a fancy bun.
Short hairdos are easy to maintain, and this is the reason behind the popularity of the Finger Wave Short Hairstyles that add more charm to your personality.