To give your hair a brand new look, there are many hairstyle ideas that can be used. However, if you do not want to cut your hair or do not have time to visit a stylist then having a braid, pony or updo style you are able to sport a new look.
Hairstyles like short trendy cuts, pixie cuts, choppy bob haircuts, blunt bobs, updo hairstyles, etc. are extremely popular. Haircuts with side sweeping bangs falling on eyes, or asymmetrical haircut ideas are extremely popular.
Here are various short haircuts for ladies' ideas which look very cute. Bob haircuts embrace a timeless fashion trend since the time it was introduced in 1909 by a famous hairdresser Antonine in Paris.
Though the cut was not popular for few years in the 1920s the popularity was escalated to great heights to symbolize the freedom enjoyed by women. Since then these gorgeous Bob Cut Short Hairstyles are considered a sign of women's liberty.
Cutest Short Bob Hairstyles for Women
Here are the list of top 15 short bob haircuts for women.
Layered Bob Hairstyle
Layered bob haircuts are very trendy right now. They suit anyone with straight hair. However, if you have wavy or curly hair, don't get a layered bob. Layers will make the hair look puffier.
Layered bobs are suitable for thin, straight hair. There are different kinds of layers. They include short, chopper layers to gentle, long layers. Short layers add volume while long layers add flow.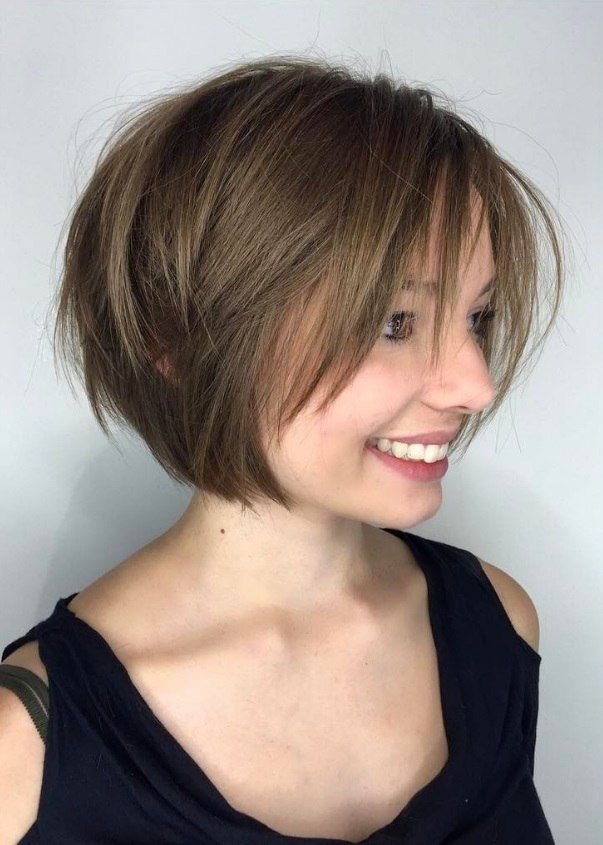 Graduated Bob Haircut
The artists manipulate the style and cut in their own desired way to add more vibrancy and elegance to their haircut. These haircuts then add up to the types of bobs running the hair fashion trends.
Graduated Bob Haircut is one such experimental haircut. You can combine a stacked bob haircut or graduated bob haircut, to obtain a cool modern hairdo look.
Balayage Bob Hairstyle
Balayage Bob Hairstyle looks very cute. They also add a lot of grace to a person's appearance. They do not look good on people with square or round faces.
This type of Short bobs do require a lot of maintenance, such as frequent trimming. To make them look neat, blow-drying and straightening are also recommended.
Straight Bob Haircut
Straight Bob Haircut is full of Straight bangs. They fall from the front of the crown about the forehead, till the eyebrows and somewhere near.
However, side weeping bangs bring attracting attention to the cheeks along with other facial features.
Such hairstyles with bangs can also be used to create a punk look, by coloring just a few or all strands from the side-swept bangs.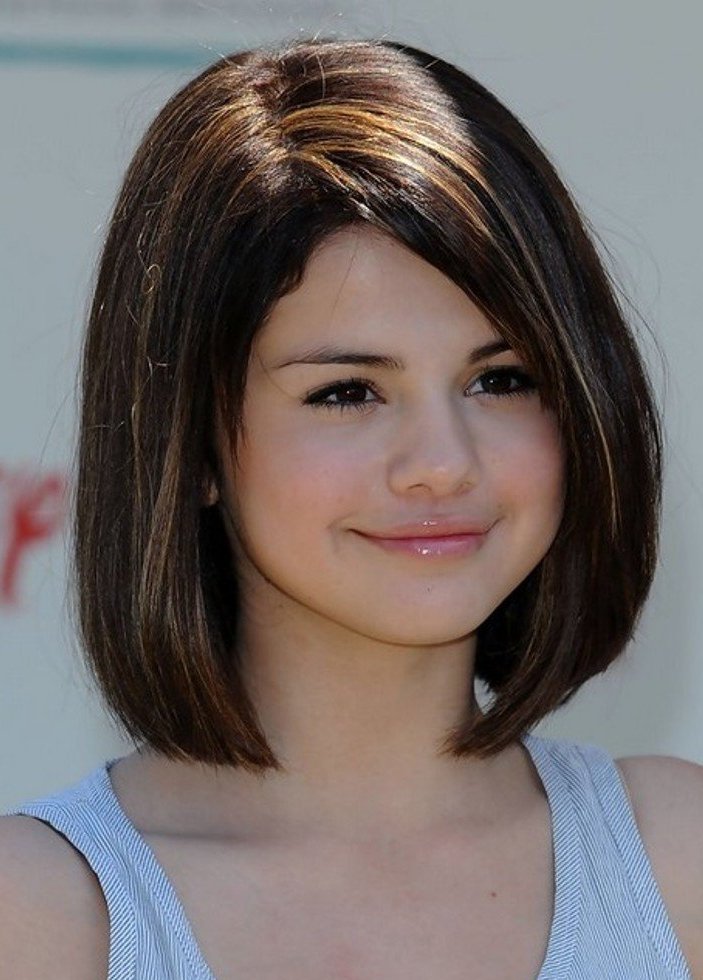 Long Bob Hairstyle
Long Bob Hairstyle is very graceful. When they are cut properly, the hair is shiny and bounces with fluidity. They are the most suitable bob for people with curly or wavy hair.
These also suit people with very round or flat faces. They are elegant, classy yet modern to wear. You can side part your hair to create a suitable appearance and it looks perfect on straight hair as well.
Bob Haircut with Asymmetric Part
Bob Haircut with Asymmetric Part is also a part of the current fashion trends.
Asymmetrical bob style is a completely different hairstyle with no symmetry as the hairs are cut in a manner that one side of hair cut holds shorter or longer hairs than the other side.
This type of haircut is much popular even amongst known celebrities. In this style, the hair of one part remains shorter than the other side. This creates a mysterious and unique appearance.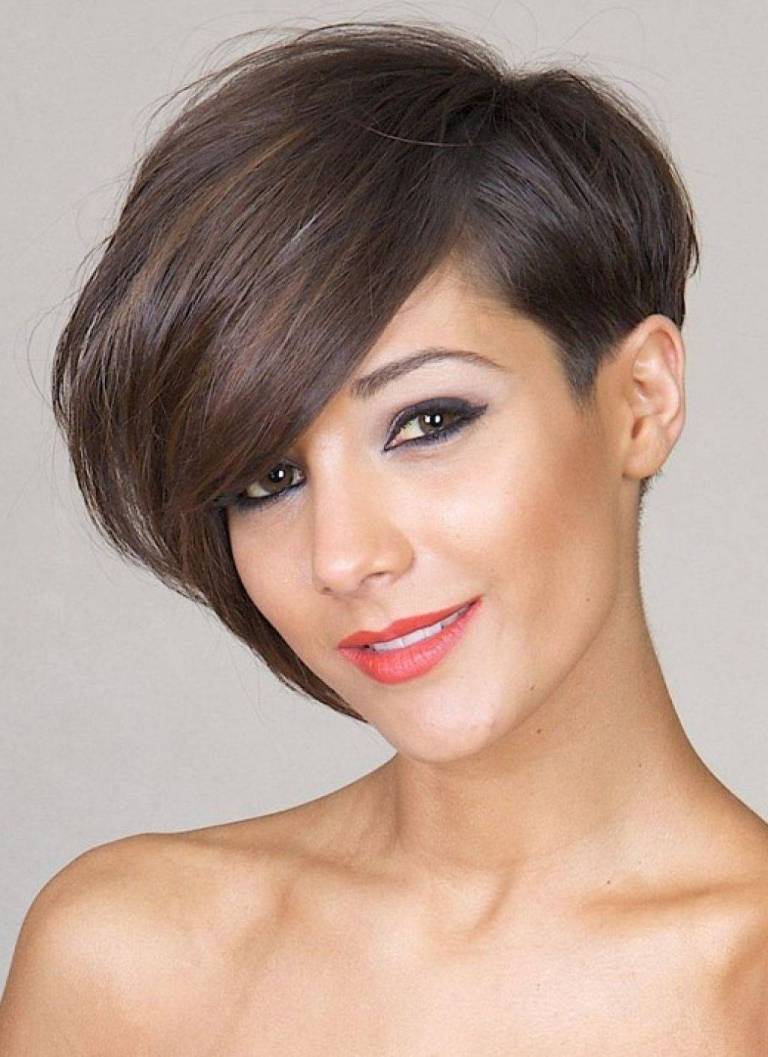 Angled Layered Bob Hairstyle
The classic cut is infused with western influences and style to give a modern look to the original bobs. Today Angled Layered Bob Hairstyle is running the trend of bob haircuts.
In case of angled bob, hairs are evenly cut at an angle leaving some portion of the hairs longer at the front. This gives an elegant and chic look with any kind of dress at any place and at any occasion.
Blunt Bob Haircut
The traditional or classic trend includes the basic types like short, chin, and long bobs. The short bobs are cut in a blunt style with layers to give a hick and fluffy look to thin hairs.
Blunt Bob Haircut has been very popular for the past decade. Many celebrities sport this style with confidence on the red carpet. The face shape can be prominent in this hairstyle.
Layered Bob Hairstyle
Layered bob haircuts are very trendy right now. They suit anyone with straight hair. However, if you have wavy or curly hair, don't get a layered bob. Layers will make the hair look puffier.
Layered bobs are suitable for thin, straight hair. There are different kinds of layers. They include short, chopper layers to gentle, long layers.
Short layers add volume while long layers add flow. You need to part the hair in the middle to get the best look.
Short Bob Haircut with Bangs
Short Bob Haircut with Bangs really is another great haircut style for thin hair. Inside a Short Bob Haircut with Bangs Hairstyle, the hair at the back near the crown is cut so using layering, they look layered.
The leading section can be styled into bangs. This haircut style adds great volume to your hair and makes them look fuller.
Sleek Blonde Bob Hairstyle
The traditional Sleek Blonde Bob Hairstyle is a short and sleek haircut that gracefully covers the ears and reaches somewhere between the chin and the shoulders.
With the changing trend, the basic cut remained the same but various changes started adorning this beautiful haircut.
Nowadays, known hairdressers and fashion stars are innovating new trends and styles to further beautify the Sleek Blonde Bob Hairstyle.
Inverted Bob with Side Bangs
In the present day fashion scenario, bobs are of various types, suiting both the classic and modern trends.
While giving the cut of an inverted bob cut, hairs are stacked with textured layers at the back to give more volume and texture to the crown. Hollywood celebrities love Inverted Bob with Side Bangs.
The sharp edges of the hair can make this style more prominent. The straight hair in dark black color makes your look more gorgeous.
Curly Bob Hairstyle
Curly Bob Hairstyle gives charming looks without any hassles. There are many types of bob haircuts. They look nice on people of all ages, from little girls to elderly women.
Some may say that Curly Bob Hairstyle looks very generic, but with different touches, the haircuts have a lot of character.
Go for it for a quick makeover by side parting your hair in this gorgeous style. The wavy hair can be perfect looking in this style.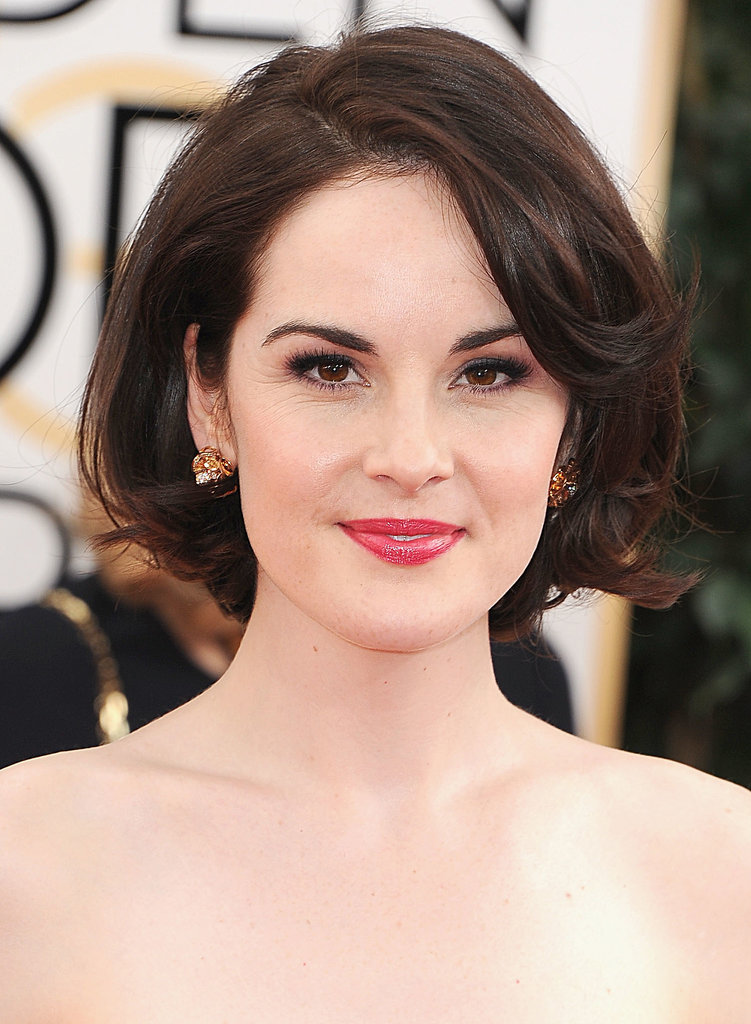 Ash Blonde Bob Hairstyle
Traditionally, bob hair cuts were about chin length. Now, people are getting more experimental with bobs. Many people opt for short bob haircuts.
They look amazing on women with long necks and angular faces. Ash Blonde Bob Hairstyle is one of a kind and it would definitely make you stunning. The uneven sharp edges create a messy look on the backside of your head.
Side Part Sleek Bob Hairstyle
Side Part Sleek Bob Hairstyle can beautifully be styled for round faces. There are many different kinds of style variations that may be made using Side Part Sleek Bob Hairstyle.
Generally, these types of bob haircuts are divided based on the length of the hair along with other styling considerations.
You can use a good hair gel to hold the look in a neat and clean way. The side part of the hair in this style is perfect looking.
Center Part Bob Haircut with Bangs
More and more people are considering fringes or bangs for their bob haircuts. Bangs hide large foreheads and strong facial structures. Depending on the style of the bang, it can also be original.
Center Part Bob Haircut with Bangs is one such unique cut. They are cut into the form of layers in a subtle way and are best suited to round or oval facial structures. Go for it like a diva!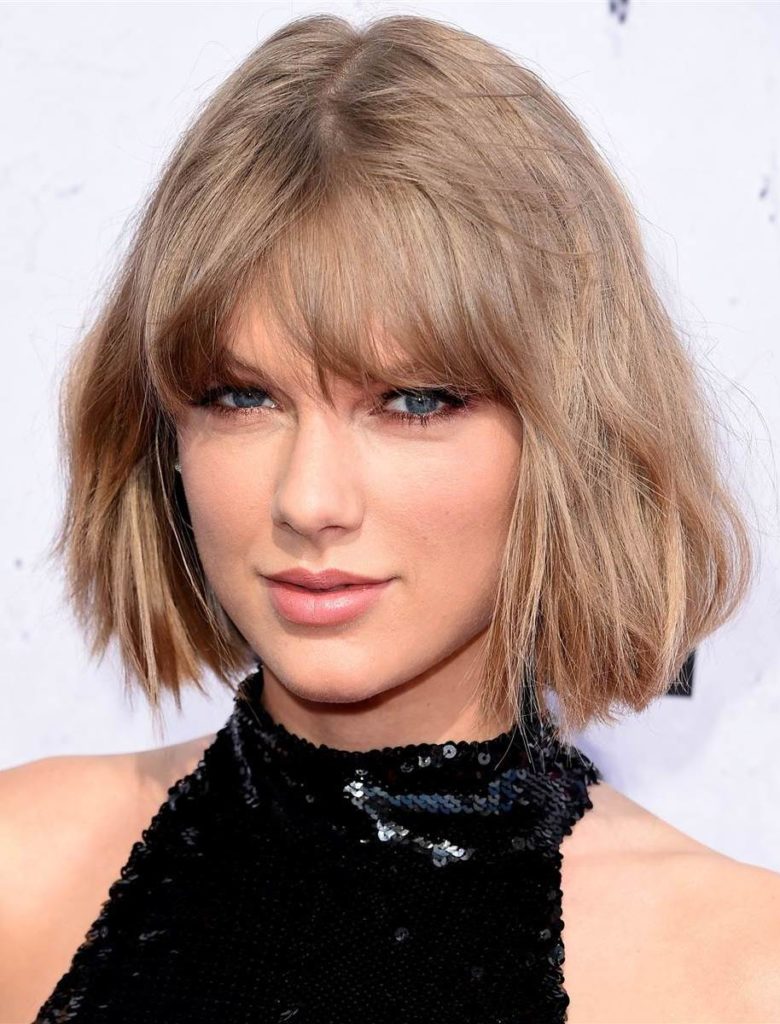 Side Bangs Bob Hairstyle
Bangs certainly play an extremely crucial role in altering the main look of the hairdo. Been with them not been the fringes, it might have been really difficult to test out suitable hairstyles based on the shape of the face.
Whichever bob haircut you wear, you could use bangs like a subject of styling. Probably the most popular one is Side Bangs Bob Hairstyle.
The side-parted hair in this style with a prominent side bang can give you an entirely new look.
Curly Blonde Bob For Round Face Hairstyle
For that classical look that never fades away, choose this hairstyle. The curls around the head makes this bob cut short hairstyle noticeable from a distance.
You also have the chance to showcase your pretty round face. Besides, this hairstyle doesn't limit you on events to attend. A lot of ladies also find it comfortable.
Center Parted Bob Cut With Fringe Hairstyle
Go for hairstyle if you want to showcase your fringe hair. The black color on the head perfectly blends with different outfits.
This hairstyle is also comfortable on the head. This bob hairstyle also gives you the freedom of choosing your hair size, depending on your preference. You can also neatly trim your fringe hair.
Simple Bob Hairstyle with Blonde Highlights
This is among the easy to set hairstyles on this list. Any type of hair can incorporate this hairstyle. The blonde highlights at different parts of the hair make this hairstyle noticeable.
You can also easily come up with different styles in a matter of minutes. The hair edges can also be trimmed.
Side Swept Pink Bob Haircut
Pink color makes any hairstyle stand out, including this one. Go for this marvelous bob cut short hairstyle if you are attending a casual event.
You can give your hair a curvy look and make your pretty face noticeable. Amazingly, any type of hair can look good on this hairstyle. Black highlights should also be visible.
Curls With Blonde Highlights Bob Hairstyle
This curly look never gets outdated. Here, you have the freedom of choosing the curls size to form on your head. Similarly, you can choose how the blonde highlights will appear on the head.
You can attend both official and casual events with this hairstyle. This hairstyles also makes it easy to try out another hairstyle.
Short Layered Bob With Uniform Bangs Hairstyle
Are you ready for your next neat look? If yes, this should be your next hairstyle. The uniform trim on the hair edges brings out a spectacular neat look.
This recommended length for this hairstyle is the neck region. That's why numerous ladies have an easy time maintaining this gorgeous hairstyle. Lastly, black color is recommended for this hairstyle.
Layered Bob Cut With Brown Highlights
The layered look throughout the head is trending at the moment. Anyone notices this hairstyle, thanks to the brown highlights at the hair edges.
The recommended hair length is around the neck region. You can also form faint curls around the head. This hairstyle is recommended for casual events, but can easily be transformed into an official look.
Layered Pokerface Bob Cut
This redhead hairstyle never disappoints at any given time. The uniform neat on the fringe hair and the inclining side look makes anyone desire this hairstyle.
That's not all; this hairstyle has a layered look. Feel free to try out any outfit with this hairstyle. Lastly, you will be spending less time maintaining this hairstyle.
Bob Cut With Fringe For Women Over 50 Haircut
This hairstyle has been around for years. Women over 50 love this hairstyle for two reasons. It is easy to maintain and it suits any event that comes their way, be it official or casual.
You are free to go for any dull color on your hair, preferably black and blonde. Make this your next hairstyle and attain that glamorous look.
Pink-Red Bob Cut Hairstyle
A colorful hairstyle makes you standout wherever you go. This hairstyle is dominated by a pink look and some red highlights at different spots.
The layered look can't be ignored, especially for ladies that love this design. Go for this hairstyle and showcase your pretty face.
Today, everyone is taking care of simple hairstyles that might be easy to make and gaze after. A majority of women would rather wear short hairstyles, simply because they think that Bob Cut Short Hairstyles may be the easiest to maintain.
This really is however true to some degree, but it is not that women with medium or long hair cannot whatsoever wear simple hairstyles.
Even for medium or long-haired women, there are few simples to make hairstyles, without compromising the attractiveness of the style.