Keeping your hair looking good takes a LOT more effort than people realize. As a result, many people seek out shorter styles. If you're looking for a style that's in between long and short, then chin-length hairstyles could be exactly what you're seeking.
When you wear your tresses down to your chin you don't have a lot of hair to deal with. However, you have enough lovely locks to style when you want to wear something a little fancier. It may seem surprising, but there are lots of hairdos of this length for you to consider wearing.
Fabulous Chin-Length Hairstyles
Let's browse the myriad of stylish hairdos that you can wear with your tresses this length!
Blonde Side Part
One of the easiest ways to spice up your bob-length locks is by coloring them. Instead of wearing a typical blonde hairstyle, wear white blonde.
Make your hair so light that it appears silver in the shadows. Tease it out so there's a lot of volumes as it frames your face.
Orange Bob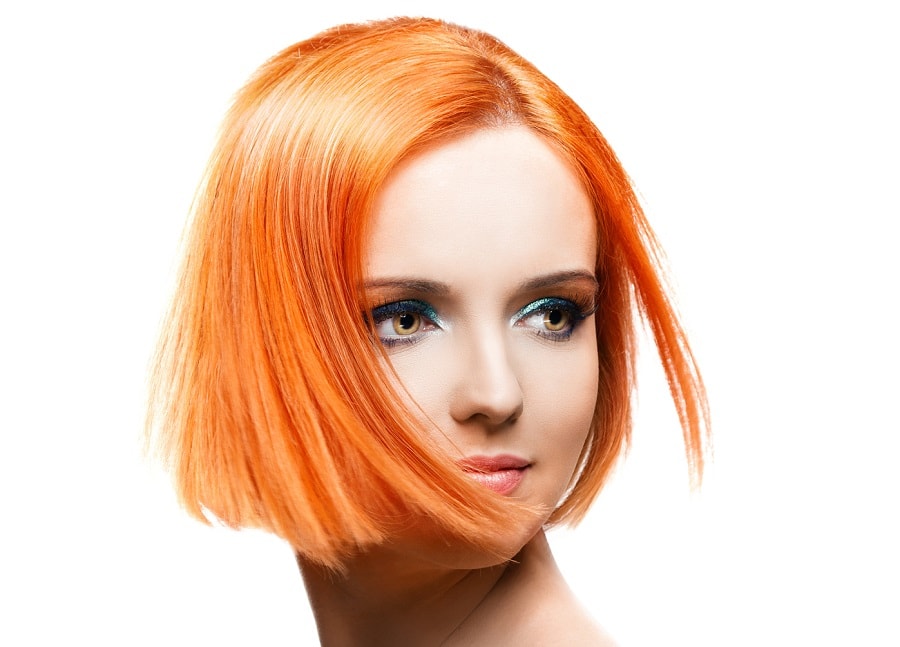 Want something bolder than blonde? Go orange. Orange chin-length hairstyles are always the most eye-catching as it's such a naturally bright color.
Pair it with a bold makeup look and make the ends of the cut jagged. That way everyone will know you're confident and not afraid to show it off.
Silver Asymmetry
Silver is another color that'll make sure you get lots of attention. You can also change up the shape of your thick bob by having it long on one side and short on the other.
One side curls under the chin while the other is ear-length. Bold makeup goes well with this haircut.
Curls with Bangs
Curls are a classic way to make your hair more exciting. Use some curly hair products to define your natural texture or spend a little time with the curling iron.
Cut some light bangs that curve forward onto your forehead but make sure they're not too long.
Face Framing Highlights
It's harder to make your hair interesting when it's short and in natural colors but you can do it. Get a few layers to add life and depth to your locks. Add face-framing highlights too.
The highlights will keep the focus on the front of your style and they'll help soften your look.
Natural Red
If you're a natural redhead then it won't be hard to rock all the chin-length hairstyles you like. Your locks will already stand out. You can easily wear a slightly side-parted look that hugs your face.
Easy Waves
Women wanting a simpler look should opt for natural colors. Dark brown is always a good choice. Wear your hair wavy with a few curly tendrils near your face.
Blonde Asymmetry
You can't beat a blonde bob that falls just above the chin. However, if you'd like something unique then you should grow out one side longer.
The longer side will turn some heads and show people there's more to you than they'd expect.
Bob with Bangs
Add bangs to your bob always adds depth to your look. Keep the shape uniform with very straight ends. Dye your chin-length bob in a lighter shade of blonde that looks bright against your skin tone.
Purple Side Bangs
Side bangs have been popular for years. Wearing them swept across your forehead was common in the early 2010s so aim to replicate that look.
Dye your hair a mixture of purple and blonde. Make the blonde look like it's highlighting the purple locks.
Face Hugging Bob
Chin-length hairstyles that hug the shape of the face can help define your features. If you'd like to wear this look then dye your hair a bold naturally ginger tone.
If you already have red hair then it's even better. Add a slight side parting and you're done.
Brunette Side Bangs
If you have natural brunette locks then add a few shades of lighter brown to help warm up the look. Get a chin bob with side bangs that cover one-half of your forehead and push the rest of your locks behind your ears.
Wavy Ombre
If you want a lot of dimension in your look then consider an ombre style. Here you can see the hair transition from brown, to a light golden brown, to blonde.
Wear a wavy texture if you'd like to capture happy or summer vibes.
Pink Side Parting
Pink locks are a classic way to stand out. Tuck one side behind your ear and sweep the other side across your forehead. You can combine a few different shades of pink to give yourself a look with more depth.
Blonde Middle Part
Middle-part bob are the newest easy style trend. Give yourself one and let your hair curl in towards your face. Get a graduated chin-length cut where the hair is shorter in the back than it is at the sides of your head.
Purple Layers
Layers add depth and they can help you achieve a fluffy texture if that's the look you're going for. They also create the illusion of thickness.
Dye your tresses purple and brush some over one side of your face. Keep the other side of your hairdo much neater.
Thick Tresses
If you have very thick locks, then keeping them this length is ideal as it will make them easier to handle. Make it look good by wearing a slightly wavy texture.
Add a couple of different shades of brown with a hint of blonde to prevent your hair from looking one note.
Pixie Bob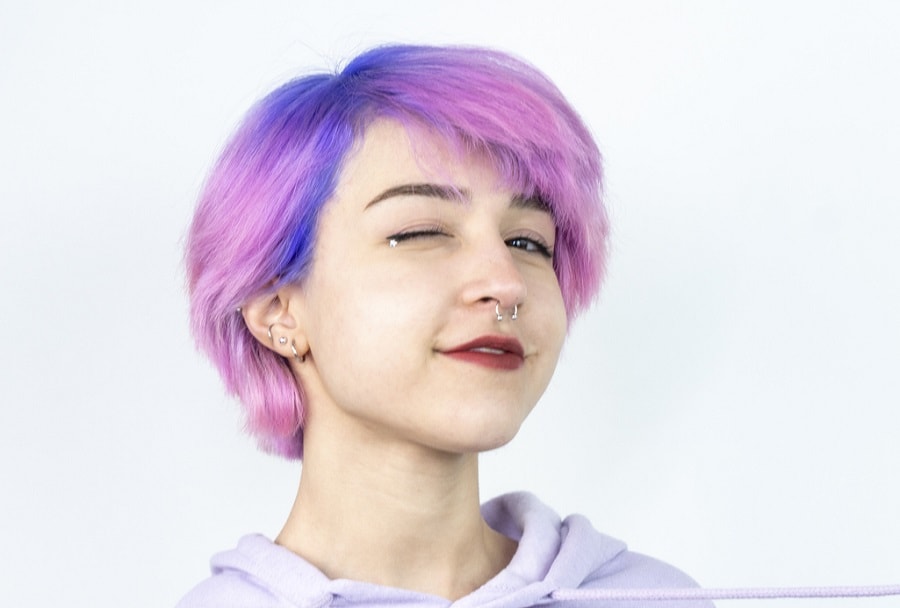 When most people think of chin-length haircuts they think of a classic bob. Did you know a pixie bob also counts? The hair in the back is chin-length but the sides only brush the top of the ears.
Any hair color will look good with this cut but pink and purple are a classic combination that young people may like.
Fiery Bob
Are you somebody who likes unique color combinations? They consider adding red, orange, and yellow to your locks. This will create a fiery effect that everybody will admire.
Style your hair so that it covers one eye if you want to add some mystery to your appearance. Ensure the front sections of your hair are the longest and style the ends into a point.
Highlights and Bangs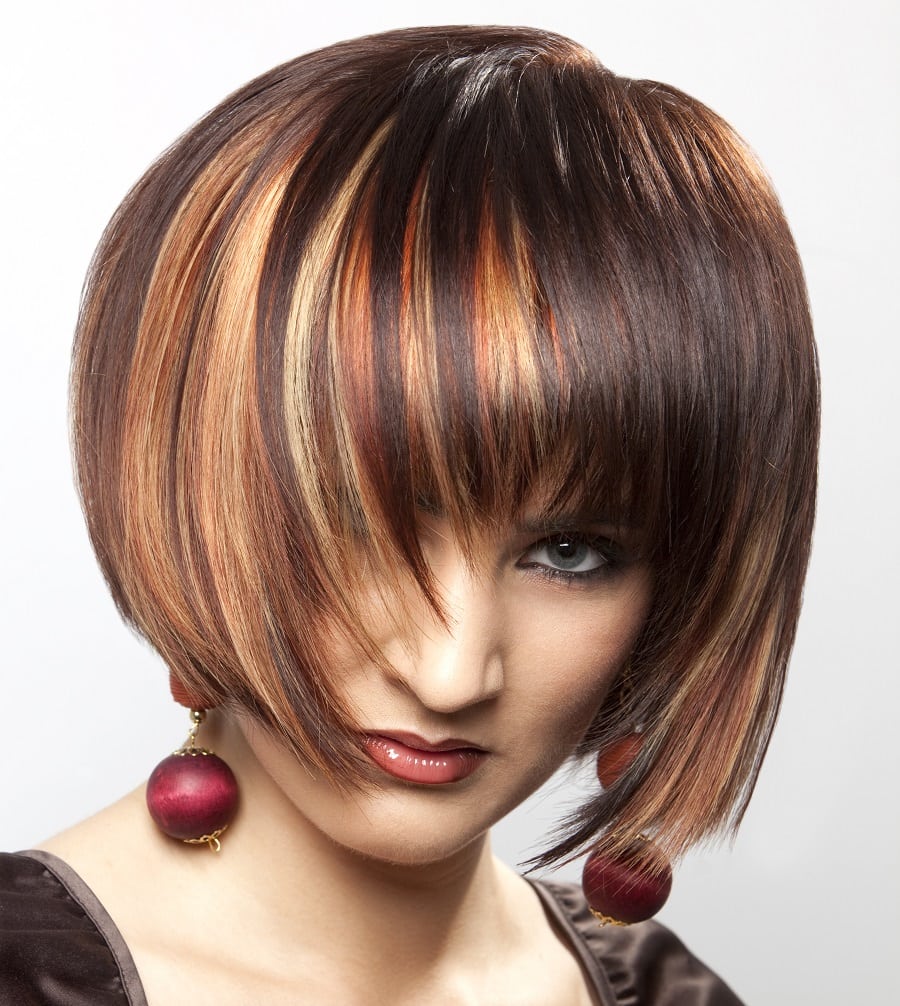 When you wear your tresses short you can easily look dull. You can stop this from happening by getting bangs and adding some highlights on your chin-length hair.
Brush your hair towards your face to create an edgy vibe if you wish. This mix of brown, orange, and blonde is good to wear with bold eye makeup.
Textured Tresses
Everybody should try out a textured haircut once in their life. Get lots of layers and ruffle them up so that the hair stands out from your head. Frame your face and where short bangs too.
The hair should be longest at the back of the head and curl in towards the jawline. It suits women who like messy haircuts that look effortlessly good.
Clearly, there are lots of different ways you can style chin-length haircuts. There are definitely more ways to make them look good than you think. Women with these haircuts tend to have bold colors or textures to play with.
It takes a lot of confidence to feel secure wearing a hairdo like the one in the list above. Of course, there are a couple of more natural looking styles you can opt for if standing out isn't your thing.