The middle part bob hairstyle is particularly classic. It's short and simple, so it won't be too in your way during daily life. However, there's enough hair to style, and there are enough styles to create some great variance in how you choose to style your hair
It's a tough task to rock this hairstyle, as it's typically a face-framing style that requires a lot of confidence to rock. However, we're certain you have that confidence within you, so bring it out and let your bob shine!
Best Middle Part Bob Haircuts
There's something for every preference in the styles below, so take a look and see which one you fall in love with.
1. Wavy Bob with Curtain Bangs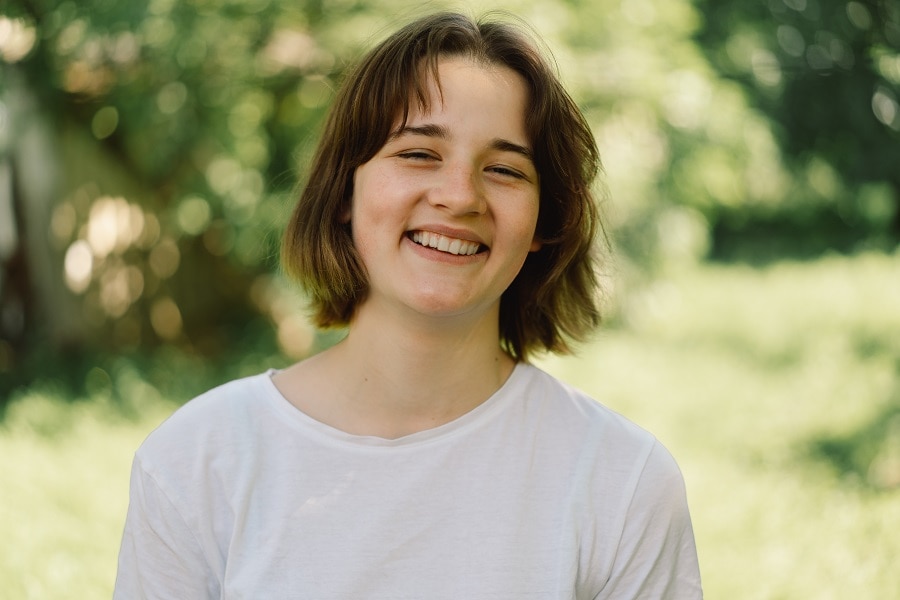 This is a definite classic when it comes to middle part bob haircuts. There are light bangs that are graduated in length and frame the forehead like curtains, and the haircut itself is loose and slightly wavy towards the ends. It's a super carefree look that suits young people very well.
2. Sleek Bob with Tucked Sides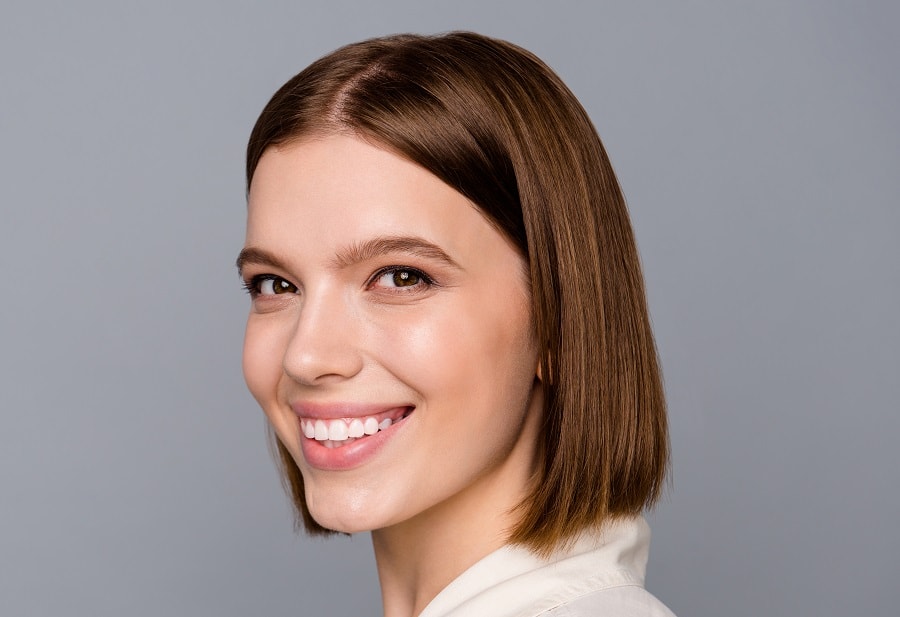 We've got a great look for times when you need to look smart. The front parts of the hair are tucked behind the ears while the rest of the hair falls straight over the ears without a hair out of place.
3. Loose Pink Curls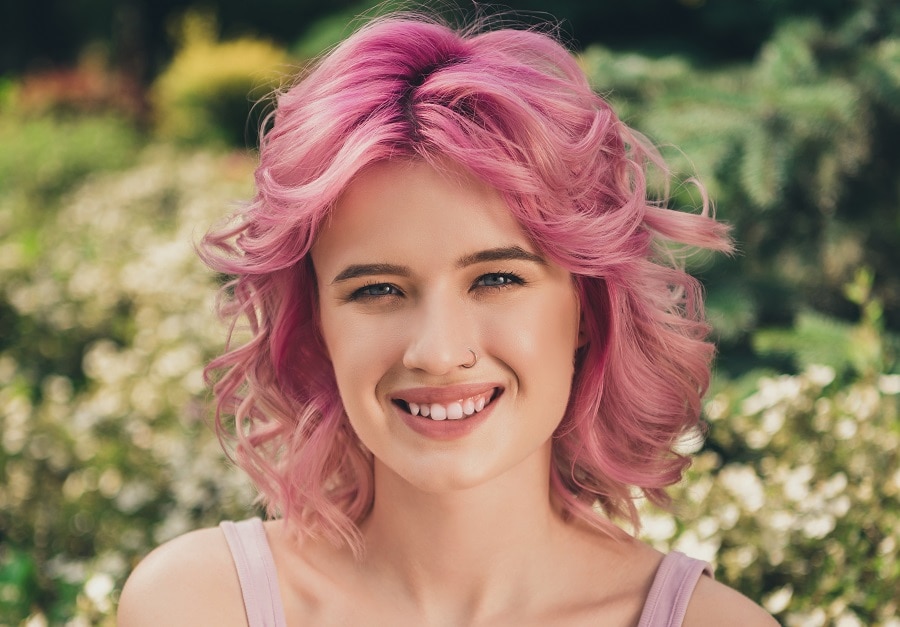 Here's a messy bob hairstyle for women who want to rock a look that makes them stand out a ton.
The hair is a wonderful shade of pink that's not too dark and vivid, but it's not quite a pastel, either. The hair is styled in lots of large, loose curls that are erratic but not messy.
4. Perfect Thick Coils
The hair is curly, but it's much curlier and more uniform than the style above. The large corkscrew curls give this look a lot of volume and definition, and it's a fun look that anyone will enjoy wearing to any occasion. It looks great for everyday looks and special events.
5. Wavy Lob With Bandana
A classic long middle part bob, as it grows down closer to the shoulders than the typical bob. It's slightly wavy, and the front of the hair is pulled back and secured with a light bandana that makes for a soft, girly, and slightly countryside look.
6. Gentle Ombre Look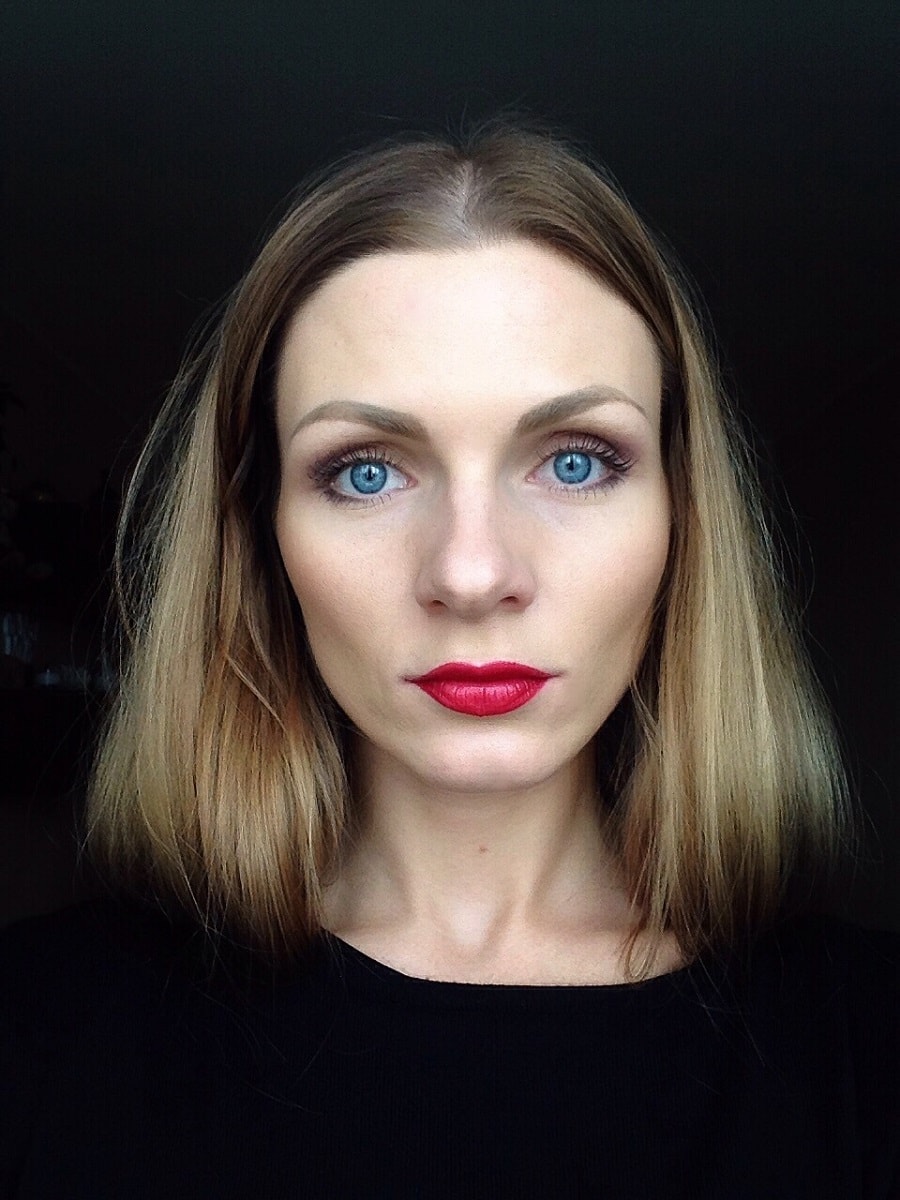 This hairstyle has a nice ombre of light brown to blonde, and it's very straight and doesn't have a particular style to it.
Some of the hair from the front is pushed back behind the ears slightly, but it's not done in a deliberate manner. It's a low-effort style that still looks wonderful.
7. Perfect Face Framing Bob
This haircut has an absolutely classic shape that is slightly tucked under the chin. It's very thin and light, and it doesn't require a lot of styling to look utterly fantastic. The dark color makes it look mysterious and sultry, too.
8. Orange Blonde Ombre Look
It's a funky ombre bob that goes from vibrant orange color to a strong blonde shade. It has that classic look of being highlighted at the ends, but it doesn't curl under the chin, as it's slightly longer than the average bob.
9. Classy Casual Brown Bob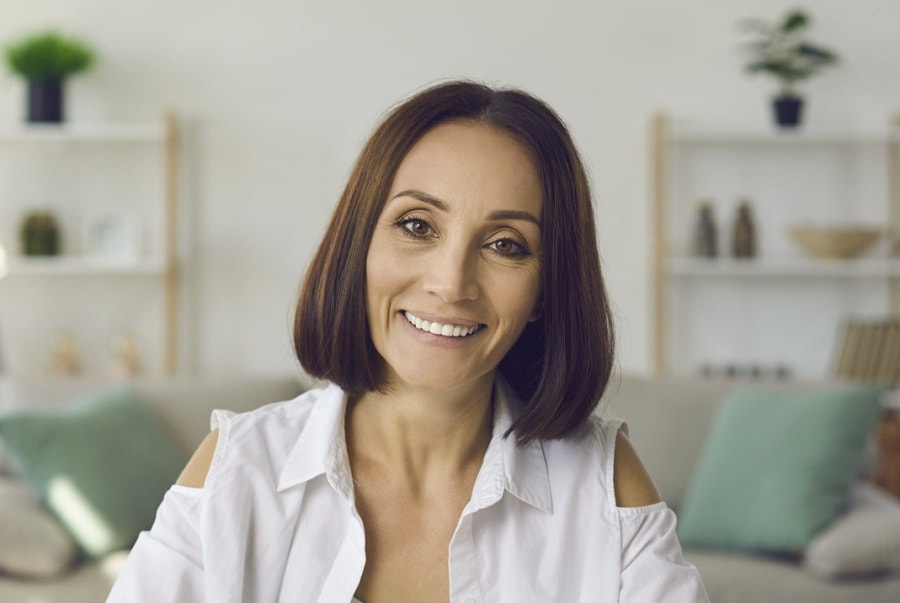 This bob haircut with middle part is unique for mature women and it's simple. Although the hair is naturally straight, it's not styled to be super straight. There's a lot of life, movement, and thickness to this look.
10. Slightly Choppy Blonde Bob
This blonde bob cut has slightly choppy ends, but the hair is sleek across the rest of the head.
It's a stunning blonde shade that looks very natural, and the roots are a slightly darker color but still very light. Some hair around the face is shorter, adding a framing effect.
11. Thick Silver Bob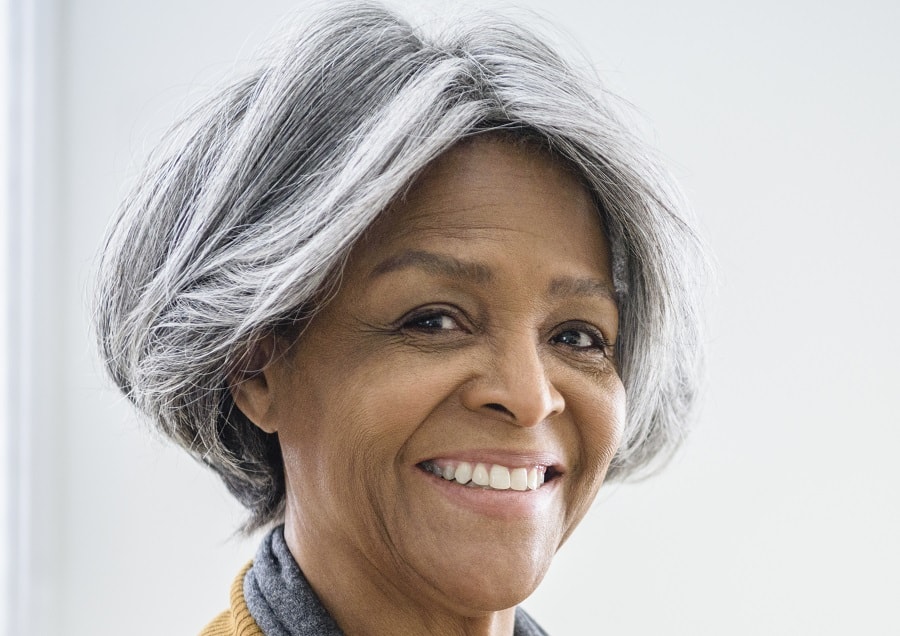 It's time for older ladies to rock their natural grey hair. The look is thick towards the bottom with lots of volume on top, too, and it's focused towards the back of the head so there's minimal hair hanging by the face.
12. Lob With Braids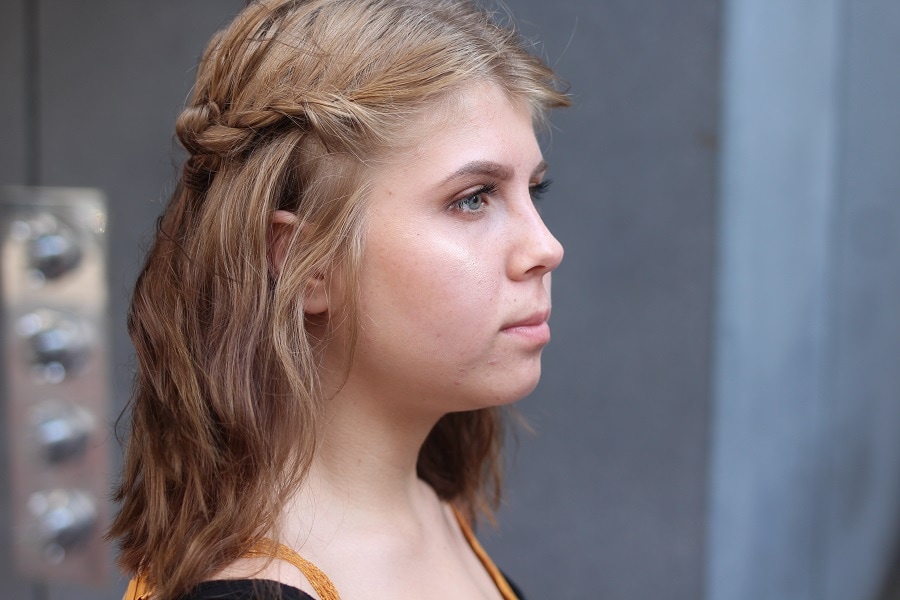 Shoulder-length long bob looks very natural for everyday look. However, the most unique part of this hairstyle are the twisted braids. It comes from the front and secures the front of the hair behind the head very nicely.
13. Funky Purple Highlights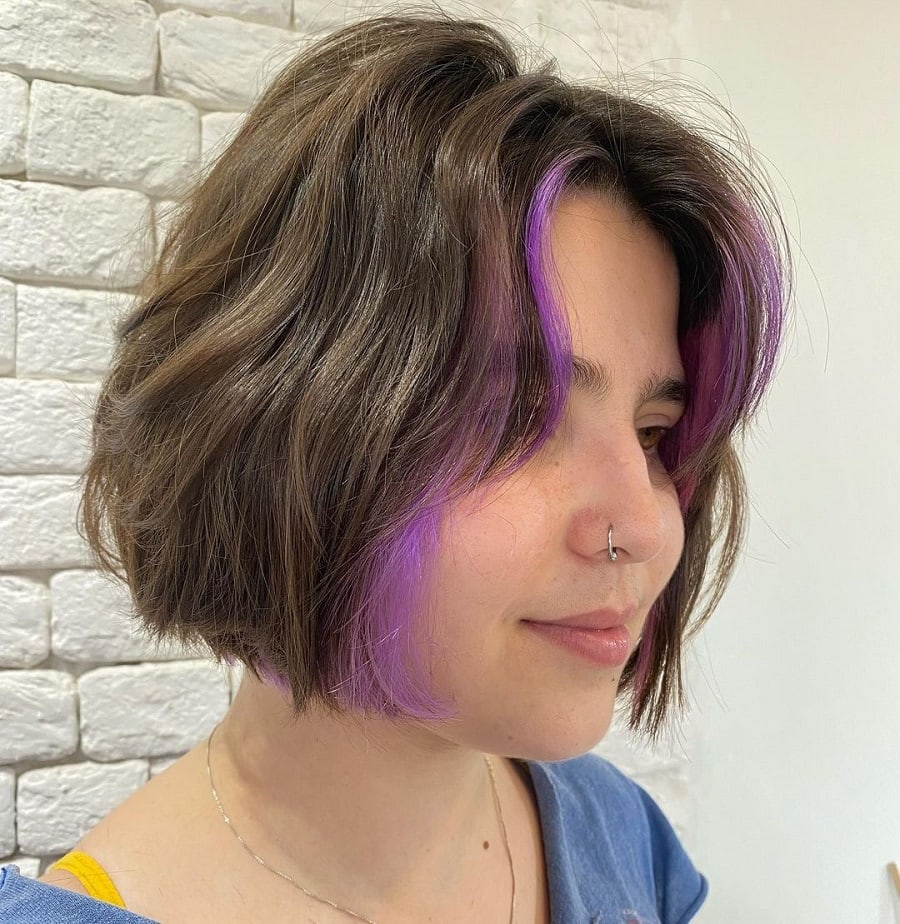 A great look for someone who wants to look unique and slightly punk. The middle part bob is messy and wavy with a blunt cut at the end, and the curtain bangs at the front have purple in them.
14. Graduated Bob With Highlights
A perfectly sleek long bob which is longer at the front. The dark hair is heavily highlighted with a light brown shade that's almost honey blonde. It's a bold look that draws the eye, it looks very textured due to the color.
15. Sleek Dual Color Hair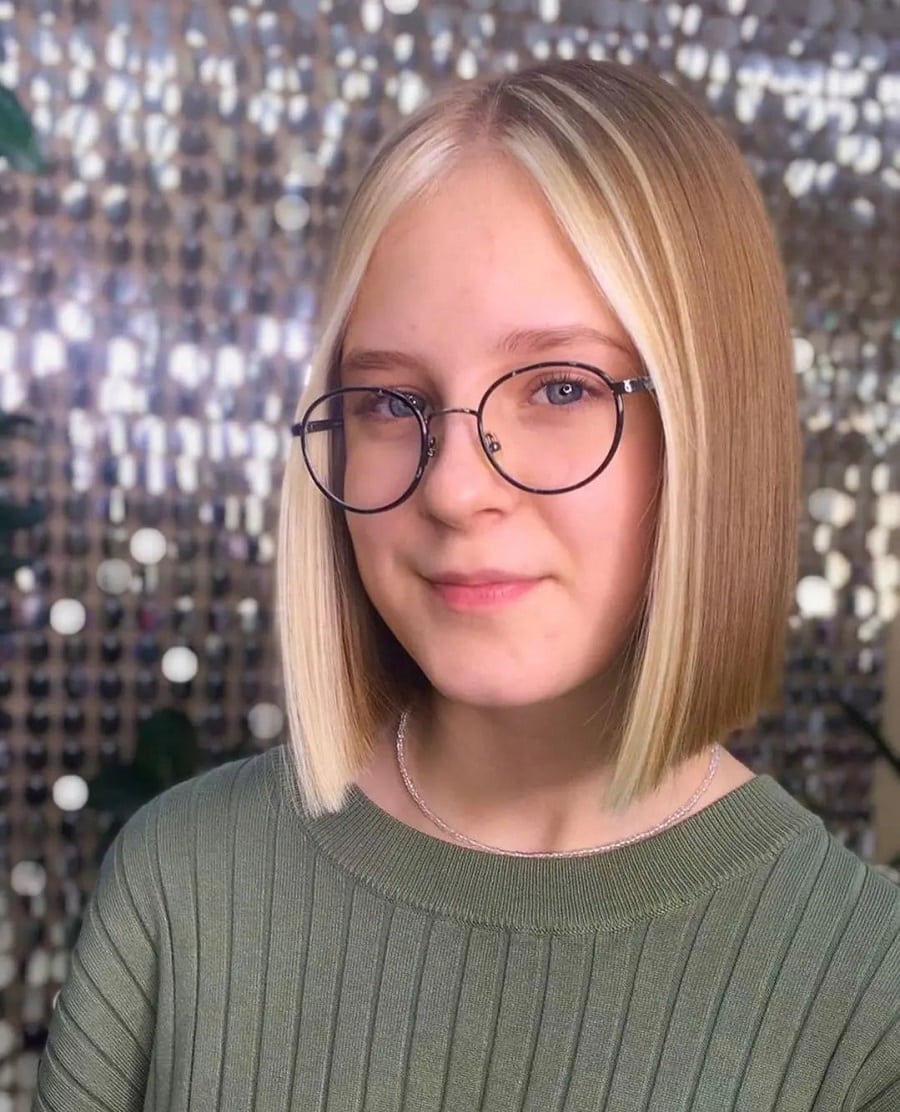 Sleek middle part bob looks beautiful with blunt ends. The face-framing layers are blonde, but the rest of the hair is a reddish light brown that draws the eye.
16. Bold Red Waves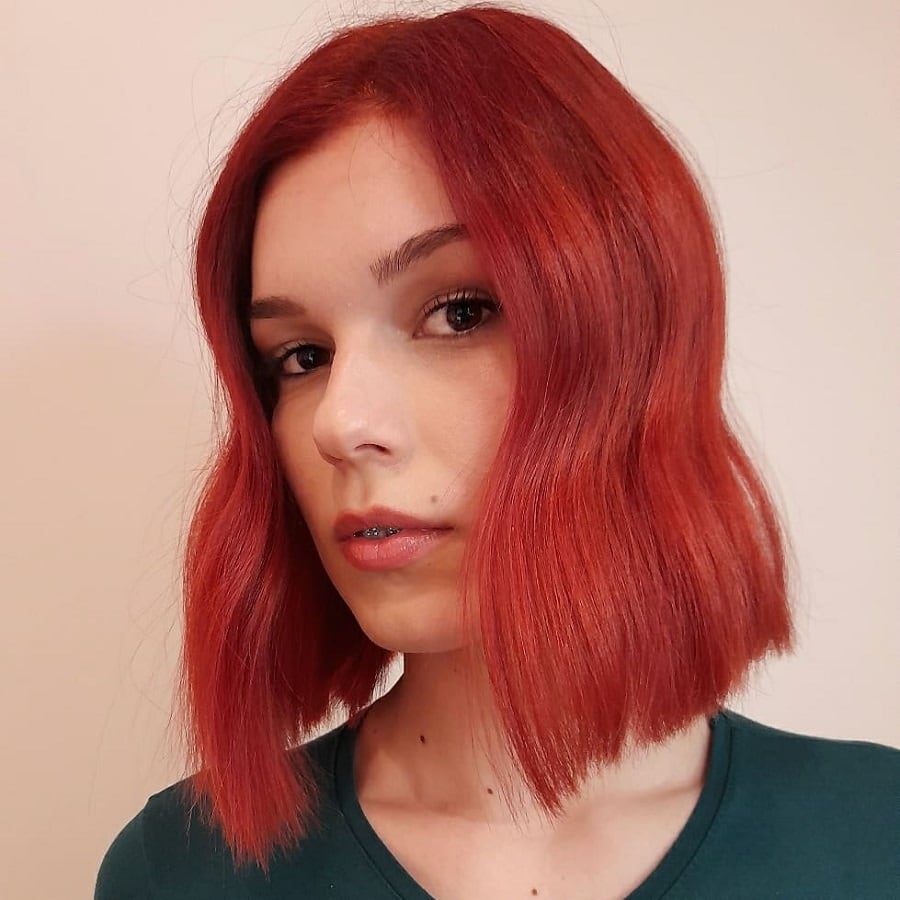 You'll turn your head with this look! This tomato red colored bob is truly a statement that you're unique and want to draw everyone's eyes.
There's a single light wave in the hair providing a natural look of movement that looks wonderful.
17. Two-Toned Bob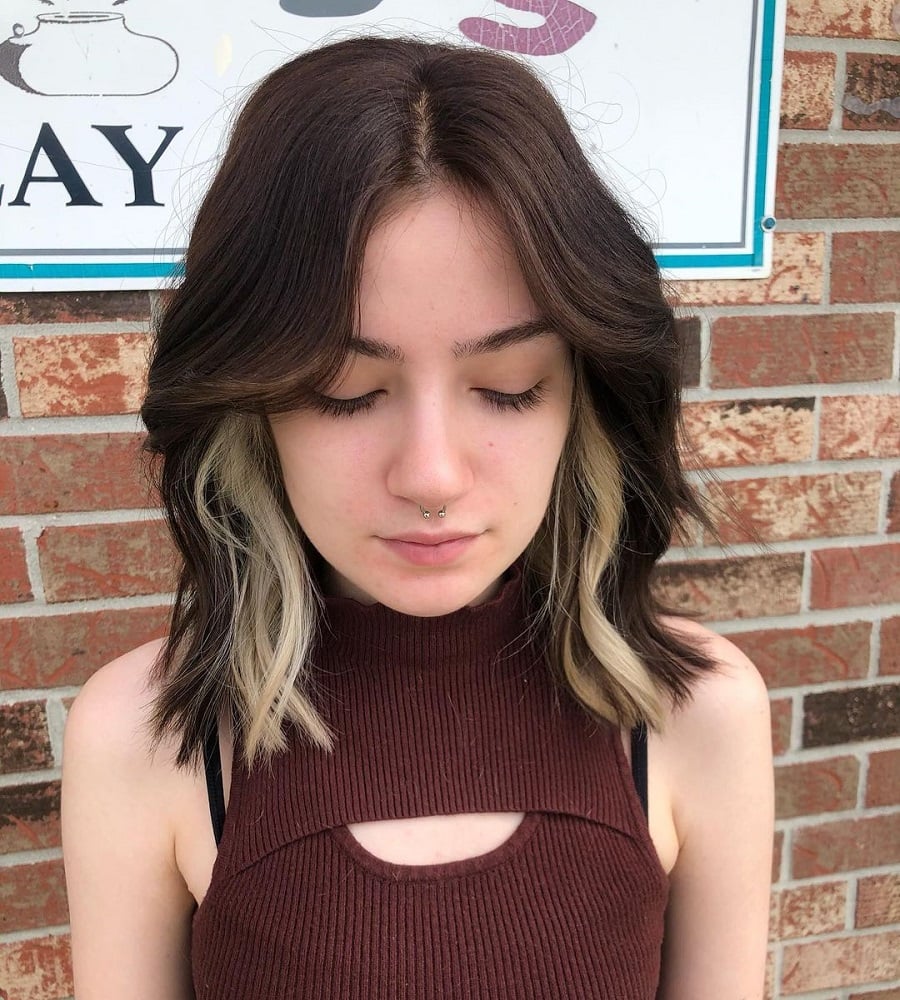 Get a very stylish and trendy look with this haircut. The hair is a rich brown shade, but there's some ashy light blonde underneath. It is thinner, and choppier with smaller waves.
18. Sleek Long Weave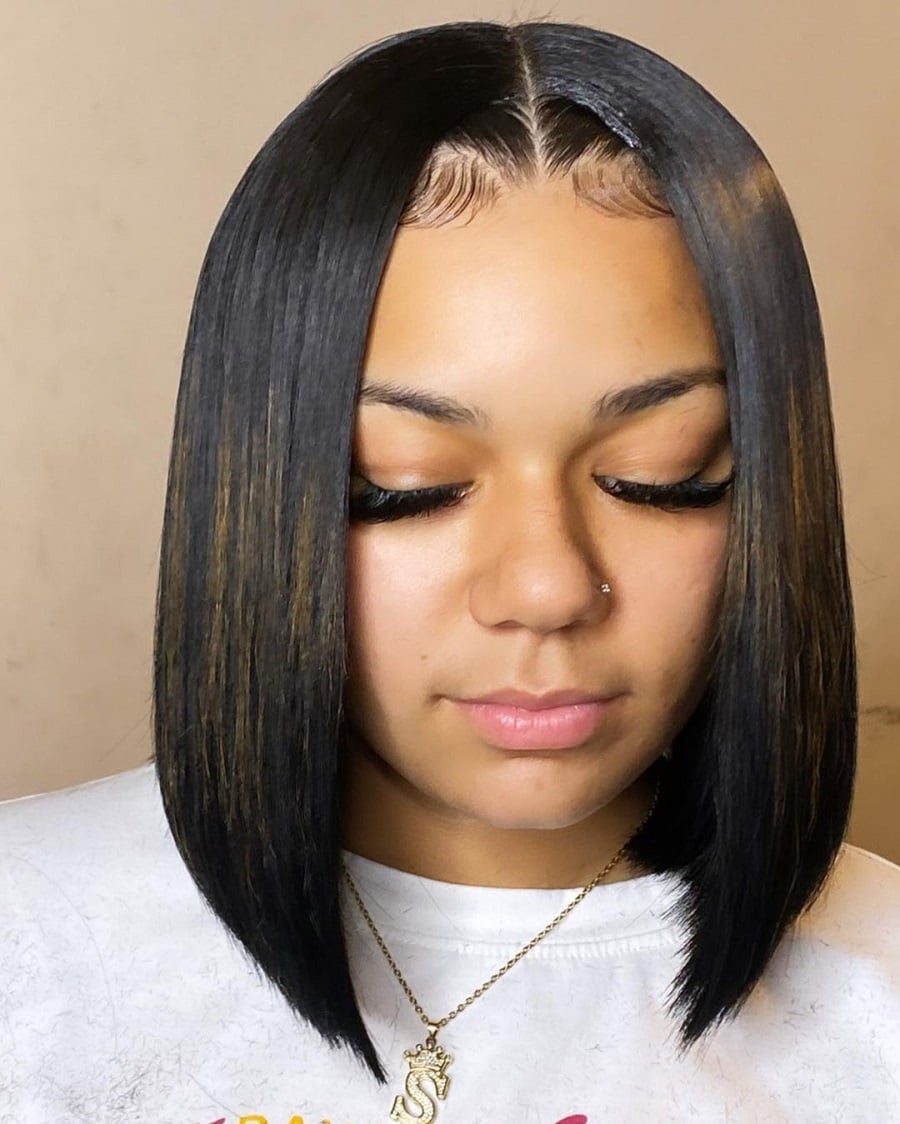 This middle part bob for black women is sleek and falls right by the face. The front is brushed up slightly to reveal babyhairs gelled down very nicely. Ther hair is very dark, but there are slightly lighter hues at various points.
19. Perfect Platinum Easy Bob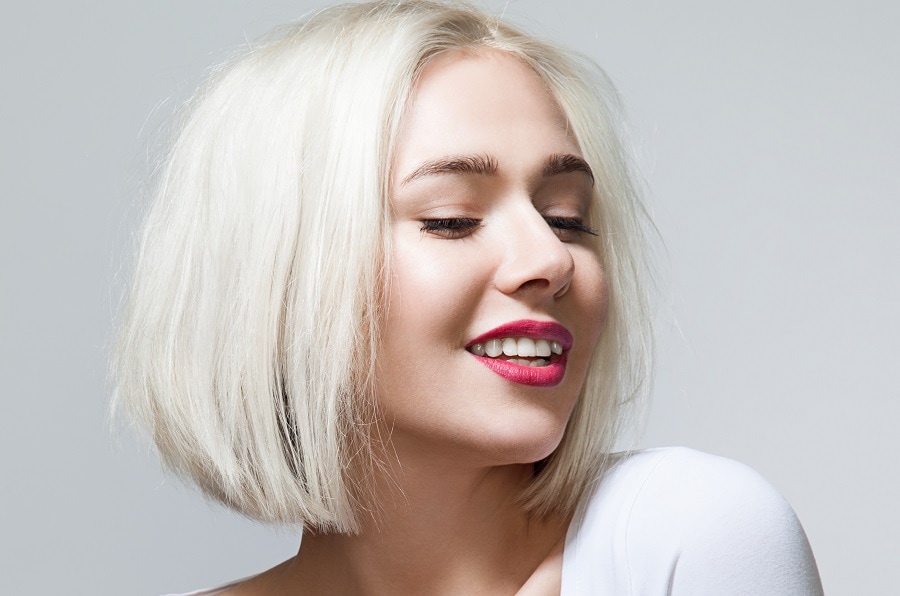 The platinum blonde shade gives a very casual look to the hairstyle. It turns towards the neck and is neither straightened nor curled, making it a casual get-up-and-go look.
20. Plain Pretty Brown Hair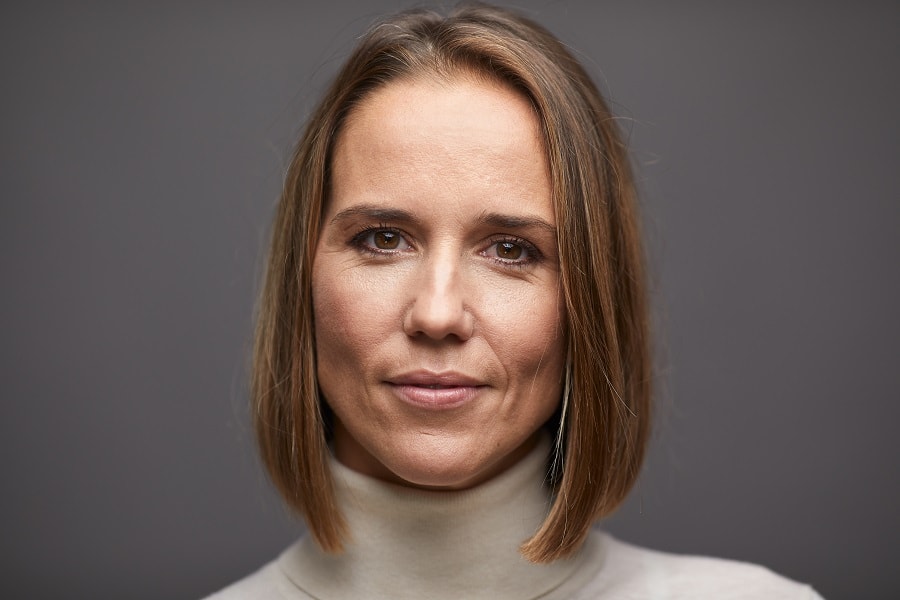 Longer than the typical bob, this look is still an easy classic that you can brush, and you're ready for the day.
There's no particular styling or special cut to it, so it's very easy to maintain for the busy woman. You'll definitely look wonderful with this hairstyle, and it suits a more mature lady very well.
Middle part bobs are a highly effective way to keep your hair long enough to play with without being cumbersome. They go with every face shape, every outfit, and every occasion. One of the 20 styles above is guaranteed to suit you wonderfully.
You'll be well on your way to wearing a hairstyle that shows who you truly are and allows your personality to shine through via a thoroughly on-trend look right now.