The undercut is an edgy haircut that many people love to pair with various hairstyles nowadays. The undercut bob haircut is one that's very popular these days, and it's easy to see why.
The bob is often a low-maintenance cut that can pair well with something as high-maintenance as the undercut. It's not an overly complicated style, but you can still make it look super stylish all the same.
With some tender love and care, this can be the perfect style for you to rock for years to come.
Best Undercut Bob Haircut Ideas
If you want to pay with this hairstyle, then look below. There are 20 styles you can pick from, so there's definitely something there that will work wonderfully for.
1. Asymmetrical Blonde Undercut
This undercut bob haircut is a classic, chic, but edgy style. There's a long sweep of bangs that blends with normal hair on one side of the face, falling to the chin.
The other side is very short and only ear-length. It's swept over a dark undercut that contrasts the blonde.
2. Platinum Blonde with Shaved Side
Many undercuts feature stubble of some kind, but this haircut has a bald head where the undercut is.
The bob is very short and falls to the bottom of the ears in a wonderful platinum blonde shade with unique split and dark roots.
3. Red Undercut
You may like this long undercut bob haircut in a deep red shade with some brighter red in the bangs.
The undercut is classic with a twist. It has a pattern shaved into it that's reminiscent of a tortoiseshell pattern, making it very eye-catching.
4. Blue and Brown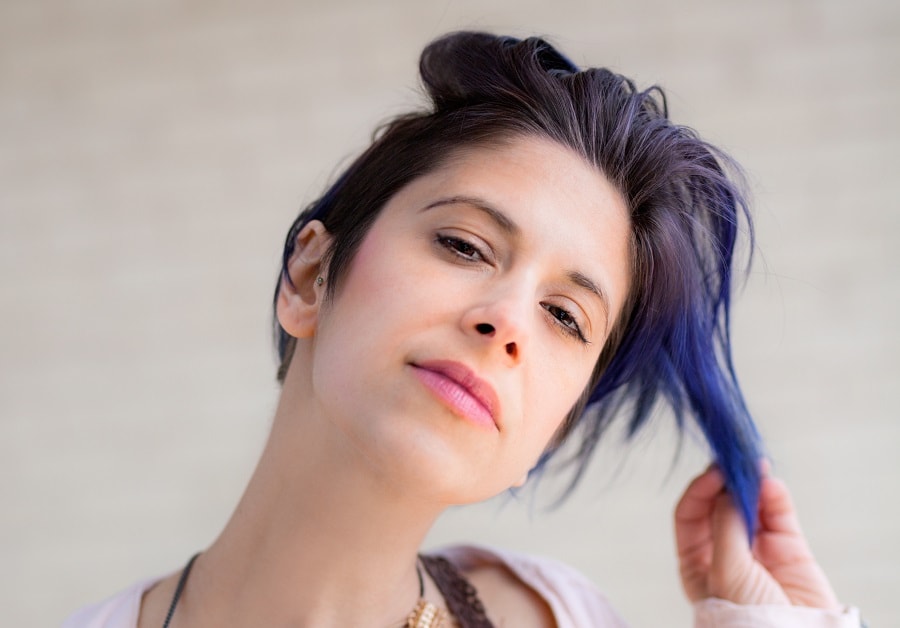 This look has a short bob but a long undercut, making it different from most undercut hairstyles.
The undercut is a little long and thick in dark brown, and the bob barely reaches the chin and is blue. It's brushed back from the face.
5. Classic Ponytail Style
The bob ponytail is a classic with undercut hairstyles. This is a slightly long bob that falls below the chin, and it's pulled back into a ponytail to reveal an undercut around the sides and underneath part of the hair.
It's a simple but effective style for everyday wear.
6. Undercut with Fade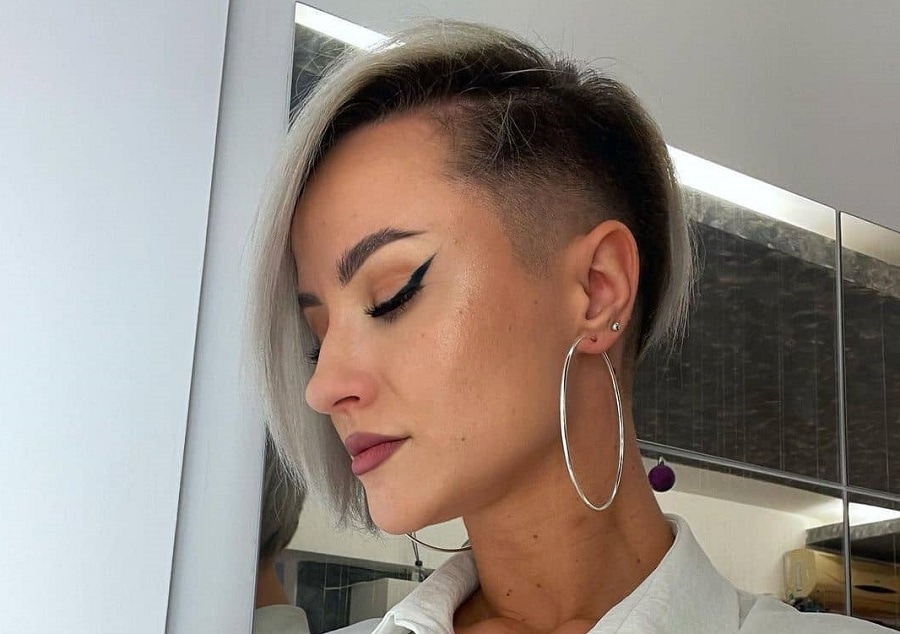 A short undercut with a fade is a very chic look indeed. It shows that a lot of effort went into crafting your wonderful haircut.
This one features a fade in the dark hair on one side, and the rest of the hair is a silvery blonde that's longer on one side than it is on the back. It's side-parted to show off the undercut.
7. Vivid Purple Locks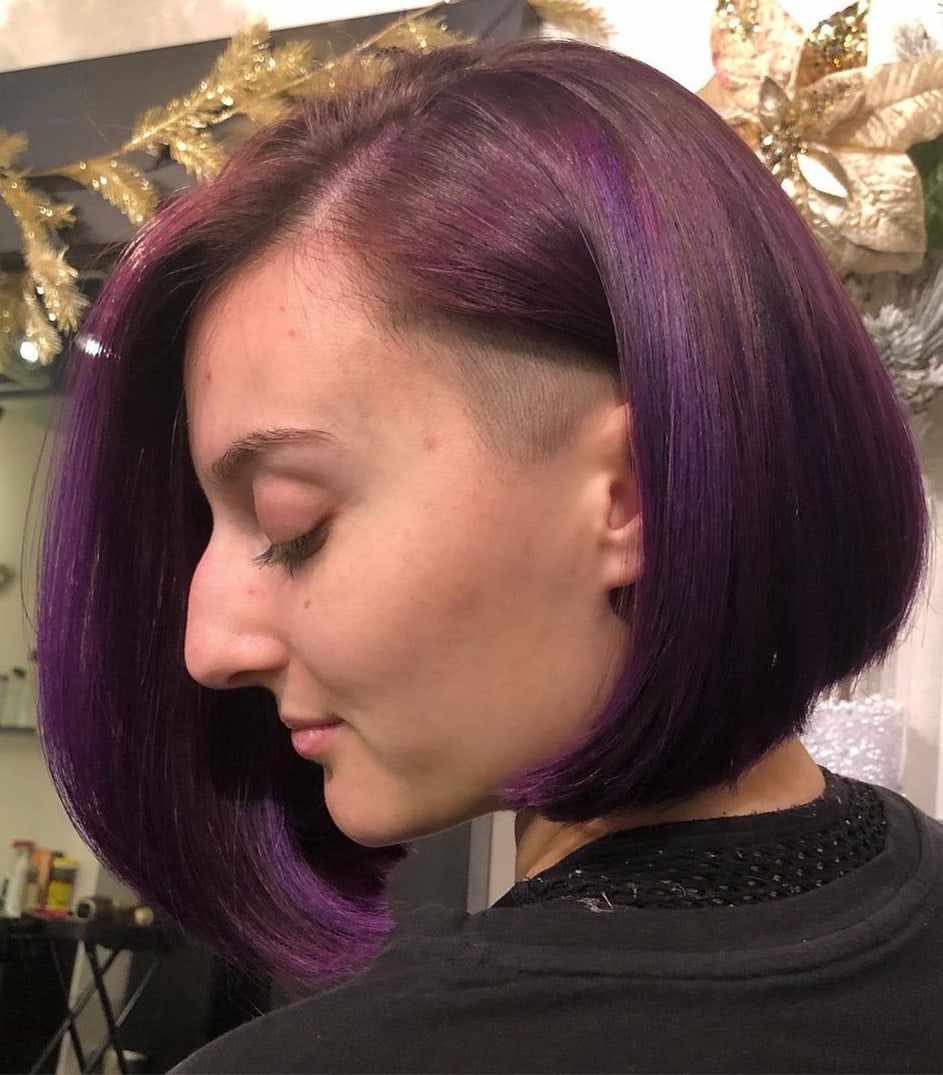 Sometimes you just want something minimal. This undercut bob has a very subtle undercut that's just above one ear.
The rest of the hair is in a thick side-parted bob that has a dark base but is heavily tinted with a vivid purple shade that's very deep and eye-catching and varies in its hue.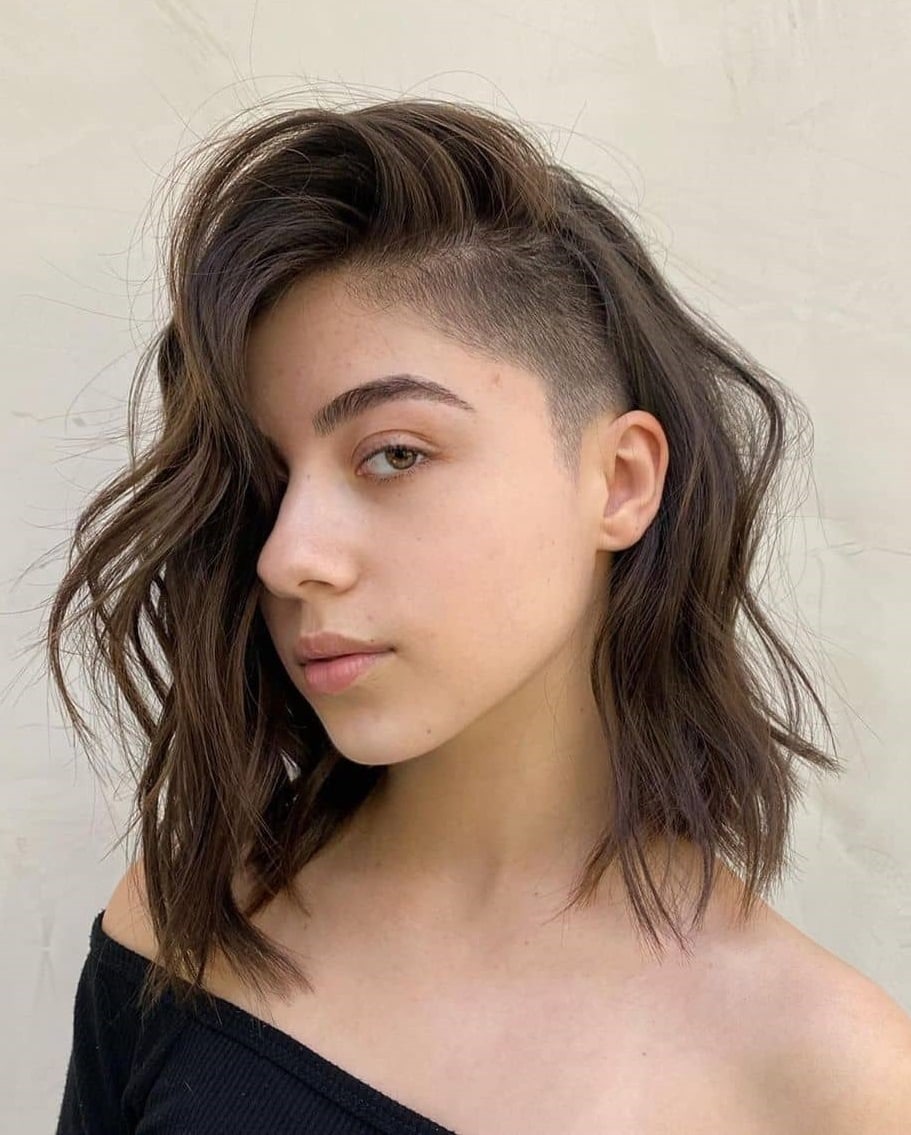 Now we're going back to a classic undercut, but the bob isn't your typical bob style. It's very long and wavy.
It still falls within the bob category as it's not quite shoulder-length. It has lots of volume and falls over one side of the face.
9. Vivid Pink Bob with Volume
Try out this one if you want something edgy. It's simple and has a ton of volume in the front and back.
It's a vivid pink color with a dark, long undercut underneath it that's visible by the way the hair is parted and pushed behind the ear.
10. Platinum Hairdo with Braid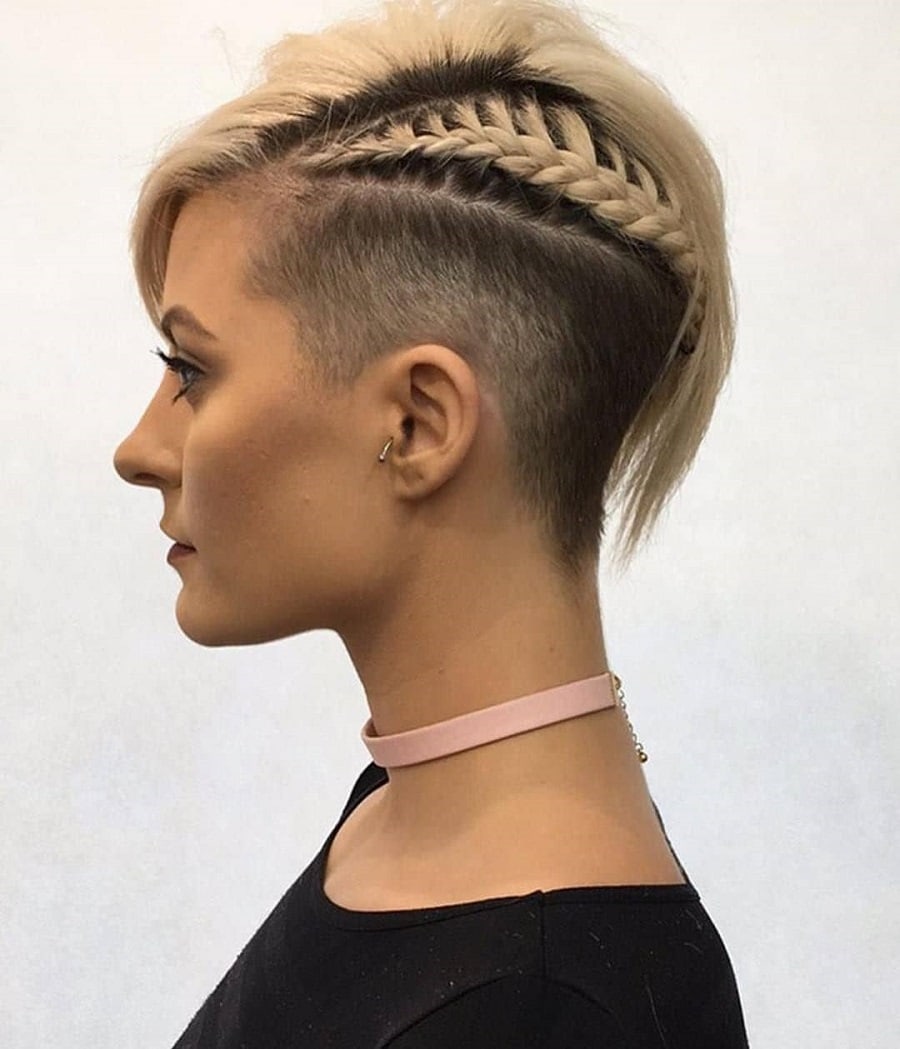 Braids make everything sweeter, and with this look, the undercut is accentuated.
The bob isn't quite chin-length and it falls to one side of the head and over the back of the head. The blonde contrasts the dark undercut well.
11. Messy Red Hairdo
This haircut has a messy bob style to it that looks wonderful, and there's a lot going on.
The undercut is a large, defined rectangle, and the bob element is layered and styled so it's shaped like a mohawk, but unstyled it remains a bob.
12. Wavy Hair with Short Bangs
Waves make so many hairdos look nicer. the style is a very short bob that doesn't quite reach the bottoms of the ears, and it's nice and wavy.
The bangs by contrast are ultra straight as they brush only the top of the forehead. The hair and undercut are platinum blonde.
13. Short Bob for Thick Hair
Thick hair is easier to handle when it's short. These locks form a short undercut bob style that has some layers in it, making it look very thick as it curls in towards the head.
The undercut is on the back of the head and has dark bristles that differ from the silver of the bob.
The undercut bob in this style is on the underside of the hair and is in a tapered V shape. The bob is highly textured with huge curls facing one side in various shades of pink.
It's shorter at the back than it is at the front, and it's barely ear-length. It's got a real punk vibe going on that you may enjoy.
15. Graduated Silver Bob
This bob is a cross between silver and platinum blonde, so it's hard to tell its true color. It all depends on the lighting, and that makes it very clever and an eye-catching style.
It's chin-length at the front, and the back is very short, so it shows off the undercut wonderfully. It's a chic and smart haircut.
16. Sleek Simple Purple Bob
Purple creates an edgy tone, but the cut is very simple. It's slightly shorter at the back and it curls towards the head, and there's an undercut you can see when one side is brushed back behind the ear nicely.
17. Natural Curls with Undercut
If you have very curly hair, then you'll thrive with this style. The hair is all brushed to the back and one side so the undercut is distinct, and the curls are wild and wonderfully free around the face.
18. Long Sleek Bob
Sometimes you can pair edgy with sleek. This undercut bob is long and sleek but thin, with slightly choppy ends. The choppy ends help tie in the overall punkish look that's super popular with haircuts of this type.
The undercut is very short and wispy, so it's a very distinct and edgy version of the look. It suits anyone, and it's a very easy look to style. It suits youthful faces very well, and it's very tight to the head and neck.
19. Messy Bob with Bangs
Messy hair is so fun to play around with, and you can create contrast very easily in styles like this. For example, the bangs are thin and neat.
You can see the undercut where some hair is pushed behind the ear, otherwise, it's almost invisible. The light color makes the undercut section of this look appear even more subtle, which is wonderful for this style.
20. Sharp Metallic Blue Bob
Metallic tones have such a dark vibe. The undercut bob starts with a metallic blue and ends in a more vivid tone.
It has a very sharp and choppy look at the end, and the hair pushed behind the ear reveals the undercut that's visible between the bangs and the main body of the hair.
The 20 hairstyles above will definitely do wonders for keeping your haircut and your overall look appear fresh and modern. It can really revitalize your appearance and give you a major confidence boost that you didn't know you needed.
How many of the styles above did you fall in love with? You never have to stick to one style for the rest of your life. The undercut bob haircut can be played with in many ways, and you definitely should experiment with it.