Letting your natural hair breathe and stay wholly protected while experimenting with fun, colorful, and risky hairstyles is the dream that has become a reality with a sew in bob.
It refers to different weaves wherein your natural hair is braided into cornrows, and then a needle and thread are used to sew hair extensions onto the braids. It's advised to leave out some strands of natural hair on the very front and on the top to cover the extension tracks.
Amazing Sew In Bobs for Women
We have rounded up a list of the top 25 sew in bob hairstyles to help you choose your suitable pick of stylish hairdo.
Asymmetrical Highlighted Hairdo
The best way to invigorate new life into the conventional bob is by adding an asymmetrical edge to the sew in weaves.
The asymmetrical hairdo looks incredibly chic and modern, making them a flattering choice for most face shapes. Electric blue highlights peeking out in the hair ends act as a point of emphasis in this otherwise black hairstyle.
Pixie Cut
Do you desire the killer look of a pixie cut without wanting to commit to getting all your hair chopped off?
This is where the hairstyle comes in as your one-stop solution. Accompanied by side bangs, the lightly tousled hairstyle accentuates the neckline and has emerged as a hot favorite.
Classic Layered Style
If you are stepping into the world of short hairstyles for the first time, the classic short style might be your perfect introduction.
To add some dimension to your hairdo, you can opt for side-swept bangs. This elegant layered hairstyle is ideal for women in their 40s and 50s.
Sleek Jaw-Length Sew In Bob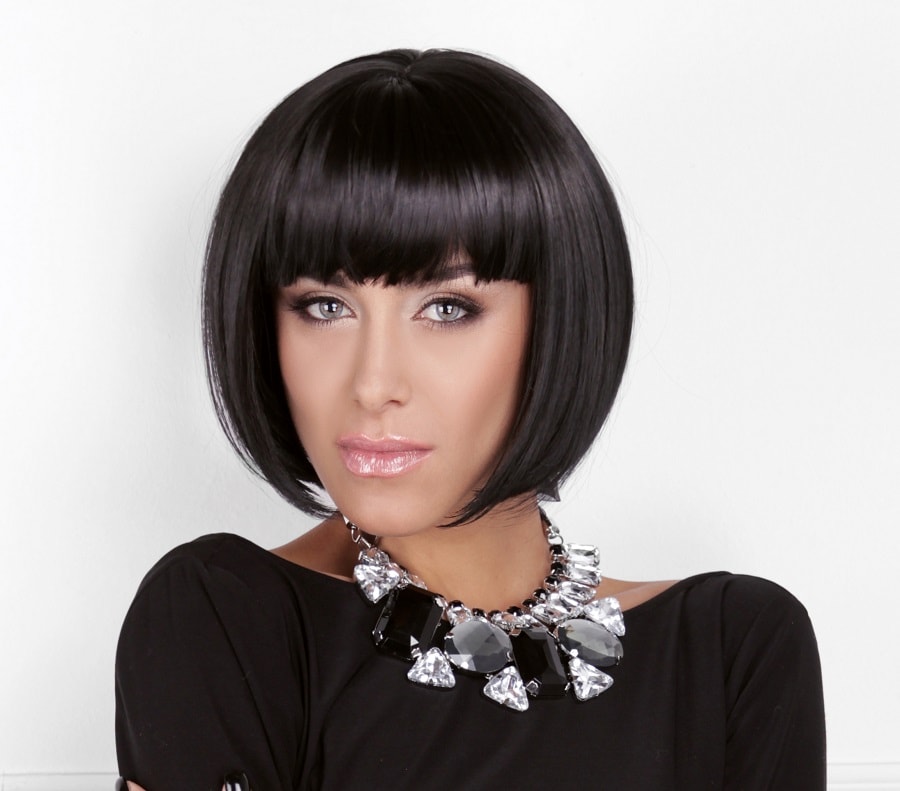 An easy hack to revive flat and lifeless hair would be a hairstyle with a full block fringe.
This sleek hairstyle is perfect for girls and women with elongated or oblong face shapes since the block fringe covers the forehead. The extended bangs also help make the entire hairdo look fuller and voluminous.
Funky Pink Bob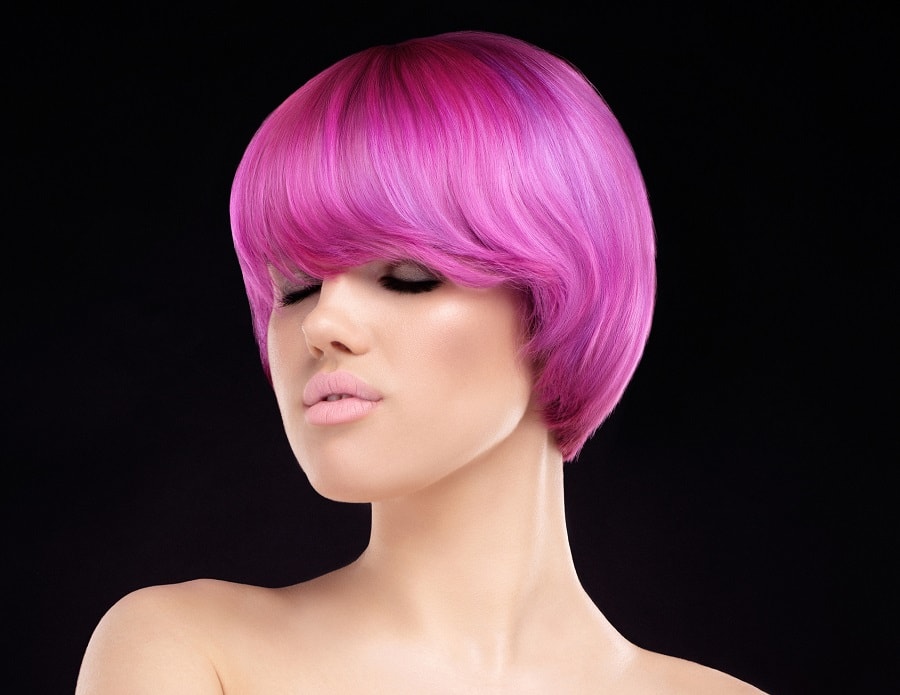 If you are searching for a hairstyle with a lot of oomph, this pixie cut with a full feather fringe is a must-try for you. The varying shades of Fuschia pink and violet also make the hairstyle more eye-catching.
Chocolate Brown Medium Bob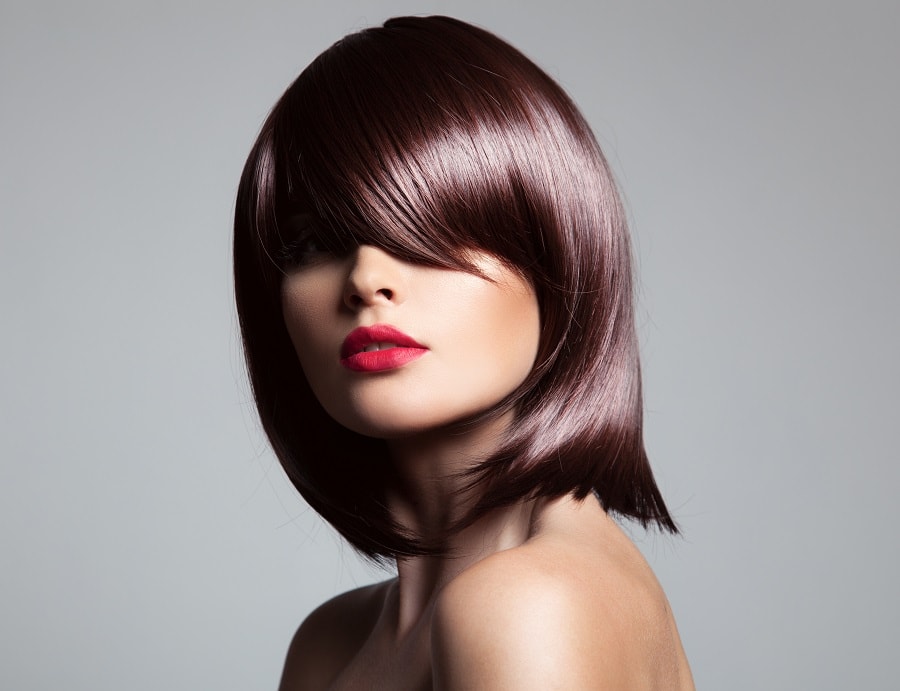 A long-layered sew in bob with blinding curtain bangs has got you a sophisticated bob that keeps all the flyaways at bay.
This hairdo looks more attractive and polished owing to its glossy chocolate brown color. Also, the laser-sharp edges of the hairstyle define your jawline better.
Side Ombre Part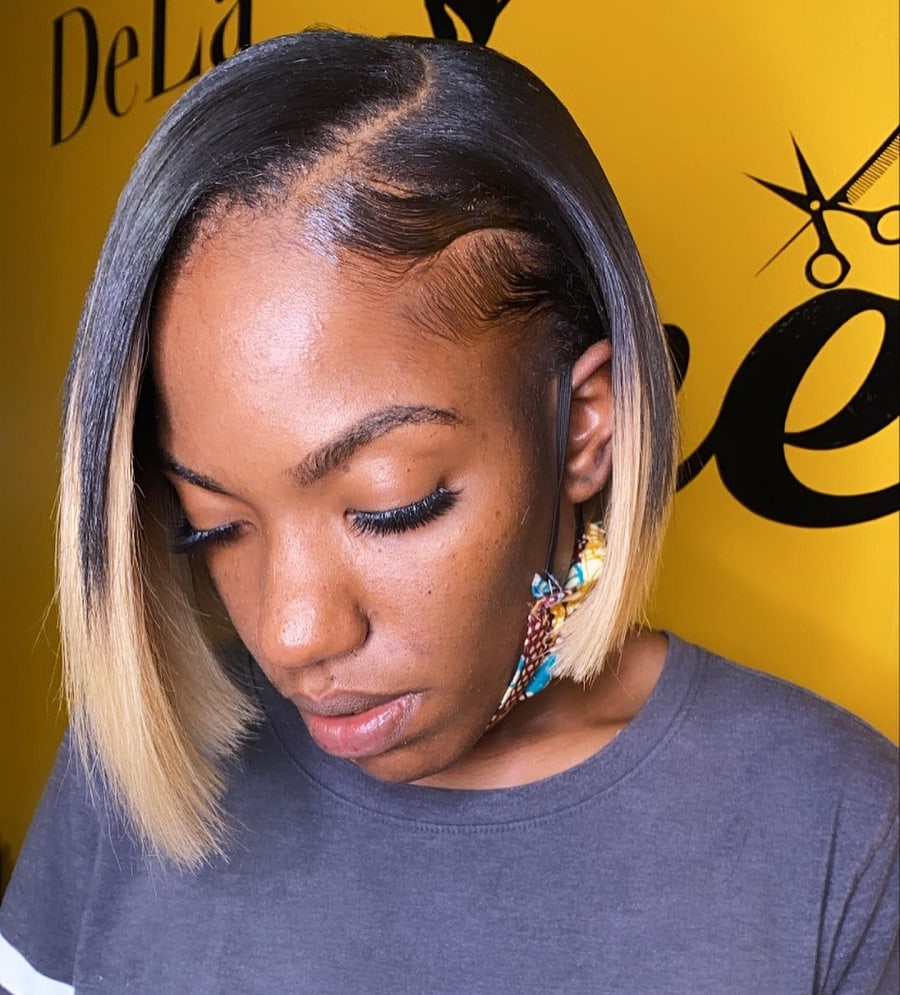 The side part never seems to go out of style! This hairstyle incorporates a beautiful dual-tone ombre effect, with dark black roots and blonde ends. We can also observe a slight asymmetrical gradation in the hairdo.
Straight Blunt Hairdo
The straight blunt bob is a seam-less everyday wear the hairdo that can be dressed up if needed. The evenly spread out custom white blonde with platinum blue undertones creates an eye-pleasing color.
Half and Half Sleek Hair
If you feel like trying out a crazy hairstyle that shocks everyone on the block, the center straight part with different colors on either side of the parting is a dream come true for you.
A mix of blonde and neon green colors in this hairstyle will get all the heads turned and the eyes moving.
Choppy Colored Bangs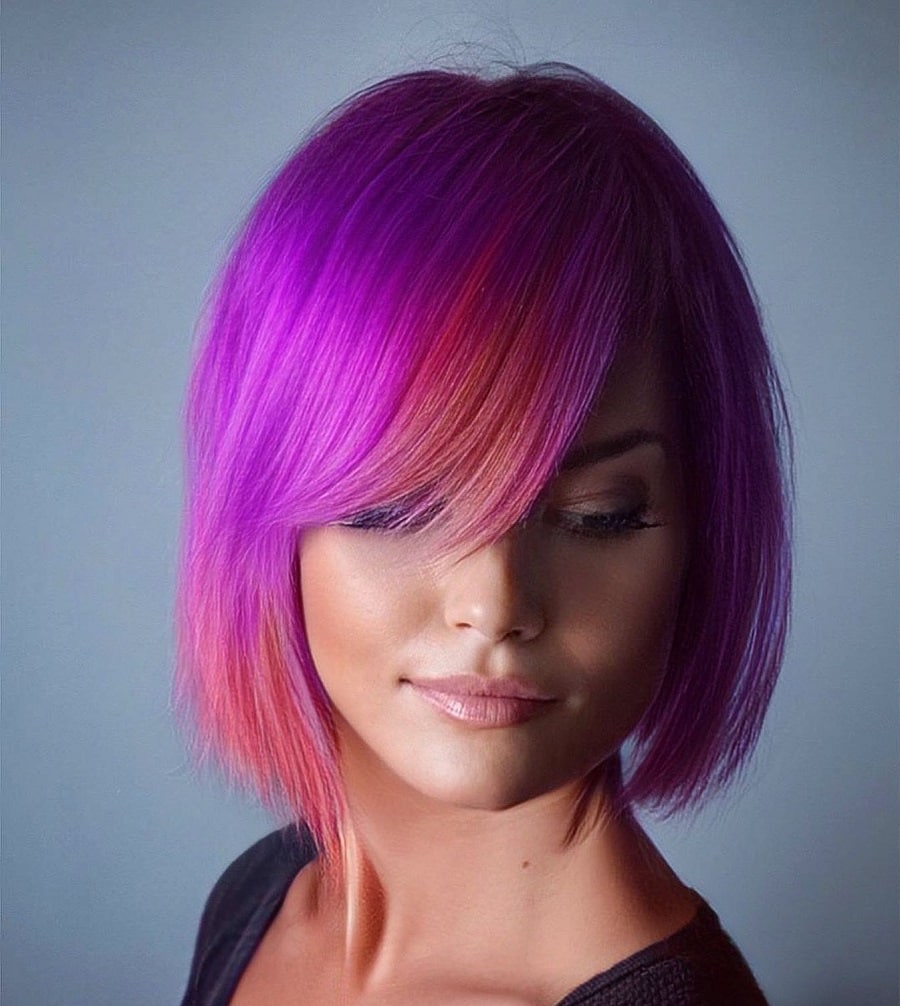 A flamboyant sew in bob hairstyle that screams a vibrant flair is the choppy bob with bright violet hair, including red highlights. This stunning hairdo, coupled with feather-cut side bangs, pop out your facial features.
Curly Lob
Curly hair women must try out this long bob hairdo with a side parting. This timeless and elegant hairdo will work perfectly for special occasions with a formal dress code, such as weddings, prom, graduation night, etc.
Light Blue Straight Hair
Do you love bright hair colors but tend to get easily bored of them? Instead of making permanent changes to your hair, play around with colorful weaves.
The light baby blue bob is currently having a moment in fashion since blue is a color that surprisingly complements both warm and cool skin tones.
Ash Grey Blunt Lob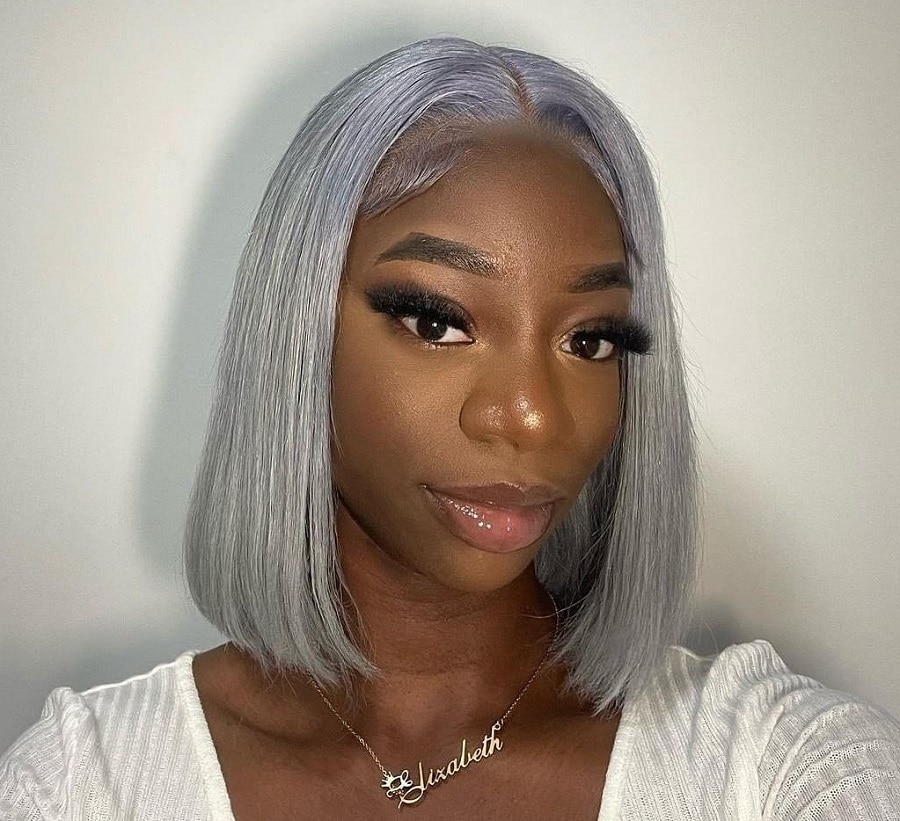 You can try unconventional hair colors such as an ash grey on your blunt blob hairdo with a middle part for an exciting outcome. The ash or mystic grey helps you achieve an effortlessly cool and bold vibe.
Rose Gold Sew in Lob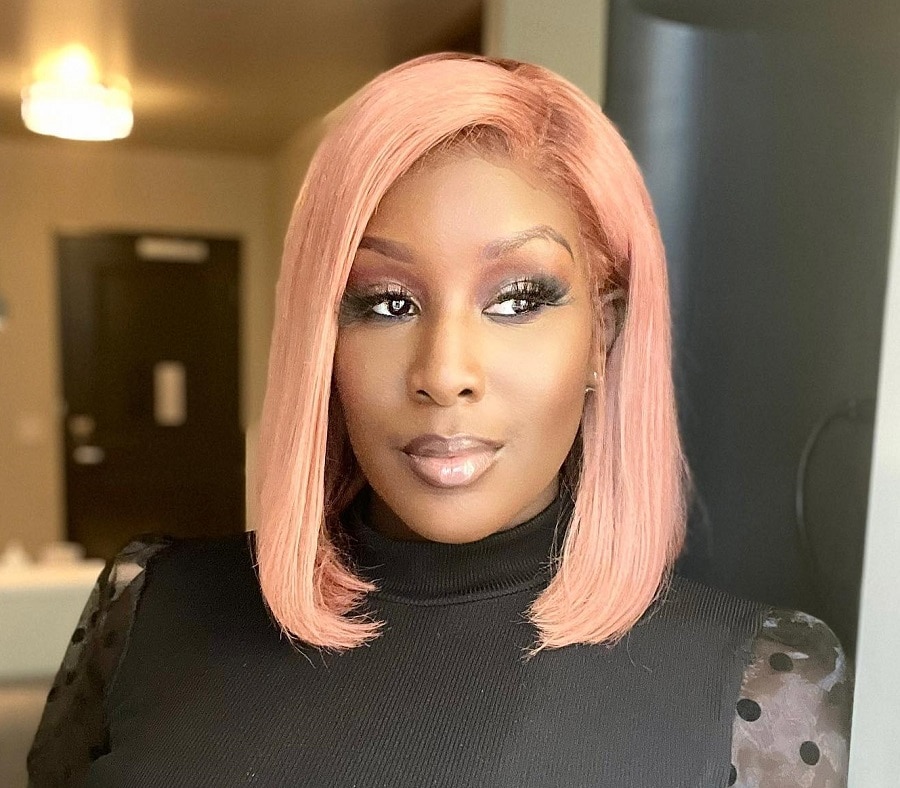 The modern neutral rose gold is a hair color that is equal measures spunky and pretty.
When paired up with dramatic eye makeup, this structured rose gold sew in bob hairdo with a side part will get you all ready for a glam night out.
Asymmetrical Sleek Style
Look no further than the asymmetrical cut if you want to elevate your usual updo this crazy summer season.
This fresh hairstyle in jet black is an excellent way to make a statement. Also, remember that a jaw-length asymmetrical bob is always best complemented with a deep side parting.
Golden Blonde Straight Hairstyle
The medium golden blonde straight-edged bob with darker roots present on only one side of the side parting makes for a unique effect. You can add a bit of texturizing spray or mousse to this style as a finishing touch.
Short Tousled Layers
You can never go wrong with a minimal and straightforward classic short sew in bob style for all the short hair girls. The side-swept bangs and the all-black color enhance the beauty of this hairstyle.
Orange Layered Bob
It's time to swap your reds and browns for an envy-inducing bright orange shade.
Firing your layered bob with the orange hue and a neat side-parting creates an interesting sew in hairstyle. The warm tones in this hairstyle work better with fair skin complexions.
Curly Twisted Braid Hairstyle
A bob that mixes bouncy twisted ringlets and cornrow braids is the best bet for an extravagant and high-fashion updo for the curly hair girls. This voluminous weave hairstyle looks good with triangular face shapes.
High Ponytail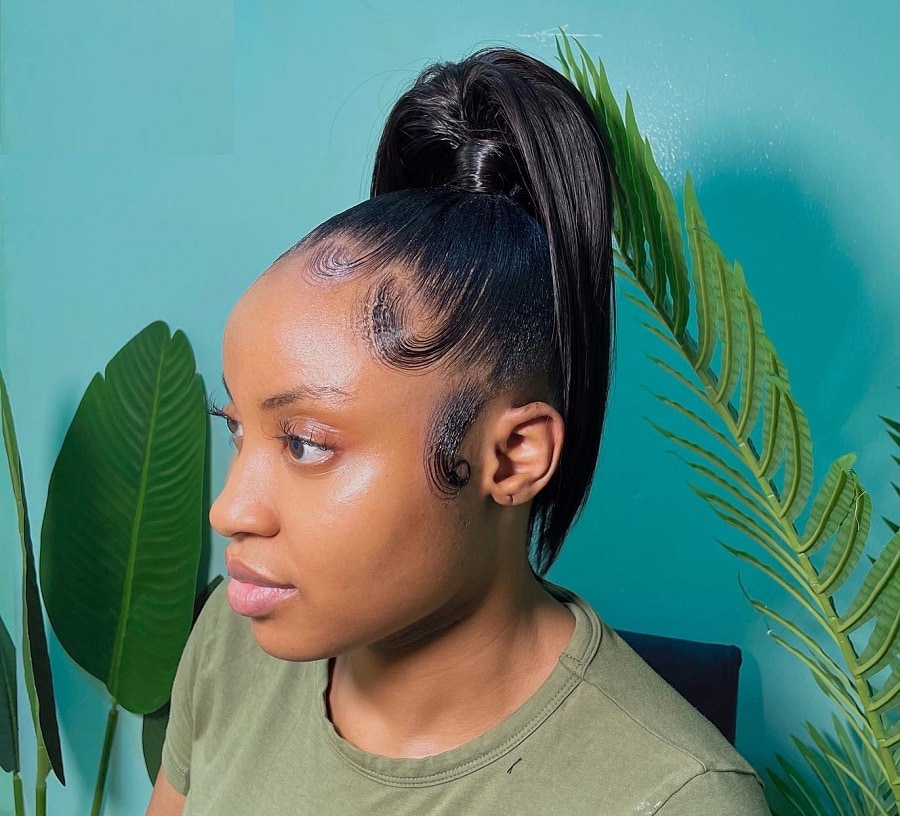 No more boring bob hairstyles if you opt for the high bob ponytail sew in with lace weave.
To make this hairstyle, after the weave has been attached, comb through your hair to get rid of all tangles, and then gather all your hair into a pony at the crown of your head. This is a versatile hairdo that looks adorable and exquisite at the same.
Brown Balayage Straight Style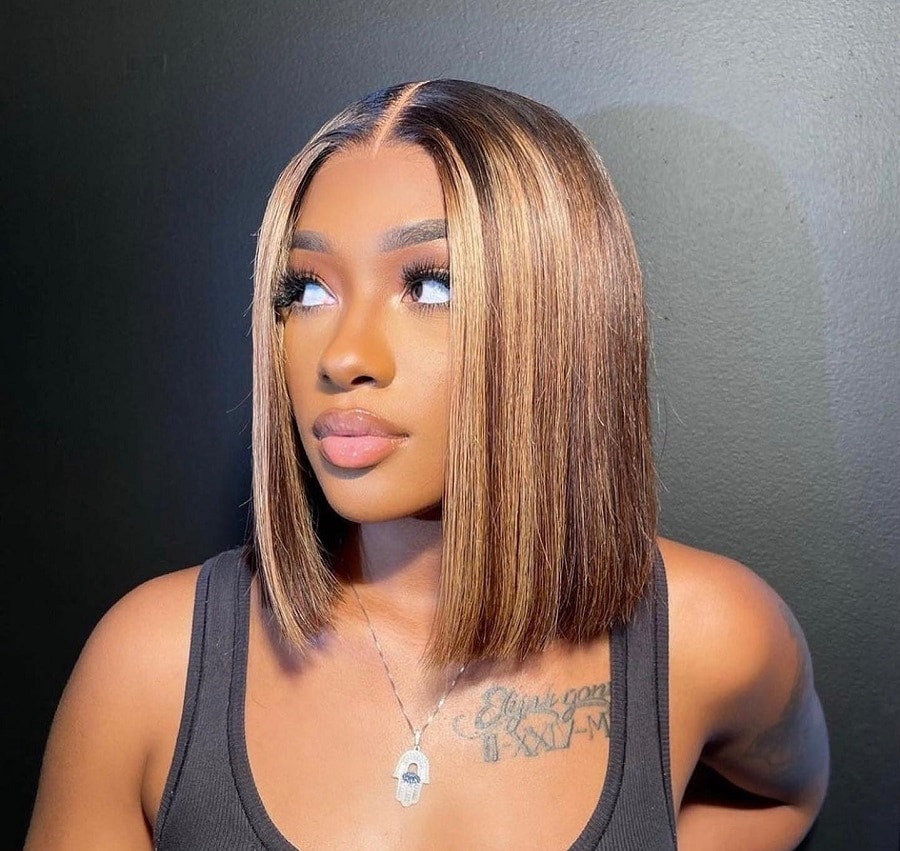 A brown balayage with a mix of medium champagne, caramel, and chocolate brown hues draws attention to the structured straight hair. This chic sew in bob with dark roots has high wearability for everyday occasions.
Blonde Bob with Undercut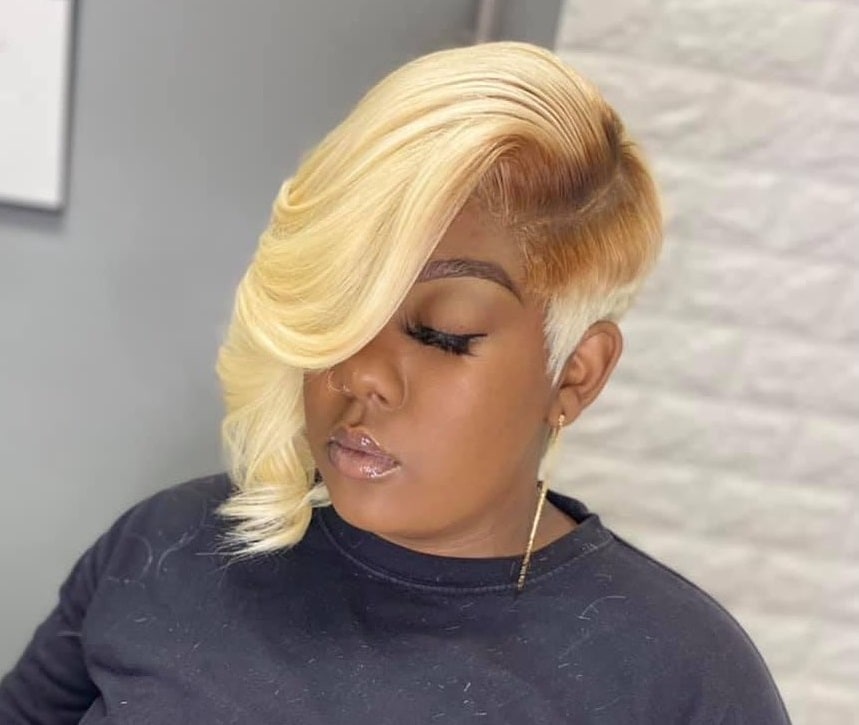 With undercut bob hairstyles soaring high in popularity, you could spice up your hair with a shaved long layered bob with curtain bangs.
The two disconnected sides in this hairdo will provide considerable ease of styling and make you stand out in a room.
Red Asymmetrical Long Bob
If you want a show-stopping look, go for the electric red shade to breathe life into your regular hairdo.
While the asymmetrical edges and side part adds interesting dimensions to the hairstyle, the red color helps embrace a rebellious mood.
Short Black Hairdo
You can never go wrong with a minimal and straightforward classic sew in black bob for all the short hair girls. The side-swept bangs and the all-black color enhance the beauty of this bob hairstyle.
Dark Burgundy Hairstyle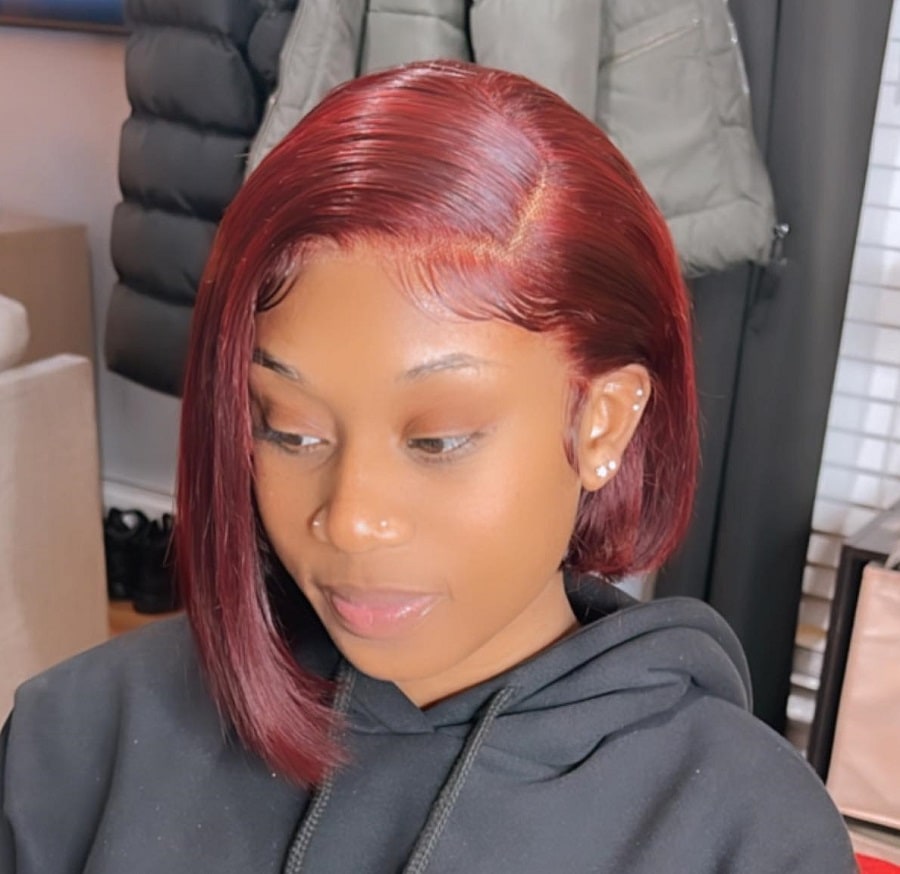 This asymmetrical dark burgundy red bob is a hairdo that will make you look young and powerful. You can wear statement pearl accessories with this hairstyle for a contrasting effect.
Now that you have decided on your sew in bob hairstyle, you might be worried if it looks unnatural and like a wig. The best idea in this situation would be to visit an experienced stylist to get the results you want.
Do not wear your weave for longer than a month as a first-timer. Also, remember to take care of your natural hair underneath the strands by conditioning it regularly.