Do you feel like your hair is always a mess? Wearing a hat every day isn't your idea of a good time. If you're looking for a more permanent solution to your hair woes, consider a sew-in hairstyle. These styles are made to be permanently placed in your hair and require no daily upkeep.
Additionally, hair extension is a great way to enhance your look without going through the hassle of getting a new haircut. The good thing is that the sew-in style can last around 6-8 weeks, and you don't need to worry about styling your hair during this time.
Creative Sew-In Hairstyles
There are hundreds of styles to choose from, but the following ones are our favorite.
Crimped Sew-in
Crimped hair extensions is a personal preference that can be achieved through small, tight stitches. This sewing technique helps to hold and shape curly or crimped hair while preventing it from becoming frizzy or damaged.
Wavy Sew in Style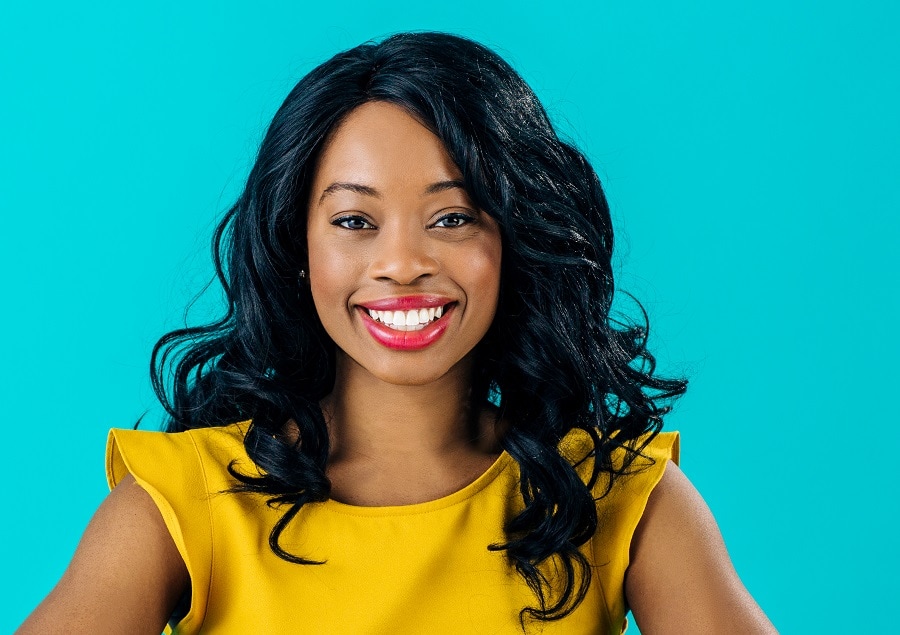 If you're looking for a fashionable medium-length dark extension that is easy to manage, try a wavy sew-in. It is perfect if you want something easy to style that will look good regardless of what you wear.
Since the weave is permanently made, you don't need to make it every day before going out. Hence, your hair will stay wavy all day.
Curly Pink Extension
Looking for a convincing and unique style? Why don't you try bob-styled curly pink sewing in? Although the extension comes with curly hair-like ramen, you can also apply a generous amount of curl-defining serum to look more perfect.
Sew in Updo
Sewing in your updo means you can have control over every part of your long extension. If you just added an extended volume to your hair, you can create an updo that looks effortlessly put together with a little practice.
Bobbed Extension
If you're looking for a fresh and modern hairstyle for black women, then a extended bob certainly comes to your mind first. This style is popular among black women because it is effortless and stays in place for a long time.
Natural Sew in for Older Women
Older women often choose sew-in hairstyles because they want to keep their hair looking good for as long as possible. This style looks natural as if you have real shoulder-length hair. However, you can choose long hair too.
Braided Ponytail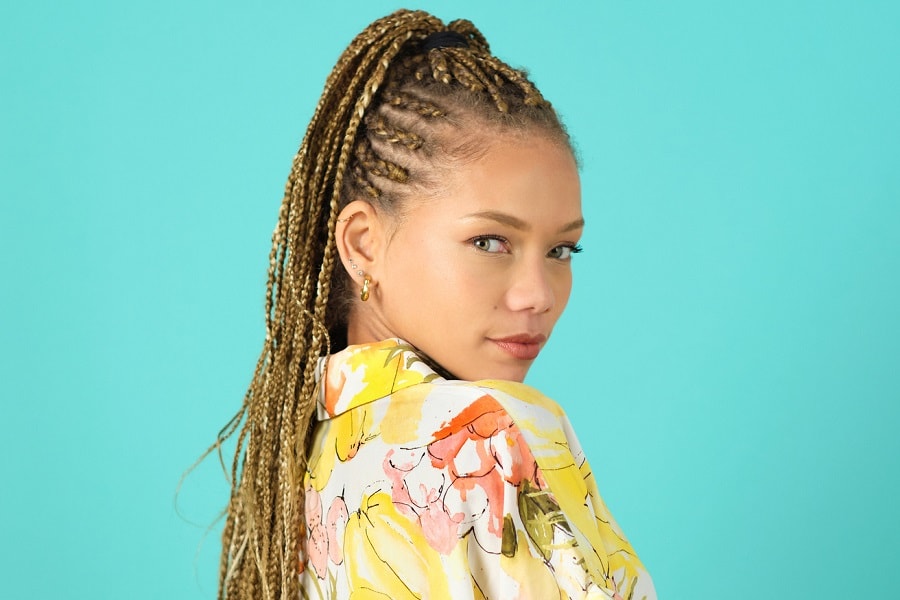 By adding extra braids to your hair, you can create a variety of trendy and unique looks. However, the ponytail is the easiest one and requires no extra accessories. You can use any hair ties or elastic bands to secure the braided pony in place.
Long Sew in Wavy Hair
Opt for a medium to long cut if you want to style your thick wavy extension. The dark extension looks great on this hairstyle. This sew-in type is a great option if you have fine or thin hair that doesn't hold a curl well. Using a hair extension method, your stylist can create long, flowing waves that will frame your face.
Voluminous Extension
The voluminous sew-in wavy hairstyle with burgundy color is a popular choice for women who want to add extra volume to their locks. This type of hair extension can be used to add volume, body, and movement to your hair, which can help make your curly or wavy locks look more voluminous and natural.
Copper Long Bob
If you're looking for a new bob style that will give your hair a natural copper color, try sewing in your hair with copper blonde hair extensions. It can be used to add length, color, or style. Just make sure to get extensions that are of the right length so that the finished product looks natural and not fake.
Sew in Bob with Side Bangs
This bobbed side bangs hairstyle is a common and all-time trendy style for black women. Additionally, adding a curled bob with side bangs gives some vintage flair too. You may need to use some hair cream or spray to give a glossy look.
Undercut Hair Extension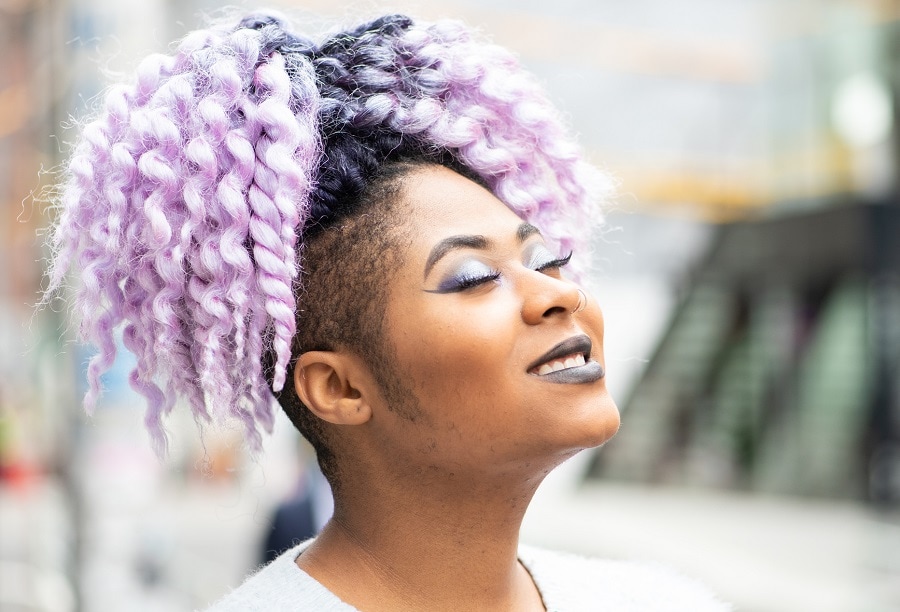 This particular style is great for women who want to keep their hair tidy and out of their face while still looking stylish. The undercut adds height and dimension to the curly extensions in updo style, making them look more natural.
Side Swept Sew in
If you're looking for a simple extension, a side-swept sew-in bob might be the perfect option for you. The extension is parted in the side, then sweep it to one side using a hairbrush.
Wavy Blonde False Hair
If you're looking to add some waves to your hair but don't want to go through the hassle of bleaching or using heat, then a blonde extension. However, this type of hair coloring is semi-permanent, meaning that it will fade after a few washes but will not completely disappear.
Box Braids Extension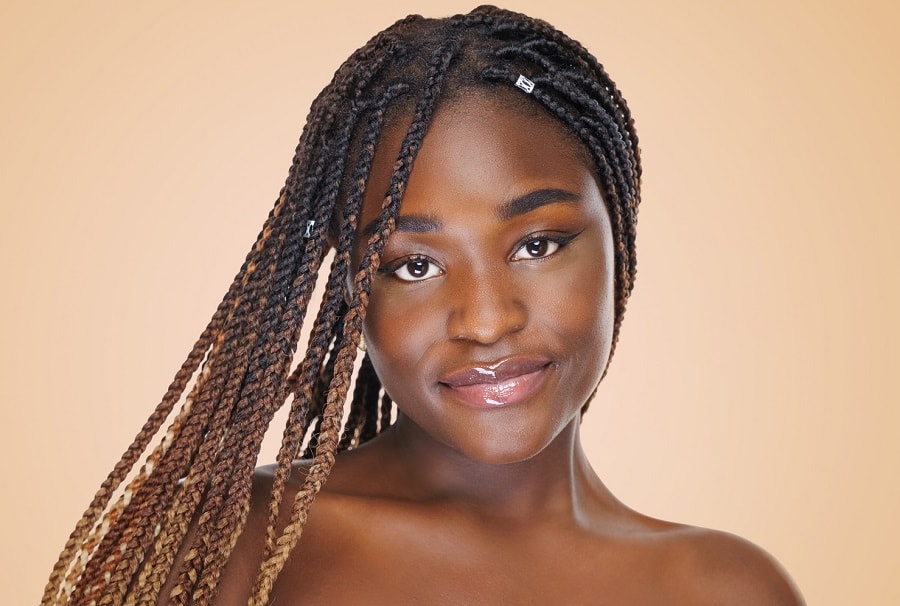 Box braids are a popular way to add length, volume, and texture to your hair. Additionally, sew-in box braids hair extension is a good option for people who have difficulty wearing traditional hair extensions as this style keeps away the hair from your scalp.
Thick Curly Sew in
A glue-less wig can be the perfect option if you want to wear a thick curly hair extension. The thick curly weave makes it so that you won't have to spend hours getting it styled right. In addition to that, the glue-less wig means that you can take it off and on easily, no matter how messy your hair gets.
Wavy Frontal
With the right highlights and lowlight, this type of style can look sleek, healthy, and stylish. After placing the frontal, you can just curl the tails of the hairs using a curling iron.
Middle Parted Light Pink
This hairstyle is great for anyone who wants to add a little bit of color and life to their look. The wavy style can be created with straight or curly extended hair colored in light pink. Also, it can be colored any way you like.
Sew in Stitch Braids
These stitch braids can add length and slight thickness to your weave. Further, the style will make your hair look as if it has grown out for months and give you the appearance of healthy natural hair. This involves attaching the braid to the end using hair bands or round clips.
Frontal Quick Weave
Looking to add some spice to your look? Try out the quick frontal weave. You can wear this style using either long or short hair while the hair is loose or pinned up.
If you are looking for a new style or just want to add some volume and length to your hair, consider getting a sew-in. However, be sure to consult with a professional before making any decisions to ensure you are getting the best possible style for your needs.