Changing your hairstyle is intimidating. You never know how you'll look with that hairstyle in advance. Thankfully, we live in an age where we can now try out new hairstyles before we cut or dye our hair!
There are plenty of iPhone and Android apps to try on different hairstyles makeover. You'll be able to see how you look with different colors, different cuts, and more. There's never been an easier way to play with your look to see what works.
So, without further ado, let's look at some of these applications and see what they have to offer!
Android Apps for Hairstyle Makeover
Change Hairstyle sounds exactly like what it is. It's an app that lets you change your hairstyle, and all you need is a single picture of you.
Ideally, use a picture where your hair is tied back and out of your face. You can then switch between long, medium, short, curly, straight, and artistic styles.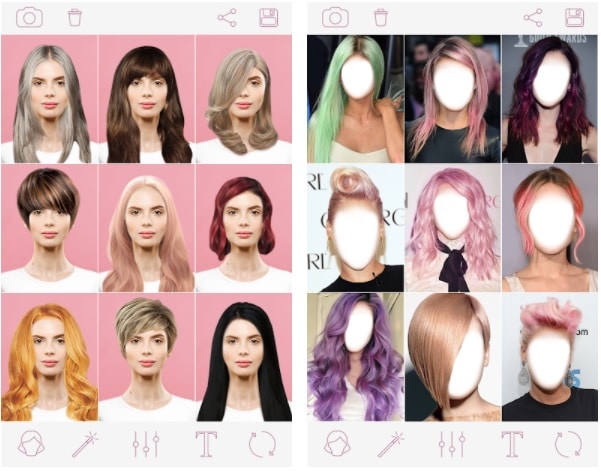 Best Hairstyles is a very simple app that uses pictures of real hairstyles to help you find your new look.
Upload a picture or take a new one, then you can choose from lots of styles in the gallery. You can adjust your style and save the picture with filters, stickers, and more.
This app to try on different hairstyles differs from the rest. You can change your hair color without changing your hairstyle.
However, there are also lots of styles you can try out, too. There are over 1,000 styles to try out, and every style is highly realistic.
Hair Zapp lets you style your hair virtually by taking a current picture. You can then try out the different looks offered, and you can change the color of each of them.
This application also has a community of people willing to give you feedback on your new look.
If you prefer more simple Android apps to try on different hairstyles, then this is a good one for you.
There are 30+ different hairstyles to try, and many of them are unique and funky. It has a rotation tool so you can hear your hairstyle from all angles, and the interface is very simple and beginner-friendly.
iPhone Apps on Hairstyles
These are some ios apps for hairstyle makeovers.
Cute Girls Hairstyles is an excellent app if you don't have a lot of phone data. It consumes data minimally while you choose from 50+ styles.
Most of the styles are for women, so it's not the best for men who want a new look. Most of the styles come in HD quality.
Not all iPhone apps to try on different hairstyles let you change your look entirely. Some, like Fabby, just let you play with your hair color.
If you're considering getting a unique hair color for the first time, then Fabby will let you see how you look with that shade.
Hairstyle Makeover is one of the best-designed interfaces there is. The premium version costs very low per month and it lets you add haircuts and facial hair to any picture of yourself.
Filters and text-adding are also available on this. You can share your potential new look with your friends and see what they think.
If you're overwhelmed by lots of choices, then Hairstyle Try On is good for you. There are 36 free hairstyles that you can pick from.
However, if you feel that's not enough, you can buy packages to add more. There are over 800 styles available altogether, and you can edit your photo to create a dazzling look.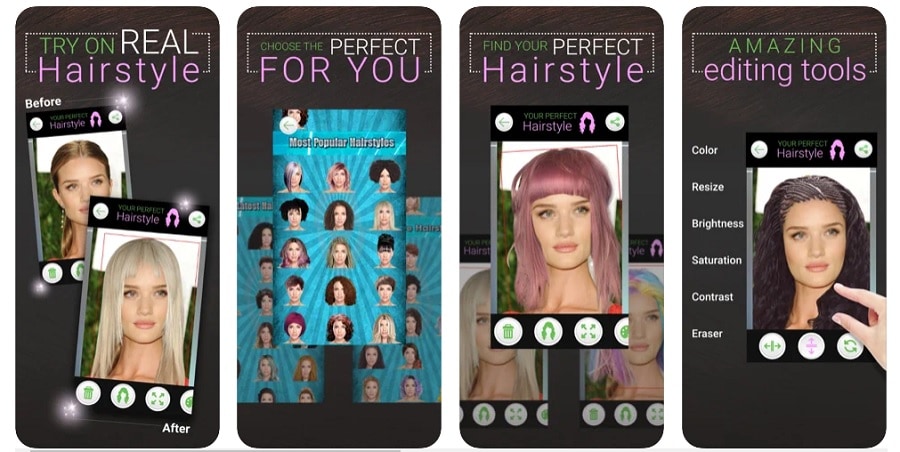 Sometimes apps to try on different hairstyles leave you looking strange, because the brightness and contrast don't look good with your picture.
This app lets you change the brightness and contrast to ensure the style you're testing looks natural. You can make really appealing pictures and test dozens of popular looks.
Now you know there's no shortage of Android and iPhone apps to try on different hairstyles.
You can test hundreds of looks before committing to getting one for real. If this appeals to you, then head over to the app store and download these today. Your friends and family can help you pick your new look!