Every woman has facial hair, but heading out with them is a big no. It leads to self-confidence and embarrassment issues carrying the facial hair. Now, you must have been thinking of how to get rid of these facial hairs. It can be dealt with easily only if you have the right tools with you.
But, the wrong selection of tools will make this task difficult for you. So, here we are, helping you find the best facial hair removal tools and clear out your dilemma of hair without struggling daily for it.
Different Ways To Remove Facial Hair For Women
Dermaplanning – It is an exfoliating treatment that removes the peach fuzz and your dead skin with a tiny scrape of a scalpel.
Sugaring – It involves using a 100% natural sugary paste to remove the hair from its root.
Threading – It's a beauty technique where a thread is used to remove your hair.
Waxing – It is the process of hair removal from its root by using a covering of a sticky substance such as wax.
Depilatories – It is an agent for hair removal, which is most widely available in cream form.
Laser hair removal – It selectively targets dark and coarse hairs while leaving the surrounding skin undamaged.
Electrolysis – It is a method of removing the individual hair from the body or face.
Tweezing – It is the cheapest and easiest method for removing facial hair and a go-to way to keep your eyebrows tamed.
Shaving – It is the removal of hair by using a razor or any bladed tool to slice it down.
Factors To Consider While Buying Facial Hair Removal Products For Women
There are various facial hair removal options out there to choose from. But, before buying one, you should once look for a few factors to make an easy choice.
1. Hair Type
You all might think about what are the best ways to get rid of coarse hair at your place only. Removing them by plucking, shaving, epilating, and waxing makes a difference. There are a few products that do not work well on coarse hair and are meant only for fine hair. For that, you need to give thought to your hair type.
2. Short-Term Or Long-Term
Shaving your facial hair needs more touch up since the hair will grow at a good pace. Some methods last longer (up to 6 weeks) while some of them not. It all depends on your hair and genetics.
3. Skin Sensitivity
You need to be careful about what you use, as some of you might have sensitive skin. We all know this well, that some hair removal methods gives us pain, redness, irritation, and are too harsh on us. You need to look for products that do not contact your skin enough and try to avoid serums and creams to remove the hair.
And those who have less sensitive skin don't even have to worry as there are no special considerations to be made for your skin type. Those with less sensitive skin can use pretty much anything, as long as there are no other special considerations to be made for your skin type.
4. Time
You can make your shaving task easy and quick, especially when just need a bit of touch-up. Waxing seems a tough task, but it's as fast once you know the work. Creams, epilating, and plucking makes your task a bit longer. You need to choose fast methods to get your beauty routine quickly.
Now let's explore the 7 best facial hair removal for women:
1. Finishing Touch Women's Painless Hair Remover
Finishing touch hair remover for women gives you an easy, quick, and painless hair removing experience, requiring 1 AA Battery, which is included with it. That worry of removing facial hair painlessly and instantly from the chin, cheeks, lips is no longer yours.
You just need to remove the flawless cap, and slide its switch that is located on the unit side upward into the "ON" position. Then, the light will turn on when the unit is on, and just gently press the unit's head flat against your skin. You have to check that the unit should not be on an angle. To remove unwanted hair, precede making small circular motions.
Want to know what's the secret? A revolutionary butterfly technology is present to erase the hair by microscopically paring it down through a spinning head. Discreetly and neatly housed under the 18 karats gold-plated head, this Butterfly Technology never touches your delicate facial skin.
Features:
Removes the peach fuzz to glide your makeup flawlessly.
No more cuts from razors from now.
Easy to clean.
Pros:
Safe for all skin tones.
Easy to use.
The dermatologist approves facial hair removal.
Instant and pain-free.
No worry about hair growing back.
Free from irritation and redness.
Cons
Not that useful for thick hairs.
2. Nad's Hypoallergenic Facial Wax Strips for All Skin Types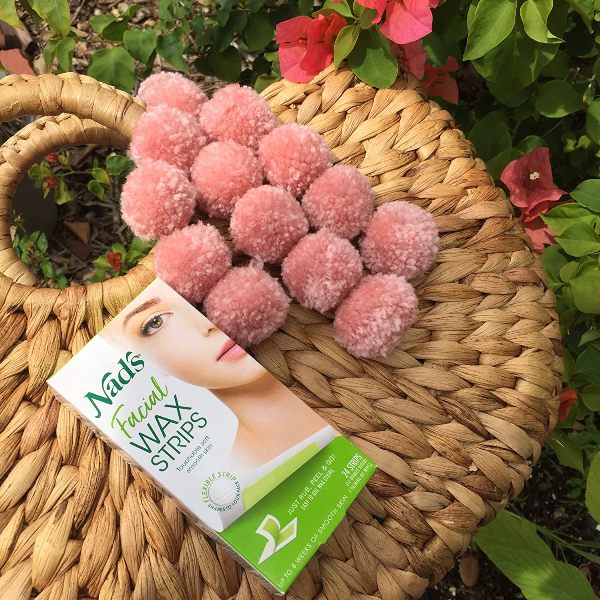 No one ever talked about the unwanted hair before Nad's was found in 1992. It changed everything when Nad's Natural Hair Removal Gel changed everything back then.
Now, Sue Ismiel and her daughters are the founders and renowned hair removal innovators. Their products are tested, tailored, and proven in solving this big issue of worry for women.
Best product with no fuss, no mess, and also removes your unwanted hair with no worry till the next 8 weeks with hair-free and smooth skin. Nad's features a unique and flexible contour weave fabric to conform to the subtle face curves. It even takes care of those awkward places like the chin, upper lip, and jawline.
With the formulation of natural beeswax for strong adherence to that unwanted hair and removing them as short as 3mm, it leaves your skin looking and feeling smooth and silky for up to more than 8 weeks.
Features:
Hypoallergenic and fragrance-free strips.
Suitable for delicate facial areas and sensitive skin.
Strips are ready to use, just rub once, peel, and go.
Pros
Suitable for every skin type.
Shea butter and beeswax an included in the wax formula.
Perfect fort check, chin, upper lip, and middle brow.
Quick and easy.
Quick application and removal.
Cons
A few people have this feeling that their skin gets peeled as its side effect.
3. Kotamu Wax Warmer Hair Removal Kit
The special facial wax with the process of semi-permanent hair removal in which you can remove fine and thin facial hair with pink face wax. You can wax at your place comfortably with this kit and get a flawlessly fresh face to master that no-makeup look.
Small to medium areas of your body can be easily waxed by this wax warmer. This complete waxing kit holds 500ml/14oz of the hard wax. A new rapid heat feature of 160F-240F is the heat setting that can be used to heat hard and bulk wax, wax beads, or bricks.
This Kotamu Brazilian waxing kit performs facial waxing service at ease. For delicate and sensitive areas, the strip-free formula helps you get soft skin with the formulated wax, which sticks to your hair and not the skin.
Features:
Goodbye to the skin irritation and ingrown hairs.
Exfoliating power from the roots.
No more inflammations.
Pros
Complete waxing kit with 4 hard wax beans target.
30 days money-back guarantee.
Feel fresh for the next 3-6 weeks.
Your skin gets precise and smooth post-application.
Cons
Not recommended for sensitive skin.
4. Sally Hansen Hair Remover Kit
Sally Hansen's hair remover cream kit treats your skin and removes your hair simultaneously. With the moisturizing collagen and Vitamin E lotion, it removes hair, also treating your skin. For no shadow or stubble to be left, hair is removed from below the skin's surface.
An all-natural complex of Saw Palmetto, the Willow Herb, and the Pumpkin Seed Extracts help in reducing the appearance of hair regrowth. Hair turns softer and finer while the skin looks smoother, hair-free, and healthy.
You can try all wax strip kits by Sally Hanson for your body, face, and all the targeted areas. It comes with microwavable wax variations and crème, lavender, and in-shower hair remover formulas. They also have zero-bumps bikini spray and numbering wipes for smooth skin.
Features:
Painless and fast hair removal cream eliminates unwanted hair growth that appears on your body and face.
Quality Ouch-Relief waxing products.
Works for small and large areas, from lower to lower legs to upper lips.
Pros
Comes with two nail products.
Easy to apply.
Hair removal one can trust.
The best solution to remove facial hairs.
Less irritation.
Cons
Does not work on coarse hairs.
5. Finishing Touch Lumina Painless Hair Remover
Finishing touch Lumina Painless Hair Remover for women is the world's first lighted hair remover with a pivoting head with it. It has micro-oscillating blades that will not cut or pull your skin. It removes your hair anywhere, anytime, with its powerful technique.
You can see those fine hair that can be missed out easily. For on-the-go hair removal, the sleek design easily fits in your purse.
Features:
Helps reach hard-to-reach places.
Painless hair remover.
Pros
1 AAA battery with a cleaning brush.
Lighted so that you can easily
No foul smell observes.
Clear and smooth skin.
Helps in removing hair easily.
Cons
Few red marks are observed.
6. Finishing Touch Flawless Dermaplane Glo Lighted Facial Exfoliator – Non-Vibrating and Includes 6 Replacement Heads
The new Gold Standard Finishing touch lumina facial hair removal, and exfoliation for women comes flawlessly. It can safely remove the peach fuzz and the dead skin cells with its non-invasive exfoliation tool for instantly smoother and brighter skin.
The Flawless Glo is designed like the professional-grade devices that are used by estheticians and board-certified dermatologists. They don't use the Vibrating Dermaplane devices because they do not yield the same level of precision and control as a static and non-vibrating derma planning wand.
You all will experience similar results to an in-office derma planning treatment. This gently purifies your skin of dead cell build-up. The at-home tool purifies your final facial hair to reveal your youthful, bright complexion.
By removing the dead cells' surface layer, the derma planning allows the products to fully soak into your skin which helps in boosting the efficacy of the creams and the serums you already own.
It leaves your skin soft, smooth, and luminous. The product comes with six replacement heads as it is recommended for you to dispose of the head after its full use. So, for a flawless finish and feel, you can trust this Finishing Touch Lumina flawless Dermaplane Glo, which is suitable for women of all ages.
Features:
1 AAA battery for the LED light work.
Designed like professional-grade services.
Non-vibrating facial hair exfoliator.
Pros
The head of Dermaplane includes a ridged safety guard that protects your skin.
Dermaplane smoothens the appearance of your fine lines.
Improves the application of creams and makeup.
Cons
7. Schick Silk Touch-Up Multipurpose Exfoliating Dermaplaning Tool
The Schick Silk Touch Up multi-purpose exfoliating razor is a great beauty tool that expertly shapes your eyebrows, and removes your fine hair.
Designed with fine micro guards on the blade helps in protecting the skin. 3 razors and 1 extra precision cover comes with the set, which attaches to its blade to shorten its length for fine eyebrow shaping.
Quick and easy touch-ups with this versatile beauty tool shape your eyebrows, remove fine hairs, and even smoothens the skin overall. Portable size and slimness help you touching-up anytime, anywhere. High-quality blades are designed uniquely with fine micro guards to protect your skin.
Including an extra attachment for a much more precise eyebrow shaping, it smoothens the skin by gently exfoliating.
Features:
Leaves skin soft and smooth.
Expertly shaped eyebrows touch up the stray hairs with their precision cover.
Pros
Comfortably removes unwanted hair from your face.
Designed with fine micro guards.
Uses high-quality blades.
Works on all the body parts.
Has a fast-acting formula.
Negligible irritation.
Cons
Users with sensitive skin might get rashes.
FAQs on Facial Hair Removal for Women
Why not use hair removal creams?
Depilatories (Hair removal creams) are one of the harsh hair removal methods, as they use some strong chemicals to break down your hair so that it will be wiped off later easily.
Hair removal creams are highly terrible for those with sensitive skin. They have been known to make skin burn, peel, turn red, and scab.
Why is wax not suitable?
So, if you have sensitive skin and go for waxing, it could lead to extreme redness, scabbing, and peeling. Moreover, there are some cases of skin sensitivity when you should not wax at all.
Why is Razor not the best choice for sensitive skin hair removal?
If you are using a razor, you will find it an easy and common method of facial hair removal. But, it can create side effects to the people with sensitive skin. The issue with shaving is not the method. But, it is the wrong product you have been using.
For that, you have to use a razor with a built-in moisturizing agent and then use shaving cream. You need to look at other ingredients if you are already using this tool. Finding the cause is the key.
What is suitable for sensitive skin?
Sugaring works best for sensitive skins since the hair is removed from the roots and gets hair-free for weeks on the body or your face.
As we know that it is made from all-natural ingredients, there is less chance of skin irritation than many artificial ingredients in waxing cause. But, to be on the safer side, tell your salon specialist if you have allergies.
Why choose a safety razor?
A safety razor is coupled with the right blade that delivers an exceptional shave for a far superior to our modern-day equivalents. It provides you a close shave and leaves your skin in better condition by eliminating problems such as razor bumps and ingrown hairs.
It will cleanly cut the beard on the skin surface instead of cutting and tugging beneath the surface that can cause infections.'
Why is waxing better than shaving?
The entire hair shaft is removed when you wax, rather than cutting it off at the skin surface the way you do in shaving. It leaves your skin smooth with not stubbles. Moreover, waxing lasts much longer than shaving, and your hair grows back more thin and fine.
Which is more suitable – hard wax or strip wax?
Many women are unaware of the hard wax advantages over strip wax when it comes to irritation and all the pain. Hard wax is less irritating for a woman and less painful. Strip wax is used for waxing the larger areas of your body. Hard wax is preferable.
Does waxing have its side effects?
Yes, it varies from person to person as sometimes the woman with fine hair might experience an itching sensation or a little redness similar to a sunburn after their waxing session.
Those with coarse hair also experience raised bumps around their hair follicle and experience redness for up to 48 hours. Usually, waxing results in less irritation.
Why should one opt for hair removal cream rather than shaving?
Yes, shaving is an option for the removal of unwanted hair but was the most traditional method when nothing like creams was developed. If you shave, your hair will grow within two to three days, which forces you to, again and again, shave it.
Plus, your skin surface becomes rough, and itches too much. So, these problems can be prevented through the hair removal cream application, which can last up to 15 to 30 days without any itching issues.
Do razors and hair removal creams act in the same way?
When you use a razor, it automatically removes your hair above your skin surface by leaving all the sharp stubbles, which makes your skin surface too hard to touch.
Whereas the hair removal creams treat each hair follicle by eliminating them below the surface leaving your skin smooth and soft.
Do the hair removal cream products darken your skin color?
No, the hair removal cream products are formulated in such a way that it helps you clean your full complexion and later hydrate it.
It all depends on how much time you wait after you apply the product. You should keep the product within the maximum time limit as per the instructions.
Does your hair grow back at the same time, whether a razor or a cream is used?
It's a myth. By shaving, your hair grows back within 2-3 days. While using hair removal cream has a long-lasting effect on your skin as the hairs are treated from inside the skin surface, so they grow slowly and take almost 15-25 days to grow back at pace.
So, we talked here about the best facial hair removal products. You will get smooth and soft skin for a long time without much time or pain; once you get used to it, then there is no need to buy replacement blades.
There are a lot more choices to choose from based on your needs and wants. But, do not go quickly, find your best way to get rid of your unwanted facial hair, and then make a buying decision.