High bun hairstyles are great at looking elegant even when you put in minimal effort. So, if you ever need to clean up fast, throw your hair into one of these looks to ensure everyone thinks you spend hours in front of the mirror making yourself look perfect!
Of course, there are also casual versions of this look you can play with. From complex to simple, there are many high bun hairstyles like this for everyone.
Pretty High Bun Hairstyles
Let's take a look at what you can do to style your pretty locks in this way!
Wedding Bun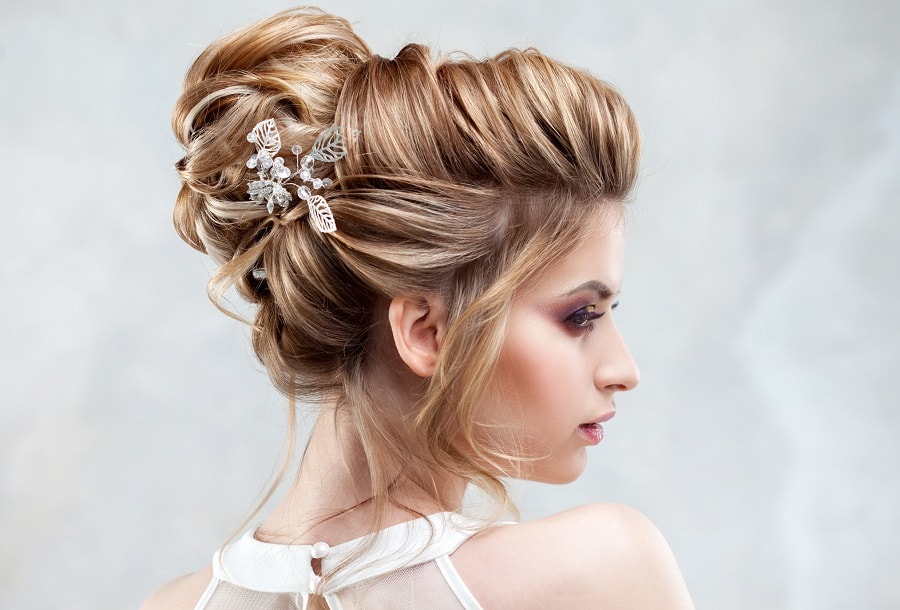 A wedding is probably one of the first things you think of when you think of a high bun. These updos often have hair in large, elegant shapes with lots of crisscrossing sections to make it look really complicated and fancy.
There's often a lot of volume involved too, as you can see with the large roll on top of the head.
Prom Updo
Now here's one that's a little more simple. The updo is still totally perfect for a party event.
But it's suitable for a more casual one like prom. The hair forms a perfect donut on the crown of the head, and some face-framing curls make the look very chic.
Casual Ballerina Bun
Ballerina buns are large, very round, and sit on the crown of the head. This one has a similar vibe. The hair that's pulled back along the scalp is a little looser, giving this a more casual, everyday vibe.
It's still very neat, so it's good for someone who wants to present their best self.
Loose Bun Updo
Long hair can be super difficult to put into a high bun, as there's so much of it. In these cases, loose bun updo makes it easier to control the size of your finished hairstyle. It also makes for a glamorous look that you'll enjoy.
Top Knot for Curly Tresses
Curly hair can sometimes be difficult to take, but putting it up into a sleek knot on the top of your head makes it easier to deal with. The knot here is very thick, as curls add a lot of volume to every style. It sits right on the crown and is tucked in.
Messy Bun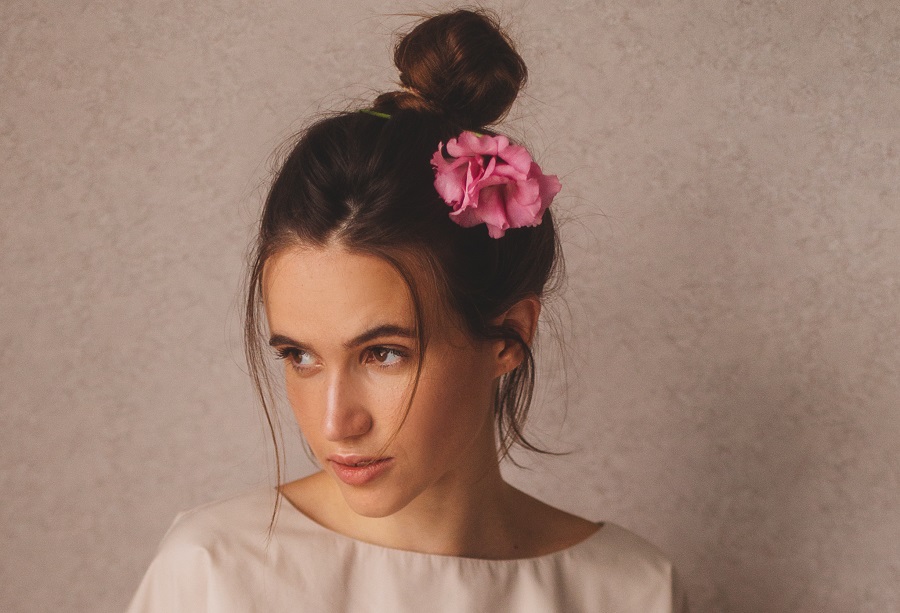 Messy bun for short hair leads to a easy high bun hairstyle. This is a nice knobbly one that sits on the crown of the head, and it's very elegant and secured tightly. Small strands fall out of it at the back, as not all the hair is long enough to stay secured in the style.
Ballet Bun
Here we see another example of a look that's inspired by a ballerina hairstyle. The knot on the top of the head is very sleek, and the rest of the hair is flat against the scalp. This is a nice look for black women who want to show off gelled baby hairs.
Blonde Braided Bun
Do you love showing off your beautiful blonde locks? Then you can do it by forming a braided bun on the crown of your head. It's very sleek and neatly sectioned, and it's a delightful look for everyday wear as well as business-casual needs.
Pastel Pink Formal Look
Pastel pink is such an eye-catching color, so you need an eye-catching style to go with it. A large bun with lots of overlapping sections and nice volume is a great style to go with. There's still some hair loose that frames the face.
Elegant Hairdo with Highlights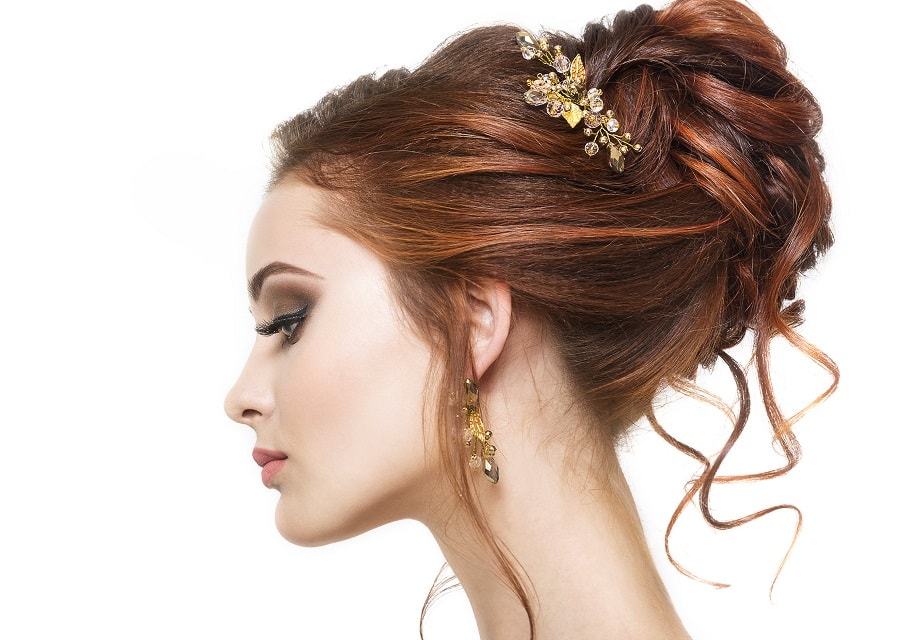 Highlights always look great in styles like this, as they're highly visible when the hair is pulled back into the style. Lots of curls and overlapping sections make this look regal and fancy, and the highlights help it pop.
High Bun with Bangs
In this look, all of the very long hair is pulled into a sleek knot right on top of the head, adding a ton of volume. Thick, full bangs cover the entire forehead, and the look is decorated with a lacy white hairpiece on the side, making this a great bridal hairdo.
Side Parted with Accessory
A lot of high buns have all the hair slicked back into them. This one has a nice side parting, but it's still very slick, and the bun itself is nice and loose. It's a relatively simple look, but a beaded accessory makes it look more elegant.
Cute Space Buns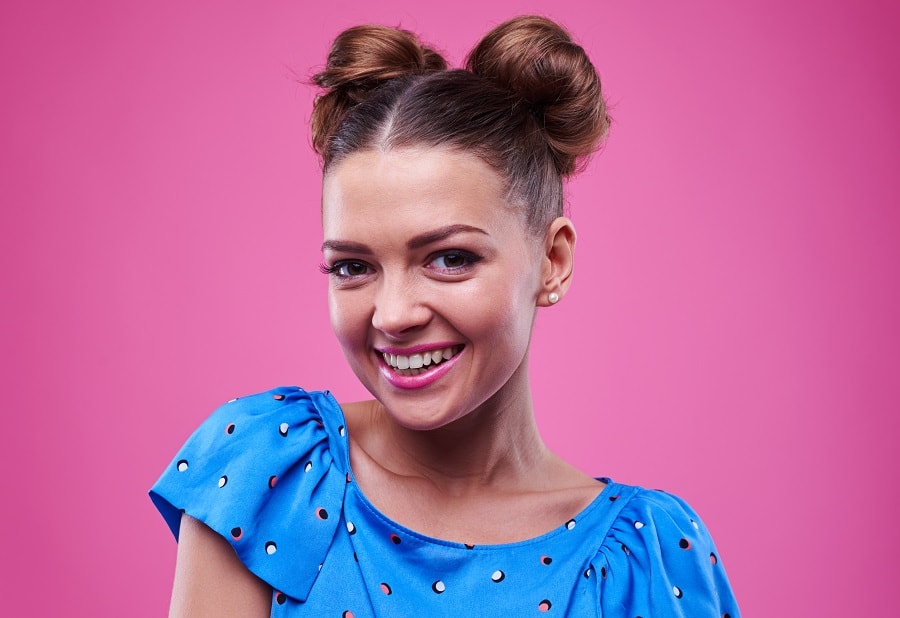 There's no look that's cuter and more fun than one like this! Two nice, large space buns sit high on each side of the head, with a middle parting that makes this a youthful vibe. It's the perfect look for everyday use, and it's also great for parties!
Messy Top Knot with Bangs
Here's an example of this style that's casual and a little messy. The hair is just thrown up into this look, scrunched at the ends and forming an easy to achieve shape. Some light bangs dust across the forehead and the side of the face.
Sleek Bun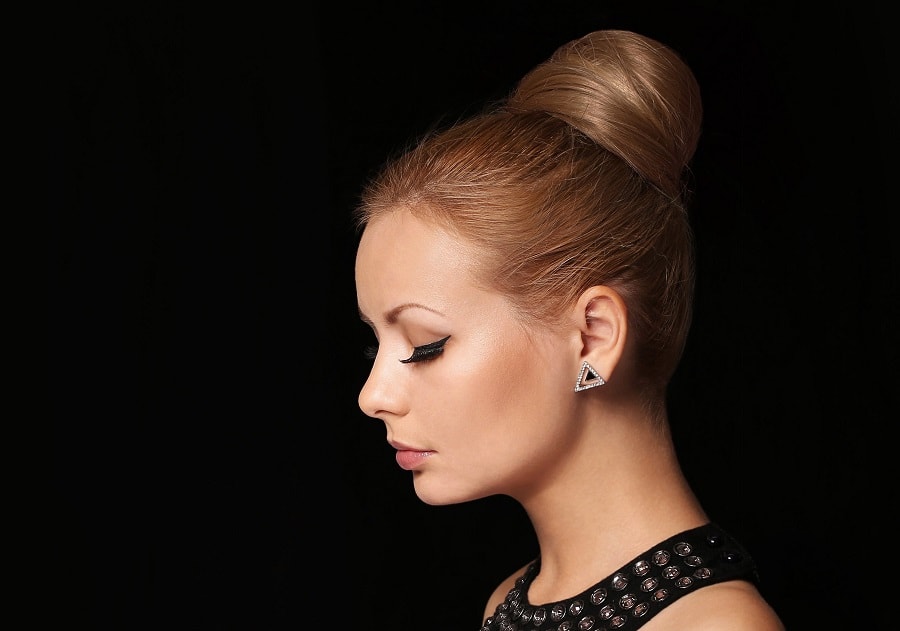 If you have a party to attend, then consider this hairdo. The locks are pulled back towards the crown of the head. The tresses that form the high bun form a circular shape around it, making that look very sleek, too.
This bun forms a huge round shape on the crown of the head, and it's super thick and has a great texture. This is because it's made from lots of box braids, which always create a very dynamic style.
Half Up Half Down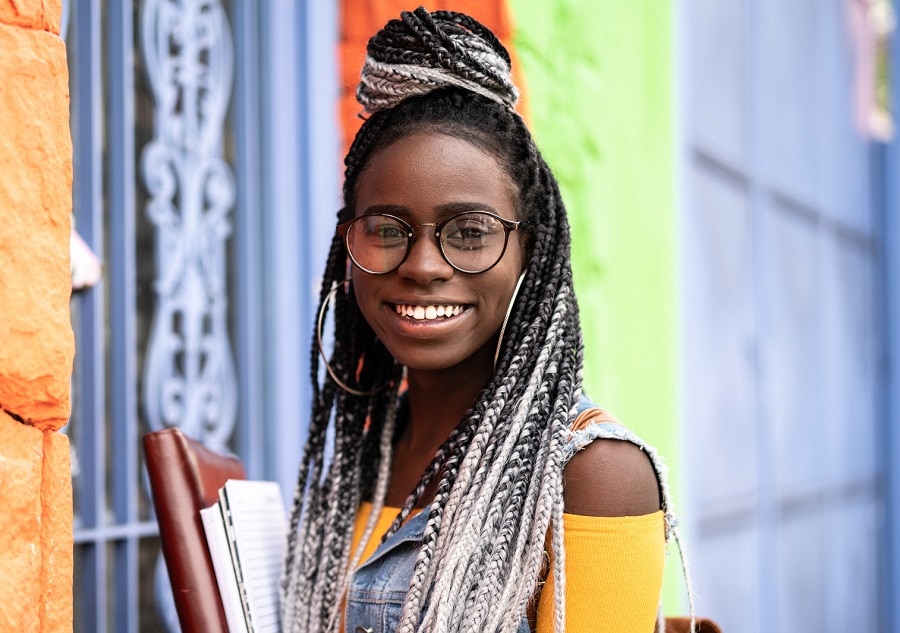 Black and white look so good together, and the white really stands out when it's piled on top of the head like this. This is a half up bun style where most of the hair falls down over the shoulders. However, some are piled into a knot.
Sleek Donut Bun
The donut shape is very common with styles like this. It's achieved by using a hair accessory that's in the shape of a donut.
You put it at the crown of the head, wrapped the hair around it, and pull the leftover strands through the middle. These strands then wrap around the base of the look.
Braided Look
Braids make hairstyles look so complicated, and that makes them appear fancy and good for formal events.
This rich brunette hairstyle has most of the hair pulled sleekly towards the crown of the head, but it's not too tight. Then carefully laid braided sections form the updo.
High and Messy Hairdo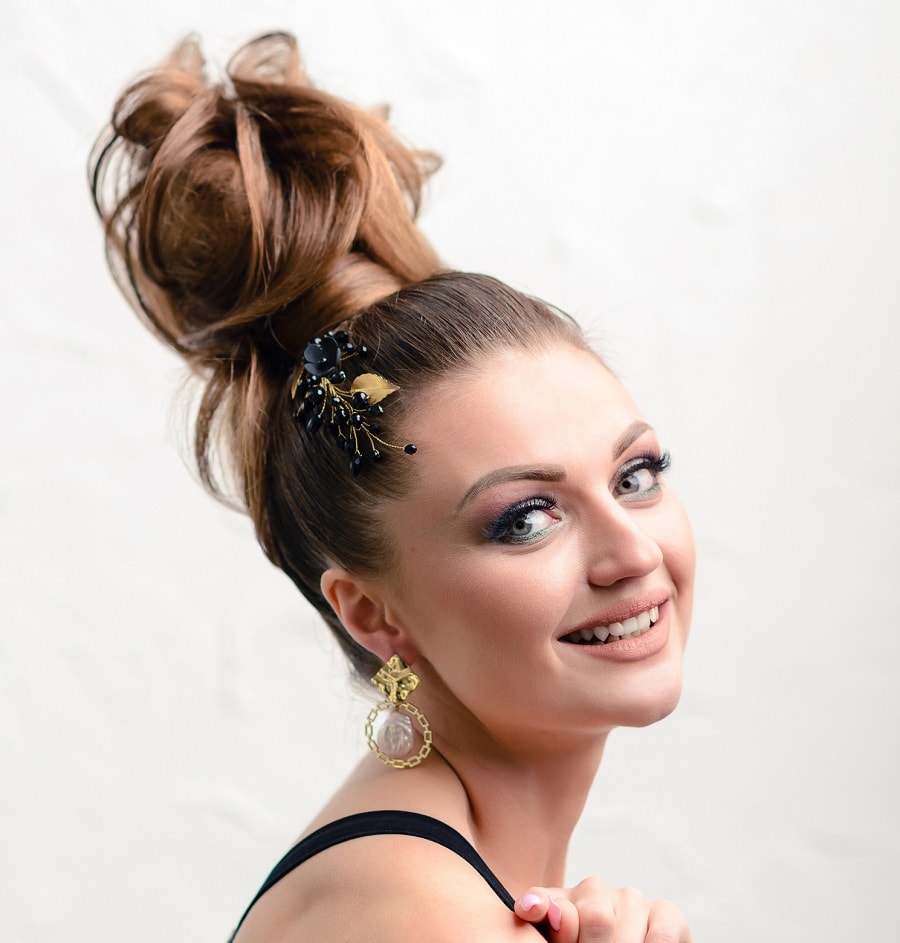 Some high bun hairstyles are very unique, and this is one of them. The locks are pulled back sleekly, and some wrap around the base of the style very nicely. However, the knot itself is super messy bun with lots of strands falling out of it, creating texture.
High bun hairstyles are suitable for all kinds of occasions, and there's something for every skill set and desire as you can see here. You can do some of these at home, but other ones will require a professional's touch.
Make sure you save these pictures to show to your stylist when you want one of these styles for yourself!