We can all agree that a messy bun provides us with a lot of comforts compared to any other hairstyle. You just grab your hair and tie it. With such a little effort, a beautiful look is achieved. Only girls know how to do this magic. Despite the fact that the haircut is short, a hair updo can still be made; just a bunch of hairpins will be required.
Whenever we're tired, we feel like all our hair should be up, not suffocating our neck. Well, if you take a look at our hairdos, you'll make your dream of keeping your hair up all the time true.
Best Messy Bun Hairstyles for A Chic Look
Are you ready to get surprised? If yes then let's quickly take you to the list of ideas we've got.
Curly Tendrils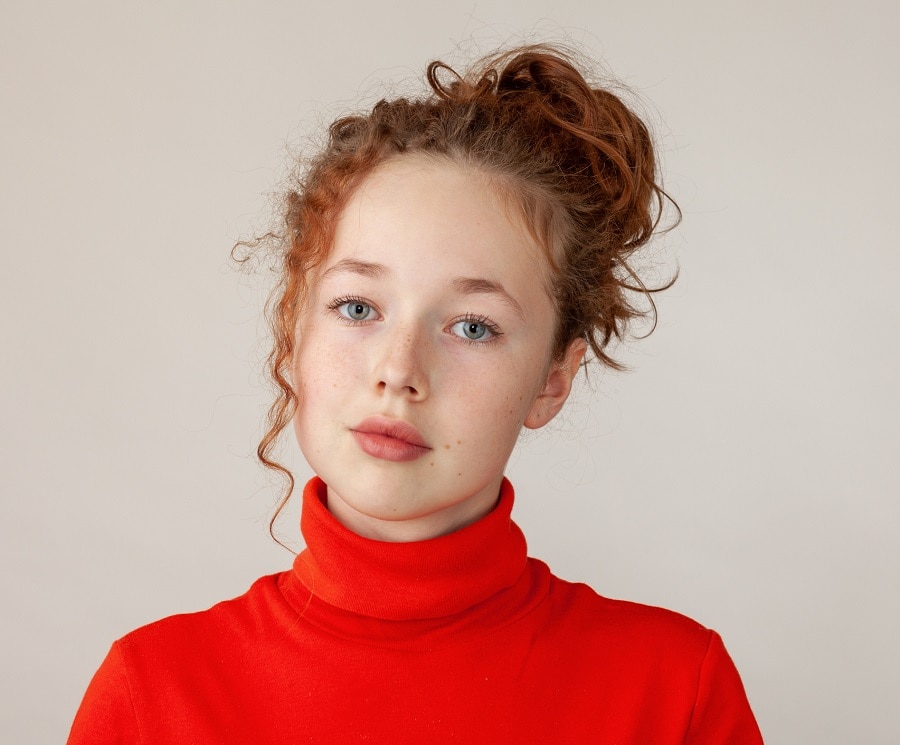 We all know how to make a hair updo messy, so we're not going to discuss that. What we want you to know is that a tendril on the front can make your messy look sassy.
Even if your hair isn't naturally curly, you can curl the tendril with iron.
Low Tied Hair
This one is especially for girls whose hair is short or shoulder-length. A high updo can leave some hair when tied, so low-tied hair works best for you girls.
You can tie the hair in itself without even using a hair tie. Let your hair loose to avoid pressure on the scalp.
Twisted Side Hair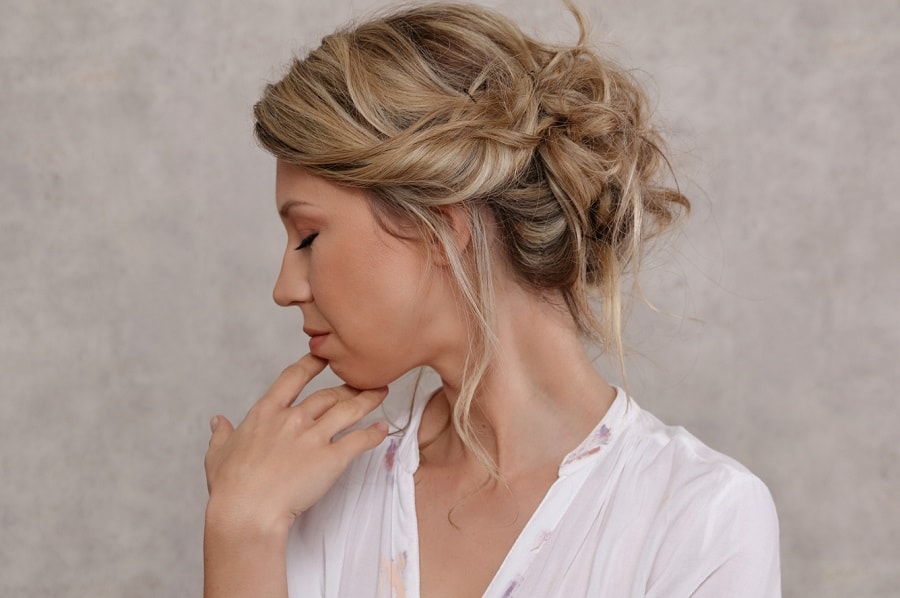 Keeping all your long hair in a messy bun can be tough. The hair tends to get loose, so we've got a perfect solution.
You can twist one side of your hair loosely using some hairpins. This looks messy, too, and keeps the bun weight even too.
Long Curtain Fringes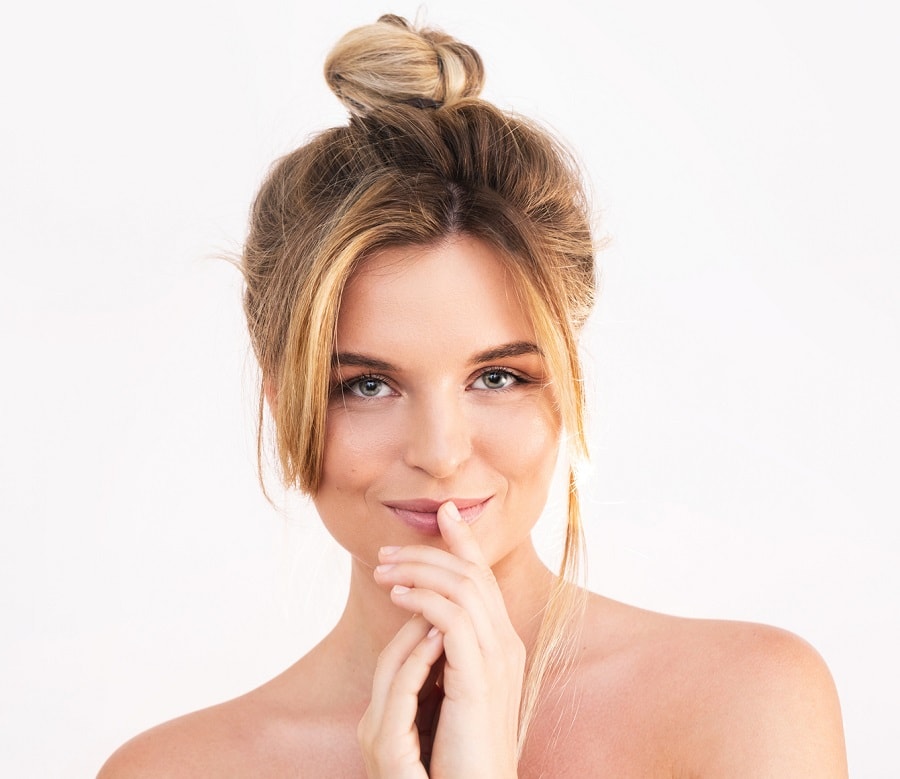 Yes, we're asking you to get a haircut but only on the front. Curtain fringes make a square face look so beautiful. Long fringes will let you create the illusion of length on your face. A high hair updo on the back will be the finishing look.
Thin Hair Updo
Thin hair, when tied, looks thinner. The solution? It's simple, just tie your hair loose and leave some loose tendrils too.
This way, your hair seems a little thick and appears beautifully too. You should be the one trying this look if you have a hectic schedule.
Wedding Hairdo
Yes, wedding hairstyles can be chaotic too. But this time, you'll purposely create a tangled hairdo. Get your hair in beach waves, then tie them on the low side. Wavy side or curtain fringes will be a blessing for your look.
Thick Side Bangs
No more worrying about having a big forehead with thick side bangs. Such types of bangs make sure that your whole forehead is covered beautifully. Tie your hair high and loose, creating a perfect casual look.
Scrunchie Look
Scrunchies are actually made to tie hair instead of wearing on hands. Get a beautiful golden satin scrunchie for your silky hair.
Twist your hair tightly as the scrunchie will eventually lose it a little bit in the end. Make a side part on the front to get a subtle look.
Blunt Bangs + Long Fringes
It's time for elderly ladies to rock their hairstyles. The messy bun is not only for young girls but for older women too. You can add young vibes to the look by getting blunt bangs. Wavy tendrils will make them look much better.
Messy Top Knot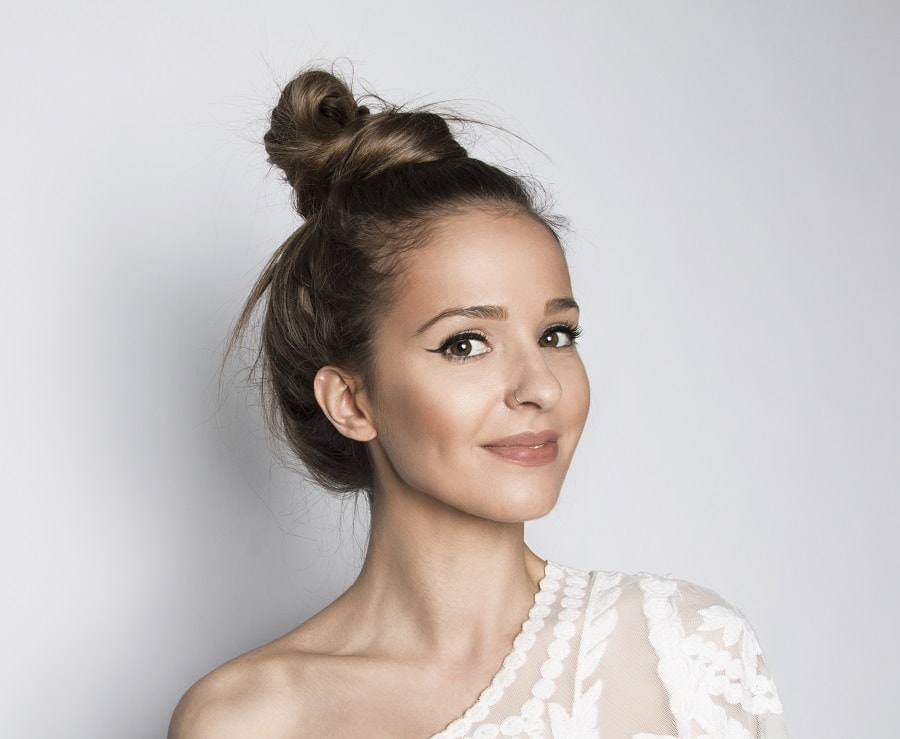 We usually tie our hair either in the back or the lower backside. But this time, get your hair in a top know around your crown area.
This will quite a unique look and suits teenagers well. Long hair will work best to achieve the look.
Casual Bun with Head Scarf
Headscarves are not only used to tie your ponytails, but hair knots too. If you do not know whether the scarf will hold the hair in place, you can secure the knot with pins underneath. A beautiful floral scarf will match a bright outfit.
Brown Bun Updo
If you like keeping your hair up, but it looks boring now, get your hair colored.
As a beginner, a light brown hair shade will make you look so adorable. In addition, it will brighten your fair skin tone. Plus, the messy bun is what you need today.
One Side Braided Bun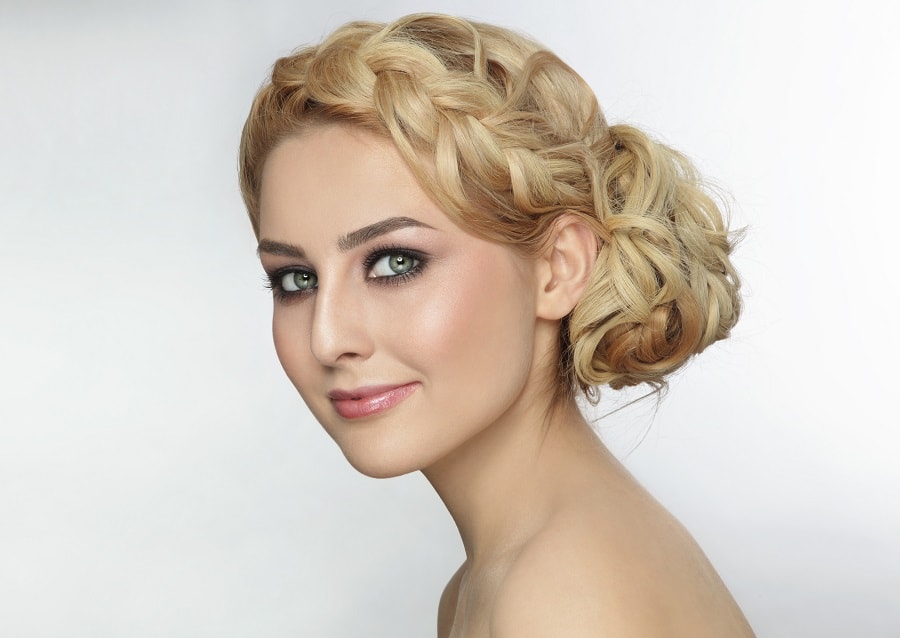 Grabbing voluminous hair in a knot can be heavy for your scalp. So try something new with the look.
One-side braids are a classic hairstyle that goes well with hair knots. A side hair knot is a perfect way to style your hair with braids.
Layered Designs
A messy bun can be converted into a stylish hairdo like this one. Grab your hairspray bottle and start making layered designs.
Thick hair will be an advantage and will make the process easy. It's a great hairstyle for weddings.
Thick Curly Hair
Curly hair looks beautiful, but those natural locks can be heavy too. The perfect way to style them is by tying them upwards.
Fold your hair inside out like you fold your socks while removing them. Use hair accessories in case it's difficult to hold your hair.
Loose Space Buns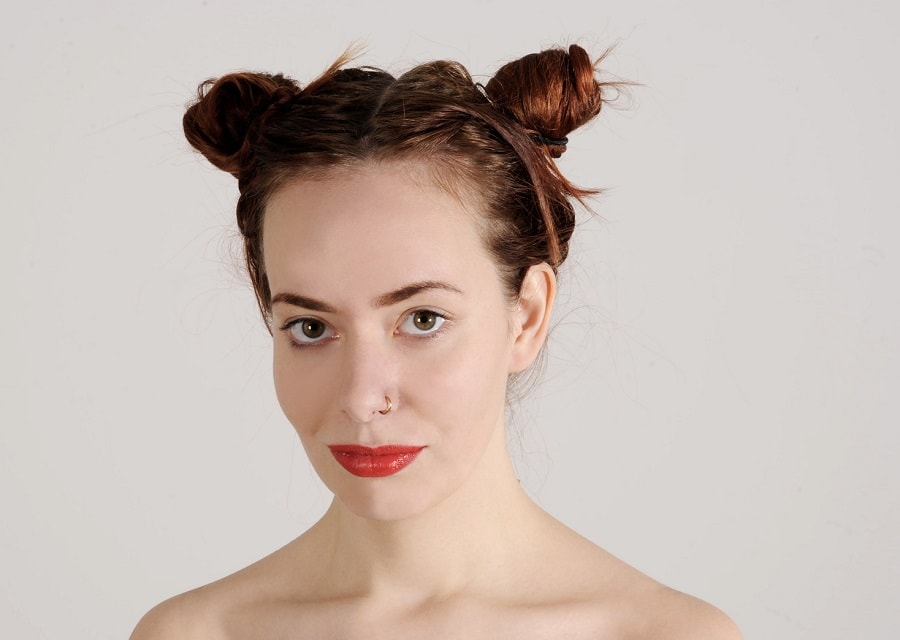 We've got another sassy hairstyle for girls who have thin hair. Loose space buns give you a look full of glamour.
You can tie them slightly neatly and slightly loose. This will give you a unique look that looks beautiful.
Voluminous High Knot
Voluminous hair is a burden in the summer season, but not anymore. So grab your hair and make a high knot using a big rubber band.
Your knot doesn't need to be perfect; just all your hair should be tied. You can braid the sides to make tying hair a little easy.
Bright Hair Extensions
If your hair lacks volume, hair extensions are the solution you should be seeking. You can first make micro braids using the extensions and then make two half-up, half-down knots.
The overall look is so gorgeous once you finish it. A bright color like blue will help brighten your face color.
Model Hairdo
Have you seen how models make weird but stylish hairdos? You can do that if you have voluminous hair. First, grab hair from the center and twist it in a snake shape. Hold with pins. Now make a big messy bun on the back.
Dreadlocks in Bun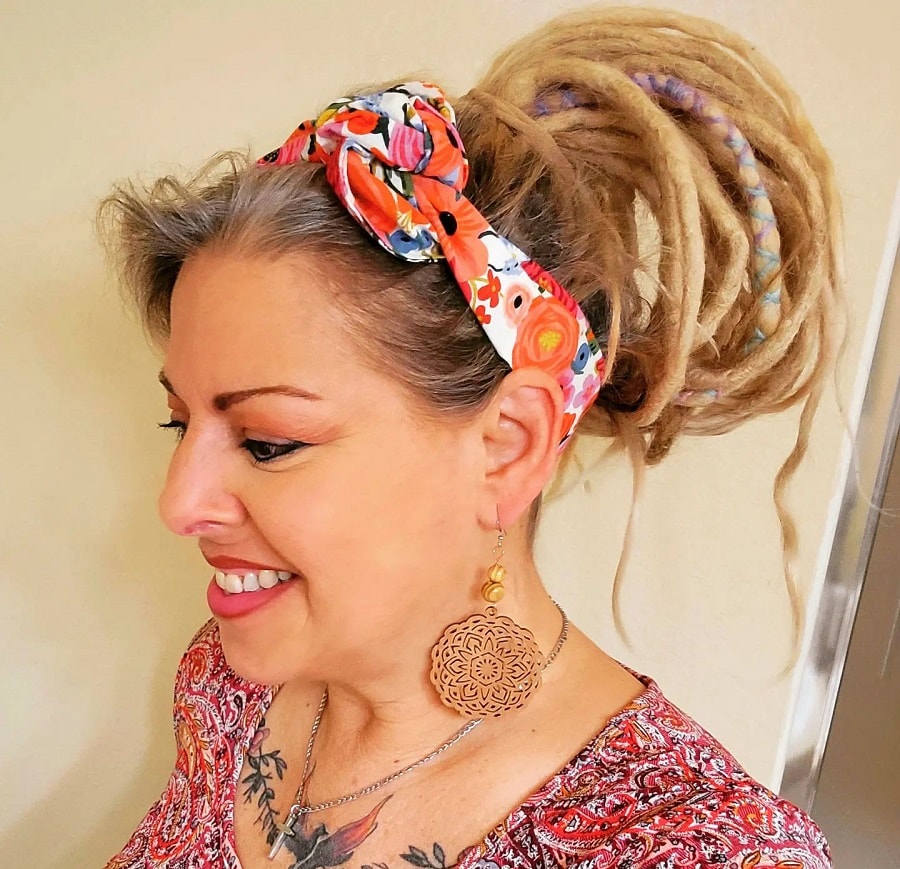 When your hair length doesn't allow you to tie them, you should go for dreadlocks. Dreads have so many advantages apart from being beautiful. You can use a headscarf to make the dreads look a part of your natural hair.
You might have thought about what extra you can do with a messy bun. Well, after looking at our ideas, we hope that you don't think that anymore. Each style is uniquely designed so that the hairdo doesn't look repetitive.
No matter what hair texture you've got, it's your day to try all of these hairstyles. You don't need anything extra, just your hair, a few mins, and some hair accessories. Who knew that a comfortable hairstyle could be stylish too? We knew that's we presented it to you too.