Are space buns still in style this 2023? Yes, of course! If you want a hairstyle that will make you look cute and edgy at the same time, space bun hairstyles are what you need!
While it became quite popular during the 2020s, the trend continues to grow. And the best thing about it? Whether you have curly, straight, short, or long hair, you can certainly find the right version for you.
To help you out, we'll share with you some of the best space bun hairstyles below.
Everything You Need to Know about Creating the Perfect Space Buns
Before we check out the different versions of space buns, let us first master the art of creating traditional space buns. Here are the things you need to do:
Gather all your hair tools
To create this masterpiece, you'll need a hairbrush, hair elastics, bobby pins, and a hairspray.
Prep your hair properly
The best way to prep hair is to get rid of tangles and knots. You can do this by brushing your hair.
Divide your hair
Make sure to create a middle by dividing your hair into two equal sections. Of course, the part of your hair must be as straight as possible.
Create ponytails
Create ponytails on the sides of your hair. Try to make it as high as possible and ensure that both ponytails are of the same height and placement.
Now, make the buns!
Here's the exciting part. Create buns by wrapping the length of your hair around the base of the ponytails. Hold the buns secure using bobby pins and seal the deal by spraying hairspray all over it.
Fun and Edgy Space Buns for Women
Now, without further ado, here are the best space bun hairstyles to show your love for science fiction and stylish hair at the same time!
1. Rounded Space Buns
Want to make your hair buns look a lot cuter? The rounded space buns are the way to go! Instead of using bobby pins to secure your buns, you can use another pair of elastics to achieve that adorable rounded look.
2. Flattened Medium Buns
Do you adore Princess Leia's hairstyle? We do too! To make your double buns look a lot flatter, you can pull it out a bit after adding some bobby pins.
3. High Space Buns
Think space buns are a little too low? Then, take it to the next level (literally!) by piling your wrapped hair on top instead of on the side of your ponytail. Warning: you may need extra elastics to secure it!
4. Two Buns with Full Bangs
Did you know you can make double buns look a lot cuter? All you need to do is add full bangs! This is perfect in ensuring that you'll still have that face-framing layers even while sporting a bun (or two!)
5. Curtain Bangs
We recommend having curtain bangs to add a feminine touch to this cute and edgy hairstyle. Of course, this is recommended for women who want to highlight their cheekbones too!
6. Side Buns
Instead of piling all your hair at the back portion, place all of it on the side. Doing so will give your look a more youthful vibe.
7. Small Buns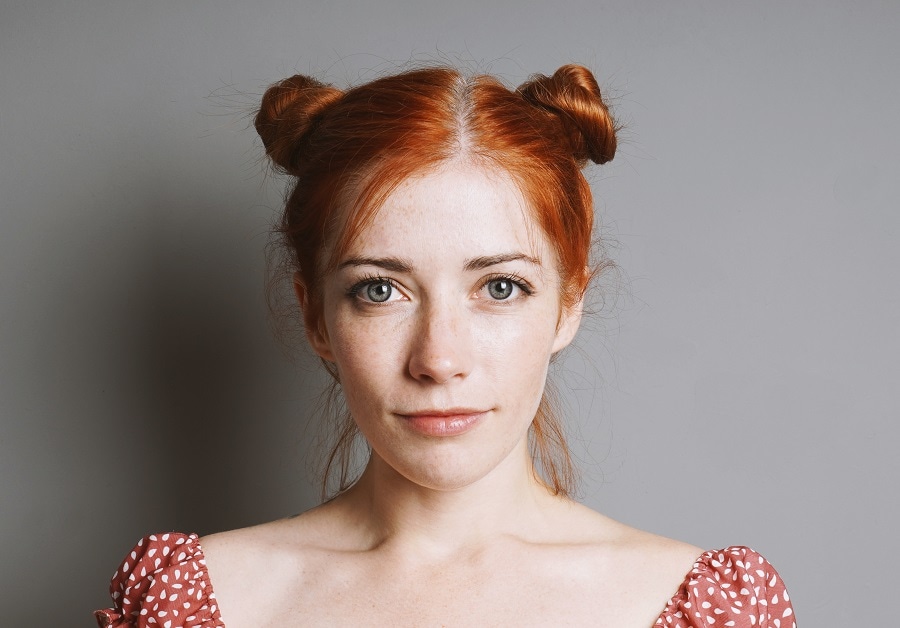 Double buns are for everyone, even for women who have short and thin hair. But instead of a full-blown two buns hairstyle, you get to enjoy dainty and charming buns like these.
8. Braided Half Up Buns
No other space bun hairstyle will be as eye-catching as this one, so it's perfect for fashion-forward women. Heads up: With the braid and the buns, this hairstyle has many things going on, so it's not for the faint of heart.
9. Accessorized Double Buns
Do you find space buns to be a bit boring? Then, spice it up with hair accessories like a headband and cute scrunchies for that playful and adorable look.
10. Pastel Buns
This stunning look combines your love for double buns and hair colors. Dye your hair a pastel color if you wish to achieve this whimsical look.
11. Braided Buns
For a more polished and regal look, place your buns at the back portion of your head. This look is so classy that you can even wear it to a wedding!
12. Braids and Buns
What do you get when you combine braids and buns? An edgy look, of course! You can get the best of both worlds with this look—classic (braids) and modern (buns)!
13. Anime Space Buns
Anime girls are fun, flirty, and gorgeous! You can steal their look too by donning on a cool pastel hair color, space buns, gorgeous curls, and eye-catching full bangs!
14. Two-Toned
Are you ready for an out-of-this-world look? Well, try playing with your hair color too! If you can't decide which color to get, try both by sporting these two-toned bunds.
15. Curly Buns
If you want to jump on the double buns bandwagon but have curly hair that you want to show off, this half-up half-down bun hairstyle is the answer!
16. Buns on Long Curls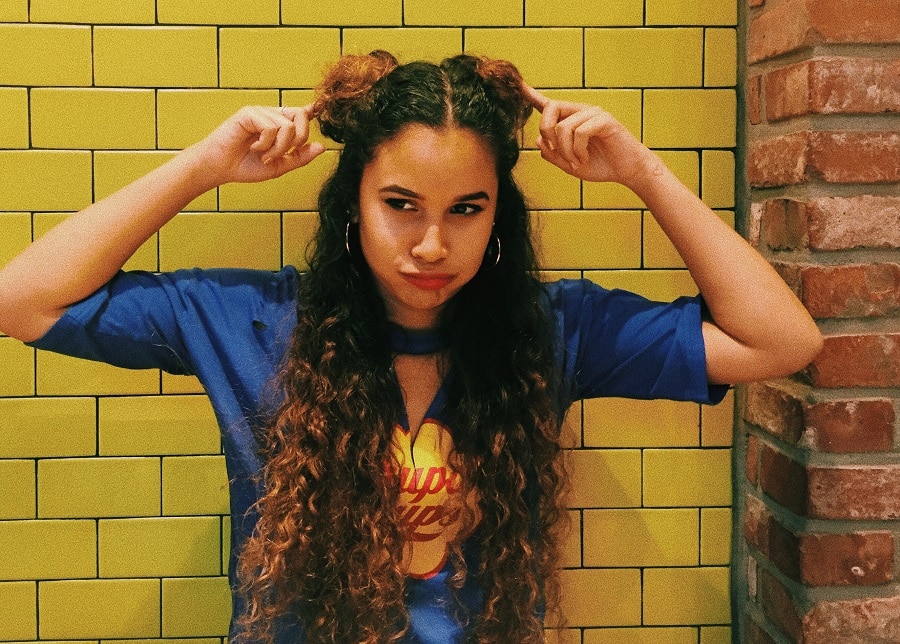 The half-up half-down hairstyle will surely look amazing on long and curly hair too! With this hairstyle, you'll look sassy and sexy!
Don't have time to perfect the double buns hairstyle? You don't have to because you can always go for the messy version like this one.
Just skip the elastics on the ponytail and go straight to wrapping your hair into a bun to create this look.
18. Bright Space Buns
If you've always loved being the center of attention or you're the life of the party, go for buns with bright hair colors. It always works!
19. Double Braids
Want to make your space buns look more glamorous? Create double braids at the top of your head first before making the pigtails and buns. As they say, double the hairstyle, double the fun!
20. Glittered Buns
Here's another tip to make your buns look more interesting: hair glitters! With this hair accessory, you can look edgy and sparkly at the same time!
Space buns are truly fun, quirky, and oh, did we mention fun? Because it is—from finding the right hairstyle to making that hairstyle come to life!
While the classic space bun hairstyle is already eye-catching, the availability of different space bun versions now makes it suitable for all hair types. So which of these hairstyles did you choose? Let us know in the comments section!