Are you looking for a super casual hairstyle that can also work for parties and formal events? Many side buns are great for everyday looks. Others are among the most elegant styles you'll ever see.
This kind of fashion works well for all hair lengths and types, as you can easily adjust it to fit your aesthetic and your needs.
It's a super modern look that'll help you look soft and feminine, but there are also ways that it can make you appear super fierce, too. You'll have a ton of fun with this.
Best Ways to Style Side Bun Hair
Check out the pictures below, and find which look suits you best!
Messy Side Bun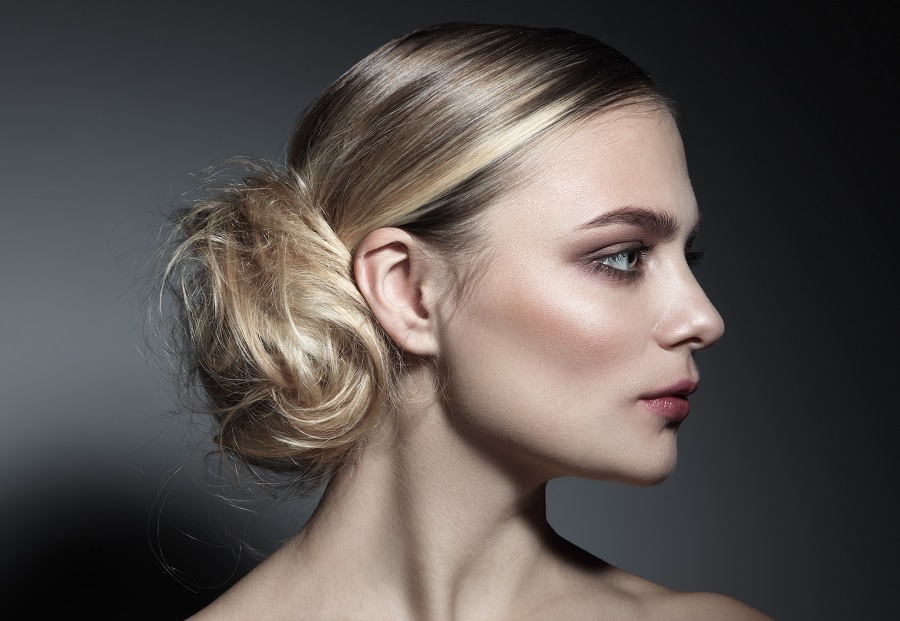 If a casual look is your thing, then a messy side bun hairstyle will suit your everyday needs. Simply grab all your hair and secure it just behind your ear.
You can make the top of the hair sleek so you still look put together enough to do something a little more formal if you like.
Adding braids to your style is the perfect way to make it appear fancy and elegant. This is a hairdo worthy of a wedding.
A braid runs from the front of the hair along the side, going behind the ear. The updo is constructed out of braids and curls in a loose but neat manner.
Low Thick Updo with Side Bangs
It's sometimes a struggle to get long hair to stay in an updo, but this style demonstrates it perfectly. It's all twisted in on itself with nice, delicate loops and it forms a large bump on the side of the head.
The rest of the hair is very delicate and chic while remaining loose. Some side bangs tuck back into it.
Asian Updo for Short Hair
When your hair is shorter, then it's a lot easier to form this style. Form a side bun with the short tresses, and secure it resting against your neck.
It's a super easy everyday look, and you can make it prettier by decorating it with a flower.
Vintage Style with Headband
Do you love styles from decades past? Here's a little vintage look you can have fun with. The hairstyle is rolled under itself and sits behind the ear.
A big bump adds volume to the crown of the head. Side bangs sweep back into the bun, and it's decorated with a cloth headband.
Sleek Wrapped Hairdo
Decorating your hairstyle is a nice way to make it more unique. A gold chain wraps around this very sleek side bun, drawing lots of attention. All the hair is pushed behind the ear, helping brighten up your face a ton.
Wrapped Bun with Pearl Headband
Here's a totally regal updo you'll love. The knot sits at the back of the head, but it's slightly to the side. It's wrapped very neatly.
The rest of the hair is pulled back sleekly into it, with some wisps around the face. A pearl headband makes this stand out.
Vintage Knot with Volume
This slightly vintage style will make you look astounding. The rich brunette hair is pulled back with a lot of volume. The hair then falls down the neck and curls up to form a very thick, neat updo.
Braid Into Bun with Pearls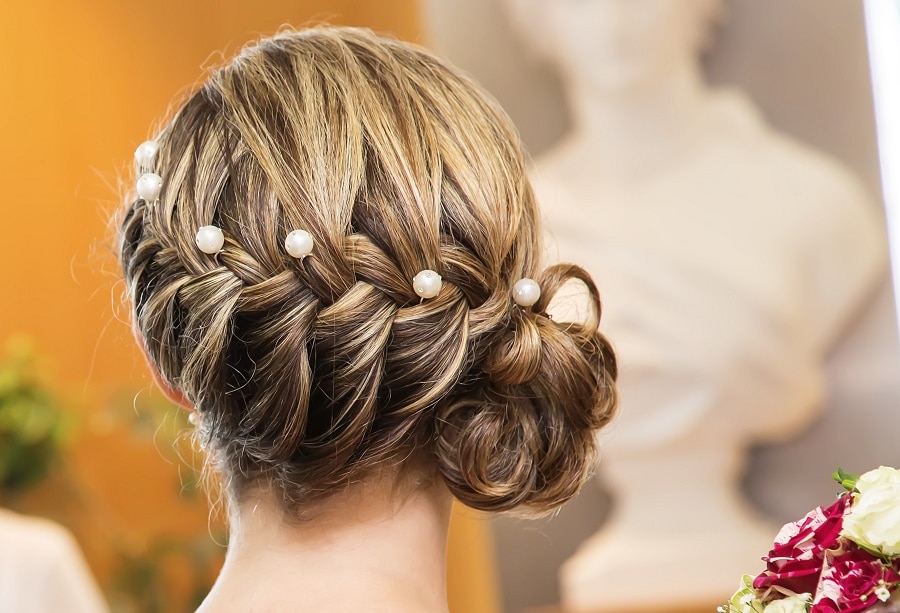 Are you looking for a formal side bun? This one works delightfully. It starts as a braid on the left of the head, is braided across the back, then forms a knot low on the right side of the head.
There are lots of pearls decorating it. It'd be a great wedding hairdo!
Donut Bun with Feathers and Beads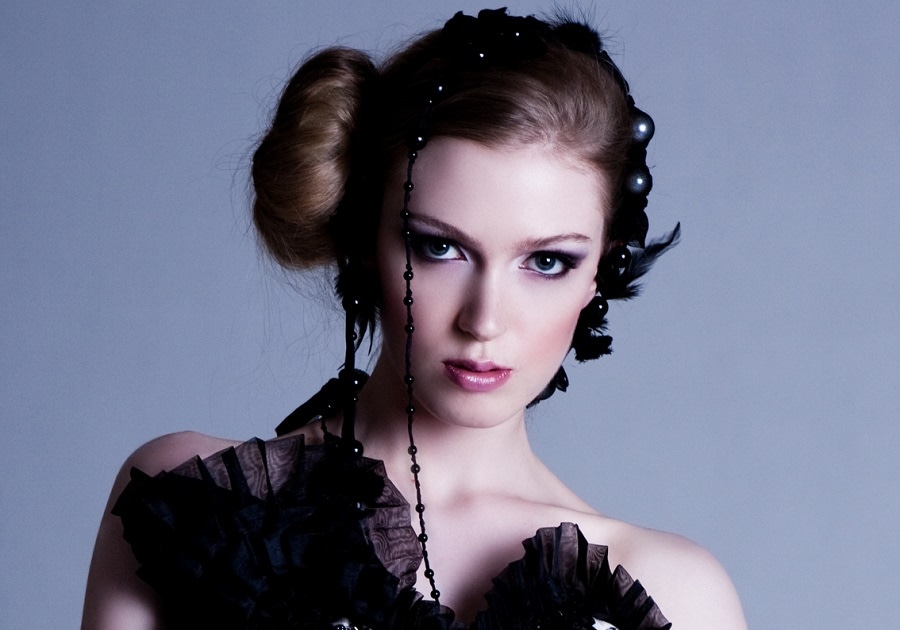 Are you looking for something super eye-catching? You can't go wrong with a doughnut-shaped high bun on the side of your head.
Adding strands of beads and a feathered hair piece make it look even better. There's something dark and mysterious about this. It's perfect for formal occasions.
Crimped Blonde Bun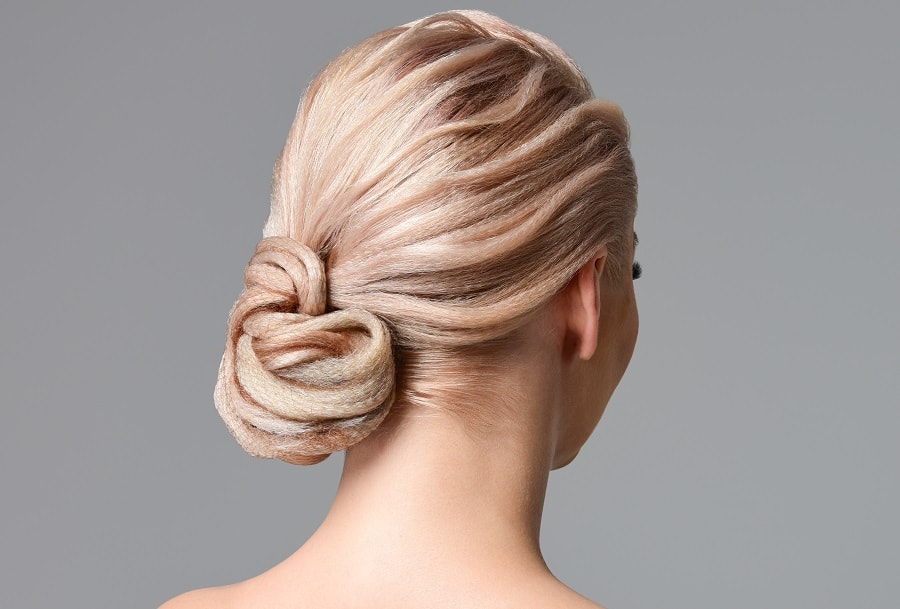 Some people want to stand out. If that's you, then check this style out. All the hair is crimped, and certain pieces of it are climbed together in very defined strands. These strands are pulled back and to the side, forming a low-hanging bun.
Subtle Face Framing Highlights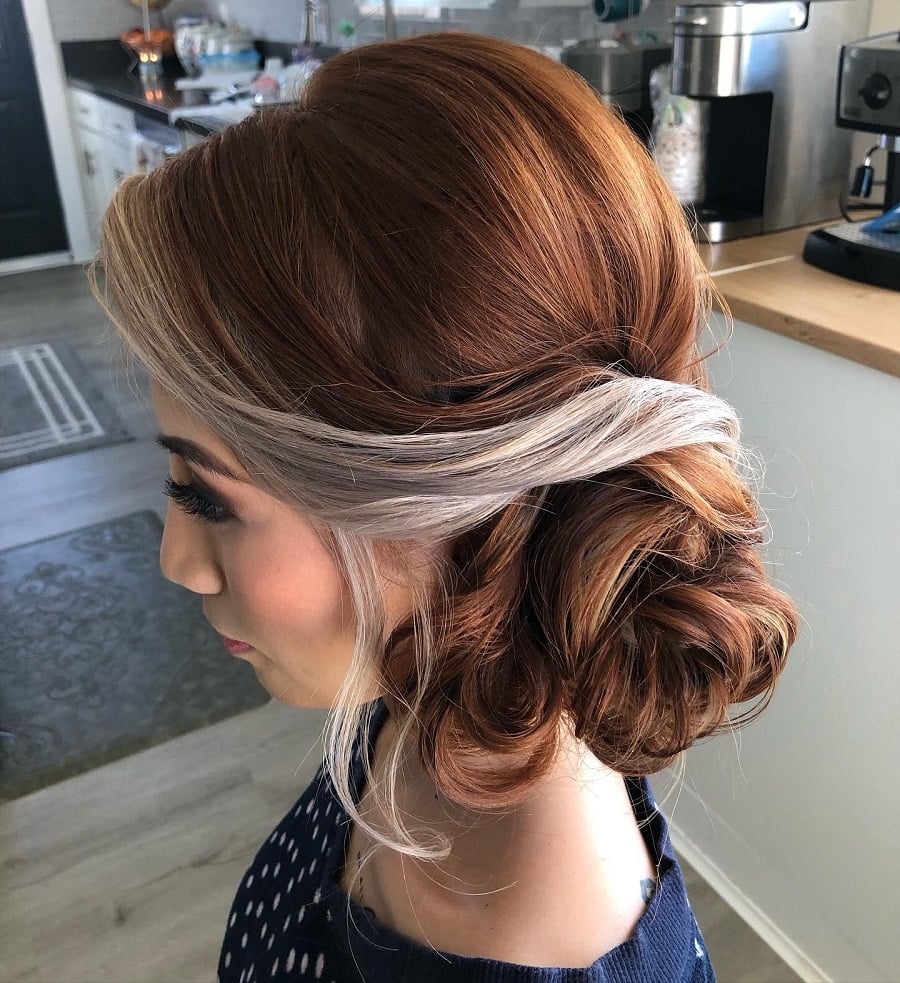 Highlights around your face always make you stand out. You can see it with this blonde and auburn look. The long locks are then pulled over to one side, forming a bun in a subtle rose shape. The highlighted side bangs sit on top of it.
Deep Red Curls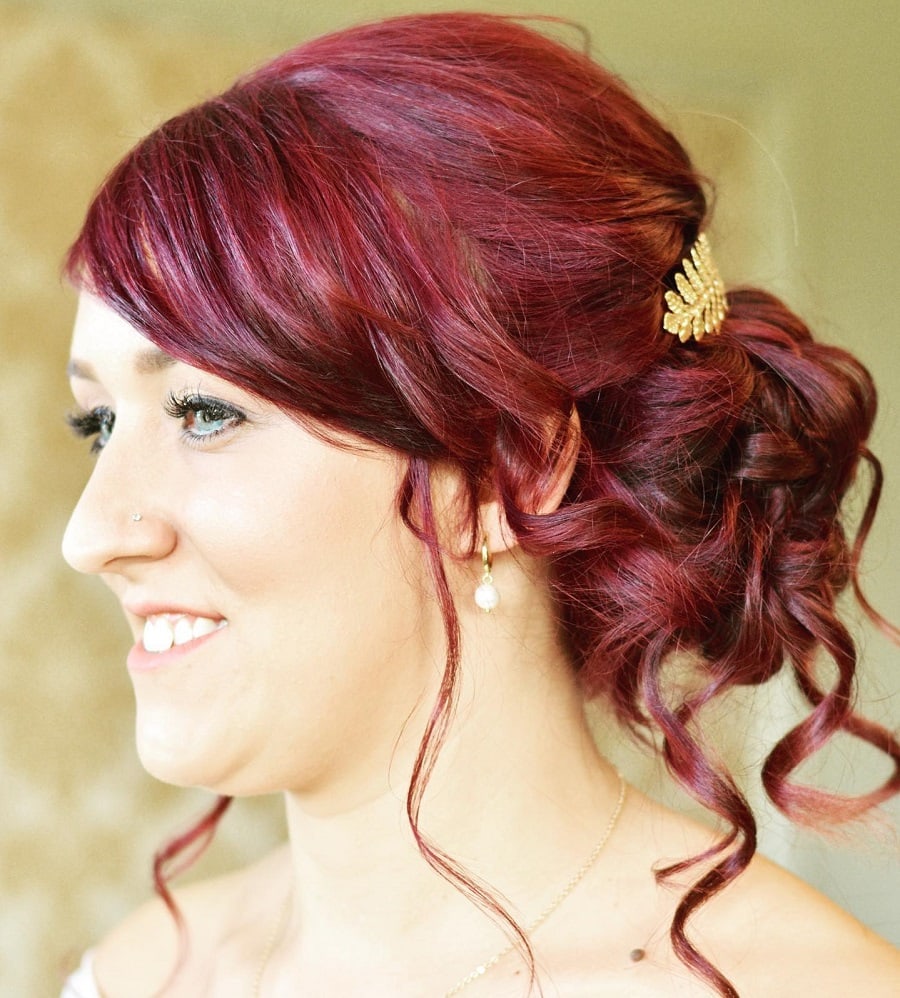 Red hair always stands out, and making it curly helps it appear more alluring. Thick side bangs cover half the forehead and some curls fall by the face. Curls also fall out of the updo. A nice golden leaf-shaped clip sits above the knot.
Loose and Curly Low Bun
Casual styles are super cute, and this is one of those. A braid sits loosely low in these long tresses, wrapping around to form a side bun low on the head. It's a hairstyle you can wear every day. Curly hair adds nice texture to it!
Crimped Criss Crossing Thick Style
This crimped style is utterly delightful, and it's a really great way to add texture to very thick hair. Sections then criss-cross at the back as they make their way down into a low updo off to the side.
Twisted and Rolled Hairdo
So many side buns look like a knot, but this one forms a twist instead! The twist starts on the right side of the head, wrapping around to the left where the tresses form a very nice rolled shape.
Large Loose Braid with Highlights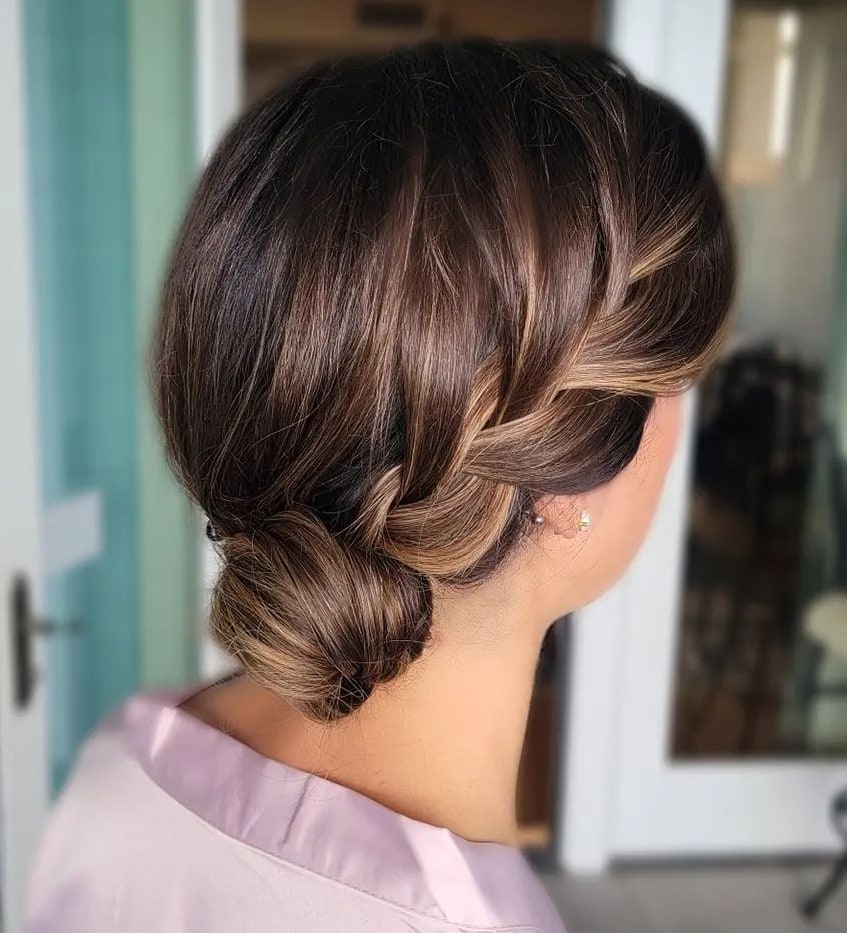 Once again, you can see some very nice highlights that sit near the face. They're woven into a very wide, loose braid that ends in a twisted knot. It looks super casual and easy to do, and it makes a perfect everyday look.
Extremely Curly Side Knot
Side buns are so fun when you have extremely curly hair! They have so much texture and volume to them.
Here there's a side parting and the long locks are pulled loosely to form a knot that covers one ear, with just the lobe visible. There are nice complex twists and turns to keep the style interesting.
Side bun hairstyles have so much variance, so have some fun experimenting to find the one that works for you. You'll end up wearing a hairstyle that you'll fall in love with and want to use for all kinds of occasions.