The best hairstyle to carry in any event is a low bun do – it's intricate, exquisite and easy! Your own wedding, friends get-togethers, office meetings – just throw in your favorite version and you're ready to go.
Perhaps the best part about this hairstyle is that there is no right or wrong in styling it. Want a hairband, or a scarf on the bun? Or are we thinking fancier with crystals or flowers? Any accessory goes with low bun hairstyles – as Ariana says, 'You want it, you got it.'
Best Low Bun Hairstyles for All Occasions
Events lined up and worried about which updo to go for? Don't worry, we got you! Read on to find the best low bun hairstyles for weddings, parties, and other occasions.
1. Bouffant Messy Hairdo
Low buns tend to make thin hair appear very limp and flat, which ruins the entire look. The Bouffant Messy hairstyle is the answer to that.
Just style your hair in messy curls and pin them into a messy chignon bun. If you wish, add some cute clips or ornaments to give a more organized look.
2. Sophisticated No-Hair-Out Style
If you're a white-collar professional working in an office then this sophisticated hairstyle is the one for you.
It is also one of the easiest hairstyles to achieve – simply gather your tresses tightly so that no hair is peeking out and make the ponytail. Gather the ponytail in a spiral to form a bun and clip it with a bun clip!
3. One Braid Chignon
This is the perfect hairstyle for ladies with an oval-shaped face! All you'll have to do is take start making a braid by dividing the hair into three parts and including hair from all sides.
Leave some hair loose at the bottom and use them to form a chignon bun. To make it look classy, you can leave some fringes on the front and adorn your bun with some ornament.
4. One Part and Two Braid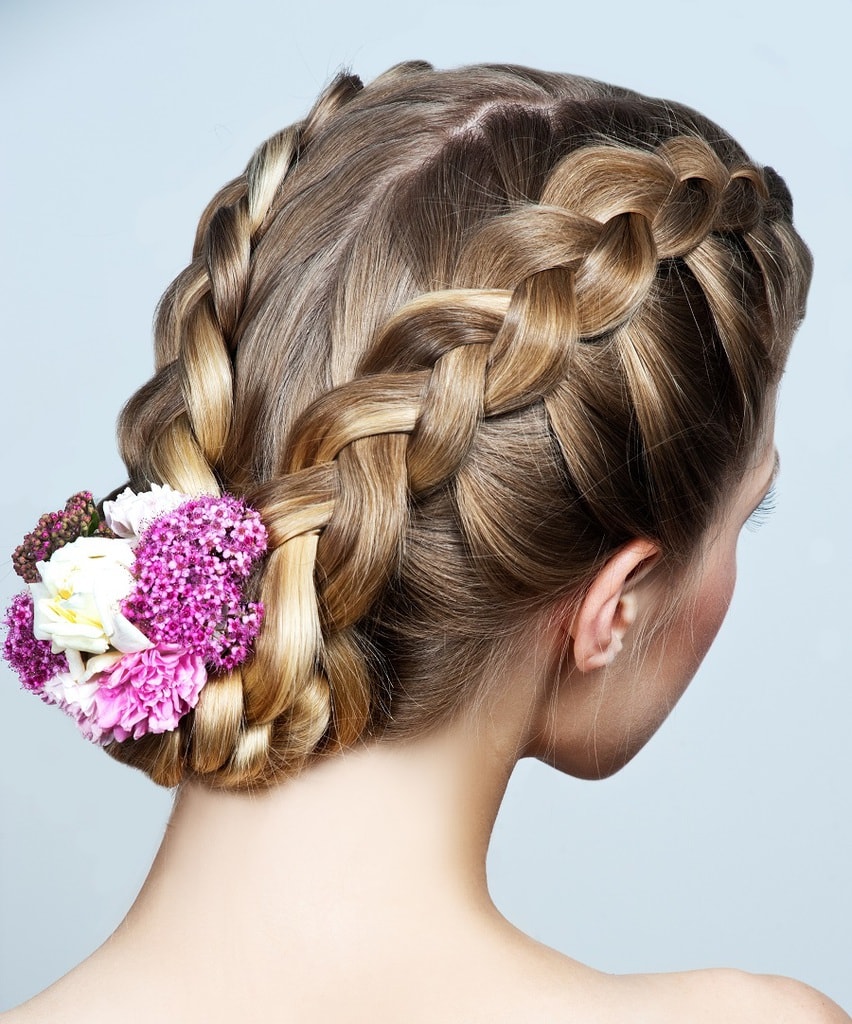 This is just like the one braid but instead of one, we have two! Part your hair in the middle and braid each side.
Instead of leaving the hair loose, braid it all the way down and twist the braids into a bun.
5. Flat Side Part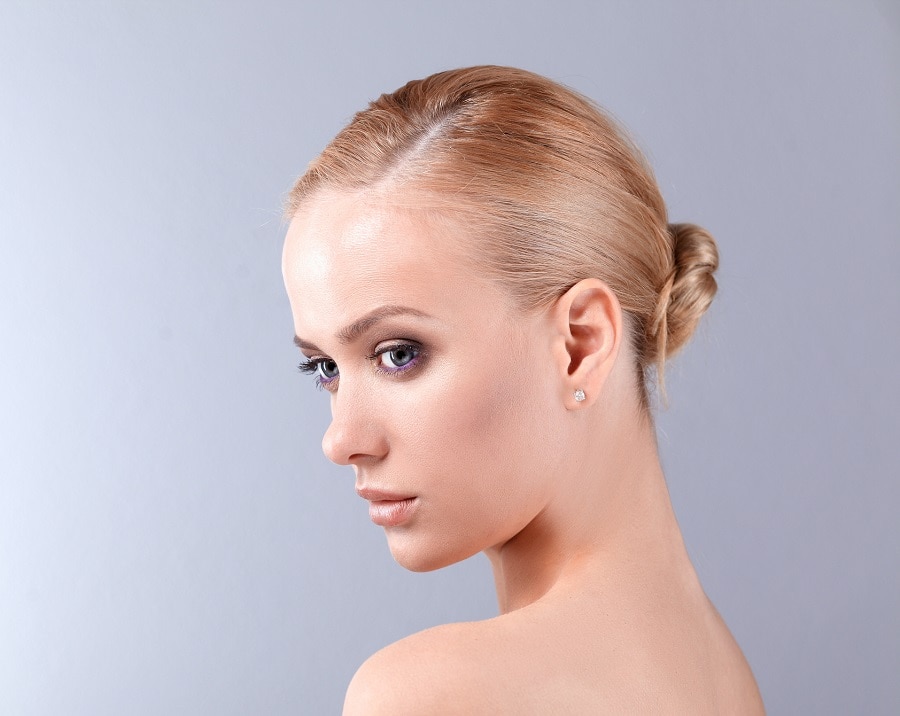 This is a quick and low-effort low-bun hairstyle. Just make a small part on the side and tightly form a knot at the base.
However, ladies with wide foreheads, avoid this hairstyle version – it'll only make it look bigger!
6. Black Curls and Twirls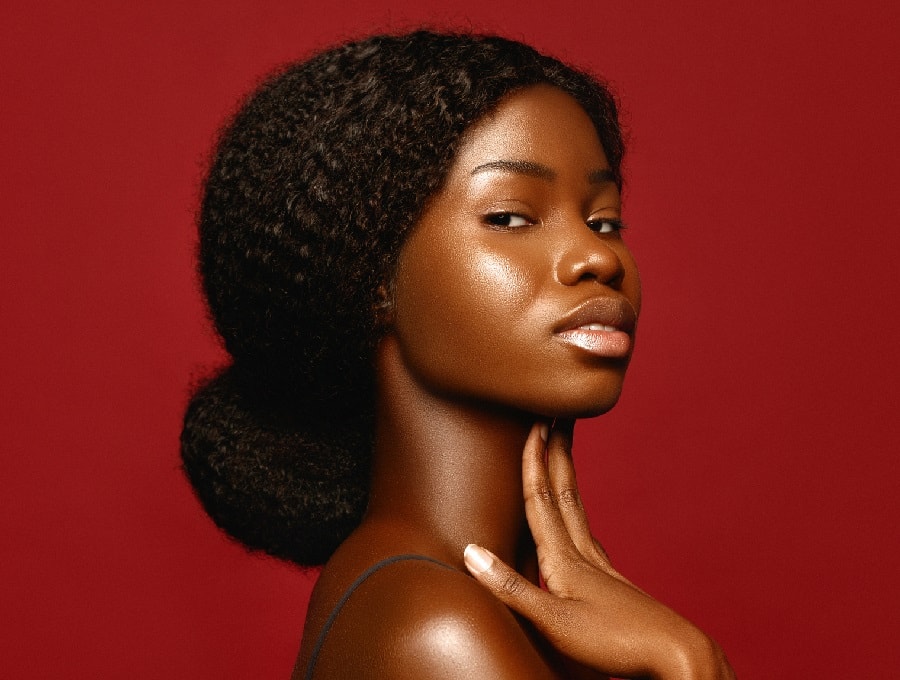 This is for our curly-haired black beauties! This is a simple, flat low bun but with a slight twist. While tying the hair at the back for a bun, leave the front a little loose so that the hair covers the ears slightly.
7. Sleek and Colored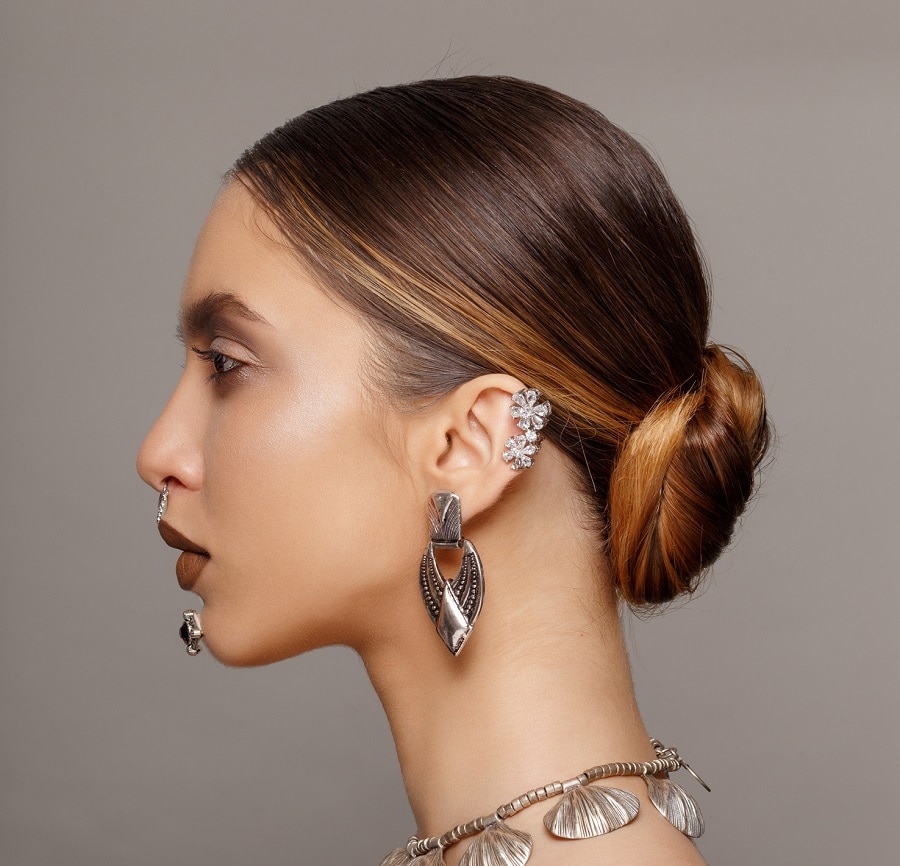 Want to show off your accessories? Then, a sleek colored updo is a hairstyle for you!
Tightly collect all your hair at the back – no strands out – and tie a knot at the back. To add the wow factor, highlight your hair with your favorite color!
8. Side Twist Coiffure
This is one of the favorite hairstyles for brides – it's simple, elegant, and effective. Loosely bunch up your hair at the side and form a bun.
We would suggest going for a side part for more volume, but make your pick according to your preference!
9. Twist Above the Bun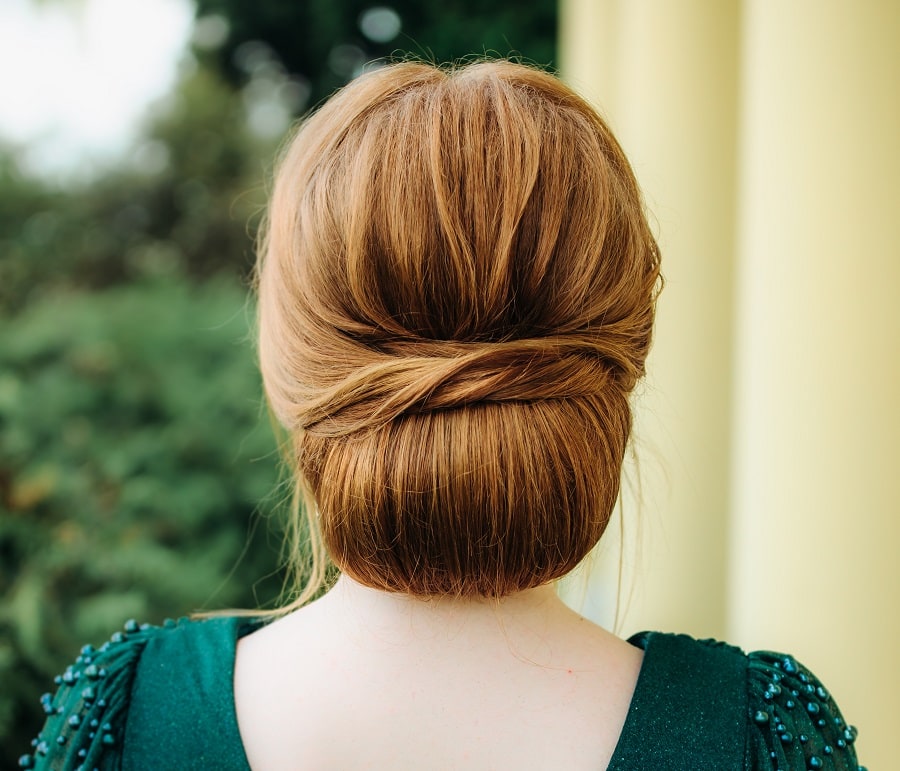 Yet another graceful chignon style making our list.
Leave two partitions at the front and form a chignon with the remaining hair. Twist the front hair or wrap it around the bun, whichever you like!
10. Ole' English Bun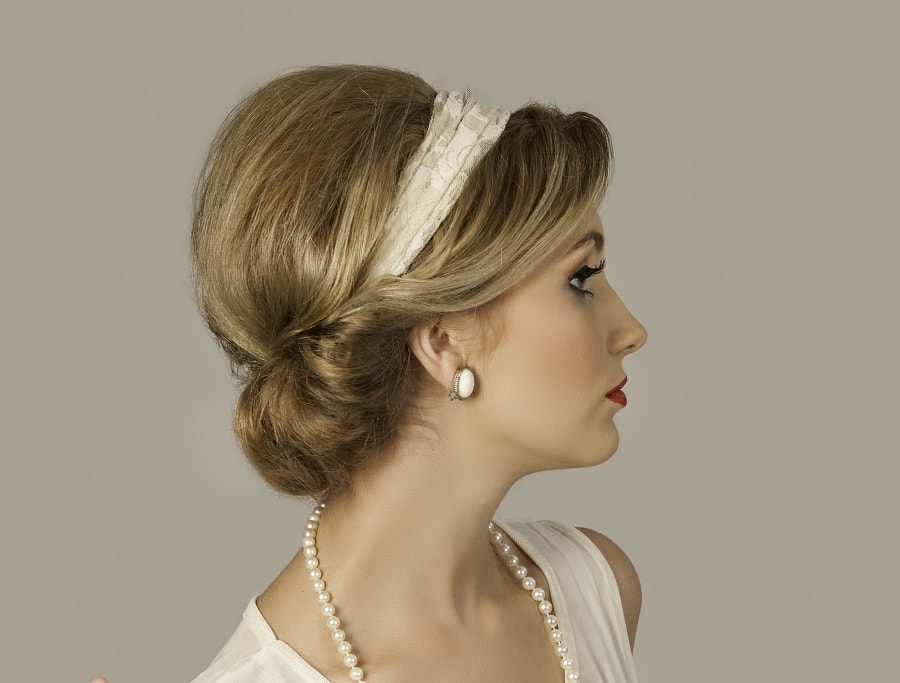 Go back to the old England, with this hairstyle! Sweep a part of your hair back and use a hairband to tie up the back hair. Now, bring the back hair to the front and add the front hair to form a low side bun.
11. Messy Braid Updo
Wind a loose side braid down to the back and make a messy low knot. If you don't want the back to be too messy, then make a fishtail and make it into a knot.
12. Bridal Braided Hairstyle
This is the one hairstyle that will take you a while, so buckle up!
First, make a side part in the front and make a twist with the hair. Now, start taking random parts of the hair and twist them into loose rolls – use bobby pins to secure them. After you're sure they won't move around – make a bun at the bottom and you're done!
13. Bun Wrap
Leave two partitions at the front and form a low bun with the remaining hair. Twist the front hair or wrap it around the bun, whichever you like!
14. Improvised Twist Above the Bun
Remember Twist above the bun? This is just that but with a twist – quite literally.
The 2/4th that you pulled from the ponytail, make it 3/4th now and use the small remaining part to just make a single knot. Top the bun off with some attractive ornaments.
15. Bun With a Band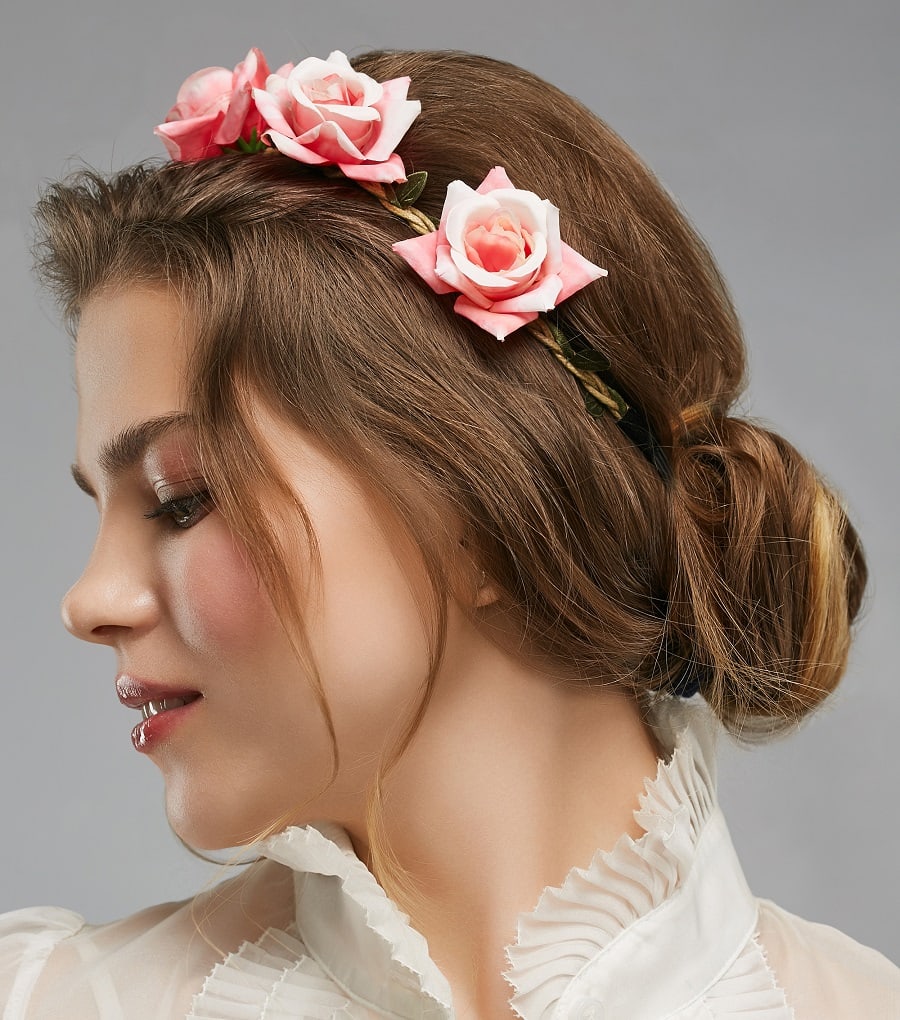 This is quite a simple hairstyle whose beauty lies in how you pair it up!
If it's a family gathering, then use a single colored band – any material would do. But for special occasions, like your wedding, go for fancier options like bands studded with stones or jewels.
16. Royal Queen Hairstyle
Be a modern royale with this elaborate coiffure.
Take the front part of your hairstyle and make a sweeping curl on the side – use a setting spray to hold it in place! With the rest of your hair make a regular braided tail and wrap it into a bun.
17. Long Bun Down
This bun will have your neighbors, family, and friends asking – How did you make it?
We'll let you in on the secret – it's all about twisting it right! Take two parts of the hair, from each side, twist them and at the very end, join them together. With the remaining hair, follow the same instructions of Twist above the bun hairstyle.
18. Front Bangs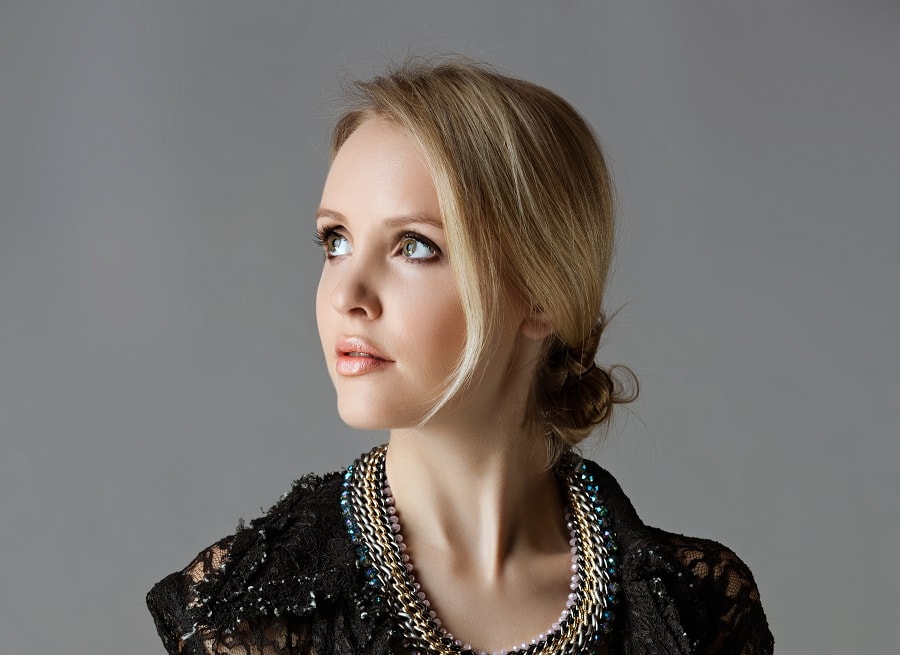 This is an 'in rush' and effortless hairstyle. Just part of your hair, leave some flicks in the front, braid the hair at the back and make the bun!
19. Simple and Quick

Tightly gather all your hair at the back – not a single strand sticking out – and twist it into a simple bun!
20. Braids All The Way
This is a braid heavy look, perfect for any special occasion!
SIde part of and make one independent braid at the side. Now with the hair at the middle, start making a braid right from the top. Stop when you reach the bottom, make a ponytail and wrap it into a bun!
21. The Retro Look
Bring the past to today with this retro hairdo!
It takes nothing but a 'Bump-It' tool for the puff at the back – for the bun you can go for a twist one or with a braid.
22. Cover The Bun
Remember how we removed a major part of the hair through a ponytail and used a small part to wrap it around the bun. For the ones with long hair, you can take a small part out, and instead of wrapping it around, wrap it on the bun!
23. Rose Braid
Beauty and sophistication are just a few of the attributes that define this gorgeous hairstyle!
Take a side part and start braiding just the outer part. Continue braiding it till the very end of your hair. Once, you're done, just wrap the hair around in a circle and secure with clips – your rose braid is ready!
Low bun hairstyles are ever-loved and always in fashion, which makes for the perfect hairstyle in any event. So, now that you know the best hairstyles to be the fashionista of tomorrow, style your hair to be the catch and snatch!