Chignon bun hairstyles are a classic and royal form where the hair is combed back and tied into a tight knot just under the nape. These have a long history and were considered the official royal hairstyle in Queen Victoria's era.
Where chignon is originally translated in French as under the nape. Whether on the run to grab a drink with your girl gang or walking down the aisle with your soulmate, they are the perfect match.
A chignon bun can never go out of trend or styling; it will be an ace card to fashion for another eternity.
Chignon Bun Hairstyles to Fall in Love With
Chignon bun hairstyles can vary from a cute 5-minute process to a 15-minute twisted french updo. Well, it does sound difficult, but not in reality. Let's see how…
Hallow Boho Bun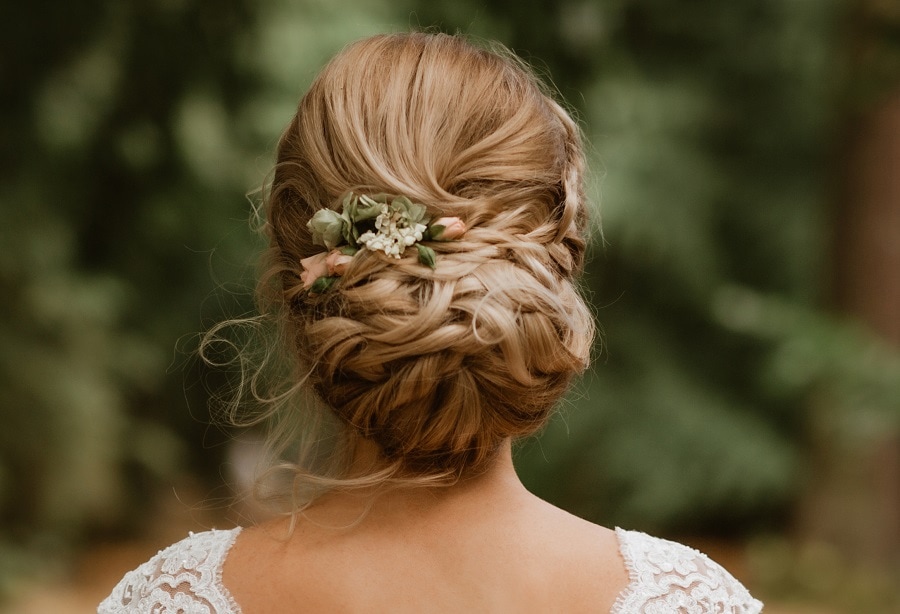 A boho textured chignon bun looks aesthetically pleasing to look at. Leaving all the tiaras and clips, this natural floral look adds life to the bun.
Start twisting some locks separately and turn them into a bun. Garb a side lock to loose braid and pass it through the top of the bun to create this braided bun look.
Sleek Hairdo
Create a side section of hair in the frontal region and make a ponytail leaving the front strands.
Use some volumizing hair accessories like bun makers under the ponytail and gently twist the ends to the tip and create a bubble volume. Crisscross the front strands and pin them under the bun. Use some clips to enhance the look.
Side Tucked Bun
Start making a low ponytail using some elastics titled to a single side. Make a hole between the ponytail and drag down the ends through it; this creates a twist around the elastic.
Now start rolling up the locks from the edge to the elastic, tuck in gently pin it. Add a charming hairpin and your side bun look is all set.
Bridesmaid Look
If you want a style to merge your bangs into a messy bun, then this is it. Create a pony, pull down the hair through a hole using your finger and roll it up into a bun.
Then, flip back your bangs, and add some pomade to make them stiff. Finally, use a spray to fix the curls like this for a longer period.
Flaxen Knot
Blondes, we have got you something here, a classic chignon bun hairstyle matching all your day-to-day outfits too.
First, make a loose ponytail twist, drag it through the hole with your fingers, and repeat it. Then loosen it, and twist the remaining along the elastic. Finally, drag the bangs to get a loose look.
Low Crown Twisted Knot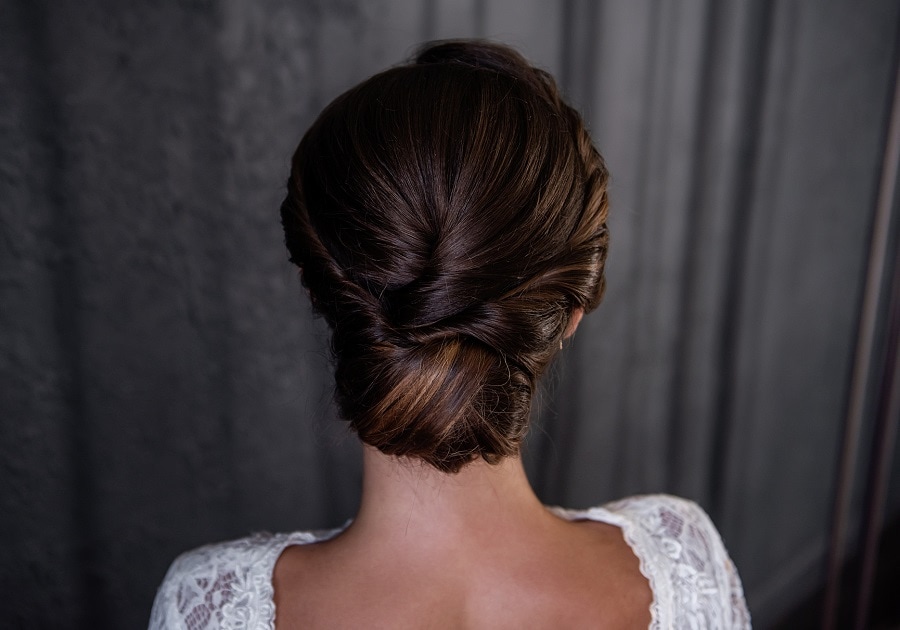 Twist from the bangs, sectioning hair on either side, secure with an elastic. Make a low ponytail. Fix the previously made ones under the bun before fixing the bun. Now roll up the ends to create a loose bun. Fix it and secure it with bobby pins.
Donut Chignon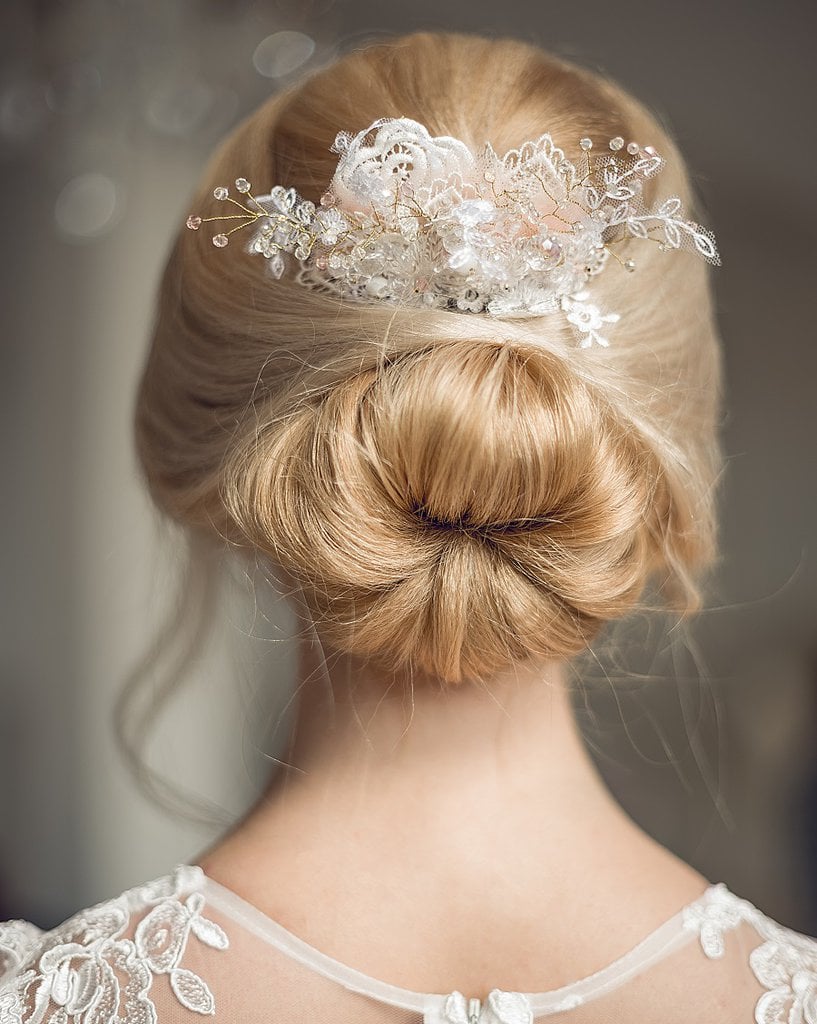 Classy-looking brides are always seen with a sheer veil tucked inside donut updos. Make a loose ponytail leaving a few strands in the front.
Use a donut bun maker to make a donut bun. Clip the loose strands crisscross. Then, drag down a few strands to create a loose look.
Floral Twisted Updo
Do a french twist with your bangs, and fix them around a classic bun. Add some real or faux flowers to the bun, making it look more feminine.
The style is most suitable for brides, and bridesmaids as well as can be worn to any special occasions or parties.
Stylish Curled Bun
Looks so stylish, right? Well, it's easy to make too… Simply, section your hair from the middle. Then, do a simple bubble bun leaving the bangs.
Now make a ponytail with locks on both sides. Secure the remaining in a crisscross pattern as shown. Now gently make a wave pattern with the ponytail, secure it with U pins, and add fixing spray. Now, if you want you can remove the pins.
Rolled Updo
Make a regular ponytail, and draw down the edges using a hair loop tool or your fingers. Then, roll up the pony from the end as you roll a swiss roll.
Secure the chignon bun with bobby pins, and style with accessories like beads, flowers, etc.
Messy Updo
This is absolutely a jaw-dropping work style to get that sexy chic look. Make a loosely twisted chignon and pull apart the strands to get a messy look. Style with embellished bands and clips.
Those loose strands add extra glam to the chignon.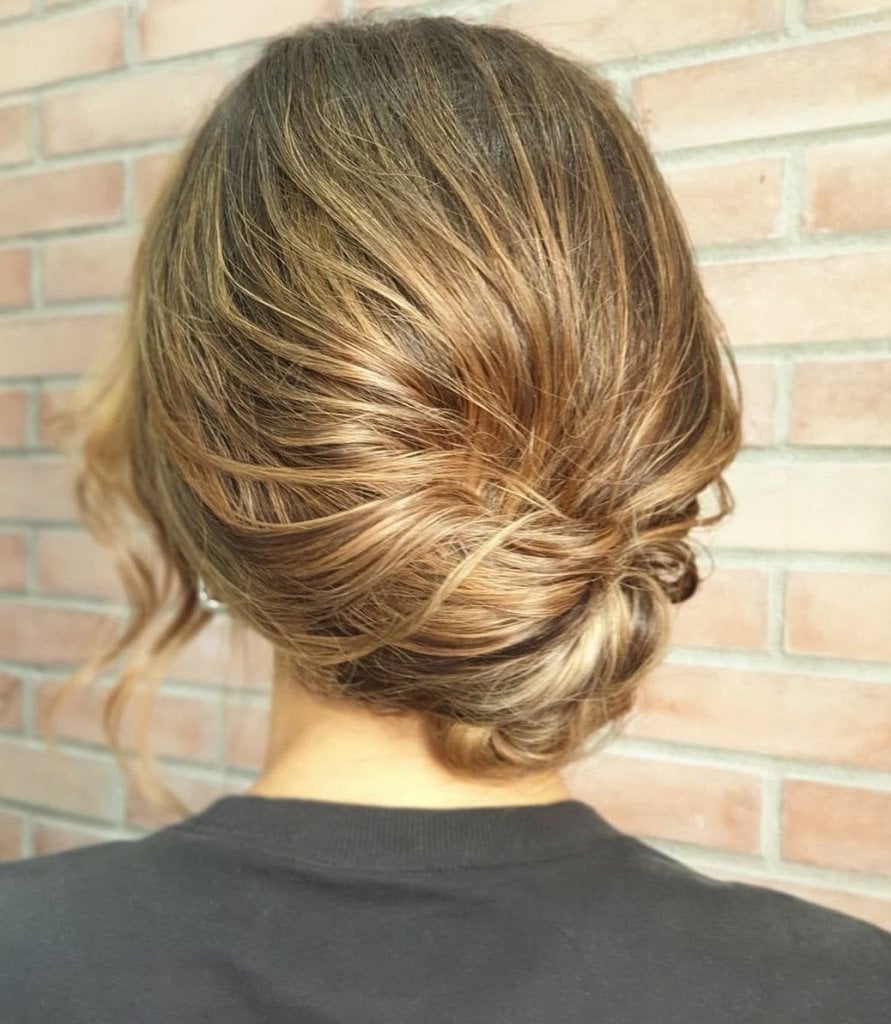 To get this style, tuck in all the excess hair inside the loop of a ponytail instead of pulling it out. Loosen up some strands to get a modern look.
A perfect professional chignon can be done in minutes. Blonde highlights with short dark brown hair will add more charm to the look.
Side Twisted Bun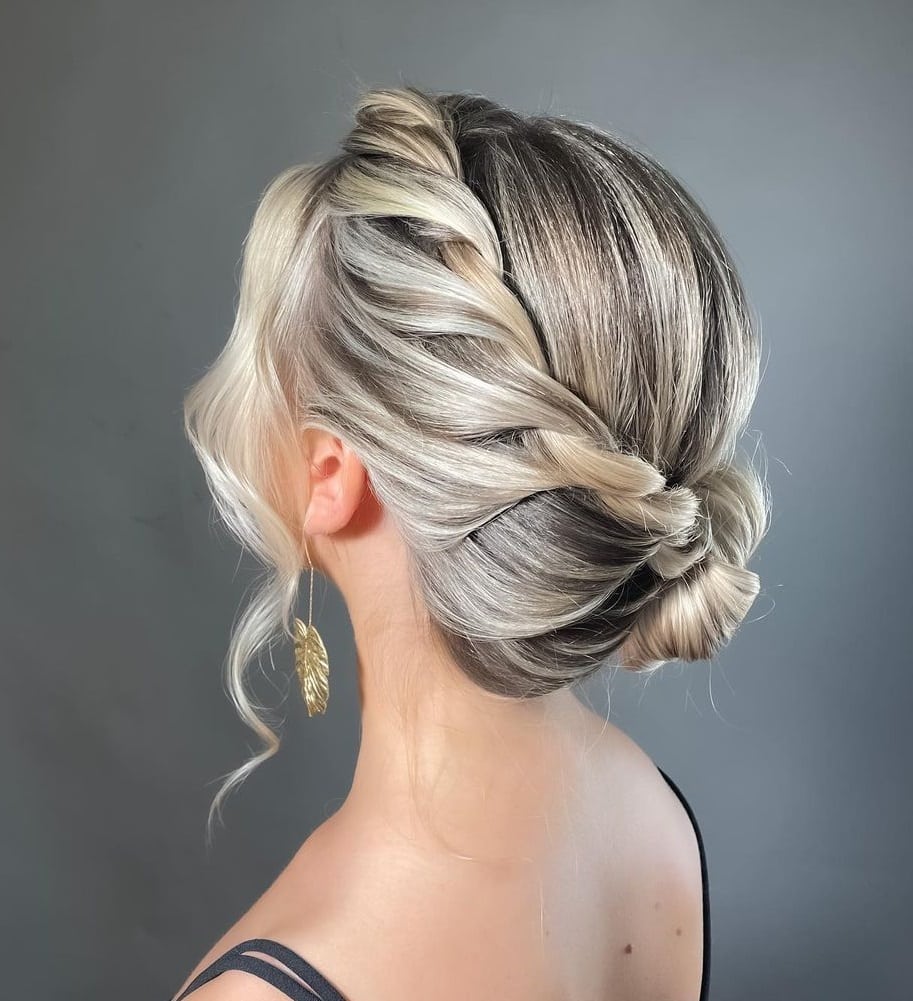 Make a loose side waterfall tiara by loosely braiding the bangs from the front till the back. Then, tuck them up and make a bun.
This style looks awesome with balayage hair as the colored strands add more fun to the illusion of a waterfall braid. Let the front fringe fall and slightly curl it; it will perfectly frame your face.
Formal Twisted Updo
Who does not love to look classy and solemn??? Well, twist up your lowly grabbed hair as much as you can. Now gently arrange them to form a bun and clutch it. Enhance with faux flowers.
Platinum Chignon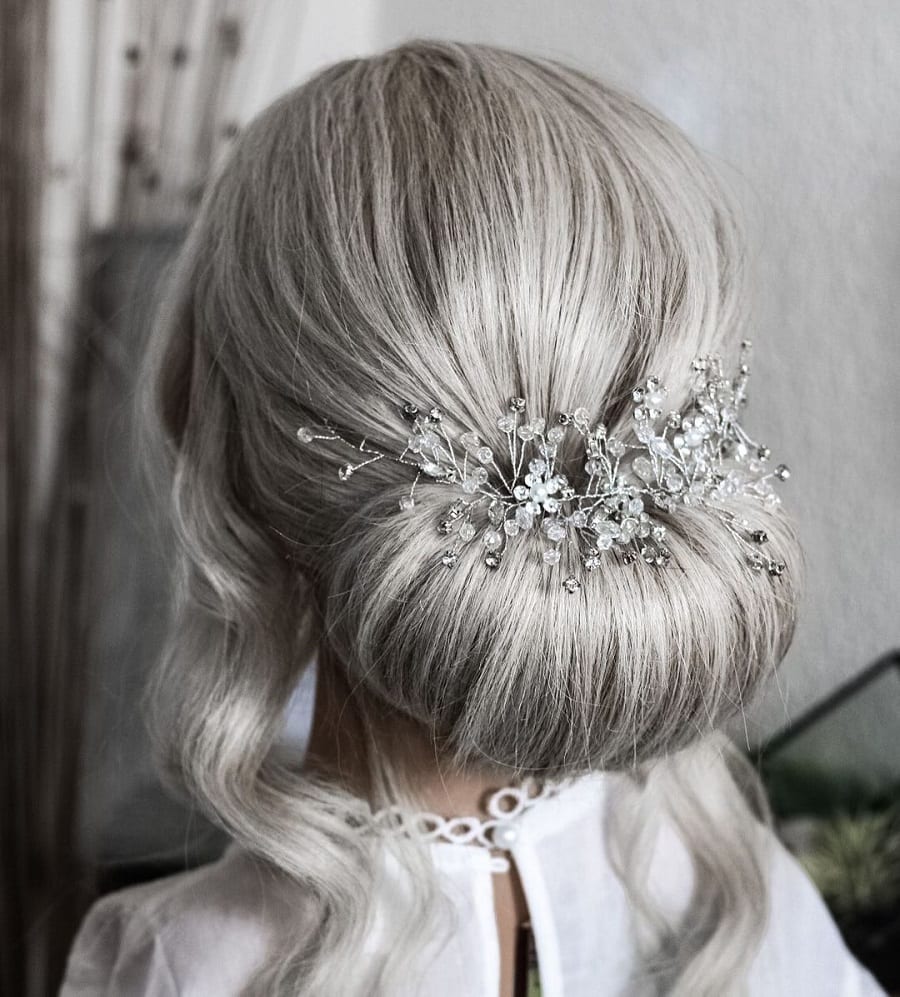 Vintage is always lovely; you can get that vintage look with this style. Make a thick chignon bun and fix it using bobby pins.
Add a statement comb clip in the center. Drag down the long bangs to give a royal vintage finish. Top it off with some serum and spray for hold and shine.
Brown And Dramatic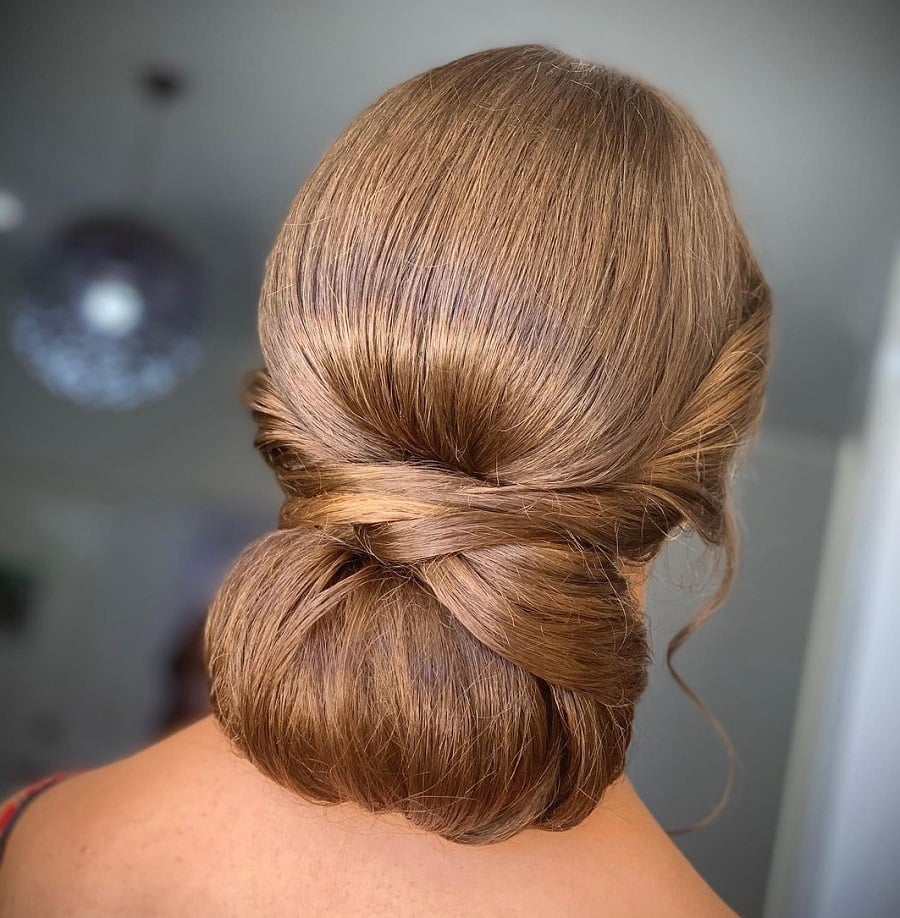 Some say having heavy volume does not come in handy for styling the hair. Well, we would not agree with them. Just look at how elegant this style looks. The bun hairstyles for long hair are surprisingly pleasing even if they are made plain jane.
Double Twisted Back Knot
Instead of starting with a ponytail, start twisting the hair at the crown region into twists, making them into a pony.
Then, twist the plain edges into a bun. Grab the loose bangs and secure them under the bun leaving a single strand. It will give you a bouncy dramatic look.
Crown Ball Look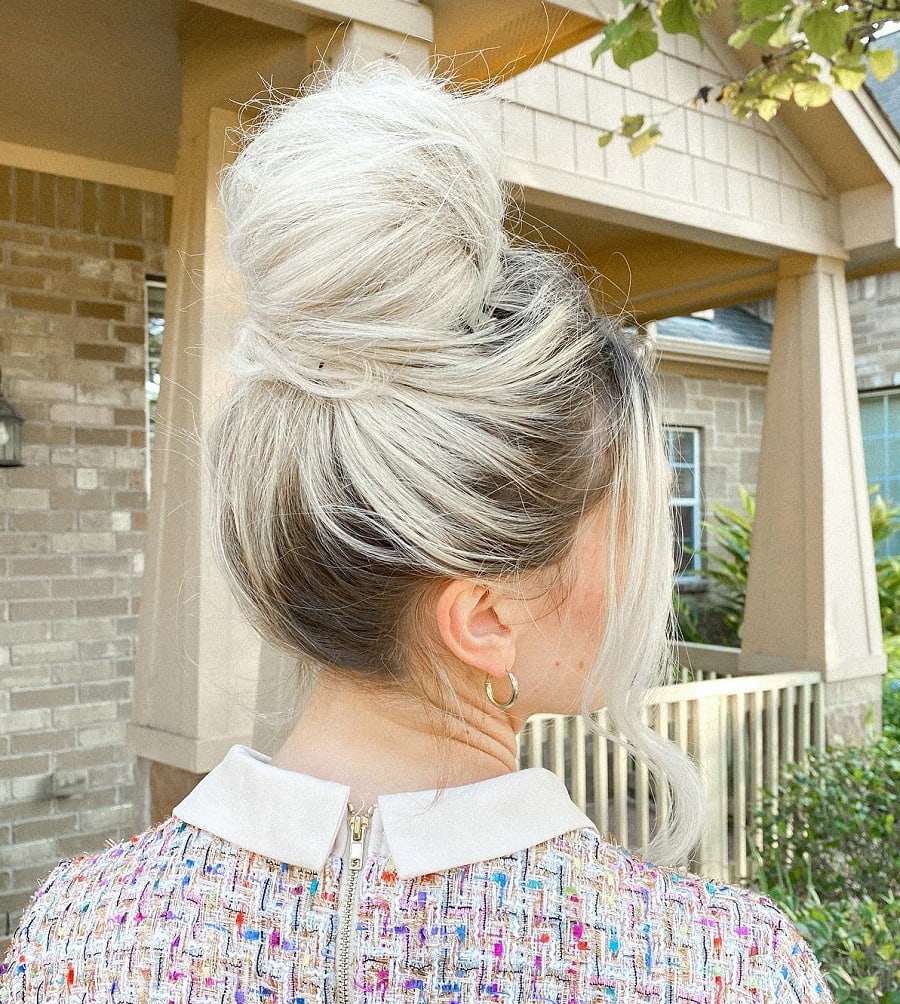 Drop the bangs, and grab the remaining to make a huge ball in the crown region. Secure it with fixing sprays.
You can use extensions or volume-creating clips under the hair layers to get a more volumized look. People with a huge volume can have an easy try. This style looks good on curly hair too.
1960's Vintage Updo
Vintage elegance meets modern-day glamour is what we meant by this style. Of course, we all knew about these pin curl styles of the 60s where all these started.
Leave out a small v-shaped portion of hair in the center near your hairline and make a bun. Take half of it, tuck it in, and make a wavy curl with the remaining.
Blonde Textured Hairdo
The grace of loose and messy buns is underrated. Here is a classic example to prove it wrong. Messy is always the best when you don't have much time for your hair.
This textured bun should make you reconsider your choices. This single twisted chignon is a classic example of sophistication and elegance.
Basic Knotted Hairdo
When it comes to hairdos, there's no other way to consider any other hairstyles other than a chignon for a minimal look. Just look at this chignon.
The side portion of your hair is crisscrossed and tucked to make a beautiful appearance. Just leave a few strands as fringes.
Messy Reversed Bun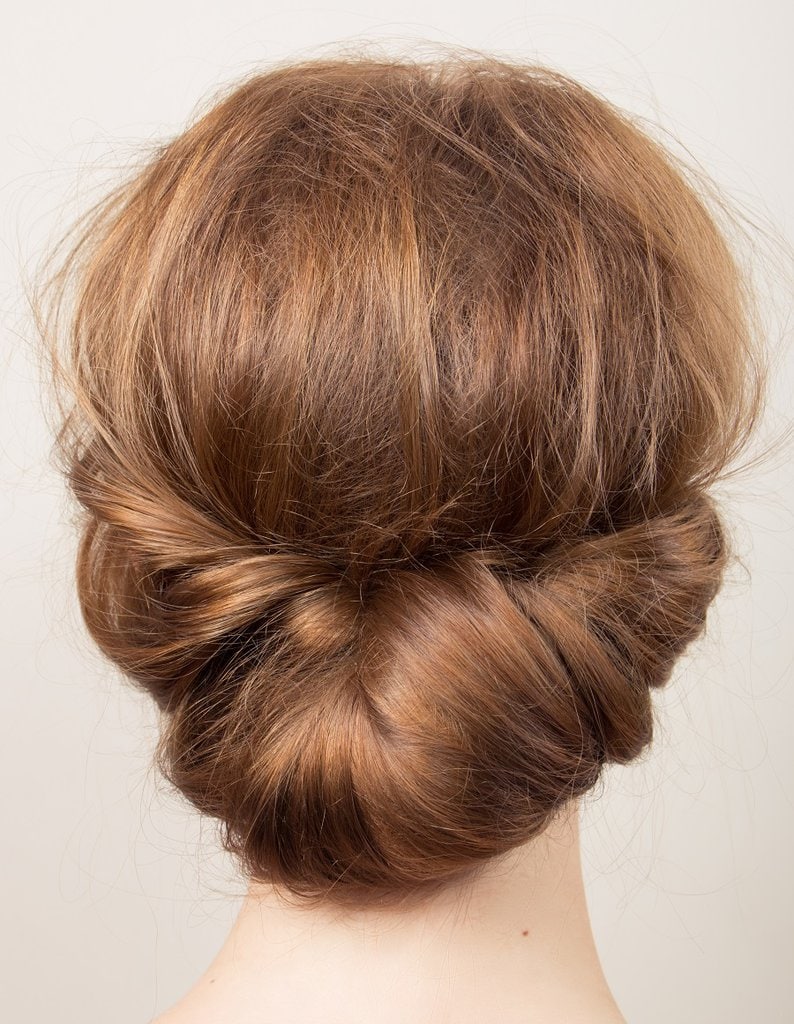 Why are all hairstyles sleek, perfect, and polished?? How about a roughly finished unpolished chignon bun? This still looks appealing to me. This basic tucked-in updo is roughly finished to get a wild free look.
Retro Chic Look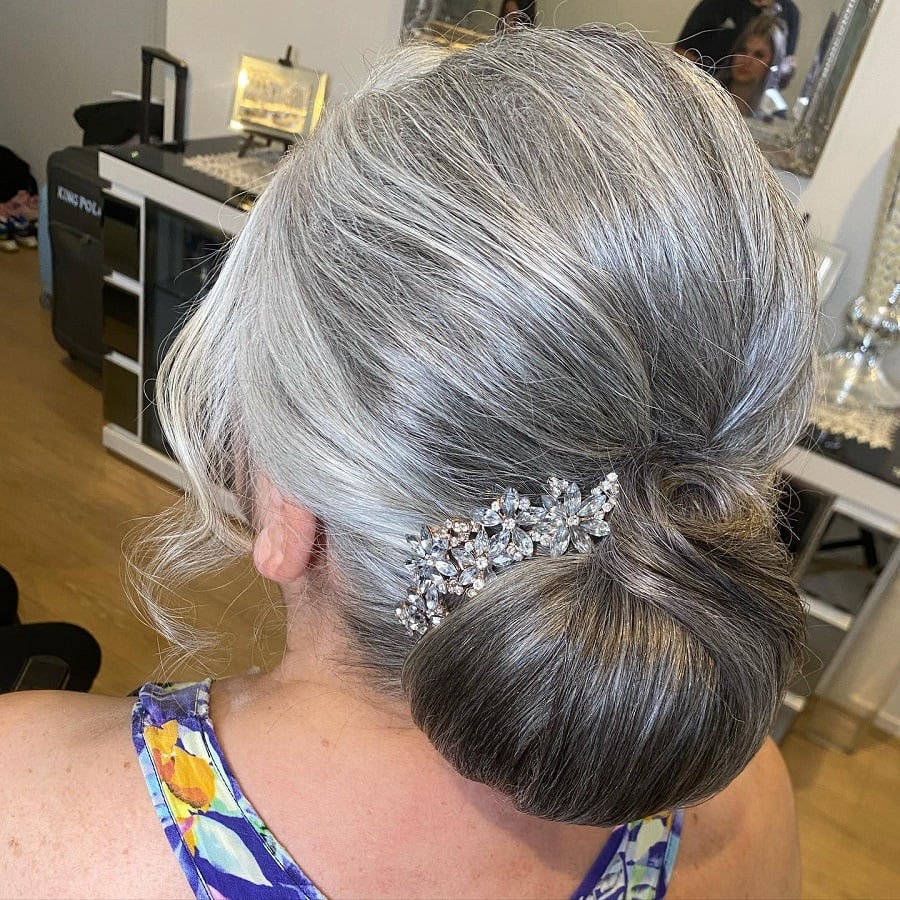 Doesn't this look amazing? A classic chignon topped up with a little curl to add a little spice. This is more like a margarita with extra cheese.
Use some embellished clips to add more sugar or spice to your look. Go for a reverse ombre wherein the root and crown area are kept silver and rest in a dark hue.
Chignon bun hairstyles require a lot of products and accessories to get a perfect look. They also require fixing and perfecting sprays to get that strong hold and texture. And the things we always keep losing, elastics and bobby pins too.
Start doing a regular bun first and try to volumize it to get hold of texturing a perfect chignon. Then, take a professionalist's help to get a sleek chignon look. If you have thin hair, making a bun can be tricky, but adding some hair extensions will solve the problem.