You are familiar with ombre- darker to lighter shades, but there's a new player in the hairstyle game. Reverse ombre hair color is something not all of you have heard about.
It's simply the opposite of ombre, with lighter to darker shades. Shades can work in contrast or in pairs but look beautiful both ways.
We've got some pretty amazing color combinations for you if you're looking forward to getting this hair tint. This will be trending this year, so make sure you're one of the first to adopt this trend.
Must Try Reverse Ombre Hair Colors
Presenting you with the most amazing and out-of-the-box ideas right below!
Blonde to Peach Tint
If you desire some subtle shades for your hair, blonde and peach will be the perfect choices. Blonde to peach tint looks mellow and pleasing to the eyes.
Chill even if you have thin hair; this combination suits every hair texture. However, long hair is required to get an equal of both.
Caramel Blonde to Wine Shade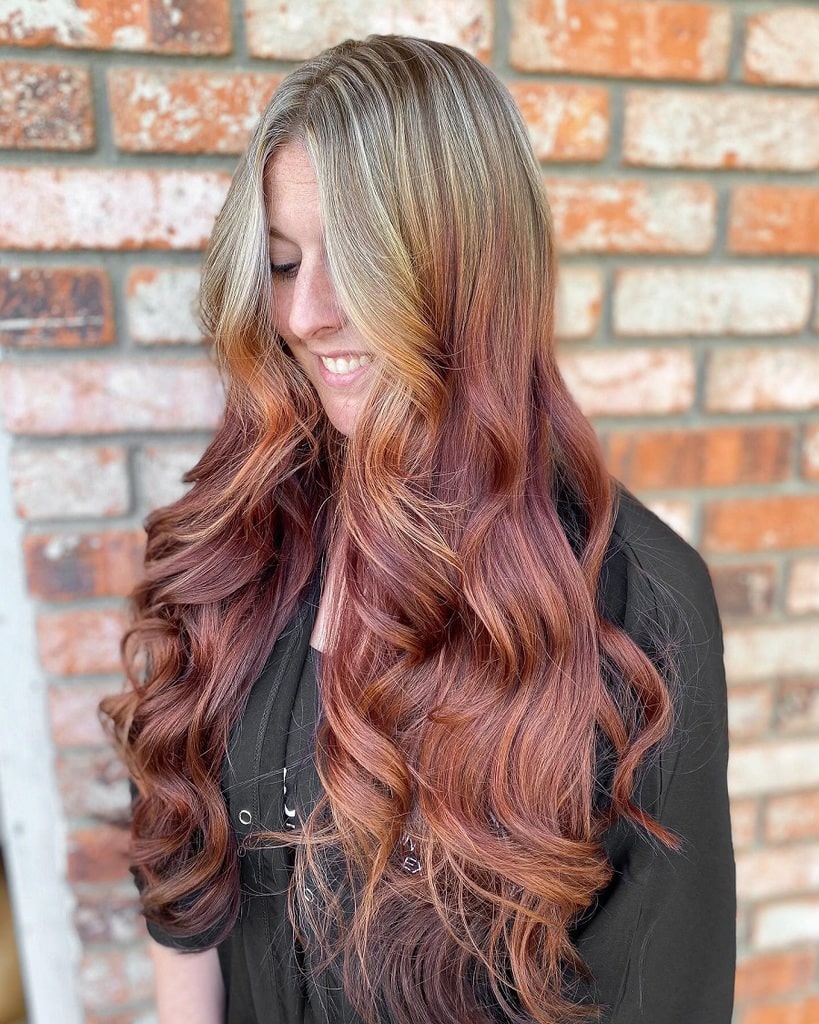 Here's a beautiful reverse ombre hair color idea – caramel blonde to wine shade. Both of these shades are very gorgeous.
The focus here is on the darker shade, which looks more radiant on long hair. Slightly curl your hair to get a wavy touch.
Bob with Black Ends
A bob haircut looks very chic and decent. The black ombre will look sassy as well as add a pinch of boldness to the look.
As you can see how perfectly black contrasts with blonde hair. If you work in a creative industry, you should absolutely try styling your hair this way.
Half-up Braided Hairdo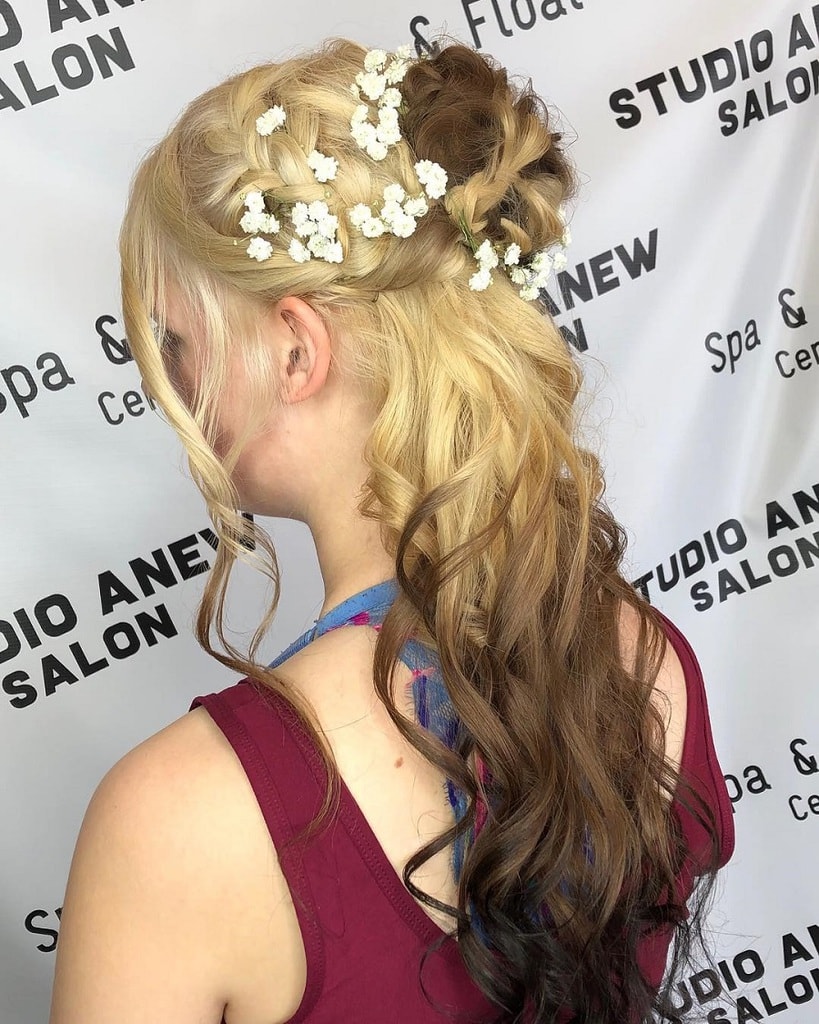 No worries if you don't know how to style your hair for a party. This half braided updo is the perfect style for a special occasion.
Golden blonde to brown reverse ombre hair color will suit this style beautifully. Flaunt your hair in these contrasting shades.
White Blonde to Fiery Red Hue
If you want something subtle but bold, then a combination of white blonde and fiery red is best for you.
Only let the ends of your hair in the fiery red shade as it gives an illusion of flames. Curling your hair from the bottom will add to the flame illusion.
Flaxen to Mud Brown Hair
Here's a combination that'll mesmerize you. Two completely different shades blending on your hair will be a pleasure to see.
You should give this style a shot if you're an artist. Keep your hair in loose outward curls and center-parted. It's a perfect look for theme parties.
Light Brown to Orange Ombre
If you want a reverse ombre hair color that's decent but funky at the same time, you should try light brown to orange ombre shade.
The funky shade will be shown more, and that's possible only when you have long and straight hair. You can even try this look for a party.
Grey to Purple Bob
Who said that women over 50 couldn't be funky? So get a purple ombre on your gray hair and rock your look. Some tints of black in between your hair will work beautifully. This funky hair color is surely going to be a game-changer.
Brown to Black Micro Braids
Have you ever thought that a brown to black shade combination is possible? Then, just look at it and tell us that you just can't take your eyes off it.
What's best here is the micro braids hairdo. It shows both colors equally and beautifully.
Sunset Ombre
Ever noticed the beautiful colors when the sun sets? The sun beautifully sets, showing yellow, orange, and purple colors in layers.
Well, you can get these layers on your hair too. It will be a magnificent reverse ombre hair color combination. Keep the shades of purple more than the other two.
Baby Pink to Black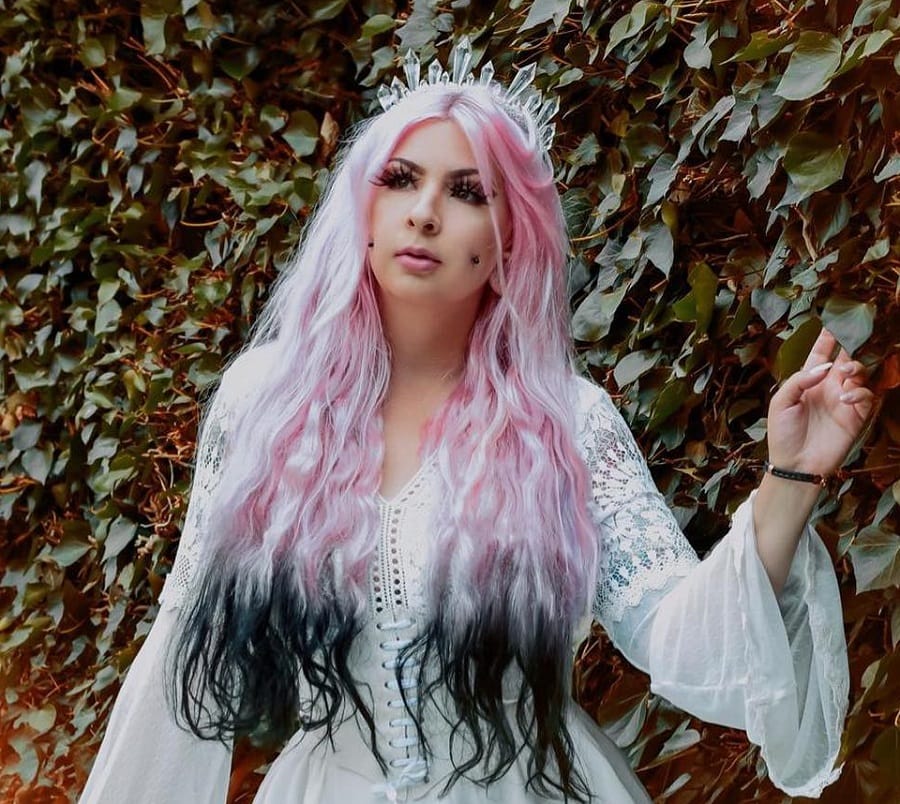 Light pink and black colors have been the ideal combination for decades. But adding white highlights to this combination brings real magic.
You'll look like an angel who comes from a fairy tale. You should definitely try this look for your next Halloween party.
Buttery Blonde to Soot Black Hair
We've also got a color fusion for girls who have short hair. But, again, the attention will be on the buttery blonde shade while your hair ends will be in soot-black hair. It's a pretty decent look, so you should try this if you're a working woman.
Orange to Maroon Hair
This is a pretty unique combination, as you might've not heard about it before. It brings shine and depth to your hair. So if you have voluminous hair, getting your hair in this shade will be a plus point.
Vanilla Blonde to Blue
That's some magical shade you're going to give your hair. It looks so unreal but beautiful. Of course, you should keep your haircut short to medium to ace this blue shade fusion.
This reverse ombre hair color is just majestic. Don't get if you notice people looking at you; they must be looking at your hair.
Honey Brown to Jet Black Hair
If you want to flaunt your long hair, get them in honey brown to jet black shade. It looks magical and so subtle. We recommend you give this look a shot if you work professionally.
Step up your style game with reverse ombre hair color ideas. Get your hair styled in any above ways and see the admirations rolling to you. Seeing you in these amazing hairstyles, every girl will wish to get the same too. So don't forget to tell them where you got the inspiration from.
These hairstyling ideas are surely going to change the way you look. It's your time to get a massive hair makeover and surprise everyone. Show them that you can get creative too.