Amongst the various hair colors, one can opt for jet black hair, which requires less maintenance but still, you need to care for your locks to keep them shiny and lustrous for a longer period.
Some women are blessed with dark hair color whereas others can choose it as their next color option. It suits all skin types, and especially works wonders for dark or olive skin tones. We have even seen some of our favorite celebs carrying jet black hair color at various events or movies.
Trendiest Jet Black Hairstyles
Now, it's time to check out some unique hairstyles with jet black color. Choose any of the listed styles and rock with the night color.
1. Loose Long Curls
Well-defined black curls can make your hair even more glossy and stand out. If you're looking for a hairdo that provides volume and looks astonishing, then this is the best option. This look will go well with any casual occasion as well as a professional meet when paired with a formal outfit.
2. Bun With Front Fringes
Asian black hair looks stunning if tied in a bun with long messy fringes. The dark shade will give you a gorgeous look, and you can complete the look by pairing it with silver earrings and red lipstick.
3. RainBow Effect with Black Layers

If you're looking for a truly unique look, this blend of different shades is a great option. You can keep your roots dark and then blend in the stunning shades of pink, green, yellow, orange, etc. to get the rainbow look. It requires high maintenance but is worth the time and effort.
4. Big Curls With Side Bangs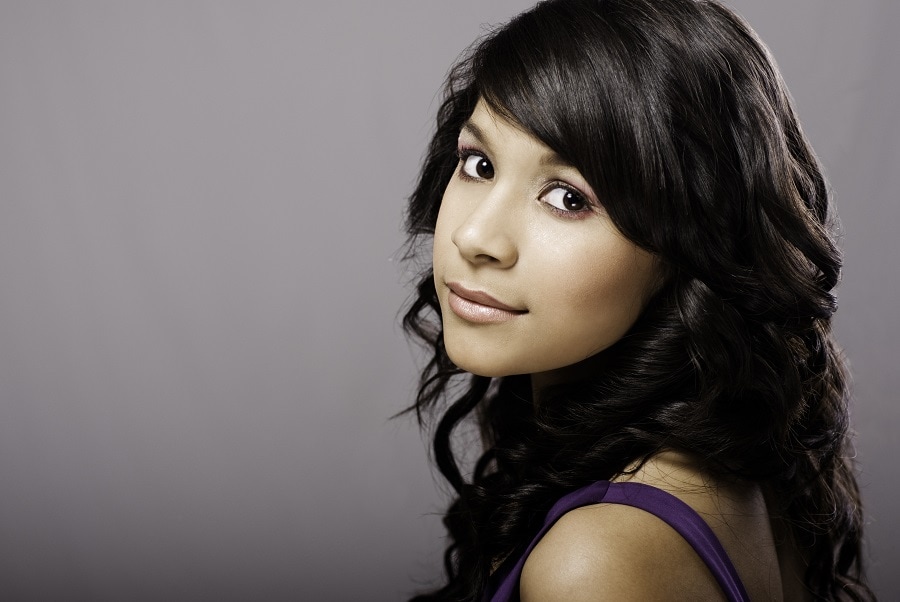 Jet black wavy hair is ideal for oval or heart-shaped faces. You can go for a layered cut and create waves, along with swiping your long bangs to one side to frame your face perfectly. You can wear this style to your everyday look.
11. Messy Bob
Jet black hair color is best for lighter skin tone, especially if you opt for messy short hair. You can layer your hair, side part the bangs, tousle the mane, and you're all set to go. This look creates volume on the top and frames the face.
12. Asymmetric Pixie Bob
Opt for a pixie bob in order to get a bold and cool look. The blue, green neon shade will make the highlights more powerful and create a shiny look. Only go for this look if you want to try something unique and high maintenance.
13. Sleek Textured Low Ponytail
An ideal look for a portrait shoot is this style which keeps all your hair tied and gives you a very sophisticated look. This ponytail will best suit thick straight hair and draw attention to your facial features.
So, put on some makeup, pair with earrings, and you're ready for the shoot. You can wear this style to any special event.
14. Two-Tone Hair
Another look that is high-maintenance just because of its two-toned nature and bangs. It will best suit thick straight hair and a round-shaped face. Go for this red-black look if you want to make your simple jet black hair appear different.
15. Bouncy Blonde Ombre Curls
If you want a classy look, opt for this pitch dark hair color with a blonde ombre. It will go well with even thin hair as the wavy texture will add volume and bounce to your hair.
These were some of the jet black hair color ideas you must try with different styles. You can easily wear them with any outfit, for any occasion all year long. Women of any age can go for these styles and is suitable for all face types, skin tones as well as hair types. So try them now and let others know about it too.