Black hair is a classic staple that works for everyone. The simplest yet most effective way to level up your black is by going for a black ombre.
You add a pop of color while still holding on to your lovely black hair and get the best of both worlds. You can go for a natural look and stick to browns, or you can go for a bold red or pink.
When it comes to the black ombre hairstyle, there's a lot of room for experimentation. So, the benefits of these hairstyles are many, and we are here to tell you how to get one according to your style and preference.
Hottest Black Ombre Hairstyles
Check the following ideas for hues that would suit your hair the most for a black ombre.
Peachy Pink Delight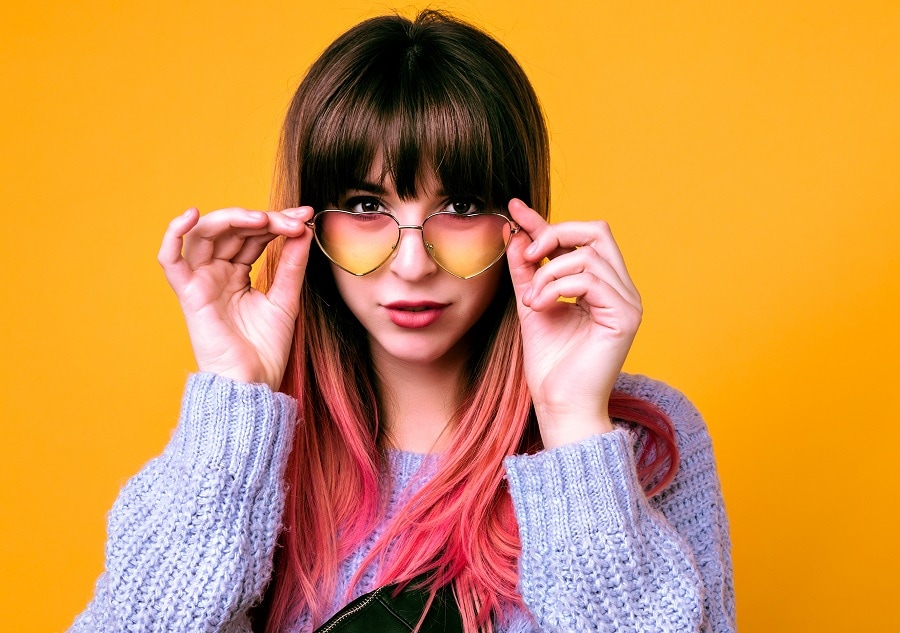 Pink and black is a combination that can never go wrong. The stark contrast makes the color pink pop and shine.
This hairstyle includes the perfect shade of pink with some hints of peach in there as well. The bangs add a bit of class, and overall, the hairstyle becomes the best hairstyle that you can flaunt on your insta feed.
Want to go blonde but don't want to let go of your dark hair completely? Here's the perfect black ombre hairstyle for you.
The strawberry blonde is a unique shade made from warm, golden blonde and a lighter, coppery red. The dark roots blend beautifully with the blonde hair creating a hairstyle that is just too good to ignore.
A Pop of Pink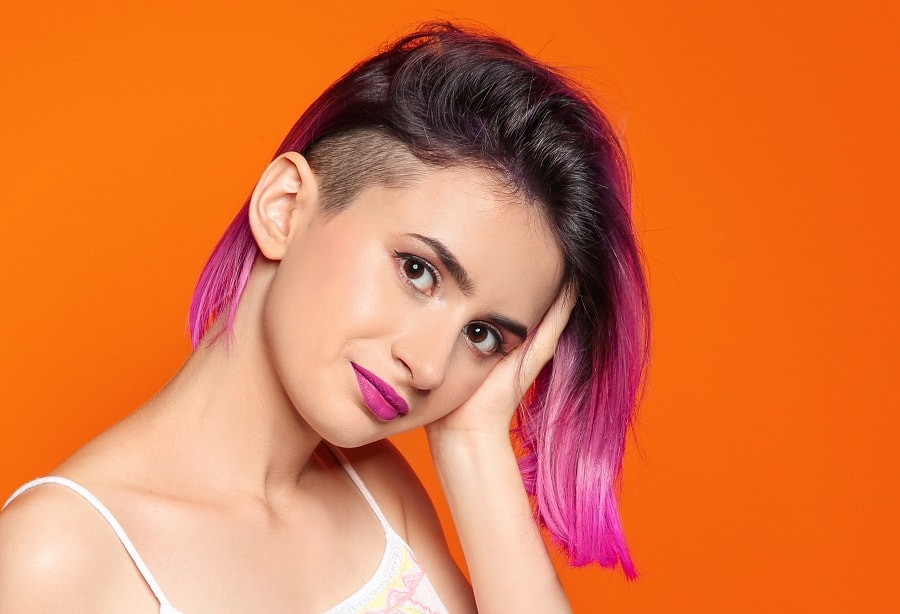 This look has the perfect splash of color to match your vibe this summer. The black to bright pink ombre is perfect to make a statement and fully express your creative side through your look.
If you're looking for a unique ombre hair color, you must think beyond the usual blondes and reds. We know the blonde ombre is beautiful, but it may not be your thing.
In that case, here's a more dramatic option for you. This hair color has hints of purple and turquoise, adding a multidimensional finish to the whole look.
Straight and Beautiful
Hair color is a great way to elevate your look. Certain colors compliment a specific skin tone; if you can find it yourself, you're set for life.
If you're cool-toned, ash blondes are your best friend. This medium black straight ombre is very in right now.
Warm Rose Gold Balayage
If you are a warm-skinned beauty, this black hair ombre was made just for you.
This gorgeous hairstyle has been dyed to perfection by using the most stunning shades of rose gold. The ends are left bright pink to make the hairstyle even more stylish.
Naturally Brown
If you're one of those beauties who prefer a natural look, we have something for you too.
This stunning black to dark brown ombre with bangs is just too close to your natural hair color. This subtle hair color mimics the natural look of your hair, where the roots are darker and the ends are light.
Light Blonde Magic
When it comes to dark colors, the rule of thumb is to pair them with lighter shades. The contrast works its magic to create a stunning look with the asymmetric bob.
The dark root is kept intact in this hair color, and a light shade of blonde is blended with black.
Sleek Cornrows
Here's one way of stylizing and beautifying your cornrows. Try out this gorgeous black ombre braided hairstyle. The light chocolate brown and black merge to elevate regular cornrows and create a gorgeous look.
All Shades of Burgandy
One of the best ways to rock a black balayage ombre is by going for a bright burgundy color.
Here's one idea where all shades of burgundy and purple are used to create the richest ombre ever. If you have cool-toned skin, these rich purples will look gorgeous.
Dipped in Red
This style is simple yet stunning. The red ends on the hair pop and draw attention to themselves.
This is a look that is going to get you all the attention. With this look, your dark ombre will stand out much better if you wear neutral tones.
Purple Hibiscus Black Ombre
Here's the most royal color of them all: the majestic purple. This gorgeous purple color is awe-inspiring, to say the least. Paired with a Bob, the ombre hairstyle is exactly what dreams are made of.
Naughty Pink Curls
If you're looking for a pinch of naughty in your look, go for this enticing and exciting dark pink color.
Pink looks extra stunning with a black background. This dramatic look is going to add the right amount of color to your boring life.
Brown to the Down
Here's an ombre hair color for black beauties. For your afro locks, try out this gorgeous brown color. This hair color will emphasize the beauty of your natural hair texture.
True Teal
Look how gorgeous this color looks with a dark black base. This black ombre hair color is totally in trend.
This hair color is enough to make a statement on its own, and you don't even need to do too much to style it. However, this sleek asymmetric lob can be used for the extra wow factor.
Mint Choco Green Surprise
Here's a hairstyle filled with a little surprise. The mint green color is peeking from underneath the brown hair. This is a modern spin on the classic ombre where hair-cutting techniques are used to create an ombre.
Caramel Pumpkin
Here's the hair look all girls dream of. Warm hues anyway look stunning on black hair, but this subtle copper ombre is just out of this world. The glossy finish on the hair and the pretty daisy makes the hairstyle the perfect look.
Golden Locks
This list of black ombre hairstyles would be incomplete without a proper caramel look. Gold and black are a pair made in heaven, and this look perfectly illustrates that.
The black, brown, and golden blend so perfectly together that you can't tell where one starts and the other ends. That's the mark of a perfect ombre.
Through these hairstyles, we've elaborated on the stylish ways through which you can create the best black ombre hairstyles.
Ombre hairstyles are the latest trend, and the trend is here to stay. So when you're visiting your salon next time, have a chat with your hairstylist to discuss the perfect black ombre hairstyle for you.