We all crave a hair makeover whenever we want to freshen up our looks. So what better way to radically change your hair than to get a turquoise hair color? The tastefully vibrant color reminds us of the ocean and its hues.
If that's your vibe, then we have the perfect list of hair colors for you to consider. Turquoise is a beautiful color that you get by mixing blue and green. This gorgeous hair color can be styled in multiple ways, for numerous occasions, and by people of all ages.
Inspiring Shades of Turquoise for All Hair Types
Looking to get some inspiration for different turquoise hair color shades? If your answer is yes, then you've come to the right place. We've compiled a list of hair color ideas that you can save for your next salon visit.
Neon Shock Highlights
2020 ended but it left behind this gorgeous front hair dyeing trend. However, if you wanna talk this trend up a notch, you could go for a dual-tone.
To spice things up a bit more you can dye the front part of your hair a bright neon color and the rest, a beautiful turquoise color. This hairstyle isn't for the weak, but it surely is gorgeous.
Faaded Ombre
This beautiful shade lies just between blue and green. This is a unique hair color that you could try if you are looking for something never done before. With slightly gray hair, this hair color looks absolutely ethereal.
Shaded Tips
A smart way of incorporating a splash of color into your look without coloring your entire hair is just dyeing the tips of your hair. This beautifully done hairstyle has dip-dye tips that are curled to perfection.
Pale Turquoise Highlights
We realize that bright and bold colors aren't for everyone. For people who like to keep things subtle, this hairstyle is perfect. These subtle hair color shades will make you feel like a pretty princess.
Baby Blue Hair
Baby blue is a soft color that will look gorgeous on you if you decide to go for it. Paired with a long bob, we recommend this hair color for younger girls who want to experiment with their looks.
Deep Shaded Braided Pigtails
This gorgeous deep shade of turquoise is a very unique hair color that is totally in trend right now. It's preppy and pretty at the same time. This hair color can be styled in a number of ways including these fun double braids.
Gorgeous Flower Crown
We don't know about you, but this gorgeous hair color is the hair color of our dreams. This is the trendiest hair color right now that won't go out of style anytime soon. For a more natural effect, the shadows have been kept dark.
Colorful Short Chop
Age is just a number when it comes to dyeing your hair a bold color. If you want to try something new and subtract a few years from your looks, you can try adding these highlights to your gray hair.
Dark Elegant Bun
This is another shade of turquoise color that is universally faltering. This is one of those magical colors that looks good on everyone. You can style your colorful hair into an elegant bun like the one in the picture to get the most gorgeous wedding hair.
Curly Affair
If you're blessed with naturally curly hair, you are one lucky woman. Dyeing your curly hair a bright color may be a great choice if you want to try out something new. This youthful color choice will be the best decision you ever make for your hair.
Ocean Hues
This hairstyle hides within itself all the magical colors of the sea that you could possibly think of. If you love the ocean, then this hair color would be perfect for you. This hairstyle is a mix of various shades of blue that mix well together.
Muted Turquoise Blend
If you don't want anything too bright or too loud for your hair then this muted color might be the one for you. Done on Ash gray hair with hints of brown, this hair color is smart, classy, and unique.
Wavy Half and Half Hair
Sometimes it may be too hard to shortlist a single hair color when there are just so many options. If you can't pick between purple and turquoise, maybe try this amalgamation of the two?
Face Framing Twirls
The newest trend in town right now is coloring only the front part of your hair. These face-framing highlights look trendy, chic, and stylish and anyone can easily pull them off. Not ready to commit to a full color, try playing with these highlights first?
Colored Afro Dreads
Afro dreads have been in style for a long time now and they are formed by letting the hair lock on its own, without much outside influence.
By coloring these dreads in this shade you will get this head-turning hairstyle that is perfect for anyone looking to go a bit bold with their hair.
Aqua Dreams
Aqua colors are totally in trend and they're helping us live our summer dreams. This color will make you look and feel more youthful and alive. Dark roots add a little bit of drama to the look.
Bright Braids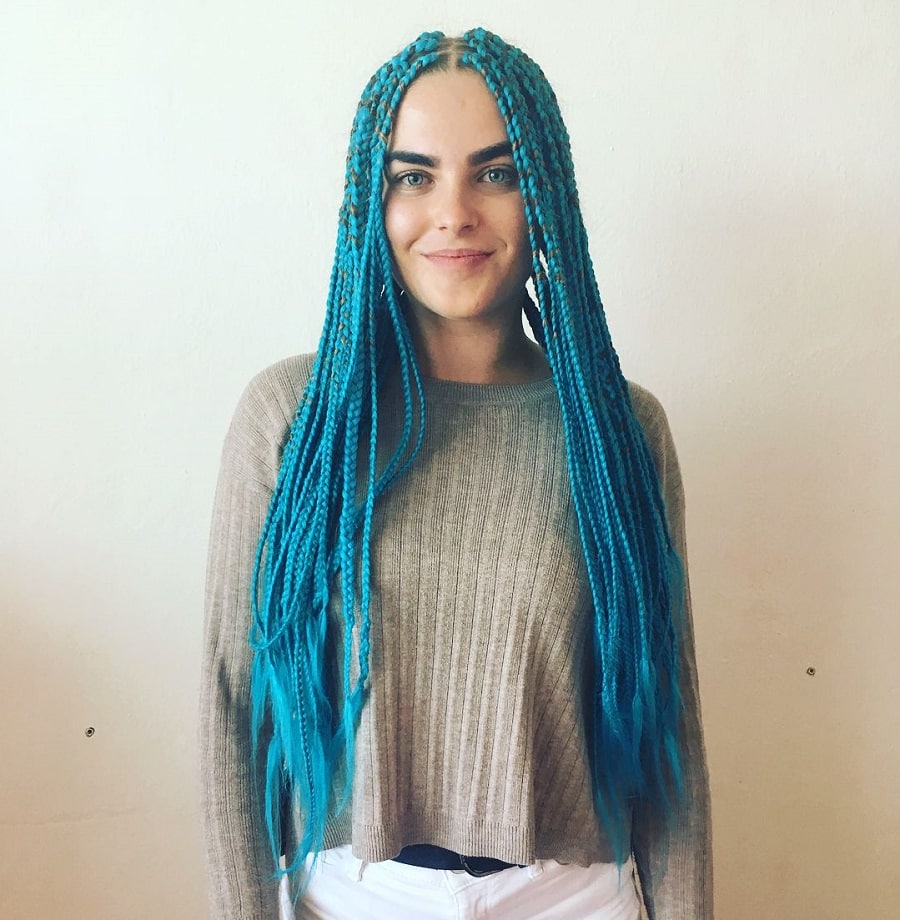 Coloring your naturally braided hair can be a bit too much for your hair. But if you still want a colored braided look, you can go for crochet braids. These bright-colored turquoise braids are to die for!
Rainbow Mullet
A unique way of spicing up your mullet is going absolutely crazy with the colors. Who doesn't love a splash of color? These shades of blues, greens, and purple are the perfect color palette for this season.
A-line Vibrant Hairdo
Thick hair can be styled in a number of ways, but it might be a bit difficult to maintain. The perfect way to deal with it is by going for a short chop. You can spice up a short look by going for a bright color like this turquoise one. This color makes the whole look elegant yet bold.
Messy Locks
The best way to incorporate this shade into your hair is by keeping it simple. This shade is enough on its own to make you stand out in a crowd. Some wavy curls can do wonders for this look.
Whatever hairstyle you decide to do with this hair color, long, short, curly, straight, you'll always be picture ready. If you want to spice up your Instagram feed, then these turquoise hair colors will do the job for you.