For a few years now there's been one dazzling color you can see on every list of the hottest trends. There are numerous rose gold hair color ideas that will ensure you're always keeping up with the times.
Some of these shades have a deep pink hue. Some are more champagne, orange, or even close to blonde. People with all different tastes will find a shade of this glorious hue that'll make them very happy indeed.
Trendy and Glamorous Rose Gold Hair Color Ideas
If you need some inspiration before you head out for a hair makeover, then you're in luck. We've got tons of stunning styles for you to browse below.
Balayage Ombre
You may not wish to put a rose gold hair color all over your head, so getting a balayage ombre is a good idea. It looks delightful on this simple long style with bangs. It's an easy everyday hairstyle to wear if you don't want something time-consuming.
Messy Short Look
An ultra-short and messy look is another easy everyday style for women who don't have tons of time to spend doing their hair.
It's nice and choppy with bangs that fall lightly onto the forehead. The shade is pink-tinged with dark roots visible underneath to add depth.
Elegant Voluminous Updo
Super light and chic updos look incredible when worn to formal events and parties. The pink tinge goes really nicely with the natural blonde of these locks.
Pull your hair up into a large rolled shape on the back of your head. Leave the sides and top with some volume to create a larger-than-life appearance. The free locks hanging by the face ensure the style is well-balanced.
Wavy Hair with Dark Roots
You'll always look good when you have dark roots paired with a vivid rosy tone. It adds so much dimension and a carefree vibe to your look. Topping it off with a nice hat as you see above is a great way to make a fun fashion statement.
Red to Rose Gold Ombre
Here's another rose gold ombre hair color idea you might like to try. The top starts with a vivid tone that's almost red. It transitions into an orange-blonde shade of your desired tone. It's a bolder look than many of the others you'll come across.
Red-Rooted Light Hair
As we said earlier, you'll look so good with dark roots paired with a lighter tone on your locks. Here's a unique twist based on that. The roots are dyed a deep red tone while the locks of the hair are a lighter shade. There's such a nice contrast here.
Curly Balayage
Balayage is really nice when worn in unique tones. You usually see them in natural colors, so it's a great chance that'll really captivate anyone who looks at you.
The transition from dark to light here creates a lot of visual appeals. The dark roots add yet another touch of depth.
Asian Bob with Bangs
Mixing this pinkish tone with a more orange-hued tone creates a really fun look. The brown-orange tinged section is only visible when you push some of your locks behind one ear.
It's a nice surprise that will make people do a double-take whenever they see your pretty bob with bangs.
Thick Curly Multi-Toned Look
Thick curls add so much life and fun to your hair. You can add to that by having multiple colors in it, too.
We start with a hint of dark roots that transition into a light brown tone with a hint of rose gold. This seamlessly blends into a pink shade with gold undertones.
A-Line Bob with Dark Roots
The rose gold hair color is subtle here and this is a good idea if you want a more natural look. It still looks chic alongside the dark shadow root growth at the top of the bob.
The A-line shape of the haircut is always so stylish so you'll look absolutely wonderful wearing it.
Chic Prom Curls
If you're looking for a pretty hairstyle for prom, then consider curly locks. Pull one side back a little and secure it with pretty pins that match your dress color and earings.
It's a simple style that looks way more beautiful thanks to the gold-toned color of the hair.
Long Shag with Bangs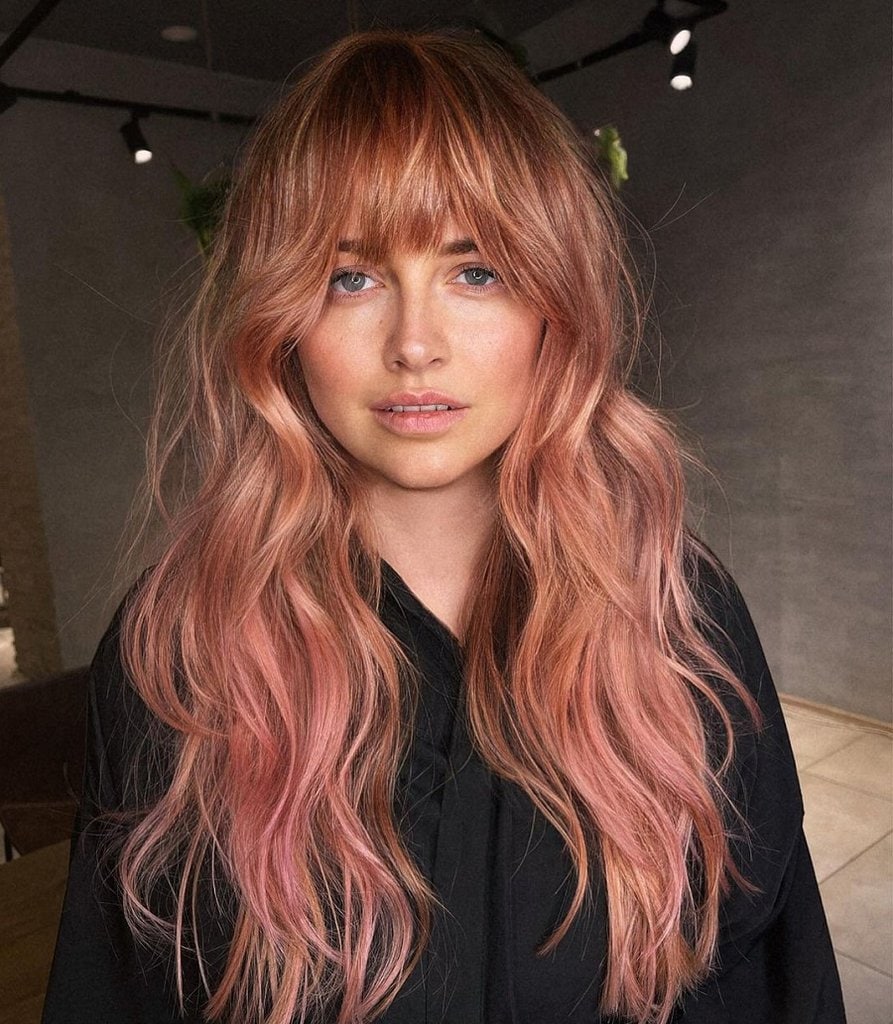 Bangs look delightful with a shag haircut as they round it out and add so much depth. They help frame your face really nicely, too.
Here the long shag is a little messy to give you an effortless vibe that screams "I just woke up like this." The color, however, makes it look more glamorous.
Razor Cut Bob
Bobs can sometimes get a little boring. You can make yours look nicer by getting a razor cut to make it appear lively. The deep pink tone with gold undertones also adds a touch of uniqueness.
Gentle Shiny Waves
A nice subtle wave can make a huge difference to your hair. It transforms your hair from dull to slightly lively to make you appear much fresher and more beautiful. The rose gold hair color here pairs nicely with a natural light brown tone.
Wavy Bob with Bangs
Fine hair in a bob can often look flat. Adding a wavy texture and thick bangs solves this by making your hair look more alive. The pretty, deep gold and pink colors also help distract from the fine look of your locks.
Straight Shoulder Length Locks
A simple and straight haircut with blunt ends somehow always manages to look so chic and glamorous. It's really easy to achieve and maintain at home so it suits women who aren't good at complex hairstyles. The color makes it stand out.
Long Locks with Curtain Bangs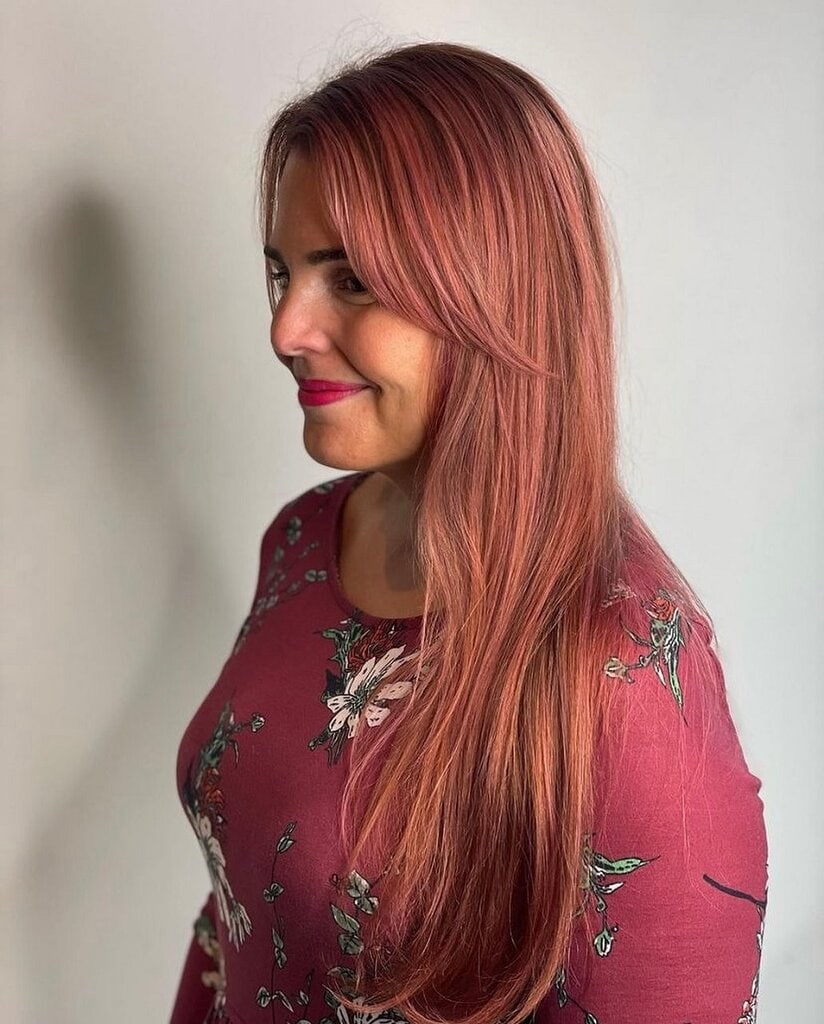 Solid shades of rose gold with darker tints are utterly divine. It's a unique all-over hair color that'll make all your friends envious of your locks.
The long length is another appealing factor. The curtain bangs then create a little depth so you don't look washed out.
Wavy Bob for Fine Hair
Here's another wavy bob that adds some life to fine hair. You really don't notice how thin the locks are until you take a closer look. It's a really nice and understated look.
Short Mullet
The mullet haircut is totally back in fashion. When it's paired with a color like rose gold it looks so thoroughly modern and undeniably chic.
It's a pretty short mullet that sits nicely on the shoulders at the back. At the front, it's got a uniform cut all around the head.
Chic Face Framing Highlights
Here the rose gold shade creates highlights on much darker lively locks. Most of it is concentrated towards the front to frame the face in an utterly stunning way. It adds a lot of dimension to hair that would otherwise be flat.
Did you enjoy exploring the many rose gold hair color ideas you can wear? You can style it in so many ways using vivid tones, light tones, and seamlessly blended colors too.
You'll never fail to stand out with a nice, chic color job like this. Pairing it with a haircut that suits your desires will make you look better than you ever have before.