Orange hair has a brightness and vibrance that no other hair color can quite capture. You can have a lot of fun with this hair color, as it stands out in any crowd, it pairs with other colors well, and there are so many shades of it to choose from.
Bright, dark, vivid, dull, the possibilities are endless. And you can play with them to your heart's content across a myriad of styles and other looks.
The best thing about hair is that you can always restyle it and recolor it when you get tired of your old look, so you can cycle through as many orange hair color looks as you like.
Orange Hair Color Ideas to Inspire Your New Look
If you're interested in dyeing your hair orange, stick around, because there are plenty of shades and styles below to give you inspiration.
1. Bleach Blonde Highlights
Bright orange hair color looks like this is so well done. Here it's perfectly paired with a yellowish bleach blonde look.
The blonde peeks out towards the front and underneath, and it's visible as the hair is brushed behind the ear. The color here is very pastel.
2. Braided Look
This look comes in the form of braids that still have bits of black showing through at the roots and high up in the braids.
The color makes this hairstyle stand out from similar, common braided looks. The brightness really draws the eye perfectly.
3. Half Up Hairdo
Not every orange hair color is as bright as the ones above. Here's one that looks a little more natural.
It has some dark roots showing where the top half of the hair is pulled back and up into a ponytail to keep it out of the face during a busy activity.
4. Vivid Striped Bob
Something like this one is an interesting look, as the base color is a very deep reddish-orange, and the main shade comes out as stripes in the bangs.
There are several shades here paired with some yellow ones towards the front of this very short bob.
5. Long Loose Curls
Loose curls are always a delightful look for the average day, and here they're made more vivid by a bright but muted color that looks wonderful.
The shade almost appears natural, but it's a little too bright to be a natural hair color, making it stand out.
6. Natural Wide Bun
A bun is the perfect casual look for everyday wear. It's a bun, but more effort has gone into it than the average bun.
It's directly on the top, loose, and very wide. Some nice bangs hang by the face. This is a very natural orange hair color, too.
7. Curly Updo with Sweeping Bangs
A light carrot-esque shade like this is a wonderful tone that's caught between natural and unnatural.
The curly hair is pulled back into an updo that has some curls escaping through the top to add some fun to the look. There are bangs sweeping across the forehead that end in curls behind the ear.
8. Eccentric Dreadlocks Look
Do you have a wild personality that you want to show off? This is perfect. The hair is in dreadlocks, and some are pulled into pigtails.
The colored hairstyle contains strands in various shades of red and similar colors, some of which are stripey, and it's decorated with large yellow flowers.
9. Thick Braid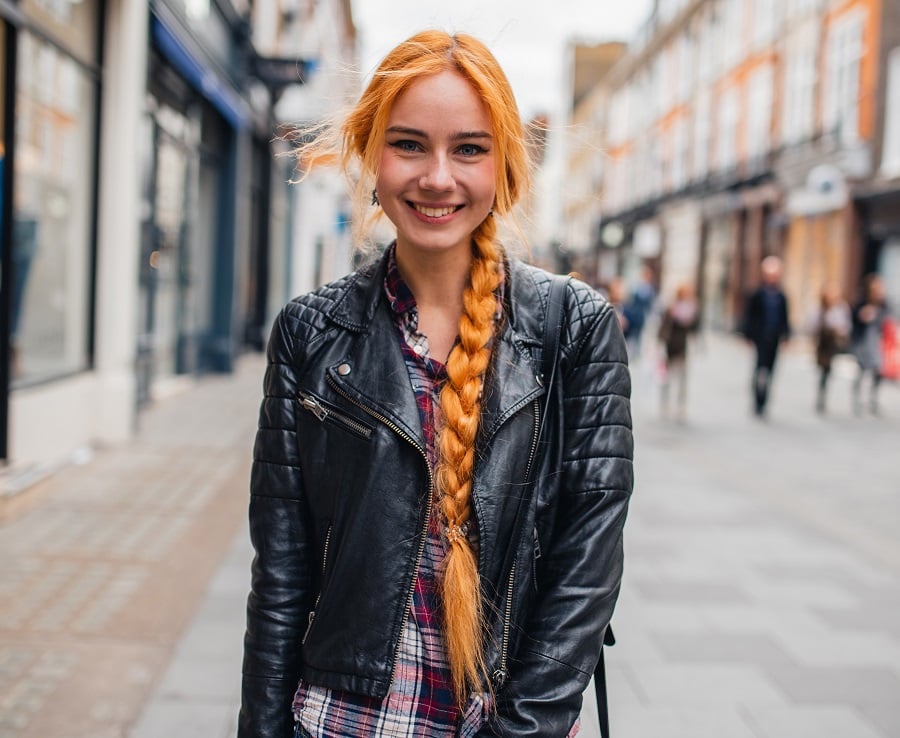 Here's an everyday look you'll love. The hair here is in an extremely long, thick, but simple braid.
The braid is done loosely and snakes its way over one shoulder, and some bangs hang long and loose by the face in this center-parted look.
10. Thick Bob
Many shades are very deep and closer to red, as seen here, but it's not quite bold enough to be red. The thick hair forms a classic bob that curls under the chin.
Thick bangs sit across the forehead about an inch above the thick, dark eyebrows.
11. Natural Curls
Natural looks are wonderful with this shade of hair, but this one is so bright and vivid that it almost looks like a dye job.
The hairstyle is also natural and great for someone with naturally curly hair. The curls are let sit in their natural shape, but the hair is parted at the side for a neater look.
12. Short Hair for Thick Curls
Rusty, burnt orange shades like this are common, so it appears very natural. The hair is extremely thick and curly and can be achieved naturally or with a perm.
It's very short and there's a lot brushed towards the forehead.
13. Vivid Red Look
Red is a very close shade to the one you're going for, but in bright lighting, you can see it's actually lighter than it appears at first glance.
The hair is parted at the side and styled into two long, low pigtails of brushed-out waves, giving the hair an interesting texture.
Hints of blonde go well with your desired shade. Here they're mixed in and can be seen in the right lighting.
The hair is parted out from the center of the head into thick bangs and loose, messy braids with lots of free strands. It's a wonderful look for every day.
15. Dreadlock Ponytail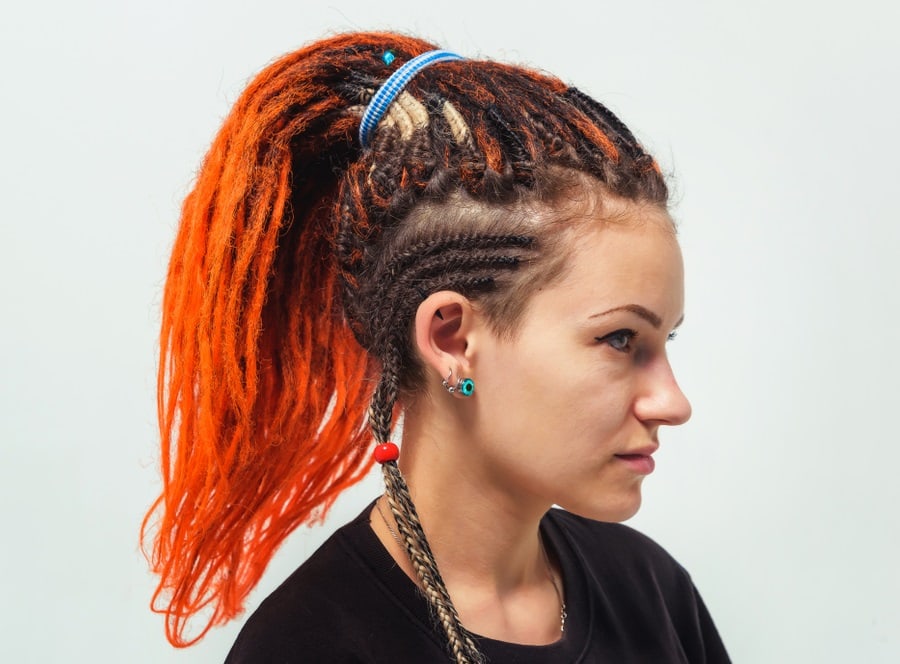 Dreadlocks give you an edgy, alternative look. In this style, they're paired with a bright, carrot color hair pulled back into a ponytail with a blue band.
Some dark and blonde pieces are braided across the side of the head and fastened with a bead. It's a unique, edgy, yet down-to-earth look you could try.
Did these orange hair color looks wow you? There are so many varying styles and shades above that one of them is bound to have taken root in your brain and made you discover it's the perfect look for you.
Let everyone see how happy you are with your new look, and they'll start seeing you as a brighter and bubblier person with it.
You're sure to give off the right energy when you look the way you like, so work for it, and learn to style and treat your hair with precision and care so you can keep your new do looking fresh.