Braids with bangs are a great way to add a cute accent to your hairdo. They are bold and beautiful and are suitable for everyday looks as well as for special occasions.
This hairstyle has redefined itself across the years and continues to be in trend. The variations in these hairstyles will surely make you stand out and are simple to style.
Whether you're looking for something casual and low maintenance or a special night out, braids work best for any occasion. In the list given below, you can find a hairstyle for every taste and hair length, and thus, choose the one that suits you.
List Of Braids With Bangs Hairstyle
Here is a list of braided bangs hairstyles that can give you a fabulous look. Here, we'll provide you with all the information about these hairstyles, such as the face shape or hair texture it goes well with.
1. Waterfall Like Braided Bangs
The waterfall-like braided updo is a great way to style your short hair. It will suit medium to thin hair and an oval-shaped face. You can get your locks a layered cut and brown highlights to give your style a messy and smart look.
2. Dutch Braided Updo With Long Bangs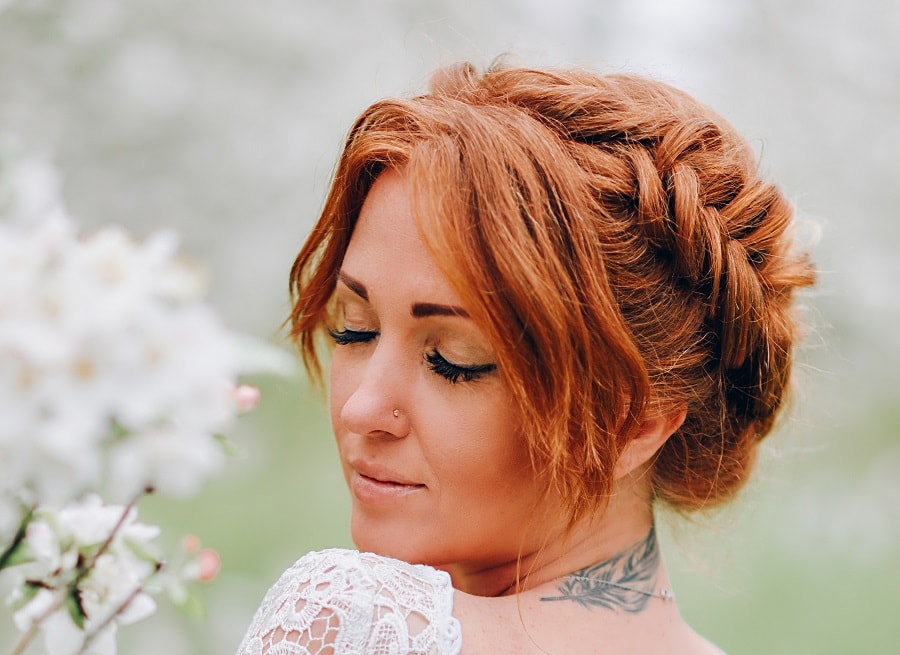 If you're looking for a party or summery fresh hairdo, then just go ahead with this dutch braid with bangs updo. The long bangs on the side will frame your face and save you from giving a flat look.
3. Loose Ombre Curls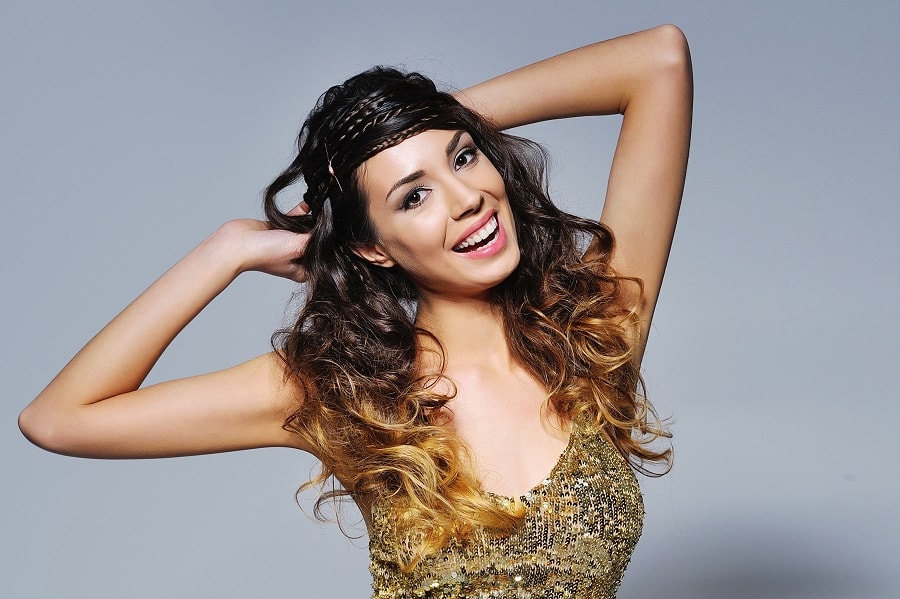 The pinned side-swept headband braids with curly hair are a great way to style your locks for a disco night. It will give you a youthful and fresh look. This hairdo will go well with medium to thin hair and an oval-shaped face. The bouncy curls with bangs will add volume to your thin hair.
4. Braid With Side Bangs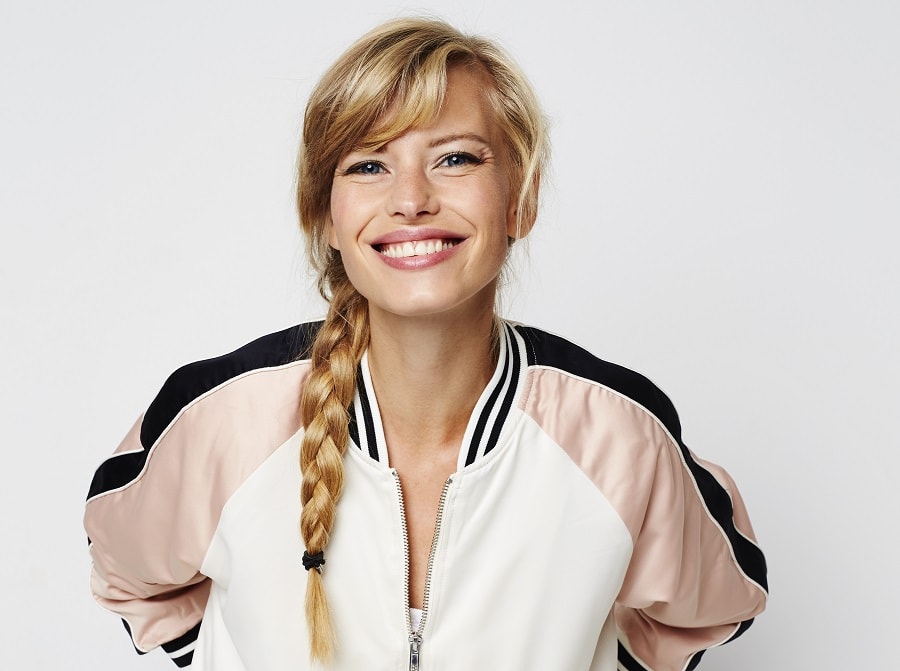 This hairstyle can be picked for getting a high school look. It will give you a cheerful and jolly look and suit medium to thick hair and a round-shaped face. This is an easy hairstyle and will go well with medium-length hair.
5. Curved Ponytail Braid
Another easy-to-style look with blunt bangs. It is a great way to get a neat and clean look that will bring out your inner beauty. It will go well with straight, thick, and long hair.
6. Mohawk Braid With Bangs
Another way to get a cool and astonishing look is to get this hairstyle You can either curl or give the rest of your hair a wavy look. The mohawk braid will add a dimension to your crown area and give you a perfect party look.
7. Fishtail Side Braid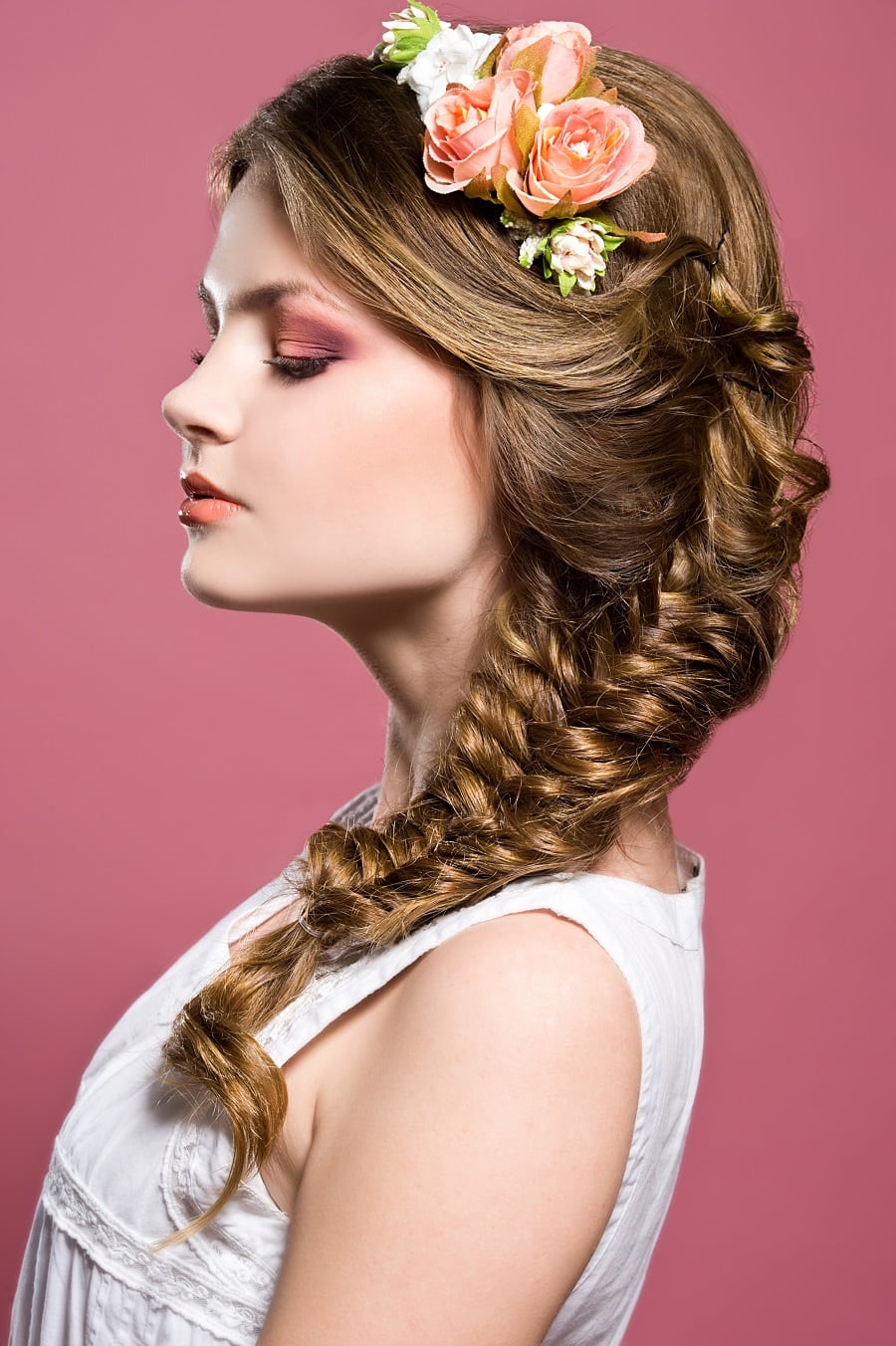 Want to get a prom night look? Then, just go ahead with this fishtail braid with long bangs. This will give you an amazing look that will accentuate your facial features. Moreover, you can add a flower accessory to make it even more beautiful. Try to make loose braids to get a voluminous look.
8. Fishtail Messy Braid
The messy hairstyle with side bangs will give you a smart model look. They are suitable for medium to thick hair and oval-shaped face. You can use hair serum to get your bangs a smooth, shiny look, and the messy braid will make your hair appear voluminous.
9. Zig Zag Design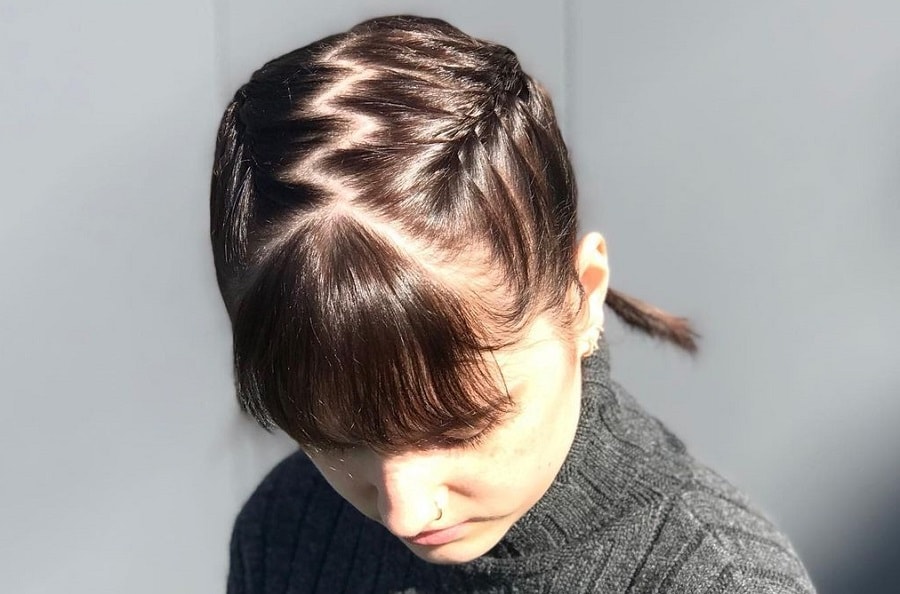 If you have short, thin hair, then zig-zag french braids are the perfect option to go ahead with. This style is best if you're looking for a tight intact, yet creative look. But, go for this option only if you have a little more time.
10. Dutch Side Braid With Open Hair
This hairstyle can be used for styling your long locks if you want to keep them loose. You can start by braiding your hair from the top of your bangs and bringing it down to mix it with the rest of your hair. You can make use of hair spray to set the unwanted loose hair.
11. Loose Side Braid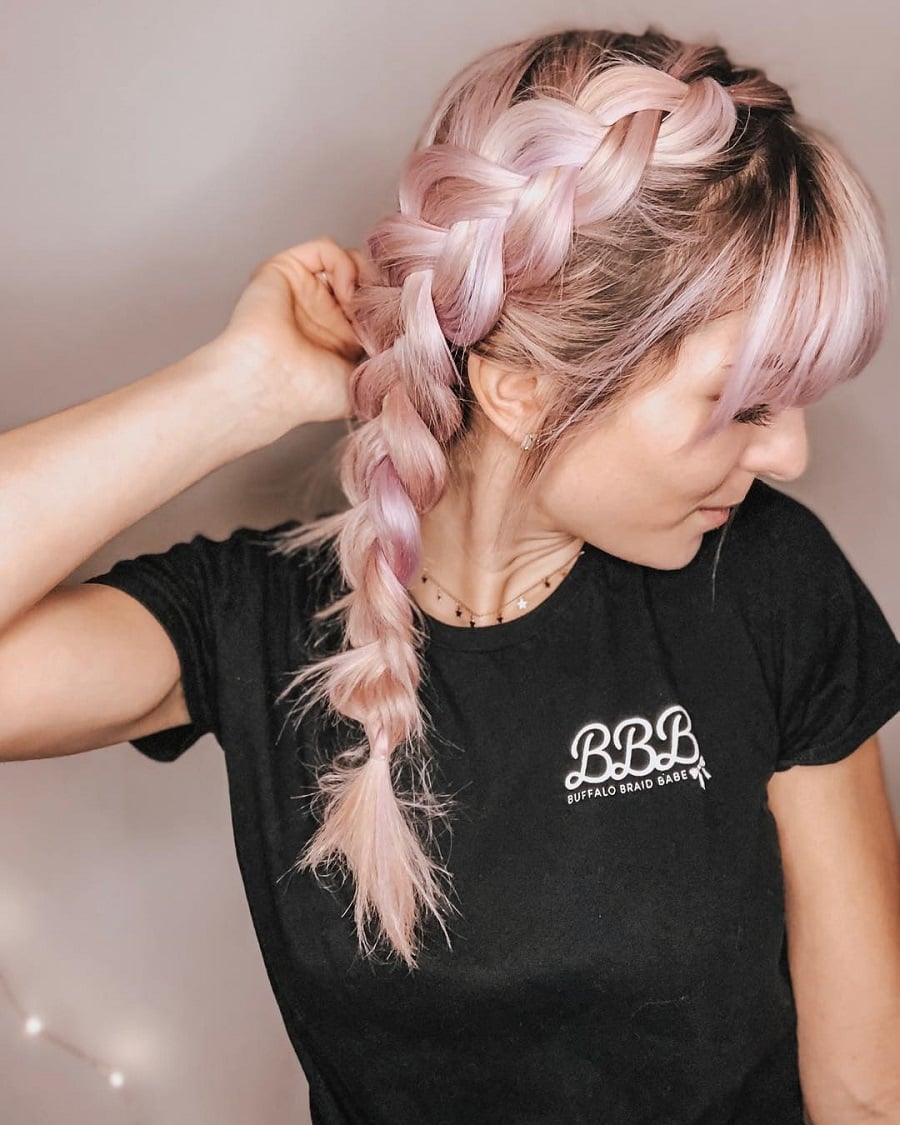 These bangs will look great, especially if you have colored your hair. The loose braids will cover the crown region, and the bangs will frame your face and forehead. This will create an eye-catching look and will go well with medium-length hair.
12. Side Swept Bangs
If you have thin hair and want to go for a schoolgirl look, you can opt for thin braids with bangs. It requires minimal styling and works best on an oval-shaped face. It is not at all complicated and is a quick way to style your hair.
13. Mini Braids in a Ponytail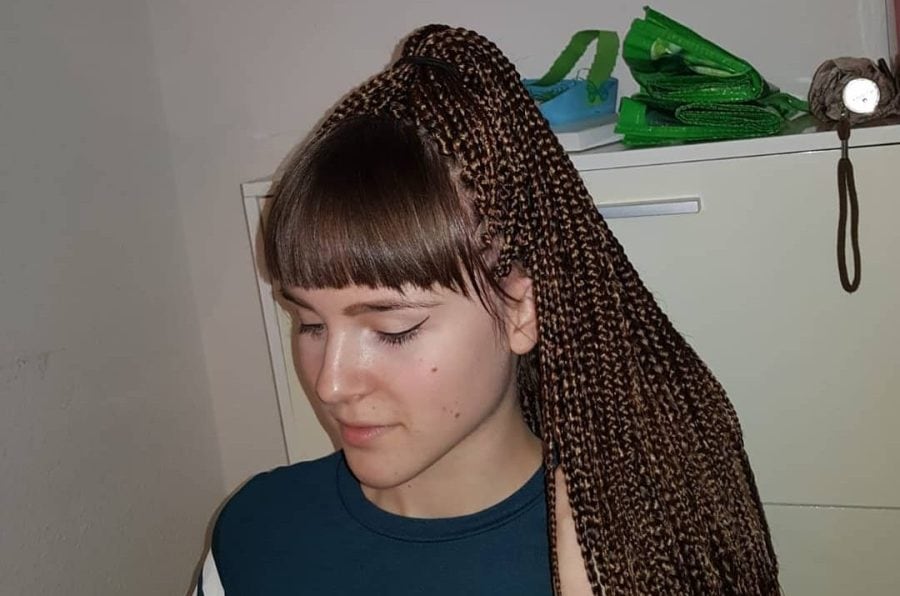 This is a bit complicated hairdo and requires more time to style. For this, you need to have long, heavy hair to create the perfect look. It will go well with a round or heart-shaped face and will give you an astonishing look.
14. Surprise Braid With Blunt Bob
This is another very unique style, wherein no one will know about your braid from the front. This unique hairstyle is a great way to show off your bob cut as well as your braid at the back and is one of the cool and daring looks.
15. Beaded Ends Box Braids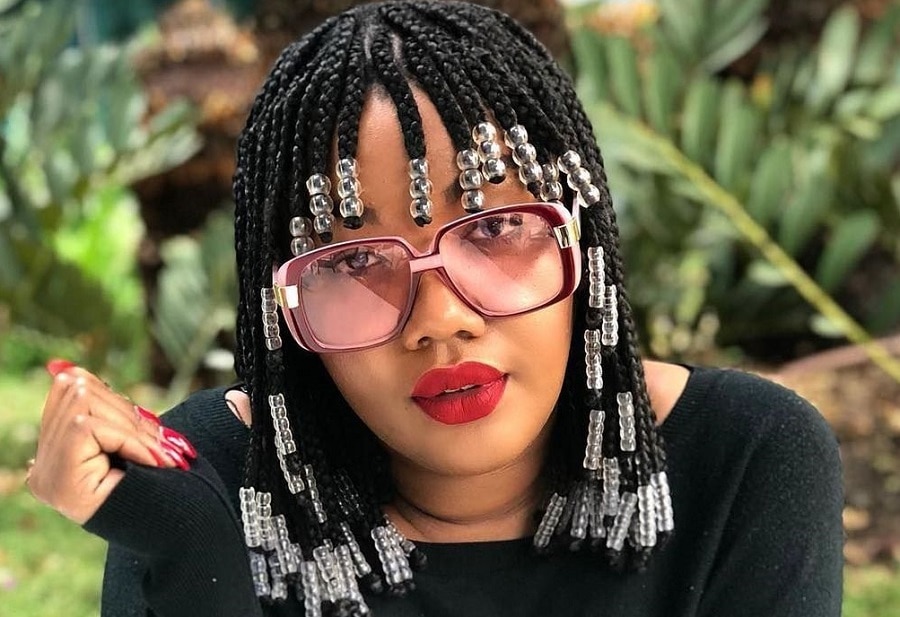 The hairstyle can be styled just like regular hair. This hairdo with braided bangs and adorned with beads is a cool way to style your locks, especially for black women. It's an enhanced look of Cleopatra cut.
16. Braided Bangs With Lob Cut
This hairdo is quick and super easy as it requires you to just braid the front section of your bangs. The rest of your hair is left loose. As the this hairstyle will leave your forehead exposed, it works best on an oval-shaped face.
17. Vintage Front Braid Updo
If you're looking for a vintage look, this braided updo is the perfect option. You can make an elegant loose braid from your bangs and tuck it at the back. This will create a crown-like structure and give you an astonishing look. Add some flower accessories and red lipstick, and you're good to go.
18. Loosely Braided Side Fringes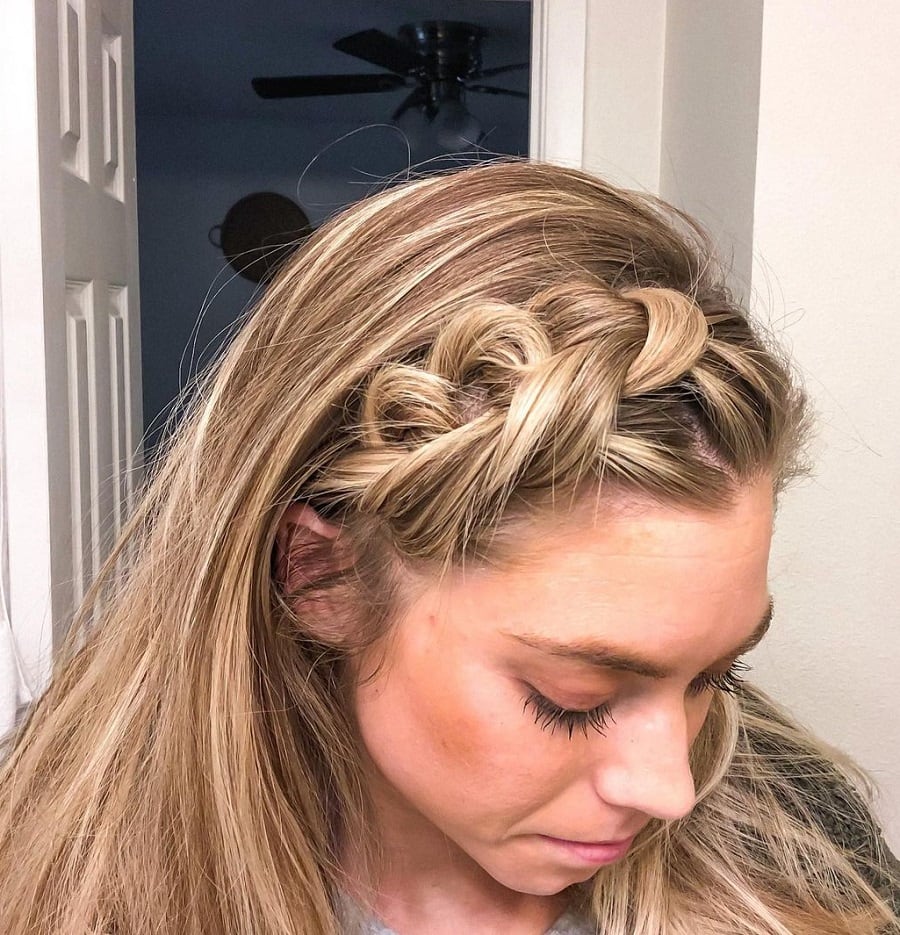 This is another hairdo that can go well with short as well as long hair. If you want to do something different that will fit casual occasions, you can go ahead with this style. This is a simple, classy, and pretty hairstyle.
19. Knotted Updo
The knotted two braids updo with bangs is another idea to go ahead with for a special event. You can start braiding hair loose and wide from the top, leaving the bangs. This style gives you a soft, gentle, and elegant look.
20. Braided Bun With Bangs
If summers are hot and you're looking for a good hairstyle that'll fit any occasion, this is the best option. This hairdo will look perfect even during the hot summers and best suit an oval-shaped face.
21. Red Double Braid With Blunt Bangs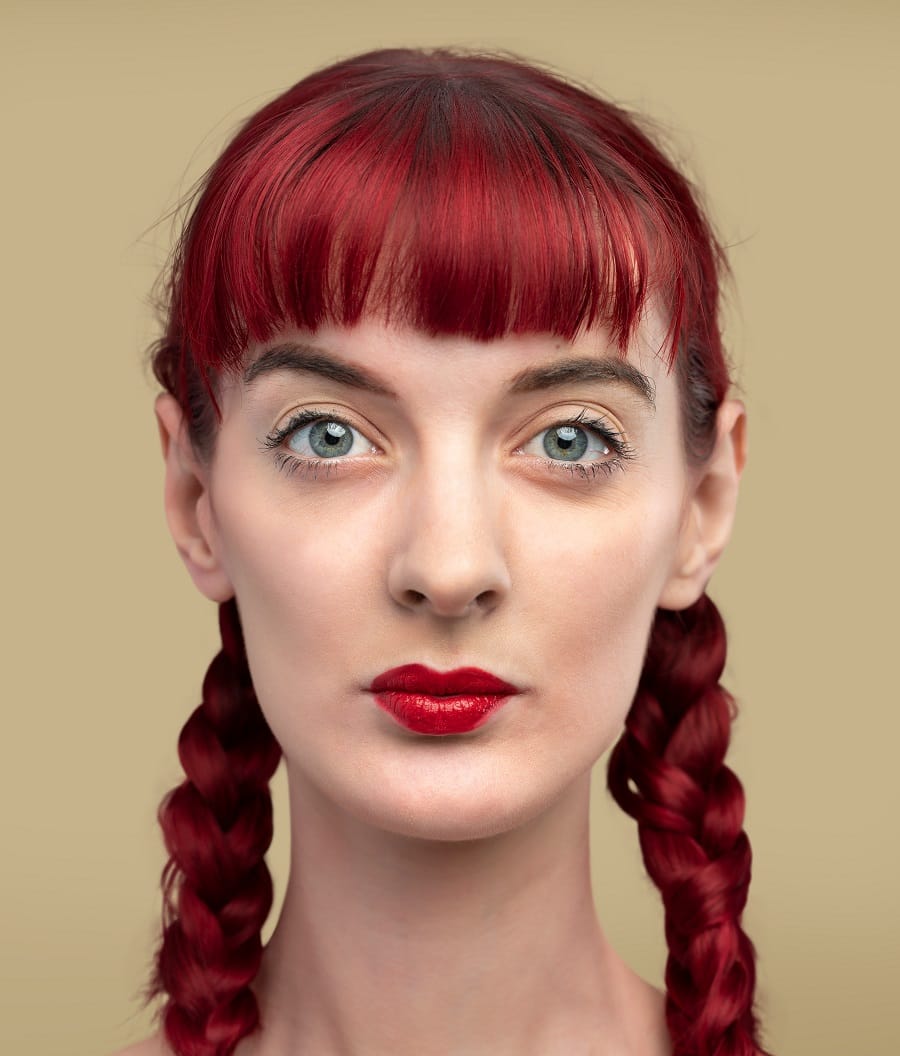 You can try this bold look if you're not afraid of experimenting with colors. Thus, if you want a simple, cool, and sporty look, this is the perfect option. This is a hassle-free style that stays intact for a long time.
These are some amazing hairstyles that can give your hair a unique look. The braids with bangs have become a popular hairstyle these days, and to have a good braid, you must have medium to long bangs.