There was a time you couldn't go anywhere without seeing an abundance of curtain hangs hairstyles. They were especially popular in the 90s and early 2000s, and it seems the time has come for their fashion resurgence. Nowadays more and more people are adopting the curtain look!
These bangs get their name from their curtain-like appearance. The curtain bangs part and frames the forehead, often with a middle parting.
However, side partings and other variations are becoming more common in modern styles. This makes the style more appealing to a larger number of people, so let's take a look at some styles.
Modern Curtain Bangs Hairstyles
There are so many different types of hairstyles that it may feel a little intimidating to try and comb through them all. Check out this list we've compiled to help you get started.
Blonde Curtain Bangs
You can never go wrong with a bob haircut. However, regular bobs with bangs can get a little boring. Get some layers with choppy ends, and highlight your roots with a turquoise color.
Classic Middle Part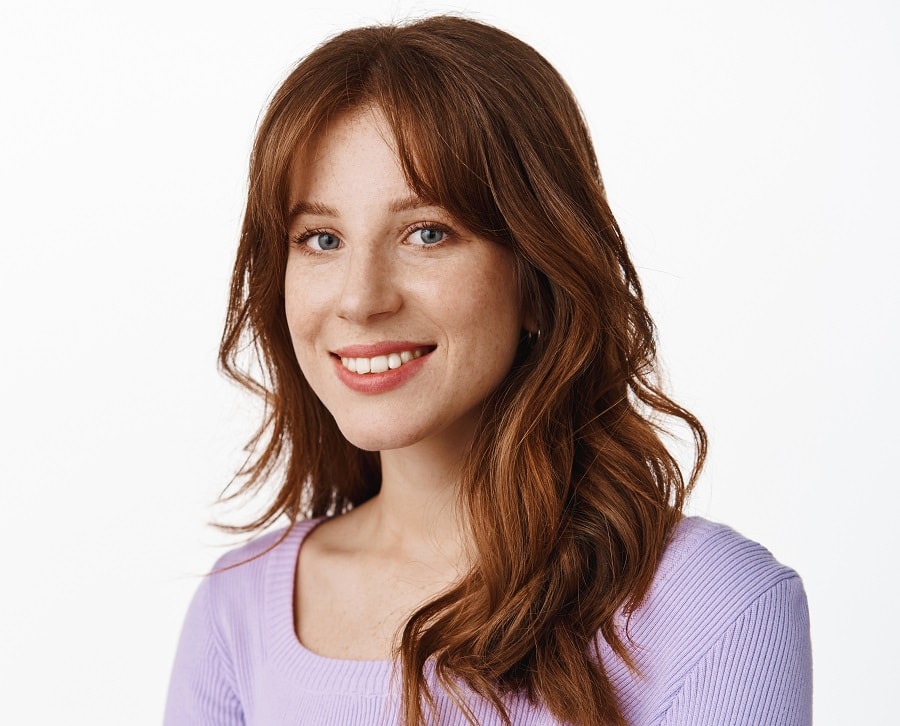 These types of bangs are most well-known for being worn with a middle part. Each side of the bangs is swept to the side to blend in with the rest of the long, wavy brown locks.
Long Shag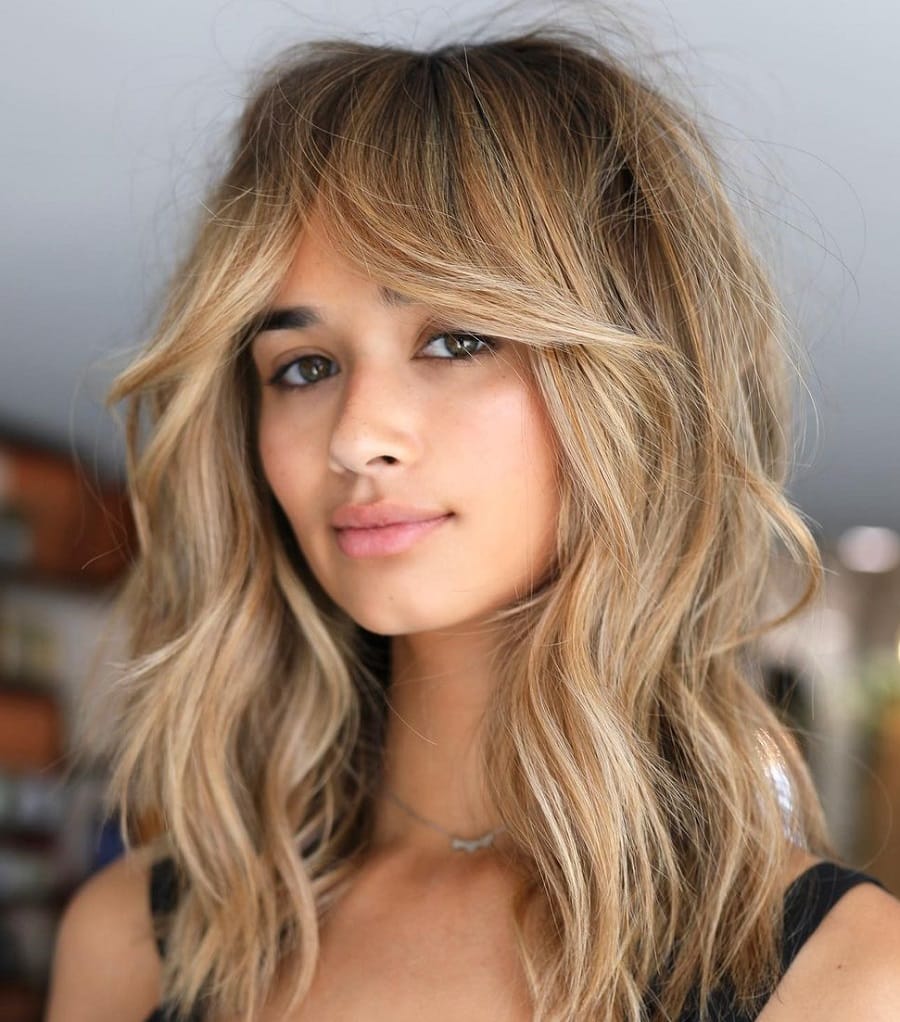 Shag haircuts are also back in style. Wear your shag along with lots of texture and movement and make the curtain bangs a prominent feature in the hairstyle.
The gap between the sides of the bangs is minimal, and the ends of each side are styled into a fine point that stands out from the rest of the haircut.
Wavy Bob
Women with fine hair should adopt a wavy texture so their hair looks thicker. Wear your hair in a bob so the thinness of the strands is less obvious.
Ensure your curtain bangs are shorter than the rest of your locks. Cheekbone length is a good length for them to frame the top of your face.
Burgundy Waves
Would you like a haircut that will really stand out? They consider getting burgundy red tresses.
Keep most of your locks straight but waive the ends of them so there's a little more life and movement to your haircut. Keep the bangs pretty short so they're very distinct from the rest of the haircut.
Colored Bangs
Do you want your banks to stand out even more from the rest of your hair? Dye them! This muted pink tone goes well with the natural-looking brown of the rest of the hair.
There are a couple of strands dyed a more vivid color and the underside of the hair, too.
70s Inspired Look
Curtain bangs were also quite common in the 1970s, so this star plays homage to looks from that decade. The fringe covers most of the forehead with a very small gap between the sides.
It fans away from the face and stands out from the rest of the face-hugging wavy haircut.
Blonde and Brown
If you're seeking a haircut with a lot of depth, then consider getting a head full of blonde highlights with dark, almost-black brown visible underneath.
Let the hairdo hug your face and wear it in a wavy texture. There should be a minimal gap between each side of your curtain fringe.
Choppy Bangs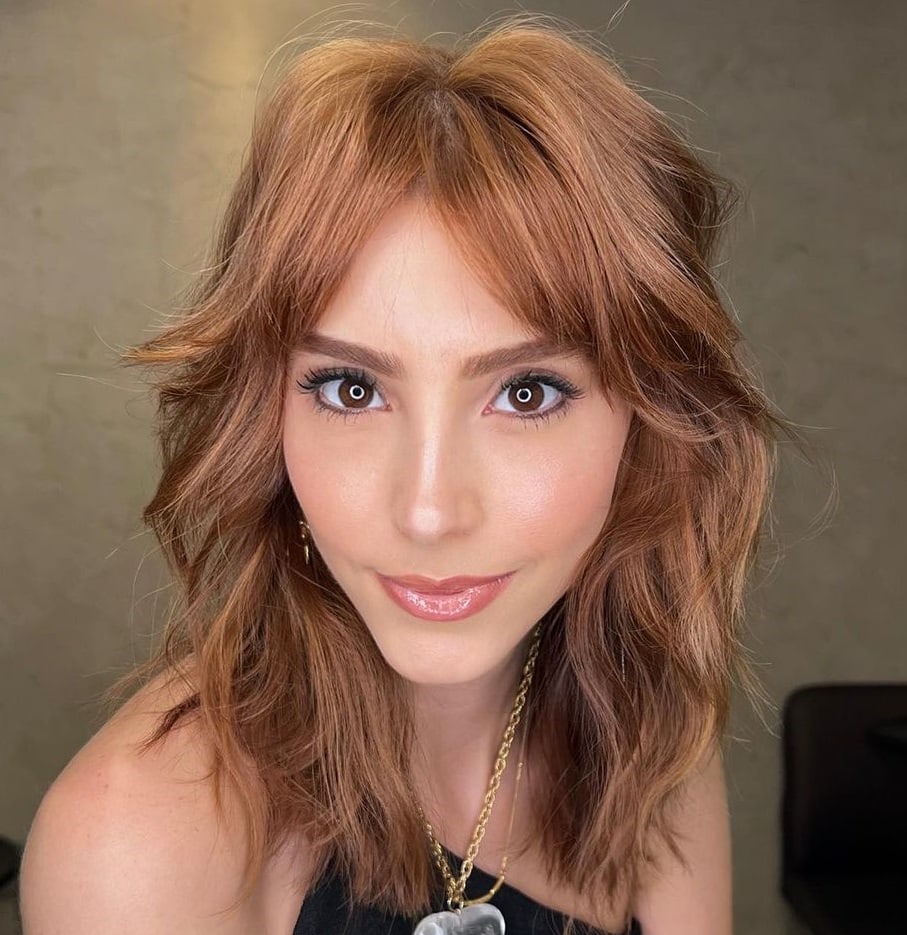 Choppy haircuts always have a lot of natural movement in them. Focus the choppiness in the bangs area to help draw the eye to the top of your features.
A subtle wavy texture will help enhance the overall dynamic appearance of your look.
Long Layers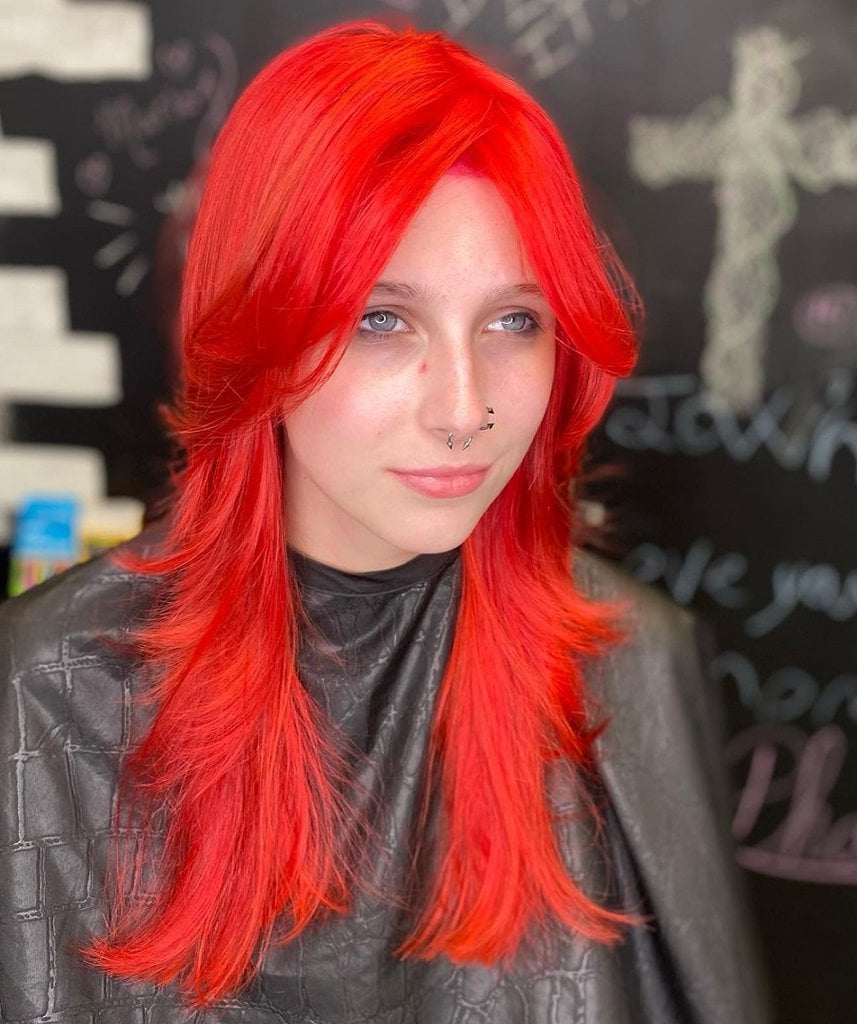 Long layers with bangs always stand out, especially when the ends of each layer are fanned out as seen here. The long layers also help tie in the shape of your bangs to the rest of your haircut.
If you want to stand out further then dye your hair a unique color like this fire engine red shade.
Long Waves
Long, wavy tresses suit oval faces well as they help longer faces look shorter. It's also easy for curtain bangs to blend into wavy haircuts.
Women with naturally wavy hair will find wearing this hairdo easier, but it can also be achieved with styling tools.
Messy Layers
As we said earlier, long layers always stand out a ton. Here the layers and the top of the hair are made a little messy Which is quite a popular look these days.
The tresses are straight and pretty thin so it's an easy look to maintain.
Red Bob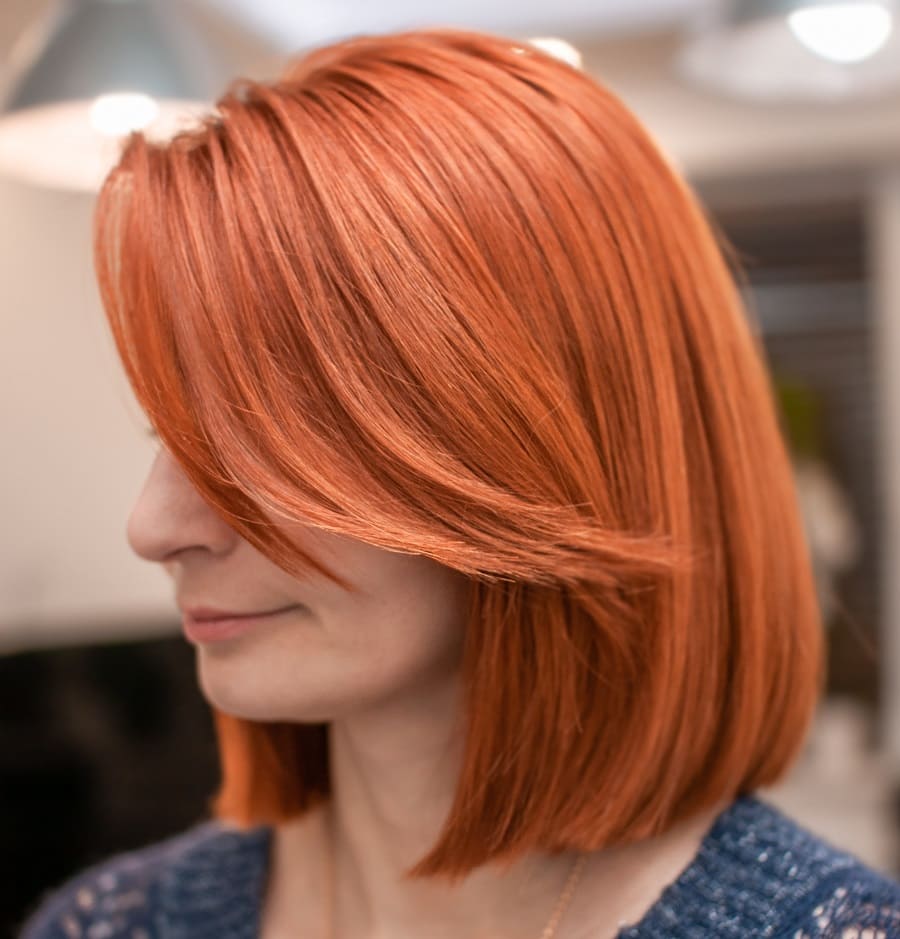 Would you like to make your Bob stand out a little more? Dye it red, as this color is always vibrant and eye-catching.
Wear your bangs about half the length of the rest of your hair and make sure they're thick. This will make them a focal piece in your hairdo.
Long Bob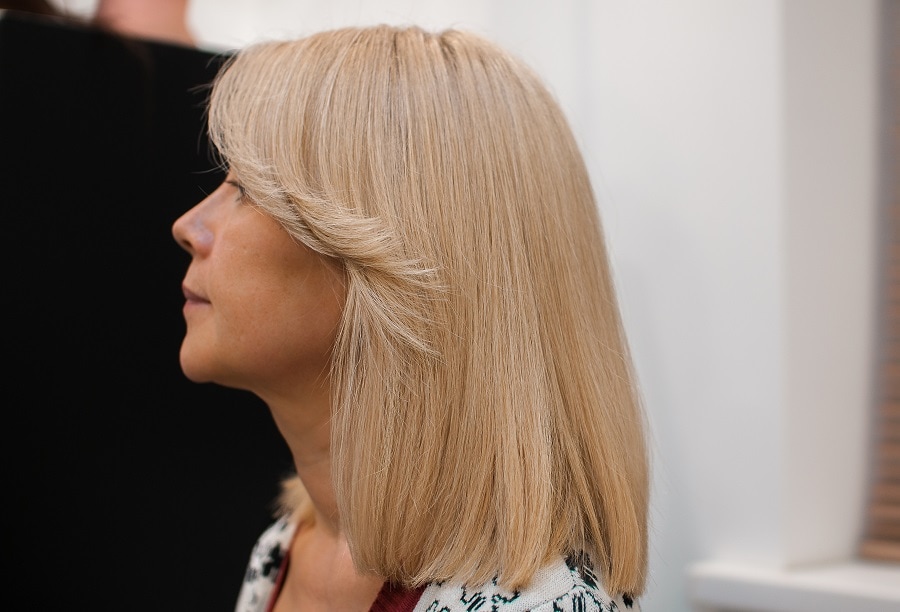 Some women may prefer shorter haircuts, but they may think a bob is too short. In these cases, long bobs are a good choice.
Wear your tresses straight and keep all the texture at the ends of your bangs. Feather out the ends to ensure your curtain bangs stand out from the rest of your hair.
Highlighted Bangs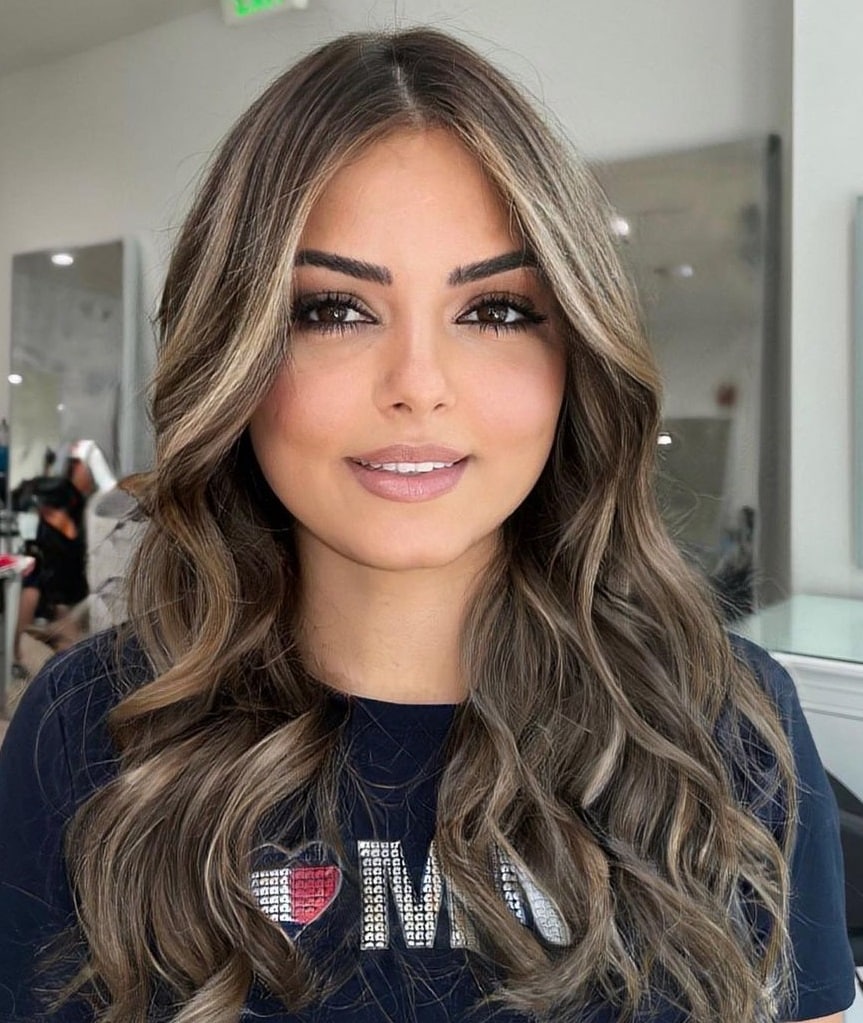 When you wish to get highlights, getting them in your bangs is always a good choice. They'll help draw a lot of attention to your face, and they'll also help define the shape of your haircut.
Long Bangs
Here Is another haircut that has the bangs as the focal point. They're teased out from the head so they create volume and a face-framing effect.
The rest of the hair is bob length and curls in under the chin.
Graduated Haircut
Graduated haircuts have the hair start shortest of the back and get gradually longer towards the front. They're most commonly found in bobs so seeing it in a longer hairdo will have a lot of heads turning in your direction.
Most of the volume here is in the bangs and their curving shape stands out from the bone-straight texture of the rest of the hair too.
Shaggy Bangs
Curtain bangs that have a shaggy shape can really enhance your haircut. The rest of the tresses are long and wavy with subtle, light highlights on the top that become less subtle towards the end.
Combining the shaggy look on top with the non-shaggy look and the bottom makes for a haircut that's uniquely you.
Colorful Waves
A wavy texture and lots of different colors in your hair will always draw people's eyes. Start with a light blonde base and add different colors to your fringe and to the ends of your hair.
Blonde Balayage
If you want to create a haircut with a lot of depth, then get a balayage. The shape of your curtain bangs will also add a lot more depth to the look.
There are more curtain bangs haircuts around today than there ever were before. Many of them still take a lot of inspiration from the 90s and even the 1970s, too.
However, lots of them have also been modernized by adding different colors, currently trending hairdos, and more. Decide which type of aesthetic you're seeking, then pick a haircut from this list and head to the salon!