Should you get bangs, or should you not? It is a difficult question, but if you say yes, that's nothing next to the classic dilemma of choosing the right type of bangs for your face shape. We all are aware of the magical look transformation that bangs can initiate.
The key to finding the best bangs hairstyle for different face shapes is determining your face structure since bangs will always make for a winning style. A professional hairstylist can help you make the right decision, but it's always good to have some personal research handy.
Best Bangs Hairstyles for Different Face Shapes
With all our hairstyle inspirations below, you no longer need to keep your forehead empty.
Bangs for Round Face Shape
Bangs are an incredible option for women who want to add width to their round bone structure. Take a look at some popular bangs styles for round faces.
Auburn Wispy Bangs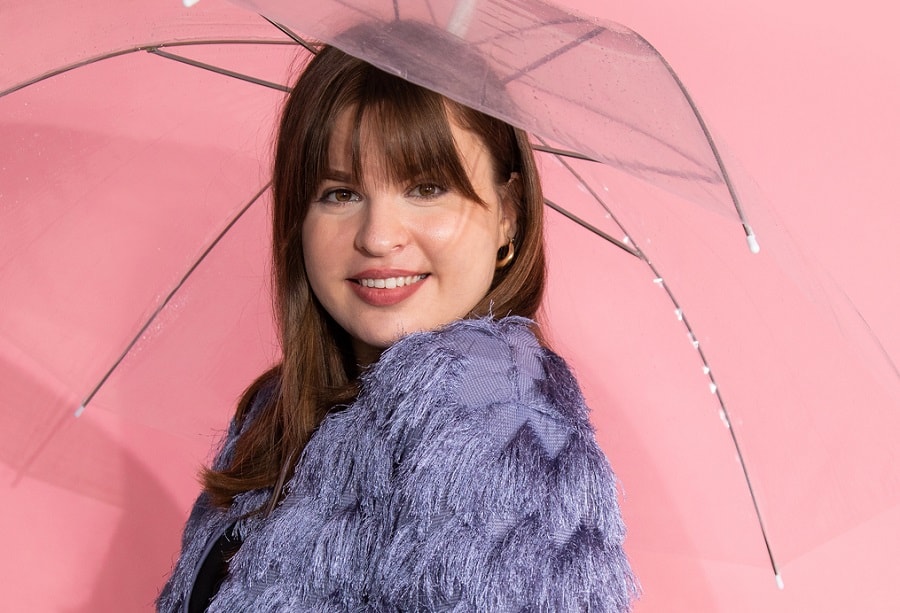 If you are apprehensive about chopping your hair too short, this layered style with wispy bangs is a trendy alternative for a round face.
This hairstyle will also enable your thin hair to look denser. The auburn hue will complement your peaches and cream complexion.
Thick Blunt Bangs
If you love bangs but don't find the fringe look with gaps in between appealing, this blunt bangs style is for you.
The long, thick hair ensures uniform bangs covering the eyebrows for an adorable, doll-like appearance, and using a round brush while blow-drying will enhance the hairstyle.
Medium Brown Bob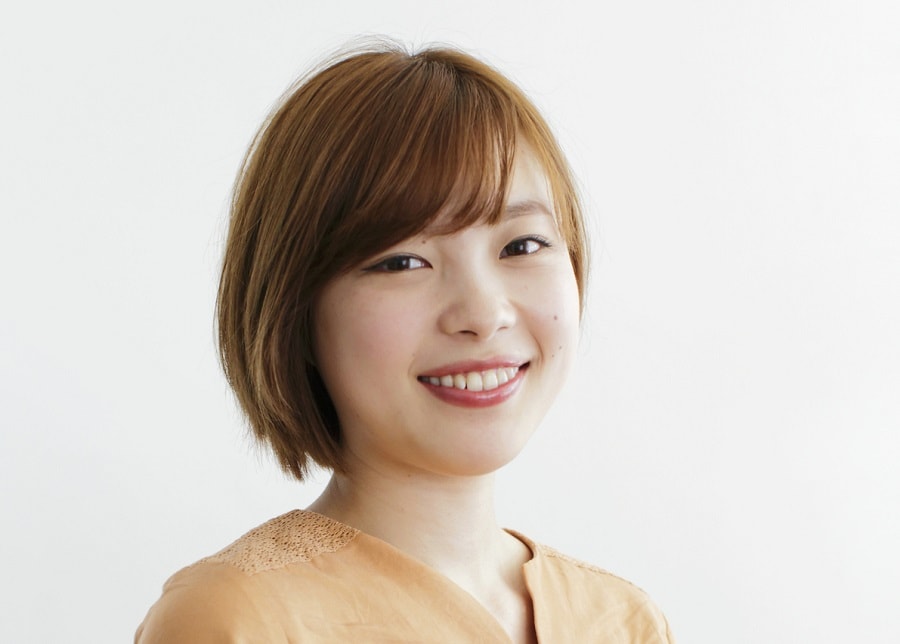 This cropped hairdo with side-swept bangs is a great way to look more youthful and charming.
The medium brown hue of the bob suits those with pale skin tones very well. This style does that for those wanting to cover their forehead without a heavy look.
Choppy Short Bangs
Add some dimension to your round face with choppy short bangs. This short dark brown bangs hairstyle barely reaches your shoulders and covers your ears. It's amazing how this hairdo accentuates your slightly fuller features.
Dark Fringe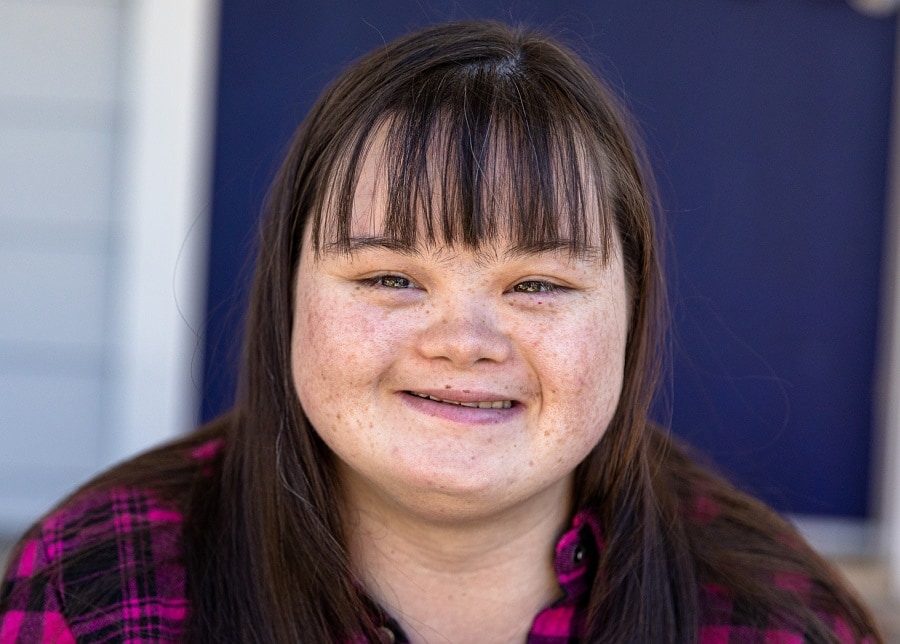 Perfect the girl-next-door look with the fun addition of see-through bangs. This mid-length style cutely frames your round face with bangs. However, the dark brown tone of the hairstyle helps to add some level of depth.
Bangs for Oval Face Shape
With an oval face shape, you don't need to think twice about choosing a bangs hairstyle because of its versatility.
Dark Golden Blonde
Get your glam mode on with this long straight hairdo with slightly curved blunt bangs.
Voluminous styling tools will help you achieve a more top-heavy look. The dark golden blonde hair color with subtle highlights will make you look genuinely enthralling in a party setting.
Fiery Red
This fiery red hairdo will allow you to make a strong statement wherever you go! The incorporation of the middle part bangs goes along very well with the oval face shape since it has a softening effect.
Wavy Hairdo
Long straight hair with full wispy bangs rightly accentuates the appeal of an oval face shape.
The intense brown color of this hairstyle with maroon undertones embodies a feeling of richness. Together with the kohl-rimmed eyes, this is a compelling party look.
Electric Blue Bob
For those who love experimenting with color in their looks, go for this electric blue structured bob.
Here, the choppy bangs are longer at the temples of the head while shorter in the middle to create an illusion that perfectly complements the oval face shape. The bob has a slight asymmetrical touch, making it look chic.
Golden Mess
Embrace the country-girl aesthetic by not brushing your hair properly and creating a tousled down-do with your wavy hair.
The golden blonde locks add a feeling of everyday luxury to the short bangs hairstyle. These face-framing strands fall in a subtle way to reinforce the volume quotient in this hairstyle.
Bangs for Square Face Shape
For those with a square face shape, bangs that can de-emphasize the strong and angular jawline and pull your eyes up lightly will be highly recommended.
Dark Straight Bangs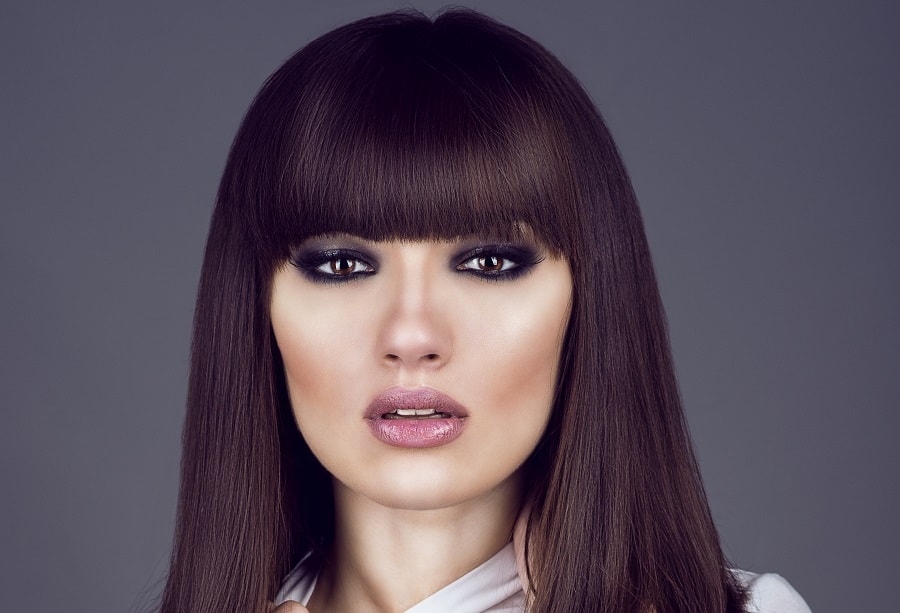 Long straight hair with full blunt bangs rightly accentuates the appeal of a square face shape.
The intense brown color of this hairstyle with maroon undertones embodies a feeling of richness. Together with the kohl-rimmed eyes, this is a compelling party look.
Punk Rock Vibes
When fall starts to set in, this bright red undercut with blonde sides and asymmetrical bangs will turn out to be a hairstyle that's impossible to ignore. The darker highlights at the top of the head boost the punk rock factor of the style.
Ashy Medium Tone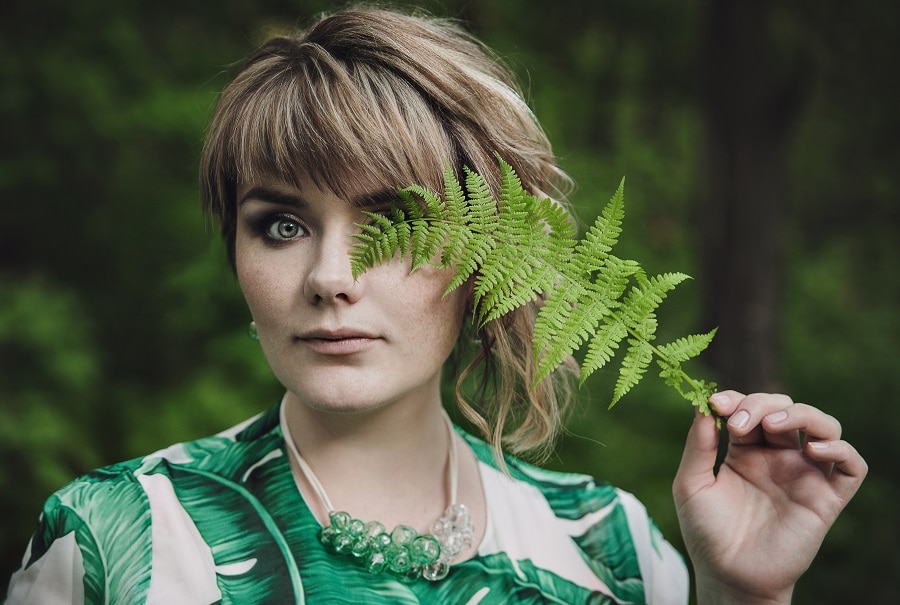 This ashy medium blonde side updo will be an incredible option for a more indie bangs hairstyle. The partly undone effect and choppy bangs in this hairdo create a strong earthy aesthetic.
Dark Layered Lob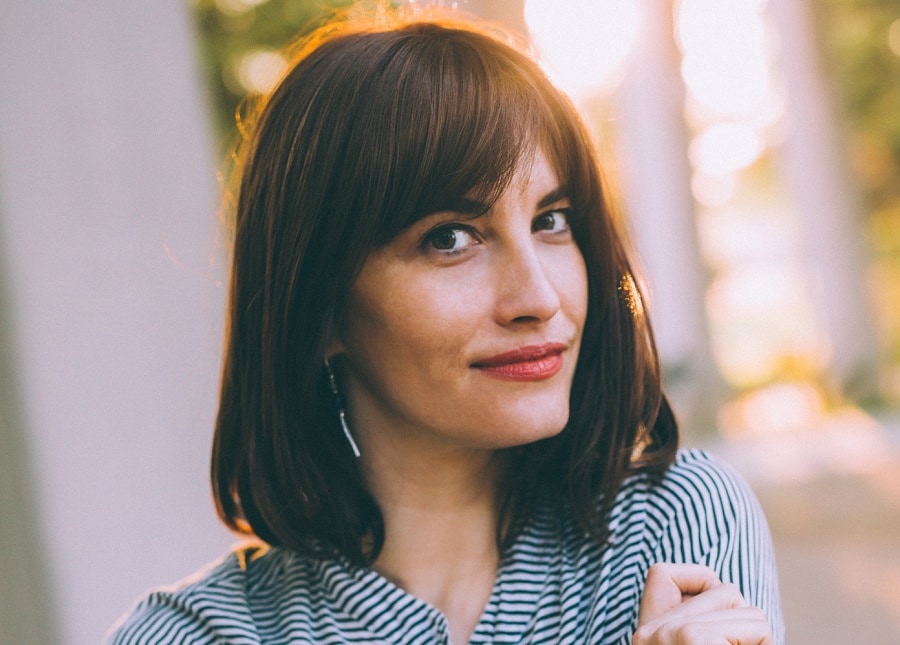 A square face is one of the best face types to pull off layered bangs.
This dark-toned layered cut is suitable for middle-aged women looking for a somber style. When out in the sunlight, this bangs hairstyle will look beautiful.
Preppy Pixie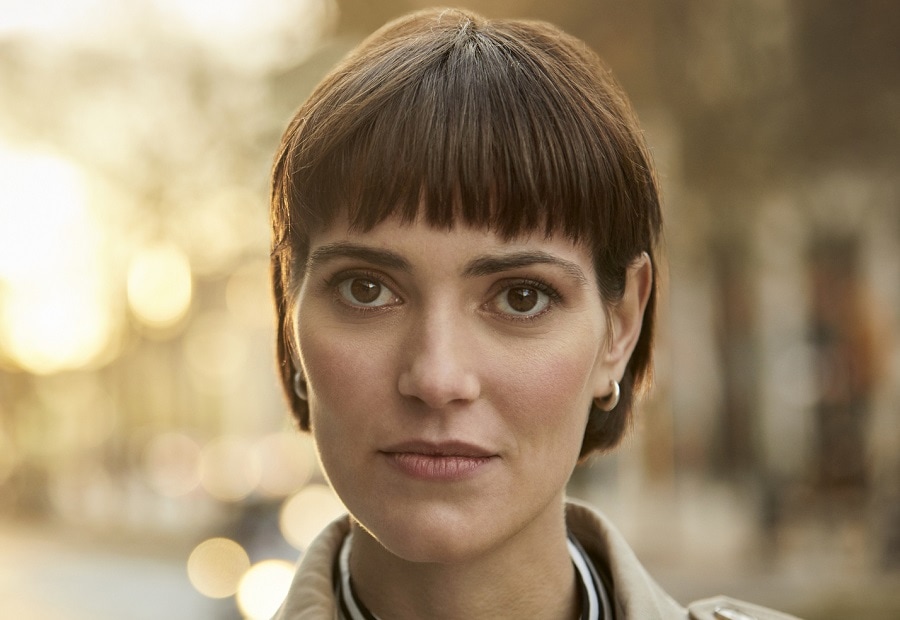 We have you covered if you want a very short hairstyle with bangs!
This chocolate brown pixie cut is a preppy hairstyle that will make you look young. Since this hairdo doesn't cover your ears, you can sport some small golden hoops.
Bangs for Long Face Shape
Girls with long face shapes love to wear bangs, especially curtain bangs because they make your face look shorter.
Platinum Gray Bob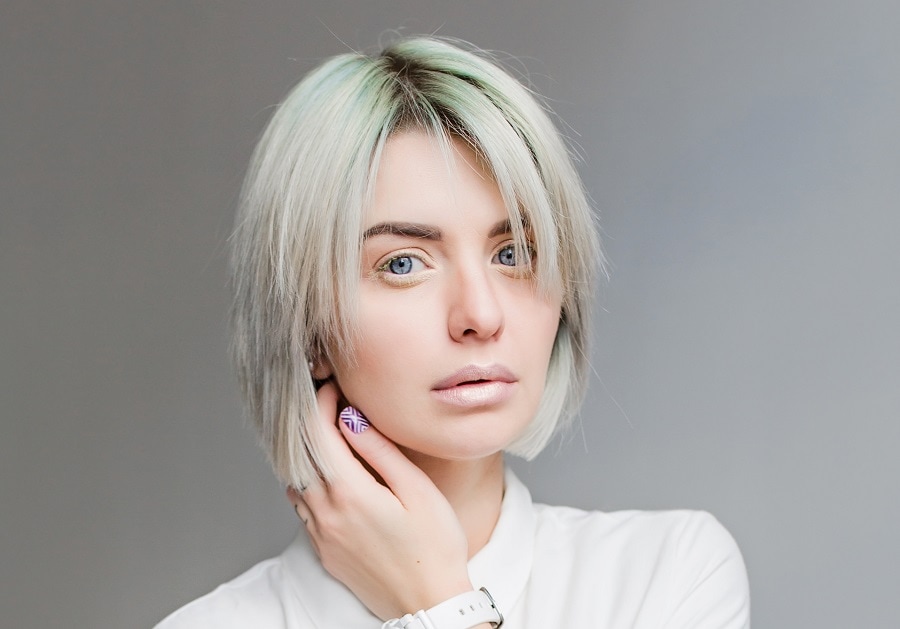 Lightly textured cropped platinum bob with choppy bangs can quickly spruce up your look. The center parting aids in creating the effect of a horizontal fullness on this long-face shape.
Long Violet Hair
Let your crazy and wild side out of the cage with this vivid violet hairstyle with subtle highlights of the same violet tone. The side bangs make the hairdo more voluminous and dense with your long face.
Highlighted Top Updo
This stylish top updo will come to your rescue when you are tired of keeping your hair down.
The medium brown highlights in the long side swept bangs to create an exciting contrast. Pulling out some strands from the side and front will make this hairstyle appear more effortless.
Natural Blonde Bob
With the onset of summer, we can always find short hairstyles that are trending.
This natural blonde style with wispy bangs will look flattering on longer face shapes. Go for some natural makeup with this hairdo to maintain a neutral and clean girl aesthetic.
Bangs for Heart Shape Face
With a heart face shape, bangs will be your new favorite way to style your hair!
Platinum Blonde Shade
The blonde color with bangs is always a killer combination for heart-shaped faces. On first look, the bangs appear blunt, but there's a little space on the side where you can peek at the forehead.
Wavy Pixie with Bangs
This vibrant ginger hue will take your ginger hair color game to the next level.
This pixie style with bangs and waves has a boyish charm that looks cool on heart-shaped face structures. The side-swept bangs suit the look overall and make the hairdo defined.
Long Jet Black Hair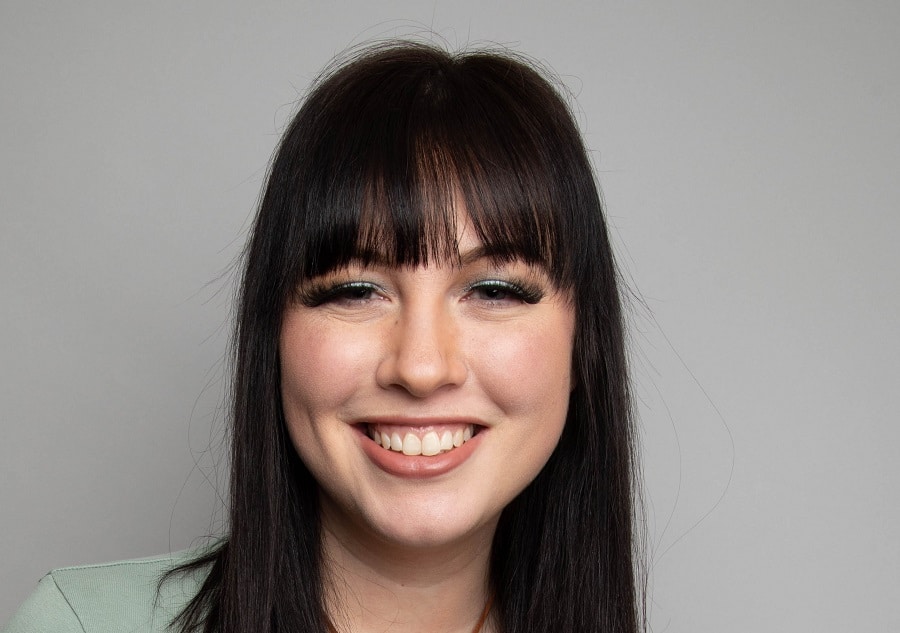 You must try out this jet-black straight cut for a thick bangs hairstyle that goes well with heart shaped face.
This hairdo is suitable for everyday wear in high school, university, and workplaces that do not have strict dress codes.
Bangs for Diamond Face Shape
Diamond Face shapes are pretty rare to find, but the balance in this face structure with a forehead and chin of the same width makes it great for some bangs styles.
Blonde Balayage Hairstyle
Natural voluminous curtain bangs on a center part are a no-brainer for diamond shaped faces. The loose fall of this hairstyle brings out the cheekbones to make the face appear more oval.
Brown Layered Lob
A side-parted layered bangs hairstyle gives a diagonal direction to the diamond face and looks fabulous.
To achieve this style, blow dry your hair soon after your shampoo and use some holding or texturizing hair spray for a bouncy finish.
Sleek Straight Hair
You can never go wrong with this simple straight, wispy bangs hairstyle for all women with long hair. The bangs help to elongate the pointed diamond face shape. You can use a straightener to get the ideal look if you don't have naturally straight hair.
Bangs hairstyles can look fashionable on all possible face shapes, but we hope this guide has helped you realize what kind of bangs will suit your facial features and create a high-impact look. Fortunately, bangs grow out fast, so if this doesn't turn out to be your favorite style, you can always experiment next time.