The easiest and most creative way to enhance the feminine charm of your round face – is opting for bangs. Use the fullness of your face to your advantage! Incorporate bangs into any of your favorite hairstyles to be at the receiving end of endless compliments from everyone around you.
You must remember that angles help you create the illusion of a long and slim face. Thus, curtain bangs, delicate block fringes, and side partings will be your new best friends. Lightly curling the ends of the bangs hairstyle for round faces can also work wonders for the narrowing effect.
Stylish Bangs Hairstyles for Round Faces
Read on to check out our top picks of the bangs hairstyles that will make you look stylish always!
Maroon Short Bob
There is an amazing variety of bangs for round faces, but wispy bangs are always popular among the ladies for adding an accent to the eyebrow and eye area.
This short bob looks very flattering on the face. Lastly, the maroon red hue makes this otherwise casual hairstyle look exotic in some ways.
Blonde Updo with Flowers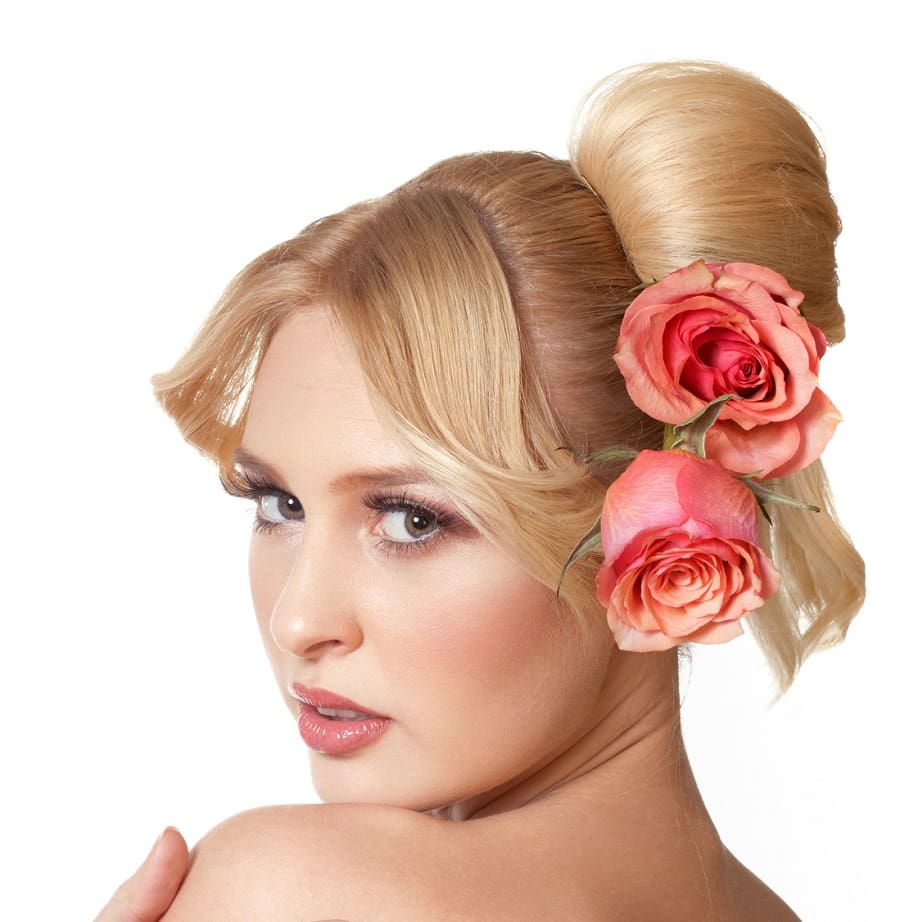 If you have a fancy event, the best way to transform your hair is with a ponytail-style updo.
To create this hairstyle, start with pulling your hair into a pony, but don't put the entire bunch through the hair tie; let it stay halfway through for a bouffant effect. Pin some fresh flowers in the updo for a spring-themed influence.
Light Caramel Straight Hair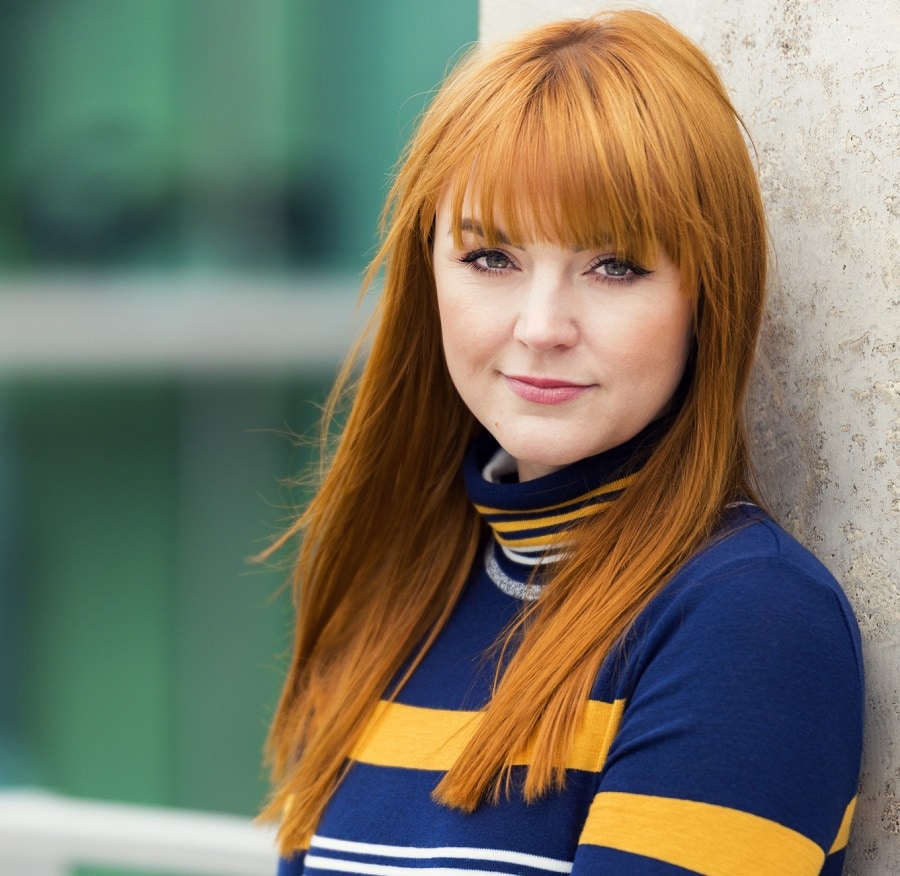 Blunt bangs are a perfect fit for all the girls with round face since it does a great job of shifting the attention from the problem areas. The long, straight locks and this medium caramel tone make for a beautiful hairstyle.
Golden Braided Crown Updo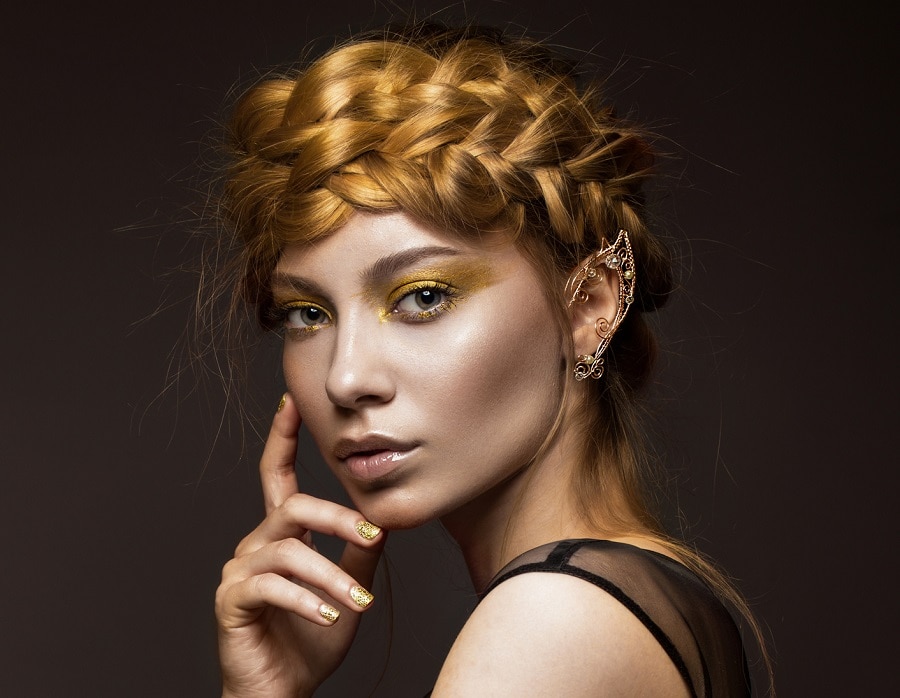 When you wish to take a break from wearing the usual fringe types, a braided bangs that covers most of your forehead is a good choice.
The golden blonde color infuses an exquisite greek-goddess aesthetic to this style. The top-heavy part of the updo helps visually elongate the round face.
Mushroom Style Pony
Next up, we have a fun bangs hairstyle for older women in their 50s and 60s. Here, the classic mushroom cut short pony gives an edge to a round chubby face. The hair is cut evenly short on the sides for a uniform look.
Choppy Pixie Bob
A choppy super cropped pixie cut with a fringe works as a trendy frame for girls with fuller features. The natural movement in this side part hairdo will allow you to look like your youthful self without extra styling.
Preppy Braid Style
The combination of your two favorite hairstyles in the world – ponytails, and braids is a match made in heaven.
Firstly, tie your hair into a high ponytail and then do a braid. We love how the full bangs in this hairdo look very sophisticated.
Afro Hairstyle
This voluminous afro bangs hairstyle offers just the right amount of sharpness that a round face needs.
The tightly defined curls fall across your face to give a chic and flamboyant effect. Taking care of the natural hair texture is essential for this hairstyle to be perfect.
Jet Black Pigtails
Take a trip down the nostalgia lane and return to being a child with this pigtail hairstyle.
The short bangs and jet black color stand out in the hairdo for women with round faces. Due to the structure of the style, the round face takes on a more oval-like shape and looks less flat.
Neat Bun with Bangs
For a neat, clean girl aesthetic, a bun hairdo is ideal. The jagged layered fringe in the front make your face look angular and thin.
You can wear this hairstyle on any formal occasion. Since a visible hair tie might be intrusive to the look, wrap a strand of hair around the bun.
Casual Dark Ponytail
If you are looking for a quick and simple bangs hairstyle for your round face, this ponytail will be your go-to hairstyle.
Luckily, this is also a low-maintenance hairstyle where getting regular trims is not necessary. The dark tone gives this hairdo a somber feel.
Blonde Double Braids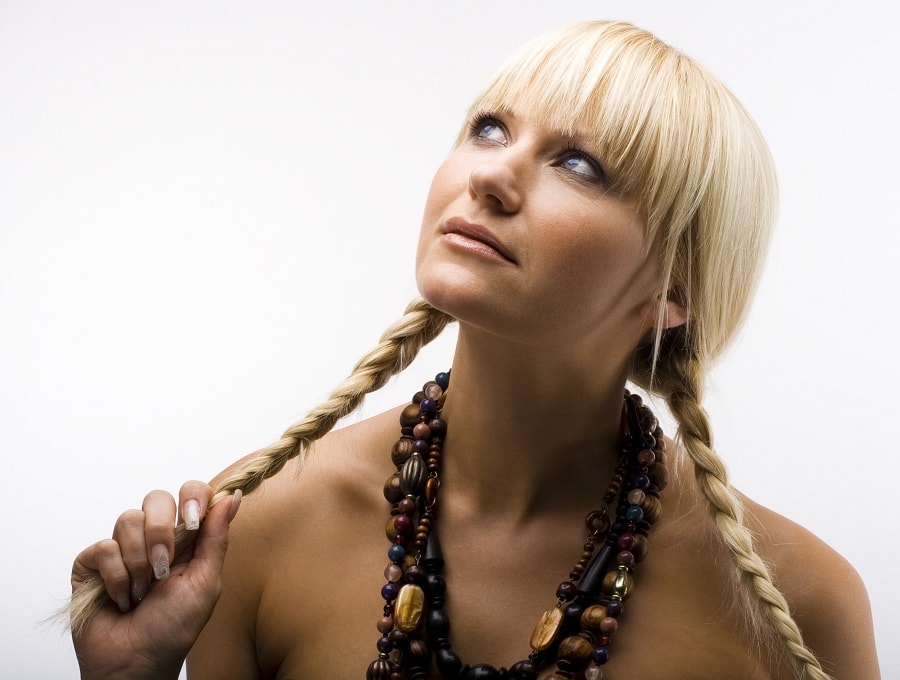 Consider the double braids with bangs hairstyle essential to your bohemian girl look.
The light blonde thin bangs enhance the appeal of this hairdo on round faces. Ensure the braids are as tight as possible to avoid an overly messy style. Pair this hairdo up with street-style jewelry for a fusion feel.
Roll Pinned Updo
Are you bored of the regular-style buns? We have just the solution for that – a three-toned roll pinned bun.
The gradual variations in color from dark to light make this hairstyle interesting. This hairstyle will help you incorporate some much-needed volume if you have thin hair.
Shoulder-Length Bob with Bangs
Next up, we have got the straight and blunt bangs hairstyle for round faces. The fringe parts are equal in size and thickness to make your fat face appear slim.
This hairdo is great for a job interview because it will help create a solid and professional first impression.
Natural Blonde Layered Hairstyle
Middle-aged women with round faces should opt for contemporary layered cuts like these.
With the side-parting and blonde bangs, this haircut appears refreshing. You must shampoo, blow-dry, and brush your hair properly to get this look.
Curly Short Bob
This bob cut makes the chubby round face your strength instead of a weakness.
Don't shy away from fun experimentation, such as going for a bright fuchsia pink color only on your fringe. This curly hairstyle is both dreamy and edgy in its different ways.
Mid-Length Breezy Hair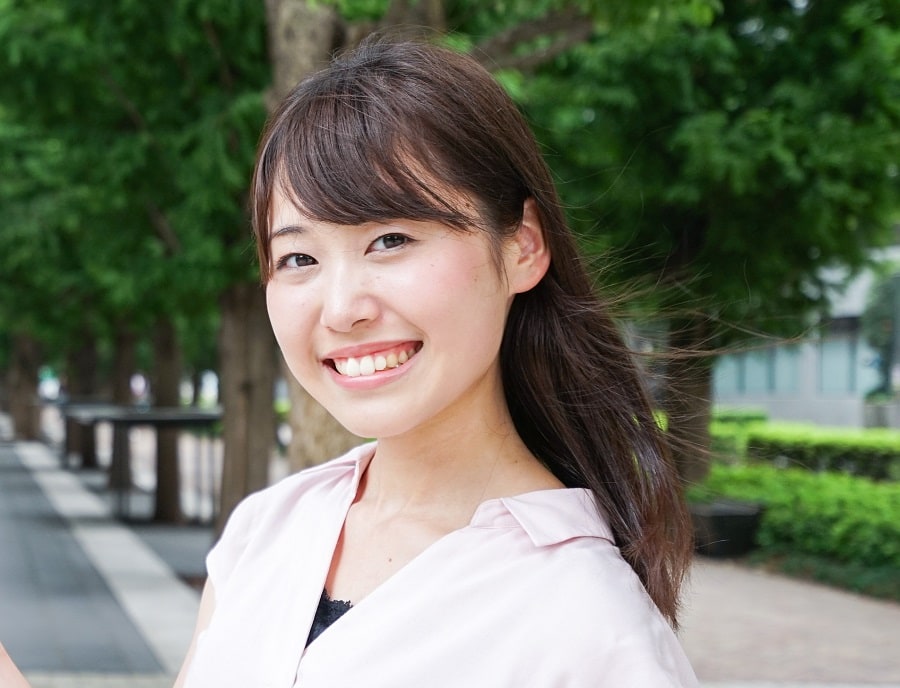 What better way to spice up your mid-length dark hair than with some piece-y bangs? This hairstyle is super versatile and will suit almost any face shape.
Long Wavy Balayage Hairstyle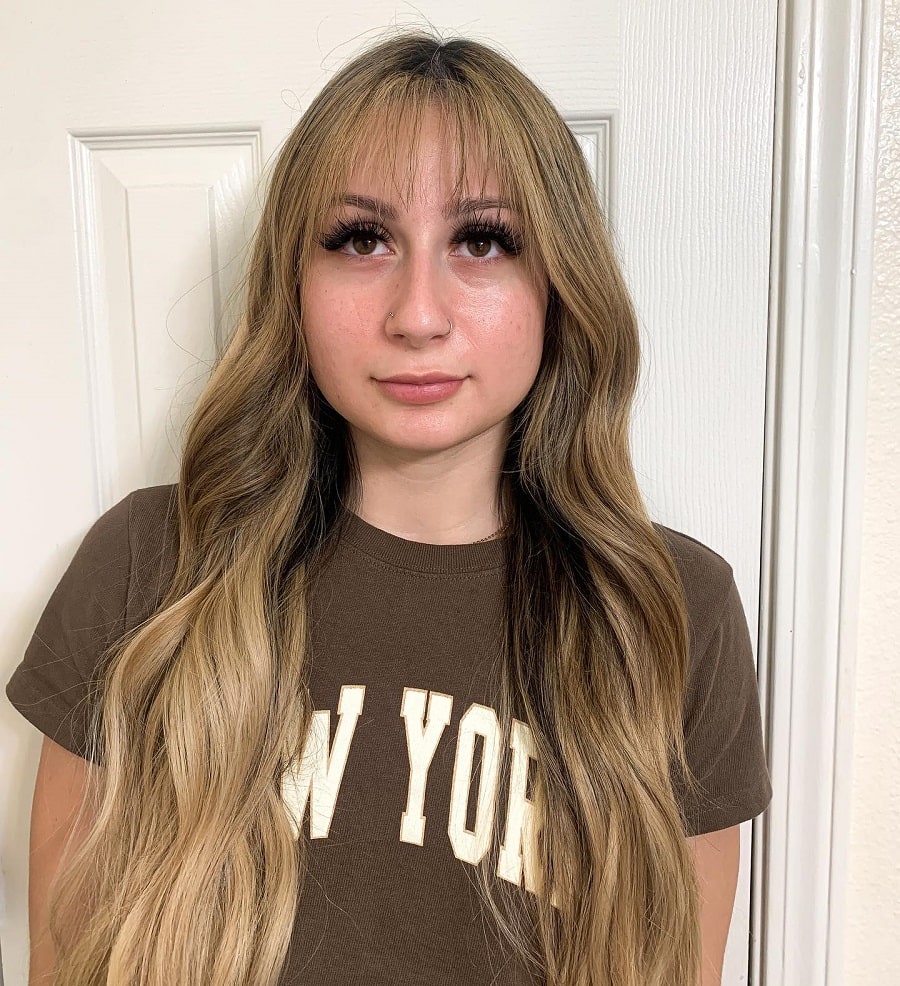 Let your thick, wavy, and long locks down with this gorgeous bangs hairstyle. The wispy bangs does a great job of slimming down a round face. To top it all off, the bronde balayage has a striking effect.
Messy Curly Shag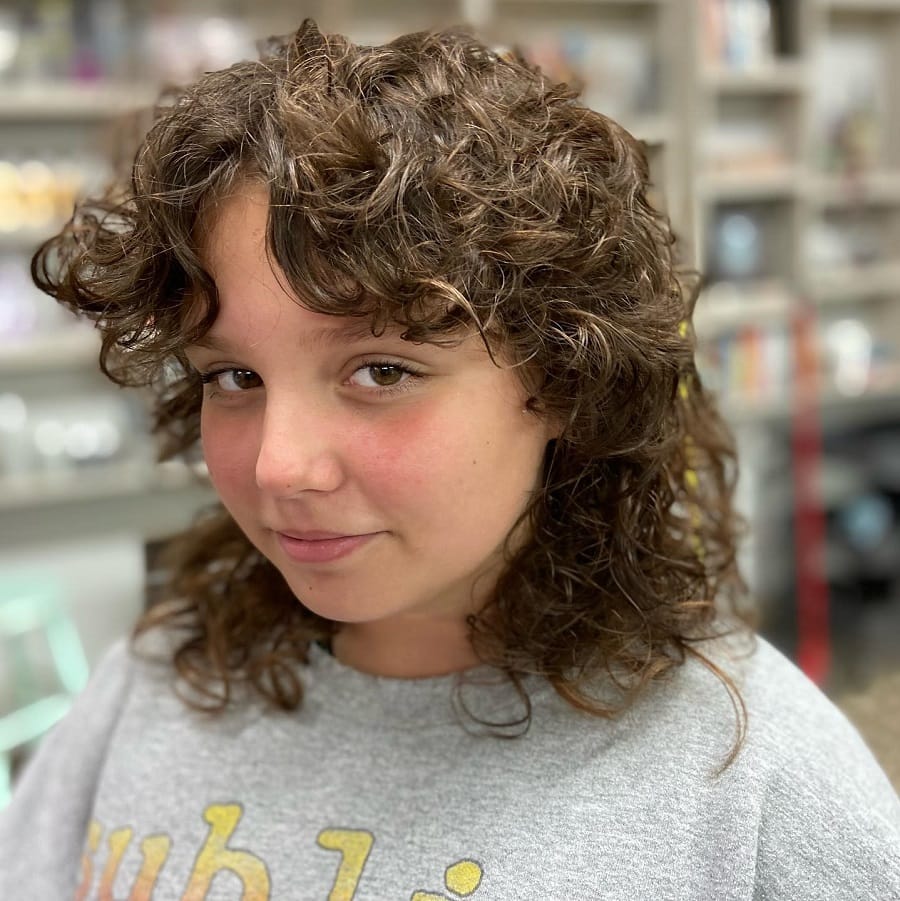 Embrace the messy natural texture of your hair with this sporty vibe shag with curly bangs. You can apply a texturizing hair gel in small quantities to get a semi-wet look.
Dark Copper Lob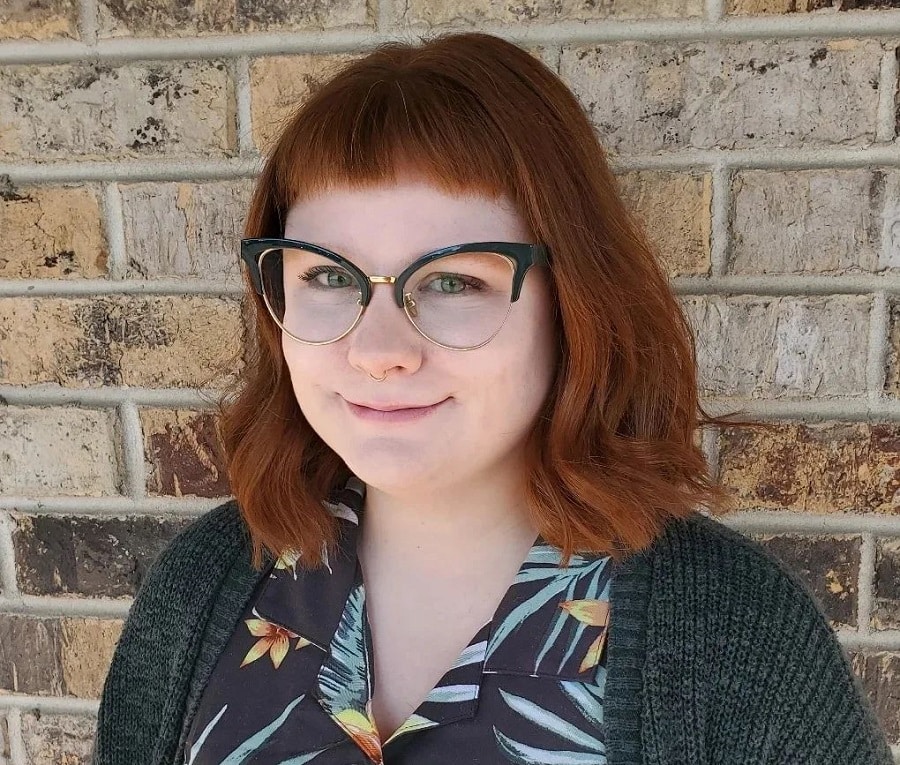 This layered lob with subtle waves and baby bangs is an adorable hairstyle for round faces.
The long bob complements the cat eyeglasses well to make for a nerdy aesthetic. It's incredible how many rich undertones can be observed in the dark copper tone.
Red-Hued Choppy Layers
Make yourself fall ready with this choppy layered hairstyle, where the upper portion is on the volume-heavy side.
The uneven choppy bangs accentuate your jawline to make your face look oval. Overall, your facial features are much easier and in harmony with this redhead style.
Subtle Highlights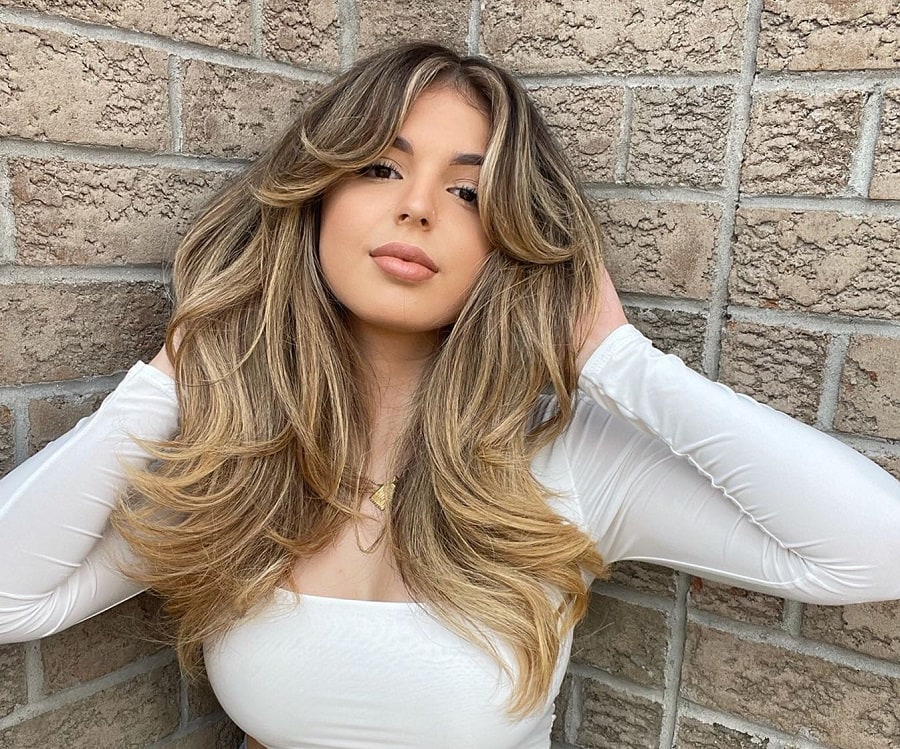 Recreate your dream curtain bangs hairstyle with this chic layered style for your round face.
This hairstyle creates the right amount of drama with the side-swept layers cascading diagonally to the cheekbones, showing off the center of your forehead ups the glam quotient of your look.
Punk Rocker Mullet
Dip your toe into the world of alternative hairstyles with this modern mullet.
This mullet has a distinct visual identity that dissolves the roundness of a face, which seems intimidating at first. Now, you can start dressing up as a free-spirited punk rocker with this hairstyle.
Say goodbye to the days of having to be insecure about your natural chubby face structure; these bangs hairstyles for round faces are here to make you feel confident in your skin. We hope you have found hairstyles that you can't wait to try out soon.