Do you want to stay on-trend with the latest haircuts? Then you need to give wispy bangs a try because they're taking the world by storm. This lightly-feathered fringe can change your entire look. Your face will look totally different.
It's a flattering style for all face shapes, but it looks especially good on faces with strong jaws. However, there are some wispy bangs hairstyles that suit round faces a little better. You'll just have to take a look at various styles and see which is best for you!
Stylish Ways to Try Wispy Bangs
Are you in need of inspiration for your new look? Take a look at the many bangs styles below to help you determine which look is best for you.
Straight Dirty Blonde Locks
Sometimes you just need a simple style. This one has nice, thick hair that falls to just below the shoulder.
The wispy bangs help frame the face and shorten it so it looks cute. The dirty blonde color helps you stand out a lot. There are so many pretty shades of blonde in it.
Wispy Bangs for Round Face
We said some wispy bangs look best on women with round faces. As you can see, we were right. Thick, long, straight hair helps make the contours of your round face look sharper.
The bangs here help hide the exact shape of your face so your jawline appears stronger.
Blonde Bob with Shadow Root
Bangs always go great with a bob. You'll look so cute and sweet! The blonde hair color adds to that sweetness.
However, having a plain blonde bob with side bangs can sometimes wash you out. Here a shadow root makes sure there's lots of depth to the look.
Dark Long Bob
The dark long bob and bangs here are super soft and look delightfully casual.
The dark brunette shade goes really nicely with pale skin tones and dark eye makeup. The fringe is longer on one side to help add some dimension.
Classic Medium Bob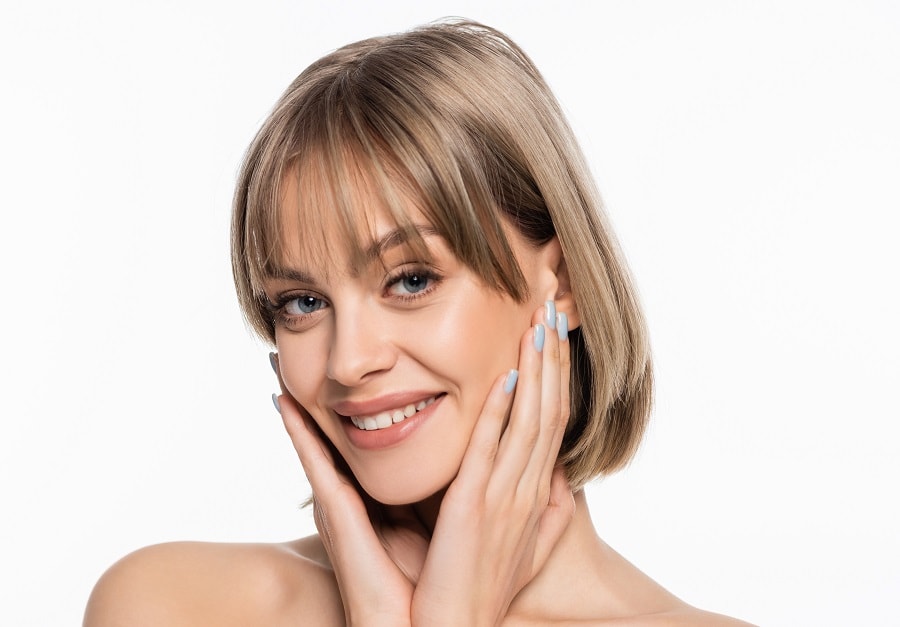 A totally classic medium bob cut can really help frame the shape of your face. The nice fringe across the forehead emphasizes your jawline and how sweet your features look. The light shade also adds to that sweet vibe.
Long Pink Tresses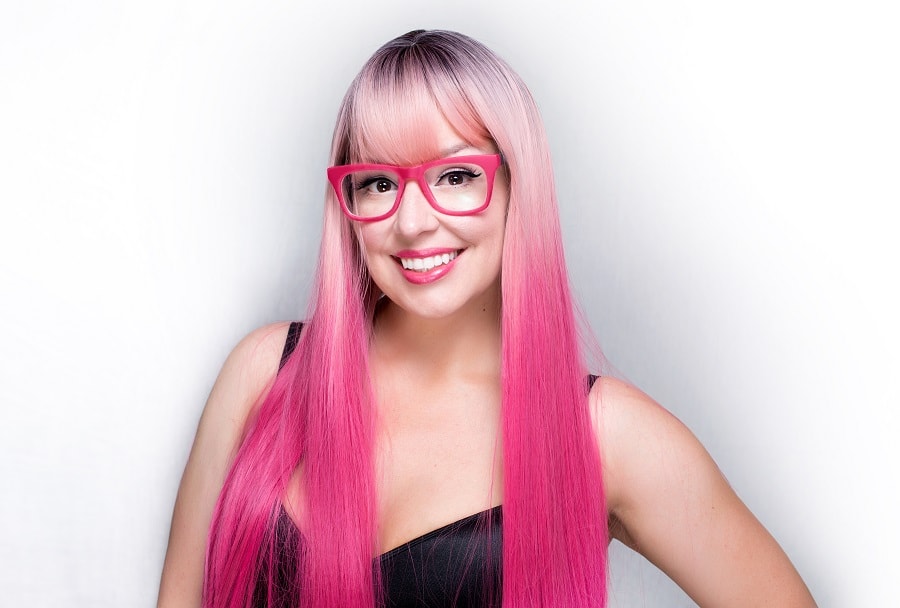 It's very common to wear wispy bangs with long, brightly colored straight locks.
It creates an incredibly fun aura that will have everyone's eyes on you. You can truly show off your playful side with a style like this.
Copper Brown Locks
Many of these bangs only brush the tops of the eyebrows. Here the hair falls into the eyes slightly.
This creates a natural and slightly untameable look. Pairing this with a naturally slightly wavy hair texture creates an effortless everyday look.
Straight Dark Brown Tresses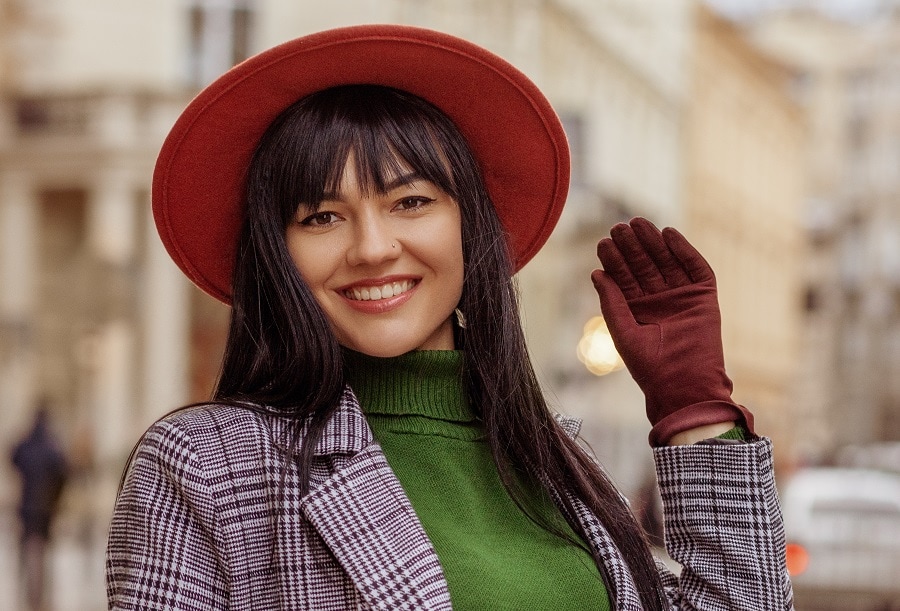 This style of fringe goes really well with dark brown hair that's almost black. It also looks great when accessorized with a hat.
The wispiness of the fringe pairs really well with straight locks, too. It's a great chic style.
Blonde Ponytail with Side Bangs
You don't have to wear wispy bangs straight across the forehead. Side swept bangs are also very elegant.
You can then draw your locks back into a ponytail to keep them out of your face. This helps emphasize your beautiful features.
Long Bangs for Thick Hair
If most of your tresses are very thick, then having long wispy bangs across the forehead is a good contrast. You can have a lot of texture in your locks that make you look fabulous.
Vivid Red Bun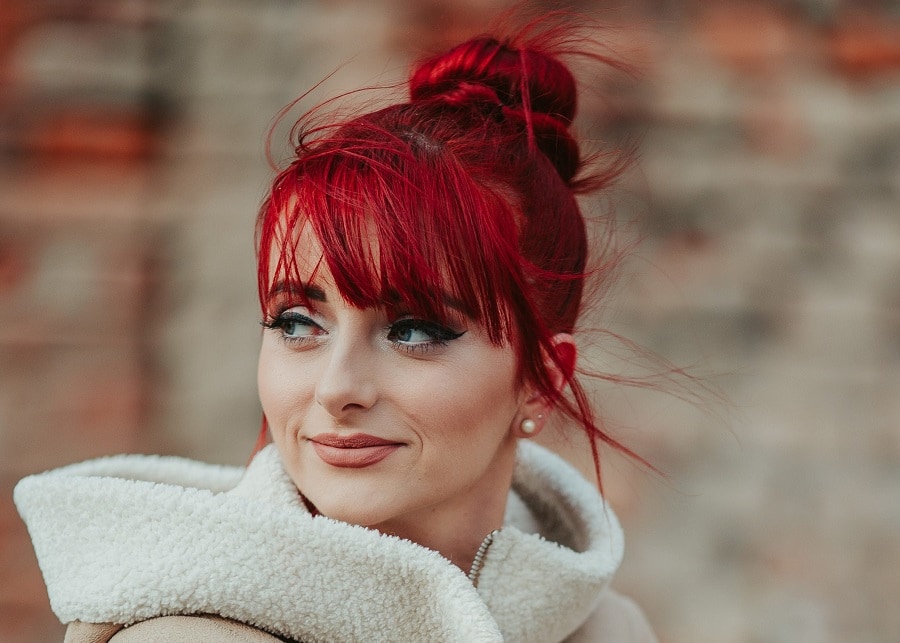 If you want all eyes on you, then consider a bright red hair color like this. This helps you stand out even when you're wearing a high bun on the crown of your head. It's a super sweet everyday style.
Curly Shoulder Length Locks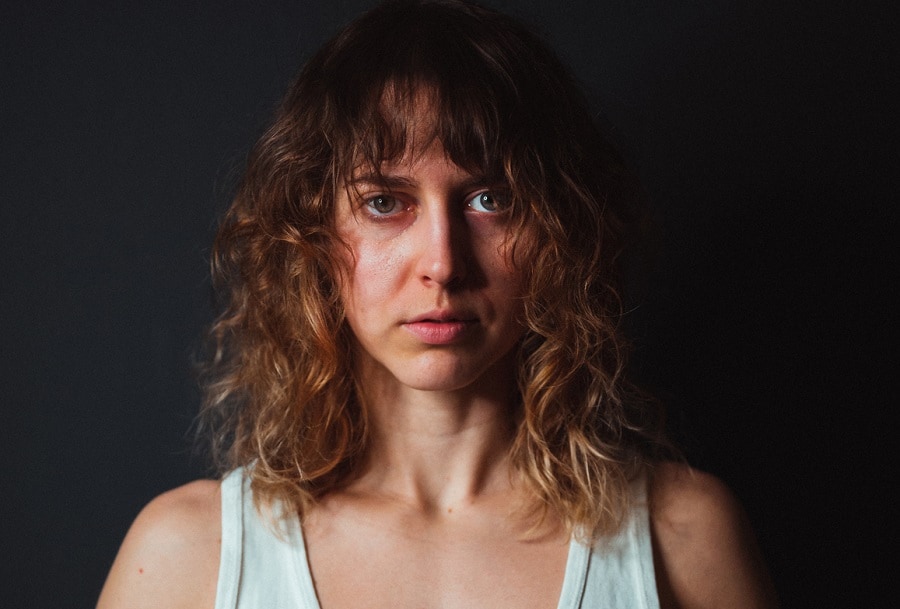 Curly hair is naturally thick so wispy bangs create a nice contrast to that. They also look a little messy with some blonde highlights. That works well with curls that are left freer as you see above.
Thick Blunt Bob
Wearing a bob on thick hair is a great way to tame your tresses. Having the ends very blunt is eye-catching. It makes you look fashionable. It's also a great look for summer vibes.
Long Platinum Tresses
Long fine hair looks absolutely delightful in platinum blonde shades. However, this can often make your hair look lifeless.
Adding a nice fringe adds shape and depth back to your look. It's the perfect way to liven yourself up.
Chic Blonde Highlights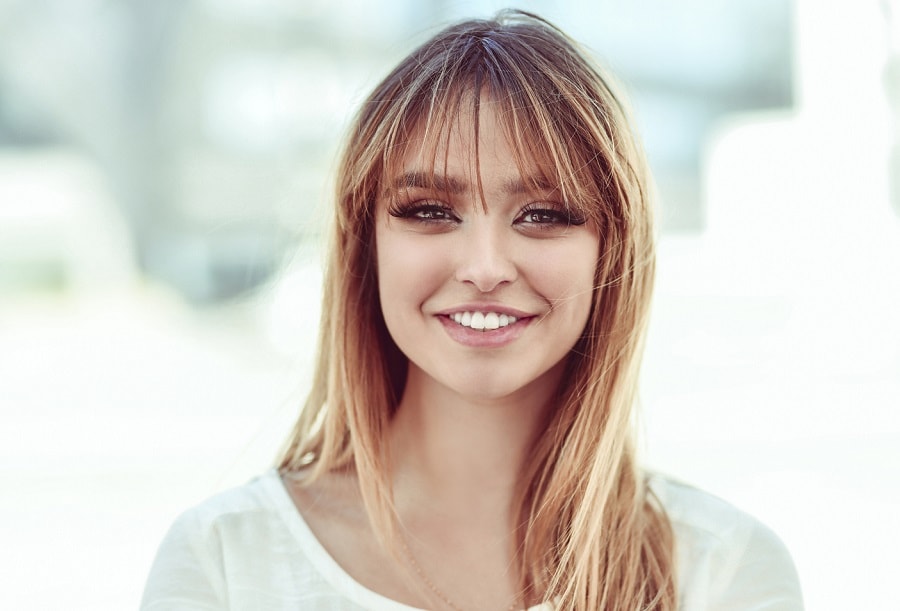 It's evident that this type of bangs goes really well with long, straight tresses. Adding blonde highlights into naturally light brown tresses helps shake things up and adds dimension.
It's a wonderful look for spring and summer. The color suits tanned skin and neutral makeup tones so well.
Sleek Asian Bob
Here's another bob for round faces that looks great with wispy bangs. The bangs shorten the face so your jawline stands out more. Overall it gives you a very sweet and girly look.
Long Grey Hair
Older women may wish to embrace their natural silver or grey hair with wispy bangs. It's also a good look if you have fine hair, as it creates an even appearance.
Wearing your natural slightly wavy hair texture is a good idea with this look. It gives your locks life and movement. However, it still looks very natural.
Wedding Pixie Cut
So far we haven't seen a pixie cut with a fringe of this style. But clearly, it still looks fabulous. Shaving the sides of the head and making the hair on top look messy looks both sweet and a little edgy.
Fine Blonde Hair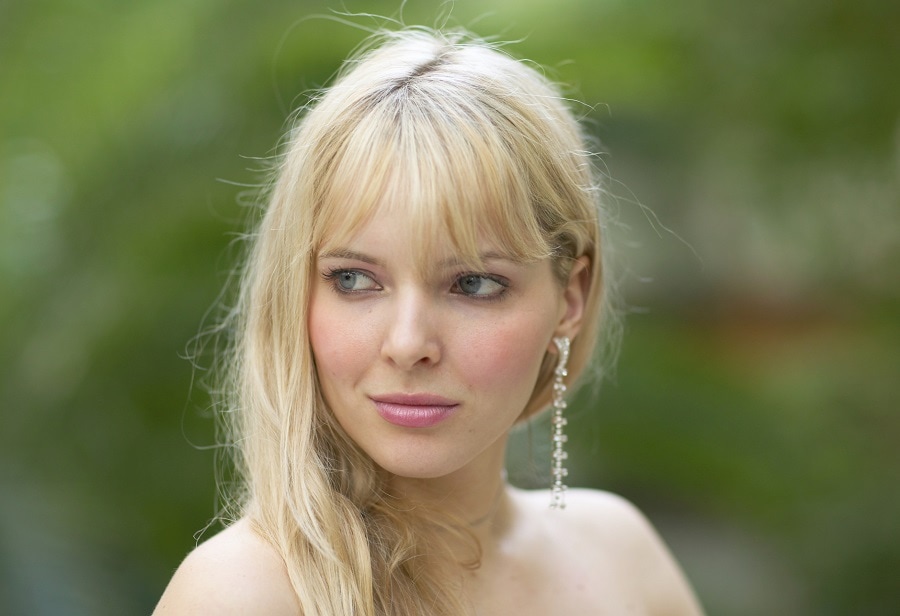 You can make hair look thicker by pulling it over to one side of the head. Blonde wispy bangs with fine hair tie the whole look together.
It's a very elegant look that would look great when worn at a formal event. It helps you show off your earrings on one side. That's great if they're especially beautiful.
Thin Bob with Choppy Ends
A nice and simple bob with bangs can help disguise fine hair. Textured wispy bangs along with the choppy ends add the appearance of thickness that isn't actually there.
It's a nice and easy hairstyle that goes well with all face shapes. The choppy texture suits round face shapes well. It doesn't emphasize a softer jawline.
Choppy Blonde Hair
Sometimes people add dimension to platinum blonde hair by having brown roots. However, here the roots are simply a darker shade of brown.
The haircut overall has choppy ends and a slightly messy texture to look effortless. It's a style that suits all ages, but it looks especially good on women in their late 30s or early 40s.
Middle Part Wispy Bangs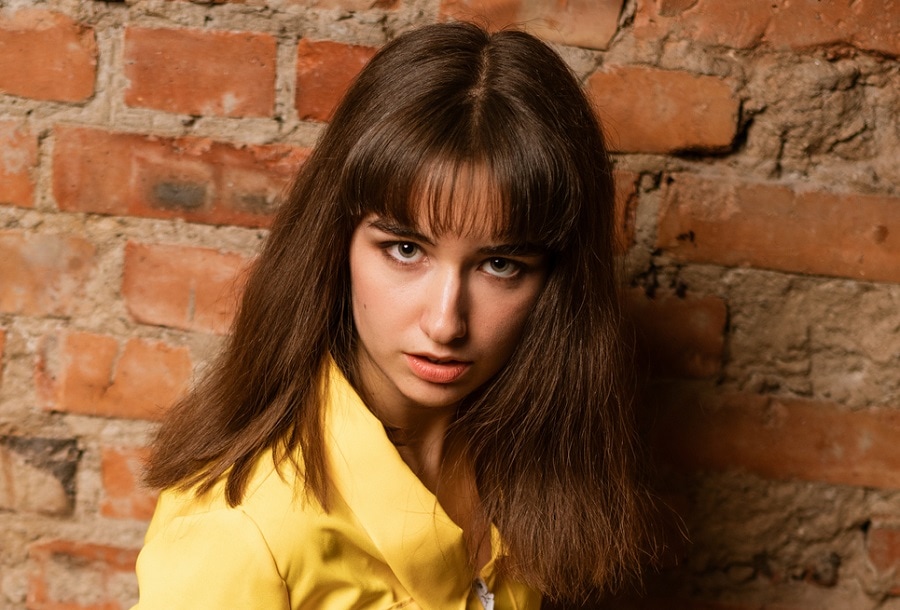 Most styles with the fringe don't have a parting. However, here you can see a middle part. That helps emphasize how thick the hair is and how light the fringe it is.
It's an incredibly pleasant hairstyle that provides a slightly edgy look. There's also a slightly mysterious vibe due to the thickness of the hair.
It's clear that wispy bangs suit a wide range of face shapes, hair types, and hair colors. They go particularly well with fine hair as they help disguise it. This is also why they look great with blonde locks.
If you're interested in wispy bangs, then you should definitely give them a try. The worst thing that could happen is you need to grow them out. The best thing that can happen is they improve your look.