Hairstyles are worth investing your time because it is the crown that you will never take off. It adds glory to your identity. Hair doesn't make the women, but long hair definitely helps in getting a look that everyone admires.
Long hair is just like a security blanket that covers you in need while enhancing your beauty. Now, most of the girls with long fine hair find it really difficult to maintain or manage, and the worst thing they go for is a haircut that actually makes you lose, the most beautiful part of yourself.
Instead, you can go for some classy long hairstyles. Long fine hair looks fabulous even with a simple style. The longer your hair is, the more appealing it appears. Maintaining lustrous and long hair is quite a challenging task as it needs a proper hair care regimen to be followed.
The hectic lifestyle, pollution, and everyday stress may make your long hair look dull and lifeless. But if you just pay a little attention and follow some good tips to look after your luscious locks, your hair will be much healthier and more beautiful.
Here Are Some Important Tips to Maintain Your Stunning Long Fine Hair
A wide-tooth comb or boar bristle brush keeps the hair smooth and prevents breakage.
Oil your hair at least twice a week with an oil high in Vitamin E, such as olive or avocado.
Use a heat protectant that will form a protective barrier and prevent damage.
Make sure the hair bands you use don't pull your hair at the root, such as scrunchy and plastic coil type.
Instead of a towel, use a smooth fabric like cotton or linen to get rid of the excess moisture after hair wash.
For drying your hair, use a low-heat setting and always point the nozzle downwards instead of sideways.
Wash your hair only two to three times a week with a natural dry shampoo to keep them healthy.
Be gentle while washing your hair and use conditioner frequently.
Trim your hair regularly to avoid split ends and damaged cuticles.
With these simple DIYs, your hair will be smoother and healthier. Use minimum styling tools and try to use satin fabrics to keep your hair hydrated. Apart from styling and maintaining your hair, also keep your diet healthy as it also affects your hair texture. When you have long, healthy, and fine hair, your hairstyles become automatically impressive and elegant.
Best Long Hairstyles for Fine Hair
If you are also growing your hair for some engaging look or are looking for an attractive hairstyle for your long and fine hair, check out some inspirational hairstyles that we have got for you.
1. Wide Bangs With Raised Waves
A fresh and cute hairstyle that gives a different look to your long fine hair within few minutes. For wide bangs with raised waves hairstyle, you need to keep your front hair styled on the forehead distributed evenly.
The rest of your hair needs to be tied in a twisted way. To achieve it, gather your long hair near to your neck, twist it around and secure them with a clutch.
Now evenly spread the remaining hair over the clutch. The hairstyle looks very cute and adorable and is perfect for a day outing where it is tough to carry your long hair.
2. Center Parted Thin Waves
When you have thin and long hair multi-layering can make your hairstyle look thinner. Still, if you take the opportunity to style your hair correctly, they give a beautiful illusion of voluminous hair.
A similar case is with center-parted thin waves. You just need to make a middle parting for your hair and let the waves free.
Run your hand through the ends of your hair to make it look more natural and add texture to your hairstyle.
It is easy to go hairstyle that is perfect for the days you don't have time for hairstyling and are looking for a casual look.
3. V-cut Layers with Highlights
One of the trendy hairstyles among girls and women of all ages is layers with a combination of highlights. It looks gorgeous and modish at the same time. Easy to style your hair and are perfect for any occasion you want to rock.
The v-cut layer is a flexible hairstyle that suits medium to long length hair and as an understated layer that works perfectly with long fine hair.
You can just style your straight V-cut layered hair towards the back. The milky highlights blend really well with the black and brown straight hairstyle.
4. Frizzy Curls
If you are bored with your routine straight hair and the casual hairstyle and are looking for some fun-loving and energetic hairstyle, then frizzy curls are a great choice to opt for.
The girls do not always love frizz but when it is done with style, then it blends well with the bouncy curls created using a gentle brush and a barrel.
Just add some twists and turns to give the illusion of natural waves to the hairstyle and give a middle parting for adding thickness and volume. Frizzy curls is a stunning hairstyle for a casual as well as a party look.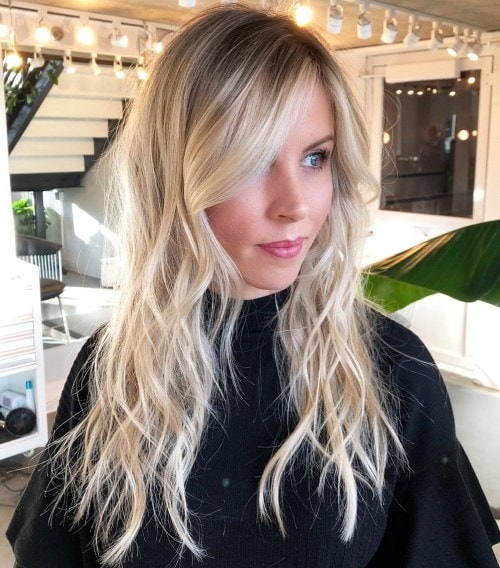 5. Sleek Blonde
One of the simple and sober looks in town but still classy. It is a style with side partition straight long hairs of blonde color.
The one which looks decent and at the same time Blonde hairstyle is very easy to be done and no time wastage to style your pretty hairs.
You get the ravishing looks with every attire that you can think of but the best looks with midis and frocks.
When you keep a sleek hairstyle, and the wind blows your hair, it feels super awesome, and you look wow. You can carry sleek blonde hair both at parties and get-togethers.
6. Subtly Swept Waves
Want to look sensational on a special occasion and stuck up with the casual look? Don't worry we have got you a stunning hairstyle that is perfect for the party look you prefer.
Subtly swept waves need you to highlight your natural hair with some trendy colors such as golden brown or caramel. It would be better if you give a dual-tone for the highlights.
While getting ready for the party, give a nice side-swept to your highlighted hair and make the natural waves move freely giving a delightful appeal.
7. Shaggy Tresses
The natural sleek texture is a great advantage of having long fine hair. Shaggy tresses is a mean to give more natural style to your fine hair without wasting much time on hairstyling and damaging your hair.
Adding some movements and layers to your natural long hair gives enthusiastic energy to your hairstyle. You can go for blonde, brown, or any other trendy color to highlight your hair if you wish to follow the trend and get a unique look
. Shaggy tresses hairstyle can be achieved by avoiding the use of a comb and gently sweeping your hair from the side and moving the front tresses towards the back for a fabulous appeal.
8. Cherry Blonde Balayage
Long hair with balayage is a deadly combination that gives you so sassy and modish look that people will not be able to take their eyes off your hairstyle.
Cherry Blonde highlights long and fine hair is a trendy look that would suit any of your party looks, and you can carry the hairstyle as a casual college look also.
The natural shaggy curls of your blonde ends give a pleasing appeal. Red highlights make your look picture perfect and give a chic finish to your overall personality.
Cherry blonde balayage is a cute and adorable style to opt for an occasion.
9. Twisted Crimps
A gorgeous and princess-type hairstyle that is so adorable and sweet that you would surely love to try it out once. Easy to carry hairstyle as the natural waves add a seamless beauty to your hairstyle.
To achieve the particular look, just some hair from one of the sides in the center and twist it. Add a layer of hair from the one-inch front, add it to the twist and repeat it two to three times.
Secure the twisted waves with a bobby pin and keep the rest of your crimps loose. Twisted crimps hairstyle is an ideal hairstyle for the spring and winter seasons.
10. Straggling Layers
A gorgeous hairstyle to get the terrific appeal with some matchless looks. Long fine hair given some wispy layered haircut with layered bangs on the highlights is just a superb combination to try out.
Straggling layers hairstyle looks best on the dark roots paired with some light platinum highlighted ends that bring out a striking and lovely look.
You can carry a straggling layers hairstyle with a middle parting dividing your front bangs evenly and spreading it with your hand to give them a voluminous illusion.
The straggling layer hairstyle looks great on girls having oval or rectangular face types.
11. Ultra-long Tresses
You are blessed if you have ultra-long hair with sleek texture in them as they are sensational and bewitching on their own.
You need not style them and waste your time in the heat styling tools trying hours to get a beautiful hairstyle. Just leave them freely with a center parting to show the natural beauty of your tresses.
If you wish to change your hairstyle and get a party look, get your front tresses cut till your chin-length as it would give an amazing appeal to your overall look.
The hairstyle suits girls with blonde hair and an oval face type.
12. Gleaming Straight
Many of you might think of curls or waves as the only style for your long fine hair, but getting them straight and gleaming can also rock your look.
When you style your long and straight-thin locks in the right way, it can define a new look with charms spreading all over.
Gleaming straight hairstyle suits girls with a long face type such as oval and rectangular, and it can be achieved with a simple side parting that includes a little sweep over the center.
Carry straight tresses with casual T-shirts to enhance the bold appeal of the hairstyle.
13. Classic Platinum Waves
Classic waves is a charming hairstyle that is preferred by young girls and teenagers. As most of them don't get much time to style their hair.
If you have thin and fine hair heat styling can damage your hair, so classic waves are a perfect hairstyle for long-length hair having thin locks.
You can choose a classic blonde hairstyle such as Platinum waves that gives a beautiful illusion of silver and metallic color.
For thin locks, keep center parting for the hairstyle that would add some volume to your hairstyle.
14. Sleek Feathers
A super cute and adorable look is guaranteed with a wonderful hairstyle that needs a feather cut at the ends and a simple styling technique.
You can get long bangs to keep the fabulous look for your long fine hair and while getting the layers to ask your stylist to feather the ends.
The small layers will give a very smooth and silky look and acts as a blended cut while giving you a ravishing appeal.
Long bangs with feathered ends are very charming and look perfect with a side parting where your sleek fine hair makes your personality outshine.
15. Easy-going Blonde
For girls and women who believe in a simple lifestyle and don't prefer to do too much with their hair can go for the easy-going blonde hairstyle.
It suits the girls who have long but thin hair. As the thin and fine hair can look thinner if you try to do styling using hair styling options. Keeping it simple and straight is a nice idea for a casual look.
Easy-going blonde hairstyle includes the blonde highlighted hair styled with a simple center parting towards the back where your locks are tucked behind your ear giving a simple yet modish appeal.
16. Two-Tier Waves
When you want a delightful and striking hairstyle without compromising your hair length, then a layered haircut is the optimum choice that you can try out. It helps you to get the desired look without sacrificing your hair length.
A two-tier waves hairstyle can be created by dividing your hair into two sections. The first section includes the bangs or layers till chin length and other layers on the ends.
With the curling wand just curl the layers for both sections a bit that results in a beautiful two-tier wavy texture. You can keep the layered wavy hairstyle as a casual style change hairstyle.
17. Evenly Distributed Bangs
There are times when you look for a lovely and trendy hairstyle but at the same time want to maintain a decent and charming look like when you have an office meeting where you have to give a presentation.
In such cases, evenly distributed bangs come as a great choice. When you center-part your hair, it evens your bang and distributes equal volume to both sides.
Take a curling iron and give little waves or curls to your hair starting from chin-length bangs. The hairdo is an amazing choice for girls having long face types.
18. Jagged Layers
A party hairstyle that is fun-loving and easy to get. The crimps on your natural blonde hair work wonderfully when you want to style for a get-together or an outing with friends.
Jagged layers edge up the adorable look of your long and fine hair. You need to divide your hair into small sections and braid up each section.
Open the braids in the morning and brush them to get the imperfect jagged layers or waves. So, without any heat styling or damage to your hair, you get a gorgeous hairstyle.
You can also carry jagged layers for wedding appearances or college functions.
19. Messy Textured Hairstyle
A style for women who have a carefree attitude and like to live life in their own way and style. The messy textured hairstyle is a carefree hairstyle that includes keeping your hair simple and as is.
You don't need to comb your hair to achieve the hairdo. Just part the front bangs with a center parting using your fingers and keep the rest of your hair backward.
The messy textured hairstyle is a natural hairstyle that gives a bedtime look. Most of the women with older age prefer to keep their hairstyle messy while adding some natural texture.
20. Smudged Blonde
Another messy hairstyle is preferred by young girls and teens when they want to have a party with their whole mood and need a careless hairstyle that doesn't need to be managed.
The smudged blonde hairstyle is a trendy hairstyle that is achieved with a center parting and adds some texture by pulling your hair in an upward direction with fingers and giving them a messy look.
Blonde highlights add more sensual appeal to the Smudged hairstyle. Carry the hairdo with a casual dress like T-shirts or shirts for a carefree look.
21. Unswerving Highlights
You don't need to go to the salon every time to get the volume and fullness that you crave.
Just simple highlights can give a trendy appeal to your hairstyle, and you can keep the fine long hair of yours with simple parting to add texture and charm.
Unswerving highlights look great on girls having golden brown or light-textured hair. No need for heat styling keep your natural hair straight and simple as your simplicity also speak for you.
Straight hair kept natural also needs the least maintenance and you can enjoy the time instead of worrying about your hairstyle.
22. Right Swept Tresses
A very decent and cute look is achieved through the right swept tresses hairstyle. As the name suggests, it is a simple hairstyle that you can carry by doing a side parting and giving a twisty sweep of your hair to the right side.
The front bangs on the side give a dazzling look. When you have long, fine hair with a straight and smooth texture, then you don't need to make many efforts for styling your hair.
Right Swept locks hairstyle suits girls having a square or rectangular face type more, but it looks good on any face type.
23. One length cut with Bangs
Tired up of the layers and wavy hairstyles? Don't worry we have got a simple yet unique hairstyle for you that would help you to get the desired cool and pretty look.
A one-length haircut is a cut where your long and fine hair is cut with the same length in a straight horizontal manner.
To add up the modish hairstyle, get some cool middle bangs that you can style over the center of your forehead.
One length cut and bangs, you don't need a separate parting for your hair as the middle forehead portion will be covered with the bangs giving an adorable look.
24. Wavy Highlights with Elongated Fringe
For fine and long hair fringes are a great option to complement your look. Wavy highlights look perfect with a mix of light highlights with a combination of a dark shade of highlighted ends.
Elongated fringes are cut in a way that covers the forehead and your eyebrows making your long face cut look a little small.
Wavy highlights with elongated fringes are the hairdo that makes you appear younger and cute. You can carry the hairdo for any special occasions and office parties.
Highlights with bangs suits girls having square face type as it covers a part of your face and makes it look smaller.
25. Crown Braided Fauxhawk
Crown braided fauxhawk is a perfect choice for the girls who want to get a ravishing hairstyle with less maintenance.
As it is said that a girl without braids is a city without brides, braids change the complete look of your personality and add an enchanting charm to your hairstyle.
Crown braided fauxhawk includes a loose French braid with sleek sides added together in the form of a crown and secured with bobby pins.
Keep the rest of your wavy hair naturally to get the cool factor while maintaining a lively and energetic hairstyle.
26. Fish-tail braids with uneven side fringes
Make a stunning fish-tail braid of the length with some layered right from top to bottom. If you have a big forehead, this style will cover your forehead with uneven fringes. Have a side partition in this long hairstyle for fine hair.
27. Long Wavy Hairstyle
Have a textured style but don't want to shorten your hair? This simple long wavy hairstyle looks perfect when you roll your hair and let the last inch out for waves that don't make your hair look short. Get some deep color highlights in the middle.
28. Backcombed ponytail
This hairstyle will create a bouffant look with a low ponytail. This style will cover your side faces, and your hair appears to be high and full on the top. Tie them at the back and leave the ends as they are without curling them.
29. Long layers with waves
On longer hair, long layers, highlights, and bouncy waves are adorable. Do you want some more? A backcombed effect will give your hairdo a stylish messy touch in addition to the needed volume. Side partition them to see the layers do the magic.
30. Straight Side Parted Lilac Hair
If you love something funky and wish to try unusual hair colors, then the Lilac shade will add beauty to your long beautiful hair. Keep your hair's length as per your choice, give a razor cut in layers, and straighten them.
31. Natural appearing layers
The beautiful thing about this style is that if you're rushing late in the morning, all you need is a quick brush through your mane! Give some layers starting from the shoulder to the length.
32. Braided Bun
This is the most beautiful long hairstyle for fine hair. Gather the hair at the back or top and sides of the head and braid it into a knot. You can curl and leave some short strands falling over the face while also on the bun.
33. Straight Blowout
Straight and long fine hair has the advantage of being naturally glossy. It also serves as a terrific backdrop for a vibrant color combination.
You don't need big curls to add beauty. You can use beautiful shades of brown and add layers, a good choice for adding movement.
34. Straight Long Blonde Hair
What's better than flaunting straight, long blonde hair? No layers, no uneven cuts, only even long hair. You can style your hair with a middle partition or side partition. Have some deep color near the roots to bring in more style.
35. Straight Razored Haircut
Many long fine hairstyles emphasize waves or curls, yet straight thin hair done well may make a big impression! Have layers from the jawline to the middle of the shoulder. Straighten them and give a messy partition.
At one point of time in our lifetime, every girl dream of having long hair so that they can get a trendy hairstyle. Long hairstyles have the power that makes the sharp facial features look soft, and it makes you appear younger by balancing the proportions.
You look more feminine with the amazing and dazzling long hairstyles. Next time you plan for a different, stylish, and appealing look, just check out these long hairstyles and pick out the one that suits you for a captivating and beguiling look that you have always desired.