Are you looking for a way to transform your whole look? Updo hairstyles for long hair can do wonders for you. So, if you'd like to know how you can transform your look, stick around. There are lots of looks here that will suit you very well.
Some of these long hair updos are quite simple and can be done on an everyday basis, and others have more complexity. Either way, they'll add plenty of fun and flair to your signature style.
Best Long Hair Updos to Add Elegance
Let's take a look at 25 hairdos that might become your new signature style!
1. Messy Bun and Headband
Messy buns are totally classic updos for long hair. They're super easy to achieve, and they always look great. The locks are brought back towards the top of the head and tied in a bun with lots of loose strands. Some nice curls are left around the face.
2. Crimped Bun
Crimping your luscious locks gives you a real retro vibe, and it adds a texture that's hard to replicate.
It can become a signature look very easily. The 'do here is then pulled back into a large bun that covers the entire back of the head and part of the neck.
3. Low Looping Bun
This is a more simple bun where the style is pulled back with lots of loops and messy strands. However, the rest of the configuration is sleek and drawn back neatly into the look.
4. Elegant Prom Look
If your locks are very long and very thick, then this updo hairstyle for long hair works perfectly for a prom or wedding.
The sides and top are drawn back into precise sections and form a long, fancy bun-inspired style on the back of the head.
5. High Bun and Curls
Elegant looks like this work for formal occasions as well as every day. The high bun is kept half down and curly, but some is drawn into a round piece on the crown of the head. It's decorated with a real crown.
6. Swirling Bun Updo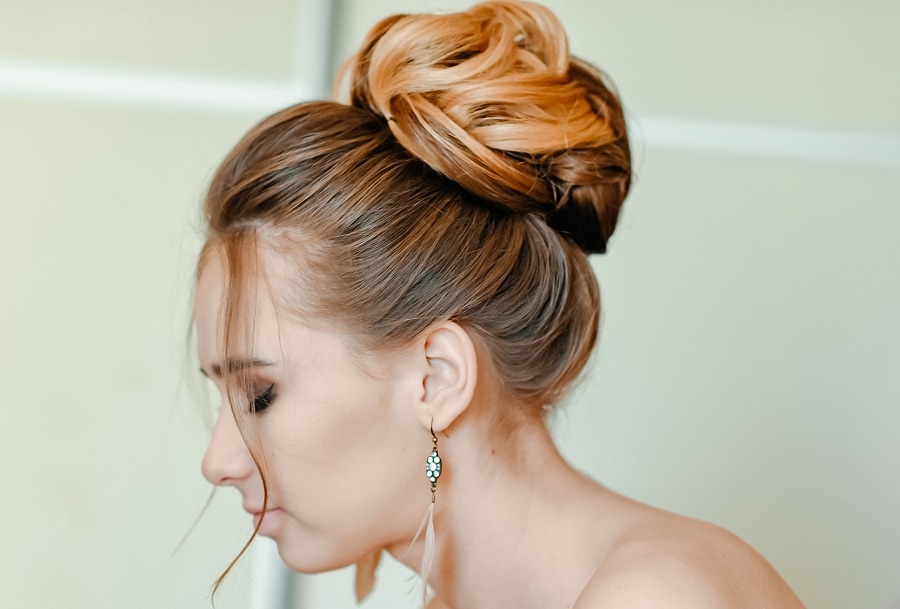 With this hairdo, all the locks are swept back, but there's some volume on the top and bottom of the overall shape.
It's pinned into a large and elegant swirling style on the back of the head. Flyaway curls frame the face.
7. Wedding Updo
Low updo hairstyles for long hair like this are great for weddings. The do sits on the nape of the neck in an elegant, twisted style, and some sections loop loosely into it along the sides. The top is kept neat.
8. Wrapped Red Ringlets
Red makes every hairstyle pop, and there are some orange-red strands helping this deep auburn style stand out.
The strands are drawn in large sections to form an intricately layered updo with some ringlets falling out of it. It's decorated with a bejeweled clip.
9. Retro Chic
Retro updo looks like this are full of little swirls. These ones stand tall them form a perfect, large curl. A flower then separates the spirals from the rest of the locks which are tucked neatly into a twisted ball shape.
10. 80s Hairstyle
Controlled frizz pairs wonderfully with curls, and it makes for a 1980s-inspired look.
The hair is tied on top of the head and lots of curls cascade down one side of the face. The flyaways form the frizzy look that makes this hairdo interesting and fun to look at.
11. Braided Updo
Long hair updos often incorporate braids like this. Here there's a braid laying along one side of the face, and it joins into a large series of twists and curls that forms a nice knot low on the back of the head.
12. Casual Bun
Here's an example of a very casual updo hairstyle. The sides, top, and bottom are drawn tightly against the head as it forms a knot on the crown.
Two strands are left free to frame the face in a unique manner. It's unique because the strands are particularly long.
13. Greek Hairdo
This is a look you'll often see women wearing in Greek statues from the past. It was also popular a couple of decades ago.
There's a small braid decorating the side, and there's a big bump at the hairline. Everything is drawn into a twisted style to form bumps along the head.
14. Vivid Crown Braid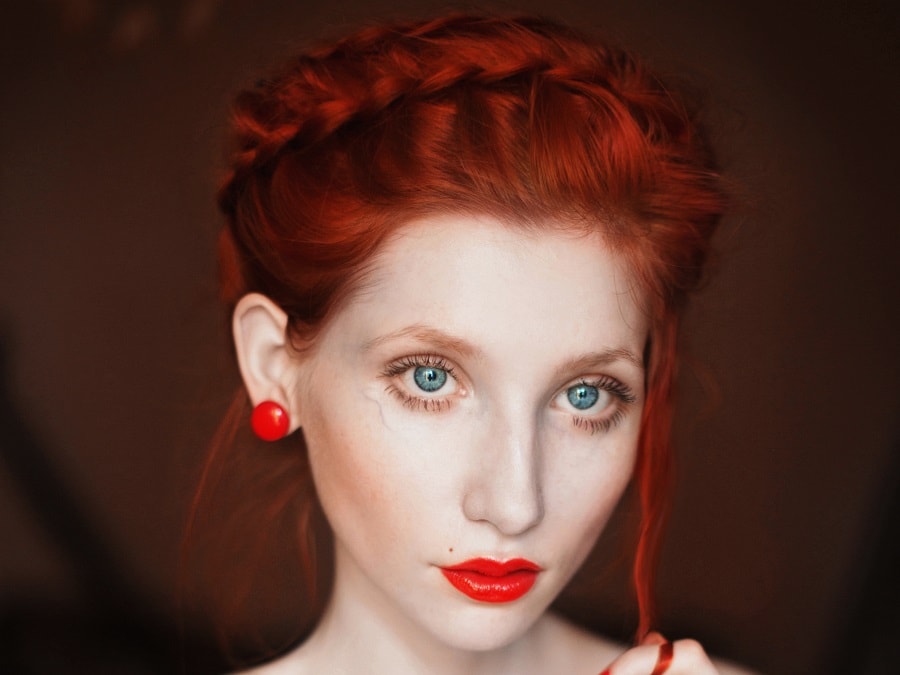 A braid circles the head here, looking very subtle in this vivid sea of red. A single strand falls by the face, and there are some nice flyaways by the back of the head, just behind the ear in this elegant style.
15. Messy Updo with Bangs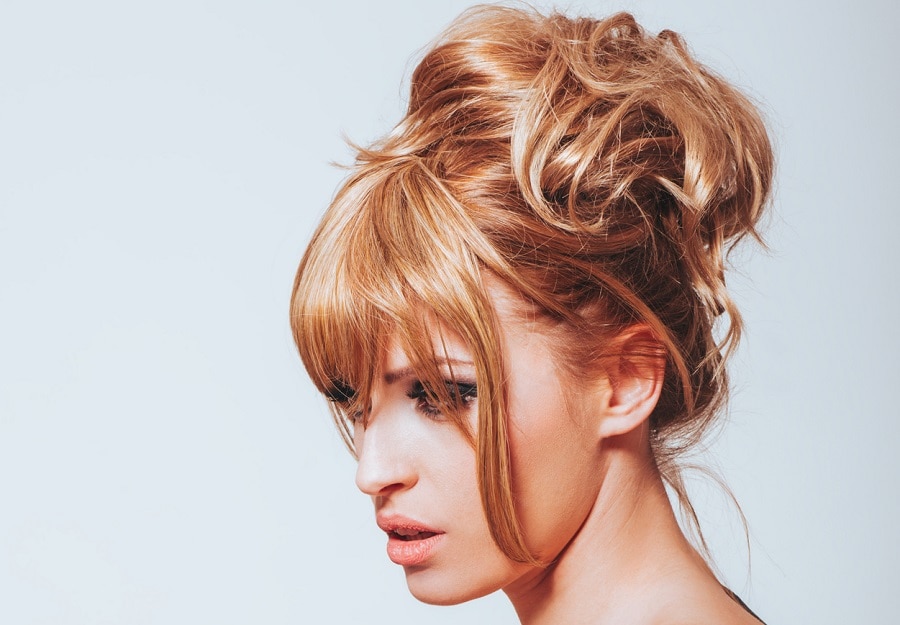 A high messy updo for long hair is totally glamorous. It adds such a carefree vibe to your appearance. The bangs are also messy here as they fall over one eye, and a long strand falls down the face.
16. Braided Updo+ Highlights
Two-tone looks are in style right now, and you can see an example of one here.
The is mostly black, but some very nice blonde creeps into it and is on display in this plait. The braided updo hairstyle for long hair wraps around the head neatly.
17. Everyday Hairstyle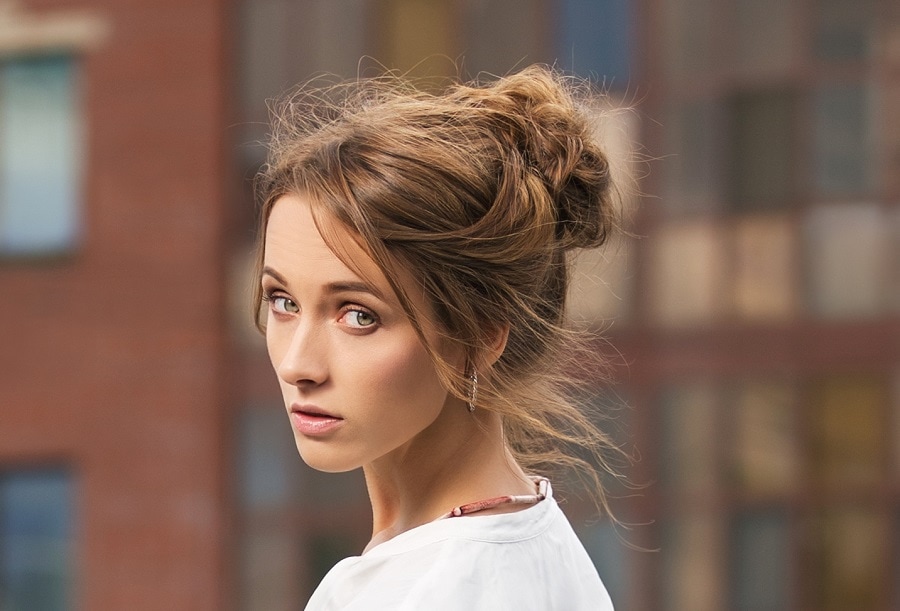 A nice loose updo is the perfect everyday style. You can throw your long locks up to this in a heartbeat. Some sections are falling down at the side and around the face, and there are some flyaways at the nape of the neck.
18. Rocker Chick Elegance
There's an edgy vibe to this, but it's still very elegant. Large loops go from the hairline to the back of the head, and there's a small braid decorating it, too. Brown roots are on display among the blonde main tone of the look.
19. Space Buns and Bangs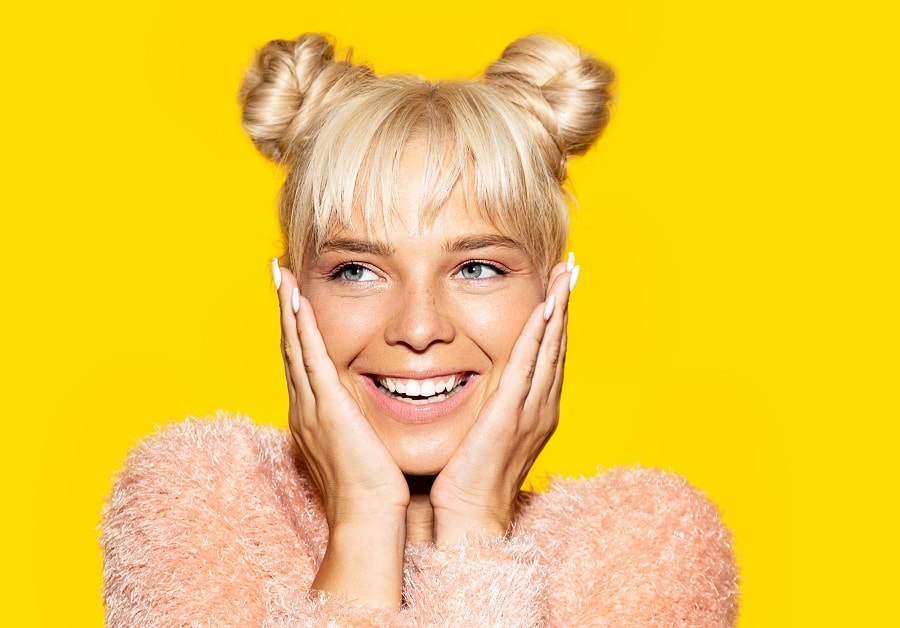 Space buns and full bangs form a super cute vibe that you'll love. The knots on the side of the head are twisted and have a variance to them so they're not identical. It helps keep your vibe very sweet and authentic with this.
20. Chic Ballerina Bun
The bun updo hairstyles for long hair that ballerinas wear are super chic.
Everything is pulled tightly against the scalp to form a perfect twist right on the crown of the head. It's a sleek, shiny hairdo that's a real attention-grabber in all situations.
21. Twisted Knot Look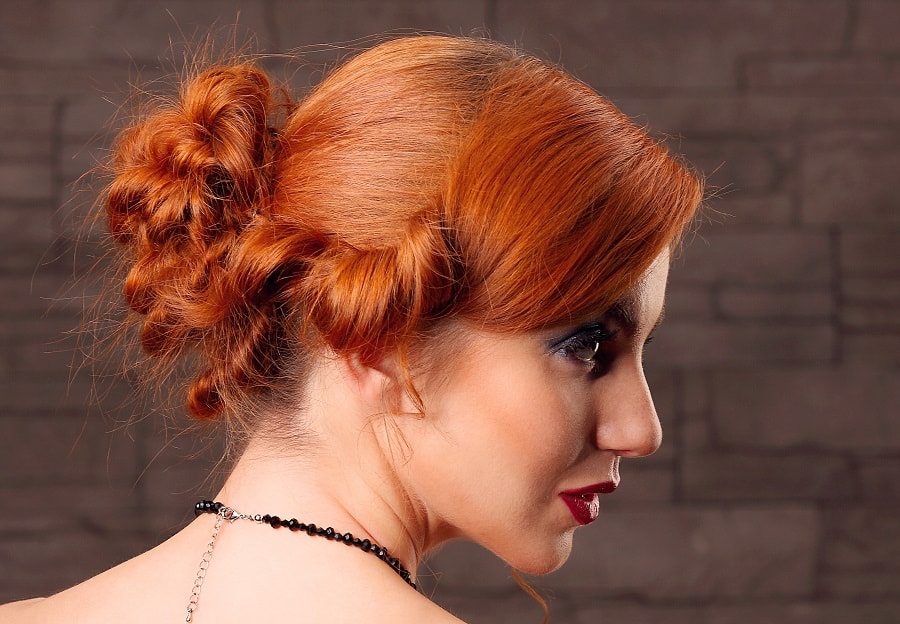 Some thick bangs sweep across one side of the forehead here, but they end in a twist. The twist leads to a series of smaller twists that form a knot on the back of the head, very low and near the neck.
22. Double Sided Knot
A double-sided knot is a twist on the classic bun. It makes your appearance more interesting as it sits in two bumps on top of your head.
The sections surrounding it are neat and drawn back without a single piece out of place, giving you a well-put-together look.
Box braided updo is a popular way for black women to keep their long hair sleek.
The shiny plaits pull up into a large bump on top of the head that tucks in under itself. This is a great everyday style that also looks great with business casual attire.
24. French Twist
The hair here sweeps back and is tight against the head. The sides of the style form a sling that the back is tucked into.
The top has some volume created by teasing. Various blonde shades make this French twist updo interesting to look at.
25. Twisted Updo with Pearls
Do you want a super unique vibe? A series of twists sit along the back of the head here.
They're decorated with little beads that are the exact same pale blonde as the hair. The sides are pulled back into perfect sections that keep this looking neat from top to bottom.
How many of these updo hairstyles for long hair do you want to try out? You can have endless fun changing up your vibe every day until you've worn them all.
Once you select one hairstyle that you fall in love with, then you can have fun styling your hair each day and creating a signature appearance with it. Make sure you refer all your friends to this list so they can wear their long locks in these fashions, too!