The latest hairstyling trend of the 70s and 80s to make a comeback is the long shag haircut. Owing to the hairstyle's ability to look flattering on almost every hair type and texture makes it a clear winner.
There's an endless scope to play around with volume in these hairdos. Now, it's clear that you don't need shorter lengths to have the coolest hairstyle on the block. Even if you struggle to grow out your hair, a long shaggy hairdo can always make you look ravishing in the shortest possible time with bare minimum styling tools.
Appealing Long Shag Haircuts
Keep scrolling to check out the list of top shag haircuts that is sure to win you over a shower of compliments.
Vibrant Layer Cut
Do you desire to create a rebellious look with a touch of femininity?
Look no further than the quintessential combination of curtain bangs and a long layered shag. The red color with dark brown undertones helps add decadence and glamour to this middle parting hairstyle.
Platinum Blonde Shag
In this crazy summer when temperatures are soaring high, this icy platinum blonde layered shag is what you need to cool things down.
Even though the single color throughout establishes uniformity, the variety of fluffy and wispy textures leaves no scope for monotony.
Black Razor Cut
If you want to embrace the path of minimalism, the razor cut will be your newest go-to hairstyle.
Since the choppy layers here never stand out harshly, this soft mullet is perfect for everyday wear. We love how the jet black color complements the overall simple appeal of this hairdo.
Color Crazy Layers
The best way to refresh a classic long shag haircut is with some unique color scheme choices!
Thus, mixing the hues of midnight pink, yellow, and subtle orange creates a whimsical and vivid impact. And a high-quality blowout will better define the feathery layers toward the ends.
Curly Wet Hair
Styling natural curls don't always need to be a nightmare. The curly shag look can be the solution to all your worries.
Firstly, allow your hair to dry about 60 percent before going in with your preferred styling gel or mousse. You can lightly pull back your curls away from the face to ensure a clean look.
Blue Layered Hair with Bangs
Bright colors are your best friend if you want to emphasize the long waves in your shag haircut.
The teal blue color with mermaid green and mystical violet highlights infuse a dose of fun into this hairstyle. The full forehead bangs make them look more youthful.
Choppy Layers
Now, you can maintain the length of your hair without compromising the style quotient.
Long shaggy layers are here to boost your hair's much-needed volume. The bright blonde highlights and undone texture effortlessly recreate the old-world charm.
Punk Rock Pink
What screams the punk rock aesthetic better than an electric pink shag hairstyle?
The choppy head's volume-heavy top wonderfully compliments the long, messy waves that sport a light texture. This hairdo will allow you to curate the perfect edgy look, complete with a black leather jacket and winged eyeliner.
Electric Blue Layers
This shag haircut presents the long blue hair of your dreams in a refined fashion.
It's noteworthy to observe the layers framing your face beautifully and highlighting your features. To achieve the proper finishing, a texturizing spray will come in handy.
Balayage Bronde
You can never go wrong with a layered mullet hairstyle if you are bored of your extended straight cut but don't want to chop off your precious tresses. The balayage effect with golden brown hues and a natural medium blonde color looks modern.
Two Toned Shag
Look like your favorite two-in-one dessert with this innovative approach to coloring.
Rich chocolate brown hues on either side of your light blonde hairstyle make a striking statement. The structural layers and side curtain bangs give the hairdo a sophisticated appeal.
Gypsy Mullet Shag
If you have been blessed with natural red hair that appears on the cinnamon end of the spectrum, a shag hairdo can do wonders for your aesthetic. In addition to that, this freeing and gypsy version of the mullet has amazing texture.
Long Orange Shang
Let the fearless version of you shine through as you explore and experiment with this vibrant orange hue on a long shag haircut.
A long barrel iron and flat brush are all you need to get this shaggy hairdo look rocking. The soft fringe and shorter layers in the top smartly add volume.
If the messy shag hairstyles do not seem to be your cup of tea, a classic layered cut will be the best alternative. This hairdo also displays the smooth transition from dark brown roots to yellow blonde strands.
Lengthy Auburn Style
We bring a preppy hairstyle that will make you all set to usher in the autumn season.
The layers fall softly to create movement and incorporate texture. As icing on the cake, the wispy fringe and warm auburn color keep the trendy quotient high in this waist-length style.
The long shaggy hairstyle isn't reserved only for the young; it can be used to enhance your mature beauty. This is the moment to let your greys down without any inhibitions! You can part your hair slightly in the center for a certain effect.
Copper Blend
If you are looking for a hairdo to complement your night-out outfits, this is it. Here, copper highlights on dark brown hair guarantee an incredibly stunning look. The medium-length waves accurately capture the bluntness of this hairstyle.
Shag for Fine Hair
Do you feel that your thin blonde tresses need something new? A long shag for fine hair in its full versatile glory can easily dress them up. The contemporary feel of this hairdo makes it suitable for many occasions.
Colored Streaks with Fringe
An overwhelming urge to try something new out with your hair but still don't want to part ways with your jet black locks?
The hottest coloring trend of this season, color blocking, will come to your rescue. A strand of cobalt blue against your black layers allows for an eye-catching contrast.
Extravaganza Red Tone
Dare to be timeless with your long hair by opting for shaggy layers and a luxurious mahogany red hue.
The cascading layers lend an ethereal touch to this hairstyle. In an attempt to reminisce about spring, get yourself some real flowers or flower clips to accessorize the look.
Balayage Hair with Bangs
Look like your favorite movie star in Hollywood with this long shaggy hairstyle and an ultimate brown balayage.
This haircut is ideal for women with oval or oblong-shaped faces and a defined jawline. Remember to part your only slightly to create a small opening in the front.
Blonde Curtain Bangs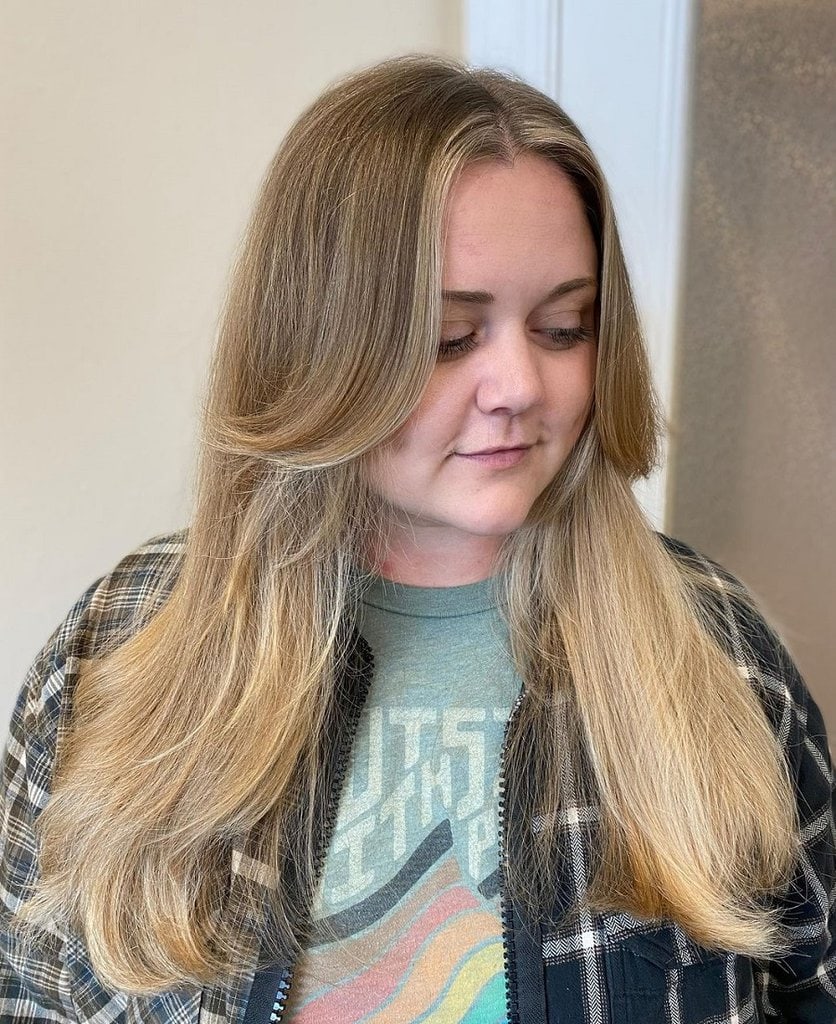 You must try out the long mullet style for women who love a polished look. The extended curtain bangs promise a flawless texture addition. The loose and romantic face-framing layers draw attention to your cheekbones.
Jagged Cut with Highlights
Revive your flat-looking locks today with a long shag haircut and contrasting violet highlights. We adore how this textured hairstyle keeps things funky without going too over the top.
We have reached the end of our list, and you don't just need to take our word for how amazing long shag haircuts can be. The simple combination of middle parting, closely cropped layers, and bangs are always bound to turn heads.
Go out there, take your pick of the styles, book a hairstylist appointment and experience the magic for yourself.