Most of the iconic celebrities worldwide have made the mullet their own. That too just by adding their own unique touches. The female mullet is for those who wish to grab people's attention.
The haircut is classified by shorter hair and edges and longer hair at the back. But it can be modified to suit your preferences and enhance hair growth since it is super cool and a bit daring.
We've covered 22 gorgeous mullet haircuts for women. Have a look and get ready to rock the style.
22 Stunning Female Mullet Hairstyles
Let's explore these ideas for various hair types, styles, and seasons.
Blonde Shag
This blonde shaggy hairstyle was popular in the 1970s and was favored by celebrities. since styling is simple and realistic.
The hair thickness defines it. It maintains volume at the top and becomes thinner toward the ends. Style it with messy waves to finish this look
Natural Chops
This hairstyle's thickness gives it a unified look. Therefore, using this method results in much less rough and edgy-looking hair.
You can try out different styles, making slightly choppy layers look more natural. For example, the traditional mullet haircut for women can be combined with the shagged look.
Chic Gray Mullet
The ideal haircut for women over 40 is an ash-blonde mullet haircut. It looks great on everyone and is also now in fashion.
These impressive hairstyles are highly probable to have a buzz cut. A modern trend that was developed by ladies of various ages.
Peacock-Green Cut
A fancy curly female mullet is an option for someone who wants hair that stands out. You can show courage by dying your hair green.
If you wish to transform your natural hair. You should experiment with a cool bottle-green color. What you need right now is this dazzling color.
Bubblegum Splash
Pink hair is a color linked to joy and fun. There are numerous tones available. Choose a color that complements your choice and skin tone the best.
Accessories it and add some chunky pieces of jewelry. Either you want a bold hue or a gentle, pastel tone. The haircut has a playful and creative style.
The Diva Shag
Long hair is generally used to achieve the look. However, it can be modified in length. This long mullet for women will be much more obvious on lengthier hair.
Since the volume at the top and the back will clearly differ from one another. It can be done on all the layers.
Face-Framing Layers
This adorable bowl-cut hairdo was designed to be distinctive. And a vibrant, eye-catching haircut will let you showcase your playful side. In addition, the dual tones at the forehead create a playful vibe.
Add a few bold highlights to add texture and complexity to the hair and to brighten naturally black hair.
Cropped Mullet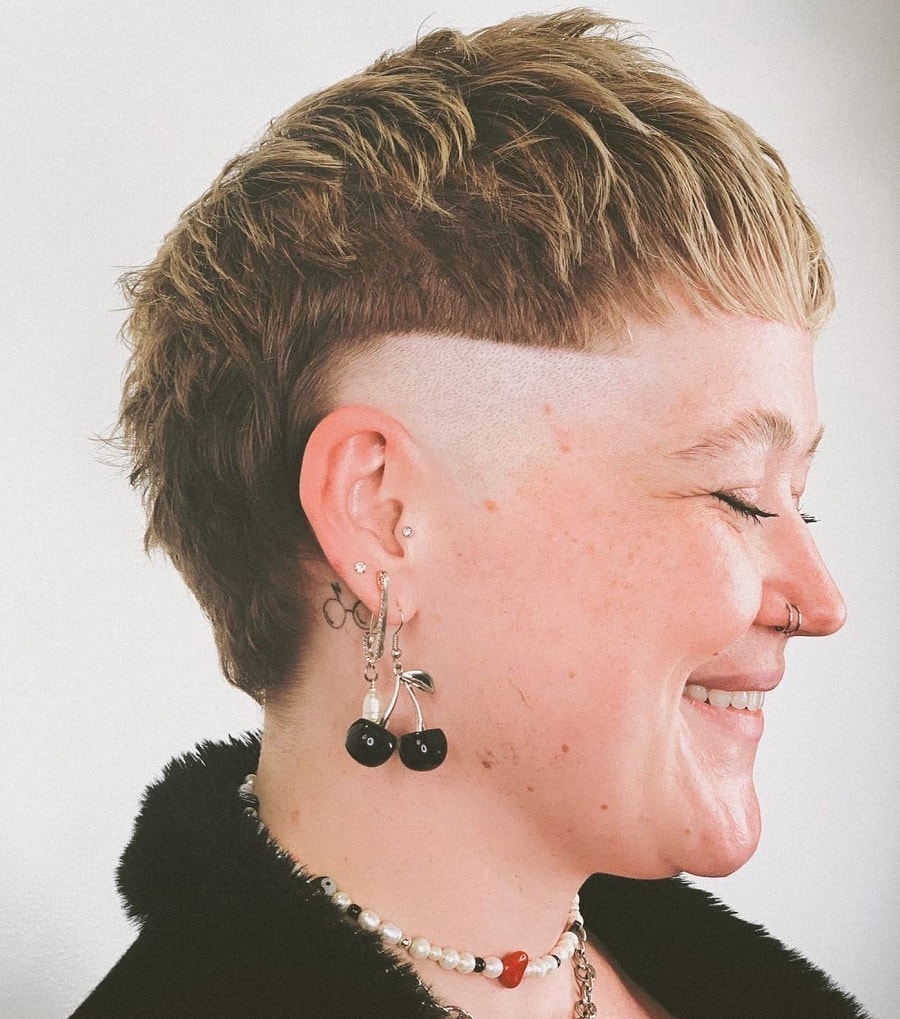 A female mullet with depth is a terrific style. As a result, the hair will bounce, appearing full and healthy. The undercut fade defines the look flawlessly.
Use texturizing creams and mists to improve hair growth. Alternatively, add layers to the hair to give the hairdo color and feel.
Playful Fluffiness
Fluffy hair is a gorgeous look since it gives the hair volume and density. Blunt bangs are great for achieving movement and bounce.
Also, the texture will be complemented by this hairstyle. It will also make the style appear more graduated.
Vibrant Neck Cut
Without a second thought, pick a tart orange bowl cut. A mullet hairstyle for ladies looks great with this beautiful color. Just like it was created under some auspicious star. This hair color also has the major benefit of being perfect for summer.
Curly Afro
The crown and edges of the hairdo are short, while the back is longer. This is because it has greatly evolved since the 1980s. Additionally, it is now more adaptable and wearable hairstyle for black women.
The cut will be softer with curly hair since the length appears jagged and thick. Additionally, it will seem more subtle.
Straight Edgy Look
A straight hair mullet is a great technique to add flow to your hairdo. It might have that really shine.
This is frequently fashioned to appear decent and thick. However, it works best with frizzy types. Also, it features a carefree and elevated finish.
Cute Candy Hues
Your layered haircut will be highlighted, and the mullet will appear more precise with a blonde hue. Additionally, it might help you look more youthful and soften your fine hair. It might make people notice your attributes.
Dazzling Bob
In brown hues, the style looks even more gorgeous. This hairstyle is adaptable because there are numerous ways to style it.
You must not be scared to explore and be daring regarding hair colors. No matter the circumstance or the attitude.
Vintage Inspo
Any hairstyle benefits from having longer bangs. They have the power to change how you look. In addition, they are perfect for enhancing facial features.
Additionally, it can make you look younger. A mullet with bangs can be worn to highlight the distance or to lighten the cut.
Bluish Fad
Most likely, a combination of blues and purples make this woman's mullet. It brings up the vastness of space if you want to keep everything tidy and fashionable.
Simply stick to more modest hair colors. Nevertheless, the cut itself will get the required treatment.
Cherry Red Dreads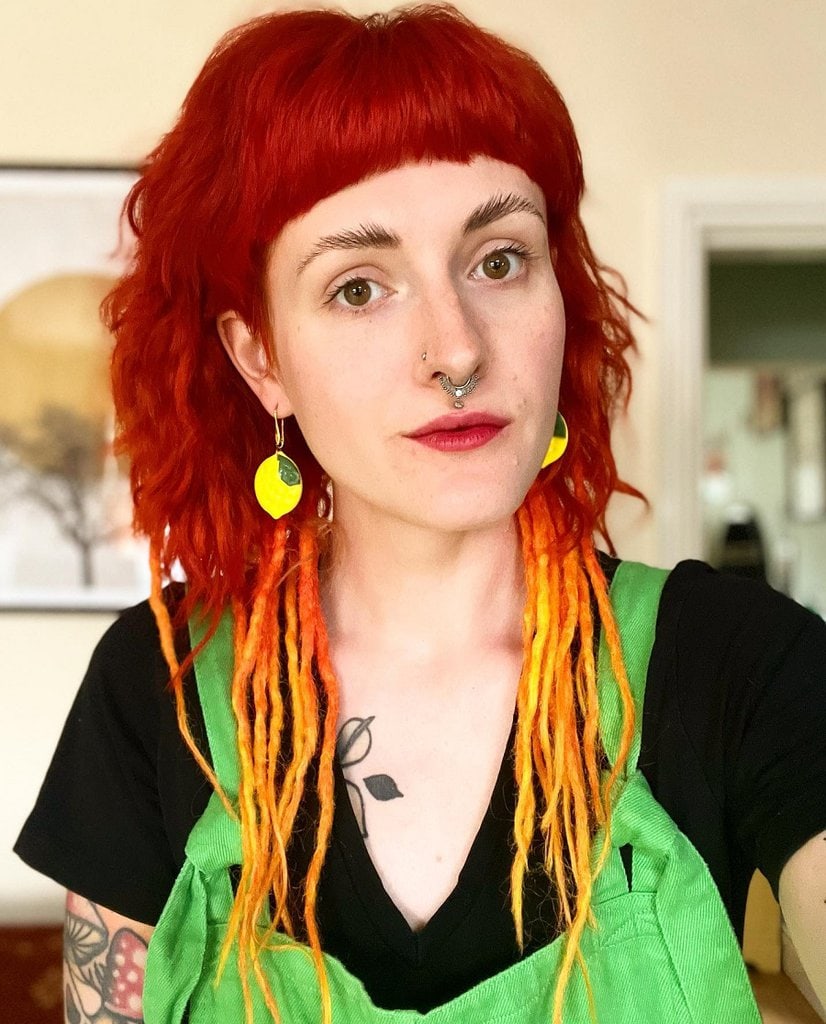 Next is this unique style with a few vibrant dreadlocks added in. Making a bold hair color choice will help you look amazing. Since it is creative, lively, and iconic, red hair is a great choice.
It frequently evokes feelings of joy and desire. To highlight your haircut, select a dual tone of red or yellow.
Hippie Ear-Length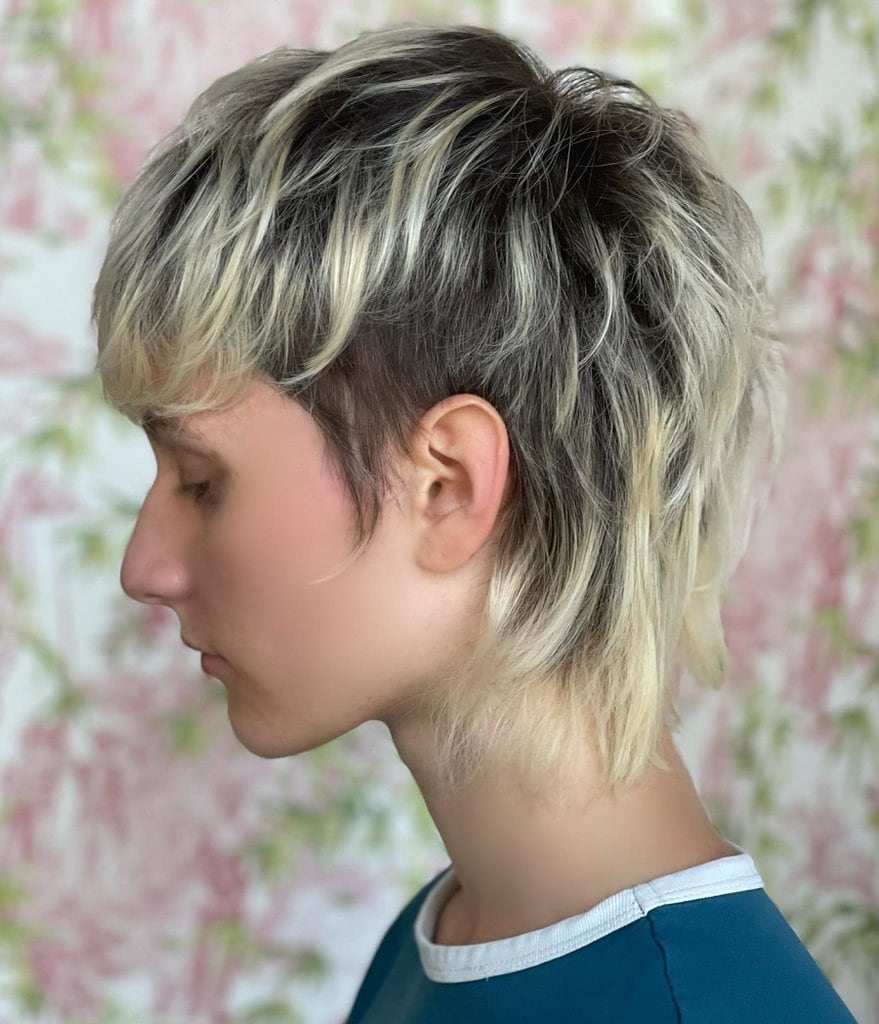 Women with short hair seem lovely. However, the process of trimming off your hair might be difficult. A short choppy haircut is simple to maintain at the same time.
The top will be shorter than the rear, and vice versa. It allows you to style your hair in a variety of ways.
Undercut Mullet
The versatility of this haircut makes it appealing to a variety of people. The finish can be creatively done with an undercut. This includes giving the edges of the hair a taper.
It provides it with shape and a little sharpness. The design is stylish and trendy, which is a bonus.
Straight Tousles
Middle aged women typically have long, straight hair. It may be dressed in various ways and has a magnificent, rich, and vibrant appearance. The cut looks sharper on straight hair.
On most facial shapes, this haircut appeal is attractive. Additionally, it is easily adaptable to your texture.
Short Two Tone Hair
The cropped mullet is a shorter hairstyle that is simple to keep and highly adaptable. It is a simple cut with a negligible length change.
It is more traditional due to its violet-brown hues. However, it is fantastic for those who want to do something too spectacular.
Stylish Punk
One of the most trendy hairstyles is this pink hair with mid-parting. Hair on the sides can frame your face and highlight your charms.
On people with attractive faces, it works best. Choose a vibrant female mullet for the current look. You'll have additional style options as a result.
Combining different hairstyles might result in a unique and creative hairdo for women. There are numerous varieties of seductive mullets for women here.
We discovered you with shaven edges, a slight flare, and so forth. Remember that grooming calls for the use of some texturizing product categories. The volume should not, however, be excessive.