Are you looking to escape your everyday look and shake things up with something edgy and totally cool? Then we have the solution for you! Get yourself an undercut hairstyle, where the hair on the sides is cut, and the hair on nape takes center stage.
There are both long and short styles with an undercut. You can pair it with fun colors or stay completely natural. There's no shortage of ways to customize this snazzy look.
Ultra Cool Undercut Hairstyles for Ladies
Come take a look at the haircuts below to help you find your perfect edgy style. Shaved sides, backs, and napes, are on-trend and only getting more popular!
Purple Waves
Hairstyles for older women don't have to be super sleek or straight. You can also wear them with textured hair.
These waves will make you look very lively, and the purple dye job is just a bonus that'll help you show off your personality and stand out.
Red and Blue Choppy Style
Mixing and matching tones like this red and blue is a good idea if you like being playful and experimental.
On the sides, the locks are shaved very short for the most part, but there's a little longer section around the part. The top is pulled up into a quiff.
White Blonde Slicked Back Style
You can make such a great statement with a purely white blonde hairdo. It always looks great with slicked back styles that has thick hair on the top and neatly clipped locks on the sides.
Cropped Blonde and Brown
Here's a totally sporty and tomboyish look that you're going to love if this is your aesthetic. Most of the locks are very dark and bristly with a slight fade on the sides. On top, you can see a nice blonde crop with some locks brushing the forehead.
Blonde Undercut for Short Hair
You don't need super thick hair for an undercut style. Blonde suits fine hair because it doesn't make you stand out too much.
Keeping it long and straight with a little ruffling to cover your face helps it look thicker. Keeping the sides shaved very flat also helps.
Undercut Bob
Pairing this vibe with another, more common hairstyle is a cool idea if you want to mix things up. Here's a bob with a shaved side. The side also has a fade from front to back, with the hair becoming thicker by the ear.
Vivid Red Bun with Nape Undercut
Here's a little twist on the cut you might be used to. Instead of the sides, it's the nape that's shaved here in a V shape. It's a lighter shade than the vivid red locks on top, that are pulled into a bun.
You can hide this style of undercut very easily by letting your hair down if you need to. Versatility like this is always excellent.
Short Textured Bristles
Do you prefer to have minimal length to your locks? This works perfectly for you, then. The locks are only on top of the head, with the sides and back buzzed down. It's super choppy and textured on top, and it can be easily styled with your fingers.
Long Thick Partial Undercut
Undercut hairstyles can be made even more unique than typical. This one is on long locks that are pulled over one shoulder, but the undercut isn't fully shaved down.
The underneath layer of the hair remains, but the top layers are cut down, leaving a blunt line of super short locks behind. This rough texture is very eye-catching.
Nape Undercut with Top Knot
Now we see yet another example of a nape undercut, but this one is a little unique. There's an X shaved into it in thin lines, helping you show off a unique side to you. The long, straight locks are then pulled up into a nice top knot that's very fashionable.
Decorated Dreadlocks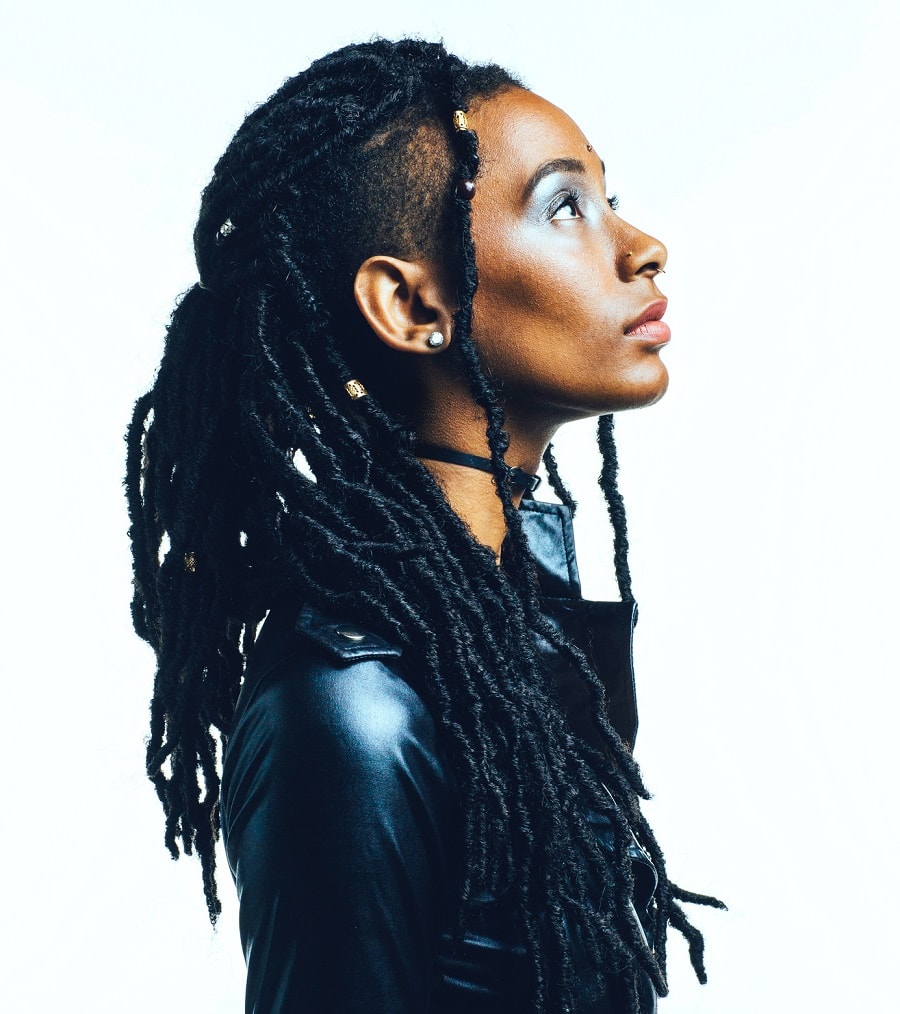 You can make your undercut look totally cool and punk by pairing it with long, thin dreadlocks. The dreadlocks are decorated with golden beads to help bring out your edgy side further.
The shaved side is shown off well, as the sides of the hair are pulled back and secured.
Black and Blue Long Hair
It's easy to make yourself stand out by shaving one side of your hair, but this helps even further. The side that's cut short is also dyed a vivid blue that contrasts greatly with the rest of these jet black long locks.
It's stunning! And you can easily hide it if you need to look more traditional for a formal occasion. Simply give yourself a middle parting to hide it.
Nape Undercut with Pattern
This is one of the most unique nape undercuts there is. The shave portion has a mandala design shaved into it. You can only see it if you tie up these long, curly locks. You can also see pink and turquoise tones when you lift the curls.
This style truly has a hidden gem, and it's something only the bravest of the brave will wear. It takes a lot of upkeep though, so be mindful. You'll also need a very good hairstylist who's up to the task.
Long Brown Straight Locks
You can have a relatively natural hairstyle and still have a shaved side. This long, straight, brown hair is pulled over to one side and falls down the sides and back.
The shaved side is framed by a little hair on both sides of the ear. This makes it easy to miss the undercut at first, but when you look a little closer, it's obvious and alluring. It's an edgy twist on an overall sweet look.
Spiked Burgundy Punk Cut
This is one for the edgiest of the edgy people. You have short blonde sides and there's burgundy on top that has sky-high spikes. There's a lot of texture on the sides of these spikes, too.
Down the back, the locks are rolled and ruffled but shorter than on top. Overall there's just so much texture in the hair, and you'll look like a total punk rocker from decades past if you wear it. However, it's still fashionable in the modern day.
Highlighted Hair with Defined Parting
Finally, we're ending on something that's very natural looking. There's a hard parting, but other than that, this is very simple. It's super short and all the locks are styled to the back and pulled over to one side.
You'll spot some nice highlights at the very front here, and this helps draw peoples' eyes to your face. The very slight fade on the sides also helps with that.
It's clear that there are tons of undercut hairstyles that you can play with, and there's something that will suit everyone in this great abundance of style suggestions.
These will take a lot of upkeep, but it's very much worth it if you'd like to stay looking edgy and modern. Your excellent haircut will definitely help you uncover the true you!