Sleek looks can be a difficult hairstyle to form and maintain. You might find that you create a slicked back style but you don't love it, so that's why we've put together this comprehensive list of women's styles you're guaranteed to love when you create your hairstyle.
These styles work for all different hair lengths that you might have, and there are styles that work well for specific colors and hair textures, too. There's no end to the chic styles you can try out. You'll definitely feel more confident with one of the styles on this list.
Slicked Back Haircuts for Stylish Women
If you spot your perfect style on the list below, then don't be afraid to take the picture to your hairstylist and request this hairstyle. If you already have the hair type and color for it, then you can try styling it at home by yourself.
1. Sleek Style for Curly Hair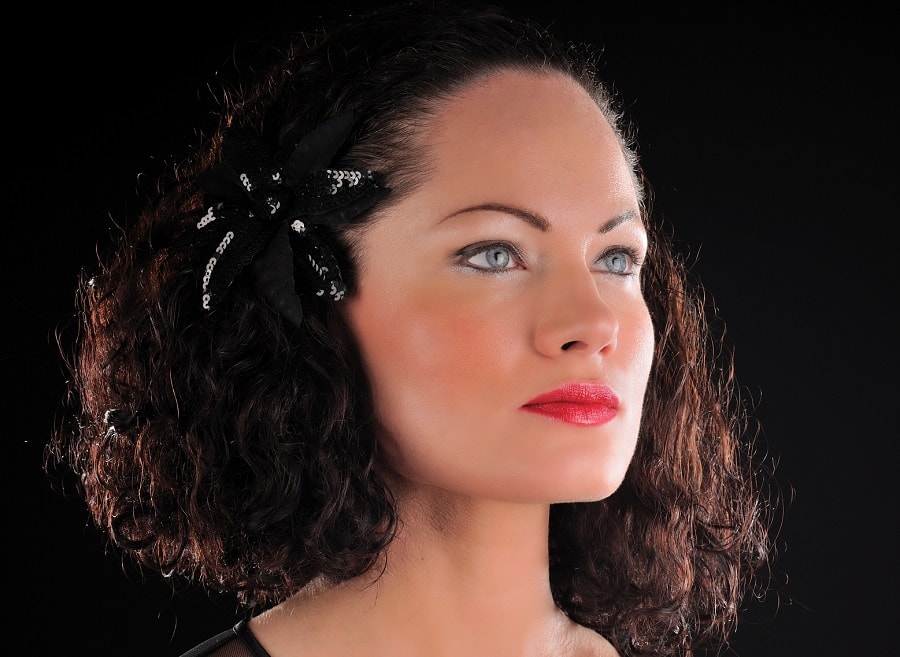 This hairstyle has the slicked back portion on the very top of the head and it's a hairstyle that looks absolutely fabulous.
Thick curls hang around the face and part of the curls are secured back with a nice black bow that blends into the dark hair nicely.
2. Half Up Style for Straight Locks
Here all the hair is on top, and it's so perfect that there isn't a single hair out of place. The rest of the hair is long and straight and can either fall down the back or over the shoulder.
3. Chic Hairdo with Volume
If you like to mix and match styles, this has some volume towards the back of where the hair is brushed back on top. The rest of the hair falls down the back in a nice blonde color, and here it's pulled forward over the shoulder, too.
4. Sleek Bun
Some women prefer updos, and that's great, too. Here's a nice, large bun for you to try.
The hair is all slicked back perfectly flat to the scalp, and it forms a large, sleek bun at the back of the head. There's lots of volume in this stylish and elegant style.
5. Looping Bun
Pull all of your gelled-down hair back into a little knot on the crown of the head, then it forms a bun shape that's very loose like a ponytail.
The bun shape loops create an elegant look that's also a chic but everyday style you can easily achieve.
6. Oily Look
Oily hairstyles are quite trendy right now. The hair is all gelled back from the face in a wonderful way.
Long locks fall down the back in a dark and oily look that gives you a dark edge. It goes very well with black clothing and smokey eye makeup.
7. Tight Hairstyle with Flower Decorations
Do you like accessories? Here's something to try. The focus is drawn to the large flowers that decorate the hair.
This look has all the hair pulled back and secured at the back of the head in a very subtle style that you can't see from the front.
8. Loop Braid Space Buns
This style has the hair slicked back from the front of the head. On the sides, there are looping braids that decorate a pair of space buns. It creates a cute yet smoky look all rolled into one.
9. Low Bun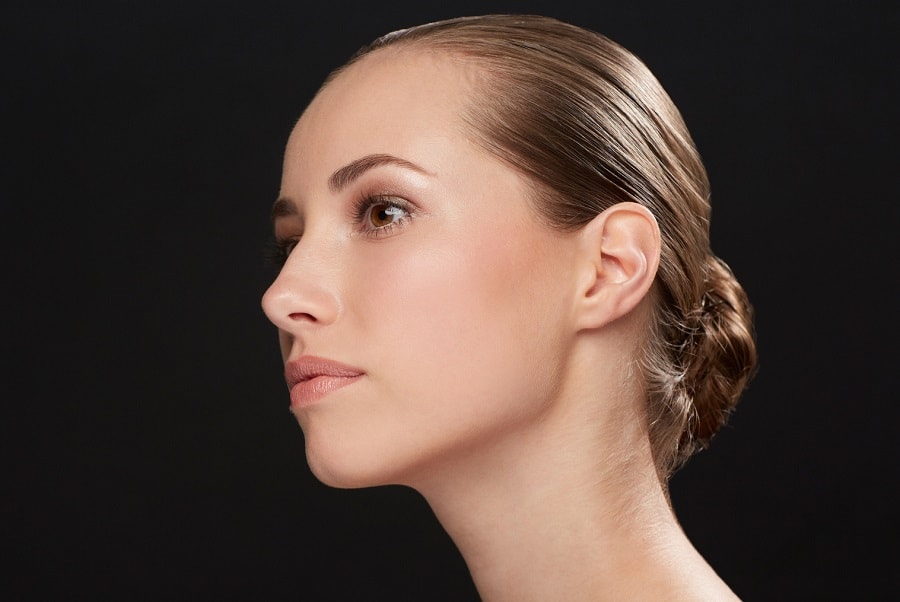 If you want a very simple style, then this is one you'll like. The hair is pulled down into a very low bun that's neither too tight nor too loose.
It's a perfect look for wearing each day, but it would also work for something more formal, too.
10. Wet Look for Straight Hair
Wet looks have been popularized by summer and celebrities such as the Kardashians. You can see this created here as the hair is gelled back.
That can be very attractive if you're going for a specific vibe. The rest of the hair is dry and soft as it falls sleekly down the back.
11. Plain Ponytail with Scrunchie
Looking for a simple, cute style? A slick back ponytail look secured with a little scrunchie that makes you look adorable. The hair on top and the sides of the head is all pulled back as it's pulled into the high ponytail.
12. Sleek Style for Short Hair
You can still create a nice gelled hairstyle when you have a pixie cut. All the hair is combed from the hairline back.
It's not too tight against the scalp, so there's still some volume there to provide a more interesting and varied look.
13. Slick Look With Beehive and Curls
Don't you just love retry styles? The front of the hair is drawn back. There's a hairband decorating the look right in front of a huge beehive style.
This adds so much volume and fun to the look. The rest of the hair falls in long curls.
14. Textured Hairstyle
Here the front of the hair is teased so it stands tall. The top is then pulled back and brushed down the back of the head with a wavy texture on top. The sides are drawn back and secured with pins.
15. Small Braided Bun
Women with have short hair should consider this wonderful, chic style. The hair is slicked back tightly to the scalp.
It forms a tiny bun with braids, and it's decorated with black beads that match the rest of the jewelry in this look so very perfectly.
16. Bob Haircut for Gelled Locks
Bobs are very easy to style. To create this look, gel back the top and sides to create a semi-wet look.
It's very edgy and it adds an interesting twist to a style that's often seen as cute or elegant. It really helps showcase your personality.
17. Big Braided Topknot
Are you looking for an elegant look? This style has all the hair drawn up towards the top of the head. There's a large and intricate topknot made of braids on the crown.
The knot takes up almost the whole top of the head and is a great look for formal occasions and elegant everyday wear.
18. Wet Look for Blonde Hair
Lots of long blonde hair with a pale complexion can really wash you out, and slicking back the hair helps prevent this.
The wet look on the top and side makes the locks appear darker. Most of the hair falls down the back and don't obscure your features.
19. Large Bun with Bow
Sometimes you'll want something unique like this. There's a bow on the crown of the head, creating a super unique look that you won't be able to tear your eyes away from. All the surrounding hair is sleek and gelled down.
20. Smoothed Back with Bangs
Are you looking for something business-casual slicked back hairstyle? Here's a style that works for that purpose. There's still some volume to help keep the look interesting.
There are bangs that are feathered up and they create a very nice bump at the front of the head.
21. High Bun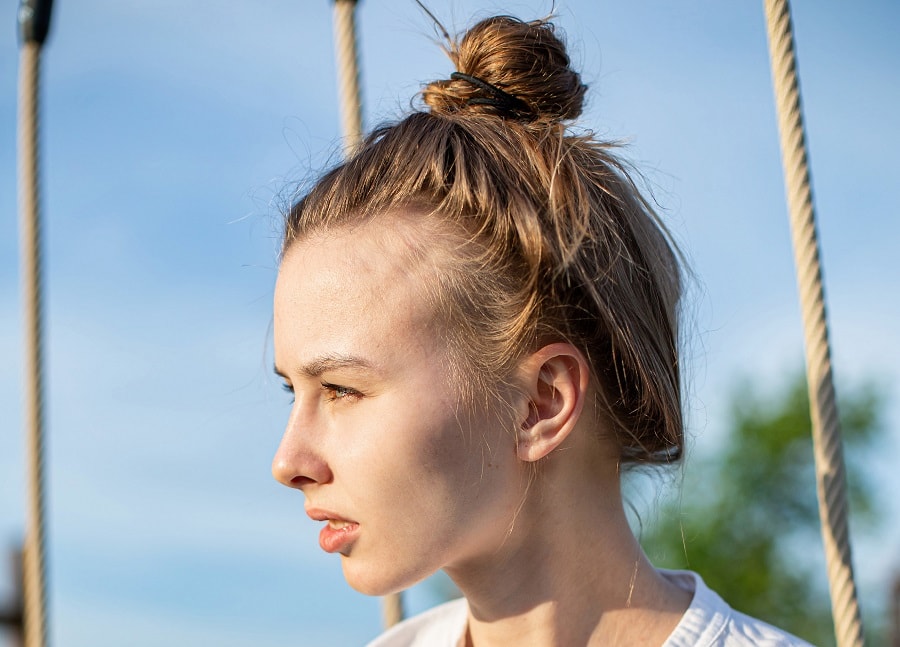 Sometimes you want a simpler style. Here the locks are pulled up into a high bun. The bun is knotted tightly and the back of the hair is very messy for a casual and somewhat sporty look that you may desire.
22. Smooth Style for Thick Hair
You can still create a smooth style on top when your hair is thick. Here only the front is smoothed down.
The rest of the vibrant red locks fall free around the face and down the back with a slight wave to them that adds a very natural and pleasant look.
23. Tall Twisted Bun
People will find you very impressive with this style. The hair is all drawn back in a very tall bun where the hair wraps around it in a perfect twist. It tucks in at the back to create a poised style.
24. Teased Style for Smooth Hair
You can create a super smooth style that's full of volume. The lower layers at the front are teased. It looks completely natural as it forms its chic peak and some hair cascades down the back of the head, too.
25. Elegant Rolled Style
Check out this look if you're going to a wedding. All the hair is slicked back with some slight volume in the front, and a large rolled style updo decorates the back of the head.
There's a flower peeking out of the bottom of this style to add a little extra flair to the look.
26. Sleek Long Ponytail
Natural, simple looks are great. The locks are drawn back and down into a nice ponytail that's very long and falls over one shoulder.
The ponytail's hair is natural and loose. It's a delightful everyday look, but it also makes for a great business-casual style for your time at the office, too.
27. Curly Bob with Smooth Top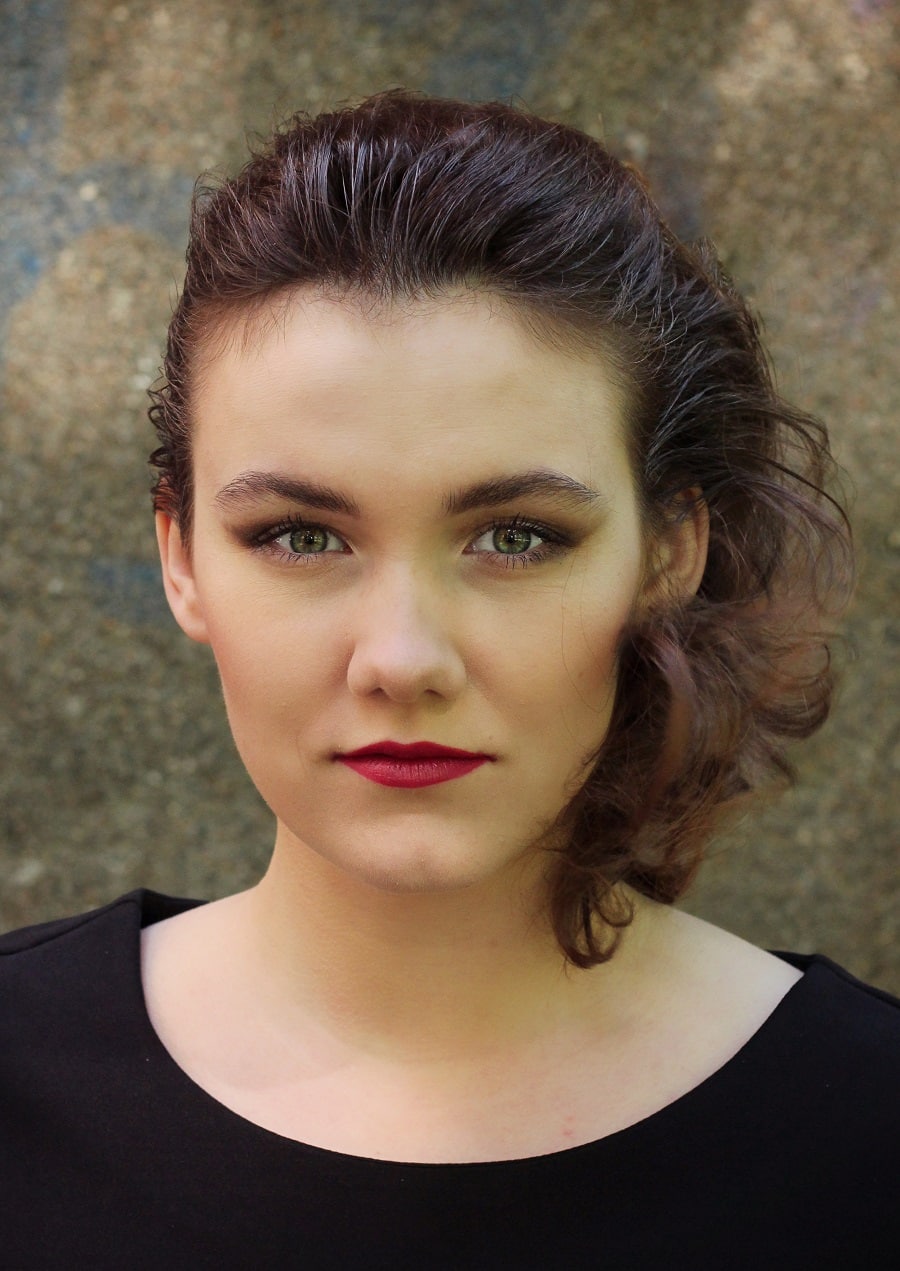 Curly bobs are great. You can make them chicer by gelling down the hair on top.
There's still a little volume to it that's been achieved by backcombing. The back of the hair is very loose and free and falls into nice little curls that just barely graze the shoulder.
28. Big Braid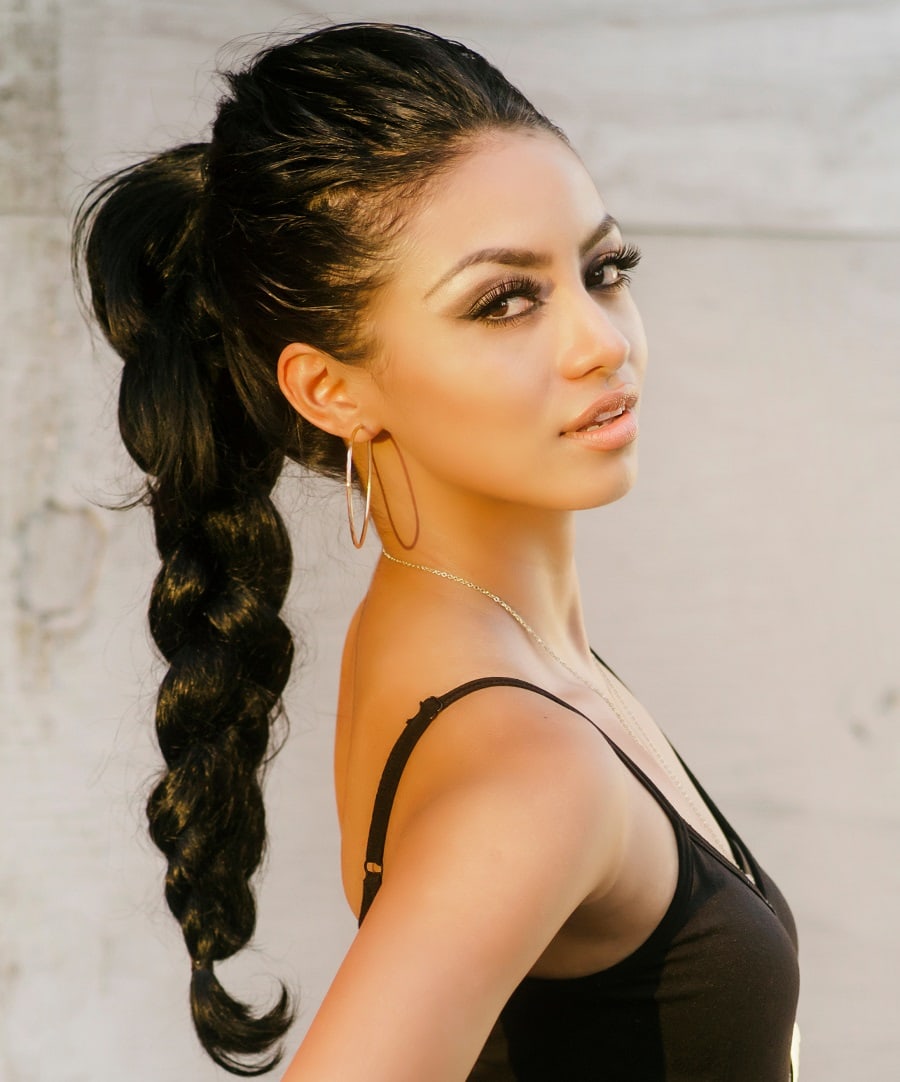 Braids encompass elegance and stylishness. The locks are drawn back with volume on top. It's all slicked into a big braid that's formed with very thick hair.
The sections of the braid are extremely large and very chic while also remaining modern and trendy in the best way.
29. Sleek High Pony
Here we have a high ponytail hairstyle that has the hair slicked back to form a nice little circle of hair that the ponytail peeks out of.
It then falls gently down the back in a very manageable thin flow of hair that looks wonderful for all occasions.
30. Topknot and Flowing Hair
Half-up half-down hairdos are really cute. Draw the locks of the head in a topknot.
The rest falls down over the shoulders in an elegant display that also manages to be very casual. It's great for everyday styles as well as party occasions.
Did you like these hairstyles? Hopefully, you did, because they'll give you a real boost to your confidence and make you feel like you're having fun with your wonderful new hairstyle. You'll feel wonderful!
There are so many ways you can play with your hair to style it in this slicked back way, so experiment a lot to see what styles work best for you. Women can really show off their features by gelling back their hair to keep it smooth and shiny.