It's not impossible to make sporty hairstyles look cute and fashionable. You may just need a little help to do it well. If you love hitting the gym and enjoying workouts on a regular basis, don't worry. We've got your back.
We can help you look fantastic while you enjoy your workout. The looks we're going to go through are super simple, they won't get in the way, and they'll totally give you that athletic vibe you're going for.
Best Sporty Hairstyles You Should Try
Come with us on this journey to discover the best looks you can wear while you hit the gym and engage in all your favorite workouts. There's something for everyone on this list!
Thick Wavy Ponytail
A ponytail is the easiest sporty hairstyle to rock while you're on the field or court. It's so simple, as you can see here. The naturally wavy hair is pulled back into a high ponytail that sits right on the crown of the head.
Dreadlock Bun
Some people may have dreadlocks, and those will totally get in your face when you're doing some intense cardio or on the treadmill at the gym.
Don't worry, though. You can easily twist those up into a big bun right on top of your head. Some loose ends decorate the side.
Boxer Braids
Braids are a super smart way to keep your hair under control. These ones start at the front of the hairline and are tight to the scalp and are commonly worn by boxers.
They remain tight up to the nape of the neck. They then fall down the back. A nice ombre look makes the style more fashionable.
Super Curly Ponytail
Curly hair can be the most difficult to control in a sporty hairstyle, as there's a lot of volume to it.
Here you can see it's easy to get it out of the face by putting it in a ponytail. The hair is brushed sleek against the scalp as the ponytail forms.
Half Up Braid
Sometimes you won't want your hair to be fully tied up. Here the sides and front are tied back, keeping them out of the face. That's what matters most. The sides and top are then braided as they fall down the back of the head.
Boxer-Inspired Braids
If you like the boxer braid look but want something looser, here you go. The braids are tight to the scalp starting at the hairline. They stay tight until they reach the top of the ear. They then fall down over the shoulders.
Sectioned Strands
Here's a unique sporty hairstyle you may enjoy. The hair is easy to control as it's pulled into five long sections across the head. Each long section is then sectioned off again, creating a series of long bumps that look interesting.
Thick Messy Bun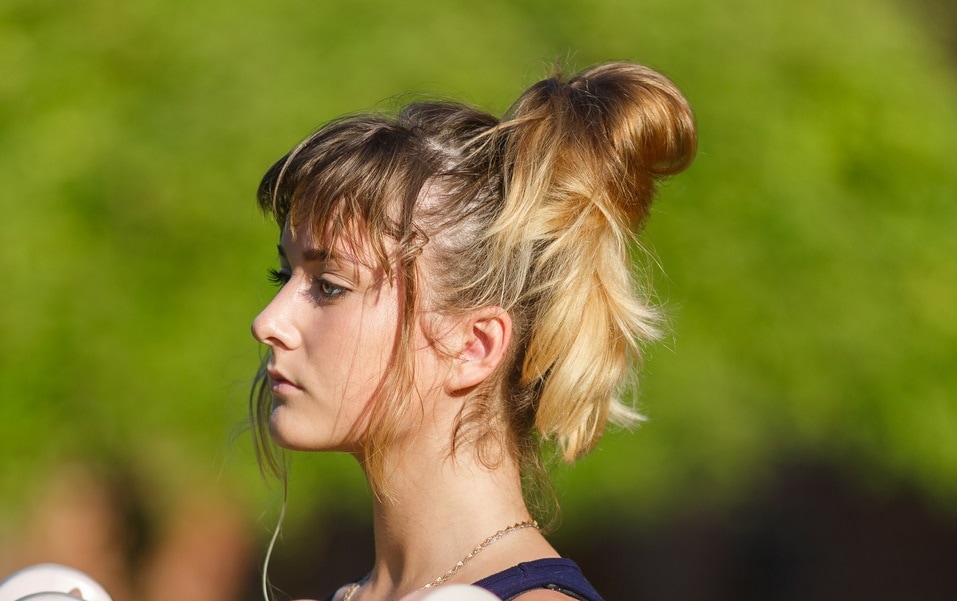 If you have very thick hair, then pulling it into a bun is a good idea. Leaving some hair loose will help the style look great, too.
This creates a messy bun look. Some bangs and strands of hair decorate the face, too, making it look even better.
Elegant Fishtail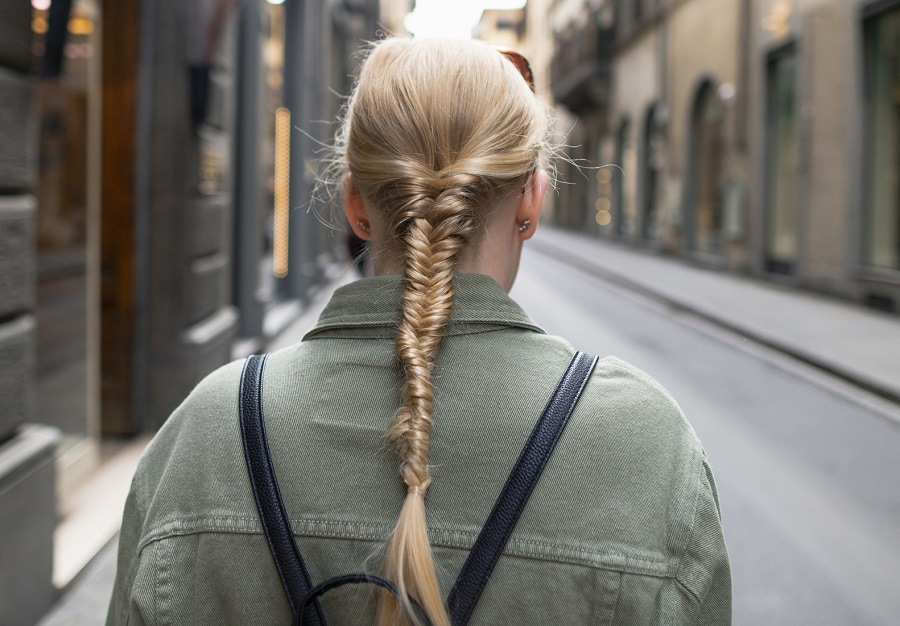 Sporty hairstyles can also be elegant, as you can see here. This is a fishtail braid that starts low on the head and falls down the back.
The hair is tightly wrapped into it, keeping your locks out of your face. This makes it a highly practical style.
Tall Top Knot
We've established that buns are great at stopping your hair from bothering you. This is a tall bun piled high on top of the head. It's very neat, and all the curly hair is wrapped up into it in a very neat manner.
It's an excellent way to keep your curls tamed during a tough workout!
Braided Buns
If you like how practical buns and braids are, then you can combine them. There are two braided buns here.
One of them has a braid running from the hairline, to the nape of the neck, then up into the bun. That adds a more interesting dynamic.
Pigtails
Two braids start on the side of the head here, and they're kept tight to the scalp. They're looser than some other styles on this list, though, and that may be more comfortable for you.
They still manage to keep all their hair neat and tidy.
Casual Messy Bun
This is a more casual messy bun style than the one we saw earlier. All the hair is wrapped up in it, but there are still some loose strands around the bottom of it.
The hair is pulled back very roughly. You can get this sporty hairstyle on a whim.
Tight Top Braids
Now we have another look that utilizes the half up, half down fashion. Most of the hair is left loose and straight, but it's kept out of the face.
A series of tight braids across the scalp ensure all the hair is pushed towards the back of the head. These braids aren't cornrows, but they're inspired by them.
Double to Single Plaits
Sometimes hair comes loose out of plaits in sporty hairstyles. That's why two plaits are often better than one. However, two plaits can fly around your head and hit you in the face.
This smart style combats that by starting off as two plaits. Then, at the nape of the neck, they come together to form one single braid.
Neat Bun and Plait
Just because you're getting hot and heated in a workout, it doesn't mean your hair can't be neat.
The hair is pulled back into a perfect bun that's styled using one of those donut hair accessories that help create this shape. A plait circles the bun, making this look chic.
If you don't mind a little hair in your face on one side, then consider this. Three plaits pull the hair back on one side of the face. It's inspired by cornrows. The rest of the locks are left long and loose to fall over one shoulder.
Dreadlock Ponytail
Some dreadlocks are so thick and numerous, so you can't put them into a bun like we saw earlier. Instead, you can secure those locks back into a ponytail.
It keeps them secure and out of your face, leaving you free to engage in your workout without distractions.
Retro Rolls
If you love a little cute, vintage touch, then here you go. In this sporty hair, there are rolls along the sides, starting at the front, going behind the ear, and ending at the nape of the neck.
Each roll ends in a little twirling knot. It keeps the hair out of your way and it looks adorable.
Full Head of Braids
A full head of plaits like this keeps flyaway hair at bay. The strands of hair very from thick to thin, and many of them are decorated with little golden rings to make you look more fashionable.
Sporty hairstyles are super practical as well as ultra fashionable. There are so many ways to make your hair look great when you're hitting the gym to get fit and live your best life.
If you liked these, be sure to consider one of them for your next heated session at the gym. You'll find that the looks help you a ton and get you plenty of compliments, too.