Earlier dreadlocks were grown naturally to tame thick coily hair, but now it has become a trend. One can easily have a deadlock hairstyle either on natural hair or by using extensions. Now the only thing is how to style your lovely extensions and get a gorgeous look every time you step out of the home.
Dreads go well with all sorts of outfits, suits women of all age, and can be worn to any occasion; just remember to style them properly. Here is a whole list of them to try.
25 Dreadlocks Hairstyles for Women to Get A New Look
We've found the top 25 ideas to style your hair in dreadlocks beautifully.
Light Purple Ombre
If you're thinking of coloring your naturally black dreadlocks or are confused about which color extensions to buy, you should give light purple color a shot.
It's beautiful, unique, and slightly different from commonly used colors. It'll be a pretty bold move if you get this color on your hair.
Ash Blonde Pony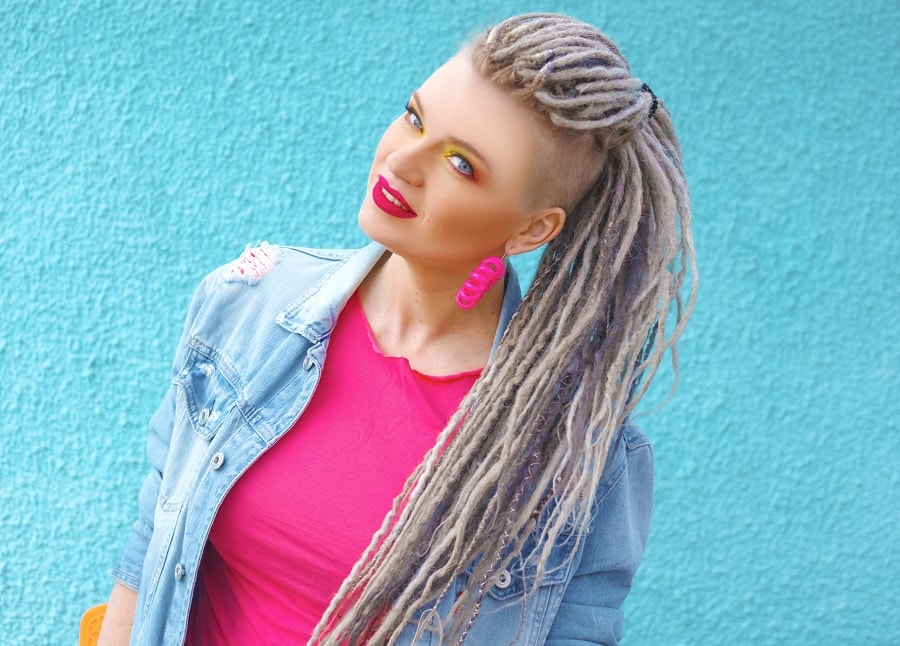 If you've naturally blonde hair, then you should go ash blonde-colored dreadlocks. It perfectly blends with your natural hair color, and nobody will be able to tell that you got dreadlock extensions.
If you shave your hair from both sides and tie all the locks in a ponytail, then lady, you just got yourself a perfect look.
Jet Black Dreads
Black color never runs out of fashion. Talking about dreadlocks hairstyles, choosing black hue is a great option since it works great when you have short or medium-length dreads.
You can attach some silver beads randomly on some strands. Leave your hair open, and there you are, looking so gorgeous.
Light Brown Locks
Another game-changer in the color world is the light brown color. It has a simple and classy vibe attached to it.
You can color your natural hair into light brown or simply get light brown extensions. Tie your hair in a high ponytail if you have long hair. Keep your face natural when you try this hairstyle.
Dread Wraps
The style look great when you have long dreadlocks. It's a fun and beautiful way to style your hair. You can just buy different colored dread wraps from the market or make your own.
Make sure you're using light-colored wraps for light black hair. Then, you can use this hairstyle the next time you go to your college or where you work part-time.
Golden Blonde Braided Ponytail
During the summer season, it can be difficult to find dreadlocks hairstyles. If you take our advice, a braided ponytail would not be a bad idea.
Take three dreads together and braid them. Then, make a high ponytail and tie it with a scarf. Golden blonde color would work wonders here.
Auburn Ginger Dreads
When you have naturally black hair, you don't have to worry about which color will suit best on your hair. For instance, take auburn ginger color.
It's a beautiful color, and when you get the same color dreads, it's a treat for you. You can also use thin blonde extensions to make little braids in between. You can also use some silver beads in between.
Short Brown Bob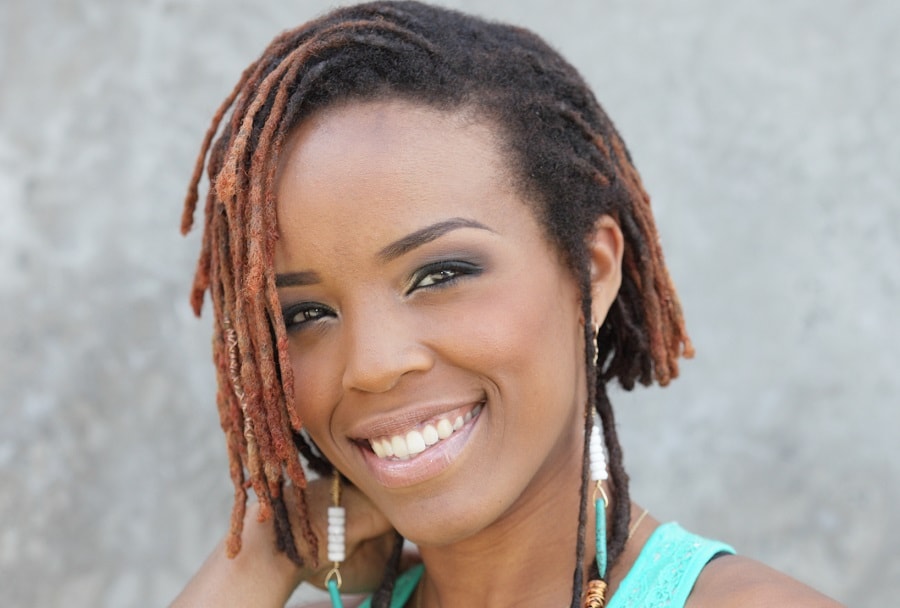 If you have type 4c short hair and aren't sure whether long hairstyle will look good on you or not, then you can try short dreads.
Any color would work, but light brown makes a great combination with black hair. You can also use colorful hair wraps on the sides and back.
Copper Red Buns
Buns look great when they are puffy and when you make buns from dreadlocks, they look naturally puffy and big.
If you have colored your hair copper red and thinking about which color of hair extensions to choose then, you can go with the same color as your hair is without a doubt. Leave your baby hair from the front.
Thick Braided Hairdo
If you're looking hairstyle for thick hair, then you should try braided dreads. They look great on thick and long hair. The dark brown hair color with a pinch of redness goes very well with natural jet black hair.
You can keep the braids open or half-tied at your convenience. This is a beautiful look for busy students.
Blonde Sisterlocks
Who says dreads are for thick hair only? You can easily have them on thin hair and get a mind-blowing look.
Choose strawberry blonde hair for a better result and keep your hair open. The waviness will give more volume to your hair. You can wrap one of the twists in colorful threads.
Neon Green Updo
Coloring your hair in funky colors is a big risk, but it's worth it. The neon dark green color is a great color combo with natural black hair.
This is one of the dreadlocks hairstyles for women that work great with long dreads. You can tie them in three small front buns and leave the rest as it is.
Purple Bun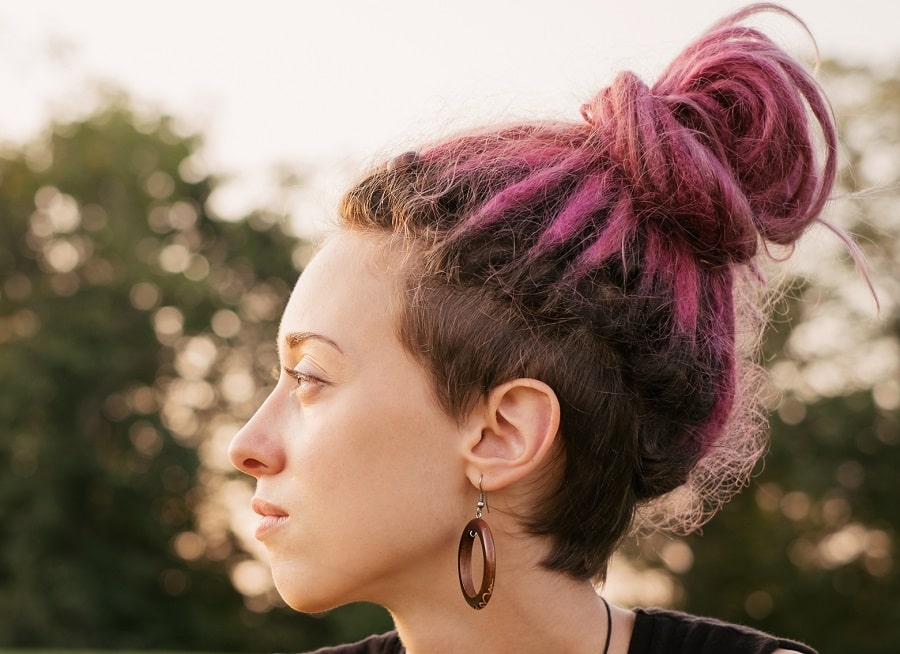 Long dreads look great on short hair if you tie them in a loose bun. You can even go for slightly shaved sides. You can go for light purple hue if you naturally have dark hair as it will enhance the overall look.
Choose extensions if you want to have longer hair. However, keep the extensions minimum as the weight can get pretty heavy.
Long and Blonde
There are many long dreadlocks hairstyles for women, and you can experiment with any color you like. Get blonde and long rope-like locs and use some thin silver beads to create a decent look.
Low Big Bun
Dreadlocks can be heavy to manage, especially in summers, so many girls do not prefer leaving them open. Why take stress when you can simply tie in a big and low bun.
All you need is a big elastic rubber band and then fold your thick dreads into a bun. This way, they stay up and do not cause sweat.
Traditional Locks
Ginger Brown is a soft color, so it's a perfect choice for those girls who love to keep their look simple. You can get middle dreads extensions and use them around the back of your head.
Leave some of your natural hair on the front and use them as side bangs. Leave your hair open to create a beautiful look.
Salt and Pepper Micro Twists
Silver ombre is one of the most beautiful dreadlocks hairstyles. This ombre shade matches with black hair.
You can also get some thin blue dreads on the sides to create a beautiful combo. To attach the extensions to your hair, you can braid your hair instead of spinning it.
Back Knotted Braid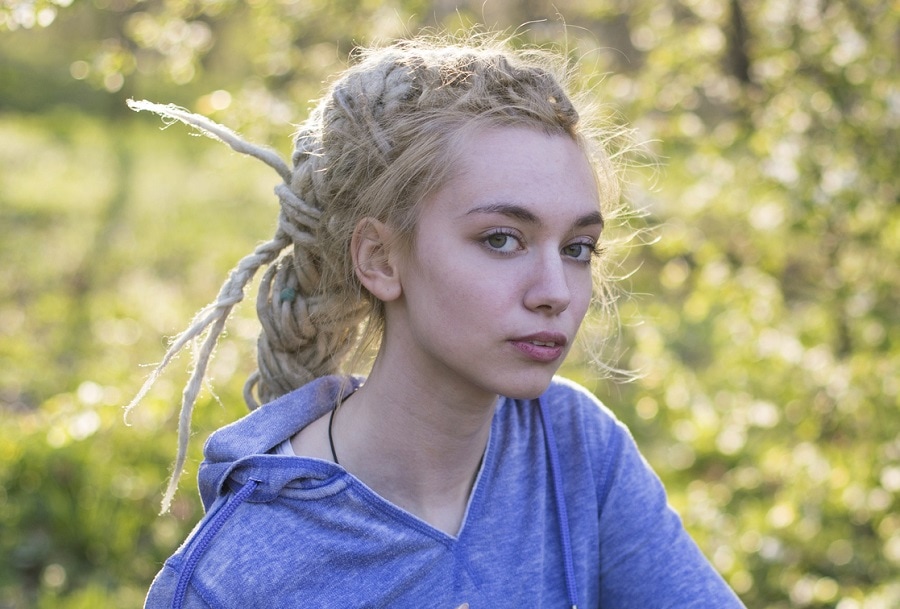 Not everyone likes to keep their hair locs open all the time, as it can be tricky to manage them. So if you're one of those girls, then you can always tie your dreads in a back braid.
Making any stylish braids can be difficult, so make a simple three-strand braid and use colorful beads.
Auburn Brown Locs
For the girls who have their natural hair colored in auburn brown, you can get auburn brown hair.
They'll match your natural hair and make it look like you have natural dreads. It looks great when you have long to middle-length hair.
Silver Ropes With Bangs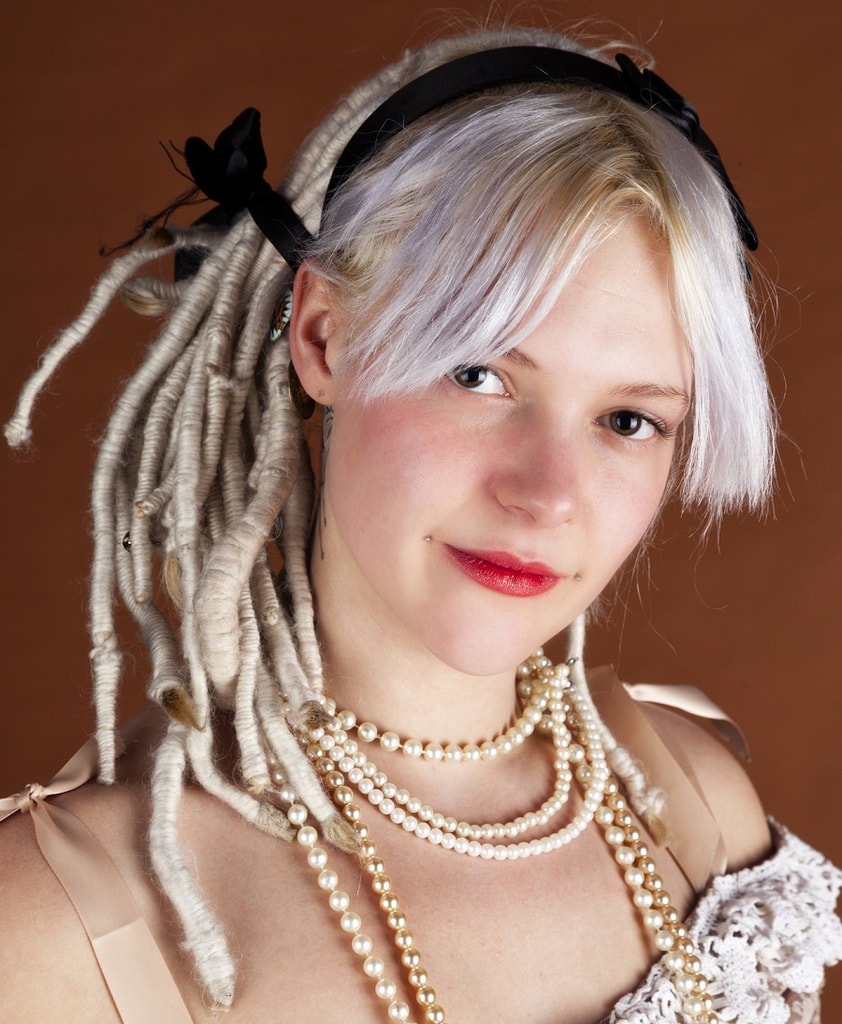 Have you ever tried bangs with yarn dreadlocks? No, then try them right now. It's better to take risks in life rather than just thinking about it.
You can get middle-length blonde dreads and tie them in a ponytail using a ribbon. You can use the same ribbon to make a hairband. Curtain bangs would be the ideal choice here.
Loose Red Braids
If you want dreadlocks but don't want to hide your natural hair, get thin auburn red dreads. Thin and long dread extensions get easily attached to your hair.
You should try this only when you have short hair so that both dreads and your hair can be easily seen without getting mixed.
Half Updo
Shaved sides are a hair risk that many are not willing to take. But trust us, when you have dreadlocks, shaved sides suit well with them.
You can pull back the front of your hair, secure it with a hairpin, and leave the remaining dreads open. It's a simple but funky hairstyle.
Thick Blonde Ropes
You can try a combination of thick and thin dreads, which means that the dreadlocks would be thicker on your scalp area and thinner on the ends.
Some girls naturally have this type of dread, while those who don't can always get short or middle-length extensions. Keep your hair center-parted.
High Bun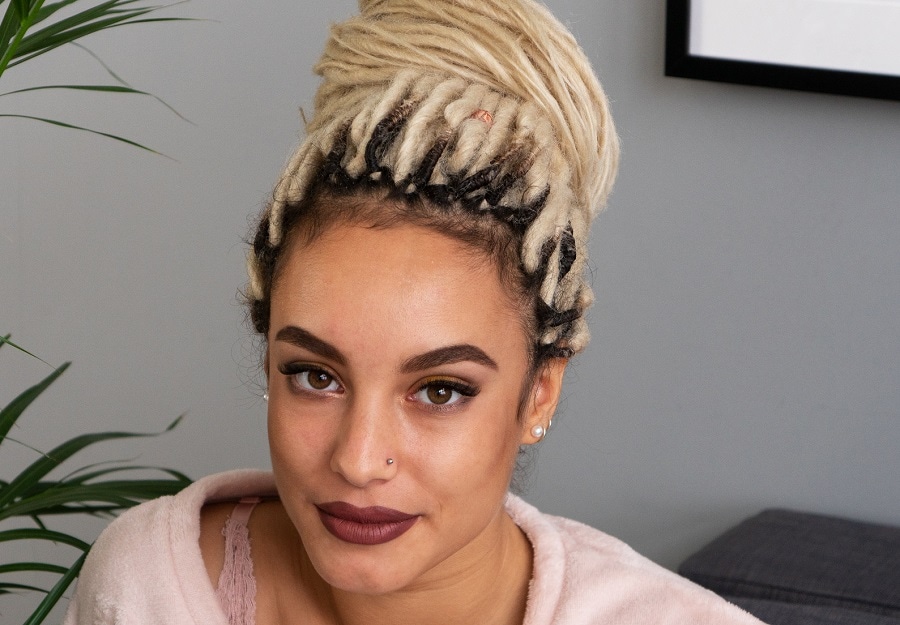 Dreadlocks are not that easy to handle, but we can all agree they're so gorgeous. You can get thick and long blonde dreads on your black hair and tie it in a big and high bun.
This hairstyle can look appealing to many, so we're warning you in advance about the bundle of compliments you're going to get.
Dreads for Women over 50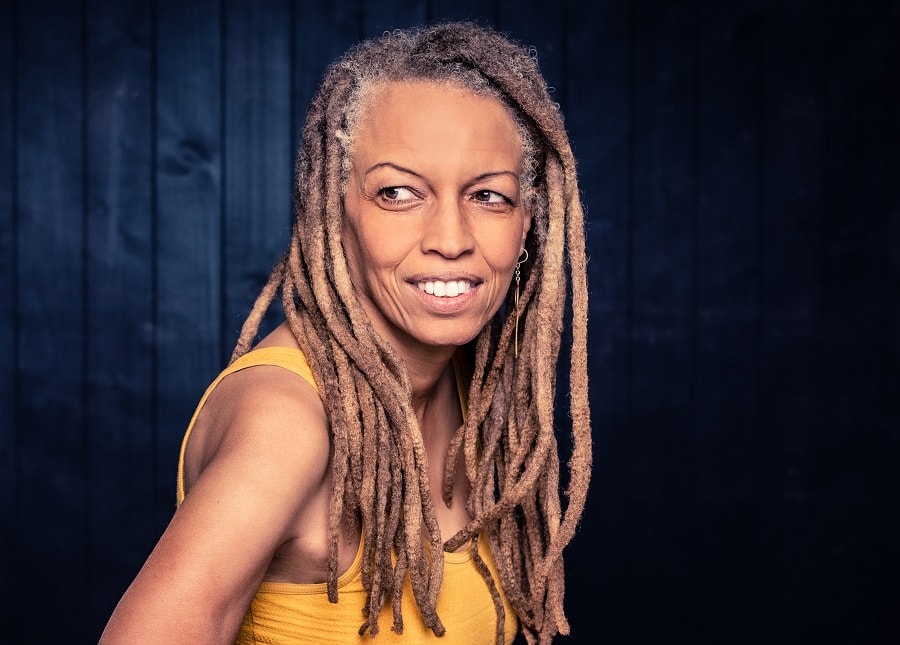 No one talks about which hairstyles will suit old ladies; that's why we're here. Dreadlocks look great on old ladies, especially when there's little hair left with them.
No matter their natural hair color, light brown dreads would be a beautiful choice here. Keep the length middle, so it's easier to manage.
Choose any of the lovely dreadlocks hairstyles we have listed and enjoy the new look. Each one is a bit different from the others, and that's their beauty.
We tried to list unique hairstyles for every season and occasion. So save time thinking and get started with our creative ideas and style your dreadlocks beautifully.