Bored of the same braids and twists? Want to add some fun and color to your look? Then, check out our super exciting list of yarn dreads. We are sure that you will fall in love with more than one or would want to try them all one-by-one.
Get a stylish, chic, cool look with these styles. Opt for acrylic extensions to have a nice grip over the false locs to work with. It will even tame your hair and keep them damage-free.
The best part is you don't have to invest in expensive styling products for this look. Instead, simply buy some colorful yarns to create a fun, colorful style.
Best Ways to Style Yarn Dreadlocks
Why not experiment with colors when you have the option? So let the fun begin by getting a stylish colorful hair makeover with these lovely yarn dreads.
Hot Brown Dreads
Did someone say gorgeous?? Well, these hot brown yarn dreads certainly scream it very loud.
Chocolatey brown dread extensions created a hot gradient look on the natural black hair. These loose hair will add a playful look.
Periwinkle Magic
It's time to be a Disney princess; periwinkle paired with icy blue makes the perfect royal-looking color.
Leave the roots and base with your natural hair color so it will not seem too bold. Instead, moisturize the roots, braid a little, and add the extensions.
Rustic Brown Locs
Going for a color that is the same color as your natural hair will give you a subtle blended look. A few strands are left free in the front while the others are knitted tight into braids.
You can use accessories to hype up the look or leave it plain for a subtle and minimal look.
Knotted Half Up Buns
Sassy and classy space buns are the attention steelers. White yarn dreads are knotted at the roots.
Then make two buns, leaving half hair open to create a sassy and chic style. Finally, pair up with shades and denim and you are ready to charm everyone.
Blue Ombre with Shaved Side
Now, we have seen all the boring colored dreads; some can be really creative as this too. Sleek locks with extensions with an ombre technique give the coolest vibe.
To add more charm to it, you can choose a side shave and get a more stylish look. In addition, you can create a gradient using two or more colors.
Green-Yellow Combo
Green is a happy color that looks beautiful when worn as braids. Some are knitted with cool green extensions and braided with bright yellow to level the coolness.
If you are bored of the same colors and now need something different, this is for you. Teenagers will love this look and would surely wanna try it.
Golden Blonde Updo
Chunky yarn blonde dreadlocks knitted up to enhance a casual updo are super awesome and a bold choice.
Wrapped up into a beautiful dread bun on the crown region of the head will create a bold updo. In addition, these two-toned locs will offer a retro look.
Long Locs with Headband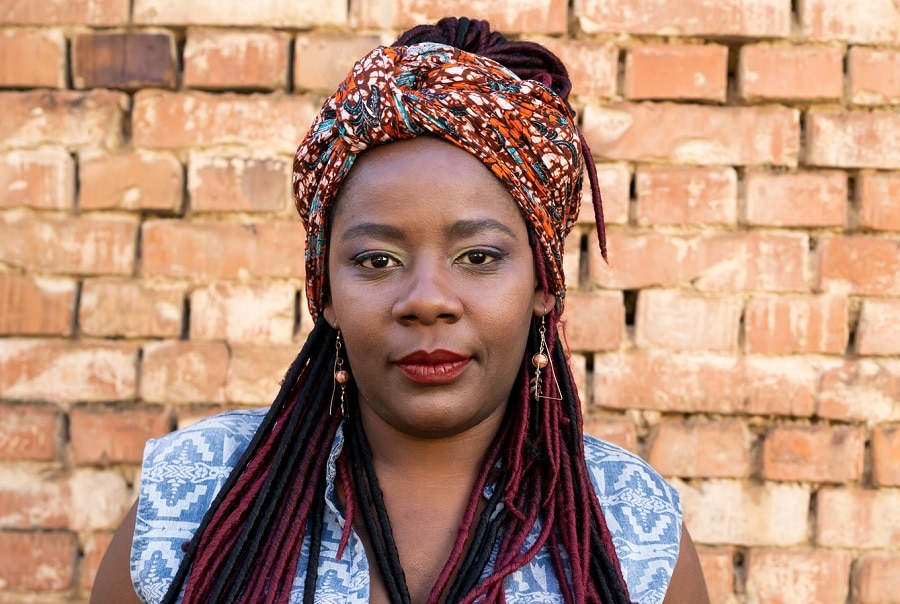 Accessorizing your hair will make you look chic. Tie up your hair into a half bun updo and leave the rest free so that paired with a headband will be a winning combo. Go for the same color-toned extensions for a dual-toned effect.
Bright Red Yarn Dreads
Yarn dreads do not need to be thin or sleek always. They can also have strikingly hot colors knitted into medium-thick braids for a layered look. Ideal for teenagers looking for a grunge look.
Embellished Burgundy Lob
Embellishing with golden accessories will add a royal vibe to the hair. This layered look will give you a classic and lovely look that is utterly fantastic. Burgundy is the prettiest hair color a woman can have.
Colorful Knitted Curls
Many people get the picture of thick, long, sleek locs when they hear yarn dreads.
We got you a style to completely change the ideology of this thought. You can also create tension in the extensions to get a curly knitted style like this.
Thick Turquoise Dreads
Young ladies prefer to have false extensions rather than real extensions because of the texture and color of the extensions. These turquoise blue braids are so sleek and give a chilled-out vibe.
Dual Toned Thick Locs
Dual-toned braids are crazy and will mesmerize everyone while looking at them. The style will be best for ladies who love to doll up with gothic or grunge attires. The ends are not locked, which creates a unique furry end look.
Modern Yarn Dreads
Adding colors to your hairstyle will increase the hotness and style. Wearing a dread style that is neatly arranged and knitted will be an eye-pleasing view. The beads and clutches are elegantly arranged for a lovely hairdo.
Big Knitted Updo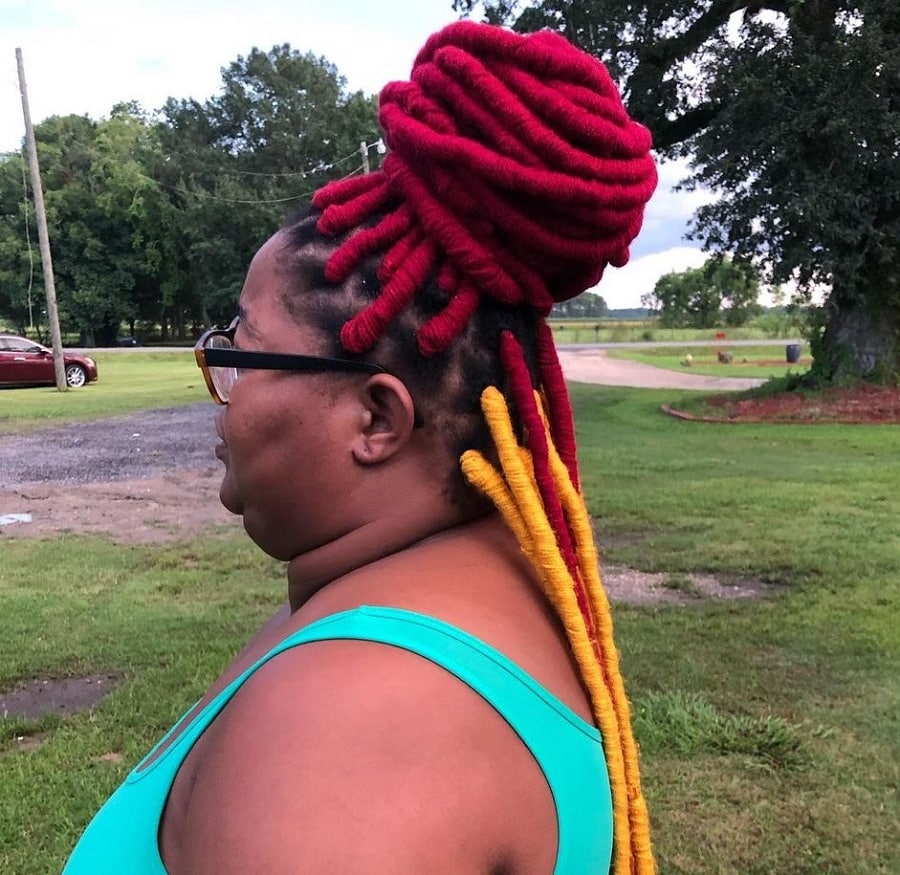 Older women looking for a hairdo that can match their age and still looks chic and stylish can try this.
Big chunky braids are knitted using false wool, and half of it is tied into a bun. While the other is given a contrasting color and left free near the nape.
Braided Pigtails
Although this style will take some time to finish, the time and effort will be fully paid off.
Started as a french braid integrated with colorful yarn dreadlocks and tied into pigtails and is the cutest style you can ever have. Perfect for teens looking for the cutest style for the party.
Neon Pink Dreads
Neon colors are bold colors for a woman to try. Paired up, proper attires will give you a bright pop look. The undercut is something that adds style to the hairdo. Sweep the locs to the back for a laid-back look.
Faux Locs with Bangs
If you are on to embracing your tribal culture, this false bun and bangs style is something you should be looking into.
The tribal essence of this hairdo is in its roots. First, the yarn is dipped into various colors to get a dip dye style.
Funky Twisted Dreads
Time for some funky colors! Lately, it's all about colors. The more colors you have, the more stylish and funky you look.
Started with securing little hair parts on the scalp and attaching each other into a long braid. Bright colors are chosen, and the ends are secured with elastics.
Natural Knitted Look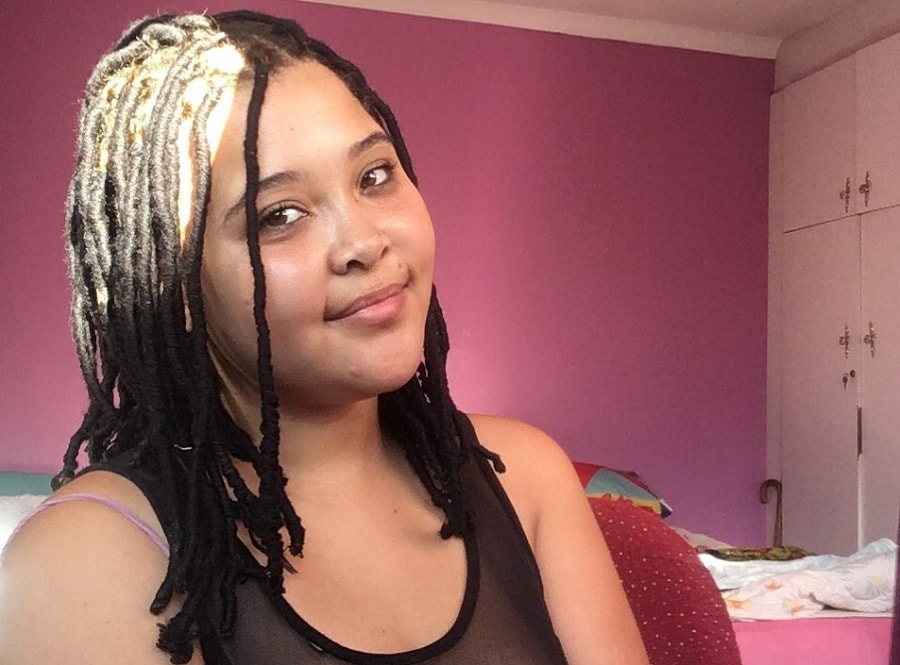 You can still be natural with all those colors and get a striking look. Add extensions of the same color as your natural hair to increase your hair's volume. Being simple and minimal can still give you a stand-out look.
Long Street Style
We love how free-spirited this hairstyle is. Multiple colors gave a silky playful look to the extensions.
These yarn dreads are placed from the roots, so the natural hair is cleanly protected. These could be the perfect style for mountain treks for Instagram-worthy photos.
This amazing collection of yarn dreads covers all corners of styling options. Now it is up to you to pick the best-suited style for you.
Go for acrylic yarn extensions than the regular ones; they are silky and will give you a sleek finish. The texture of these will make them easily blend into the hair to give a sleek hairdo. Wash them with warm water if they ever look dirty.