Brazilian wool is black and has soft woolen strands that look a lot like hair. It is a common kind of yarn used to knit and can even be braided into hair to make heavy braided hair. A Brazilian Wool Braid uses this wool and braids it into the hair to give them volume and make them look shinier.
The wool can be used as a hair extension and is very popular among African-origin people. The afro hairstyle, which is a common trend among black people, makes use of these extensions to be added to the hair.
Though they are simple braids to make, due to the trend of making them throughout the volume of the hair, it is very time-consuming to make them. Once made, they are trendy and can be further made into other hairstyles.
What is Brazilian Wool?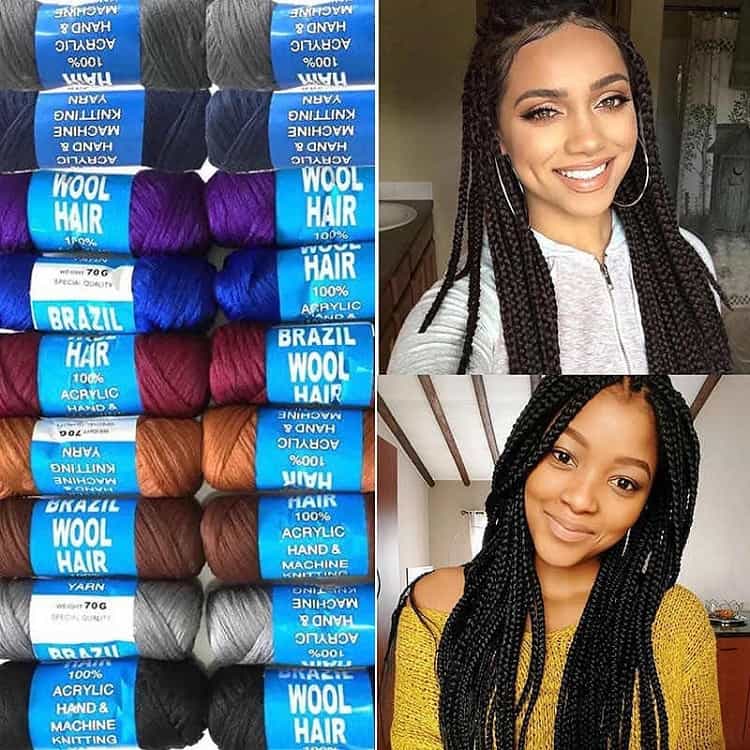 Nobody wants to wear something made of unknown material, unlike Brazilian wool, which is made from Nigeria's finest quality wool. Women often find yarn braids very heavy, and they can damage the scalp, so a hairstylist from Nigeria created Brazilian wool.
It is thin and so fine to give a sleek and smooth texture. The wool is thinner than hair, so it is not as heavy as the wool used in yarn braids. This wool also has a pleasant natural shine to it, and it is also easy to style. The smooth texture of the wool will be so much malleable and lasts long too.
What Do You Need to Make Brazilian Wool Braids?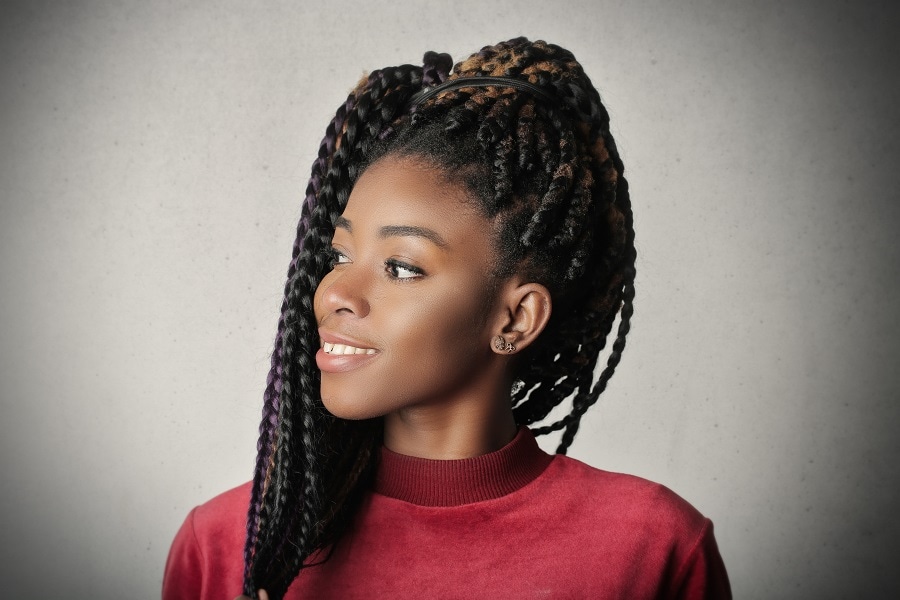 Brazilian wool
A comb
Hairspray
Conditioner
Step-By-Step Procedure to Make Brazilian Wool Braids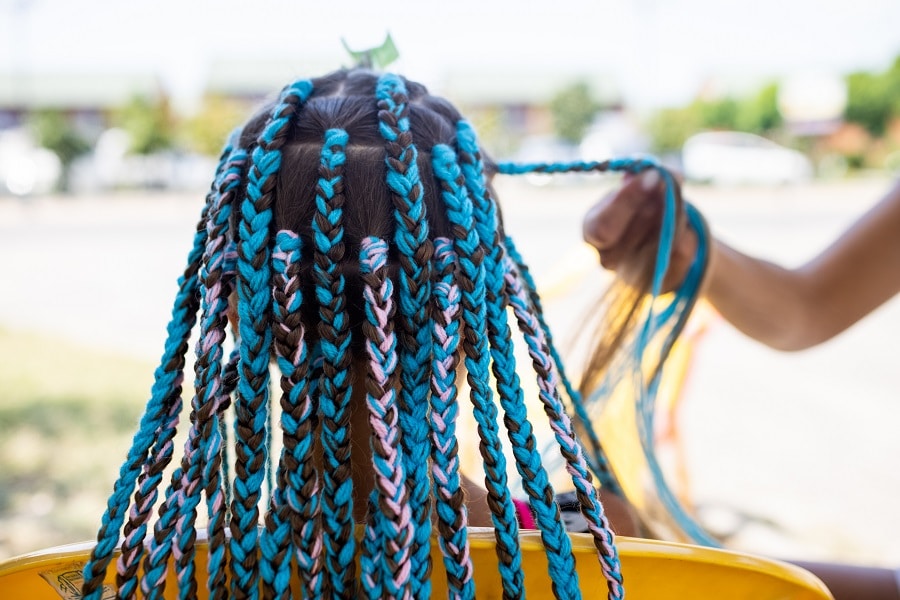 1. Part your hair and take a small section of the hair and divide it into three sub-sections. Clip up the rest of your hair so that it doesn't interfere with the braids.
2. Now, start with braiding these sub-sections into a normal three-strand braid.
3. After the first knot, take a thin section of the Brazilian wool and fold it in half.
4. Now take the Brazilian wool strand from the point of the bend and place it between the first know of your braided hair.
5. Add this section of wool and continue to braid with it. After another knot, add some more Brazilian wool similarly as done previously.
6. After you have added the sections of Brazilian wool and the braid is to the thickness that you prefer, stop adding the wool extensions and finish the braid.
7. Repeat the above steps throughout your head and go section by section till your whole head is covered with the braids.
8. Now, take boiling hot water and dip the ends of your hair in the water to secure them well and then pat dry with a towel.
9. Use hairspray and dry shampoo to secure the braids and settle down the frizz.
Your Brazilian wool braids are done! Now that they are done, you can choose to tie them up in a ponytail or leave them loose; they look beautiful and make your hair look voluminous at any time!
Brazilian Wool Braids vs. Yarn Braids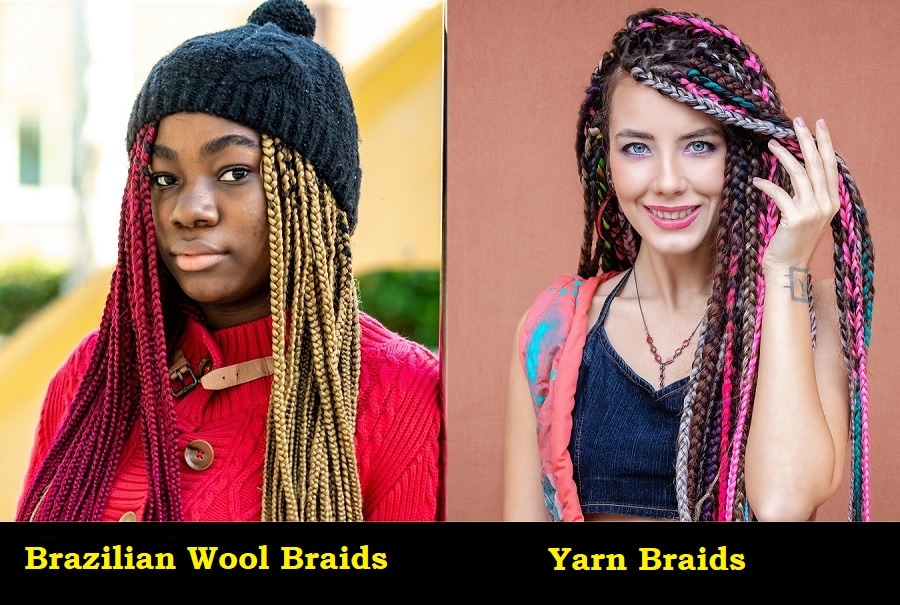 Brazilian wool will easily blend into natural hair; the faux locs are smooth, textured, and shiny. These wool braids are lightweight and easy to wear. This is processed into very fine filamentous wool, which is very safe to use.
It is easy to control the thickness of the braids while using smooth and weightless wool. Usually, these wool braids will last up to 8 weeks, and you can wash them too.
Yarn braids are braided using yarn; this is synthetically produced. Most women prefer to use acrylic yarn to braid their hair as it is easy to handle. But there is a chance of these braids melting into the hair if the temperature around you is too high. Usually, yarn braids will last for 7 to 8 weeks
Best Brazilian Wool Braids Styles
Knitted wool hairdos have been top of hair trends for many years. The gray knitted wool hairstyle was the top trend that ruled Instagram in 2017. Many women prefer this hairstyle because it offers long-term protection for hair.
As the seasons proceed, many different types of Brazilian wool styles are seen in the market. This can never go out of style; check out some of these hairstyles below:
Classic Brown Brazilian Braids
A classic thick Brazilian wool braided hairstyle can be a chic everyday hairstyle. It does not require much care and attention, so you can easily get ready every day.
The brown color of the locks is so earthy and shiny, which will match most of the day-to-day outfits.
Thick Box Braids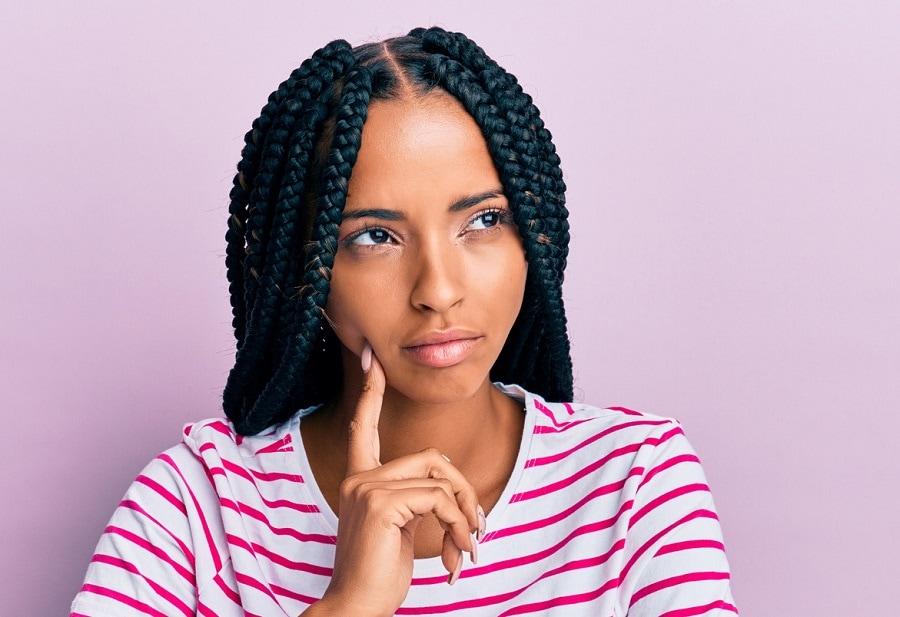 If you love to have little chunky braids, then you can try these thick box braids made with smooth and soft wool. This could be the best hairstyle for teenagers. The Brazilian wool braided styles are thick enough to catch the limelight.
Micro Braided Bob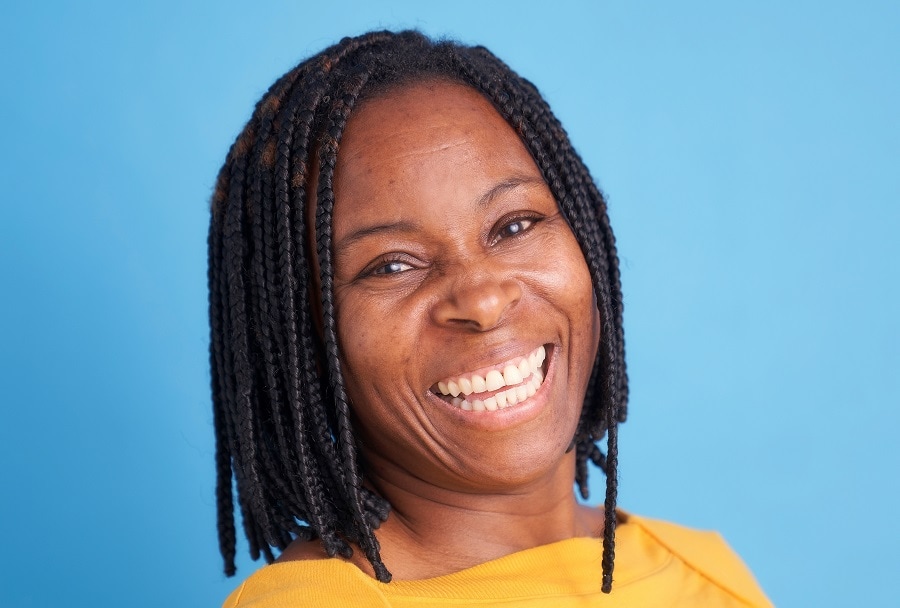 Micro braids on a bob look so stunning; these look super glamorous on older women too. The shiny-looking wool gives the bob a shiny appearance that has a pleasant vibe.
Braided High Bun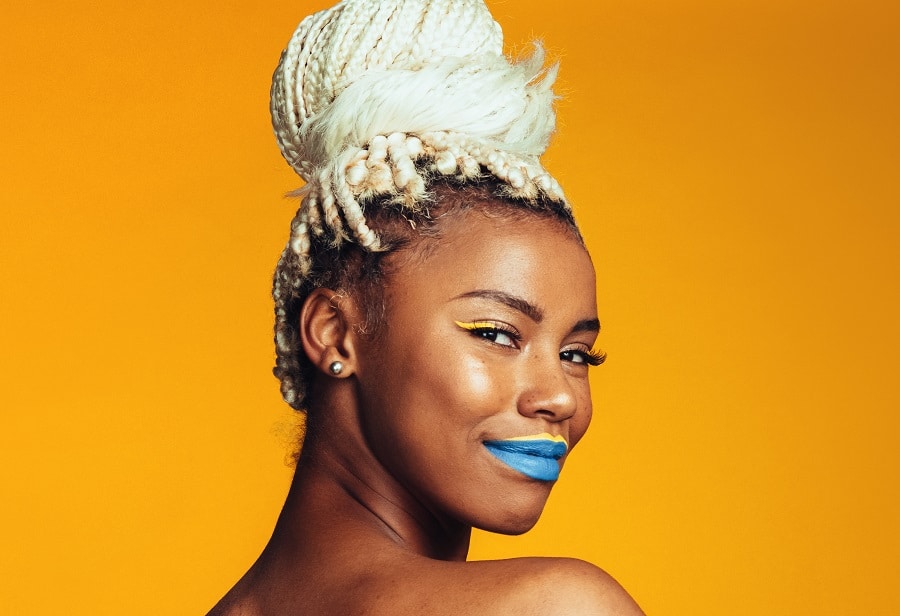 No matter how many wool hairstyles you try, the braided wool bun will make a big statement. This white Brazilian wool braided bun looks so elegant and rich, paired with contrast makeup for a statement look.
Knotless Braids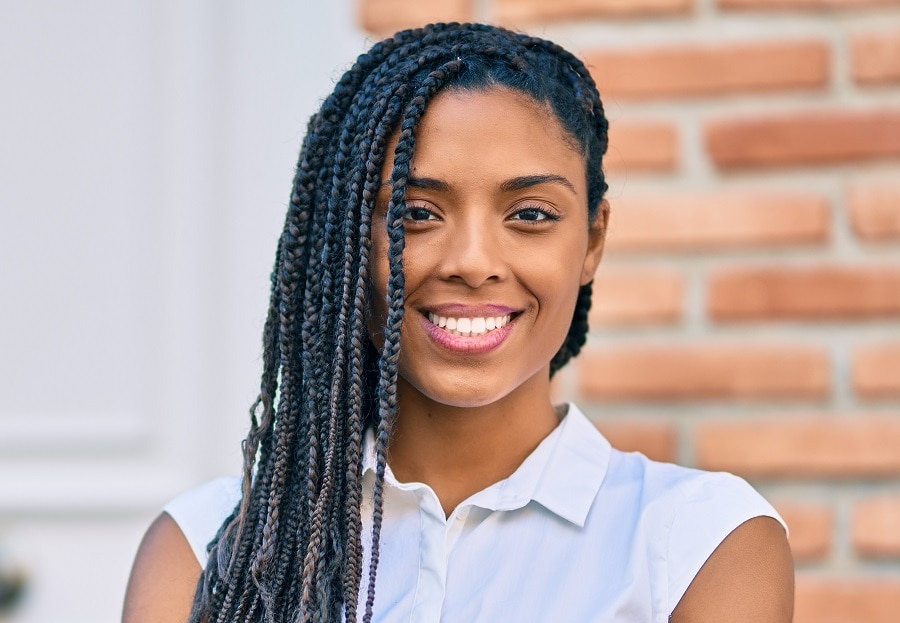 If you have a long natural headband opting for wool braids, this is how it will look. The natural hair and wool almost have similar hues to create a dual-colored effect. This is because the ends are just left free.
Contrasting Twist Braids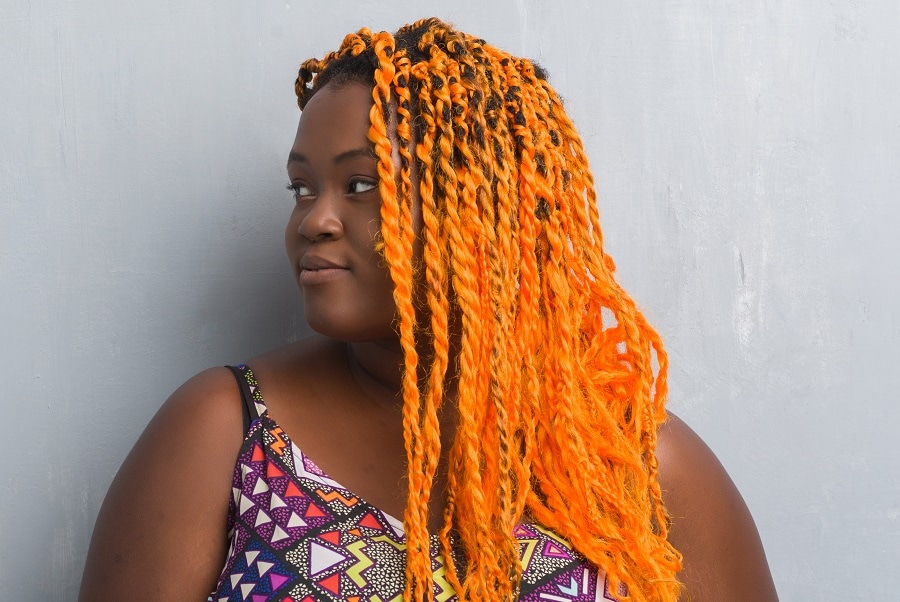 Looking for the trendiest Brazilian wool braided styles? Try this then. The wool chosen has a bright orange color. It is twisted into rope braids of irregular size to create this look. You can use any bright colors to recreate this look for your liking.
Embellished Braided Lob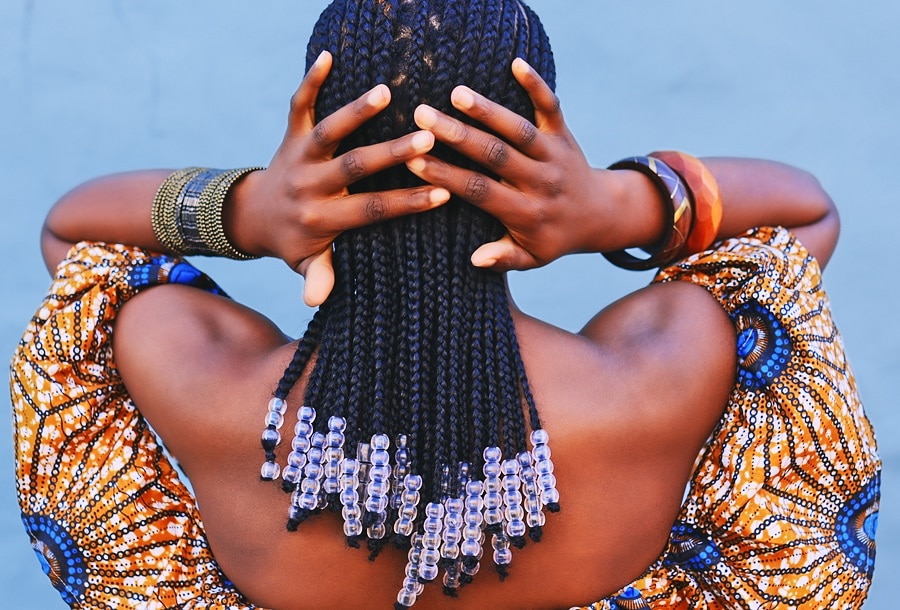 Add more grace and fun to your knitted hairstyle look, add glass beads at the ends of the braids, as shown.
You can use this style to pair up with any tribal-themed dress to get the best out of it. The beads usually shine when light hits them and gives you an effortless sparkle to shine.
Medium Braids with Ribbon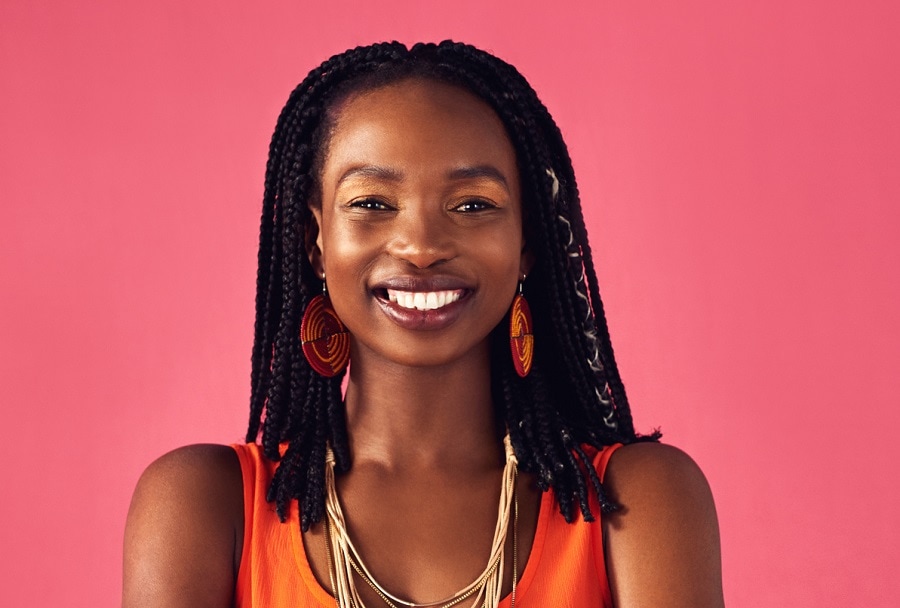 This is the easiest style to level up your medium-braided hair. Add a sleek ribbon of complimenting color to a single braid of your hair. This can easily highlight the hairstyle with minimum effort. You can add as many as you like.
Midnight Green Locks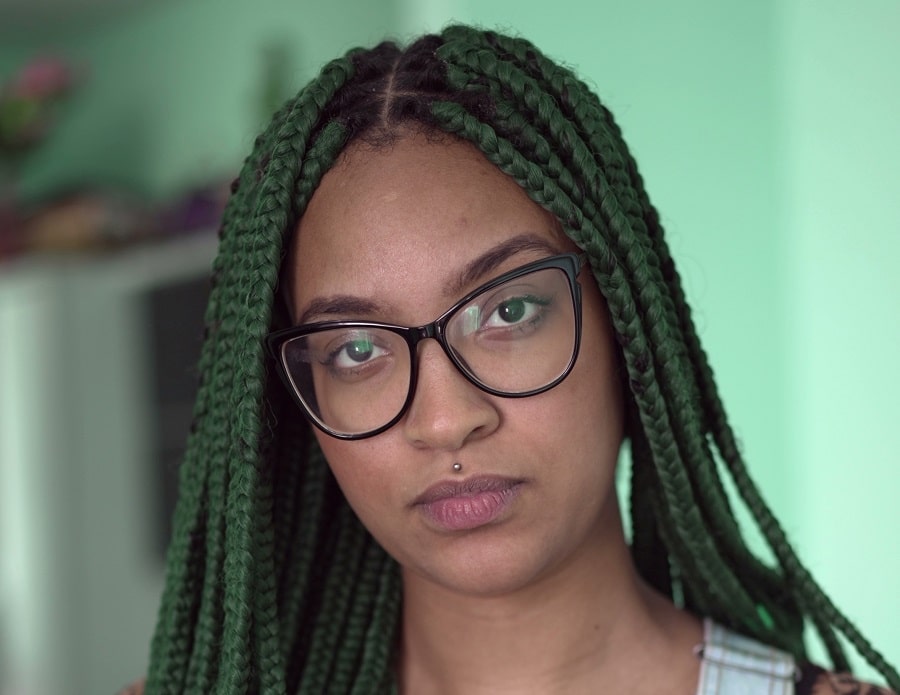 These Brazilian wool braids are so soft and comfortable. They are weightless, so you can have thick-colored braids without hesitation. In addition, the sleekness of the wool allows you to control the thickness and placement of the braids to create a seamless look, as shown.
Designer Butterfly Locs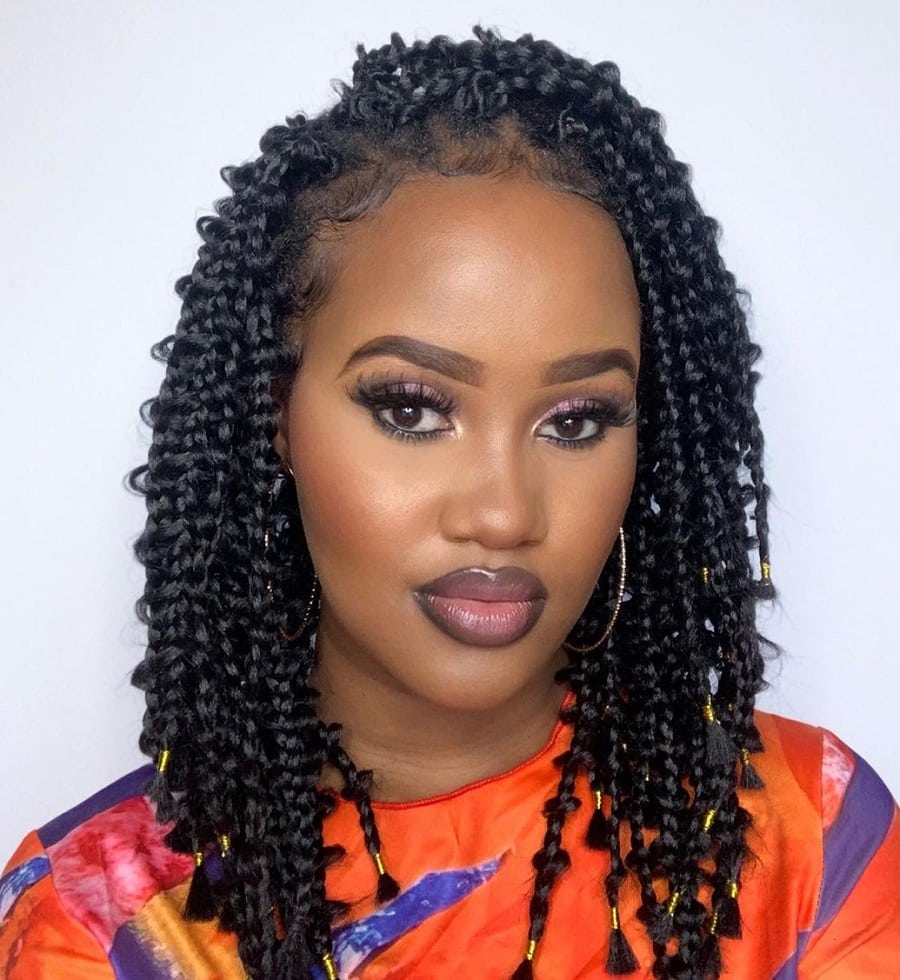 Soft Brazilian wool is the perfect hair extension to play with. You can easily bend and twist the wool to create some adorable looks. The ends are secured with slim gold thread for extra highlighting. Pair it with a nice dress, and all the eyes will surely be on you.
FAQs on Brazilian Wool Braids
1. How long can you keep Brazilian Wool braids?
These braids take a long time to make and are spread across your hair; thus, they need good maintenance.
A good bunch of Brazilian Wool braids can be kept for up to 8 weeks at a stretch. It is advised not to keep them for longer than that since it deteriorates the quality of hair and also pull back your hair.
2. How do you maintain Brazilian wool braids?
These braids, once made, are easy and important to maintain. Since they are spread across the head, the scalp could get dry on occasion. It is essential to use dry shampoo and conditioner to keep your scalp moisturized and to sleep with a silk or satin cloth on the braids.
Occasionally wet the braids and then pat dry with a towel. You should also periodically dip the ends in boiled water to keep them secured for longer. The better the braids are maintained, the longer they last.
3. What hairstyles can you make with Brazilian braids?
With the complete volume of your hair tied into these braids, it is easy to make them into different styles. African women are seen styling them up into ponytails or voluminous buns and also going around with loose hair.
While making the braids, one can also add beads or clips to braids to style them better and be more creative.
4. What does Brazilian wool make from?
It is made from real wool but undergoes extreme processing to get that thinner and smoother. So it is not 100% pure, but it is made from wool.
5. How much does Brazilian wool braiding cost?
Usually, the finest quality of Brazilian wool will cost around 1,550 Kenyan shillings, which will be 12.76 dollars. Therefore, you will need 4 to 6 packs of Brazilian wool for full head braiding.
Some of them are also available in the market for 1.26 dollars too.
6. Can you put the Brazilian wool braid in hot water?
Yes, you can dip Brazilian wool braids in hot water. This will allow the braid to loosen a little bit. These are just like synthetic dread extensions made with kanekalon fiber.
It also removes dirt and brings the shine back to the wool. However, please do not do it often because it may damage the fiber in the wool.
7. Can Brazilian wool be curled?
Yes, you can curl Brazilian wool. Just dip the wool in hot water and curl them. Although these curls are not tight enough, they can still look good. Many hairdressers use this ultimate trick to curl Brazilian wool.
Start with warm water and gradually increase the temperature if you cannot find any results.