Faux locs hairstyles are the best protective styles that are stylish and hot too. These are usually created by either knitting the extensions into the hair or wrapping them around the natural hair. These come in various colors, too, so you have numerous colors to change from time to time.
You can hype up the glam of faux locs by adding beads, clips, and other hair accessories. You can experiment with a variety of colors to create a glamorous style. Do not forget to hydrate your hair before you start. Hydrating will soften the hair and will allow you to tame it easily.
Hottest Ways to Wear Faux Locs
Many celebs like Zendeya and Rihanna aced these hairstyles, and here are some cool hairstyles for you to try.
Wrapped Style
When it comes to protective hairstyles, head wraps using silk or satin scarfs are the most seen styling options.
Thin and sleek faux locs knitted using silky smooth false hair extensions are super hot. You can use different ways of wrapping a scarf every day for a new and fresh look.
Faux Locs Updo
This style here is perfect for middle-aged women. Soft textured and knitted into thick dreads will give the much-needed volume for a perfect crown bun.
You can use the same or different colored extensions to make this style. Use acrylic extensions, so they will not feel heavy.
Long Layered Dreads
We love these layered dreads; look how thick and chic they look. Seems like a gorgeous long corseted style for teenagers looking for cool freshmen look.
The layers are perfectly arranged to create a voluminous hairdo. Add enough extensions to get a voluminous layered look.
Drippy Red with Side Shave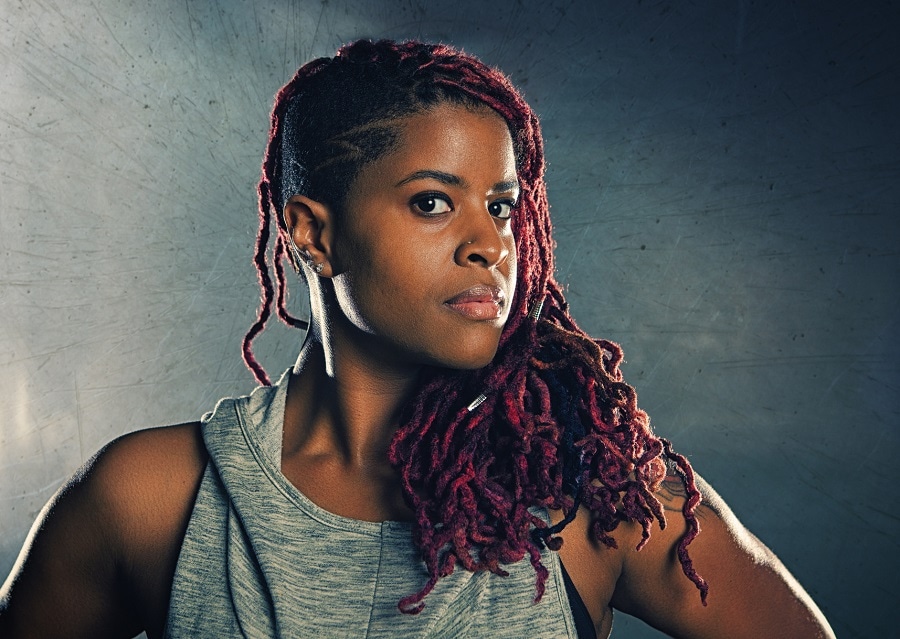 Go creative and express your style and boldness using these drippy red false extensions! This super cool combination of a side shave and design is on point and flushes out confidence and boldness.
Perfect for sporting women looking for a protective hairstyle to save their hair from sweat and grease.
False Locs for Older Women
If your style is more subtle and minimal, this style will complement your style choices. Shoulder-length locs will give you all the eyes. The hair cuffs will definitely hype up the subtle aesthetic to another level.
Knitted Faux Locs
Installing long extensions will give you the appearance of thick, voluminous hair. Whereas these will be easily maintainable and do not feel heavy too.
The highlights are glossy to shine under the light. You can go for tan brown to medium brown highlights to get a sun-kissed look.
The Goddess Locs
Faux locs hairstyles have godly vibes to them. This style, created with bulky extensions twisted into a half crown bun, is divine.
The extensions are similar to the hair's natural base color, giving a seamless look.
Corseted Pigtails
False loc extensions are versatile and can be done in various ways. Here is another beautiful style for teen women made using false loc extensions. Long corseted braids are tied together to create voluminous pigtails.
Root like Locs
This style will amaze women who love to flaunt their natural hair. Same color hair extensions should be chosen to create this thick faux locs hairstyles like these. Little tension is created in the locs to get rippled patterns like roots.
Trendy Curly Locs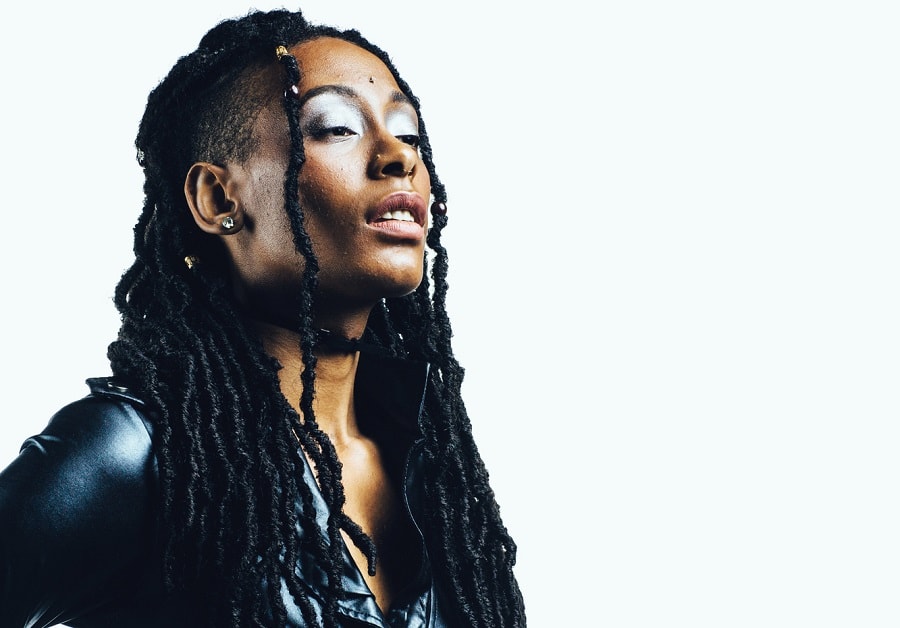 This deep and dramatic hairstyle is strikingly hot and trendy. With false locs extensions like this, you can be the center of attraction.
The sides are shaved to give a bold appearance. Small shiny clutches are added for shimmer.
Sweet Blondie
If you love blonde looks and do not want to dye your hair, try sweet blonde fake locs. These are super sweet and do not do any harm to your hair.
Blonde extensions are added to the hair, some are woven into braids, and some are twisted for a distant look.
Cool Blue Locs
Cool blues to beat the Monday blues. Dynamic blue locs are the best to get an attention bagger and killer look. Not only is your hair protected, but it is protected in style. Pair up with cool shaded attires to get a bomb look.
Black and Red Combo
Black women are gorgeous and even more godly when grooming their hair.
Black and red are bold hair combinations that perfectly balance black women's sassiness and classiness. These are knitted loosely to create a fluffy textured look.
Rustic Goddess Hairdo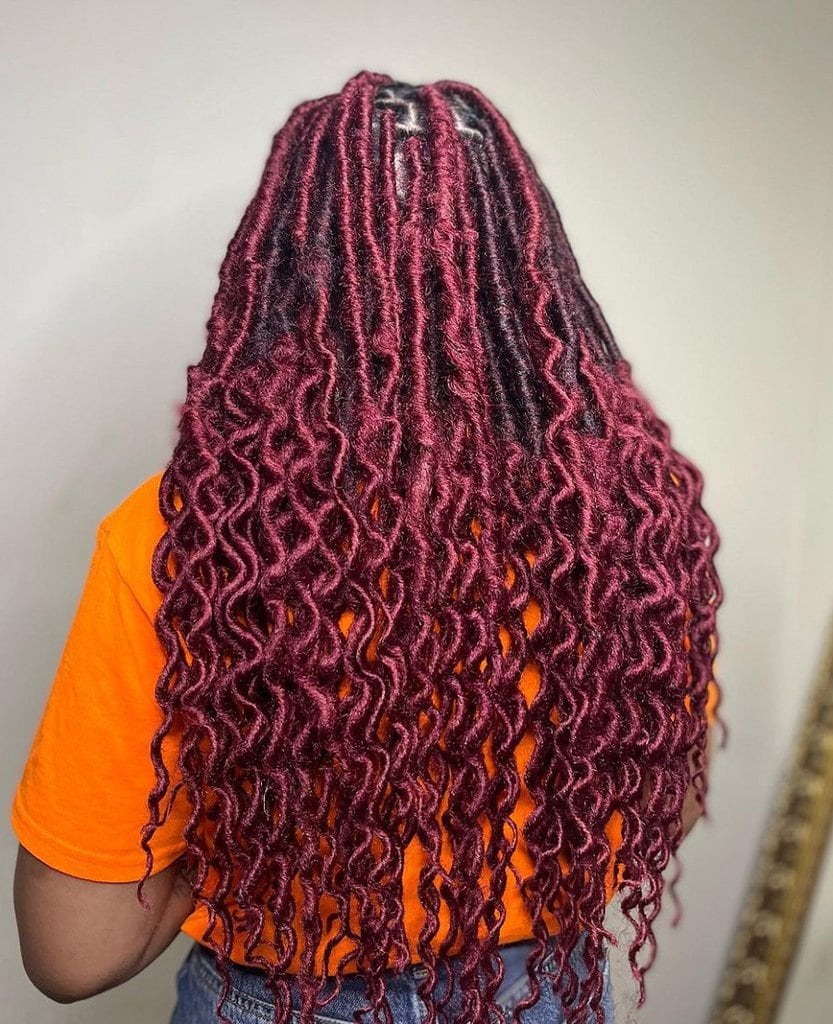 A rustic patch of color that adds a lively look to your hair is so godly. It goes well with long or short hair, even for false faux locs. This is an eye-popping color; add serums or gel to add gloss to the style.
Shaved Grey Look
The coolest and trendiest way for women in their middle age to hype their grey-haired look. If you love flaunting the greys, add shaves on the sides and back to make it look trendier and more stylish.
High Ponytail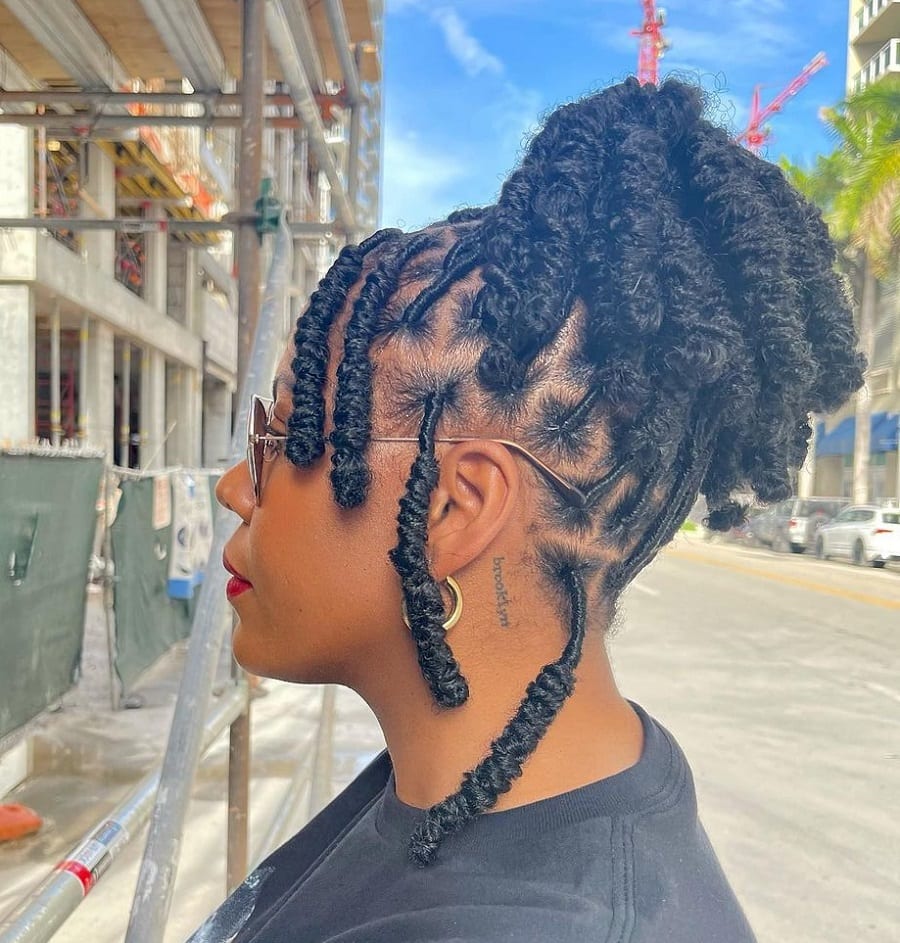 This is just a work of art. Started with many partitions and knitted into sleek threads and curled to secure the ends. The partitions are even and seamless and are made into a high ponytail. Few strands are left free for bangs.
Caramel False Locs
Create this half-up caramel hairdo for an eternal false locs style. These nutty browns give a quick blend look.
Combining different hues of browns will give you a stand-out look. Wear it as high as possible and leave some free framing strands for a cute look.
Pastel Colors
Patels will never let you down! Purple and light blue pastel extensions mixed are so lively. The best style to add pop to your hairstyle.
The roots are left black to make it look subtle. The extensions are knitted uneven for a voluminous look.
Black Brown Ombre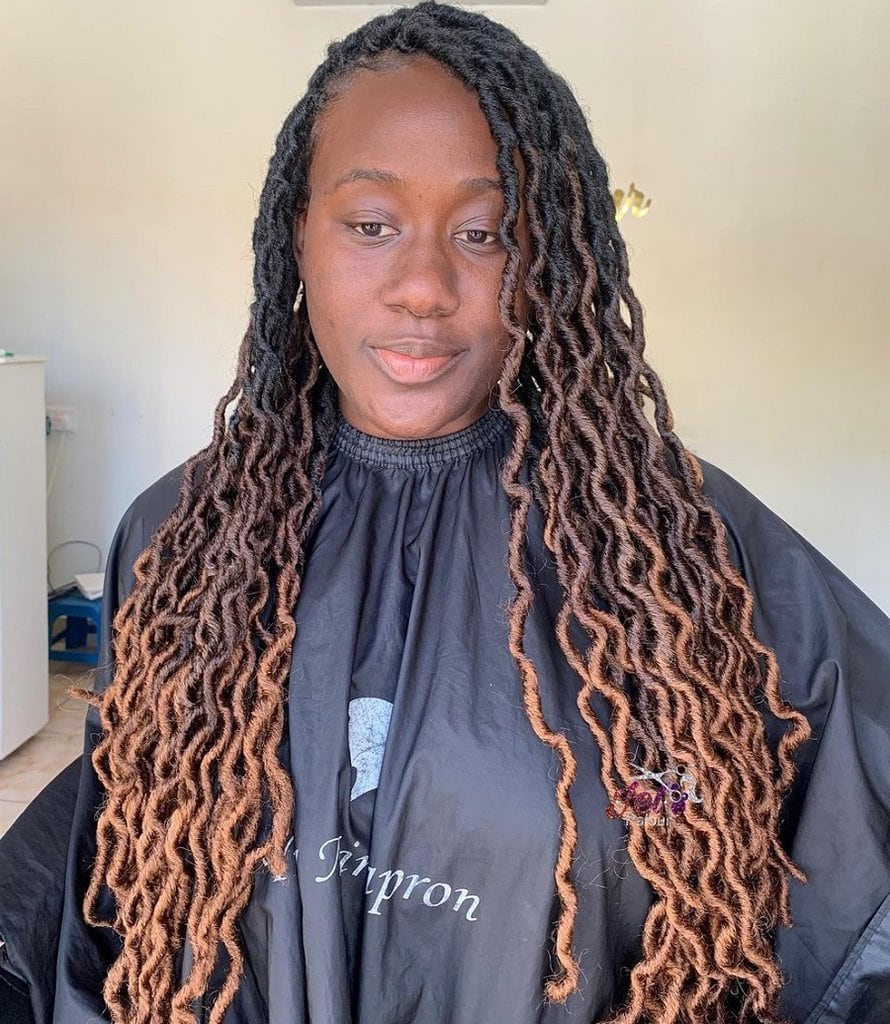 Going for an ombre will give you a seamless style. Ombre faux locs hairstyles are one of the top most striking styles.
You will not need any more hair accessories, too, because the style is already packed with enough glam and style within.
Medium Highlights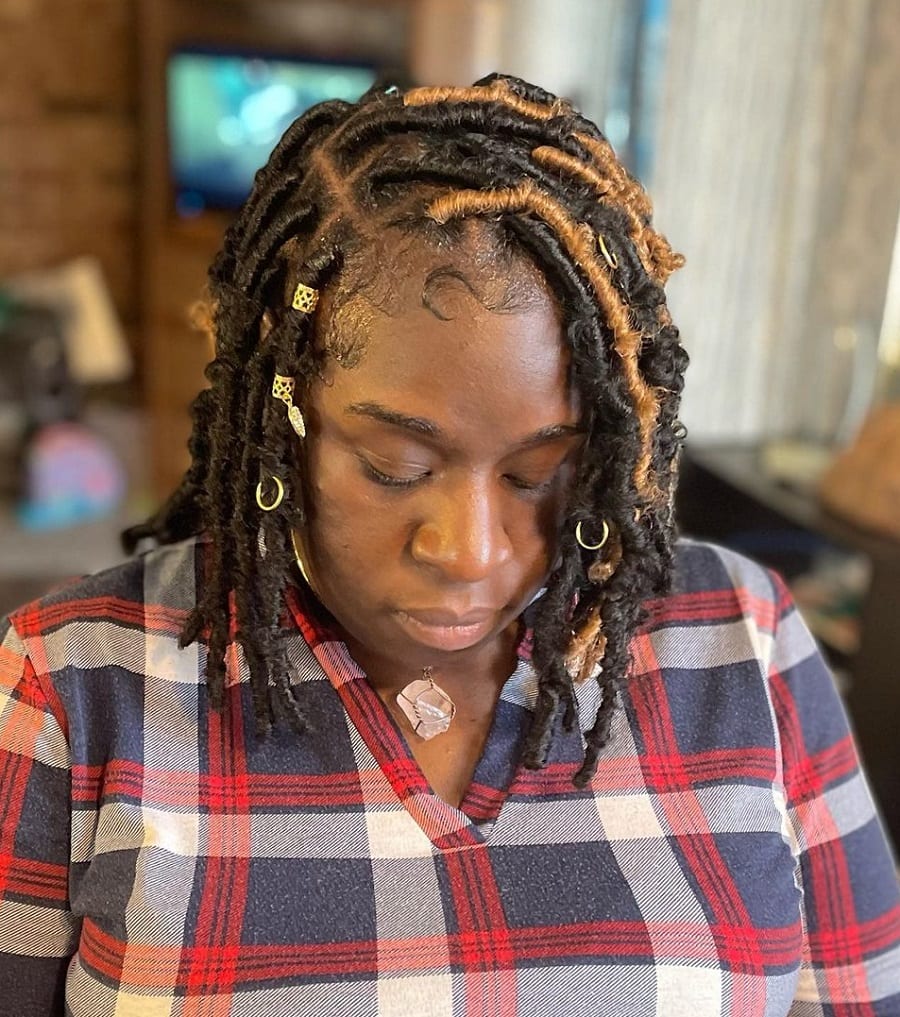 Highlighting hair will add so many details to your hair. Even with false locs extensions, you can get highlights which will be pleasing.
With a side partition, the hair is knitted with black extensions, where toffee-toned extensions are used as highlights.
Boxed Shaped Extensions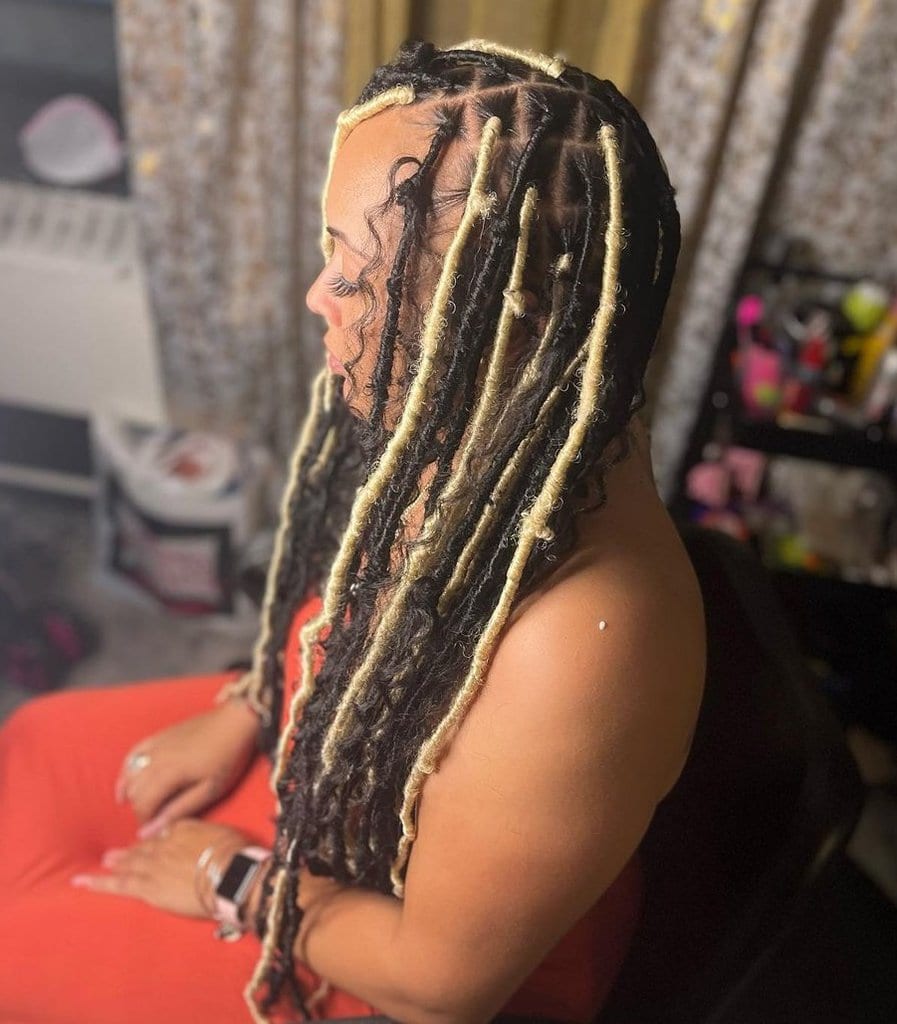 What we have here is another artistic creation using faux locs. Again, the scalp is clear enough to have a clean partition which is the main intention of this style.
The hair is sectioned into small diamonds and then knitted using locs. Two-toned extensions are used for a fun appearance.
Worried about not having enough volume or hair length to try some beautiful and everlasting styles?? Well, it is not an issue at all. You can always use fake extensions in many colors to create your dream styles.
We have listed some cool faux locs hairstyles for you to try here! As mentioned, they are easy to maintain and the best among the protective styles. We hope this gives you a picture of how to style your hair for an elegant hairstyle.