If you want to look like a badass who is the boss of her own world then you're at the right place. Shaved hairstyles are the latest trend and we can't stop thinking about them. They give way to your inner rebellious side and give you the confidence you need to conquer the world.
Shaved hairstyles for women are outrageously bold but still have a sophisticated edge to them. If things are getting a bit monotonous, then maybe it's time to spice up your hair.
Bold Shaved Hairstyles for All Hair Types
If you're brave enough to shave a part of your hair or even all of it then we have 18 hairstyles for you to give you the inspiration you need.
Red and Bold Sidecut
This hairstyle is the prime example of how you can still add a creative touch to your short hair. Coloring your hair red and leaving a flick hanging on one side gives you this unique look that is one of its own kind.
Neat Asymmetrical Haircut
Buzzcuts are great for people who are afraid of commitment. Not only do these look amazing but are also very easy to maintain. So, if you want a shaved hairstyle that will make you look like a movie star, pick this one.
Contrasting Lines
If you want a daring, all-eyes-on-me hairstyle then this avant-garde haircut is great for you. This look has boyish hints with a carved buzz cut on one side and sleek and short hair on the other.
Side Swept Pixie With A Twist
If you want to spice up a plain and simple pixie cut you should shave off one side of your hair. This will give you a foxy look that hits the perfect spot between outrageous and plain.
Short Messy Hair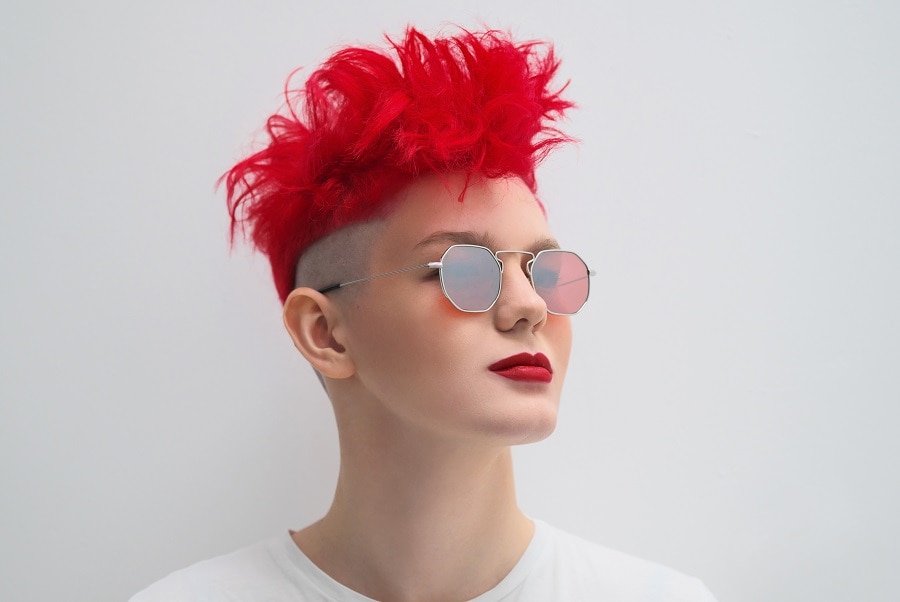 If you want a hairstyle that people will remember for ages then this might be the one for you. Bright red unruly and spiky hair with shaved edges? Now that's one unforgettable look!
Trendy Long Blue Dreads
What makes a shaved haircut even more fun? Adding dreads to the hairstyle. And what makes dreads even more fun? Coloring them a bright color like this gorgeous blue. Adding all these elements together, you get this funky hairstyle that will totally change your personality.
Ponytail with Shorn Edges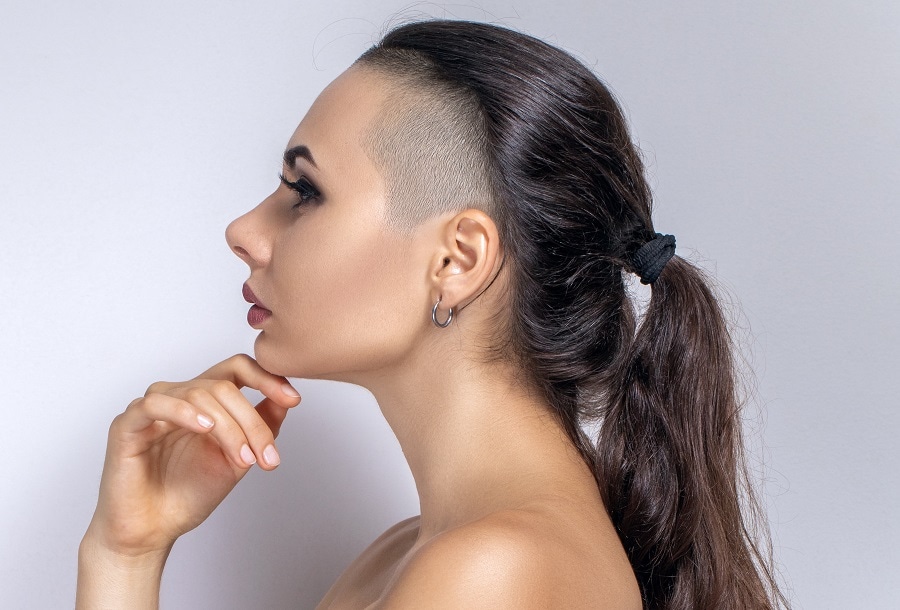 If you're in the mood for something rebellious, then this hairstyle can work perfectly for you. Shearing off your hair from the sides adds a bold touch to your look. You can show off your shorn sides by tying your hair in a neat ponytail.
Curls with Highlights
Love your curly black hair but still want to try a shaven look, we've got the perfect hairstyle for you. The best way to incorporate curls into this style is by going for a close shave all-round the head, and leaving the top of the hair to show off your naturally beautiful curls.
Extended Mohawk Hair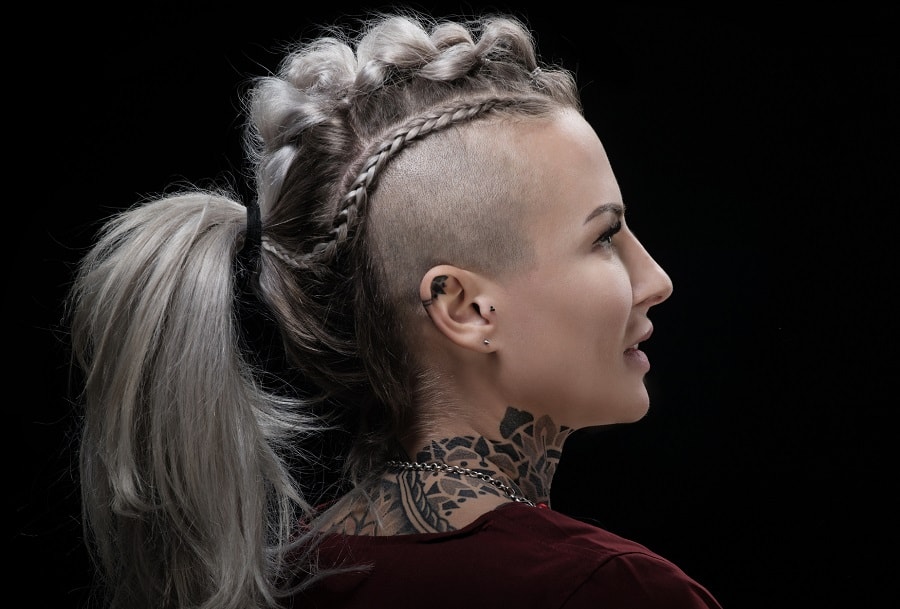 You can have the best of both worlds with this gorgeous hairstyle. This intricate hairstyle incorporates beautiful top braids with edgy shaved sides.
You can let your hair open and no one will know that you've done anything to your hair. And when you want to show off your sides, all you have to do is put your hair in a poofy ponytail.
Funky Orange Hair
Short hair is a statement in itself. Pair it with bold hair color and a side-swept haircut. You get a unique hairstyle that is going to make you stand out in a crowd.
Long Ombre Hair
A neatly shaved side with long ombre hair is the perfect hairstyle for fiery and feisty girls. This bold and edgy look will give you the confidence to conquer the world.
Bold Buzzcut
Buzzcuts are rebellious and liberating. They show off your unconventional side to the world and are a breath of fresh air. So it's time to make the final move because there's nothing as freeing as just chopping off your hair.
Green Highlighted Ponytail
If the checklist for your hairstyle contains words like funky and edgy, then your search for the perfect hairstyle is over. This hairstyle not only checks all your boxes but is also better than anything you ever imagined.
Vibrant Long Bangs
Spicing up your hair has never been as easy as just dyeing your hair a bright blue color. To make this shaved hairstyle up one notch we've added a side-swept asymmetrical cut with a faded side. This short hairstyle for women is sassy, brassy, and bold.
Clean Shaved Braided Ponytail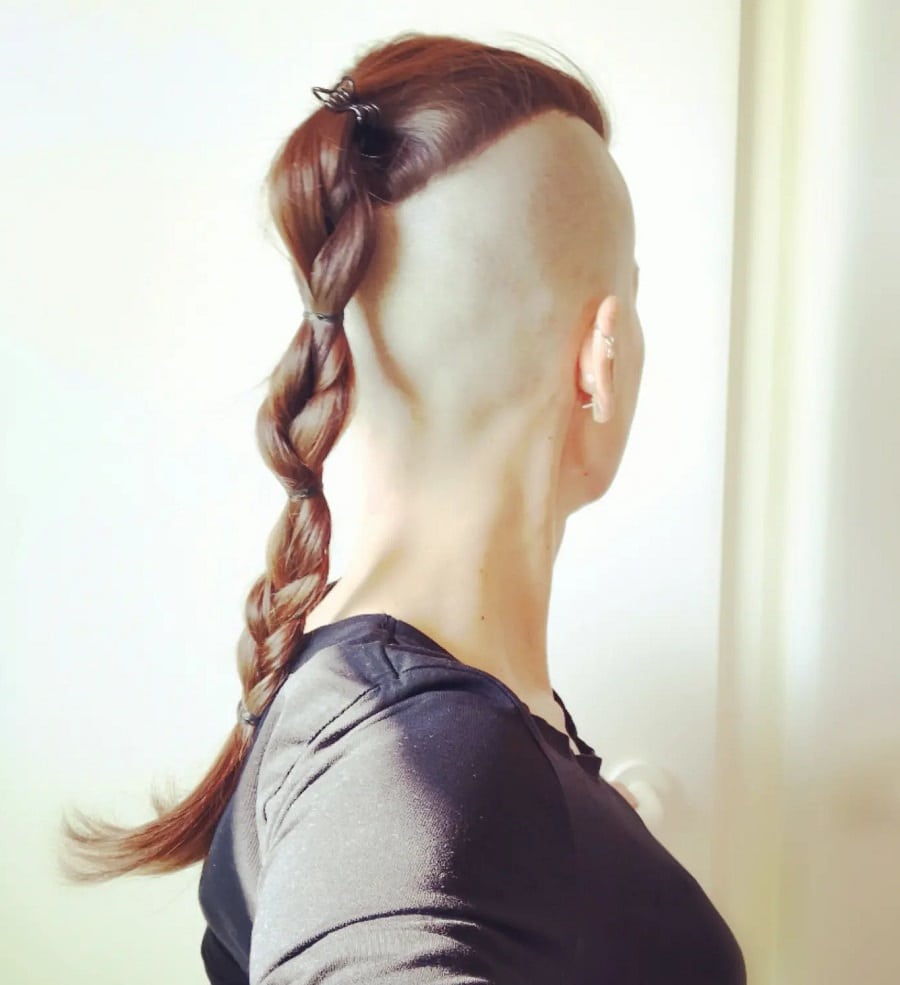 Shaving your hair off is a great way of portraying your wild and free soul. If you don't want to go for a total shave, maybe leave the top section of the hair as it is. You'll achieve this on the fleek look which looks stunning however you style it.
Voluminous Side Part
If you want a low-maintenance hairstyle, shave one side of your head as shown in the picture and style the rest of your hair by brushing it all to one side.
This hairstyle will take minutes to put together in the morning so it's perfect for the boss lady who can't spare too much time on her hair.
Purple Hair With Braid
If you want something that is brave and fearless yet feminine, try this shaved hairstyle. Don't be shy to add a pop of pretty color to your hair like this beautiful purple shade.
Chocolate Brown Side Sheared Hair
This hairstyle is a balanced take on something delicate and edgy at the same time. It screams power and class and isn't for the faint-hearted.
Shaved hairstyles have become a new trend for women who want to get an edgy look. It might seem a little daunting to make such a big change to your hair, but we promise you that the end results are going to be worth it. Try out these looks to leave a lasting impression on everyone.