There are so many new braided hairstyles coming up in the beauty world every day that it's challenging to keep track of all of them. It's time for you to stop playing safe with your hairstyles and choose a look that can make an unmissable impression. Braided hairstyles with shaved sides are the ultimate cool-girl hair inspiration.
The best part about shaved sides is that they can make any minimalistic hairdo look rebellious, bold, and daring. However, you must ensure you don't accidentally braid into the shaved side and damage the hair follicles.
Striking Braids with Shaved Sides
Keep scrolling to be greeted by our curated list of the top braided hairstyles you must show your stylist.
Curly Cornrow Braids
You will love diagonal cornrow braids towards the front if you want to keep your Afro hair down but still want a cool shaved design.
The stitch-in technique is used to braid sections of the hair against the head and create raised rows. The natural volume of this hairdo looks beautiful.
Contrasting Blonde Braids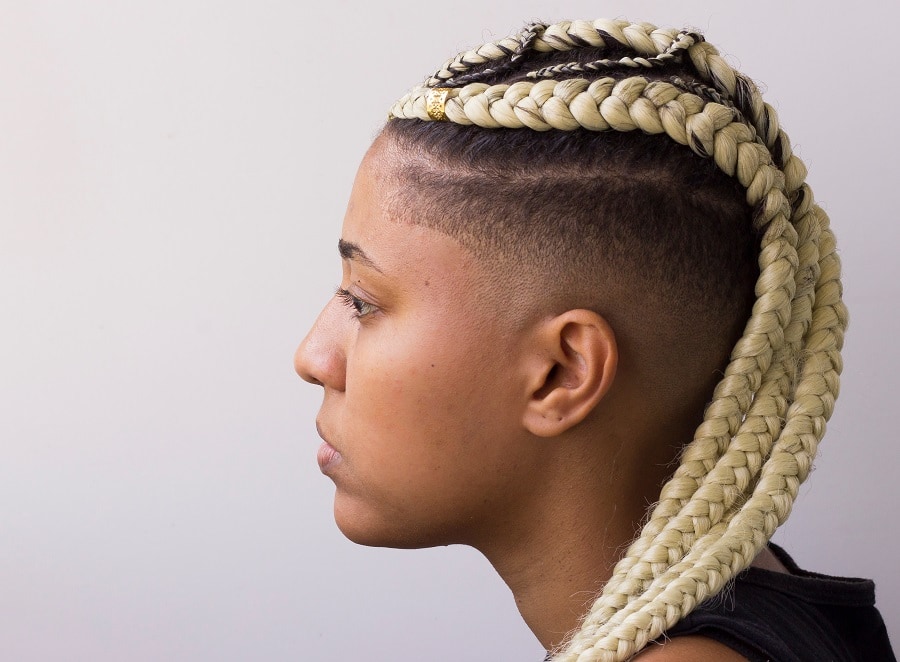 Get the best of both worlds of short and long hairstyles with this box braided hairstyle.
The numerous thick blonde braids sit high on the head as closely as possible to each other. Here, contrasting the bleached braids against the darker scalp adds more depth.
Green Faux Loc Hairdo
If you want to reinvent the mohawk hairstyle, faux locks braids with a shaved side are a unique way to do it.
Make a bunch of box braids, and then flip them over your locs to boost the elevation of this hairdo. For those who aren't faint of the heart, choose this bright green color to make a statement.
Silver Grey Vikings Hairstyle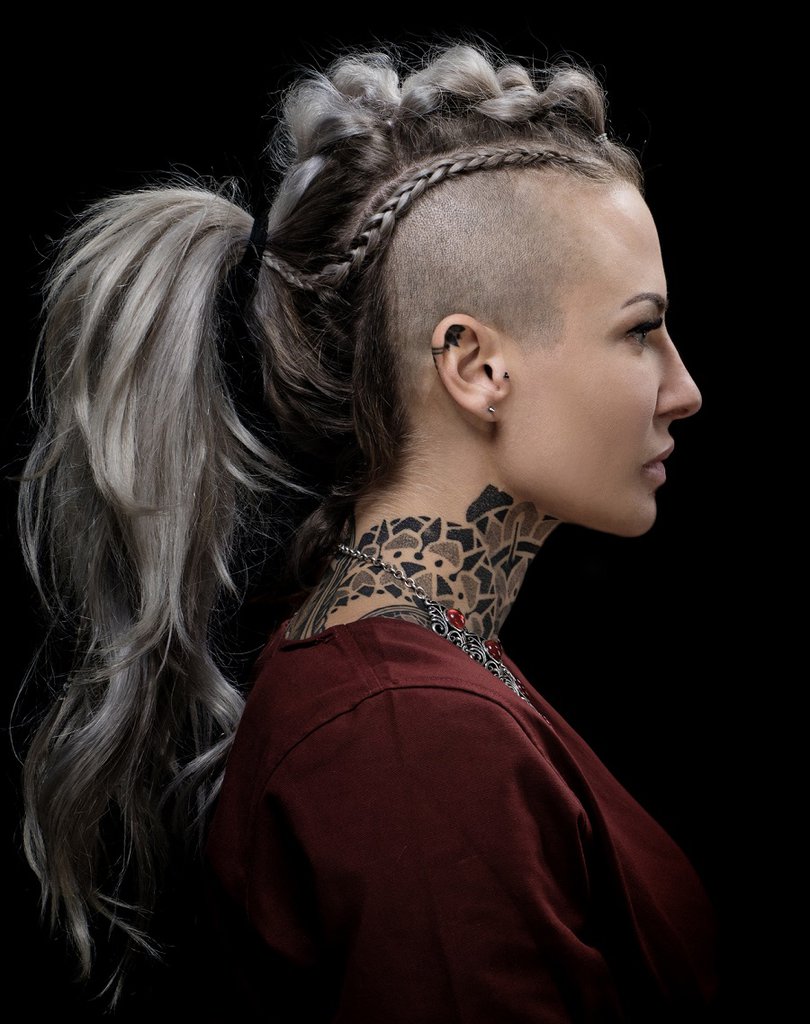 Before venturing into the battlefield, the Vikings used to braid their hair in intricate protective forms. There has been a resurgence of similar styles with new twists.
Such as here, the Viking braids are gathered up into a long silver-grey ponytail with a shaved side.
Jet Black Cornrows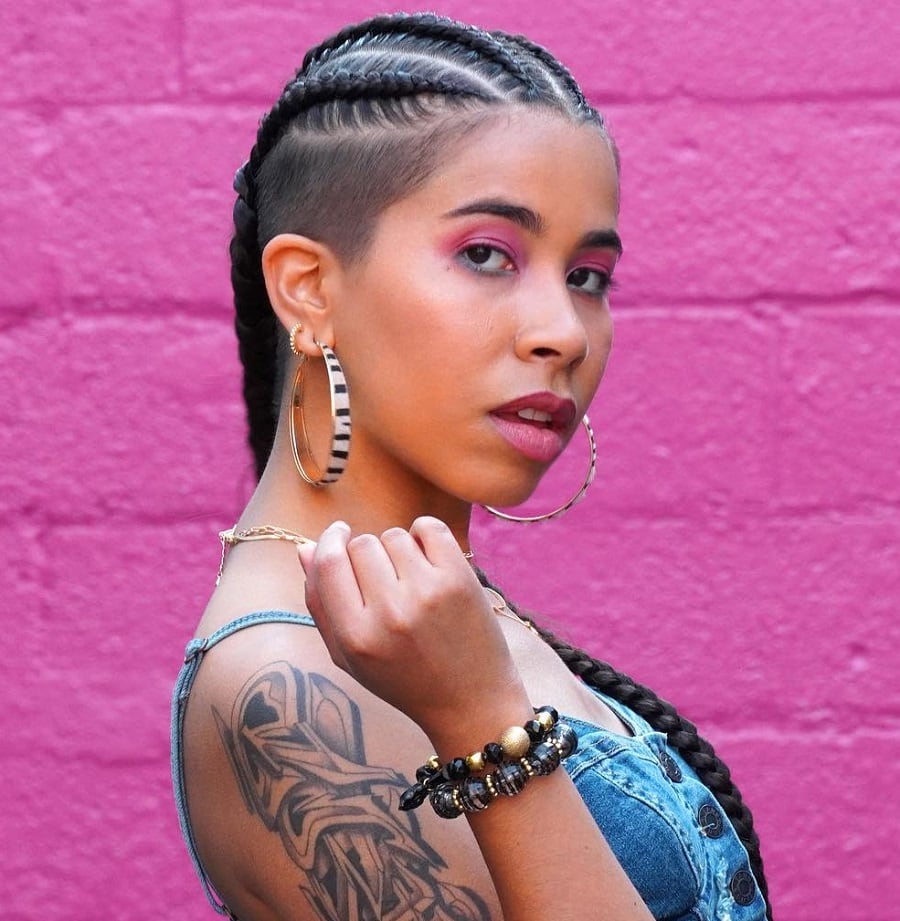 A trendsetting braided hairstyle would be using cornrows to make a shaved side look funkier.
Keep the shaved lines at an equal distance and spread throughout the scalp for maximum coverage. You can style this hairdo with some big hoop earrings.
Short Pixie with Braids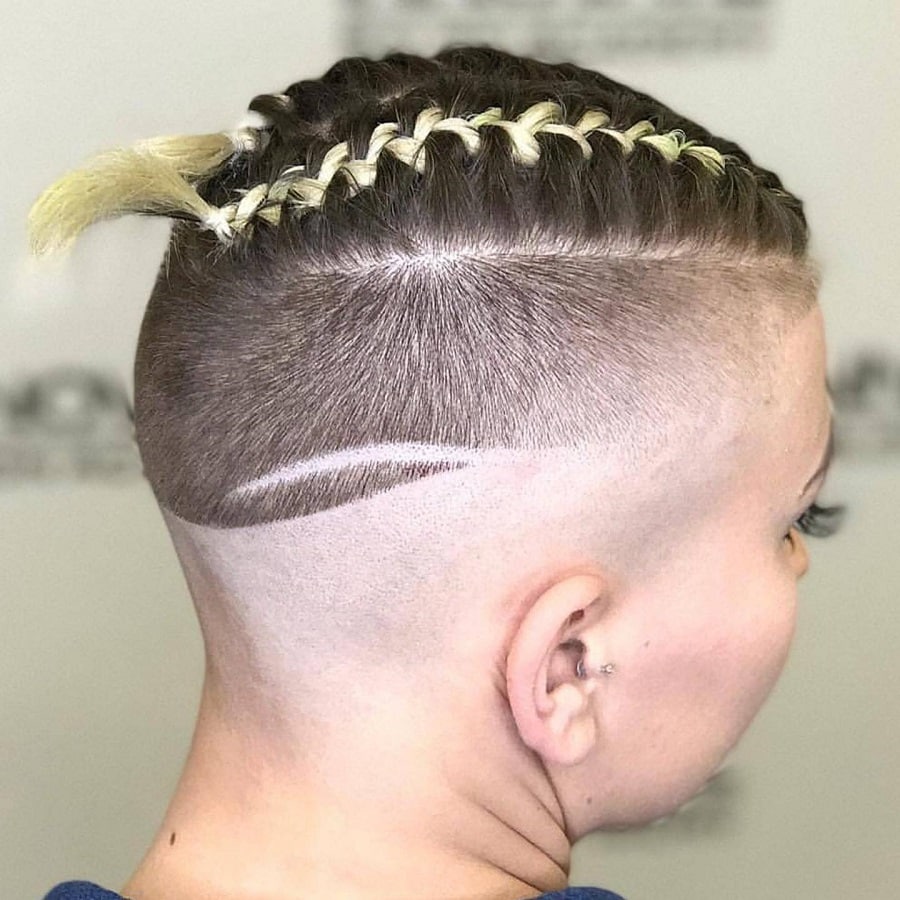 For all the women who can't stop getting their hair cut super short, the pixie fade will be your new holy-grail style.
The dual-toned braids scream an ultra edgy aesthetic. This braided hairstyle is ideal for wearing to the gym or on a day full of outdoor chores.
Braided Mohawk with Shaved Sides
Next, we have a hairdo that looks pretty elaborate and intense – the braided mohawk.
Jumbo knitting is carried out to achieve this volume and texture-heavy outcome. The medium brown highlights on the dark brown hair give a nice finishing touch.
Double Braids with Design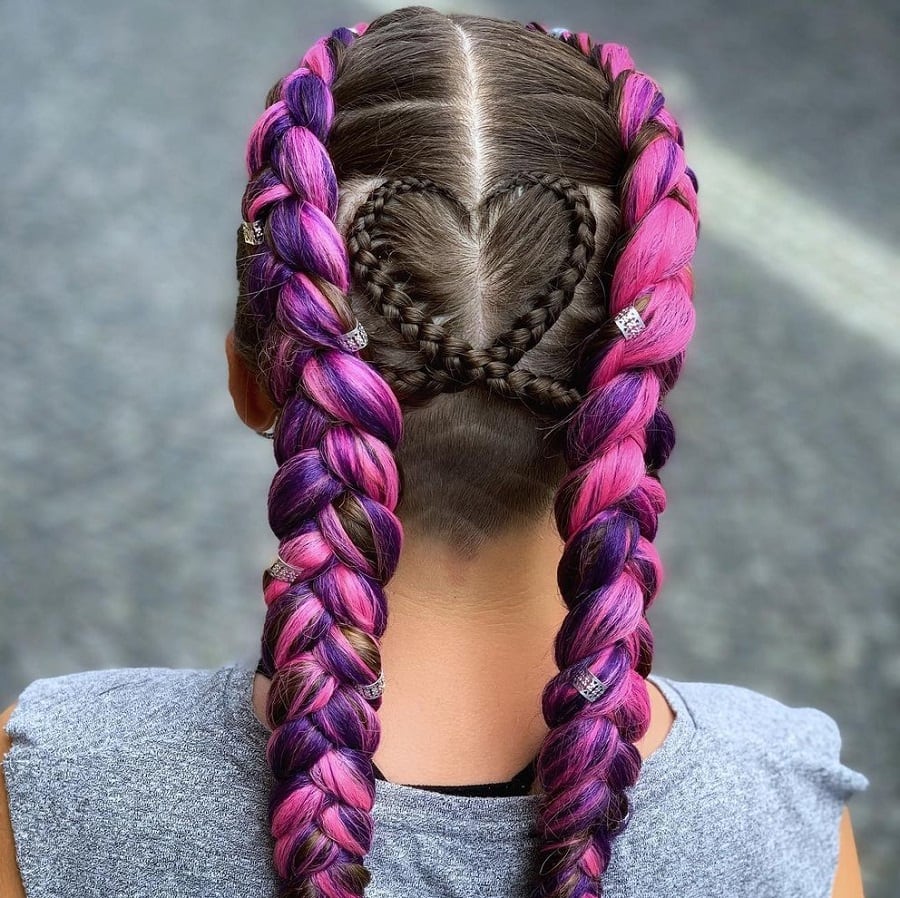 This double braided hairstyle will awaken your inner child with its vivid interwoven pink, violet hues, and silver beads.
To add a creative spin, two box braids have been arranged in the shape of a heart on the back of your head. And the shaved undercut makes this a truly balanced hairdo.
Bleach Blonde Ponytail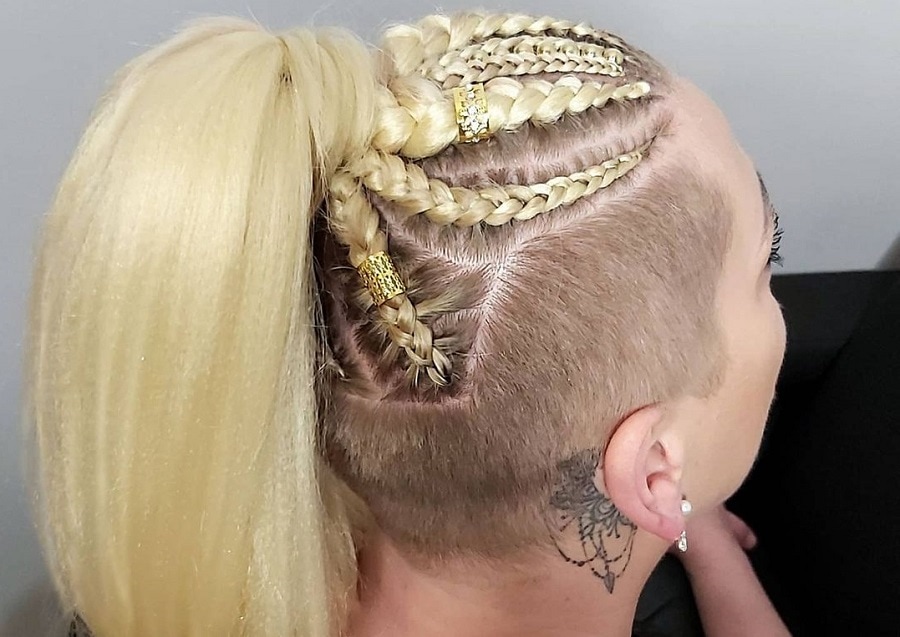 If you are looking for stylish braids with shaved side, your search ends with this micro-braided ponytail. The shaved sides help draw more attention to the braids. Interestingly, the bleached blonde color goes well with the hairdo.
Bohemian Long Braids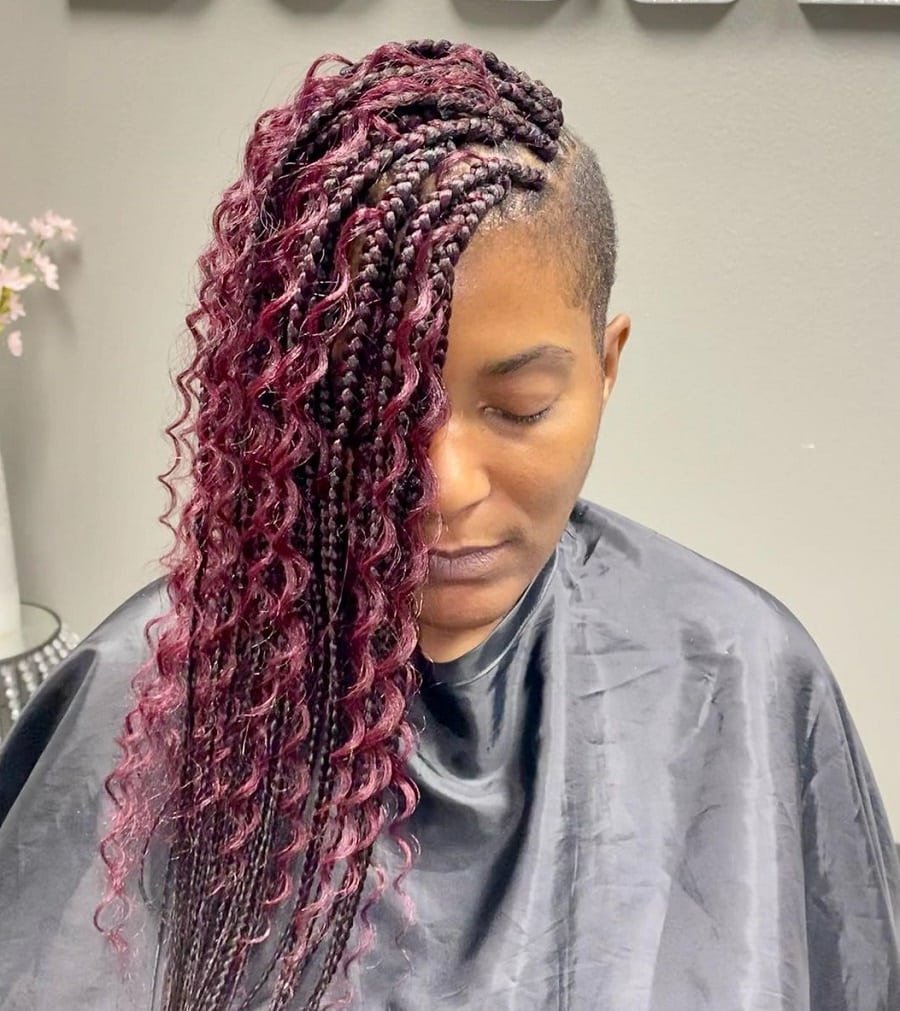 You can give your everyday braided hairstyle a fabulous makeover by alternating the quintessential box braids with strands of purple curly hair.
In the hairdo, the shaved side can stand out in a dynamic way. This hairstyle is perfect for your music festival bohemian-inspired looks.
Thin White Braided Hairstyle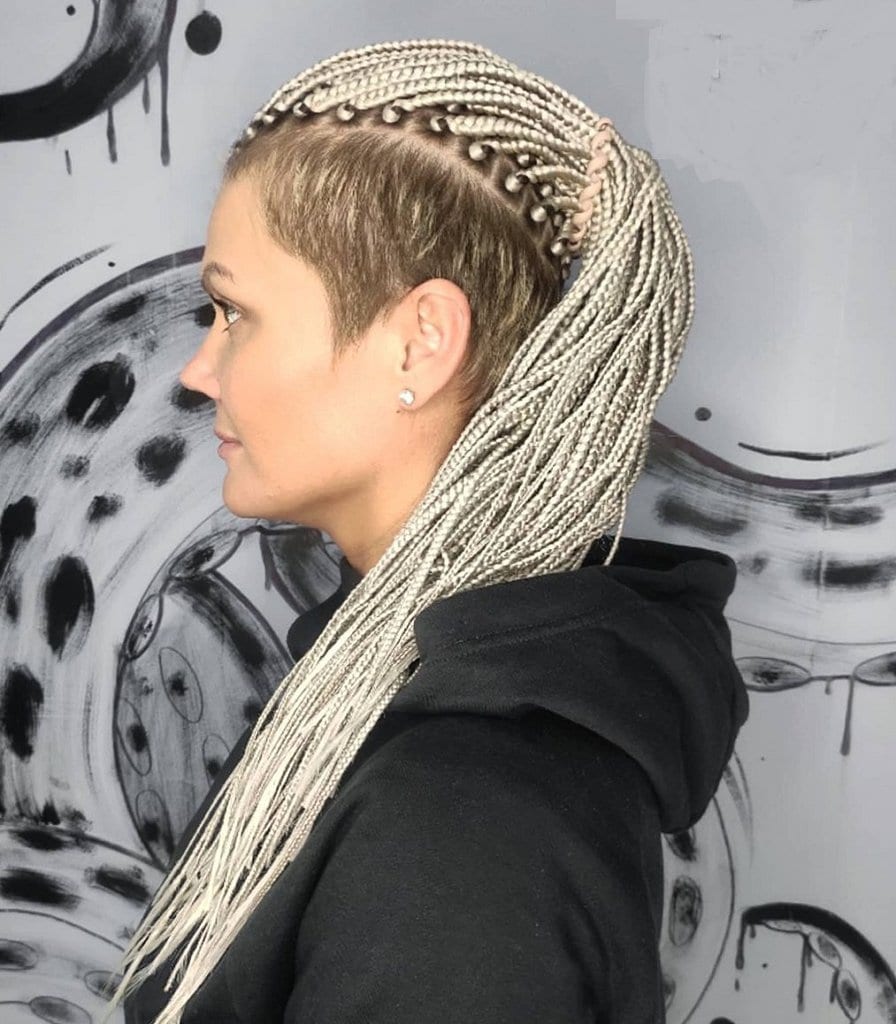 One of the hottest braided hairstyles of the moment is the thin long white braids.
The light golden hue of the dreads makes the hairstyle look exquisite and classy. If you prefer to maintain the long length of your hair, this hairdo will help you do that.
Ombre Box Braids
For all the women who want to stand out from the crowd, the subtle ombre braided ponytail with shaved sides is the right hairstyle for you.
The light blonde tone and specks of light blue are scattered to make the hairdo look fun and playful.
Grey Ombre Braids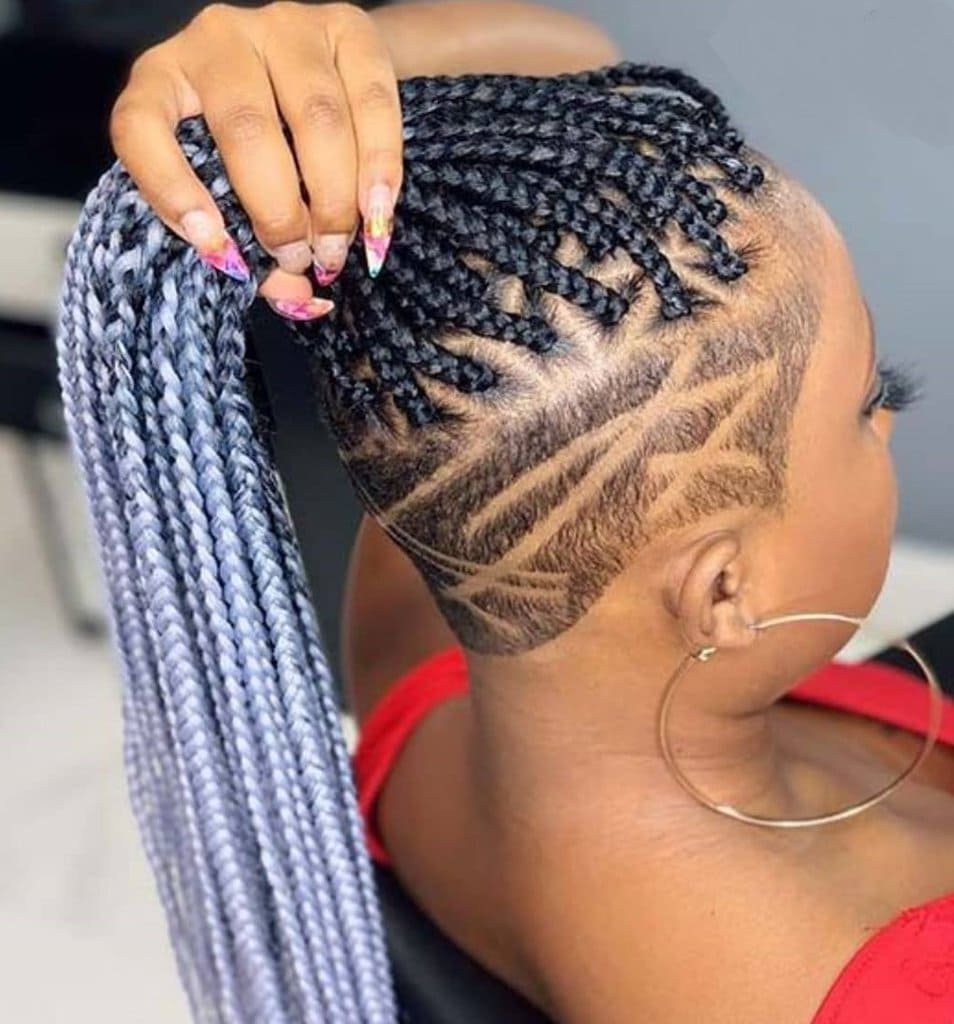 Take your braiding game to the next level with a grey ombre from a little above halfway length. The versatility of this hairdo makes it suitable for most types of situations.
Also, random cross-cross lines across the shaved side boost the edginess of this braided hairstyle.
Braided Shaved Hairstyle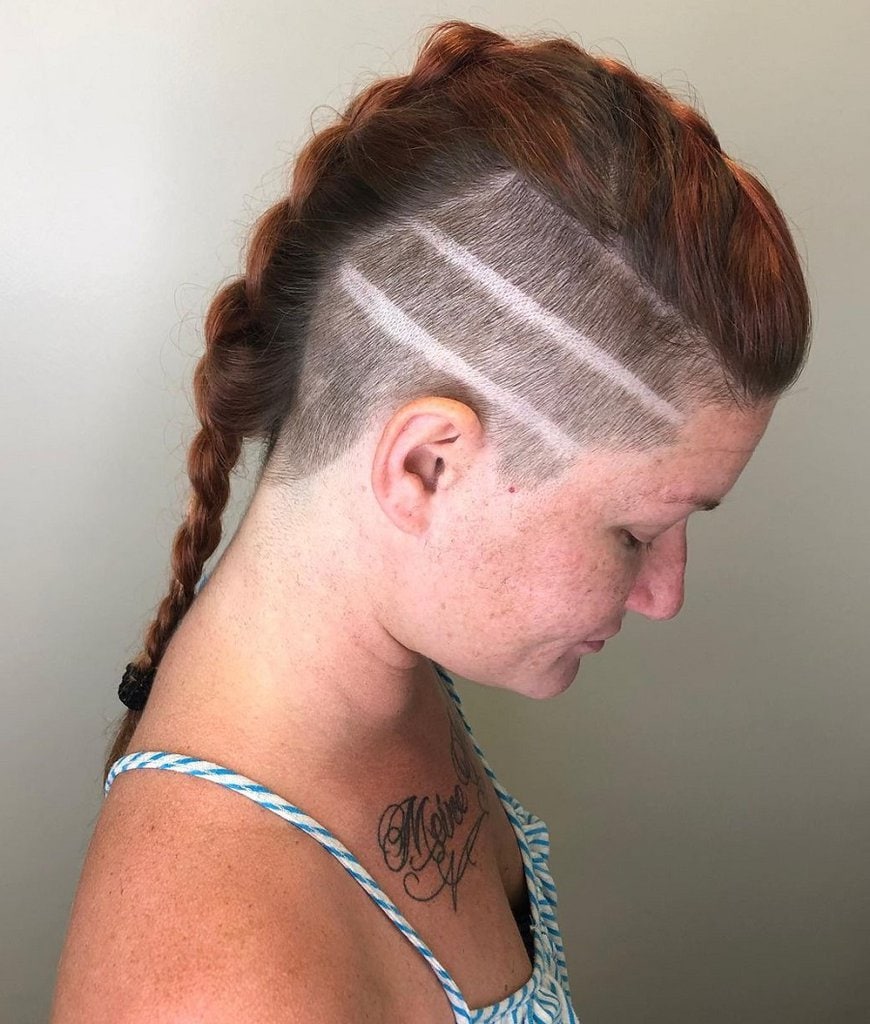 If French braids are your everyday style, you will like this side shaved hairdo. To make this hairstyle, you must plait your hair normally, leaving only a tiny portion for tying the hair tie.
The two defined horizontal lines on the shaved side embody the punk rock influence of the hairdo.
Fiery Red Hairstyle
Bring on the fiery power with these complete red medium-thick braids!
The thick texture of the hairdo gives significant dimension and volume to your hair. Whenever you enter a room wearing this braided hairstyle, all eyes are sure to be on you.
We hope these 15 braided hairstyles with shaved sides have motivated you to jump on the bandwagon of wearing shaved sides.
Your hair deserves a break from all the intense heat styling tools with a shade. There is no better time than the summers to get this incredible hair transformation done and surprise all your friends and family.