Who says women can't have mohawk hairstyles? Well, these days the style is prevalent among all age groups. Even you can see social media flooded with these superb hairdos. A lot of patterns, styles, and designs have surfaced that you can easily try on. We have listed some of the unique and trendy hairstyles, do not miss them.
These female mohawk looks can be managed to wear in any temperament. Aside from being elegant, this haircut can enhance your subtle facial structure and slender neck for a sultry figure.
Trendy Female Mohawk Hairstyles
Let's glance at the best Mohawk hairstyles that you can pull off easily.
Feathery Blonde
Such blonde mohawks for women combine a slick-back style. To add depth and plumpness, the hair is styled backward and patterned.
While this haircut is customarily characterized by tresses that adhere upward, you can spice the locks in any manner you desire, giving them a distinctive personality.
Electro-Punk Look
Brush your medium-length hair back and forth to add density to the crown of your head. Use a texturizing spray to hold your tresses while still giving them wiggle.
This electro-punk haircut is ideal for women who desire to look fabulous yet groovy while attending fancy events.
Shaggy Mullet Mohawk
When it comes to hairstyles, length is irrelevant. You can now sport this style on your bob cut. Introducing messy bangs worn on top elevates this style to new heights.
This haircut is a good option for those who want short yet presentable-looking hair.
Blue Moon Hairdo
This is perhaps the most attractive feature for women with naturally wavy hair. The knotted blueish central portion of the hair looks substantial in this hairstyle.
This enables the hair to appear much denser than it truly is. Women with long faces can pull off this appearance with ease.
Geometric Undercut
There are numerous ways to style a mohawk for natural hair. You can get cornrows, an undercut, a side shave, as well as a twist of coloring for added interest.
The possibilities are, of course, endless. However, there is always a look that corresponds to your individuality.
Retro Classical Curls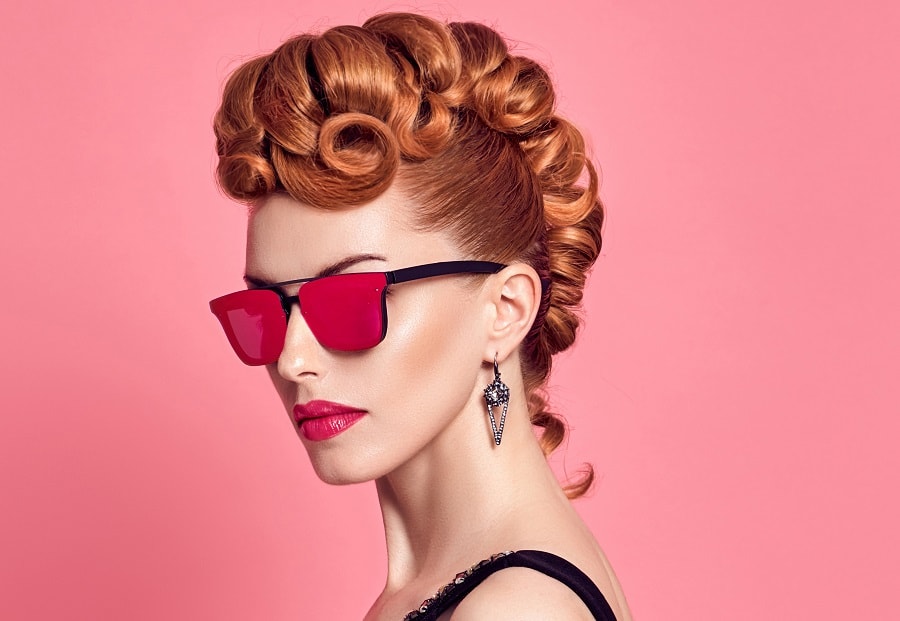 Would you like to appear elegant but have some angle to your look?
Perceive the vintage aura with this gorgeous female mohawk while remaining edgy and stylish. This is best suited to women who have instinctually frizzy and dense tresses.
Pink Spikes with Braids
This rocking pink conventional hairstyle has all of the hair growing. Straight down and across the middle of the head from the front to back enhances the whole look.
It has trimmed edges, but they may also be fixed up to produce an enjoyable variability of the classic style.
Elegant Crew
The crew cut, is closer to a shorter haircut. It's comparable to a faux hawk, except that the surface is gentler.
Although there is a clear distinction between both the narrow, cropped hair and the long hair on the upper edge, the two extents should blend seamlessly.
Emerald Short Hairdo
To begin, consider this simple and elegant emerald green look, which enrages a great blend of both neatness and creativity.
The hair on the sides is trimmed to approximately the crown of the head in a classic mohawk manner. As well as, the hairline really draws attention to it.
Massive Red Quiff
Trim the edges of your head to the skin, leaving a vibrant patch of huge fiery redd quiff hair on the crown.
Make your mane more fascinating by drawing the lines down the sides. This keeps the hair appear much denser than it seems.
Fiery Red Hairdo
If red is your go-to color, choose this short mohawk hairstyle. Keep your center hair long, while going for a medium side fade. For an extra layer, add a splash of shades as an underline.
Colored Cornrows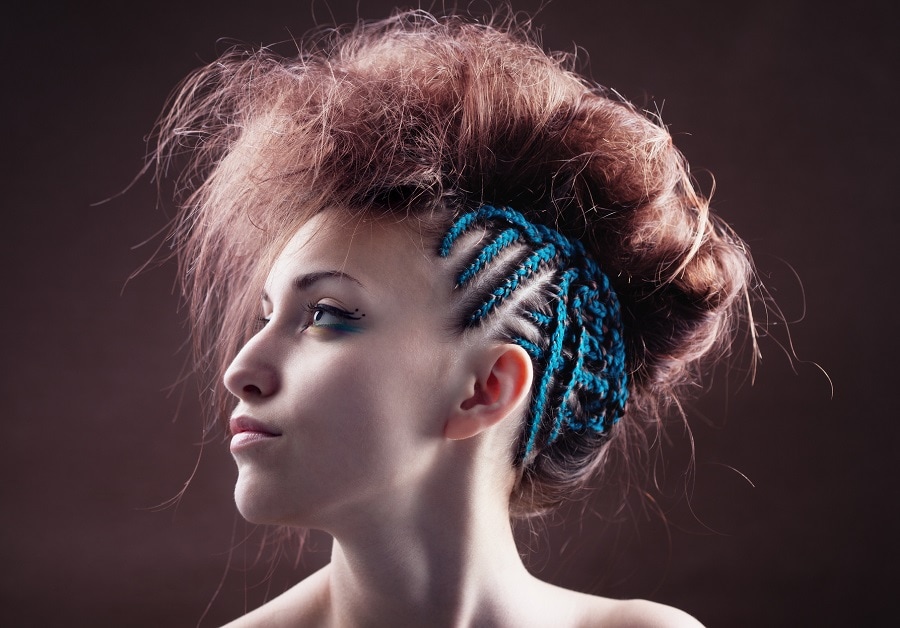 Twist compact cornrows first from the crown of the midline and grab them towards the edge to make an edgy faux hawk. Allow the messy top layer of hair to collapse to one edge. For more distinctive styling, add a grid.
Classic Spikes
Couple your mohawk with shaved sides to amp up the aesthetic appeal. Trim the edge of your head to a fizzle, and consider leaving your ringlets on the upper edge a decent length.
Short hair is unconcerned. You will still have a fashionable hairstyle with a contoured spikey look.
Short Spikes
Incorporate the multiple pop star looks to make a cool new hairstyle. Trim the sides of your head and chop your tresses short toward the front.
The rear end of the head has tidily shaved edges and bubbling mullet-like tresses. This is a stunner that gives a fresh look to the style.
Taper Cut
Make a taper on the edges of your face. Add intricate shapes to the taper to make your mohawk more provocative and fashionable. The sections trimmed into the edges are an excellent contrast to the ferocious, curving the haircut itself.
Purple Vines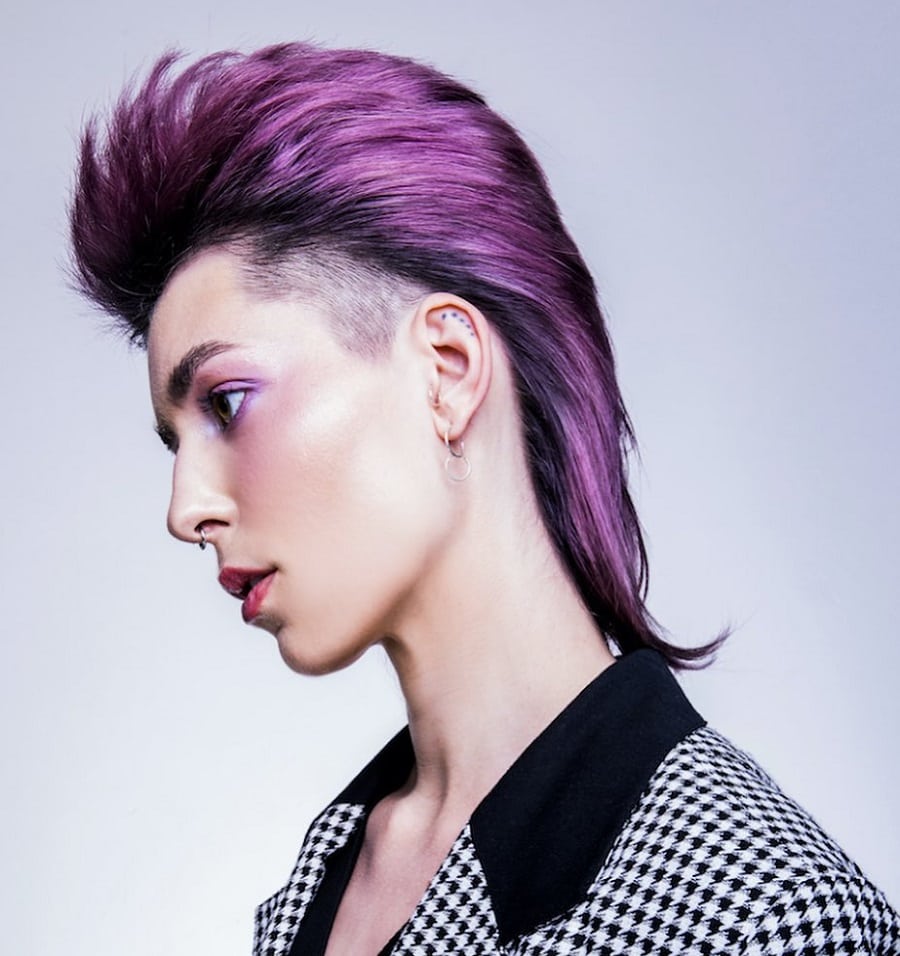 Mohawks and colored hair complement each other like desserts and coffee. Slushy purplish shades dominate this style, with magenta dappling throughout the scalp's top.
Gold Braided Pony
The golden braided mohawk is both sophisticated and seductive for women. If you have a dark complexion, then this textured look is intended to spice up your teen life.
Flag on Top
Decorate your undercut with a vibrant color along with elegant arcs or patterns. Alternatively, go for a faux mohawk with tangled twists on the upper edge.
Your possible alternatives are virtually limitless. First, shorten the hair on the sides and overlay the upper portion to add smoothness and intensify the strands.
Caramelized Ringlets
Faux hawks need to be smaller on the edges and a little longer on the upper edge, with most tresses emerging to a point in the center.
You can create an elegant and one-of-a-kind straggly curly mohawk by designing shapes on the side and allowing the ringlets to flow freely.
Colored French Look
Are you tired of your lengthy ringlets? Then, make a provocative mohawk out of them.
Weave the sections of hair and abandon the lengthy, bulky ringlets from the upper edge to the bottom. Instead, use numerous vibrant colors to add a sense of style to your haircut.
Twisted Updo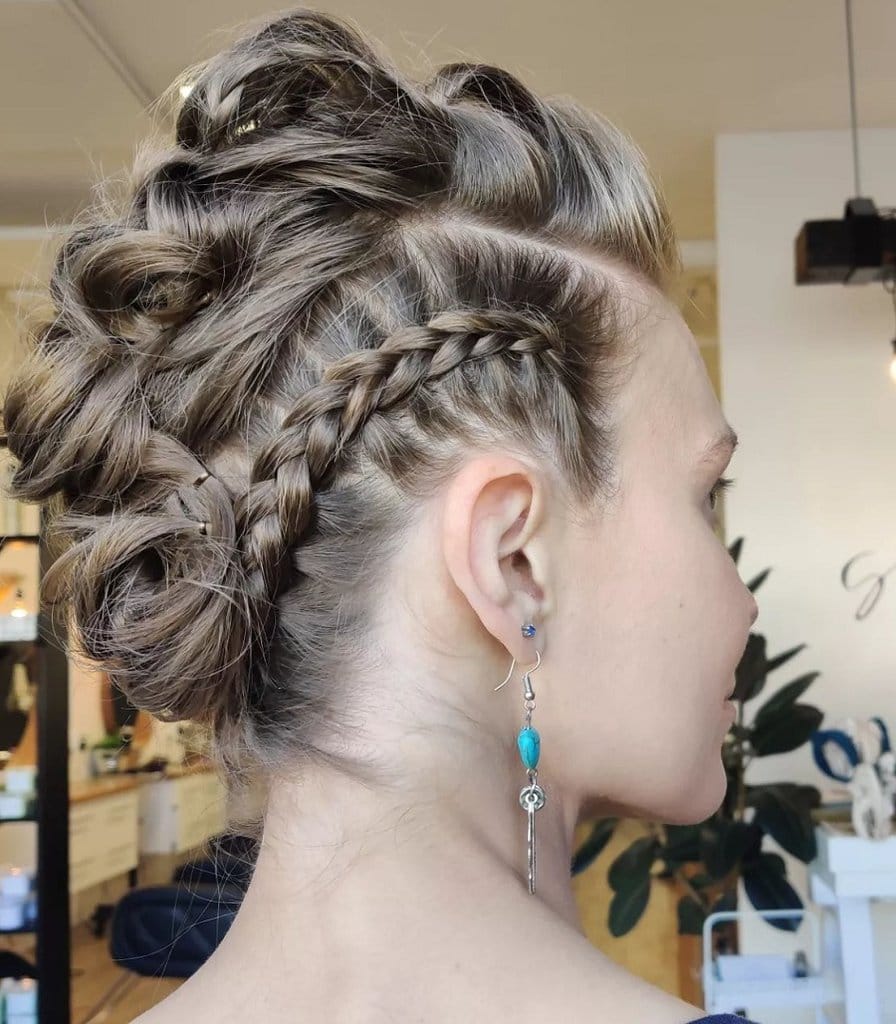 A mohawk is a great way to brighten up any sophisticated updo. Indeed it's better for funkier wedding ceremonies.
This haircut is always seamless and highly accurate, with the ringlets cleanly stuck in place. Twist your hair into a updo to preserve it in fashion.
Sleek Ponytail with Shaved Side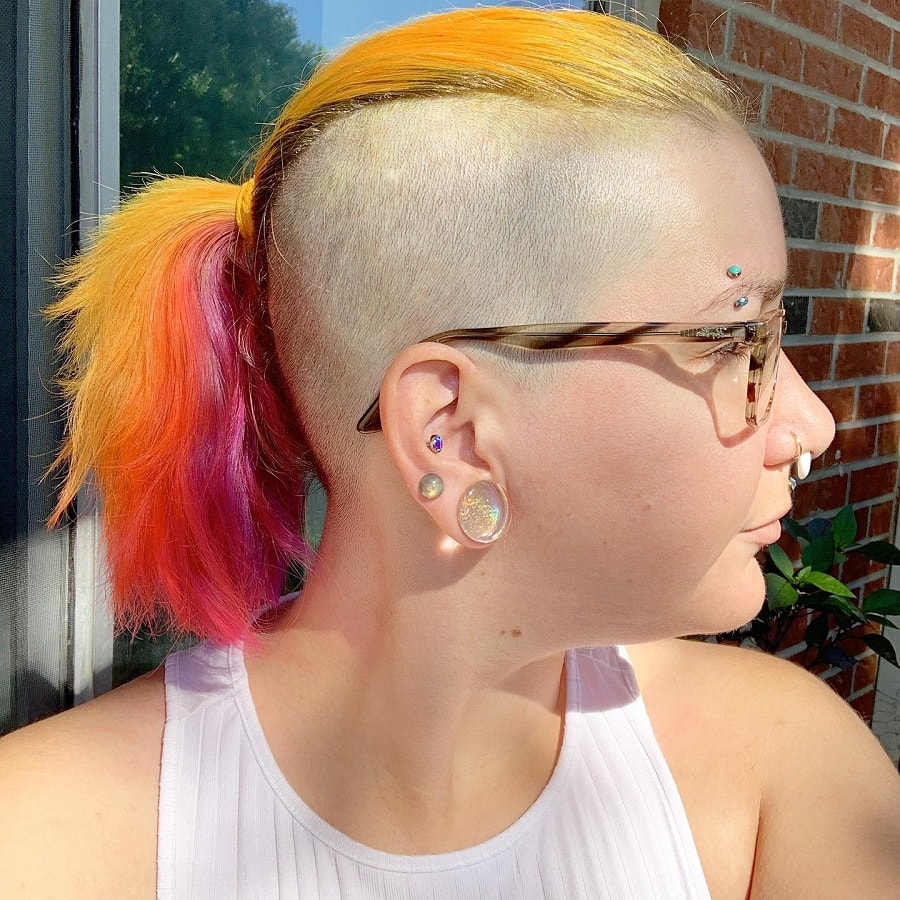 Ponytail is a great option for changing up your ordinary hairstyle. You can even find numerous varieties. For example, you might weave the upper half or end up leaving it plain.
Of course, you could also braid or simply soften the edges. But, to look presentable, it really should come to a chignon that dangles on your shoulders.
Short Brunette
You'll look sophisticated and magnificent with medium faded sides and naturally wavy updos. Indeed, this is an excellent hairstyle to add extra glam to your hair.
The combined effect of patterns is what truly distinguishes this hairstyle. The massive spikes are at the front, and the fuzzier spikes are near the neck.
Afro-Hawk
Are you searching for a different style for your stunningly pretty hairline? One of the finest mohawk for black women is the frohawk.
It possesses an exciting, quirky vibe to it. It should be noted that you must be confident enough with loose curls to knock all that off.
Blonde Viking Look
This would be the ideal wedding hair idea for a more daring bride. However, you'll need to know some knotting techniques and knowledge to make it more beautiful.
Generally, start with the front and do a dutch braid straight through the middle. Then, you can twist off the braid or proceed down through the loose curls.
Fashion trends and Mohawk hairstyles for women will always be linked. You can wear a mohawk, cornrows, or a combination. When your hairdresser says you'll never go flawed with these hairdos, believe me, he means it.
So, what's stopping you? Choose one of the styles listed above and become the center of attraction, everywhere you go. Let your appearance say more about you and your personality.