Mohawks are the most incredible hairstyles, many believe these are men's hairstyles, but they look pretty awesome on women too. Curly mohawk hairstyles for women are more feminine and give a sensual look. This gives an illusion of the face looking slimmer, elevating the cheekbones with curls.
Even though many consider a mohawk a men's hairstyle, no one can argue that a female mohawk also looks more attractive and stylish.
Feminine Curly Mohawk Hairstyles
Bored with regular long layers, bobs, and undercuts? We heard you. We think it could be the best time to try a female mohawk and find your best match with our top picks.
Faux Curled Mohawk
You do not have to cut your hair if you wanna; try and check if a mohawk suits you. Faux-styled curly mohawk can do the job. Grab your hair at the middle part sleekly, and then make tight curls.
Do this section wise and voila your look is done. Then, use hair spray to keep those curls intact and a hair gel to get the extra shine. Finally, choose a golden bronze hue to get a more charming look.
Dual Toned Hairdo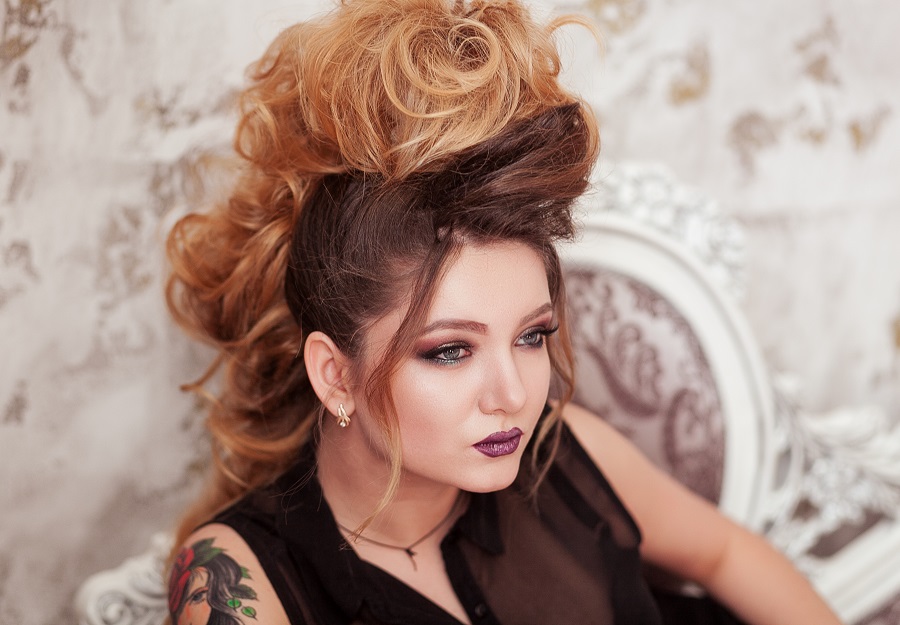 A sky-high mohawk is an anytime runway-ready hairstyle. Comb the sides of the brown hair back with a sleek-mouthed brush. Above it, keep the blond locks in loose messy curls.
Let two fringes fall to frame your face perfectly, and you are all set. Add setting spray to keep your curls in place, and you can rock your day without the slightest tension.
Pixie Spikes
You can get artistic while styling your hair. This is an incredibly well-done, curly mohawk hairstyle for women. The sides are given a fade while leaving volume in the front, and the heartbeat design on the edge is definitely eye-catching.
Wild Rockstar Look
Looking for a hairstyle to leave a long-lasting impression? Then rock up with this wild and heavy Mohican. The braids will give this style a striking edge, while you can tie up your hair into a mohawk.
The center part will look like ribbons with rolled hair. Finally, sleek braid the sides to get a facelift, so your cheekbones get elevated and look framed.
Pop Sassy Hairdo
Why settle for basics when you could be extra colorful and sexy? You should try this lime-green-colored Mohican if you love playing around with colors.
These colors are attention stealers for sure. You can use any colors you like to create a bright, attractive look.
Geometric Short Pony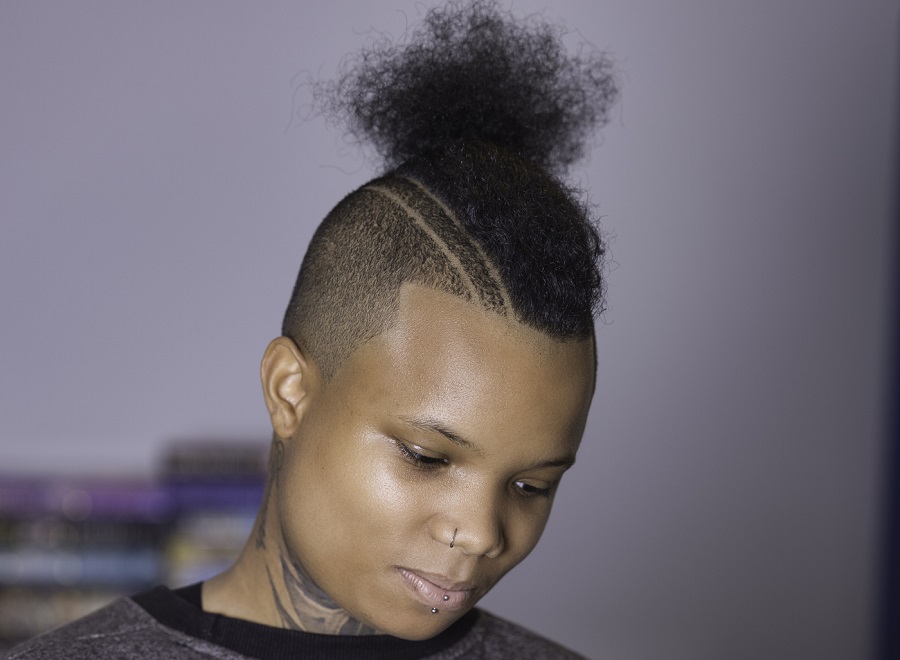 The geometric lines with the textured puff look visually like a work of art. In addition, those clean-cut lines add an extra-dimensional look to the style.
Another mohawk for natural hair that can never go wrong. Adding a pony just in the middle with the front pixie will make you look stunning and bold.
Tribal Braids
Well, it's not a real mohawk, but this tribal fusion looks stunning! Not everyone is okay with trying mohawks with trimmed sides.
In contrast, this braided tribal hairstyle with slicked-up sides could be a great save if you are looking for the scalp lock style. It will surely give your hair an extra volume and a rockstar look.
Tribal Fishtail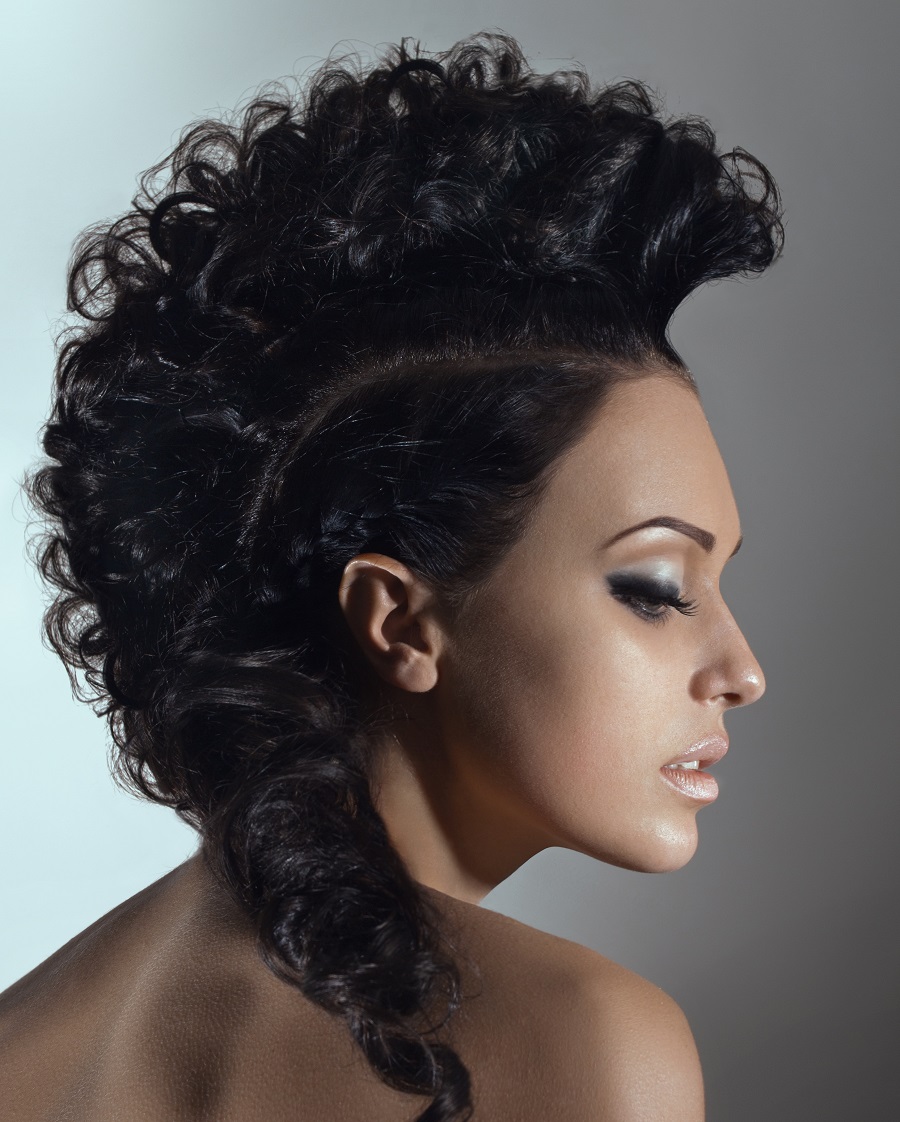 If you love your thick black hair and don't want to chop them off, try this style. Section your hair in three parts, two sides and one major at the center.
Now from the side parts, make small braids backward, and with the center part, create puffs and curls using hair spray. Then at the back end of your neck, grab all the hair and make a twisted braid to get a fishtail look.
Country Side Look
You can absolutely rock a mohawk with your long curly hair. This countryside braid topped with a messy Mohican gives fusion vibes and can be the best pick for a cowgirl hairstyle.
In addition, you can add faux hair to create a voluminous look at the front. If you are a fan of Vikings or the royal look that we see on TV, then surely go for this one.
Cornrows Curls
Hello ladies, is your kid obsessed with Metallica? Try this style to make them feel like they are rock stars too. Having blonde hair color will add more charm to the overall look.
Start braiding cornrows from both sides and secure each row separately to create this elegant look. Then curl the ends to make it more alluring. Your kid will definitely be on cloud nine after this style.
Emo Hairdo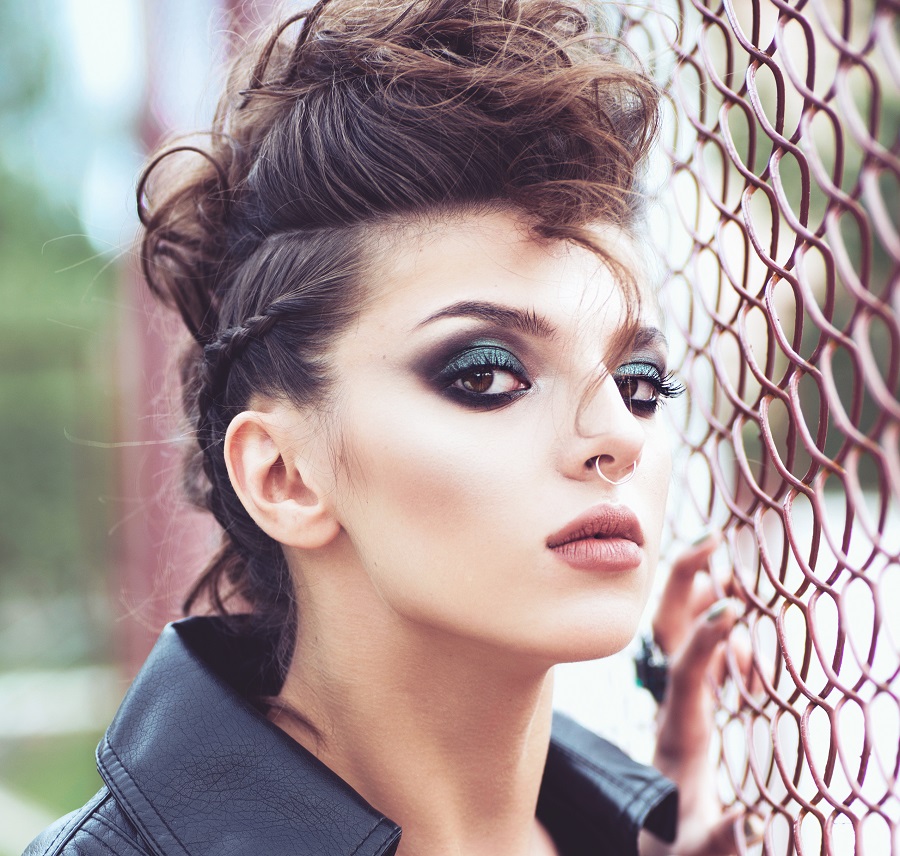 The style surely has a sassy and chic vibe to it. Best suited for teenage girls and women who love to dress edgy and all black.
The sleek braid from the temples is so chic and adorable. Get emo makeup to complete the look. Its well suited for dark hair or brunettes.
Auburn Braids
Red is the sexiest and spotlight-stealing color. These shiny auburn red braids look so stunning on anyone. The hair in the center is swept back to create a sexy short mohawk with curls.
Coloring your eyebrows with the same hair color adds extra glam to grab the spotlight. Use hair wax to create extra shine to the braids after braiding.
Glitter Updo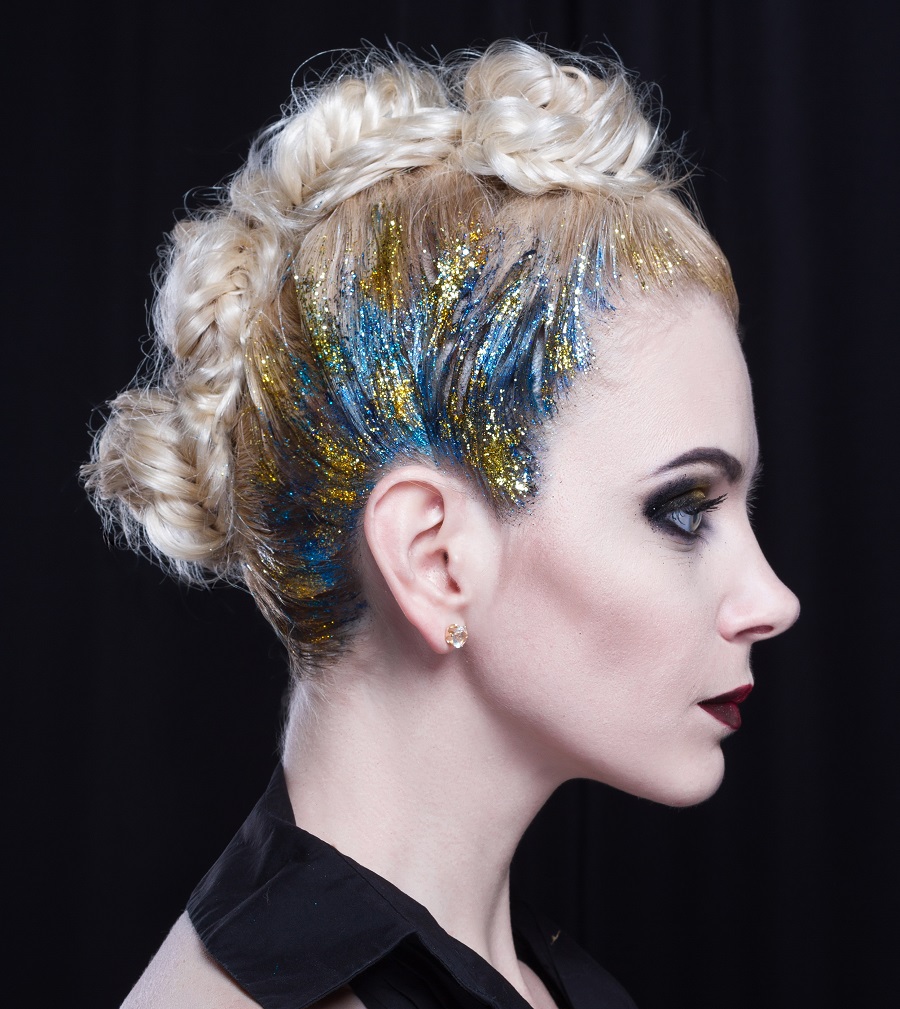 A lot is happening here, and the braided Mohican ate up all the attention. Let's not skim on the glitter, too; it's just a perfectly detailed and prepared style to get the attention.
Grab all the hair at the center and make a knotted pull-through braid with puffiness, and your style is done. Using glitter to highlight with glittery eye makeup is just worth staring at.
Basic Mohawk Updo
Don't get anxious looking at all those tricky styles; you can still rock the style with a basic curly updo. Just have the confidence to pull this style with grace and easily.
You do not need faux clippers to get the volume; you can brush your hair reverse to get the volume for the hairdo. However, you will need a lot of assistance from bobby pins, hair gel, and setting spray to get sleek sides.
Short Asian Hair
You can try this hairstyle with any hair texture and size. For example, look at this Asian lady flaunting her naturally curly hair with a shaved mohawk.
A curly mohawk can suit any hair length and hair texture. So if you want to keep your strands short, choose this one.
High Shave with Center Curls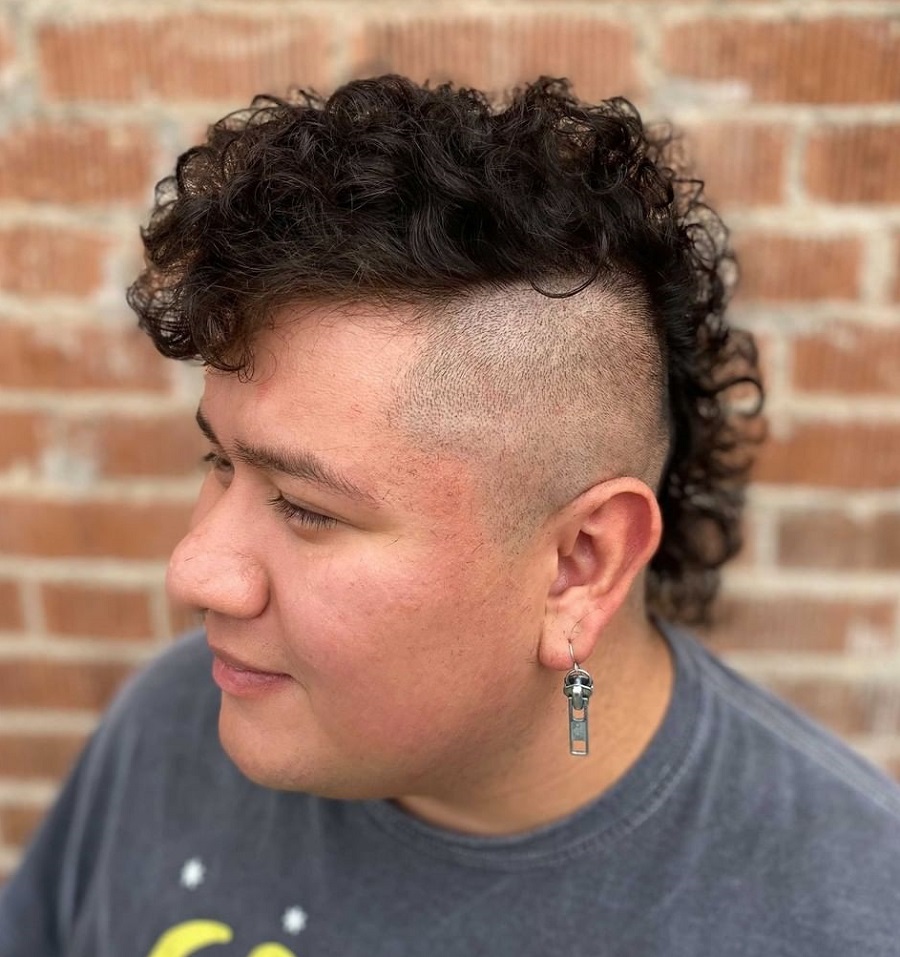 You can try this if you love keeping up with the trend but do not love experimenting with bright colors and heavy styling. This simple but elegant style will put you back in trend. Just shave the sides of your hair as shown to get a sleek short mohawk.
Dual Toned Mohican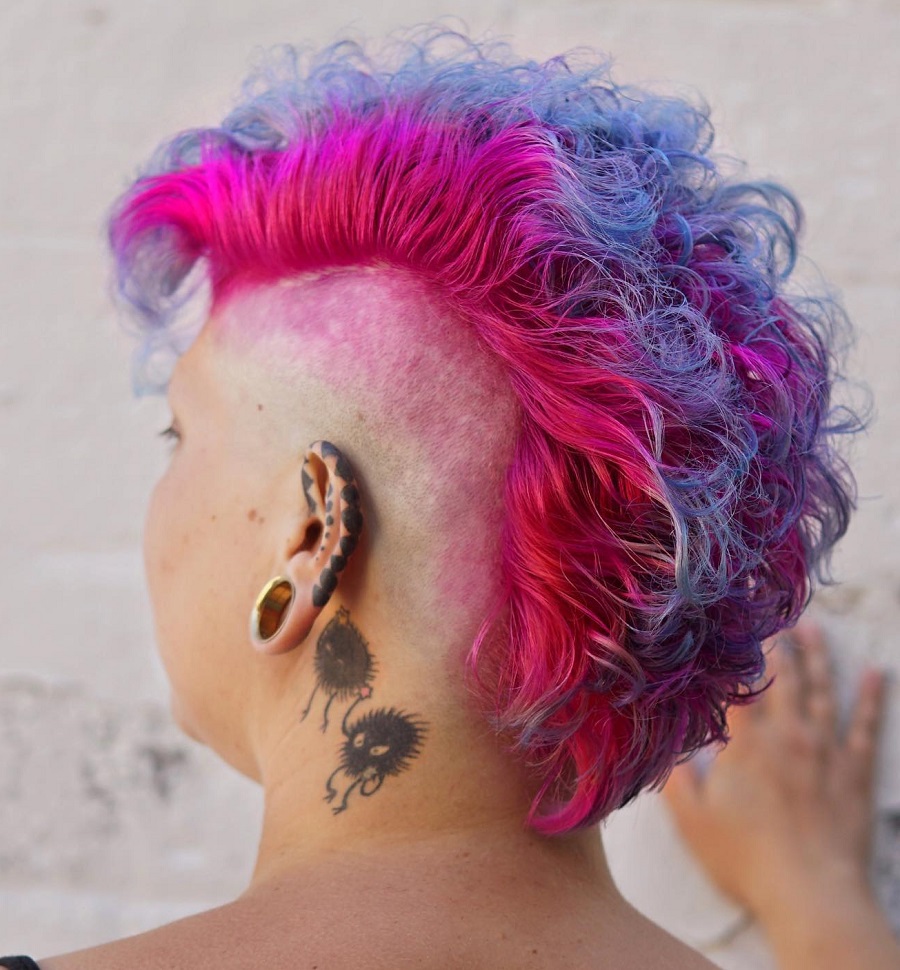 If you want to have a statement hair color, you have to try this curly mohawk style. This haircut with dual colors has an edgy and little bit of girly glam to it.
The blending of these colors gives out another unique color, bright purple, which is alluring. Adding a tattoo on your neck will be more fascinating now.
Cute and Chic Curls
Mohicans do not have to be always with edgy cuts and bold colors; they can also be a softly curled hairdo. This softly curled mohawk is so cute and chic.
The soft subtle brown edge highlights made sure they did not grab attention too much and stand out. This could be the best pick for beginners trying a Mohican.
Pink Messy Updo
If you're looking for a fresh shade to experiment with, consider a violet pink. This color has dark undertones that can easily merge into the long black tresses.
Side-swept braids could easily be done with minimal effort, and you can easily get the messy textured mohawk by fixing your hair ends properly in a row.
Minimal But Trendy Hairdo
This mohawk style is minimal with curls and does not involve contrasting or bulky cuts, but it still makes a classy style mark.
You can style your natural texture easily, reducing the volume on the sides and back. In addition, the side cut's designs add flair and richness to the look.
Sea Weed Green Hairdo
For all the curly hair ladies who love rock and metal, you must try these green hues in your hair.
They are just enough to elevate your tattoos, and you will surely look like a rock star now. But, of course, you will now have to do only one thing: buy a guitar, and we have our rockstar here.
The curly mohawk hairstyle has slowly marked its position as the hottest trend in women's fashion. They come with numerous styling options, and they are versatile.
They can be from bold and fierce colors to soft highlights, as shown above. They make you look more feminine and sexy. You can absolutely style your hair with all the hues and shapes you love.