The African culture has been associated with braids for 5000 years, and tribal braids are the traditional hairstyle preferred by black women for years, but with the advancement in the era, the hairstyles have taken a modern look.
Tribal braids have also become a trend with the vibrant colors and variety of hairstyles they offer. Tribal braids are a very protective hairstyle that you can keep for months. You can style your tribal braids in updos, ponytails, buns, or simply leave them free.
Although the process of tribal braids takes four to eight hours, still it gives you relaxation for months while adding a twist and trendy appeal to your personality.
If you are looking to come out of your comfort zone, and get a chic style, look with the ancient tribal braids, we have come up with some amazing hairstyles for you.
1. Half Knot Indigo
Indigo is a graceful shade between blue and violet, and when you add vibrant color to your hairstyle, it adds a magical touch to the appeal. Tribal braids with half knot indigo hairstyles are a modern chic style with a mesmerizing and lighting color.
After creating the tribal braids with the indigo highlighted hair, just gather the top section tribal braids towards the backside and create a high knot bun that acts as a crown to the diva look.
Half knot Indigo hairstyle suits black girls and women who carry a confident personality and prefer something offbeat.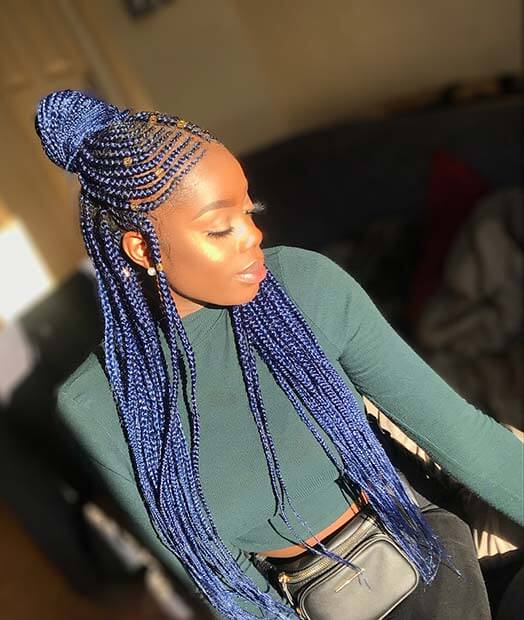 2. Round Over Braids
Tribal braids were actually a combination of different braid styles, and going with the ancient techniques, you can be as creative as you want for the tribal braids. A round-over braid is a great choice for black women with long hair.
To achieve round-over braids, create a thin braid for both sides as a front flick. Then create a thick braid starting from the nape of the neck and round it over to another side.
Similarly, add another thin braid and then a thick braid for the rest of the hair. Secure the braids after round over with hairpins for a stylish appeal.
3. Blonde Cornrows
The tribal braids with tight cornrows is a beautiful and classy tribal hairstyle. It is also considered as a Fulani braid hairstyle as the front fringe braid is styled using some colorful crystal beads on both sides.
The weave is a taper in the natural black hair, and the beautiful cornrows braids are left freely with the glorifying blonde color braids.
The middle hair strands also include a thin cornrow braid styled with a ring near the forehead to make a natural Fulani style.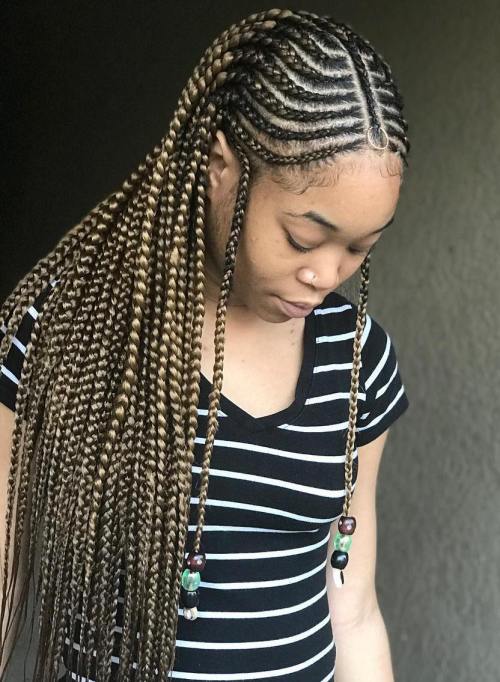 4. Jagged Braids with Pearl
Another Fulani-style tribal braid hairstyle that looks gorgeous for black girls and teens who love long hair and natural black shade. The long jet-black hair is divided into two sections via a middle parting.
The strands from each section are taken close to the scalp from the top and making the braids in a jagged fashion contrasting every next braid.
Two braids are kept for the front flicks on both sides, and a tiny pearl bead is styled in the center of the forehead to make the ancient Fulani tribal hairstyle.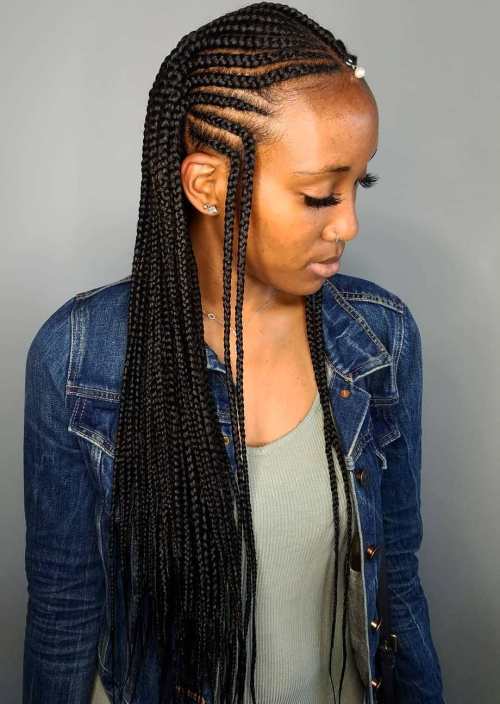 5. Dual Crochet Braids
Crochet braids are an easy braiding extension that makes your efforts at least and helps you get a beautiful style with the colorful crochet extensions.
Dual crochet braids allow you to get the tribal braids in the classy brown and black color. You can keep the brown crochet for the front braids and make the rest of the hair black to give a natural look to the hairstyle.
You can style a random braid with a yellowish coil to give a modish style to the dual crochet braids and get a nice stylish appeal for the party.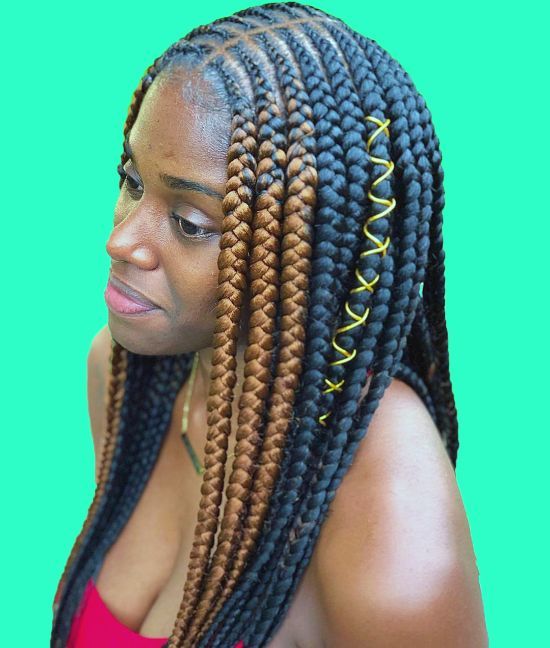 6. Braids with Beads and Cuffs
A cute and smart hairstyle that includes a huge number of thin tribal braids for the thick black hair, or you can use a tribal braid wig for the hairstyle.
The top middle strands are beautifully crafted into a braid, and both the sides medium length braids are created for the thick black hair and then styled using cuffs and beads.
For the ends of the braids, you can use brown shade beads contrasting with white and black beads. Style the middle braid and the side braids section with silver or golden cuffs to make them look more impressive.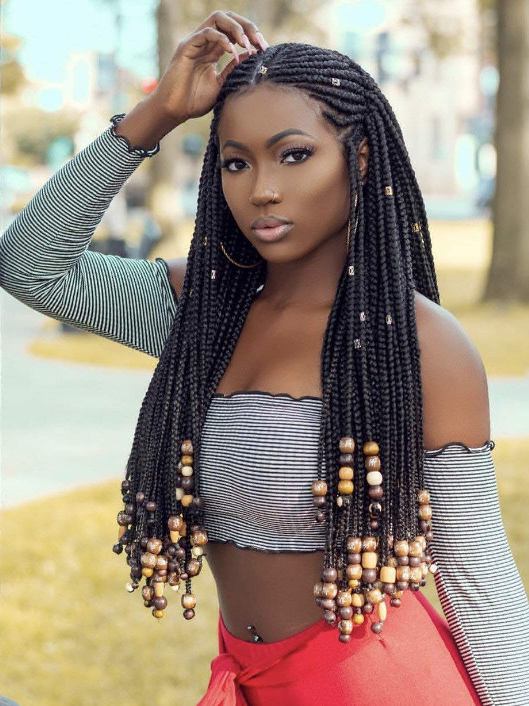 7. Medium Box Braids
A simple yet artistic hairstyle that includes medium-length box braids with the short hair taper into an extension of the grey weave. It suits girls who have short afro hair and are looking for a change without affecting their natural hair.
You can buy an extension of any trendy highlights. Start the hairstyle by middle parting and dividing the hair into equal sections from both sides.
Now take strands from each section and create a braid adding the grey weave to create medium box braids.
8. Narrow Braids with Purple Twist
A unique tribal hairstyle for medium to long length hair with less volume. Narrow braids with purple twist hairstyle look perfect for the girls with oval face type. For the middle hair strands, create a thin braid and style it with a tiny ring.
For the side, braids add a purple extension for random braids or get a purple highlight for some strands and style the braids with colorful beads for the front fringe braids on both sides.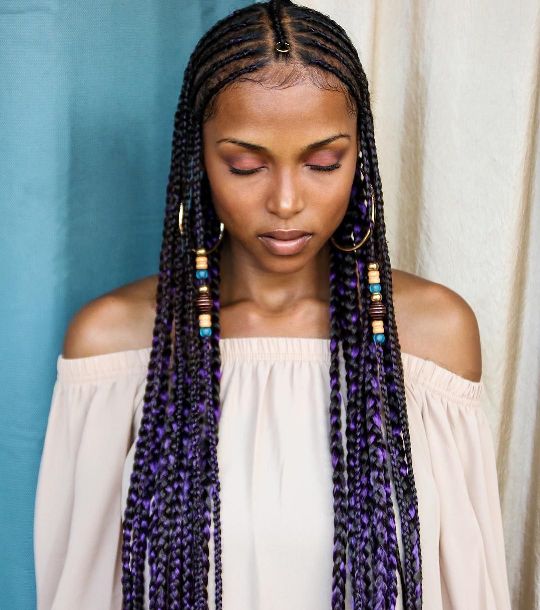 9. Twain Layered Braids
A very creative and pleasing hairstyle that looks beautiful for any party and even as a casual hairstyle. It has decent tribal braids that give an eye-catching look because of the creativity.
To achieve twain layered braids, give an angled side parting to the hair and make the braids in a similar angle close to the scalp for the side and backward for the other side.
The duet layers of the angled braids create a beautiful look for the long black hair styled in medium-size tribal braids.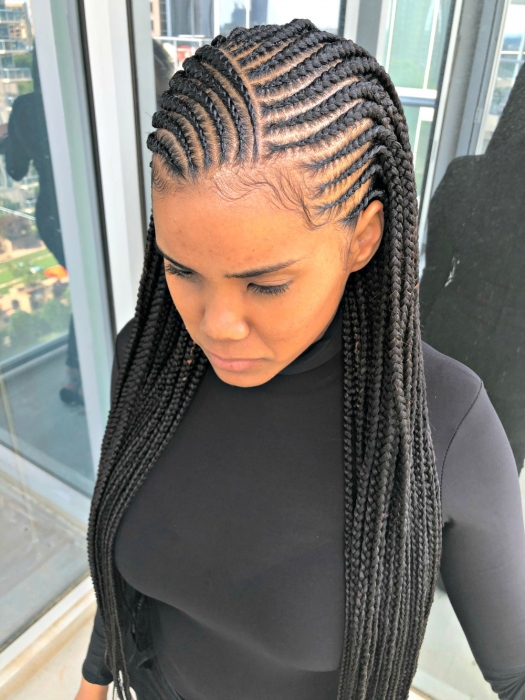 10. V-shaped Tribal Braids
For the long hair getting V-shaped tribal braids is easy and looks very classy. V shape tribal braids are achieved using middle parting the hair and creating the braids by taking thin to medium-length strands and making them slightly back towards the side.
Repeat the process on both sides, and it gives a V-look when looked at from the front. The front two braids on both sides are styled using brown and white beads. You can style all the thin braids towards one side to get a dazzling appeal.
11. Cord Braided Ponytail
Tribal braids look perfect when styled in a ponytail for the thick afro hair having huge volume after cording. When you have a high volume of hair, keeping them free can be a little uncomfortable during summer and long days.
Getting a sky-high ponytail with braided strands adds a stunning and glamorous look. Use silver and golden coils to wrap some of the braids as it enhances the grace of the braided look and wrap the ponytail with few braids to enhance the amazing appeal of the top braided ponytail.
12. Mixed Halo Braids
If you are looking for some extraordinary tribal braid hairstyle for your black and brown shade long hair, mixed halo braids would be a great choice for you.
Halo braids are usually created from the nape of the neck and rounded over to the other side, creating a crown.
Mixed halo braids have a twist that you can create different size braids taking few thin strands and few thick strands. Roll it close to the forehead and leave the ends of the braids free to give a natural appeal to the mixed halo braid hairstyle.
13. Jumbo Crown with Box Braids
For your thick volume hair, a jumbo three-strand braid styled in a crown way would be a great option if you are looking for a hairstyle that you can carry for a hangout or a party.
To get the tribal look with the jumbo braid, leave the front section hair before making the crown braid.
Create duet box braids for both sides and style them with Fulani beads with a mix of a brown or dark shade of circular beads.
For the middle forehead, the braid adds a tiny ring and adds few cuffs to the jumbo crown braid to add the finishing touch.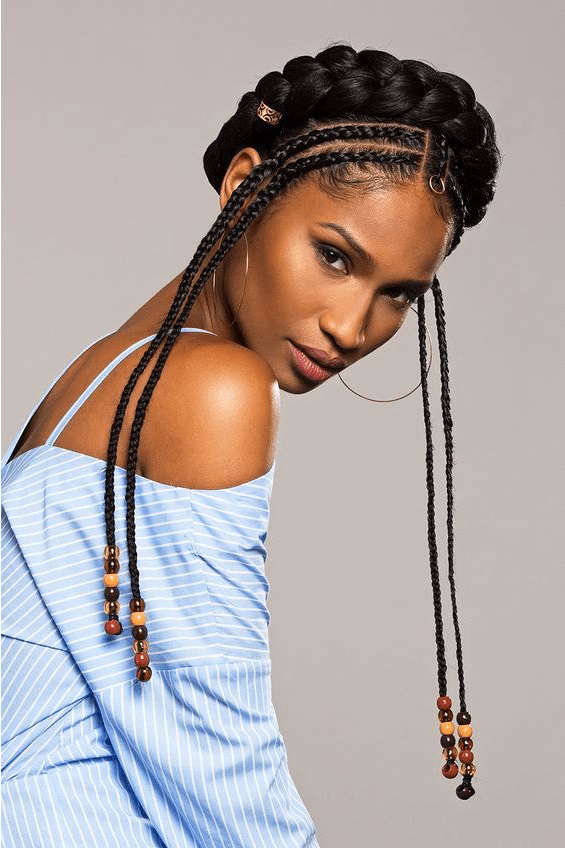 14. Half Twist Tribal Braids
Half twist frames the face very beautifully and adds a charming appeal to the hairstyle. Twist tribal braids include thin braids for the long black hair created using side parting.
After creating the thin braids, gather some sections of braids from each side and tie them together on the backside by twisting against each other.
Half twist tribal braids is an easily manageable hairstyle and is a trendy hairstyle preferred by young African American girls and adds an attractive appeal to the personality.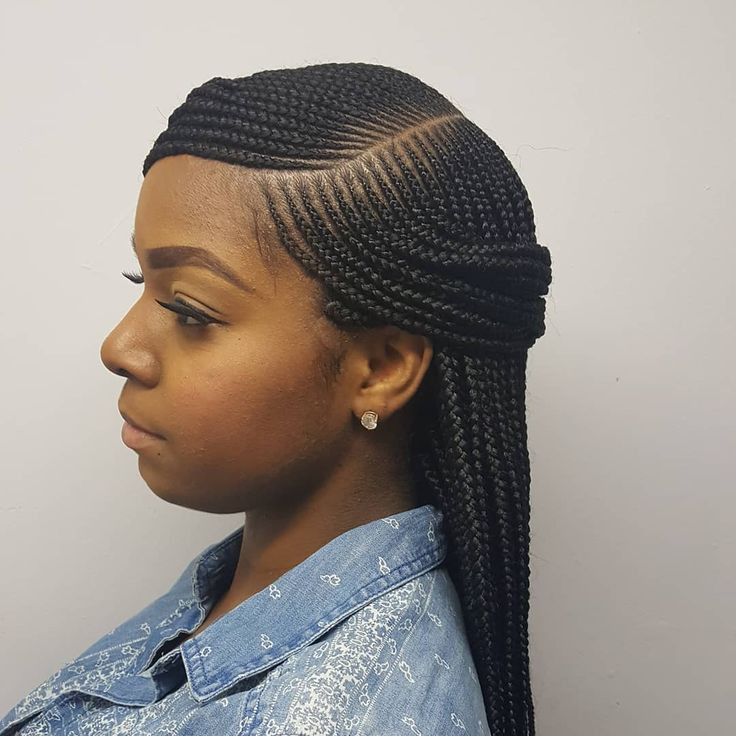 15. Top Bun with Fulani Braids
A fun-loving and adorable hairstyle for black women that includes Fulani braids styled with beads and cuffs. To achieve a particular hairstyle, divide hair into three sections.
For the middle section, create two braids and create curved braids for the rest of the hair. Gather the top sectioned braids and create a high bun on the top.
Style the front section of the top braids with cuffs and add a tiny ring with a key for the middle braids to give a modish and stylish appeal to the Fulani braids.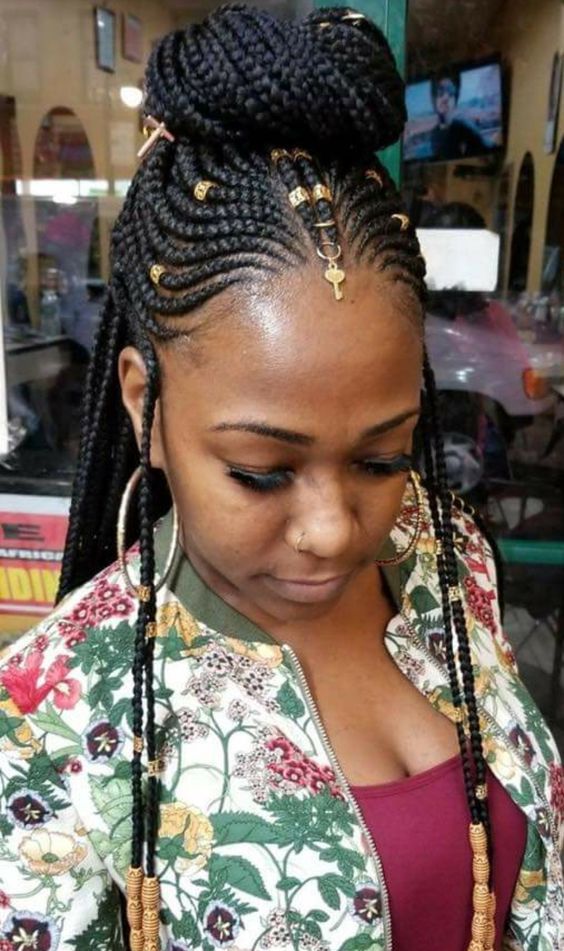 16. Artistic Braids with Free Afro
A unique and classy hairstyle for African-American ladies who love their natural afro hair but prefer to get a manageable and carefree hairstyle.
Artistic braids include a beautiful pattern of braids for the top section styled with a cute white bead for the center. Now, to create a natural afro hairstyle, create the braids to top section length and tie the rest of the hair in a ponytail.
Let your afro hair free to create a charming look and also add a single tribal braid on both sides with Fulani beads on the ends.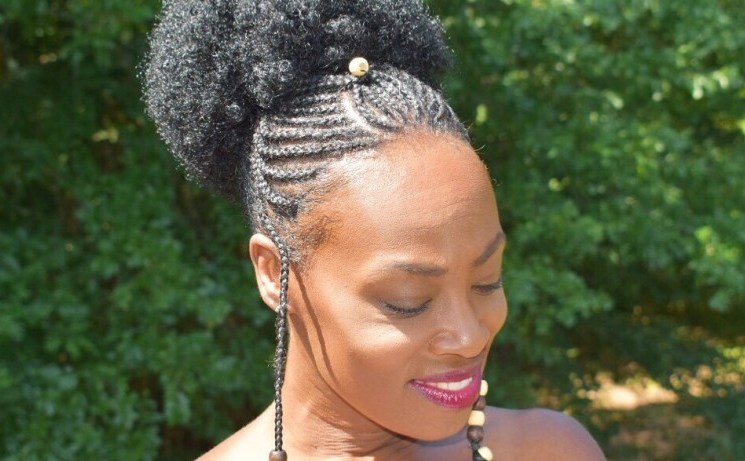 17. Medium Braids with Glass Beads
For black women with medium-length hair, medium braids with glass beads is a perfect option for the alluring tribal braids hairstyle.
Medium braids are created for the mid-length black hair after the center partitioning of the hair. The style gets a glamorous charm with the blue glass beads for the braids.
Medium-length braids with crystal beads make a perfect combination to create a high chic style while keeping the ancient touch of African culture.
You can carry the tribal braids with glass beads for an event appearance or a casual hangout.
18. Bo Braids with Cuffs
Bo braids are a casual name given to Fulani braids, and the braids give a delightful appeal to all African-American girls.
The three-layered braids include a middle section that has a medium braid for the center and two thin braids protecting the middle braid.
For the side braids, thin braids are created, leaving some strands for the front flicked braids.
Box braids are styled using cuffs for the middle and side braids and stylish beads for the front braids. Bo braids with cuffs and beads give an adorable appearance.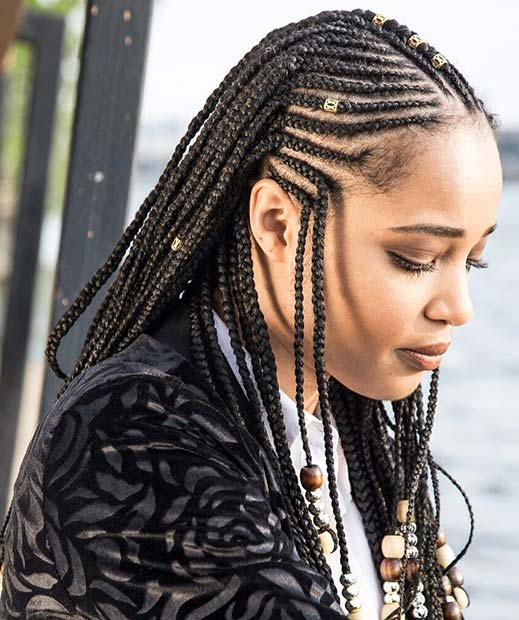 19. Corded Tribal Braids
A simple yet attractive hairstyle for the black women to get a pleasing and lovely appeal for a casual as well as a party look. Corded tribal braids look fabulous on the thick black afro hair.
To achieve a particular look, do a middle parting leaving a thin strand for the middle section and braid it. Create medium box braids for the rest of the hair on both sides.
Add silver and golden cords to the braids on both sides, leaving a braid in between. Add silver and golden cuffs to the braid between the corded braid to create a fabulous and exciting appeal.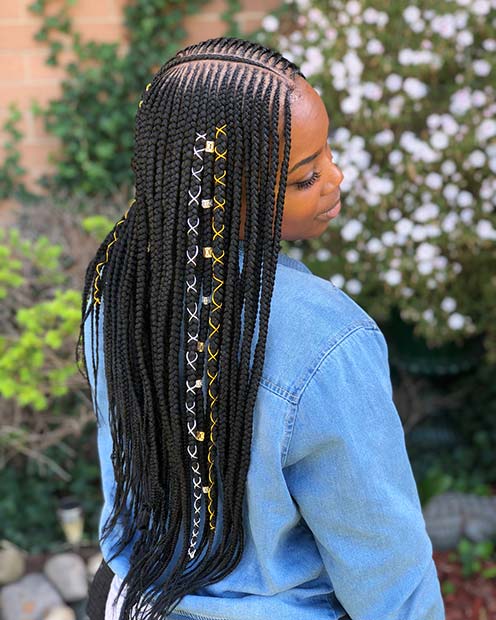 20. Pink Cuffed Braids
The mesmerizing pink color adds an eye-catching appeal to the hairstyle, and it looks so girly and pretty. The hot pink extension works great with the tribal braids.
A cute and adorable pattern is created using the tribal braids and then tied together in a high ponytail to get an easily manageable and adorable hairstyle.
For black teen girls having medium-length hair, pink cuffed braids are a great choice to opt for. Add golden cuffs to the geometrical pattern of tribal braids to enhance the look and feel of the pink cuffed braids hairstyle.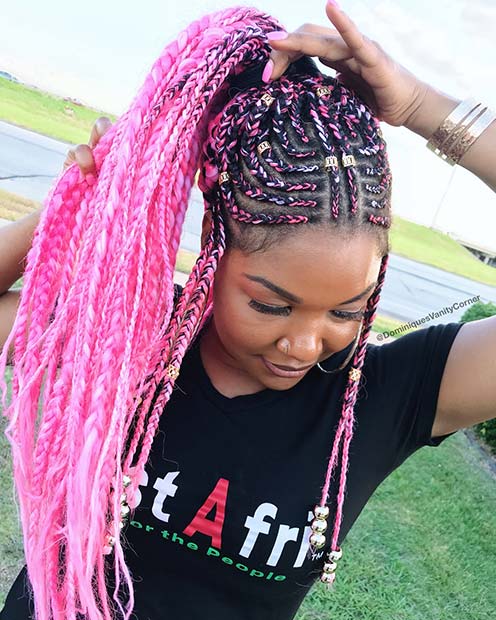 21. Traditional African Tribal Hairstyle
Africa at large is famous for different tribal braids hairstyles. This is one of the few traditional looks worth trying out. The ball shaped threads and beads enhance the looks of this hairstyle.
Brown braids and black threads should be used when coming up with this hairstyle. Be assured of a marvelous look when you go for this hairstyle.
22. Accessorized Cornrow Hairstyle
Choose your desired braid length for your hair. In most instances, the length should increase in size as it extends toward the hair edges.
Use different accessories at different parts of the head. You can style different your braids or rest them on the shoulders. Black braids blend with different outfits.
23. Boxed Tribal Braids with Beads
Each braid should be in a boxed shape look. Black and maroon colored braids are recommended for this hairstyle. Beads should also be used on different braids.
This hairstyle gives ladies of sleeking and designing their braids in different ways. Additionally, the braids size depends on an individual's preference.
24. Fulani Top Knot Bun Braid Hairstyle
This is among the few tribal braids hairstyles that forms temporary top knot buns. Simply coil your braids edges together and form your desired top knot sized bun.
This hairstyle can be styled differently. Therefore, you can style your braids for any event that comes your way. At the same, you can use accessories when tying your bun into place.
25. Urban Long Tribal Braids Hairstyle
For an urban look, try out this hairstyle. The long black tribal braids are trending at the moment. Additionally, you can use beads at different braids.
This braids hairstyle doesn't limit you to resting your braids on shoulders only. You can design your braids to whichever style you please. This hairstyle can also stay intact for a long time.
26. Jumbo Cornrow Tribal Braids Hairstyle
This hairstyle is easy to attain, thanks to the Jumbo cornrows. All braids in this hairstyle should be directed towards the back of the head. Metallic accessories can also be used in this hairstyle.
Don't look any further for an easy-to-maintain hairstyle that perfectly blends with any outfit you choose. It also allows you to showcase your natural beauty.
27. Tribal Braids With Curly Look
A section of braids should be plaited and others given a curly look. Braids should either rest on the right or left side of the head.
Curls on this hairstyle should stretch up to the hair edges. You will get noticed on any casual event when you try out this hairstyle. Any facial shape looks good on this tribal hairstyle.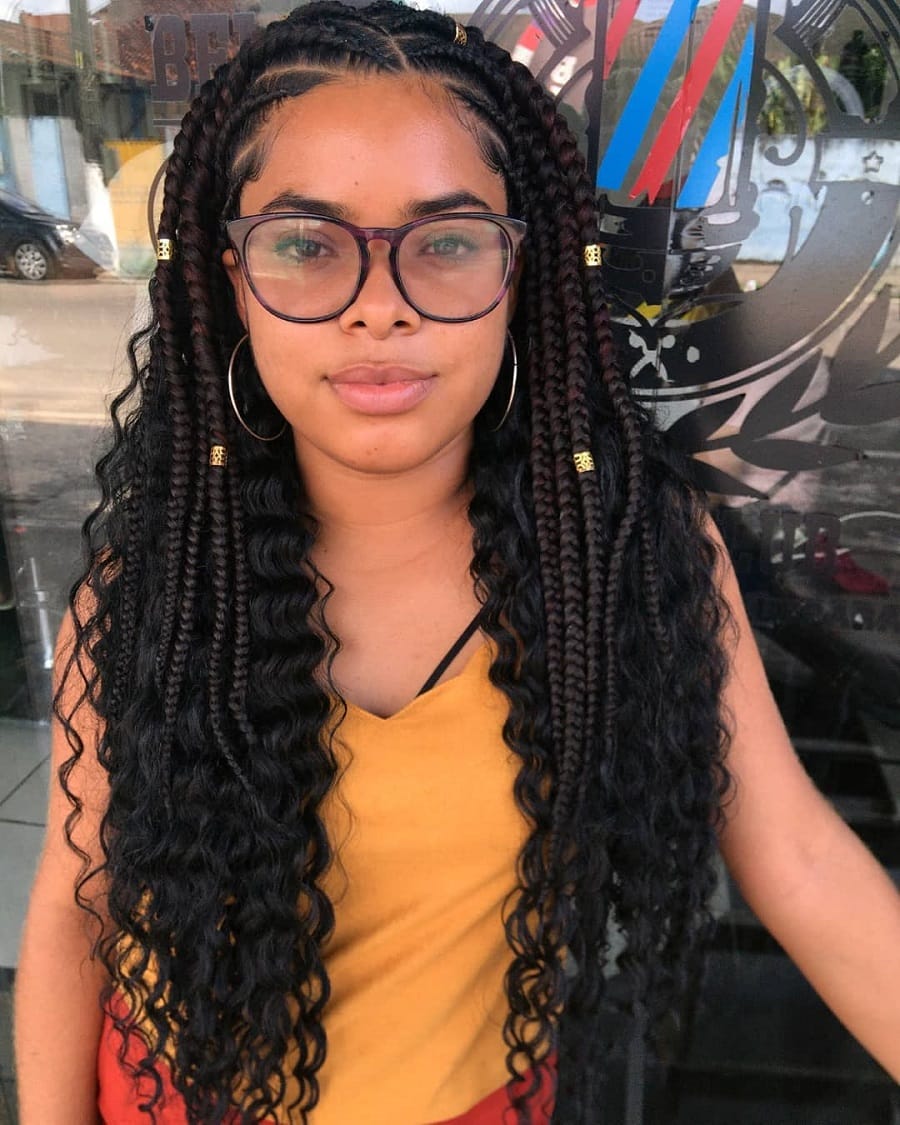 28. Middle Part With Beads
The different colored beads towards the braids edges give this hairstyle a spectacular look. It all starts by a middle part look while plaiting your braids.
There is no limit on the size of the braid to form on the head. For this hairstyle, you can go for a while without worrying about the condition of your hair. It will remain intact for a while.
29. Artificial Locks Hairstyle
Do you admire dreadlocks and desire something similar? Go for this hairstyle. The braids look like real dreadlocks. This hairstyle is comfortable on the head since it can be sleeked in different directions.
Take advantage of this hairstyle since it best suits any event be it official or casual. It is also less costly to maintain.
30. Feed-in Tribal Braids into High Ponytail
Different sized cornrow hairstyles make this hairstyle outshine numerous hairstyles out there. All your braids should converge at the back o the head and form a high ponytail. You can add beads on a section of your hair. Feel free to form curls on a section of your hair.
FAQs
How long does it take to get tribal braids?
This depends on how complex you want your look to be. Make sure you bring a reference picture to your stylist so they know what kind of look you want. Overall, it can take two to eight hours to get tribal braids, which is faster than many other styles.
Does getting tribal braids hurt?
If you are not used to getting your hair braided, getting tribal braids for the first time might hurt. This is because the stylist pulls the hair from the scalp. Though it may be painful during the process, the braids should not be painful after the styling process is complete. If they are, tell your stylist immediately.
Can I wash tribal braids?
Yes, you can wash tribal braids every 3-4 weeks. Shampoo, condition, let the conditioner sit for a few minutes, and then rinse your hair gently but thoroughly.
How long can tribal braids last?
Since tribal braids are a protective hairstyle, they can last for a while. Most stylists say they can last from four to six weeks, with a five-week average. Make sure you are taking care of your scalp throughout the process to ensure its longevity.
How many layers are tribal braids?
The number of layers is up to you. Tribal braids can be done in two or three layers, depending on your preference of thickness and the desired look at the end. Overall, you will need around five to eight hair packs for this style.
How much do tribal braids cost?
Depending on your look and how much time the stylist will need to spend on you, the cost of tribal braids can vary in price pretty widely. Many looks can cost as little as $120, while more complicated looks can cost $250.
Tribal Braids have become really popular as many African American celebrities are owing to the modern twisted hairstyles of the ancient tribal braids.
You can carry the tribal braids with cuffs, beads, wooden or glass accessories, cowry shells, bubbles, pearls, or any ornament bead you like. The dramatic braids can be combined with vibrant colors, extensions, yarns, etc. to give the ancient tribal look.
Tribal braids represent your love for your culture and tribe and also provide you with a glamorous hairstyle with some innovative and creative patterns making the look more ravishing.