There are multiple options for taking hair care for black women. Among the most popular techniques is wearing protective hairstyles for their natural hair. If you want to provide your locks a break from regular styling or want to add some elegance to your look. Protective styling is the idea to do it.
After all, dreadlocks, cornrows, and knotted styles are all options for your protective style. We've gathered inspiration for every occasion, from ponytails and decorated box braids to short hair. Read on to discover more about it.
A Range of Iconic Protective Hairstyles
Discover a cute and gorgeous way to protect your hair while also increasing your style score.
Senegalese Twists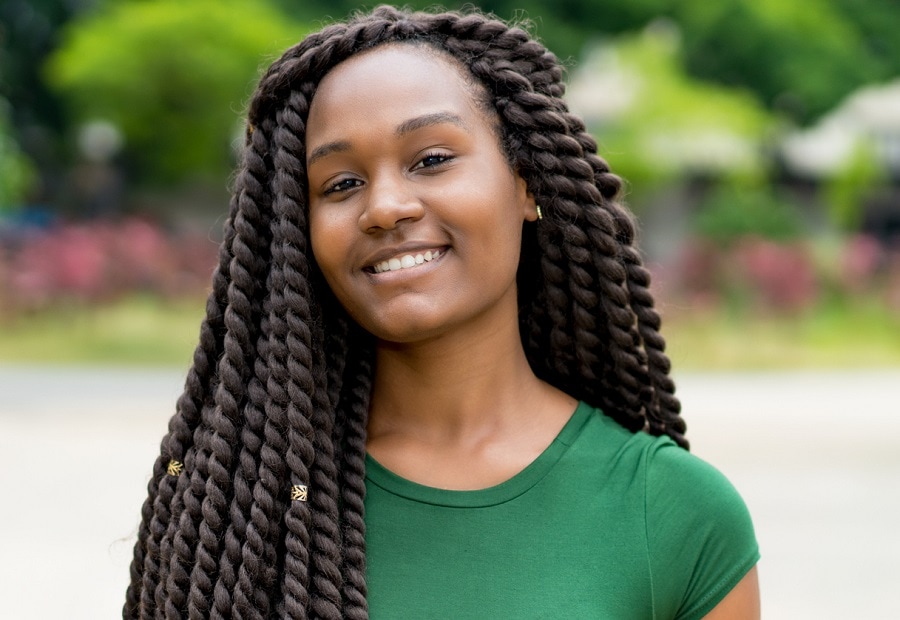 Senegalese twists are normally regarded as "rope twists". However, simple beads are added to the twists to make them more elegant.
Using colored additions gives this protective style even more depth. It also provides your hair with a thick and lush appearance.
Sultry Waves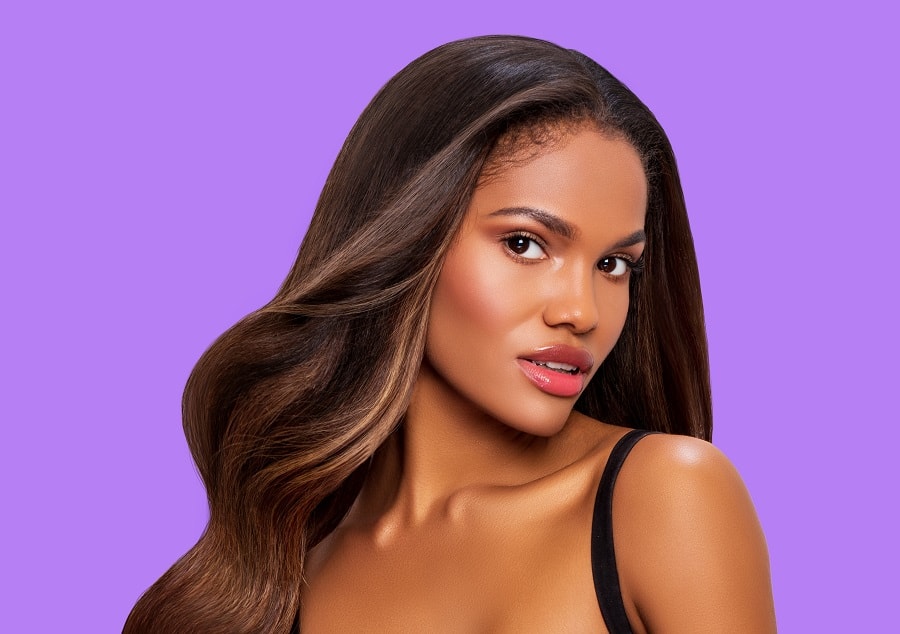 Long relaxed hair is super trendy now. So take your curling wand. And experiment with other cool hairdos that are appropriate for any season.
Brushing through the heavier locks can result in protective hair. Try to wear this look with a daring chic style. Use winged eyeliner and reddish lips.
Bold Head-Knot
Tie a colorful head wrap around your bun with faux locs. So that when you head out, it provides a playful feel to your outfit.
Designer hair jewels with jewels and stars can be purchased to brighten your weave and bring out your sense of style.
Lilac Swirls
Black women turned the tresses into this spectacular hairstyle that everyone desires. The high pony is an antique hairstyle. But it's making a glorious comeback.
They look fantastic, but you can also try different heat-styling products and colors. They also give your hair more density.
Pineapple Dreadlocks
This hairstyle is an edgy, sloppy upper knot. Try adding frizz-setting mousse to your hair before flipping it over.
To add a playful hint to the style, assemble all of your hair onto the top and clip it with a rubber band. It appears to be simple yet stylish and lovely.
Half Up Half Down
The half-updo is very popular with protective box braids. It's a fantastic way of showing off your braids while looking incredible.
Not only does it keep your hair in place, but it also lasts a long time. In addition, you can smoothly apply hair creams to enhance the roots.
Bantu Knots
Bantu knots have been recognized as one of the most stylish hairstyles ever. It looks cool while maintaining your hair out of your forehead and neck.
To make these awesome knots, tie your hair in segments and roll it up in tight buns. Then, apply hair mousse to preserve the styling.
Mini Twists
Hairdos ranging from the quiff to the short black cornrows. Black women can carry any hair color, but red is the most flattering.
Protective hairstyles are simple to maintain and aid in preventing frizz and dry natural hair. When matched with cool attire, this TWA hairstyle looks completely cool.
Lengthy Box Braids
Try this protective style if you have dense hair tips and dry roots. Then, you don't have to knot your entire head of hair.
This style makes caring for your hair tips simpler because you can apply oil easily to them. Overall, this protective hairstyle for natural hair enhances your appearance.
Fluffy Coils
Sometimes protective hairstyles might take a little longer to make it. But trust us, all your efforts will be worth it, once it's done.
The rolled coils are mid-parted and left open to give way to the fun curly hairdo. It's the perfect choice if you prefer a hairstyle with a little extra bounce.
Gray Layers
Dread styles come in a variety of styles and techniques, and they can add a modern twist to your look. Choose hair color and plait it into your tresses at the hairline, then let the hair fall around itself to form a dread.
Pony Twists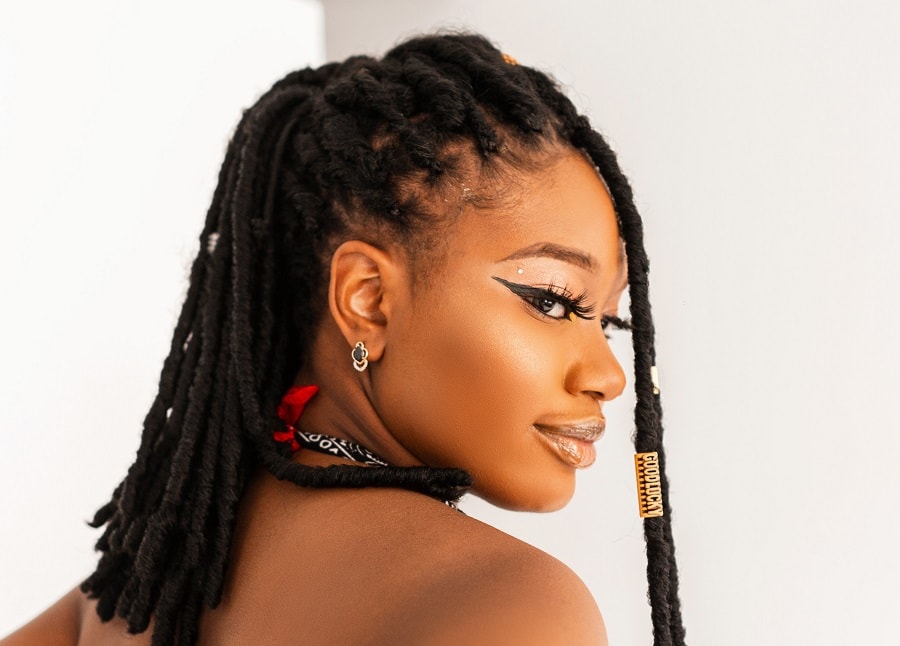 Sleek high ponytails are fashionable. It's time to add some decorative beads or accessories to the twists.
A single twist adorned with golden cuffs winds around the pony to enhance the look. They spruce up the overall appearance.
Glamorous Coils
This protective hairstyle for natural hair highlights your facial structure. It is especially flattering if you have an oval face.
The braid begins at the hairline and can end between roots and midway down. The remaining hair is left down. This hairstyle gives your hair a denser appearance.
Dip-Dyed Braids
Braided dreads are tiny braids that have been weaved with each other to create a distinct appearance and feel. Highlighting your dread hairstyle can add dimension and a delicate pop of color to your braids.
Dual-Toned Cornrows
Big cornrows look really cool. They also reduce the tension on your scalp and hair caused by the braids' grip. So, if you currently have hair loss, don't be concerned. Instead, consult your hairstylist about getting large cornrows.
Side Swept Dreads
Side-swept dreads provide a clipped look while enabling your strands to shift to one corner. Simply take some tips from this side-parted undercut styling.
Specific varieties of dreads can also produce various appearances. Pins can also be used to keep your dreads in place.
Elevated Ponytail
Isn't this styling flattering? The scalp-aligned braids are flawlessly swept, and the high ponytail is flawless.
With the exception of box braids, knots help relax and add a classic appearance. All in all, you'll look great in such a protective hairstyle.
Bubble Ponytail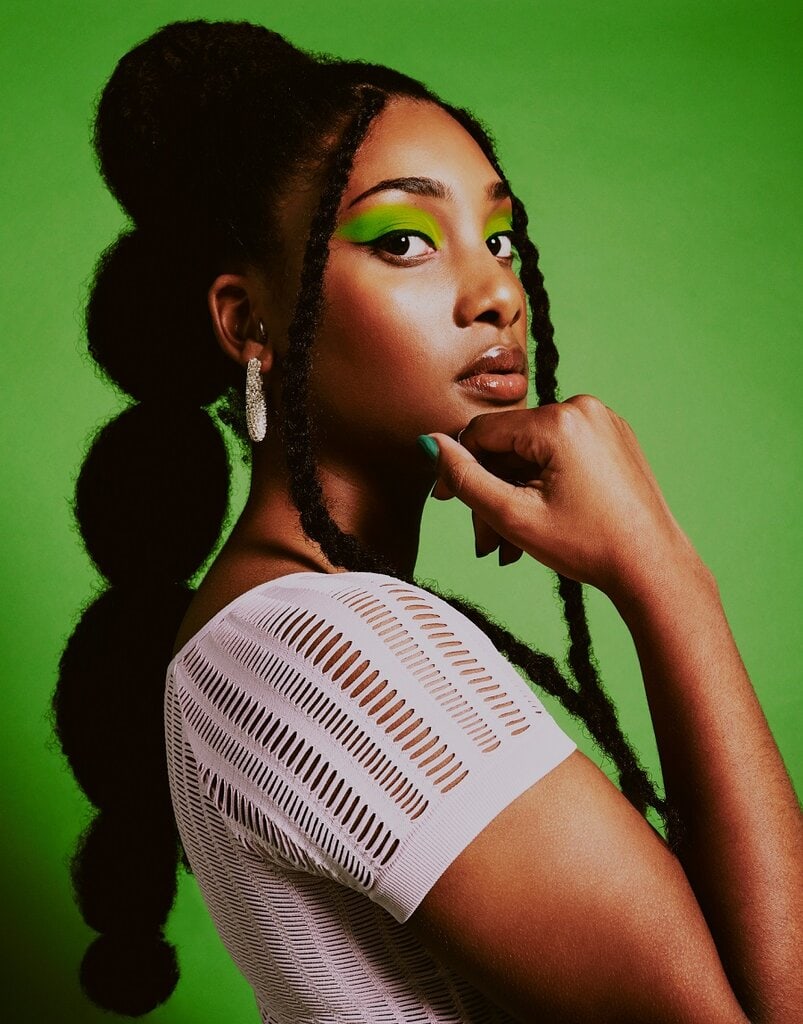 Twist a section of your ponytail where you want the first ball to start. Then, about two or three inches lower, add another holder to make the first puff.
Continue until you arrive at the tip of the tail—alternate braid sizes for a fresh look.
Feed-In Braids
Feed-in braids are parallel to the hairline. You keep adding strands to the braid as you sew the stitches. These braids begin to lumpy but thicken as they progress.
If you ask us, they look pretty messy. To achieve a vibrant protective hairstyle, swap between thin and heavy braids.
Blue Twists
Instead of coloring your hair, experiment with blue hair pieces. With this protective hairstyle for natural hair, you can show off a work of art. Take a glance at the end. To achieve that look, you must hire a professional hairstylist.
There are numerous methods for dealing with hair breakage and damage.
Choosing protective hairstyles will reduce your natural hair damage because they require minimal maintenance and protect your hair from the root to the tip. This means you won't have to worry about your hair being styled daily.