Summer brings pleasures as well as troubles. Troubles like you can't keep your hair open all day as it gets sweaty, itchy, and unbearable. But Bantu knots are here to rescue you from the scorching sun. This hairstyle lets you keep your hair up with a creative twist.
Buns are the common hairstyle worn by every black woman in summer. But a classic bun can get repetitive; that's why we've come up with a creative solution.
Thus, get a little creative by braiding your hair in several weaves and then making a bun. Here's a full list of ways to style this beautiful updo.
Easy-Peasy Bantu Knots Styles
Let's not make you wait anymore and get to the list right away.
Medium Hair Knots
Divide your medium-length afro hair into many sections. Then, make braids out of them and fold them into buns.
The advantage of medium-length hair will be that the bantu knots will not look too big on your round or oval face, and it takes very less time to make them.
Thick Braids
If you have very long and thick hair, it will not be possible to tie all of them in buns.
So here's a solution: tie the front of your hair in four top knot buns and make thick and thin braids out of the remaining hair. Golden yellow hair will suit dusky skin tones.
Black to Brown Hair
If your hair color is a combination of black and brown, Bantu knots will be the best hairstyle for you.
The buns will be brown, whereas the roots will be black. It's the perfect style for afro hair and girls with a long forehead. In addition, it will suit dark skin tones.
Short Hair with Beads
Style your short hair in very short buns by making straight and zigzag sections. These black updos look even more beautiful with golden hair rings and ribbons.
Finally, let your baby hair rest on your forehead as beautiful curls. This hairstyle will suit dusky to dark skin tones.
Voluminous Buns with Braids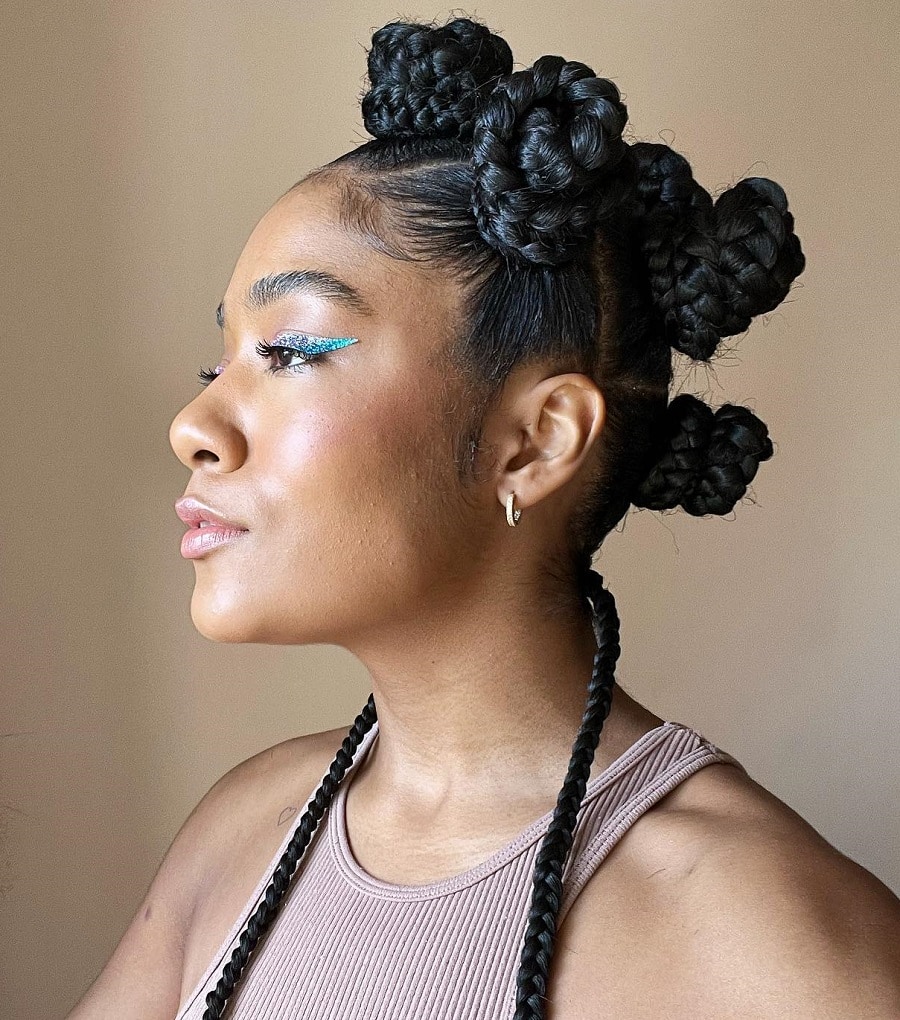 It's time to make something creative from your naturally black and voluminous hair.
First, make braided updos covering your whole head. Then make two thin braids from the back of your head that flow to the front. Of course, you need to properly oil your hair before making this hairstyle.
Red Dreadlocks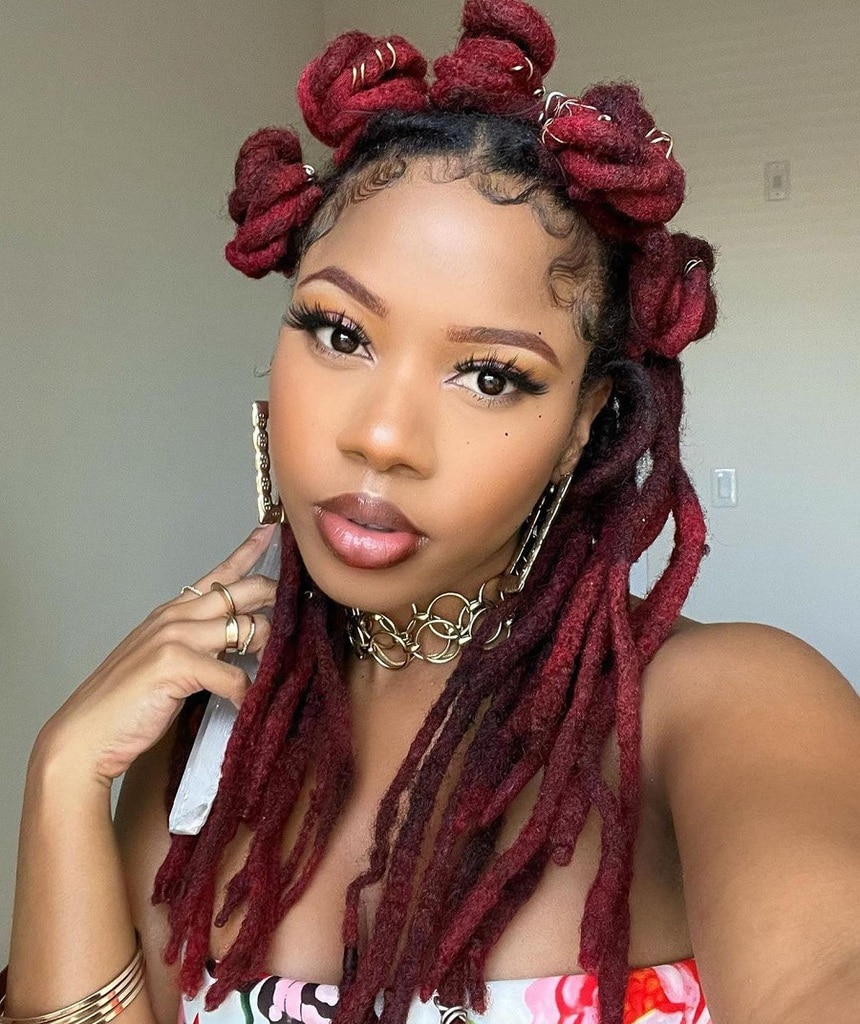 Who said that dreadlocks could only be kept open? Make beautiful bantu knots out of your red dreadlocks and show everyone that you've got style.
You can also wear many golden hair rings around your buns and let your black roots shine. It will suit all skin tones from fair to dusky.
Multiple Buns on Straight Hair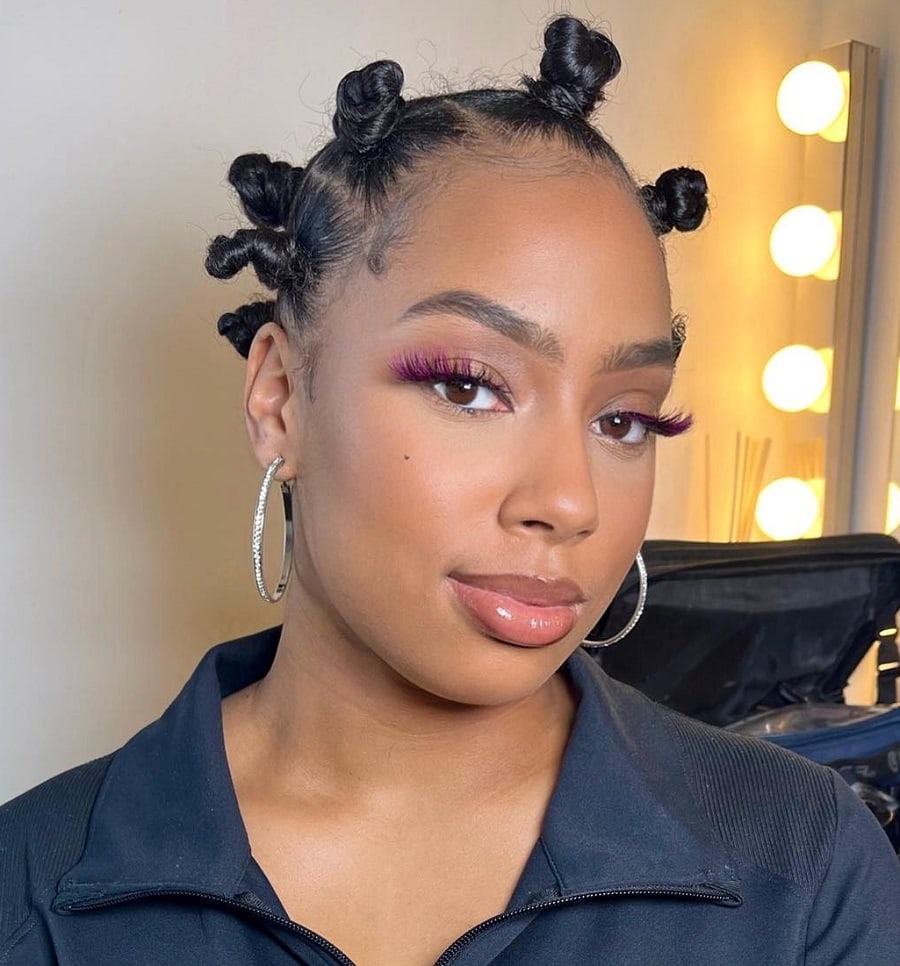 If your short hair is slightly straight and doesn't want to keep it open, you can tie it in a couple of small buns. This will not take much time and suit you if you have a round face.
Then, use hair gel or hair spray to keep the overall look neat.
Golden-Yellow Locs
Bantu knots look even more beautiful when you color your hair. Color your hair orange to golden yellow.
This will make the buns look colorful in this combination, and your roots will be in their original color. Thin braids from both sides will look very pretty.
Braids with Two Buns
Divide your hair into five sections, the front and crown sections will be in two big buns, the lower back section will twist braids, and the section on each side will be in a thin long braid.
This hairstyle can only be made when you have very voluminous and jet-black hair.
Magenta to Dark Purple Knots
Color the roots of your hair in magenta color and the rest in dark purple color.
This combination works when you have a bunch of buns on your whole head, so the buns look very colorful. Also, one thin braid on each side will add uniqueness to the look.
Half-Up Buns with Lob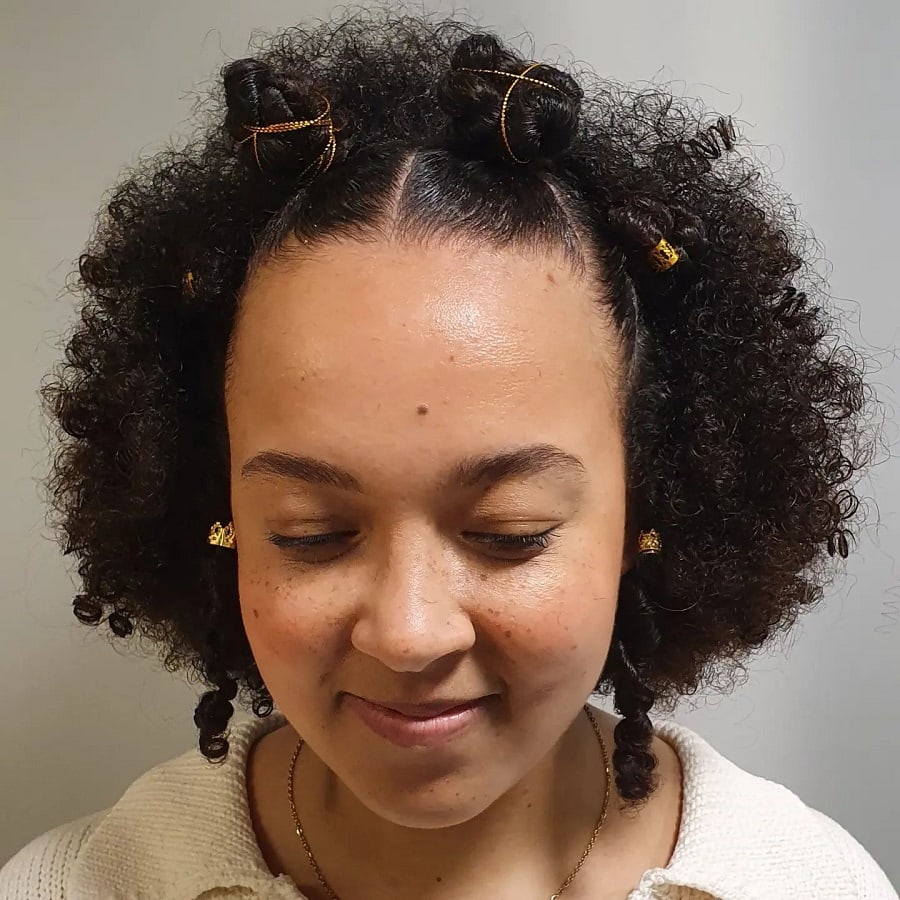 Style your natural curls in a half-updo along with bantu knots. Make four buns on the front and tie the middle two in golden hair ribbons.
The remaining two buns can be held using a hair ring. Let the rest of your beautiful curls flow with some golden beads in between.
Bronze Braided Bantu
A combination of box braids and updos will look quite gorgeous when you have long hair. This style works for girls with light brown or bronze hair as they will shine every time you step out of the home.
Also, it's the best way to style your curly hair. Make 4 bantu knots at the front and keep the rest of the braids open.
Triangled Knots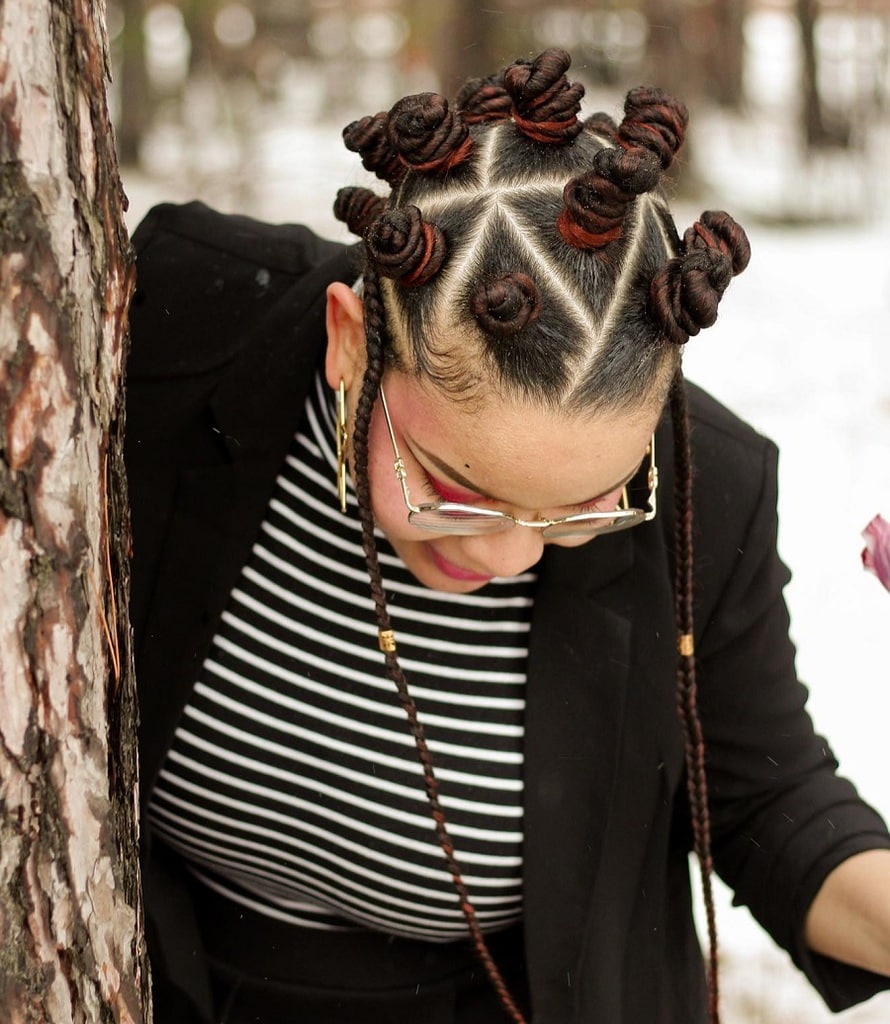 Get red highlights on your long hair so that when you make buns, the red color will wrap your buns like a rubber band.
Make triangular sections on your hair instead of square sections for a unique style. Put golden hair rings on your thin, flowing braids on the sides.
Rose-Red Twisted Knots
Color your light brown hair in rose-red hair color. Make bantu knots using braids so that the buns look voluminous.
It's a beautiful look for chubby faces, and the rose shade of red will brighten your skin tone. Use hair accessories to add to the bun, like rings or beads.
Half N Half
Color half of your hair in a light shade of brown and the other half in dark black color.
This combination of light and black will show that you understand that there's both light and shadow in life. Try this two-tone hairstyle on your short hair.
Bantu knots are going to be your buddy hairstyle this summer. They look classy, and it's fun styling your hair in buns leaving behind the dull classic bun. Of course, you can choose braids or no braids, but we bet each style will look beautiful on you.
Who knew that you could get relief from the heat in such a stylish way? This hairstyle is not like other styles that give style over comfort. However, comfort and fashion work together here, so there are valid reasons for you to try these hairstyles now.