There's not much time left when the summer season will finally knock on our doors. That's why we've got black braided updo ideas to style your long hair this summer. Beat the heat with these amazing hairstyling ideas.
There's a hairstyle for every occasion on our list. We've covered everything from babysitting your child to going to the office. So save yourself the time of deciding how to style your long hair daily and have a look at our list.
Time for a Black Braided Updo with These Unique Ideas
No more waiting, and let's start the tour of beautiful hairstyles for you.
Box Braids
Voluminous hair can be a headache to manage daily but not anymore. Box braids will make your hair styling easier once you try them. Your box braids will slowly merge into small braids used to make a big bun. This way, you'll look formal as well as stylish.
Dutch Braids with Beads
Dutch braids can become invisible in curly hair, so you'll need something to highlight them. Beads and colored hair extensions can help to highlight your hair.
Red hair extensions will be a great match for jet black hair. Your high bun will also be full of red, which will look very beautiful.
Half-up Bun
This is one of the braided updo where your black hair will be tied and loose at the same time. A half-up bun is a very glorious hairstyle that'll suit plus-size women. You should give this hairdo a try if attending a ceremony.
Space Buns with Butterflies
If you're a model or want to style your model's hair for a big fashion show, try space buns hairdo. Bring some creativity to the look by adding some props. Use golden-colored hair extensions to form a golden lining around the buns. Colorful feather earrings will match this hairstyle.
Side Plaits
This black braided updo doesn't require much effort and time. Side plaits look like a very decent and beautiful hairstyle. School-going kids can make this hairstyle as it's very simple-looking. Merge the plaits into a tight ponytail, and you're ready.
Crown Bun for Older Women
Older black women can now flaunt their grey hair in style with a crown bun. The braids will make the bun look very stylish. Making plait will also make the hair look thick if it's thin. You should make this hairstyle for a family outing.
Multicolored Braided Bangs
You don't have to get a bangs haircut, actually. Just use bright multicolored in between to make box braids. Use two layers of plaits in front to make an illusion of bangs. Using multicolor on your hair makes your hair shine. It brings a unique glow to your face too.
Headband with Braided Updo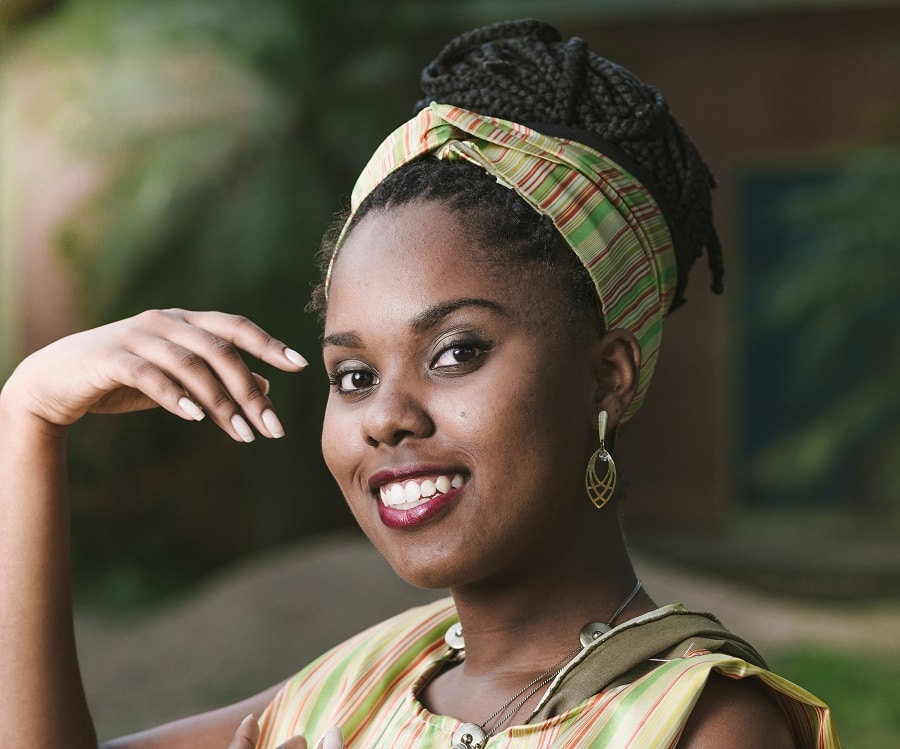 A headband can be a great accessory for making a black braided updo. Take a headband that matches your outfit and use it to cover your crown hair. This way, the focus will be on the plaited bun behind the headband. Overall, it will be an adorable hairdo for shopping or going to the movies.
Chignon Updo with Undercut
If you have extremely short hair but love to make braids, we have an idea for you. Get an undercut for your hair. Use white hair extensions to make the plaits and tie them into a bun. Trust us; once you try it, you'll see how unique and creative it looks.
Curly Mohawk Updo
Create the impression of a mohawk by using just braids. Make several micro braids in horizontal layers from each side. Attach the ends of these plaits using a hair tape and alike.
This will create a mohawk hair impression without actually cutting your African American hair. College girls can try this to make a stylish impression.
Messy Bun with Cornrows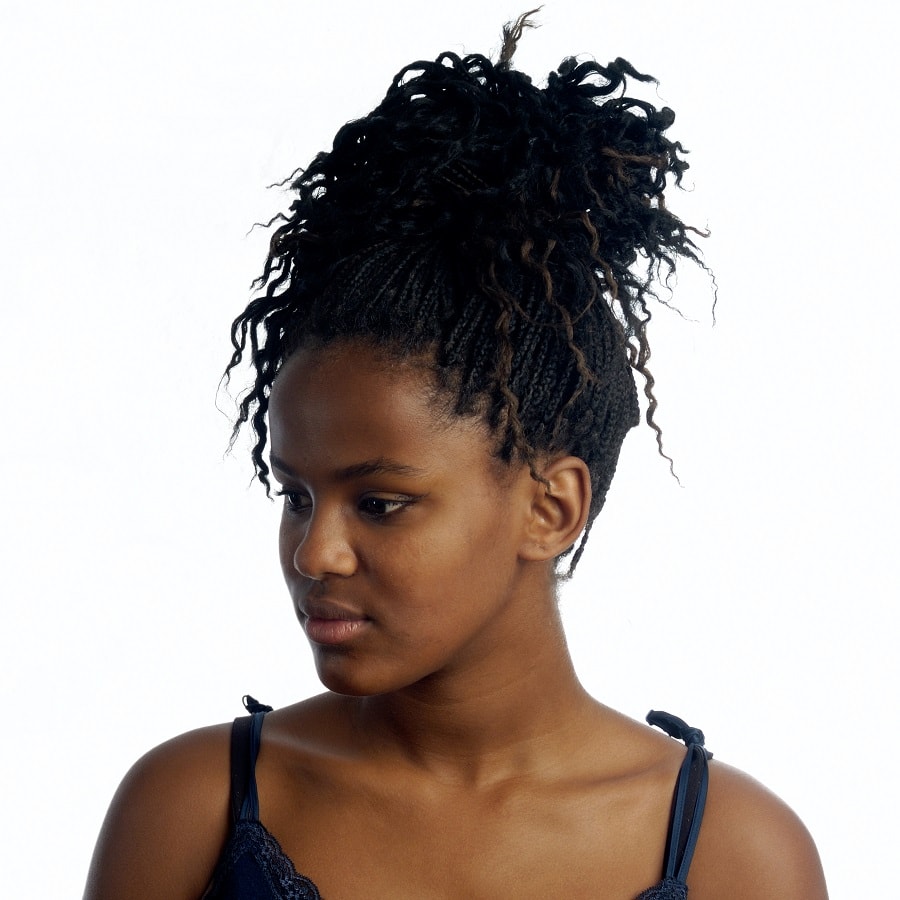 So many micro-black braids forming into a messy bun will look beautiful if you have long hair. Use some of the braids to make a bun while opening the ends of others. Light brown hair in between will also give a beautiful look. It's a great hairstyle for day-to-day life.
Dutch Braid Headband
No need to worry if you don't have time to buy a headband; make a dutch braid headband. It'll look so beautiful and doesn't take much time to make. It's a great hairstyle that'll suit any partywear. Light brown hair highlights will give a gorgeous and shiny look.
Dreads in High Bun
Dreads are a great way to make a full black braided updo. Dreads will give your hair a voluminous look, so don't worry about having thin hair. Try the dreads hairstyle if you're going shopping or picking up your kid from the school. All the eyes will be on you as you step out.
Twisted Colorful Locks
If you want a whole new look without changing your natural hair, try getting hair extensions. Get the hairpieces in colors different from your hair color. Using these colored extensions, make twisted braids. Your hair will look so colorful that it's great for a club or bar.
Goddess Look
Is a theme party coming or planning something for Halloween? The goddess look is perfect for such unique events. Use shiny hair accessories like golden beads and silver bun accessories. Then, do your makeup like a goddess would do and see how gorgeous you look.
Two-side Braids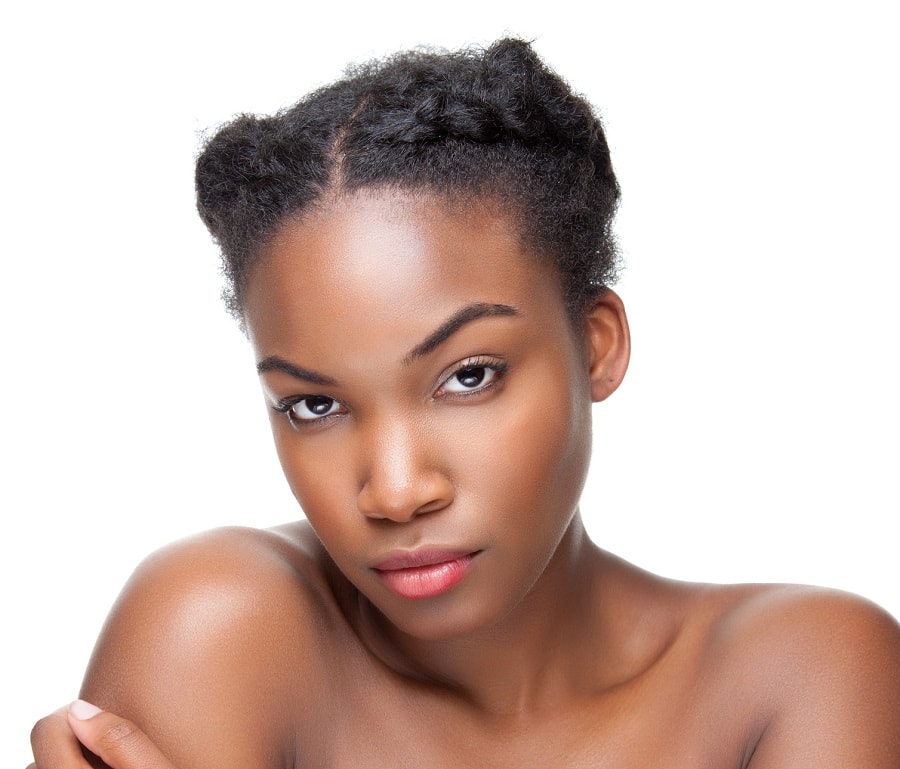 Want to keep your look simple but stylish? Try a two-side black braided updo. Make one dutch braid on each side that'll merge into a low bun in the back. A very simple and gorgeous look for working girls and women.
Cornrow Braids in a High Knot
Cornrow braids become easy to make when your hair is voluminous. You can easily divide the layers, and the bun will also look big. Use colorful or printed beads to tie the ends of your locks. So when you make the bun, these beads will look beautiful.
White Hairdo with Contrasting Band
White's a very beautiful color that suits the skin tone of black women. Try the white plaits hairdo if you're going to an art exhibition. Use a bright-colored headband in the front to create a contrasting effect. Use hairpieces if your natural hair isn't enough to make a big bun.
Bantu Knots
These are not the usual Bantu knots you see on Instagram or Pinterest. But, as you can see, matte hairpins between the buns make the whole look more mesmerizing. Use such types of hair accessories to create a unique look. It's a creative updo hairstyle, so save it for special occasions.
Reverse Plaits
Everyone makes braids from the front, but you plait your hair from the back. So when the ends of your interlocked hair fall on your face, it'll look like bangs. Colored hair will help create colorful bangs—a cool hairstyle for teenagers and tattoo makers.
Hope you like our list of black braided updo ideas. Once you get your hands on each hairdo, you'll see how easy they're to make. So get ready for any occasion in style now.
Your one worry has ended with our list, and that's what hairstyle to make. Now, try each of the above hairstyles and tell us you loved them.