Having super-thick hair texture is a serious advantage, as it allows you to have plenty of hairstyling options, but there's no reason to give up on experimenting with your hair if you aren't blessed in this area. With the right haircut and styling tricks, even you can experience the illusion of volume and movement.
While keeping your thin hair down can make it look lifeless, lifting your fine locks will make them look thicker than they are. Updos are one of the most versatile hairstyles that never seem to disappoint!
Updos that Transform Thin Hair to Thick
Read on to find this curated list of updos for thin hair that will make you forget all about wanting to get extensions.
Teased Updo
Bid good-bye to the notion that updos always have to be close-ended. This teased short high ponytail is a very trendy hairstyle among young girls. The highlighted ringlets in the hair end contribute to the fuller look.
Honey Brown Messy Hairdo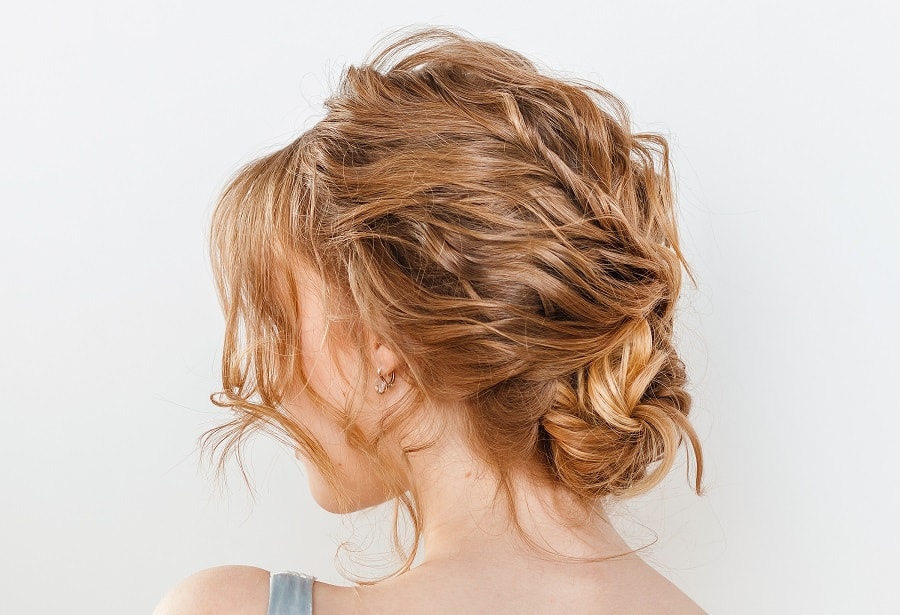 If you have thin wavy hair, this messy twisted updo is a great way to deal with it.
This hairdo's carefree and chaotic style will help you look effortlessly beautiful. This hairdo will stay as it is even after a long night of dancing, making it ideal for wedding and prom parties.
As we all know, braids are a girl's best friend. Adding these braids to the usual bun can infuse a fantastic volume boost to your hair.
To create this hairstyle, you must french-braid the front section of your hair around the crown before pulling the remaining hair into a bun.
Light Blonde Tiara
Are you looking for an elegant hairstyle for your special wedding day? Look no further.
Gather your fine blonde tresses into a twisted bun to make this timeless hairdo. A tiara will be the perfect accessory to give the royal finishing touch.
Caramel Curly Hairdo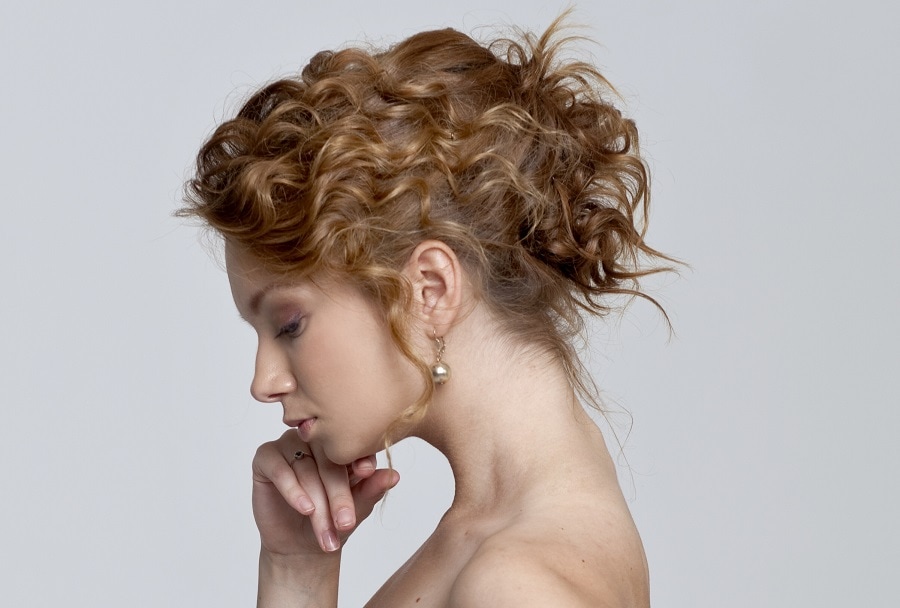 This is one of the updos for thin hair that requires minimal effort yet makes you look smart.
Even though the hairstyle is mainly suited to girls with curly hair, it can also work with other hair textures. The dark caramel color gives this moderately high bun a polished look.
Classy High Bun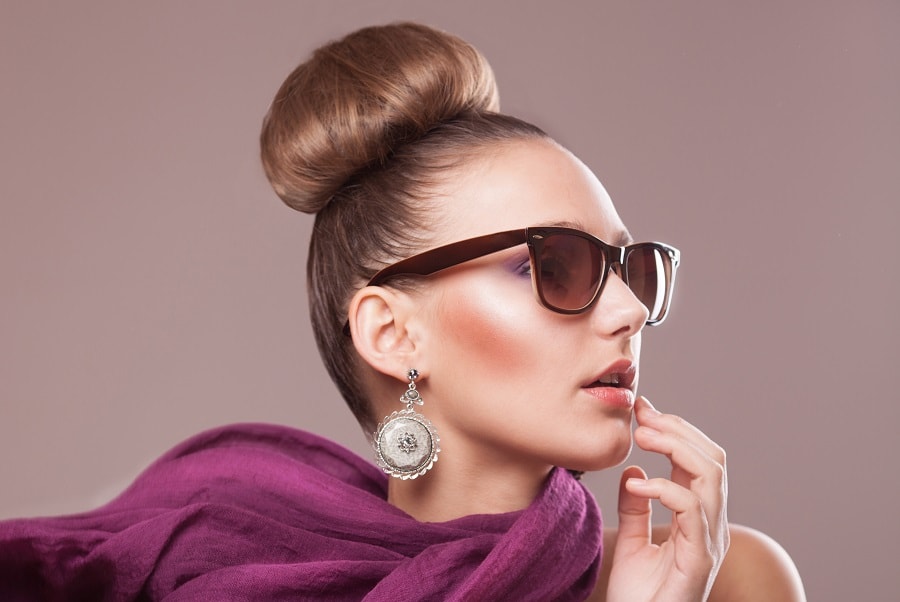 The IT-girl hairstyle that will complement your high-street fashion looks is here!
This chocolate brown bun sits at the top of the head to embody a classy aesthetic. Don't forget to use some setting spray or gel to avoid the flyaways, which can disrupt the put-together look.
Loosely Braided Updo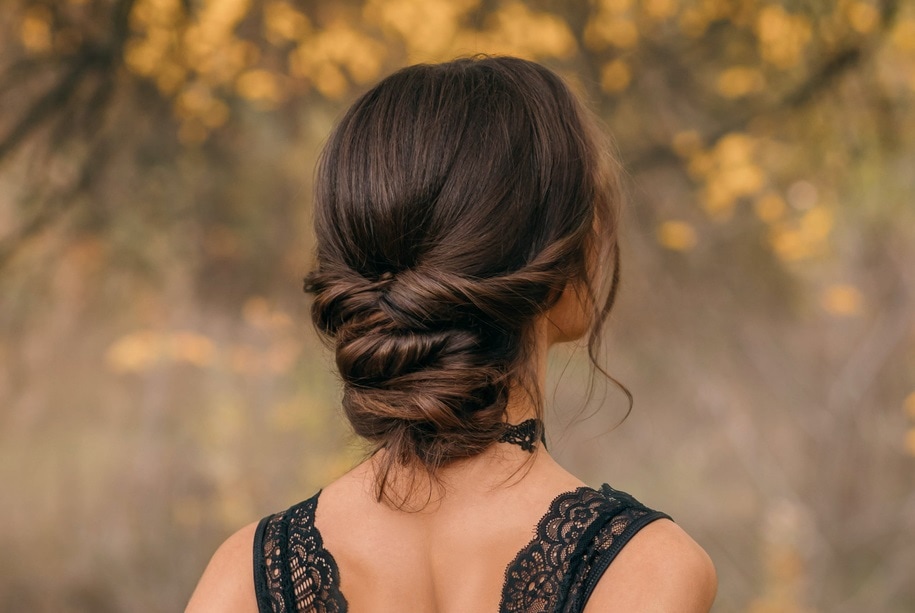 This whimsical hairdo starts by loosely braiding your hair, only to quickly wrap up the rest into a bun.
The dark brown shade with lighter auburn highlights goes well with this style. You can pull out some tendrils in the front to frame your face better.
Simple Hairdo with Highlights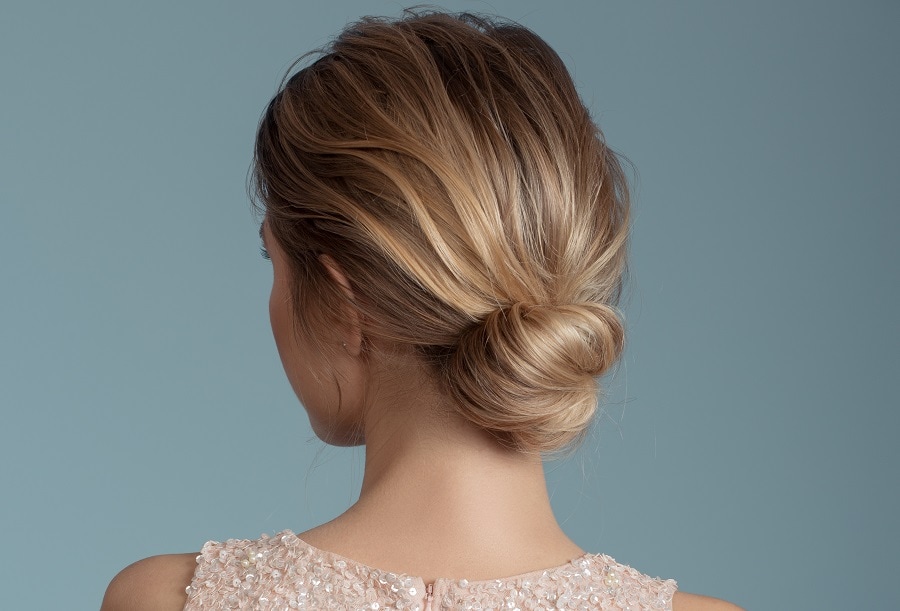 If you are running short on time but still want your thin hair to look good, this low-hanging bun will be your go-to hairstyle. The blonde and brown tone variations add extra depth to this minimalistic hairdo.
Disheveled Medium Blonde Updo
Aiming for a hairstyle that's a mix of both casual and fun? This messy updo with layers is all that you need.
The dip-dyed blonde ends pop out in contrast to the darker roots and mid-length. Pair this hairstyle with bright pink eye and lip makeup to achieve a youthful look.
Formal Chignon Bun
This loose knot bun is a hairdo that you can never go wrong with when it comes to any formal event, be it a black-tie party or holiday soiree. Swap your regular bobby pins for embellished crystal pins to take this hairstyle to the next level.
Loose Tousled Hairdo
This undone off-center tousled hairdo proves that you don't need much fuss to attain fullness in your look. If you have a round face, you can create this hairstyle to give your face an elongated feel through the gathered volume at the top.
Pinned Updo with Side Twist
Next, we have a classic bridesmaid or maid of honor pinned hairstyle on the list. To enhance this neat updo's softness and romantic appeal, pin flowers of your choice in the back. The light blonde highlights in the front help to create a beautiful contrast.
Ginger Casual Style
This is an everyday wear hairstyle that screams comfort. Start by tying your hair into a high ponytail, then tease your roots to get the desired thick effect. The shades of ginger make this hairdo more adorable.
Blonde High Updo
Shoulder-length or even shorter hair can be a perfect base for sassy top hairstyles like these. This thin hair updo has a distinctly relaxed vibe with the strands falling out.
Bouffant Bun
We can't get enough of this bouffant-style bun with a singular pulled-out strand on one side.
This fancy voluminous hairstyle in the darkest shade of brown is sure to attract attention with its defined structure. You can opt for wearing some statement earrings to complete the exquisite look.
Punk White Blonde
It's time for your inner rockstar to shine with this punk-inspired short hairdo. You can create the lift by bubble braiding your hair in the front sections. The white-blonde color makes this hairstyle quite edgy.
Ombre High Bun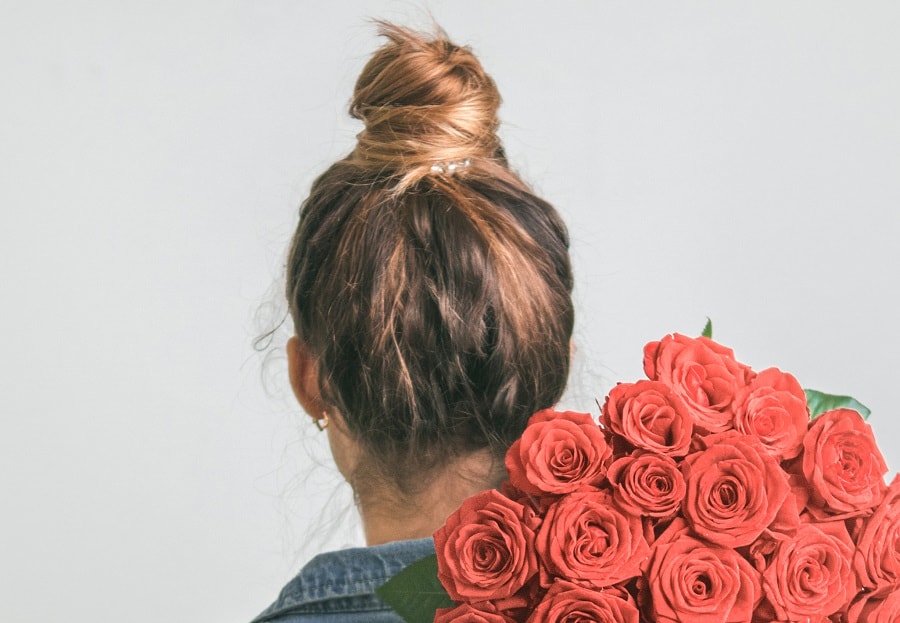 The ultimate high bun is a hairstyle that will help you keep almost all of your hair out of your face. Naturally, this distraction-free updo is great for wearing at university and work. The ombre tonal transition from dark to light flatters this style.
Wedding Updo with Accessory
We love updos for thin hair that look intricate but are super easy to pull off, like this delicate updo with a puff. The dark reddish-brown color and the flower accessory help you beat the dull and unimpressive look of thin hair.
Twist and pin your tresses to form this loopy bun above the nape of your neck. The dainty hairband enhances the existing feminine charm of this bun hairstyle for thin hair. Ballerinas usually wear this style of bun during their dance performances.
Low Twisted Bun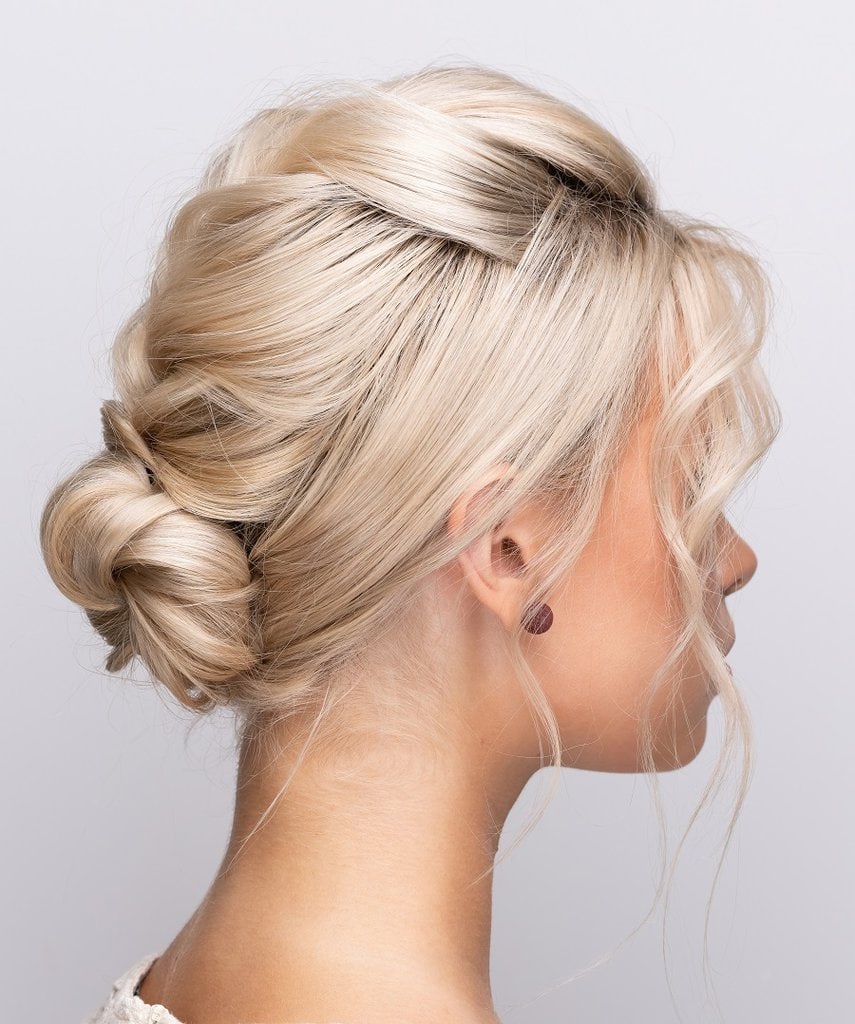 Updos look the best when they are loose and unkempt. Backcombing your bleached blonde hair holds the key to the flawless execution of this low twisted bun. The darker highlights peeking out from the front twists improve the texture.
Now that you have picked the favorite updo for your thin hair looking after your hair quality is essential since healthy hair increases natural volume. Try to air-dry your hair instead of using a blow dryer, as excess heat can cause breakage and thin out your hair more.