Updo hairstyle means keeping your hair tied up in a more sophisticated or stylish way. If you are looking for updo hairstyles for black women, then look at our top hairstyle ideas.
They vary from simple to complicated hairstyles, but they all seem easy when you get to know how to make them. It's best for black women who love to keep their afro hair up all the time because of many reasons like comfort, sweat, etc. It doesn't matter the reason; a hair updo is a classy way to manage your hair.
Best Black Updo Hairstyles
These hairstyles are easy to make on 4c hair types.
1. Classic High Bun
Every girl knows how comfortable keeping their hair tied in a classic high bun. Classic buns have a simple look, so you can pin different flowers to your hair to make them look more stylish.
You can even let your natural curls loose from both sides. It's a great hairstyle for a photoshoot.
2. Pin Up Bun
This is one of the updo hairstyles for black women when you have long and flat ironed hair to get a smooth texture. Pin-up bun means that you create the impression of a bun by using hairpins only.
You can start by taking the back hair in sections and start making an inverted C, pin it, then make a normal C and pin it. Do it with each section.
3. Side Braids
If you ever wanted to shave your hair from both sides but weren't sure how it would look, you can try this side braids hairstyle.
It is perfect for black girls who have short hair. You have to make thin braids on each side and leave the rest of the hair as it is. This look gives a shaved impression without even shaving.
4. Braided Updo
For those who want a black updo with golden highlights, this hairstyle is for you.
It's very easy to make- just divide your hair into sections and tie these sections in normal braids. Now make sure you're getting at least one golden-colored hair section in each braid because it will make you look like it is tied in golden ribbon.
5. Cornrow Braided Bun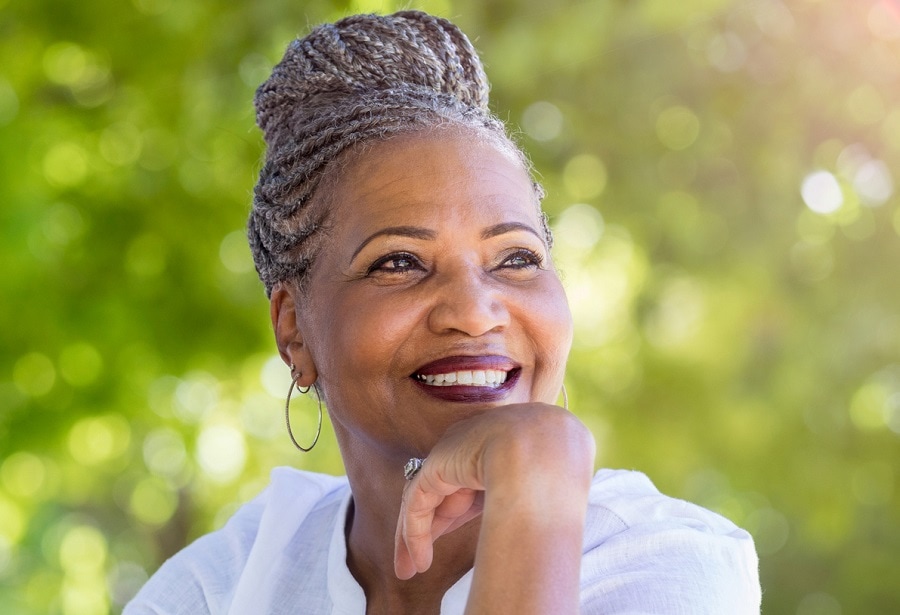 This updo looks good on older black women! Trust us, it only looks complicated, but when you focus, you'll see that it's thin cornrow braids all over the head.
You can try this look by making braids but in several parts. Then tie the remaining braided hair in a bun and look it's a braided updo!
6. Two Side Dutch Braid
Dutch braids are already a classic hairstyle, but it's become a common hairstyle.
You can bring some twists to this common hairstyle by tying your hair in dutch braids from both sides. Then, just center-part your hair and start braiding. This is for short hair only as the swinging braids will be short enough to hide in the hair.
7. Curly Donut Hairdo
Donut buns are made by tying your hair in a simple ponytail, then using a big rubber band; you cover the rubberband using your ponytail. There's a little twist here.
When covering the rubber band, use a scrunchie instead of a plastic rubber to secure the hair. Now let the rest of your hair swing on your crown area.
8. Braided Half Updo
Half up hairstyles look cool, but they have become common now. You can make it unique by dividing the crown area into 6 sections.
Braid it and place beads in between. Keep braiding each section until it reaches the end. Now tie the swinging braids in a half-tie bun, and you're good to go.
9. Braid + Bun
This is one of the most sophisticated and elegant updo hairstyles for afro women with naturally thick black hair.
Start by dividing your hair into even sections, and then tie each section in a braid until that section ends. Now take all the braids together and tie them in a big high bun. It will manage your hair properly and give you a more fierce look.
10. Pigtail Buns
4c hair type is voluminous, and fully, so pigtail buns would be ideal for such hair type. It is the same process as making a simple bun, but you have to make two buns-one on each side this time. Again, tie them tightly as loose hair gives a bad impression.
11. Updo for Short Coily Hair
When you have short hair, but they still bother you, you can tie them up using pins. You should have the right hair products with you to get a sleek look around your head and let the remaining hair flow. To tie them, you can use bobby pins or any other hairpins.
12. Dreadlocks Bun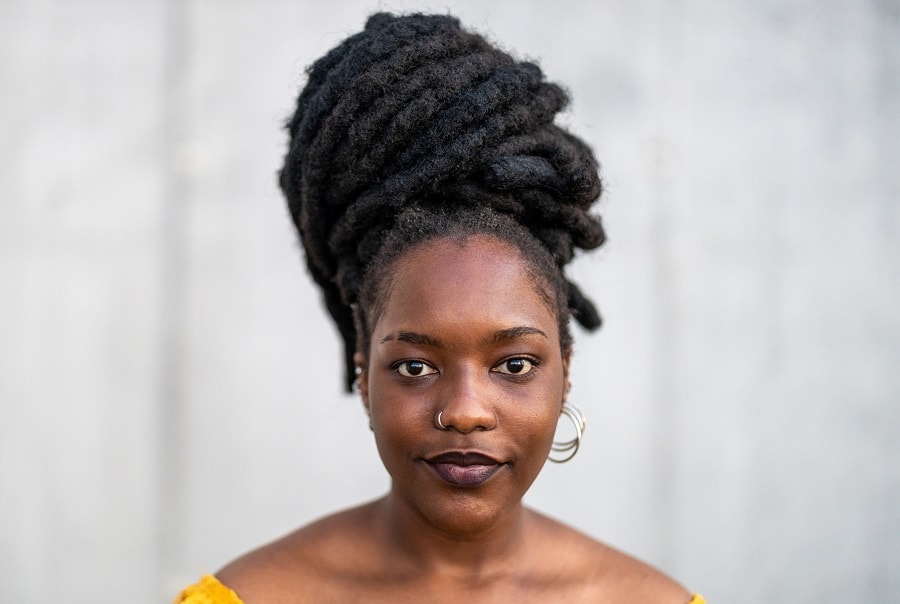 Maintaining dreadlocks can be difficult, especially when you're out in the scorching sun. You should try dreadlocks bun as it keeps your hair tied up, so there is no sweat or frustration, and also it gives you a fierce look. You can wear big hoops earrings to finish the look.
13. Short Curly Updo
If you want short updo hairstyles for black women, then you should try keeping your hair in a ponytail. It's very easy to make and suits every face shape. To keep a neat look on the crown area, you might have to use hair products such as gel and cream meant for naturally curly hair.
14. Shell Hairstyle
If you have thick afro hair, then you can try this hairstyle. Take a thick section of hair from the front and divide it into two parts.
Braid each part and now roll each section to create a circle. Secure the braid with a pin in the center and tie the loose hair with a hair tie. Finally, secure that part near your hair with a pin to create the shell look.
15. Side Low Bun
You can make this black wedding updo easily when you have lightly straightened your hair.
First, make a center part in the front. Take the remaining hair and tie it in a side-loose low bun. You can add extra security with bobby pins. Now take a beautiful white flower and secure it to the bun.
16. Straight Side Bun
Flaunt your blonde highlights in a side bun updo. All you need to do is straighten your hair, part from the side, and tie in a fluffy side bun. Don't use a rubber band to make the bun look fluffy. Instead, secure with a hairpin.
17. Lose Twisted Bun
A loose twisted bun means you tie your hair in a normal bun, but you keep the twists loose and secure them with hairpins instead of a rubber band. To separate it from a normal bun, you can let a section of your hair loose on one side. You should try this when you flat iron your hair.
18. Small Buns
If you're a fan of buns, you should definitely give this hairstyle a try. First, divide your hair into several square sections. Now take each section and start tying it in a bun. You can leave a thin strand of curly hair on each side and make it stay using a hair gel.
19. Vintage Hairdo
Another way to style your natural hair is by making a pouf, but this pouf is a little different from the usual ones. You take your hair from the front and roll it like a cylinder and then lose it a little. Then, do the same with the remaining hair and secure them with pins.
20. Braid Flow
This updo hairstyle for African American hair is quite simple to make. You don't have to divide your hair into sections; start making thick braids.
Then grab all of these braids and secure them in a single round. It is perfect for women who have a combination of black and white hair, which surely adds charm to it.
Updo hairstyles only look complicated, but they're not complicated to make. When you learn how to make updo hairstyles for black women, you'll find yourself saying- Ha, that's so easy to make! These hairstyles are perfect for any hair length, any hair color, and any face shape.
You can show off your stylish hair updo to your friends and let them scratch their heads wondering how did you do it.