Before the rising heat and humidity make you chop off all your hair, you must consider updo hairstyles to deal with the long summer days ahead fashionably. Now, you can say goodbye to the annoying feeling of hair sticking to the sweat on your neck and forehead with trendy updos.
If you are still waiting to jump on this bandwagon or simply want to experiment with new updos, we have curated this selection of top 25 bun hairstyles to help you find the perfect style for your hair type and length.
Trendy Updo Hairstyles
Are you annoyed with sweaty hair sticking on your nape? Try these hairstyles to keep the hair out of the way!
1. The High Bow Bun
Are you looking to add a playful touch to the regular bun? The high bow bun has got you covered with its unique and adorable bow-like shape. This hairstyle is best suited to girls and women with medium-length to long hair.
The easiest way to do this hairstyle is by gathering the hair back into a ponytail, looping it into a knot, dividing it into two parts, and finally covering the middle knot with hair left loose to create the bow.
2. The Donut Bun
The donut bun updo is a simple and versatile top hairstyle that you can complete in five minutes.
You can quickly achieve this hairstyle's sleek and organized look as no hair stands are left out. The donut bun holder also infuses tons of volume into your hair.
3. Dreads Bun with Side Trim
The highly under-rated dread bun initially starts as tight coils, which can be pulled up to the top of the head to create a textured bun. This hairstyle successfully gives off grunge vibes and is a must for a bad gal look.
4. Twirl Twist Low Bun
Having layers in your hair can be a nightmare if you want to secure a tight and smooth bun.
The best alternative for you would be a loose low bun at the nape of your neck. You can gently pull out the front strands of hair and lightly curl them for a wistful and angelic look.
5. Floral Bun
The messy updo hairstyle can transform you into the perfect bridesmaid on your friend's special day.
Adding a floral pin accessory or a fresh flower to the hairdo will further reflect the festive and feminine mood of the wedding.
6. Quiff Pinup Hairstyle
The short hair girls don't have to stay away from the world of high hairstyles anymore. This style incorporates a more subtle version of the victory roll and pompadour updo.
7. Space Buns
Whether your hair is short, long, curly, straight, thick, or extremely fine, the ultimate e-girl hairstyle – space buns can be customized to complement your hair. The space buns are well suited to round and oval faces.
8. Half-Up Half-Down Bun
There are some hairstyles that you simply cannot go wrong with like the classic half-up half-down bun.
This hairstyle will help you strike the right balance between showing off your long locks and keeping them out of your face at the same time.
9. French Twist
If you have an important event to attend, it's day three of your hair wash, and you need a hairstyle that brings out your classy side.
The Banana bun or french twist bun will be ideal for you. This hairstyle is best suited for hair that's starting to get greasy as the existing texture in the hair makes it easier to twist and pin up.
10. Micro Braided Updo
For a fuller and stylish look, you could sport the micro-braids hair bun.
In this hairstyle, all the time that's required to micro-braid the hair is worth it since it helps accentuate your facial features.
11. Giant Messy Curly Bun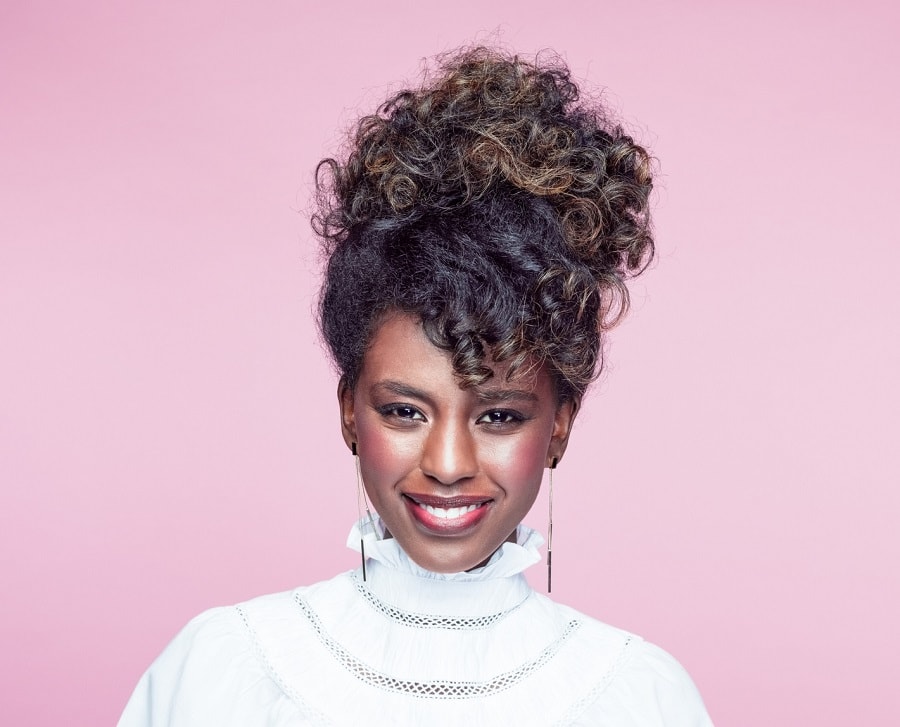 When you are on the run and don't have the time to complete your elaborate hair care routine for taming your long curly tresses, the quick messy curly bun can make you look ravishing without hassles.
Before making the updo, you should use hair mousse or texturizing spray if you want extra bounce.
12. Victory Roll Updo with Hairband
This short vintage hairstyle promises to take you back to the 40s and 50s.
For creating a half-victory roll, you have to take a chunk of hair from one side of the head, make a loop and then roll the hair from the ends to secure everything in place with bobby pins.
13. Triple Twisted Casual Updo
Instead of one bun, you could have three for a more funky and attractive hairstyle. If you have a round face, the trio of buns will ensure that your face looks more defined.
You have to comb your hair well for this hairstyle, tie three low ponytails, roll each into a bun, and then voila, you are ready.
14. Classic Messy Bun

This quintessential messy bun hairstyle with side-swept bangs frames your face effortlessly.
This style is well-suited to women with oval and square-shaped faces. The windblown look makes for a pretty aesthetic no matter where you are headed.
15. Full High Bun
This top-knotted hairstyle has volume, structure, and adequate shape.
You can find unique ways to incorporate hair accessories like these gemstone pins or clips into the style to boost the aesthetic value and prevent any flyaways.
16. Twisted Updo With Bangs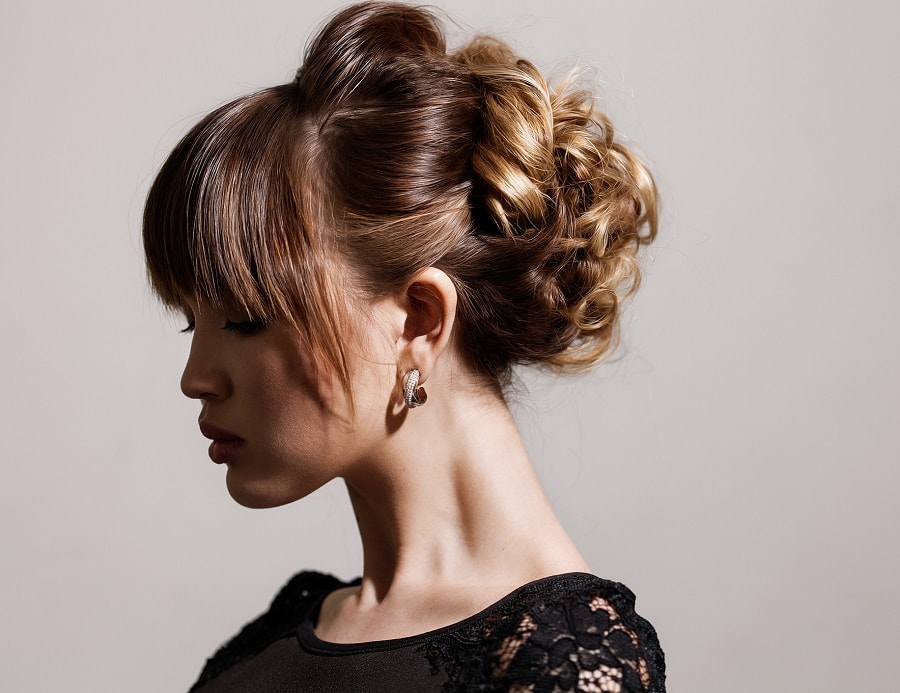 The twisted updo style with front bangs creates a stunning and romantic look, which is ideal for brides on their special day.
The brunette hair color with lighter blonde highlights is sure to leave a lasting impression.
17. Asymmetric Wedge Hairdo
Take your hair game to the next level by pairing an asymmetric shaved undercut with a top-knot bun. This edgy hairstyle will make heads turn wherever you go, especially if you have brightly colored red hair.
18. Lightly Twisted Blonde Updo
This lightly twisted high hairstyle with loose strands framing the face is perfect for older women.
Glasses usually go along well with this top knot that's not too tight to create a smart and sophisticated look. This updo is perfect for everyday wear to work.
19. Soft Braided Updo
This soft braided top hairdo is more intricate than some of the other braided buns as it involves the creation and wrapping of a variety of different braids.
Due to the soft and refreshing feel of this style, you can wear it on a number of occasions like prom, graduation night, birthdays, and anniversaries.
20. Afro Style Bun
It's time we realize that a free-flowing hairstyle isn't the only way to embrace your natural afro texture.
You can easily make a statement by wearing your hair in a high bun or ponytail. This big and voluminous hairstyle will be perfect for a night-out or party aesthetic.
21. Voluminous Updo Bun
This hairstyle boasts a considerable amount of volume.
Here, a special teasing brush is used to section the hair by backcombing it from the hair ends to the roots. Then, hair spray is applied to seal the volume created before going ahead to secure the bun.
22. Braided Space Buns
The braided version of your favorite space buns can be a go-to style for days when you want to do something different with your hair.
This hairstyle will work best for long-hair ladies. Here, you have to part your hair down the middle, dutch braid your hair into two upside-down braids, and then secure them into top buns.
23. Crown Braided Bun
This loose and chunky french-braided crown updo sit around your head like a beautiful headband. Pull out some tendrils to actualize the greek goddess charm of this hairstyle.
24. Rolled Bangs Updo
The forward roll bangs or the bumper bangs have greatly inspired several pinup hairstyles of this century.
Wearing a headscarf or bandana and this hairstyle adds to the retro flair. Although, you should attempt this style only if you have medium to thick hair.
25. Side Low-Style Braided Bun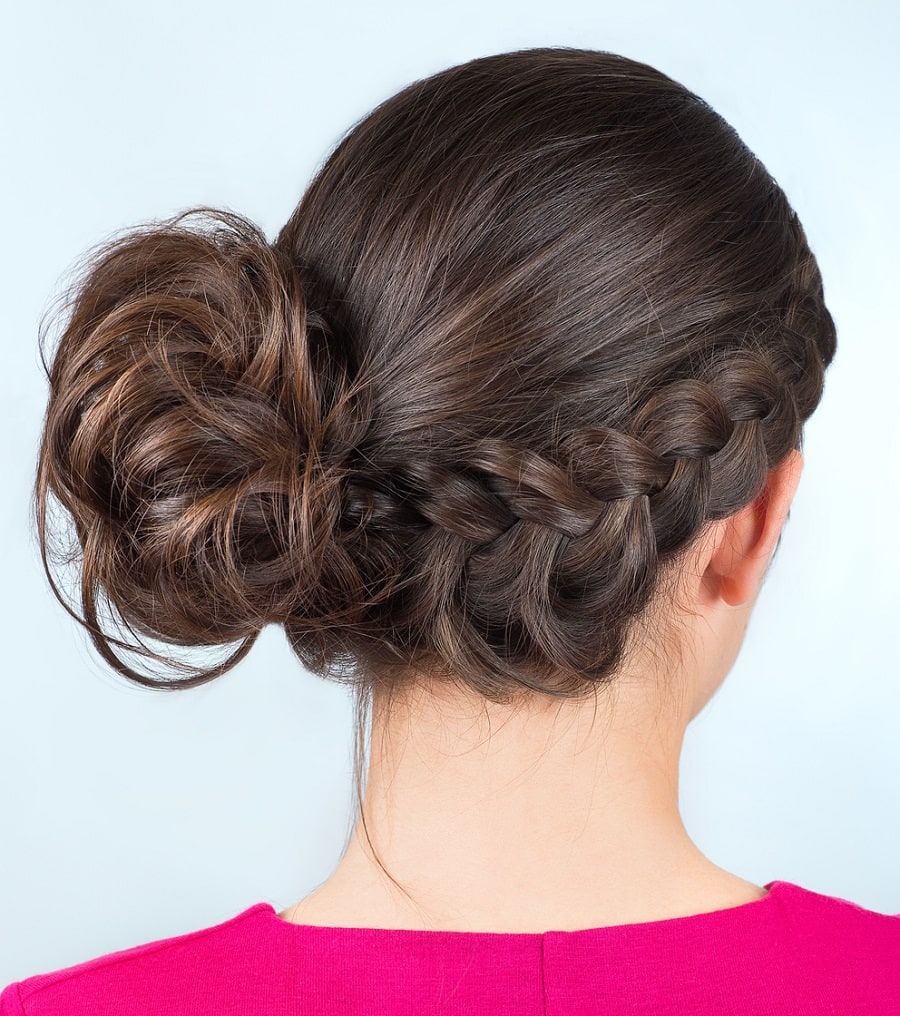 This gorgeous hairstyle helps you get the best of both worlds of sporty and feminine.
Here, you have to pin up the crown of your hair to the side, french braid the hair across one side, and pull on the braid to make it plump. Then make a looped ponytail and tuck in the ends of the ponytail to make a loose bun.
Surprisingly, searches for the updo hairstyles trend have hiked by over 100 percent in the past few years, which shows how we can't get enough of these heatless hairstyles that scream comfort and elegance.
We hope you have liked and taken inspiration from our above-curated list of high hairstyles and are ready to experiment with the same yourself.